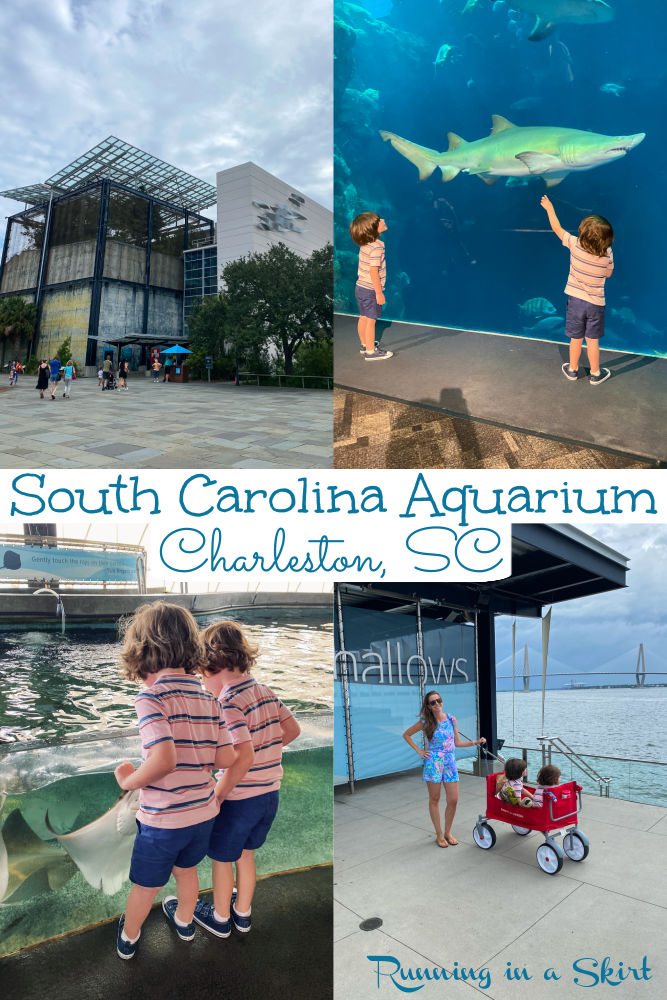 The South Carolina Aquarium Charleston is a top kid-friendly spot to visit in Charleston with amazing sealife, interactive exhibits, and gorgeous views. Here's my guide to seeing this famous that's perfect for a year-round thing to do in Charleston.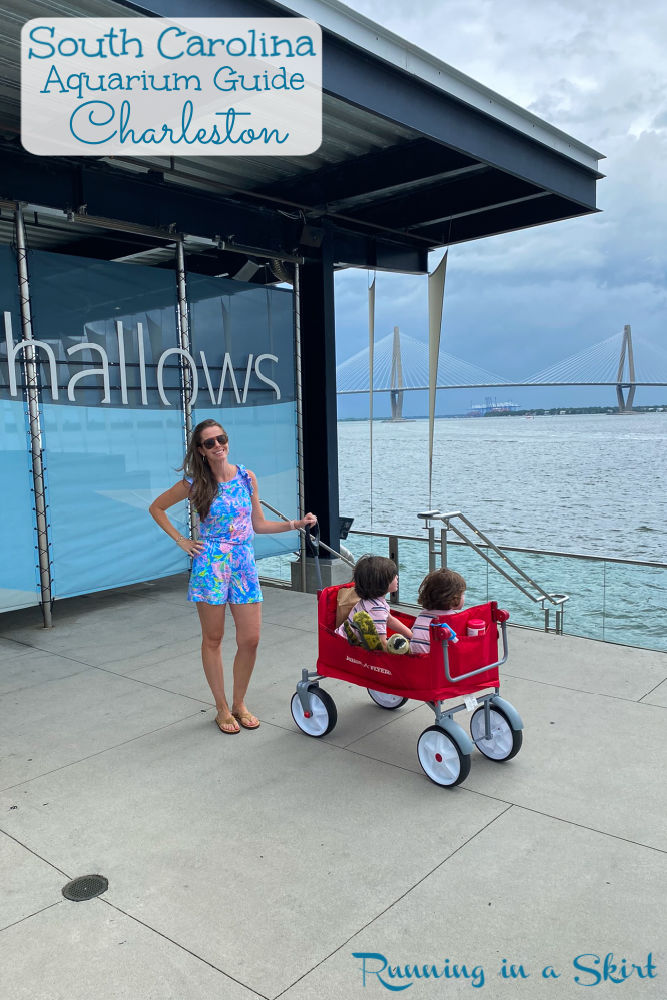 South Carolina Aquarium Charleston
The South Carolina Aquarium Charleston is a charming attraction with over 5,000 animals and a gorgeous seaside location overlooking the Charleston Harbor overlooking the Arthur Ravenel jr. Bridge. This popular Charleston attraction is popular for kids and adults and is a fascinating spot where you can see everything from sharks, and stingrays, to rescue sea turtles, and even a bald eagle. You'll love the animal encounters and fun exhibits.
Where else can you pet stingrays AND see rescued sea turtles in one easy morning adventure? We had a great time visiting on our trip to Isle of Palms.
The Aquarium features more than just fish and is a fantastic educational venue for everyone interested in the natural world and wild places. It is divided into exhibits that cover the entire state, from the mountains to the sea. You'll travel through the Mountain Forest and see animals like bald eagles and river otters. Next up is Piedmont where you'll see big bass and cabbies swimming. The Coastal Plain explores the swamp where you can see American alligators, rattlesnakes, and a gopher tortoise. After the plain, you head towards the Saltmarsh Aviary, a super cool outdoor spot with pelicans, gulls, and swamp fish.
Finally, you'll hit the coastal areas with a huge Coast section with gorgeous fish like flounder and grouper. And the experience ends at the ocean with a spectacular 385,000-gallon great ocean tank. You can get so close to big sharks and loggerhead sea turtles, that the kids jump!
There is even a Sea Turtle Recovery Center where you can meet injured turtles and learn about their rehabilitation and hopeful release.
The biggest attractions are the touch tanks and stingray interactive exhibits where kids can actually reach out and touch the animals.
That's just an overview, but keep reading for the best things to do at the South Carolina Aquarium.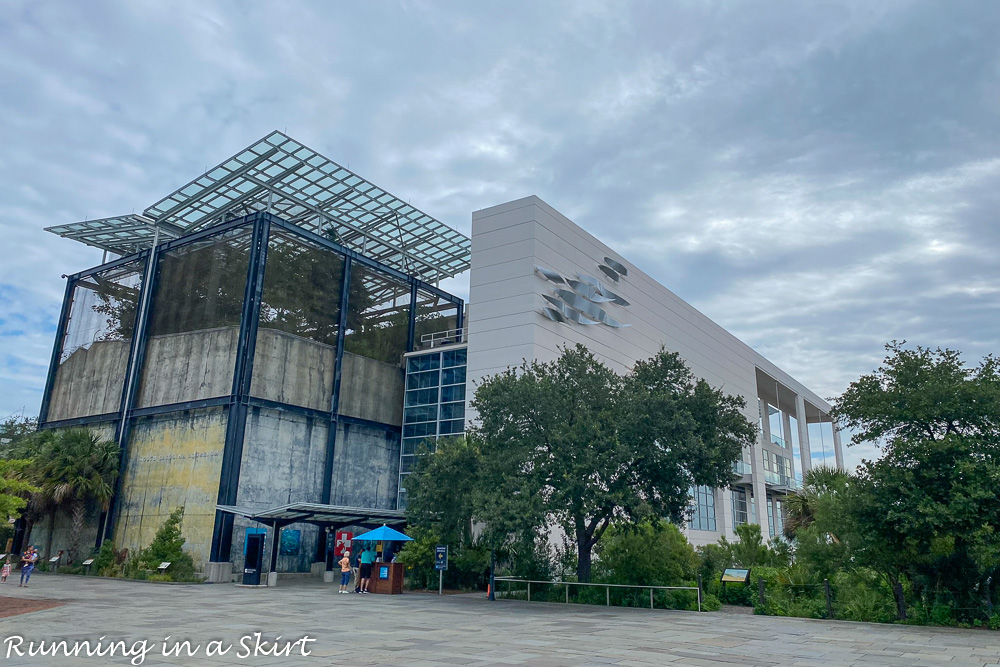 Location:
The South Carolina Aquarium Charleston is in historic downtown Charleston on the Harbor. The address is 100 Aquarium Wharf, Charleston, SC 29401.
There is a City of Charleston parking garage located at 24 Calhoun Street, Charleston, SC 29401.
Park and walk across the street to the aquarium.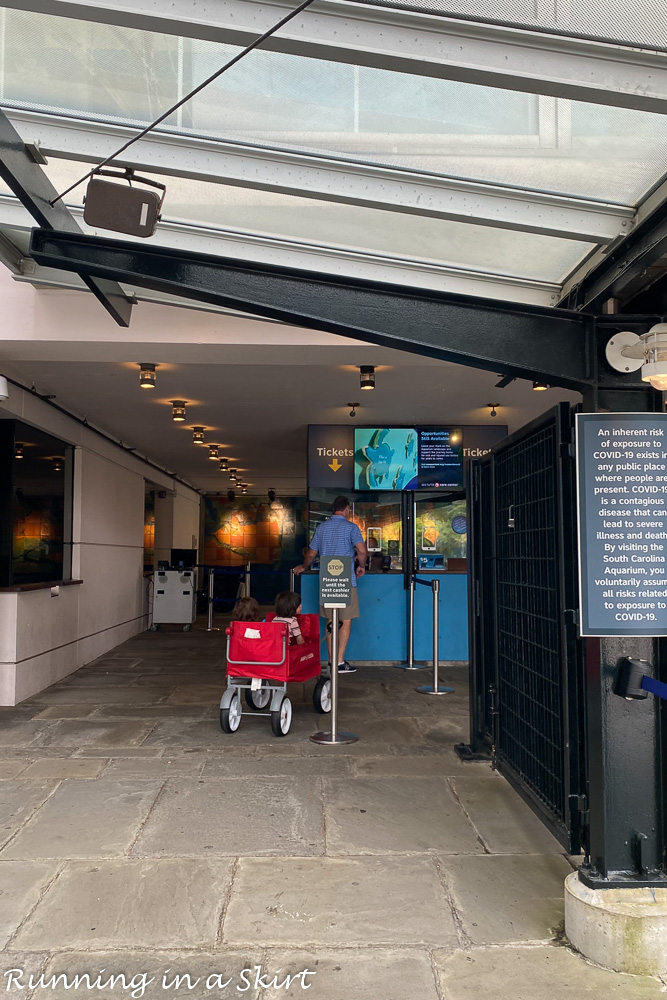 South Carolina Aquarium Logistics
Hours: The South Carolina Aquarium is open 9-5 daily. The last entry is at 3:30 and they are closed Thanksgiving Day and Christmas Day.
Cost: Tickets are $34.95 for adults. Kids, 3-12 are $27.95. Babies 0-2 are free.
Tickets are available online before you arrive.
Getting Around: Bring a stroller or wagon for small kids. Diaper bags are also allowed.
Plan 90 minutes-3 hours to explore the entire venue.
To avoid crowds visit on weekday mornings or later in the afternoon.
See a list of daily scheduled activities here.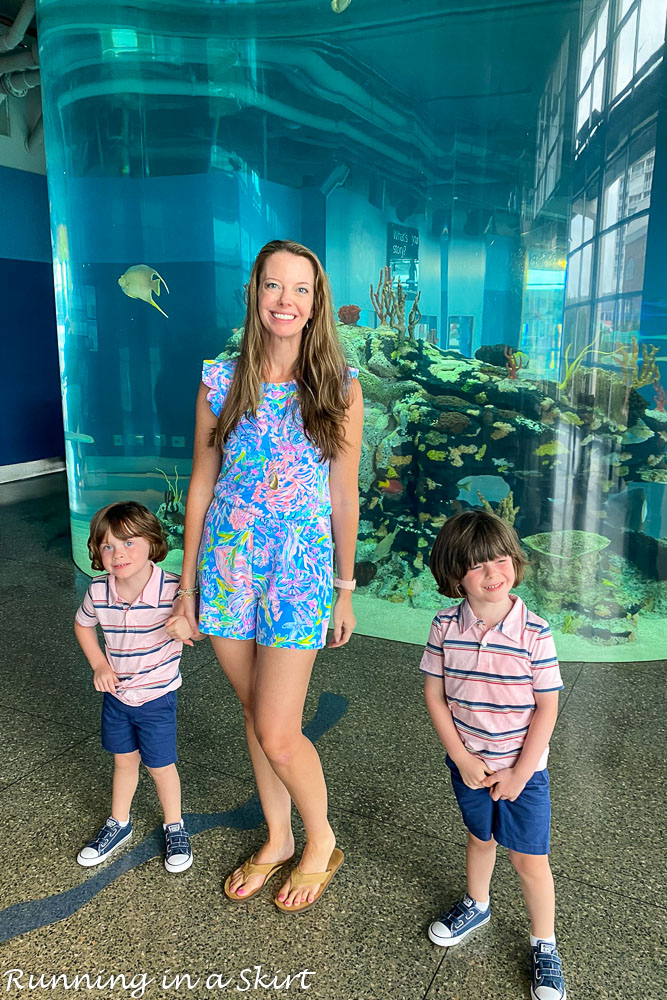 Top Things to Do South Carolina Aquarium Charleston
Pet Stingrays
One of the most incredible things to do at the South Carolina Aquarium Charleston is to pet stingrays. The Shallows exhibit is at the top of the ramp when you walk in and outside.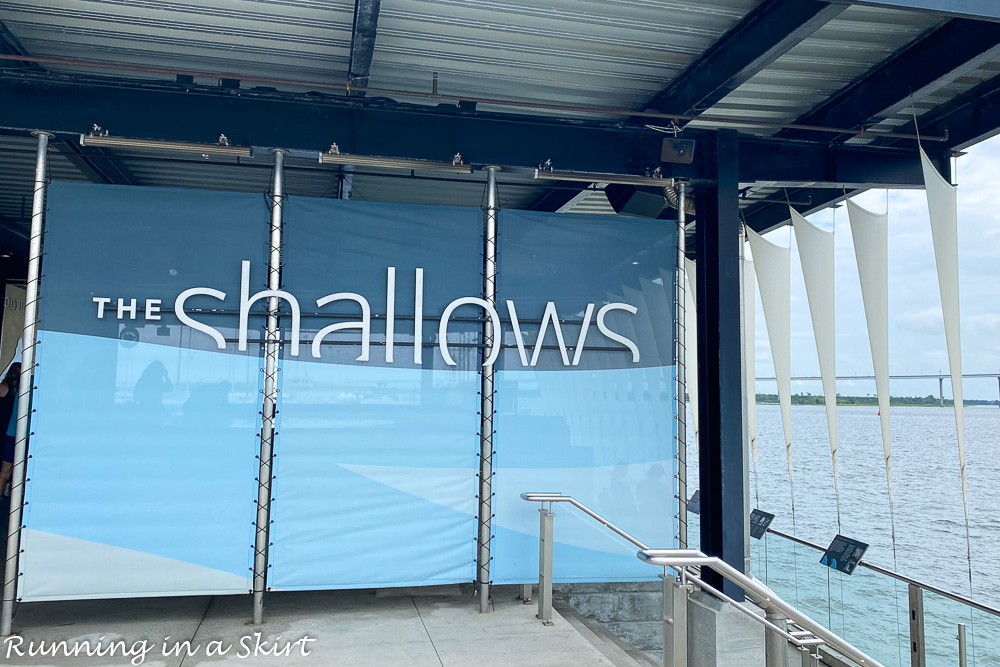 You can reach in and pet the Atlantic stingrays. This is a fabulous hands-on experience that's easy and fun. You can also pay $5 extra to feed them.
The stingrays are actually really cute and almost friendly and it's a fascinating thing for both kids and adults to do! This was by far one of the twin's most memorable things they did on our visit.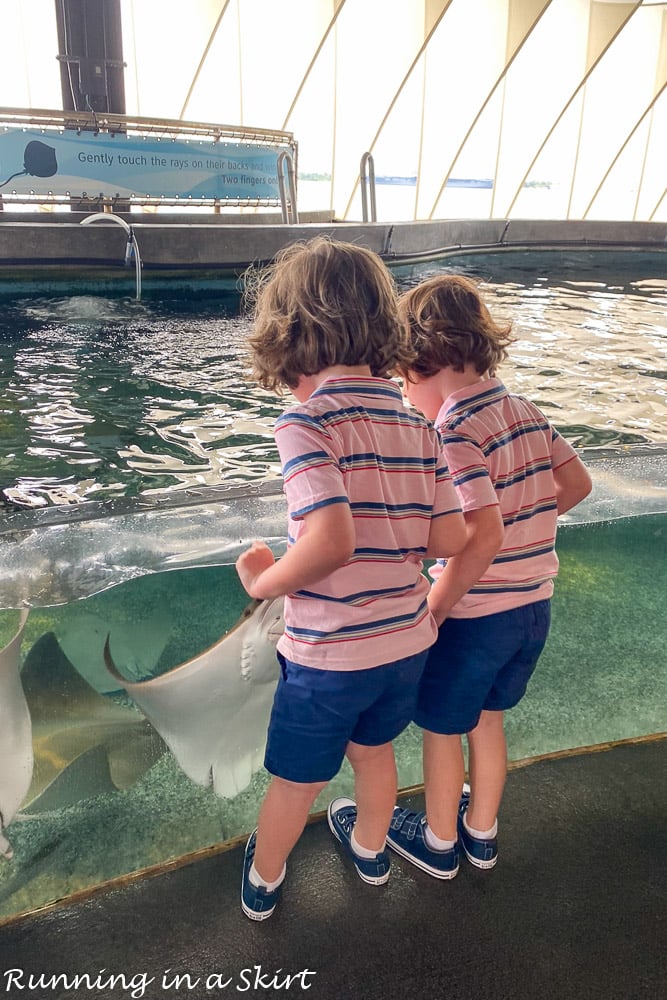 Sharks
The main two-story 385-gallon tank - the Great Ocean Tank is filled with sharks. They swim right by the windows and my kids could have watched them for hours. It's such a great thing to do at the South Carolina Aquarium with a lot of fascinating details.
Look at how face-to-face they were with the sharks.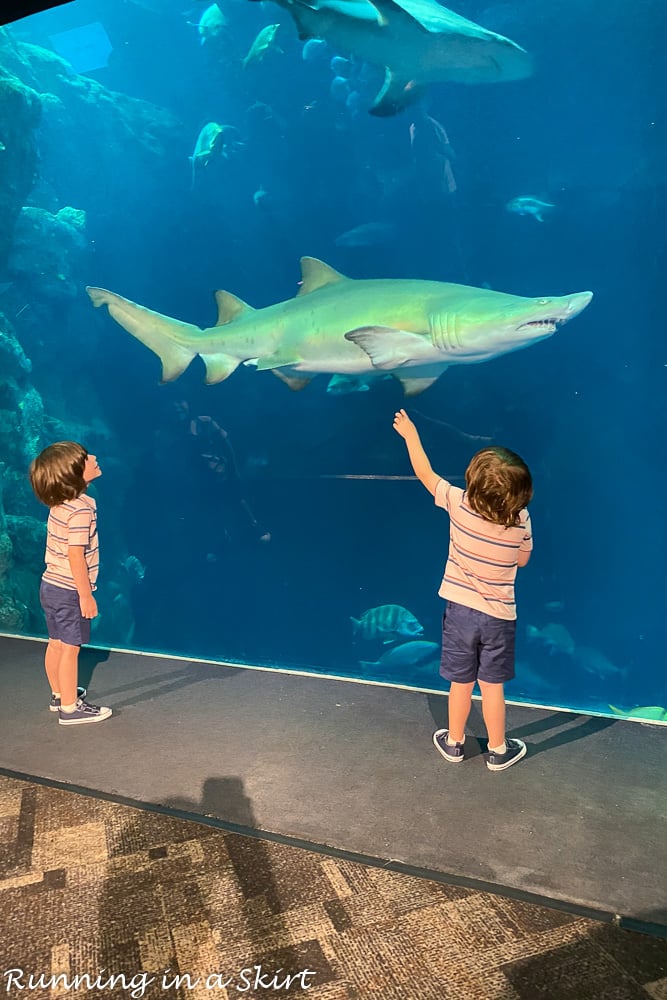 My boys were also super fascinated by the eel in the tank. There is also a 220-pound loggerhead sea turtle in the tank. They are such amazing animals.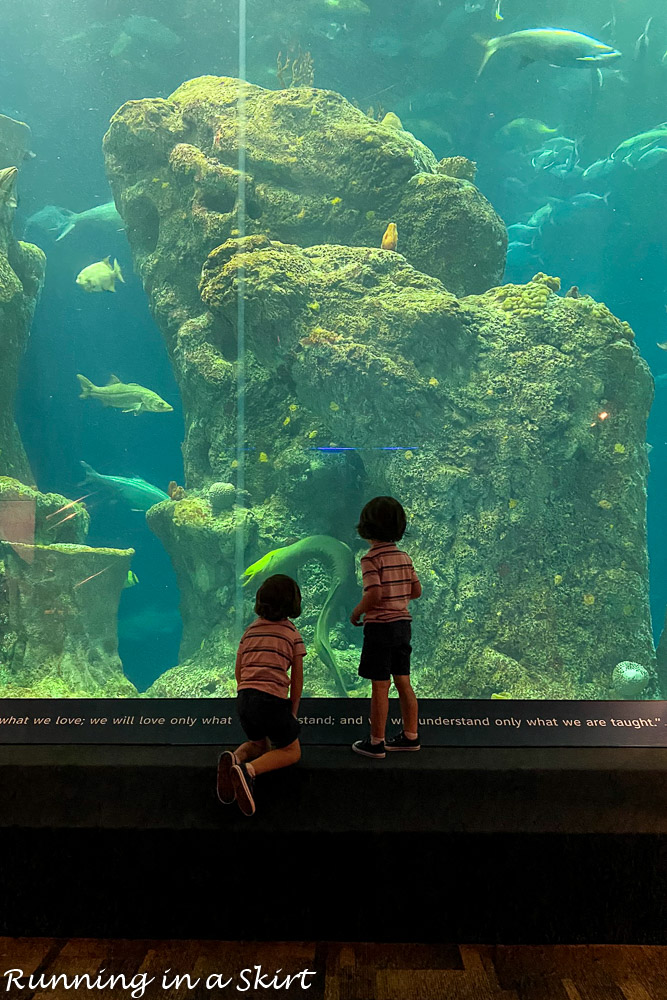 Pet Baby Sharks
Another top thing to do at the South Carolina Aquarium Charleston is pet critters in their touch tank! The touch tank has hermit crabs, sea urchins, sea stars, horseshoe crabs, whelk, hermit crabs, and tiny sharks, which my boys loved.
The tank is located in the top corner of the aquarium near the outdoor Saltmarsh Aviary.
Explore the Marsh
The Saltmarsh Aviary was another super memorable spot for kids to explore at the South Carolina Aquarium Charleston. The way the tanks are made it was super easy for the kids to see in. I've always been fascinated by the marsh myself, and loved this too.
Make sure to check out in and out of the tanks! There are some super cool birds like pelicans sitting on the rocks.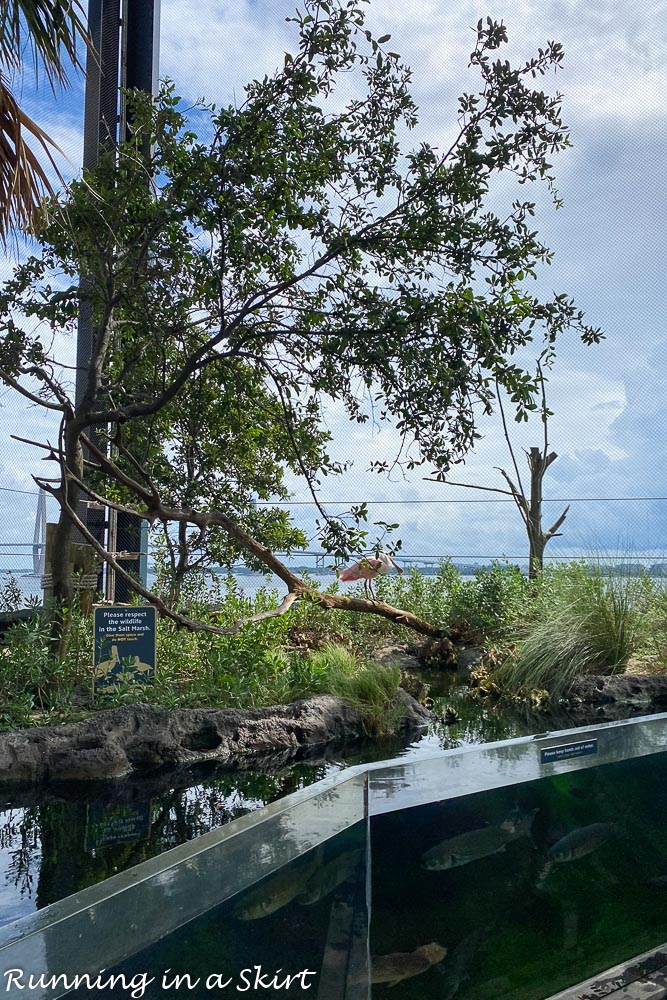 Learn About Sea Turtles
The South Carolina Aquarium Charleston is home to the Zucker Family Sea Turtle Recovery center. This spot is cool because it's an actual turtle hospital and guest experience. You can view sea turtles that have been brought in sick or injured and learn about them and their rehabilitation and release. This is a really cool sea turtle care center for rehab and is so wonderful what they do for injured sea turtles.
Check the schedule before you go. Many days there will be a talk from a local sea turtle biologist that you can attend.
Indoor Play Area
For kids, the Indoor Play Area is a perfect spot to explore. There are also lots of kid-friendly hands-on attractions for them to explore.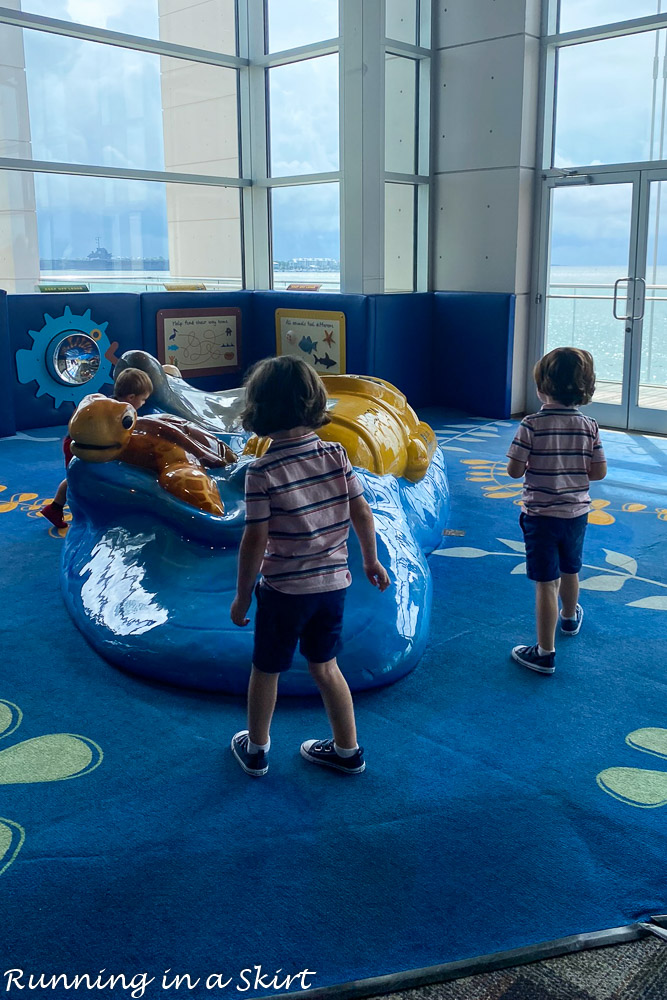 Trading Post
The Trading Post is a cool spot for kids to bring "nature finds" and earn points to trade them for other cool natural artifacts. Plan ahead and bring something to share! They accept items like shark teeth, shells, rocks, fossils, and plants.
Gift Shop
I'm normally not a huge fan of the gift shop, but the South Carolina Aquarium actually has a really cool one with so many fabulous toys and stuffed animals for kids. For adults, they have super cute apparel and housewares. It was way more than just a t-shirt shop and worth ducking into before you leave the South Carolina Aquarium Charleston.
Aquarium Aglow
A seasonal event where the aquarium is lit up for the holidays with tens of thousands of lights.
Dive Show
Several times a day there are daily dive shows where someone swims in the great ocean tank! It's a great time to ask any questions you have for the staff and it's fascinating to watch the divers in the tank. Check the schedule before you go.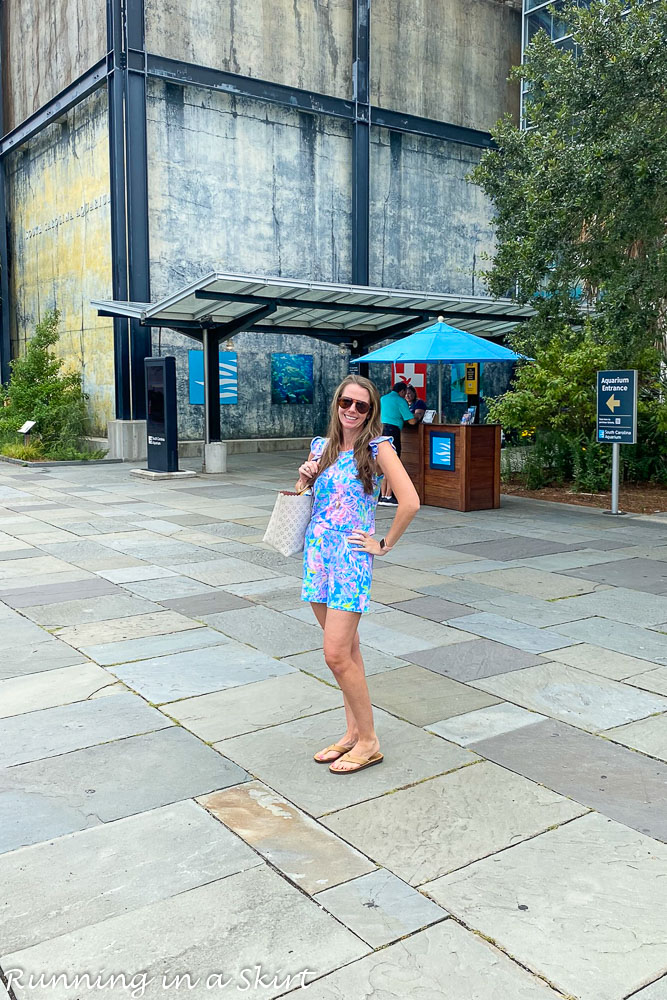 South Carolina Aquarium Charleston is Amazing!
We loved the South Carolina Aquarium Charleston. If you are fascinated by the ocean and the wonder of water, this spot is for you. It's a spot that both kids and adults can enjoy, which is a true gem. It's also a great mostly indoor activity to do in Charleston.
Whether you are staying in Downtown Charleston, Isle of Palms, Kiawah, or any of the other nearby beach towns this is a must-do attraction on your trip!
To learn more about the South Carolina Aquarium in Charleston, check out their website.
Pin for later: