You'll love my healthy and festive Maple Roasted Sweet Potatoes recipe!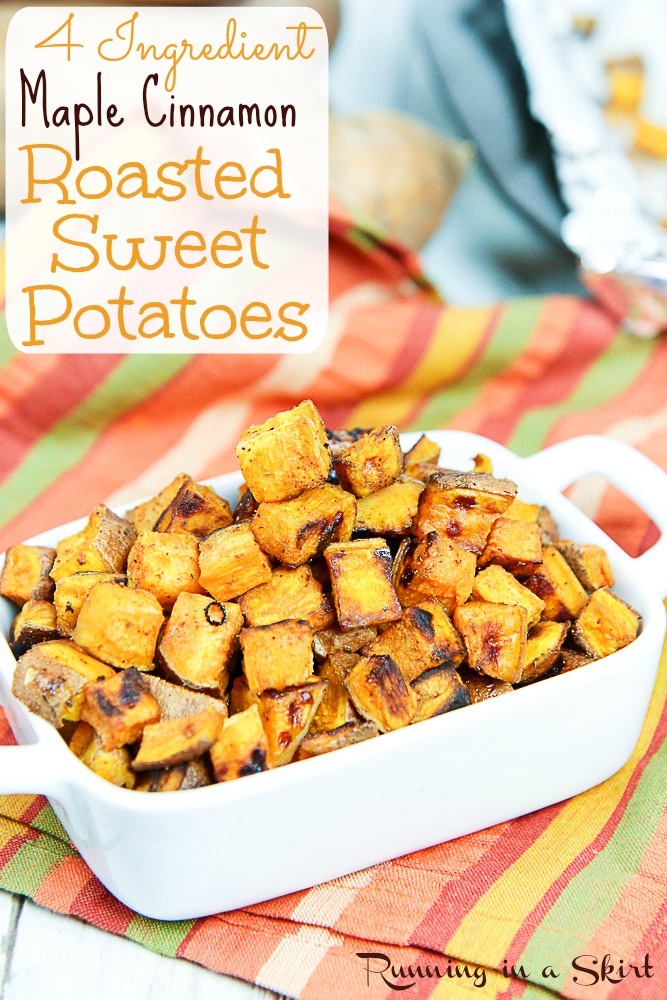 Hi everyone!
Don't forget to enter the Sunbeam Heating Pad Giveaway! The giveaway form is now working.
It's officially three weeks until Thanksgiving and I'm in holiday planning mode. If you're a long-time reader, you may remember I host an epic Thanksgiving at my house. Most of the Hubs and my family converge on our house for Thanksgiving in the mountains. It's something I look forward to every year. We go a little overboard on EVERYTHING... but that's how we roll.
The hubs cooks two turkeys and I cook a HUGE assortment of sides. It involves MANY trips to the store, lots of planning and lots of cooking. Since I know how much work is involved in Thanksgiving, I'm trying to help you out this year with some fresh ideas for your menu. I'll be sharing some of them in the coming weeks, plus putting together a great resource for all the holiday friendly recipes on Running in a Skirt.
Are you hosting this year? Make sure to check out my guide to hosting Thanksgiving!
So without further ado, let's start with these Maple Roasted Sweet Potatoes recipe. They are like my basic sweet potato bites, but kicked up a notch for the holiday with maple AND cinnamon.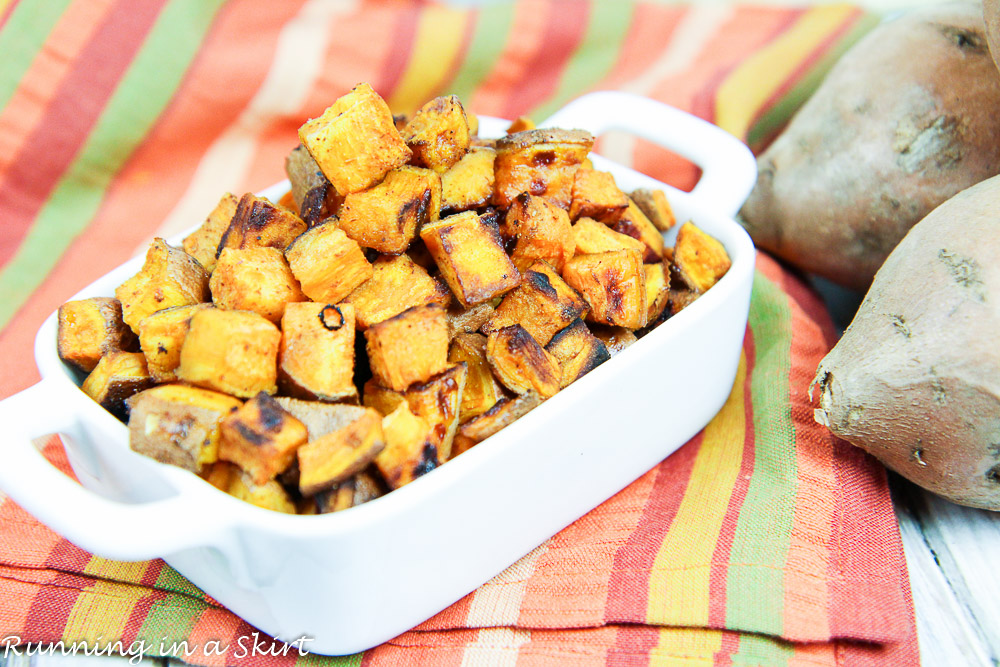 If you've decided to cook a healthier version of Thanksgiving at home these are a great options! They are cooked in coconut oil and sweetened without any sugar or butter.
If you're looking for the classic sweet potato casserole though, try this one.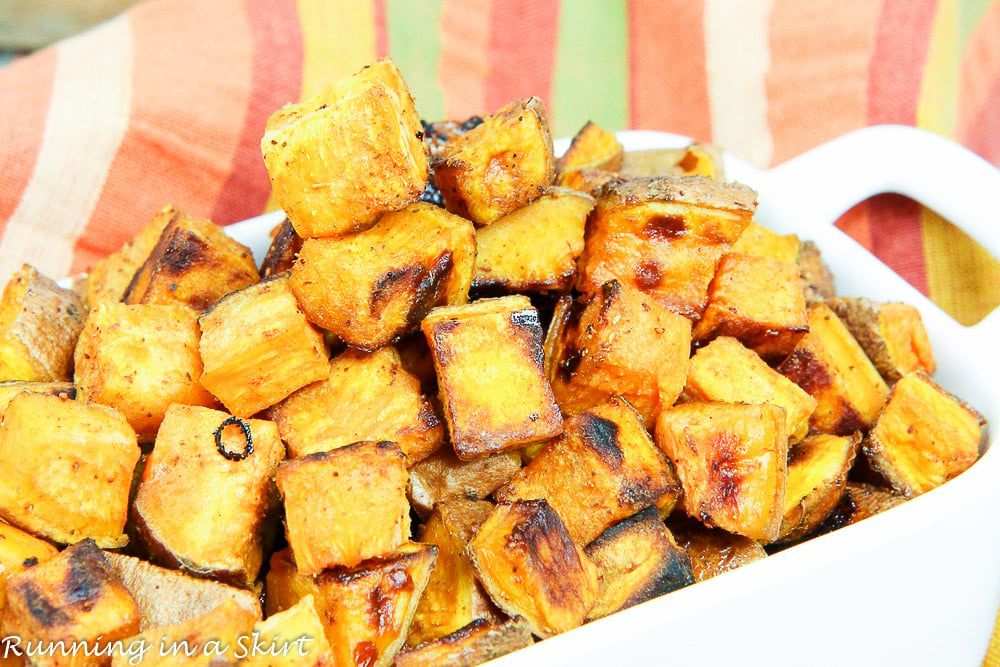 In all seriousness, what is Thanksgiving without a sweet potato? These really are a great option. If you are feeding a smaller group, these are also really easy to throw together and serve on the fly. Yet, with the extra seasoning they feel festive.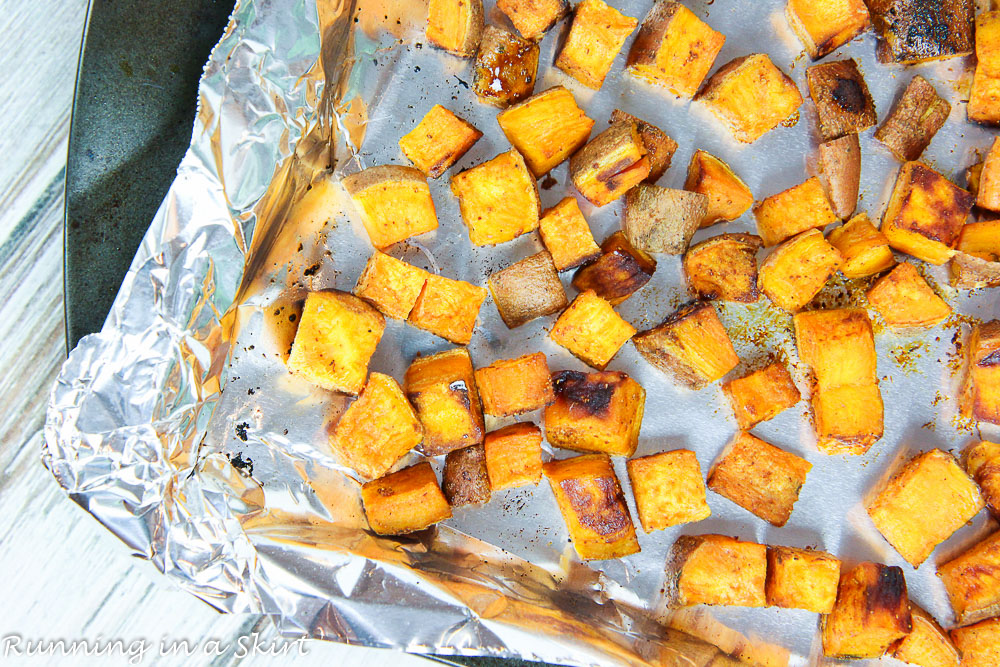 You could also mix these together with other roasted vegetables, to put together a healthy and simple side dish for Thanksgiving.
Anyway you serve it, it's bound to be a crowd hit and no one will know how little time you actually spent on it.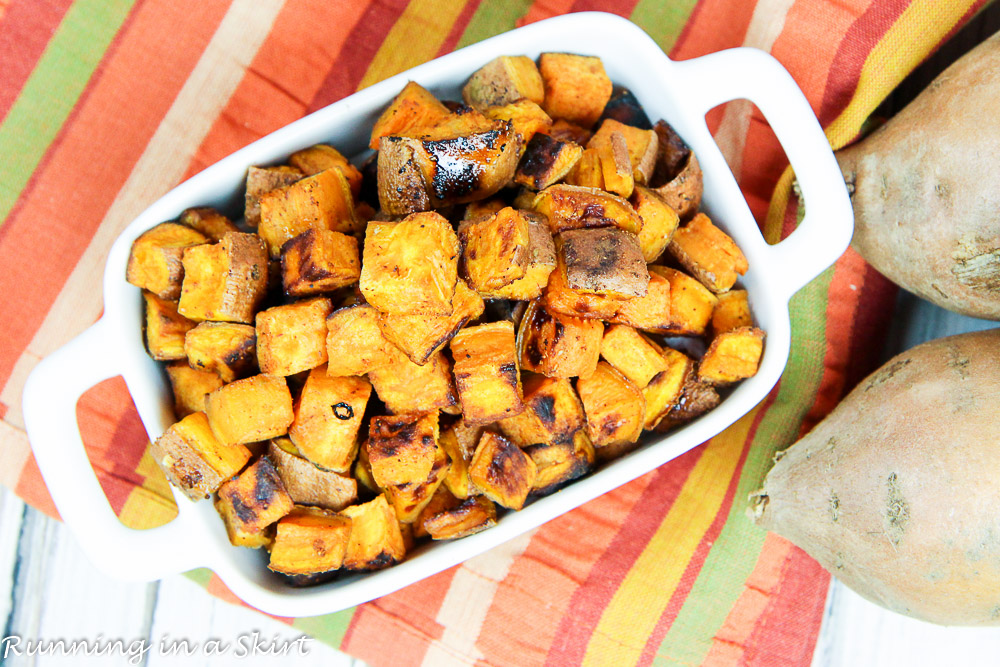 Enjoy!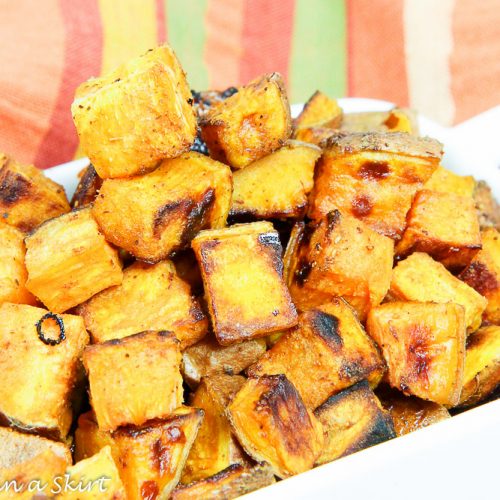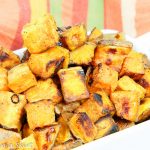 Cinnamon Maple Roasted Sweet Potatoes recipe
Simple Cinnamon and Maple Roasted Sweet Potatoes! Only 4 Ingredients!
Instructions
Preheat oven to 400 degrees and line a cookie sheet with foil. Spray with cooking spray.

Soften coconut oil in microwave until it's liquid form.

Toss the potatoes, coconut oil, maple syrup and cinnamon together.

Pour onto baking sheet.

Roast for 25-30 minutes or until fork tender.
Nutrition
Calories:
155
kcal
Carbohydrates:
30
g
Protein:
2
g
Fat:
4
g
Saturated Fat:
3
g
Sodium:
208
mg
Potassium:
404
mg
Fiber:
4
g
Sugar:
11
g
Vitamin A:
16032
IU
Vitamin C:
3
mg
Calcium:
47
mg
Iron:
1
mg
Like it? I'd love it if you could pin this to your favorite Pinterest board! Thank you so much for the support.


Want more sweet potatoes?
Healthy Honey Mashed Sweet Potatoes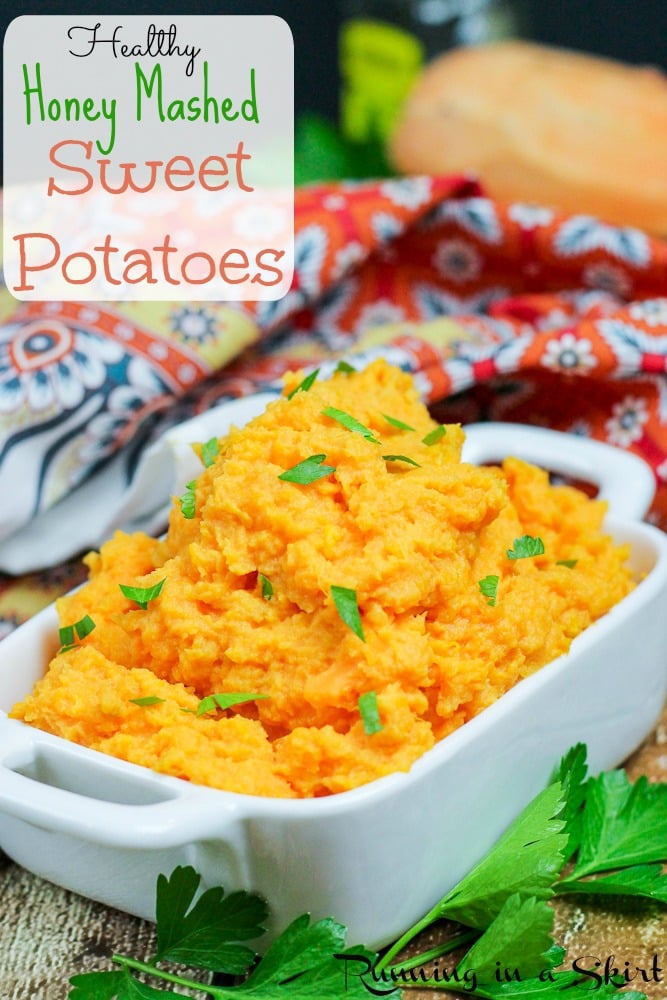 4 Ingredient Simple Roasted Sweet Potatoes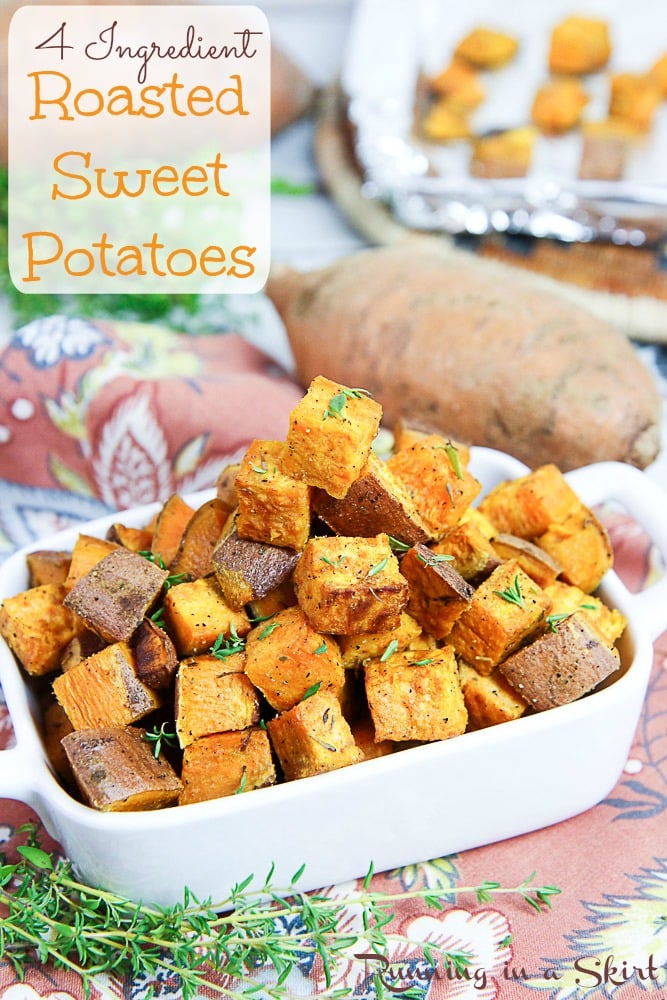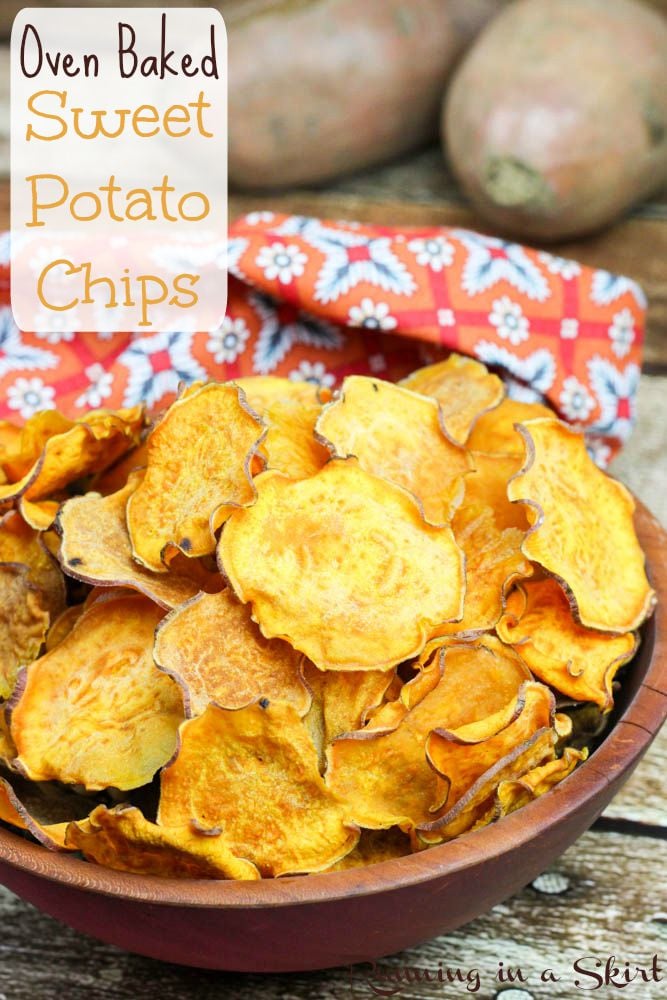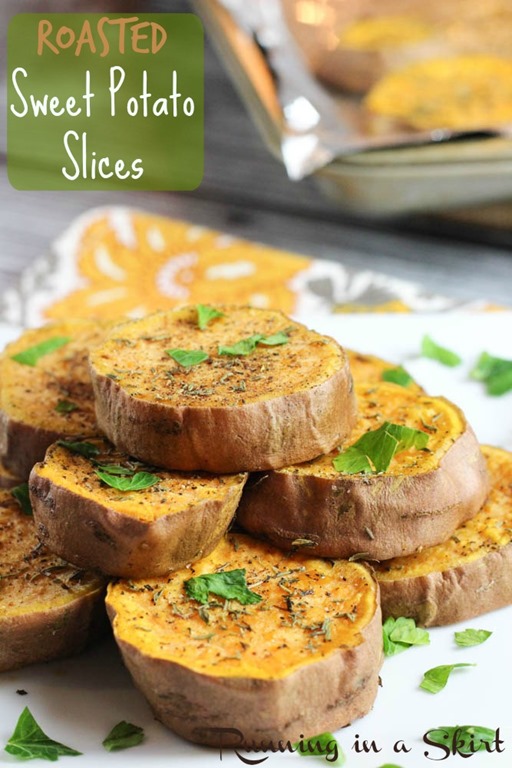 The Best Sweet Potato Casserole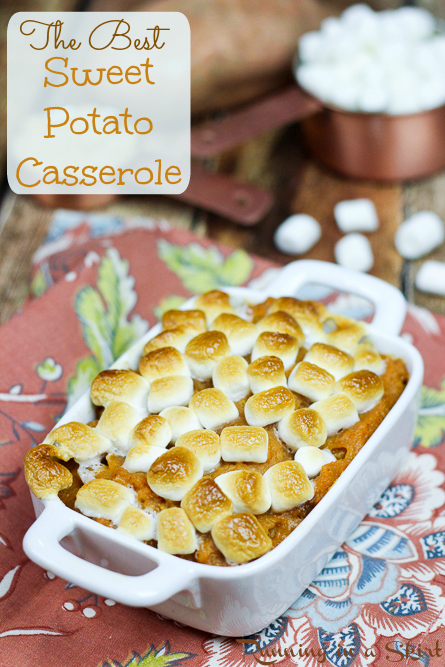 Thanks for stopping by today! Tomorrow I'm sharing a great long sweater option for fall.
I'm linking up with: Meatless Monday with Sarah and Deborah, Meatless Monday with Annmarie and Rachel, Delicious Dish Tuesday, What's Cookin' Wednesday, Full Plate Thursday with Miz Helen, FoodFriDIY, Foodie Friday, and the Weekend Potluck. Thanks so much ladies for the link up parties!
Your turn!
What are your Thanksgiving plans?