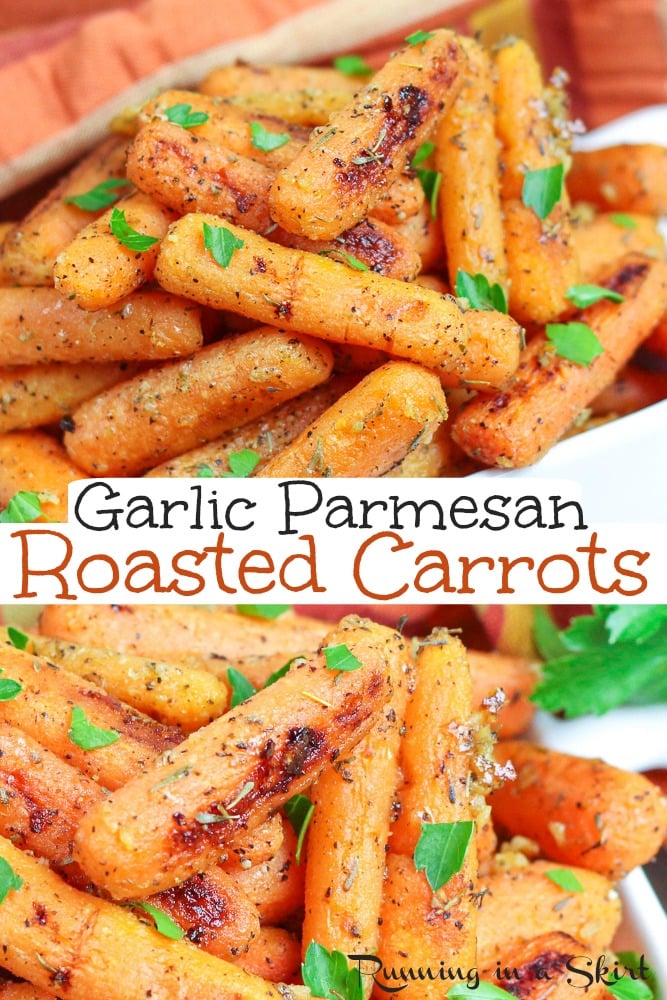 This 5 Ingredient Garlic Parmesan Roasted Carrots recipe is super tasty, healthy and easy to make. It's the best oven roasted carrots recipe you will find.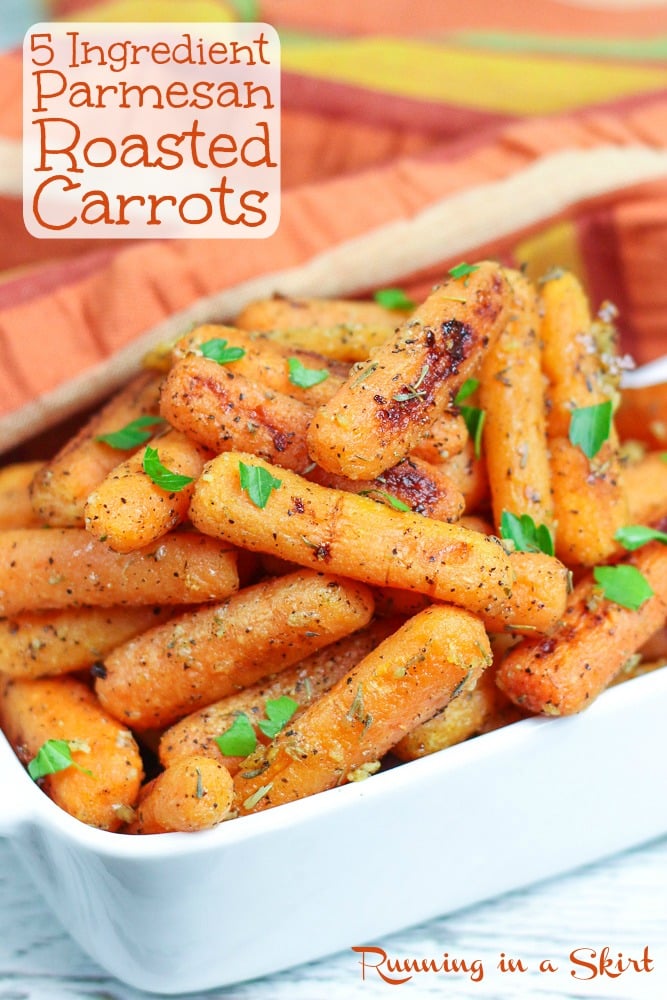 The daffodils and trees are just starting to bloom in the mountains and I am giddy like a schoolgirl that spring is here. With the new season, I'm trying to incorporate some fresh seasonal sides to my weekly menu including this Garlic Parmesan Roasted Carrots recipe. Don't these pretty little carrots just scream spring?
I love how oven roasting these on a simple sheet pan turns them from a boring ole' bag of baby carrots to a delightful recipe that will have your family asking for more. They are downright irresistible and I dare say this roasted carrots recipe will even turn carrot haters in CARROT LOVERS.
Don't believe me... here is why!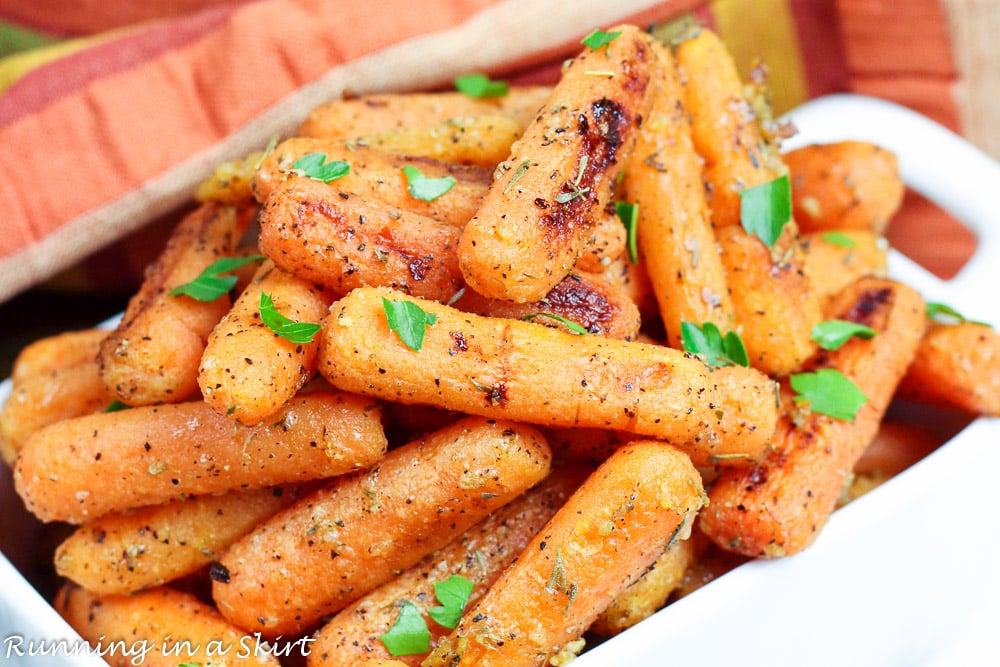 Parmesan Roasted Carrots recipe
I'm pretty predictable at the grocery store. I pick up one of those bags of baby carrots almost every time I go for snacking. I've snacked on them since High School! One time I ended up with a few extra bags and decided to get creative by using them for dinner. The result is this Parmesan Roasted Carrots recipe that is perfect for any season.
I'm kind of sad I spent decades only snacking on the baby carrots raw because roasting them is a game-changer.
And even though carrots feel spring-y this a great year-round side dish because baby carrots are easily available 365 days a year. That's just one reason to love this recipe.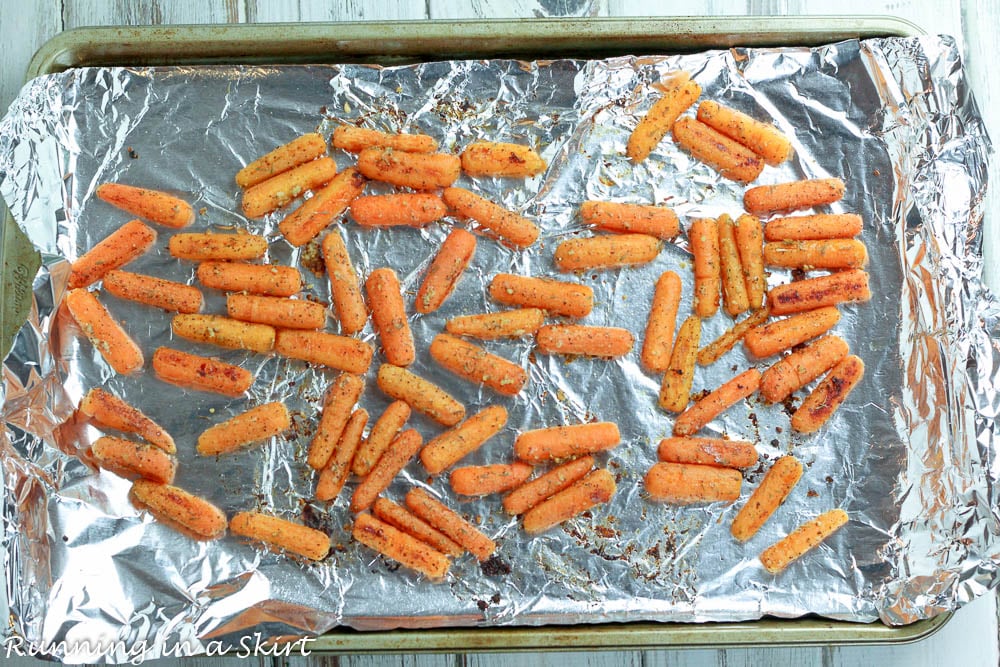 The Best Oven Roasted Carrots recipe
This is really the best oven-roasted carrots recipe. If you haven't roasted carrots yet you have to join the party. The flavors totally pop when you do. They come out tender and rich in flavor.
This is so simple to throw together and is really just simply cooked on a sheet pan. The flavors of parmesan and garlic go perfectly together with the slightly sweet baby carrots to make a side dish everyone will ask for again and again.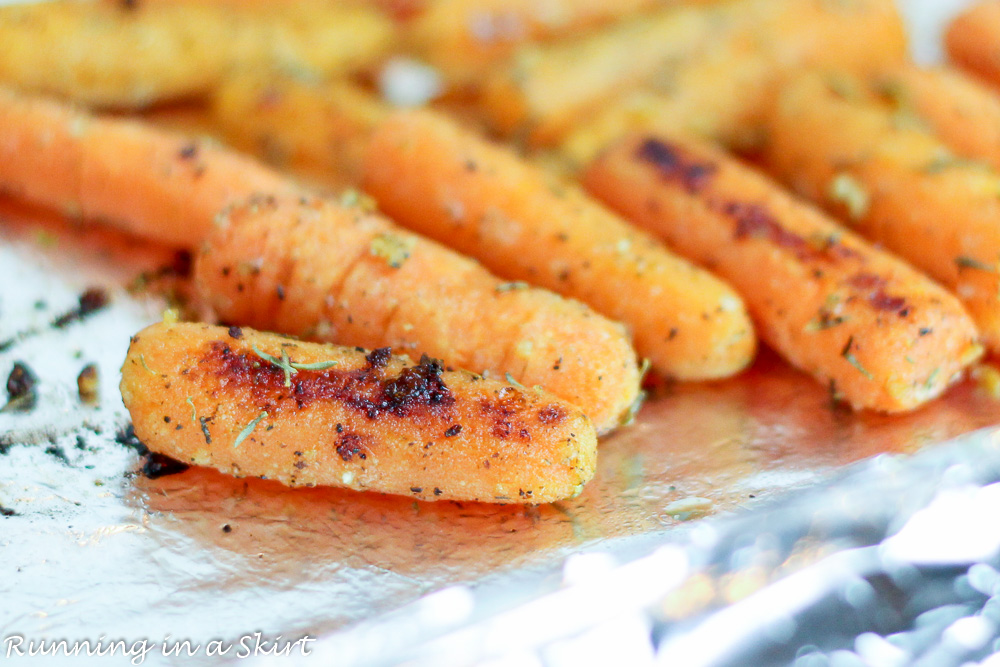 Simple Sheet Pan Roasted Carrots
Another favorite part about this recipe is how it's just a Simple Sheet Pan Roasted Carrots recipe. It's really THAT EASY.
I love tossing the ingredients on a foil-lined sheet pan and roasting them. It's easy to clean up and can be made in less than 30 minutes... which is about all the time I have to cook these days.
Any recipe that's only 5 ingredients, tastes incredible and takes less than 30 minutes to cook is a winner.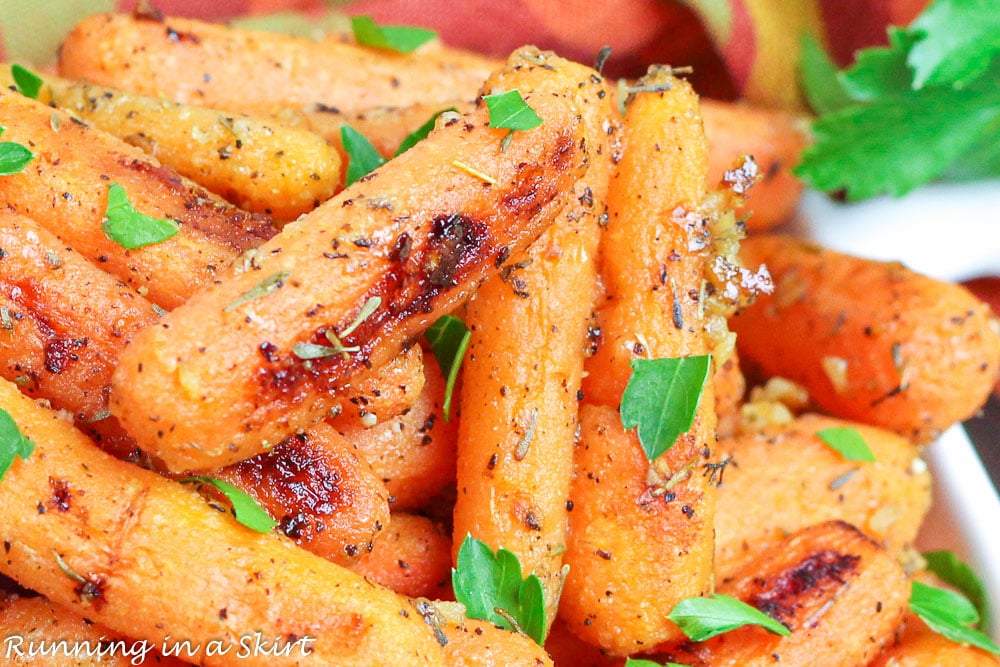 What's in this Parmesan Garlic Roasted Carrots recipe?
It will be our little secret that my Parmesan Roasted Carrots are only five ingredients! Here's what you will need...
Baby Carrots
Parmesan
Garlic
Thyme
Olive Oil
How to Roast Carrots?
Curious how to roast carrots? It could not be easier!
Toss the carrots in olive oil, parmesan, garlic, and thyme.
Lay on a sheet pan and roast until tender.
You can add another dusting of parmesan after cooking.
If you are feeling fancy, garnish with parsley-like I did!
Simple and tasty!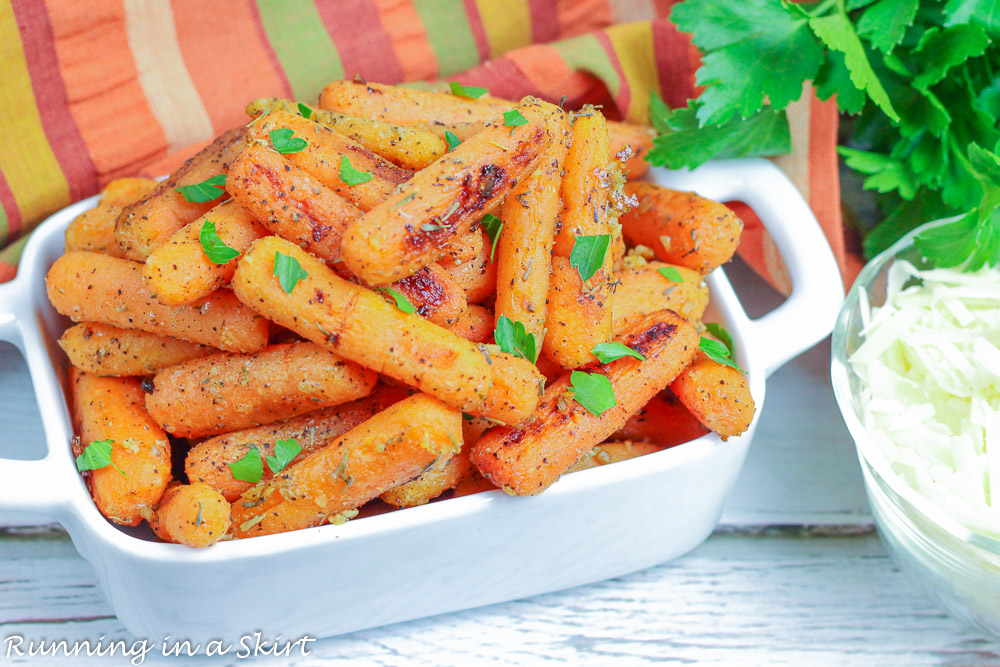 The end result is a super tasty kid and a family-friendly recipe you will want to make again and again.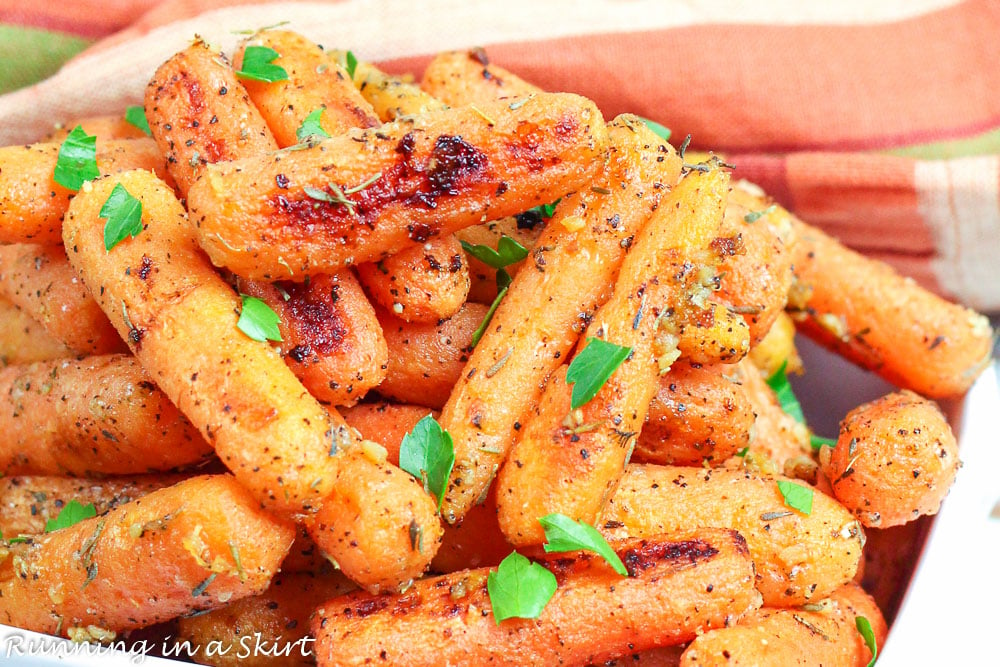 Roasted Carrots Recipe
The best part about this Roasted Carrots recipe is how versatile it is! You can easily make them for a simple side dish for any weeknight dinner OR put them in a pretty dish and they'd even be super delicious on your Easter table.
I'm totally obsessed with this Parmesan Garlic Carrots recipe and I know you will be too!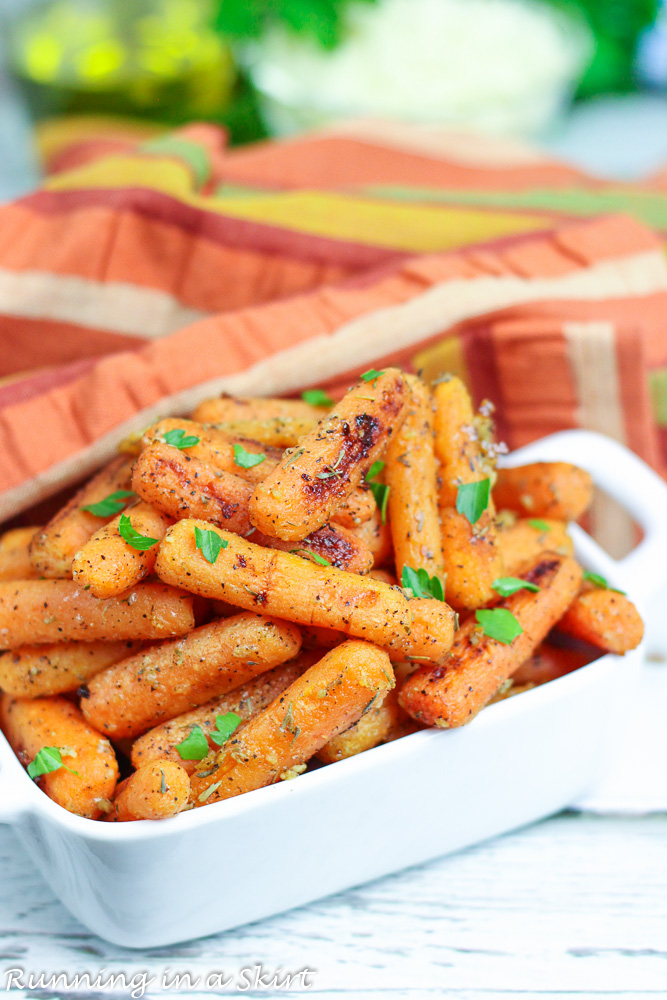 As always I'd love to know what you think! Give them a try and let me know.
Enjoy!
Love Oven Roasted Vegetables?
Pin for later!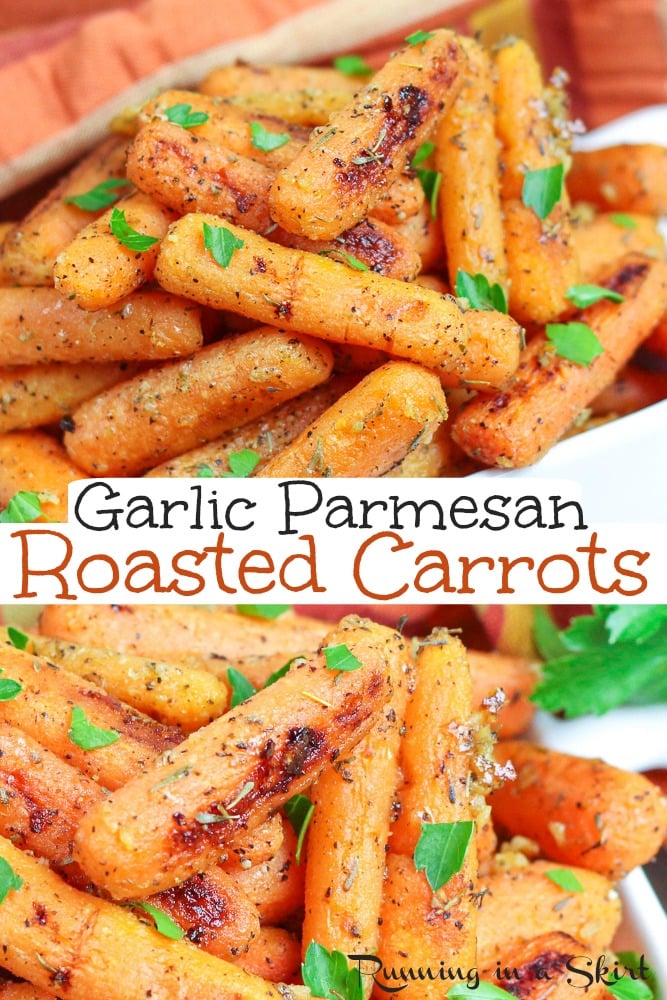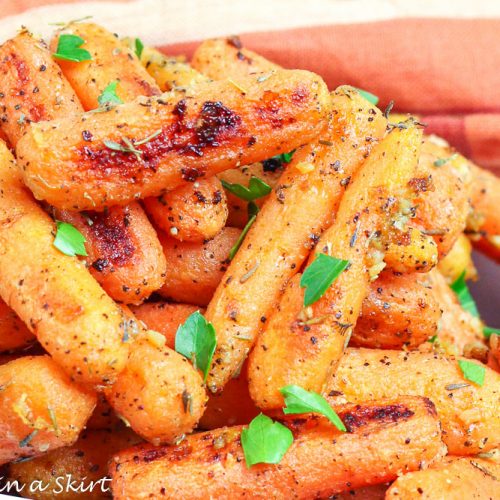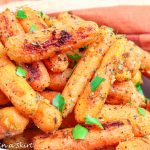 Parmesan Roasted Carrots recipe
This is the best oven roasted carrots recipe! This Parmesan Roasted Carrots recipe is full of flavor and only 5 Ingredients!
Instructions
Preheat the oven to 400 and line a baking sheet with foil. Spray with cooking spray.

Combine all the ingredients in a bowl and toss well.

Roast for 25-30 minutes, tossing halfway through.
Notes
Serves four smaller side dishes or two large ones.
Nutrition
Calories:
87
kcal
Carbohydrates:
10
g
Protein:
2
g
Fat:
5
g
Saturated Fat:
1
g
Cholesterol:
3
mg
Sodium:
149
mg
Potassium:
269
mg
Fiber:
3
g
Sugar:
5
g
Vitamin A:
15667
IU
Vitamin C:
3
mg
Calcium:
81
mg
Iron:
1
mg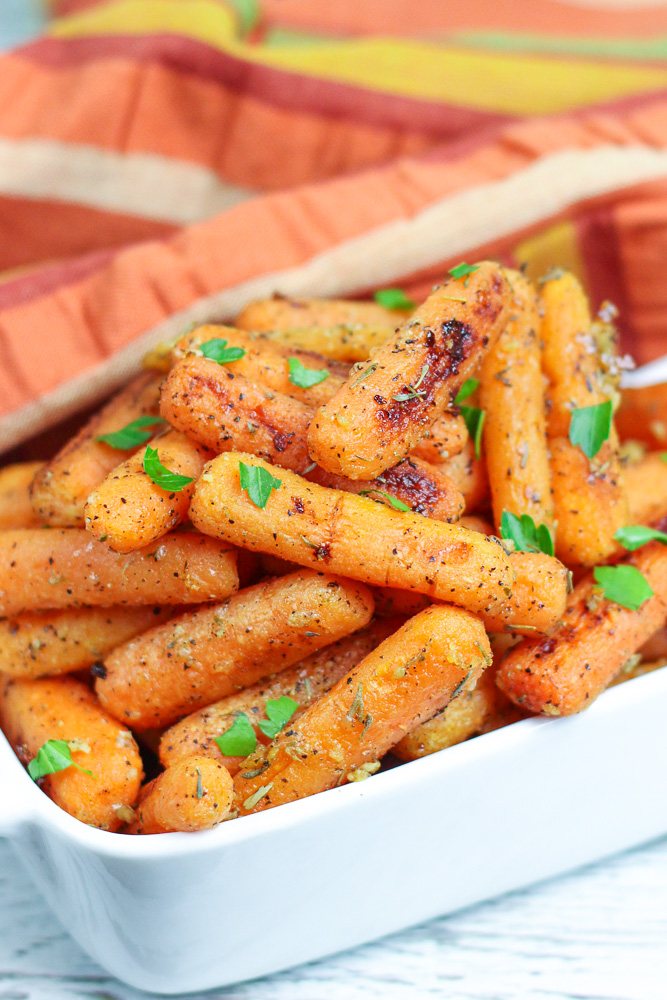 Your turn!
What are you doing for Easter?