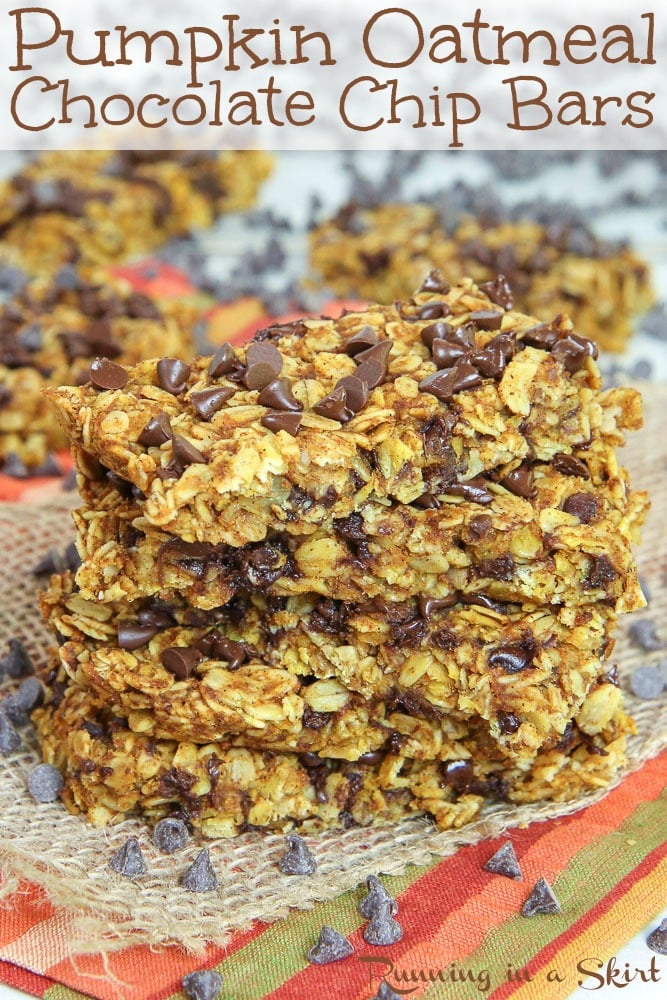 This Pumpkin Oatmeal Chocolate Chip Bars recipe is the perfect snack or dessert!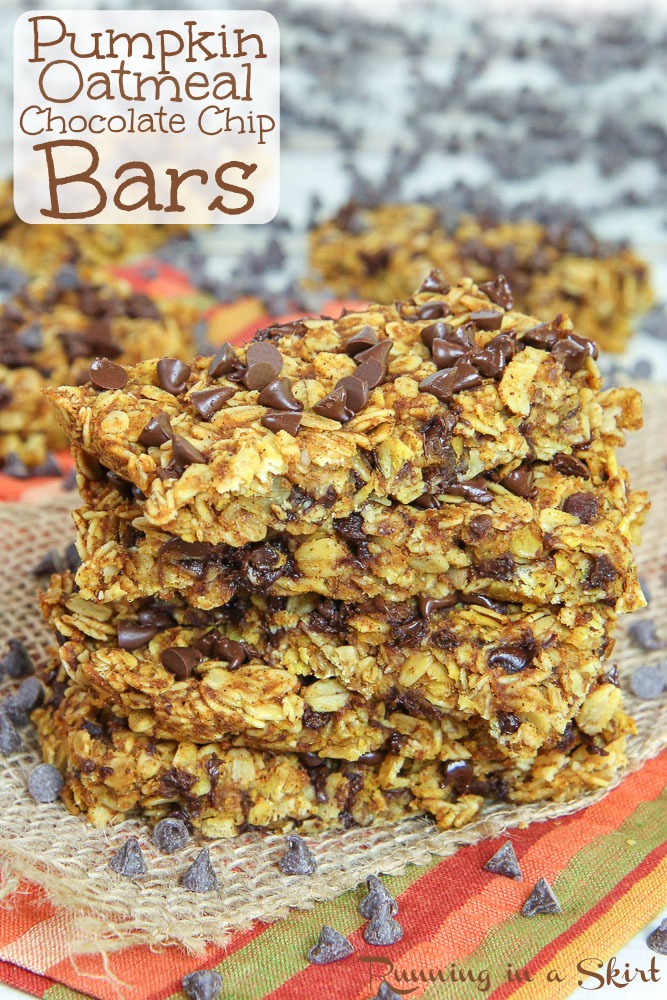 Hello! Hello!
If you didn't see my Instagram Stories in the past few days you missed seeing Hunter learning to take off his own diaper AND both babies squirting those food pouches all over themselves, their high chairs and Makena. My babies are turning into crazy, wild toddlers more and more each day. It's often hilarious, heartwarming and exhausting all at the same time. It's always messy!
Eating quickly is becoming more and more important as two babies can make the biggest mess in a matter of seconds. That's why I created this Pumpkin Oatmeal Chocolate Chip Bars recipe for a quick fall snack on the go. It's filled with goodness like oats, honey, and pumpkin. The chocolate chips are a bit of a treat to handle the chaos that is my life. 🙂
I'm sure you have a reason to need these too!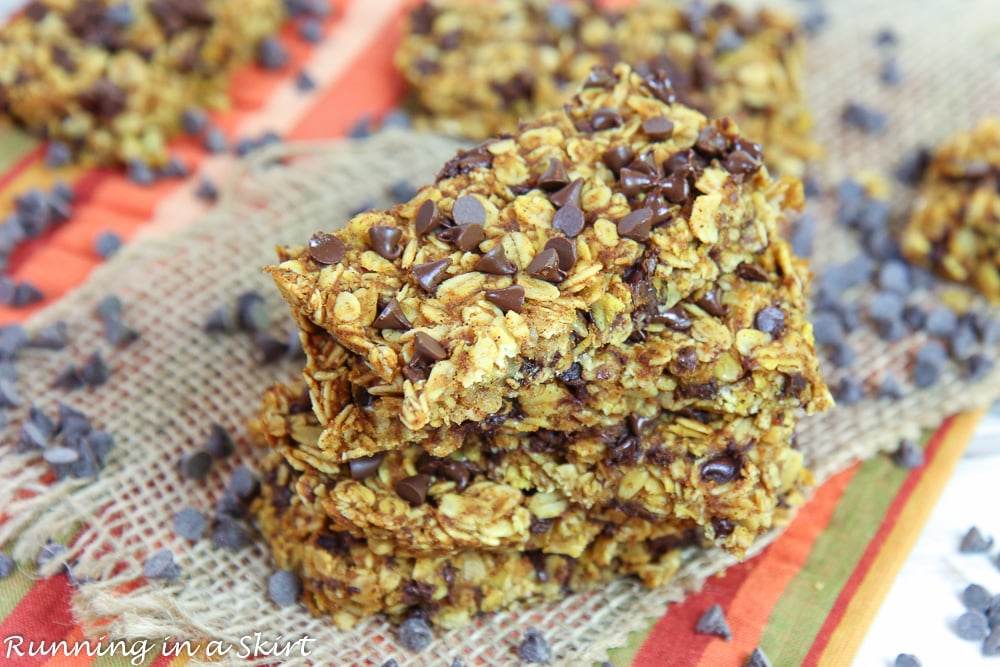 Why you'll love this Pumpkin Oatmeal Chocolate Chip Bars recipe...
These bars are so flavor and so easy to make. No matter whether you have twins running around or not EASY is the way to go.
Plus the pumpkin chocolate chip is simply dreamy! If you haven't tried it yet you are missing out.
I love this recipe because the bars are filling and totally satisfy my hunger and my sweet tooth at the same time. The oats and pumpkin are so good together.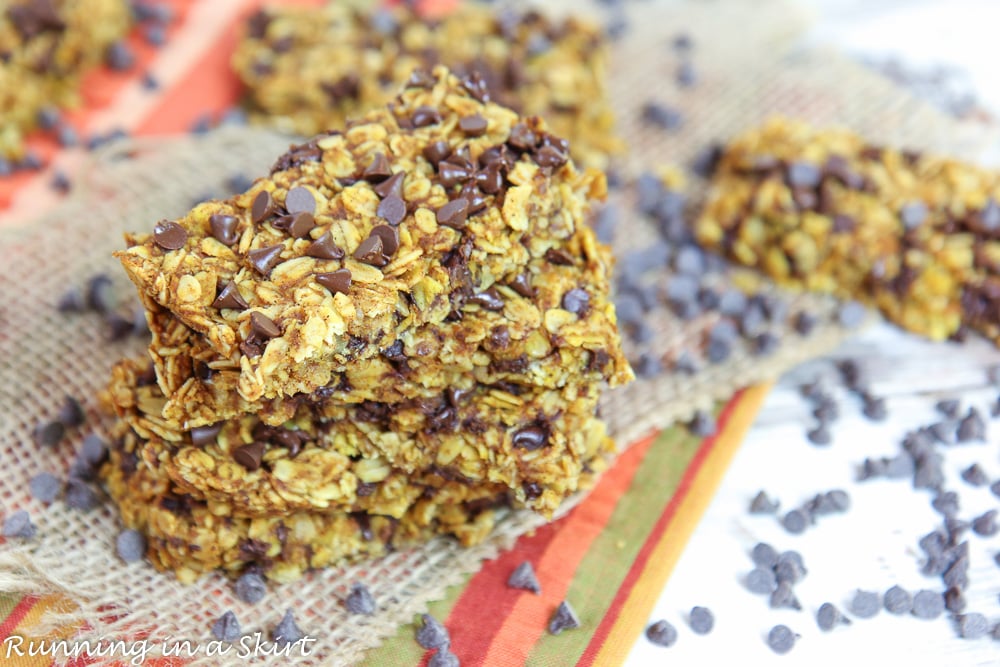 What's in my Pumpkin Oatmeal Chocolate Chip Bars recipe?
This Pumpkin Oatmeal Chocolate Chip Bars recipe is filled with regular, nourishing ingredients! Nothing that's hard to find. I actually keep all of these things in my pantry and suspect you might too!
Pumpkin Puree
Oatmeal
Honey
Coconut Oil
Chocolate Chips
Pumpkin Pie Spice
Vanilla Extract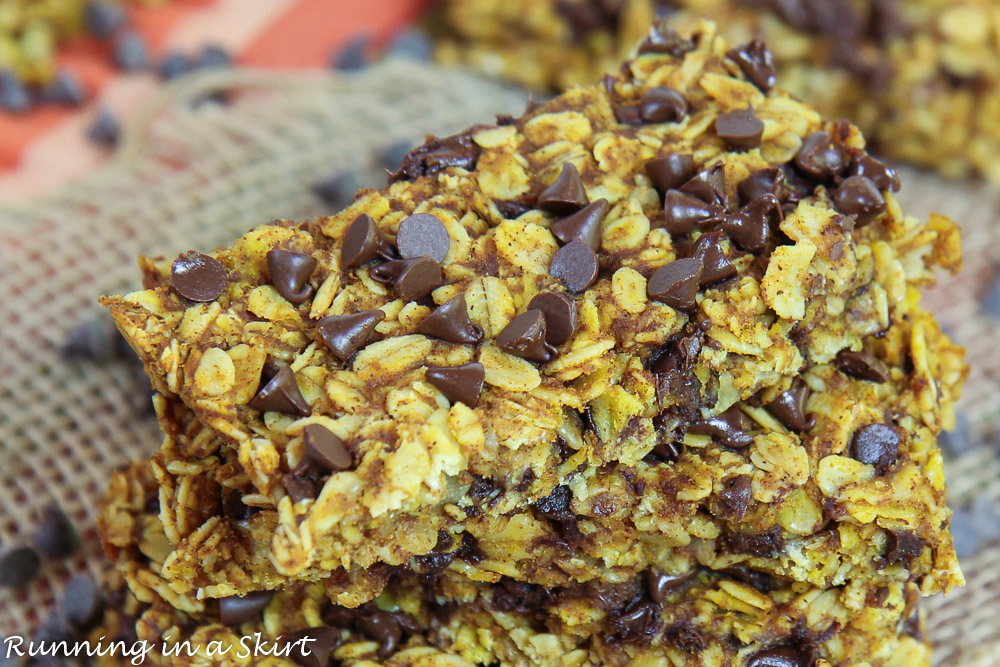 How to make my Pumpkin Oatmeal Chocolate Chip Bars recipe...
This recipe comes together in less than 10 minutes! The only trick is making sure you line your baking dish with parchment paper so you can easily lift out the bars to cut them evenly. If you forget or don't have parchment paper you might not get the perfect shape bars, but I promise they will still taste as good. I think you could also use foil!
Here's the rest of the steps....
Line your pan and preheat the oven.
Microwave the honey and coconut oil together. Allow to cool.
Mix the rest of the ingredients in.
Press in a pan and bake!
Cool in oven and then in the fridge. This allows the bars to firm up and set.
Cut into bars and enjoy. 🙂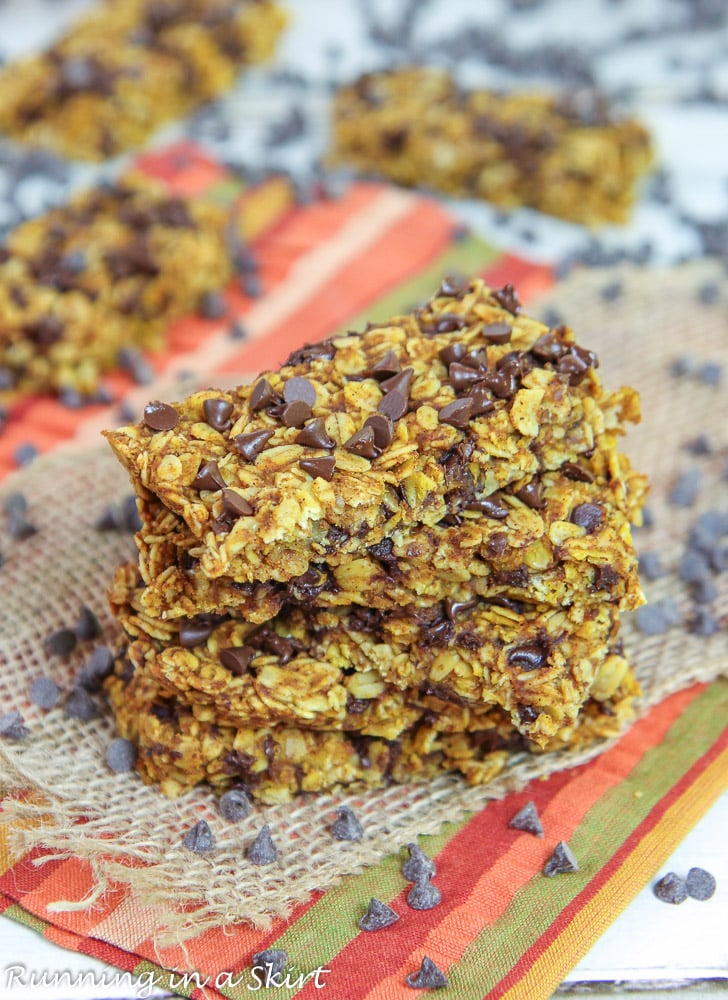 These bars are perfect for a quick snack to matter who you are chasing around... even if it's just yourself. I hope you enjoy them as much as I do.
Love pumpkin and chocoalte? Also try...
Pin for later!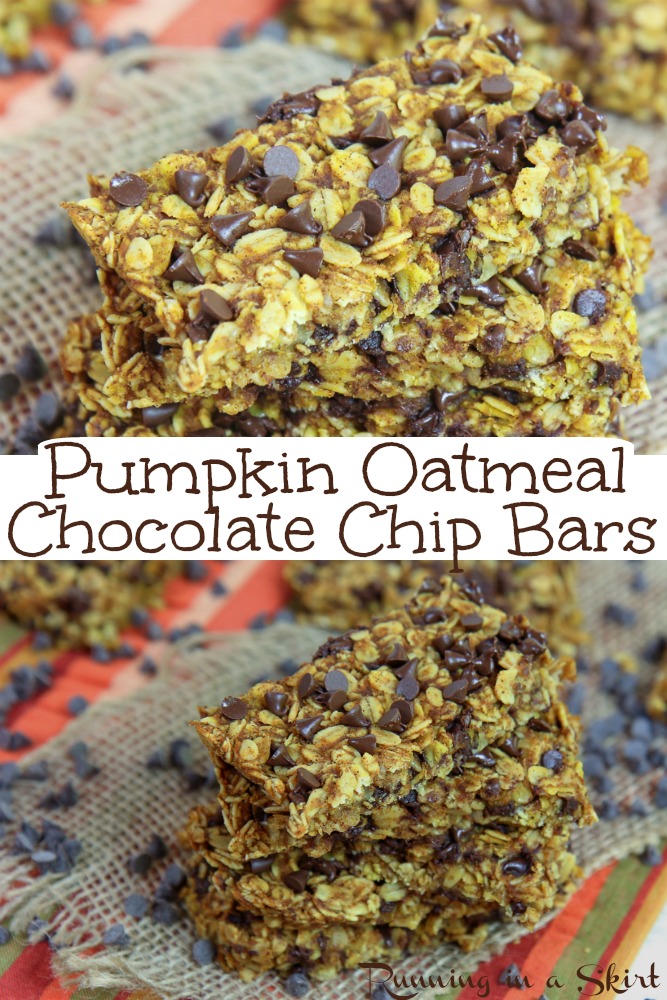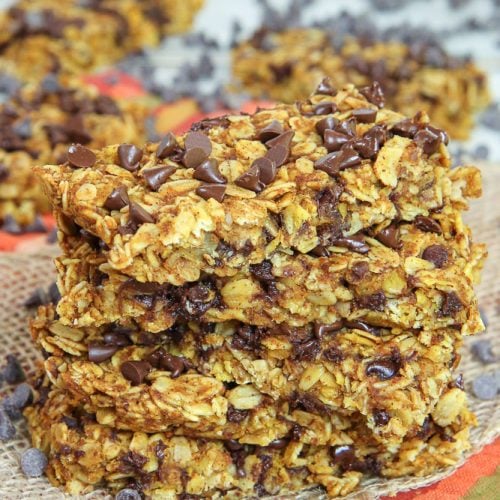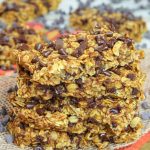 Pumpkin Oatmeal Chocolate Chip Bars recipe
This Pumpkin Oatmeal Chocolate Chip Bars recipe is super tasty and easy to make! You'll love these bars for a snack or dessert.
Instructions
Preheat the oven to 350 degrees.

Line an 8x8 baking pan with parchment paper. Leave enough on the sides to allow you to pull the bars from the pan once cooked.

In a microwave-safe mixing bowl, microwave the coconut oil and honey in 10-second increments until it becomes more like a liquid. Stir well.

Add the oatmeal, pumpkin puree, pumpkin pie spice, vanilla extract, and salt. Mix together well. Allow to cool.

Once the mixture is just cool enough to keep all the chocolate chips from melting carefully fold them in.

Press the mixture into the pan. Smooth the top. Sprinkle any extra chocolate chips on the top you'd like and carefully pat them into the surface.

Bake for 20 minutes. Allow to cool and put in the fridge for at least 30 minutes.

Use the parchment paper to pull the entire sheet of bars out of the pan. Carefully cut into bars. Store in the fridge!
Nutrition
Calories:
152
kcal
Carbohydrates:
20
g
Protein:
2
g
Fat:
8
g
Saturated Fat:
6
g
Cholesterol:
1
mg
Sodium:
66
mg
Potassium:
68
mg
Fiber:
1
g
Sugar:
14
g
Vitamin A:
1920
IU
Vitamin C:
1
mg
Calcium:
18
mg
Iron:
1
mg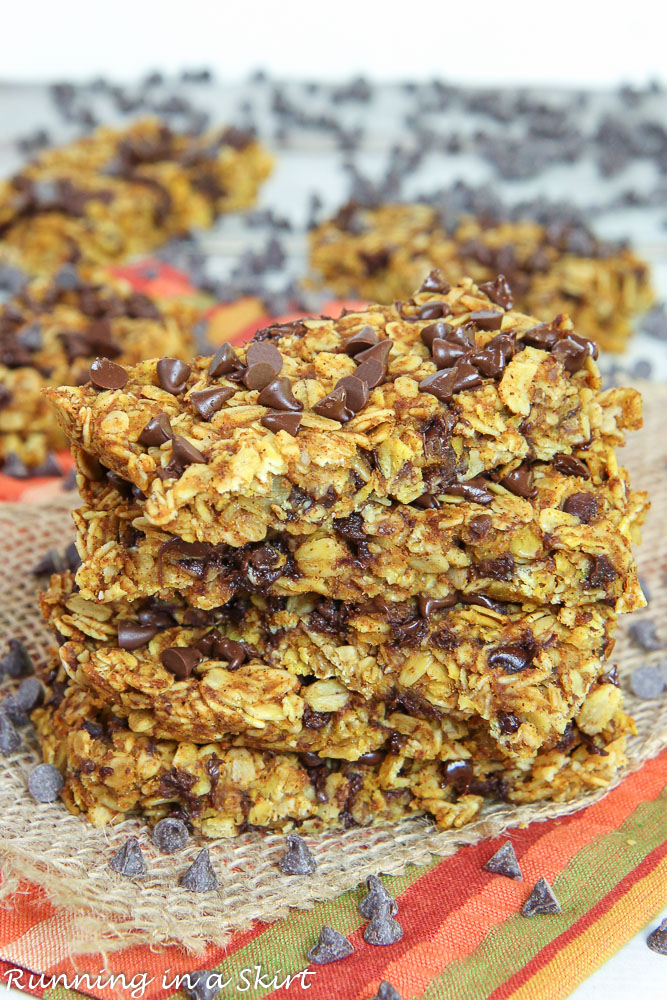 Your turn!
Do you make your own bars?