Rainbow Carrots are beautiful on their own, but my Honey Balsamic Rainbow Carrots take them to their pot of honey gold!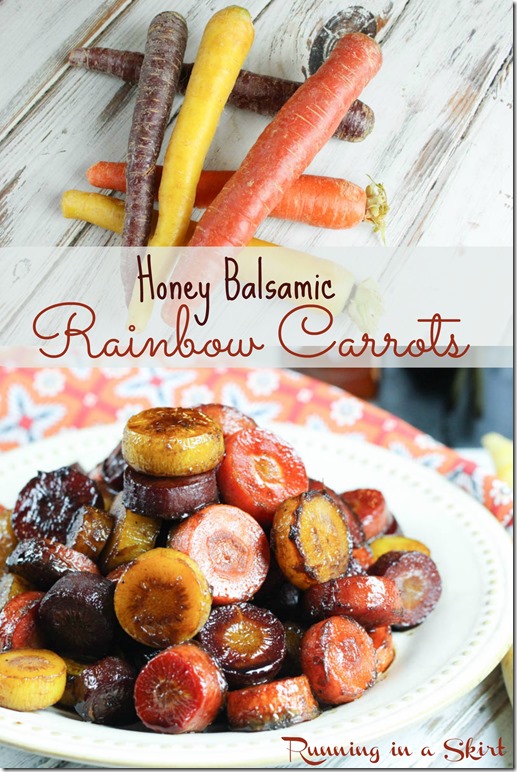 Hi friends!
It was 70 glorious degrees in Asheville yesterday. I ran outside in a skirt and it was beautiful. It is supposed to snow and ice again today (hello bi-polar weather,) but for a moment I could feel spring on the horizon. I couldn't wipe the goofy grin off my face for most of the day.
Nothing, other than a 70 degree day, screams spring more to me than some beautiful rainbow carrots.
I saw these at the store the other day and I was in love at first sight.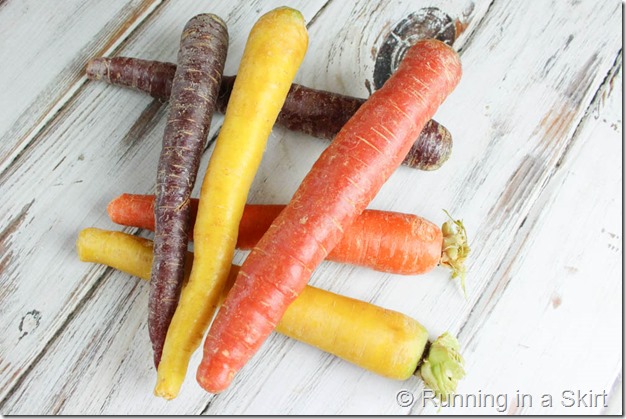 I fell even further in love when I cut them up.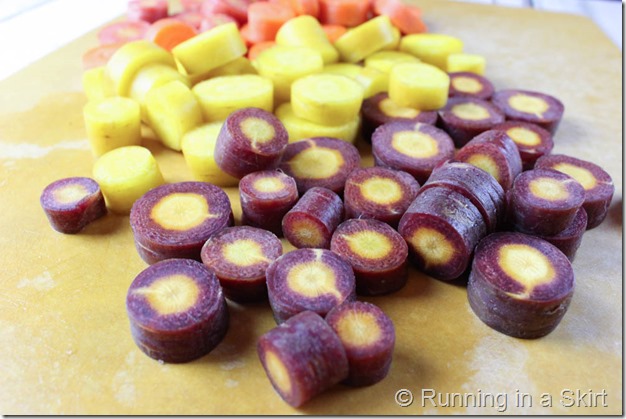 I almost didn't want to cook my rainbow carrots, but food like this was meant to be enjoyed.
So I roasted them. I let them get soft but not completely lose their bite.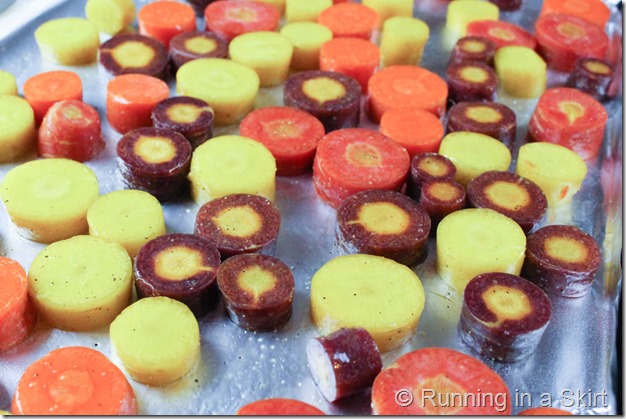 I then put my rainbow carrots in a honey balsamic glaze…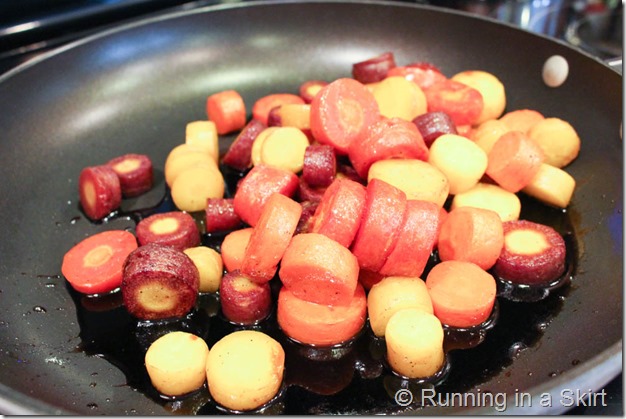 …because they deserved the best. I was in love with them after all.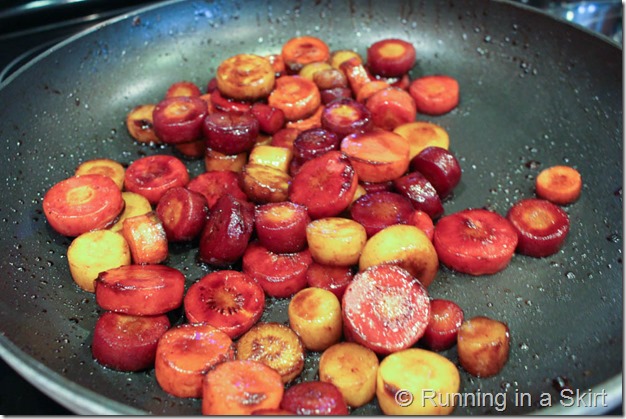 And just when I though I couldn't love rainbow carrots any MORE, I created this.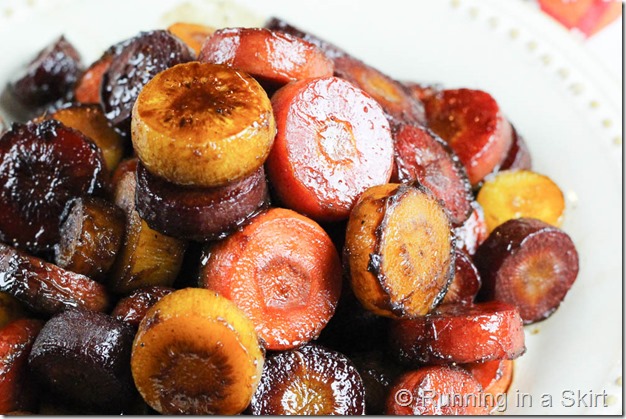 My Honey Balsamic Rainbow Carrots are sweet and savory at the same time and all around magically delicious.
You could easily make Honey Balsamic Carrots with regular orange carrots too, but for me the rainbow carrots just spoke to my heart.
*thump*
*thump*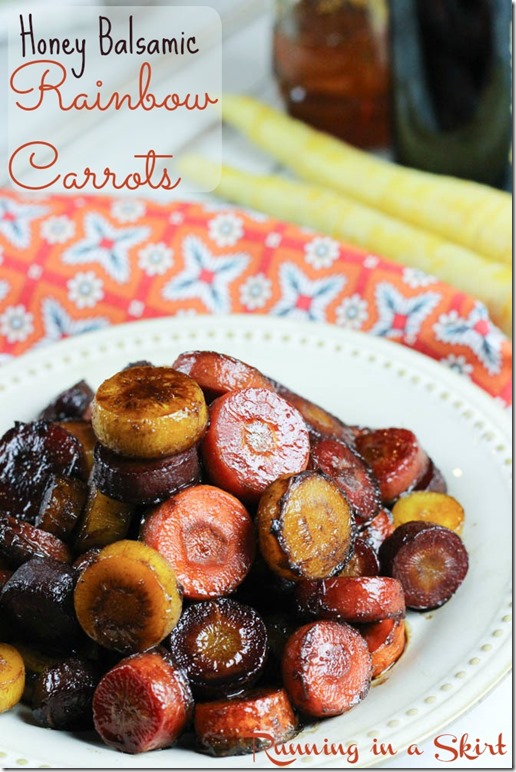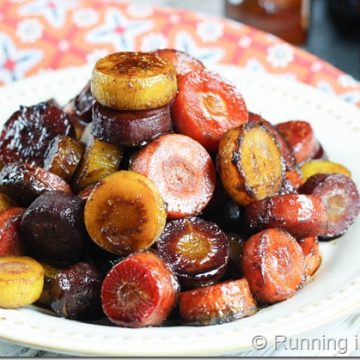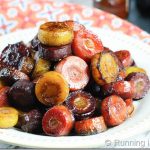 Honey Balsamic Rainbow Carrots
Rainbow Carrots are beautiful on their own, but my Honey Balsamic Rainbow Carrots take them to their pot of honey gold!
Ingredients
4

cups

rainbow carrots

,

cut in ½ inch slices (about 6 large carrots)

2

teaspoons

olive oil

3

tablespoons

balsamic vinegar

2

tablespoons

honey

salt and pepper to taste

Cooking spay
Instructions
Preheat oven to 400 degrees

Coat carrots in the olive oil and season with the salt and pepper.

Pour carrots onto a cookie sheet that has been coated in cooking spray.

Roast carrots in the oven for 25-30 minutes or until tender. You want them to be soft but still have a little bite.

A few minutes before carrots are done, combine the balsamic and honey in a sauté pan. Allow to warm and combine over medium heat.

Take carrots out of the oven and carefully put them into the same pan.

Sauté carrots with the balsamic honey mixture for 5-10 minutes or until the liquid completely glazes over the carrots.
Notes
I line my cookie sheet with foil for easy clean up. Makes four 1 cup size portions.
Nutrition
Calories:
113
kcal
Carbohydrates:
23
g
Protein:
1
g
Fat:
2
g
Saturated Fat:
1
g
Sodium:
92
mg
Potassium:
423
mg
Fiber:
4
g
Sugar:
16
g
Vitamin A:
21384
IU
Vitamin C:
8
mg
Calcium:
45
mg
Iron:
1
mg
I worry sometimes that I get too excited about good food. Is it normal to love carrots so much? Haha. Don't answer that 🙂
Tomorrow is Fashion Friday and I have a different spin with some makeup tips for TV that you can use everyday. The post includes my second official You Tube video!
Your turn!
How do YOU feel about my rainbow carrots. I will not get jealous, I promise 🙂