Good morning, friends!
In honor of my favorite pastime AND Global Running Day I present to you ... drum roll please.... The Ultimate Running Roundup!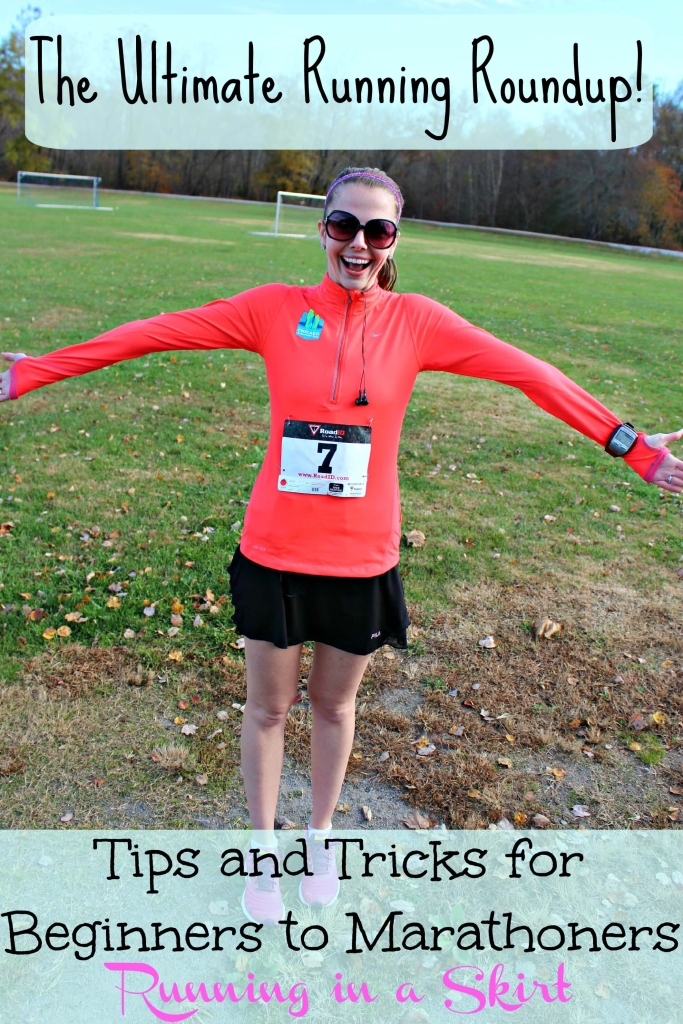 While I don't talk about running as much as I used to on this blog, it is still one of the great loves of my life. Unless I'm injured or having health issues, I consistently run at least three days a week. I will never be the fastest or best runner, but I love the challenge running brings to my life. It sounds cliché at this point, but running truly is a therapy for me and always makes my day better. One of my favorite ways to spend a Saturday morning is at a community race.
So for National Running Day I want to go back and share with you some of my favorite running articles from the Running in a Skirt archives. Ones that will perhaps help you learn more about why I love running so much or help you start running. If you are already a runner I hope you can find some new ideas or inspiration for the next time you hit the pavement. For long term readers, this may be a bit repetitive, but I know I have some newbies out there who are hopefully just seeing some of these oldies for the first time.
So without further ado...
The Ultimate Running Roundup
Inspiration
My Top 5 Racing Moments in 5 Year's of Running
5 Essential and Practical Tips to Conquer Running with Asthma
How to Bring New Adventure to Your Everyday Runs
5 Ways to Get Back into Running After the Winter Break
Running Mistakes I've Made (So you don't have to!)
5 Ways to Get Your Running Mojo Back
The Year of the 5K and Why I'm Loving Shorter Races
Benefits of Early Morning Running
Beginners
5 Ways to Make Running a Habit (Even when it feels really hard!)
10 Tips for Healthy & Injury Free Running
6 Yoga Poses Every Running Must Know
Christine Felstead Yoga for Runners DVD Review
Clothes & Gear
5 Ways to Score a Deal on Workout Clothes
Minimalist Running Shoes- Fashion or Function?
5 Awesome Running Apps You Don't Know About
5 Rules to Follow When Buying New Running Clothes
Seasonal Running
5 Reasons Why You Should Run a Spring Marathon
5 Reasons Fall Running is Fabulous
5 Ways to Rock Your Fall Race
5 Tips to Keep Running During the Holidays
Treadmill Running
5 Ways to Make Treadmill Running Easier
Let's Get Speedy 5K Treadmill Workout
Race Guides
Ultimate Guide to the Color Run
Disney Princess Half Marathon Guide
And finally if you want to see what races I've run (including the Chicago Marathon and three other halves,) check out my race log! It's not fancy, but it gets the job done. Bonus points if you check out my recaps from my 16 miler, 18 miler and 20 miler. Those were the good ole days!
So happy running, and happy National Running Day (a day late) dear reader. I challenge to go for a run today without any electronics and just focus on WHY you fell in love with running in the first place. Or if you are a newbie, just go outside and try. That's how this whole journey started for me... just trying something new. I promise, you will not regret it.
I'm back to my regularly scheduled blog post tomorrow with Fashion Friday. I'm showing off an adorable summer outfit that never goes out of style!
Your turn!
Share you favorite running article or tips below.