Thanks for stopping by Running in a Skirt! You can also follow me on Facebook, Twitter, Pinterest, Instagram. or subscribe by entering your e-mail address to the right!
Post-WLOS Life
Happy Wednesday Friends! So far my life post-WLOS has been exciting and encouraging. The simple fact that now I can have a normal dinner with my husband at a normal time has been so refreshing. I'm not yet sleeping normally, but I know it will happen.
I am simply blown away by all of the kind comments from you and the number of people who have reached out and made me feel a little better about this big move. I keep saying it, but I really appreciate your support in this new endeavor.
The biggest obstacle so far as been one tired dachshund! Rhett has kept my early morning hours for the entire seven years, so this was him when I wanted to go for a walk around seven last night.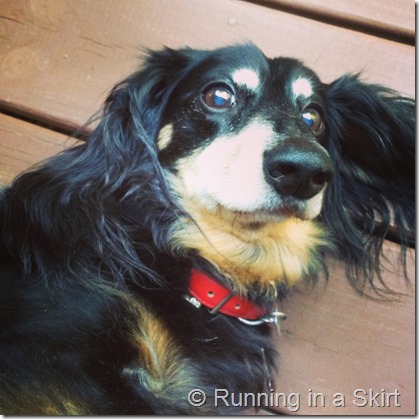 Funny dog. He rallied and Rhett, Reina and my hubby all had a great time. It's the simple things, ya know?
RunHaven Announcement
I have some pretty fun news today! I am happy to announce that in addition to my blogging on Running in a Skirt, I will be also writing blogs for RunHaven. RunHaven is a fabulous running website and resource for athletes. They have a really fun approach to their articles and I think you will like it.
My first posts actually went up over the weekend and if you've been a long time reader of Running in a Skirt, they may look a little familiar.
5 Ways to Make Treadmill Running Easier
10 Tips for Healthy and Injury Free Running
Make sure to head on over to RunHaven to check out these posts and give them some love for me.
Today's post on RunHaven is about one of my favorite topics, clothes! Specifically some rules to follow when buying new running clothes. Whether you are new to running and just buying your first items, or are not a great shopper, these ideas can really streamline your workout wardrobe.
5 Rules to Follow When Buying New Running Clothes
I showed up to my first 5K in cotton capri pants and a cotton long sleeve shirt. Even though it was a cool morning, it was nearly 75 degrees by the time I finished the race and as you can imagine my wardrobe choices didn't work at all. Even though I missed the mark on the outfit, I still loved the race and started signing up for more. But as I started to actually call myself a runner I learned what you wear can really make or break your run.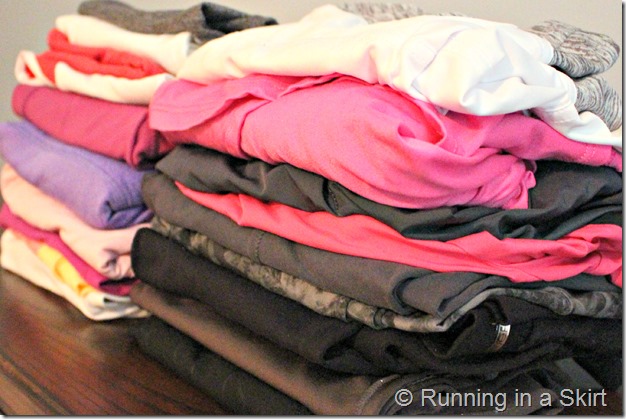 Whether you are new to running or just need some new stuff, there are some basic rules I follow when buying new running clothes.
1- Fabric. Look for "technical" fabric made of a synthetic blend. There are some fancy name brands with specific fabric names, but you can just look for something on the tag that says moisture-wicking material or keeps the sweat off. The fabric generally feels like a Lycra and spandex blend. Stay away from cotton at all costs. When looking for warmer clothes, choose layers of this lighter fabric instead of one really warm item.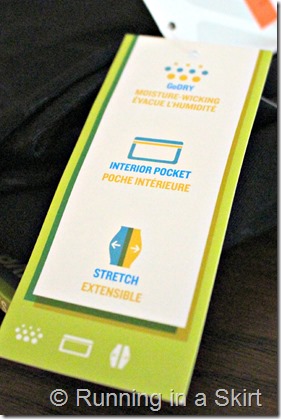 2- Fit. The fit of your running clothes is even more important than your regular clothes. The last thing you want is your tank top to ride up during the entire run or your shorts to pinch in your sides. Look for fitted clothes that don't nip or tuck anywhere. If anything is pinching in the slightest, that will bother you exponentially more starting mile two. Stay away from anything too baggy because it will jiggle or fall and become very annoying. Running clothes can really vary in size even in a certain brand, so make sure to try on what you want and don't just assume your size.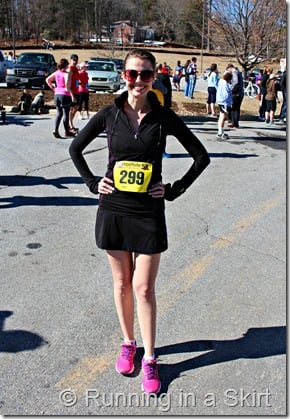 3- Function. Running clothes have so many highly functional options that really can improve your running experience. I always look for tanks with built-in bras and support and running skirts with a pocket for my key. Other highly functional clothing features to look for are compression, built-in shorts or underwear, reflective features, built-in UVF protection and cell phone holders. I even have running skirts where the shorts underneath have non-stick silicone grips to keep them from riding up. It's a life changer! Just know that there are a lot of options that can make the logistical side of running a bit easier.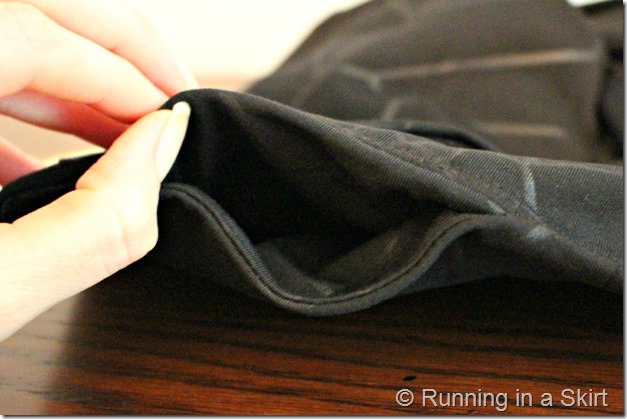 4- Compatibility. Now some people might not mind mixing running clothes that don't match, but I try not to. As with building any wardrobe consider what you already have before buying a new item. I find it easier to start with one base color like black, navy or gray. Get some solid foundation pieces like pants, shorts and skirts and then add color with tops. If you only have a pair of purple pants, you are going to have trouble finding things to match it.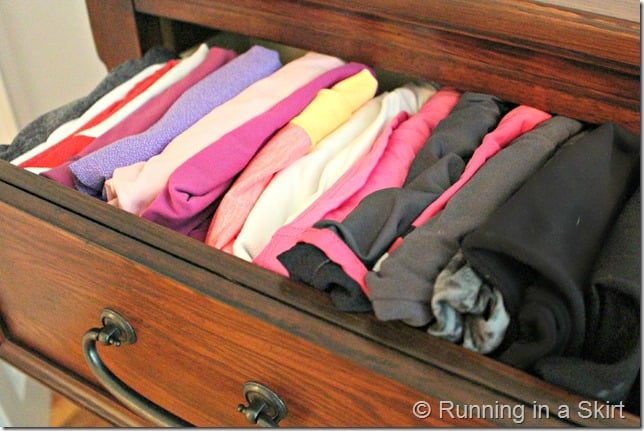 5- Style. If you feel good, you will be more likely to keep running! My personal style is pretty girly, so I was naturally drawn to buying running skirts when I finally replaced that first pair of cotton capris. But you should buy what makes you feel good! If you are uncomfortable with your legs, don't force yourself into traditional running shorts. Try short capri pants or a longer running skirt (JWalking Designs has great longer skirts!) There are even combo pieces that have skirts or shorts over capri pants. If you never where skirts, pick a sleek pair of shorts and a complementary nicely cut tank. Find your style and carry it over to your running clothes so you will feel your best during all your miles!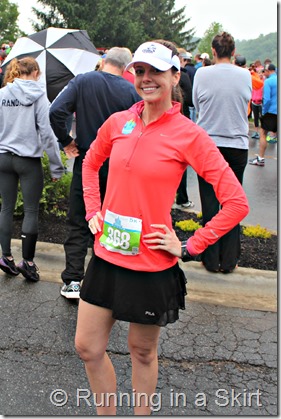 It may take a little more effort to follow these rules, but if you do you will feel more confident in your running clothes! Fashion and function can absolutely come together no matter how long or short you run.
Your turn!
Do you get to eat dinner with your family?
What do you look for when buying running clothes?[/fusion_builder_column][/fusion_builder_row][/fusion_builder_container]