Thanks for stopping by Running in a Skirt! You can also follow me on Facebook, Twitter, Pinterest, Instagram. or subscribe by entering your e-mail address to the right!
Happy Fashion Friday! #FashionFriday Muh-haaaa!
How about a little fashion to end the work week? Each Friday I'm going to bring you a different outfit or look from various fabulous locations. I'm sort of excited about this one!
Today's post is based on a concept I've used over the years to expand my closet. I will share one article of clothing and show you three different ways to wear it. My Mom taught me at an early age that accessories can totally change your look and I'd like to share some of her tips along the way.
A navy and white striped dress is the featured article of clothing for today's #FashionFriday
I got mine at Charming Charlie's, but I can't find the exact same one online. Here is a similar one at Charlotte Russe and this one at Belk is also similar.
It's a favorite of mine for it's ease of wear, comfort and ability to change-up. You can also see it in this skater dress post from last year and on my mini vacation Key West trip post in two additional different ways.
The pictures were taken by my Sister-in-law Megan at the Lake Murray lake house my hubby's family rented last month.
One
Concept one is to dress it up, but keep it summery. A yellow bib necklace and neutral beige wedge shoes add enough pizzazz, but don't overkill the dress.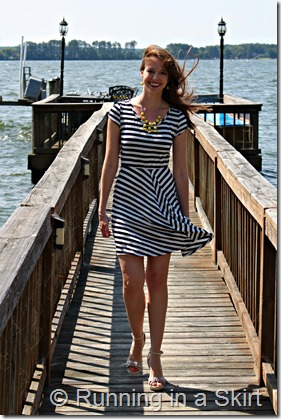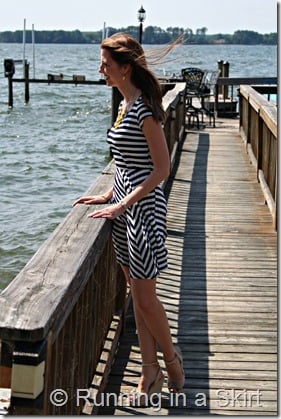 Bib Necklace: Charming Charlie
Wedge Shoes: White House Black Market
Two
Outfit two gives the dress a little more office feel with a cardigan and belt. I love the idea of layering a cute belt over a cardigan to give you more versatility. I keep the accessories in the gold family and put a long necklace to add interest with the cardigan's open shape. You could add more serious brown shoes, but I love sparkly sandals for just about any occasion.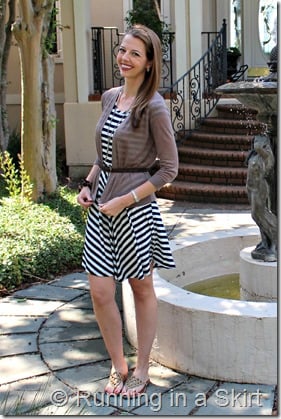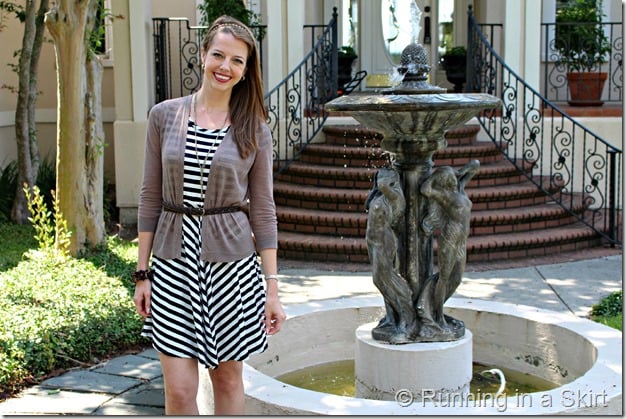 Cardigan: Ann Taylor Loft
Necklace: Ann Taylor Loft
Belt: Old Nacy
Shoes: Belk
Three
Outfit three is one of my favorite ways to switch the look of a dress, especially for Fall. If you have a summer dress you can usually add a jacket and boots and extend it's season through early Fall. This is a perfect example. I went with big dangle earrings and no necklace since the jacket is already embellished.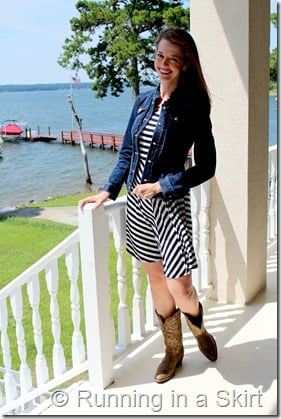 Jacket: White House Black Market
Boots: My real Cowboy boots from Nashville
Earrings: Arden B
Three different ways to give one dress a new look!
Your Turn!
How has your week been?
Do you have a go-to dress?