The best thing about running, is that in it's purest state, it's something uncomplicated that most people can do. You don't need fancy equipment or a gym membership, just a pair of running shoes and a road or trail.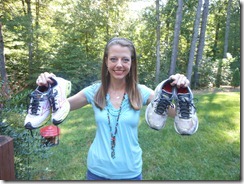 Somehow I ended up with many running shoes…
Yes, I know I have a shoe problem.
Once you take that step out the door and move your walk to a jog or run, you are a runner. It's not a fancy title that needs four years of school or a special test. It's not something so exclusive that only the richest or most athletic people can call themselves. You don't have to be fast or look like a Runner's World model. If you run, you are a runner. It's as simple as that. But the pride that comes with calling yourself a runner can exceed some of the most prestigious awards and titles.
Just taking that first step can be the hardest, but if you want to give it a try here are some steps to get you started.
1. Start off Slow.
Don't be afraid to go too slow. It doesn't matter for now, you'll get faster with time. Just keep your feet moving. Most of us will never be an elite athlete. Only compete with yourself and try to do a little more each time you run.
2. Try a Walk/Run Combo
Don't feel bad if you can't run constantly to start. It's very hard to start something new. I couldn't run a half mile when I started without losing my breath!
Aim for a 20 minute goal. If running for 20 minutes straight is too hard (and don't feel bad if it is), try running for 3 minutes and walking for 1 minute. An inexpensive stopwatch can help you with the timing. Over time, run more and walk less. Soon you will be shocked that you will go through the whole 20 minutes and you can start running for longer times and distances.
3. Plan Ahead!
Decide when you want to run ahead of time and put it in your calendar, planner or smartphone. If you are running in the morning, put out your exercise clothes the night before. If you are running after work, pack a bag and take your clothes with you. If you have invested time in getting ready to run, you are more likely to do it.
4. Tell Someone!
Find an encouraging friend or someone who already runs. Tell them you are just starting out and they will most likely be thrilled to offer you some tips or kind words. Runners love to talk about running. Trust me! This will also hold you accountable for following through with your new hobby.
5. Sign up for a 5K!
Find a local 5K that is 2 to 3 months away. This will give you a goal to run 3.1 miles within a reasonable amount of time. Here is a link to a "couch to 5K" program online. If you have goal, like a specific race, you are more likely to stick with it!
http://www.coolrunning.com/cgi-bin/moxiebin/bm_tools.cgi?print=181;s=2_3;site=1
If these tips aren't enough, and you feel like you need a little more guidance, there are local programs that can guide you through your first 5K.
Girls on the Run of WNC is kicking off a "First 5K" Training Program September 26th! They are offering 10 weeks of guided runs and training sessions to prepare you for their 5K on December 8th. It's a perfect way to start running or return to running.
Click here for more information on the program. It sounds perfect for newbie runners!
http://www.gotrwnc.org/gotr-wp/wp-content/uploads/First-5K-Training-Program-poster-final.pdf
Enjoy and happy running!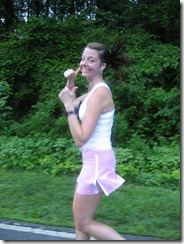 See? This is at my first half marathon.
I couldn't be happier!
How did you get into running?
Have you ever thought about starting to run? If so, what is keeping you from giving it a try?
[/fusion_builder_column][/fusion_builder_row][/fusion_builder_container]