Marathon madness is in full swing at our house! I spent most of the weekend preparing for and running the BIG 20 mile run that was on the schedule. Here is a hint on how it went…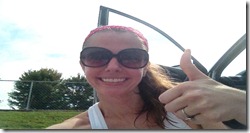 I'll have a full write up on the 20 mile run later this week, but today we have another exciting installment in the "Marathon Monday" series! Yay!
Meet Sidd!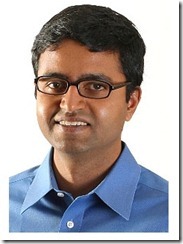 Hi Sidd!
I was introduced to Sidd by best friend Sarah. They both work at Carnegie Mellon University in Pittsburgh, Pennsylvania.
Sidd Srinivasa ran the Chicago Marathon not once, but twice! How cool is that? He has a very interesting perspective on how weather plays a huge roll in your race. I can only hope it's a mild day in Chicago on October 7th. Running in heat can be brutal!
Sidd—Thank you so much for sharing your story! Your love and passion for running is very inspiring.
------------------
I ran two Chicago marathons, in 2006 and in 2007. Although my times
were similar, my experiences were polar opposites.
In 2006, I hardly trained. We lived by the lake shore in Hyde Park and
I would do the occasional run on a weekend, until I felt thirsty, or
it was time for football.
I remember that marathon day was unexpectedly cold, with sprinkles of
snow. I had a heavy sweater on, and at the last minute, decided to run
in it.
I jogged through the race, and finished comfortably, and with
absolutely no after-effects.
In 2007, I trained like mad. I would run four days a week, with a
running team, very expensive lightweight shoes, a GPS watch which
tracked every step I took, and a rigorous schedule. I learned cool
words like 'carboloading' and 'hydrating' and developed a love-hate
relationship with GU. This marathon day was unbearably hot, but I was
prepared. I ran with the 8-minute pace group, confident and ready to
run in under 4 hours. Within the hour, we heard that the organizers
had run out of water. I kept running with my group, thirsty. After
about an hour and a half, I started shivering and hallucinating a bit.
There was still no water. There were people on the side wrapped in
silver foil. At around mile 17, we heard the race was officially
stopped and had police cars come by, warning us to walk and not run. I
walked the rest of the way until the very end, where I was allowed to
sprint for a bit, at the finish line.
My only advice is to be adaptive. Sometimes, the marathon will go as
planned and everything will be perfect. But, most times, you will hit
some snag along the way and need to quickly abandon your old plans and
come up with new ones. Not everything can be controlled, especially
the weather.
I learned a lot from my marathons. I developed a great love for
running. Nowadays, I run when I am tired, or sad, or stressed, and I
always feel better. I also got to see so much of Chicago that I'd never
seen, and would never see again. I remember running through downtown,
with the smell of hotdogs wafting down the street, and being very very
tempted to just stop and have a quick meal. Surely it would only take
5-10 minutes off my time!
Good luck with your marathon! I am sure you will do great. And, I am
sure the experience of training and running will be a fond memory
forever.
[/fusion_builder_column][/fusion_builder_row][/fusion_builder_container]