Happy Wednesday friends!
My yoga class went so well yesterday and I can't wait to try more. It is fun to be able to try out classes now, but I am still a huge fan of workout DVD's. I used to think workout DVD's were just about Jazzercise and Sweatin' to the Oldies, but they are actually so much more. In the past few years, the home workout has become a true contender for getting fit with serious sweat sessions.
Since I've learned more about cross training for runners, I have been trying to do more than just running. These workouts are a great compliment to my daily running routine. They help me break out of the running rut with strength training. Better yet, they help me stay injury free with yoga and flexibility.
Here are five top picks for great runners workout DVD s.

5 Workout DVD for Runners
To Balance Muscles
Christine Felstead's Yoga for Runners: The Essentials
& Intermediate Program
This pair of DVD's is ideal for a runner struggling with injuries and pain due to muscle imbalances. It uses specific yoga stretches and positions that can help tight and sore muscles. Christine is a runner herself, so she tailors the workout to problem areas runners often have.
For Strength Training
P90X DVD Workout
Modifying P90X to a runners schedule can help you build muscle and become a faster runner. P90X uses polymeric and body weight movements that can help a runner get stronger in ways running cannot. This workout DVD is tough and challenging, perfect for someone who loves to push their body! Be careful though because it can be too intense to add to a hard running schedule.
For Alignment
Pilates for Runners with Laura Tarbell
This workout is specifically for runners and helps develop a stronger, more flexible body. It also helps with alignment and proper running form. It combines Pilates with runner specific strength training.
For Quick Fix Circuit Training
Jillian Michaels - 30 Day Shred
, 6 Week Six-Pack, Killer Abs
, Yoga Inferno
No one fits as much sweat in twenty minutes as Jillian! Her workouts are fast and get your heart rate up. If you need a workout DVD for a quick workout on your cross training days, hers are awesome. They either cover the entire body or focus on trouble zones. The videos are well produced and will keep you interested.
To Prevent Injuries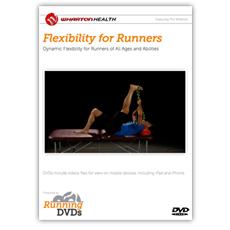 Wharton Exercises for Runners, Flexibility or Strengthening
There are two versions of these DVDs. One focuses on Flexibility and the other on Strengthening. The DVD's are from the perspective of a Physical Therapist who worked with Olympic champions. The flexibility DVD has four different daily routines that you can incorporate before and after your workout. The Strengthening DVD shows you exercise that target muscles in the body that are usually weak for runners.
Running miles is still my favorite all-time workout, but giving some of these workout DVD's a chance has made me a stronger and healthier runner!
Your turn!
What is your favorite workout DVD?