When did running get so complicated? I used to just lace up my shoes, grab my ipod and head out the door. Oh, those were the days…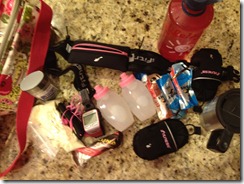 Look at all this stuff? Are you kidding me?
On long runs, I carry some of this stuff with me. I have a belt that holds water and "gu." The packets of "gu" are this gross, high energy, icing-like food. Yes, it's as yucky as it sounds. But, it gives me enough energy to keep running and the water obviously keeps me hydrated.
This stash also has stuff for post run recovery like Gatorade, protein powder, and an energy bar. I can't even pack light to run! You should see me on vacation. I always need that extra pair of shoes.... but that's a story for another day....
So, I'm up and ready to go early. As I get out to run I notice the weather is perfect!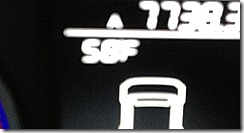 Does my car say 58? Really?

It's been nothing less than 70 for all of my big runs!

Finally living in the mountains pays off!!
I head out and I feel strong. I know I'm going to be running for around 3 hours, so I start out slow. I take one "gu" packet every four miles to keep my energy up. My plan works, as I still feel strong at mile 8!
My goal is to have enough energy to run the second 8 miles faster than the first 8. I pull off a negative split!
I even find a running buddy for several of the miles. After running past the same person several times I realize we are both marathon training at the same pace. So we run a couple miles together. It is the perfect distraction to get through the time. Sometimes some company, perfect weather and the right "stuff" is all you need for an awesome run. It all comes together; my lucky day.
Near the end of my run I see some graffiti painted on a pole by the trail. Artists had drawn a cartoon runner with a quote below it. It says—"You've got this." I had run past that pole dozens of times before and never noticed it. But today I do, and I take it to heart. Chicago Marathon—I've got this!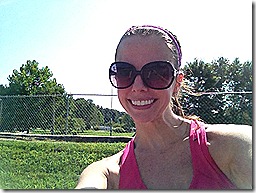 My post 16 mile run pic! Big smiles

Questions for you--
How do you handle challenging assignments like a 16 mile run?
Runners—Do you ever have a long run where the stars align and everything falls into place?
tag.
[/fusion_builder_column][/fusion_builder_row][/fusion_builder_container]