When I decided to start a blog, I made some decisions about what I wanted to write about. I knew I wanted to mainly focus on running and exercise. But I also wanted to include non-runners by sharing quick recipes, healthy living tips, vacations, and fun things about Asheville.
I also decided that to make this blog as honest and real as possible, I needed to share some of the ups and downs of my life. The high moments are easy—running Chicago and raising money for Girls on the Run. I didn't expect a low moment to come so quickly after launching.
My husband and I went to Nashville this past weekend to celebrate my birthday. I am a huge fan of country music and wanted to see where those "honkey tonk" dreams were made. We had a great time until Sunday morning.
That's when I got a call from my parents that my Grandmother, whom I call Bea, had a heart attack and was in the hospital. They were worried she would not make it through the day and we needed to go to Chattanooga immediately.
The good news is, my Bea is one tough women. By the time we got there she was starting to do better and by today she had made dramatic improvement.
She even started making us laugh again with her quick wit. The nurses kept giving her vanilla pudding from those prepackaged containers. If you knew my Grandmother, you would know this was a bad idea. She makes the good stuff from scratch. She's southern to the bone. My husband offered to bring her chicken and gravy… all of us knowing this wasn't really an option… Her response? With a big smile and a classic southern drawl…."Shut your mouth!"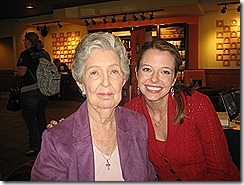 My beautiful Bea and I in December 2009
Even with her doing better, we still had to face bad news. Her doctors gave her two choices this morning. Go home with the understanding that her heart was not going to be able to support her much longer. Or have high-risk open heart surgery with a very tough recovery. If the surgery and recovery goes as planned she could possibly live much longer.
Bea made the extremely brave choice to have the heart surgery later this week. She is incredibly strong-willed, proud and tough. I know this decision is not a guarantee, but I'm proud of her for deciding to try.
My husband and I are back in Asheville now, with promises to be back in Chattanooga as soon as we can. She needs to know that we are rooting for her.
I may need some extra prayers and support this week as my family hopes and prays for the best possible outcome from a very low situation. I refuse to give up on her.
How have you handled incredibly tough life decisions?
Have your Grandparents been able to recover from low odds?
tag.
[/fusion_builder_column][/fusion_builder_row][/fusion_builder_container]