The Disney Princess Half Marathon was the most fun race I have ever done. Today I'm sharing five Disney Princess marathon tips so you can ROCK the race!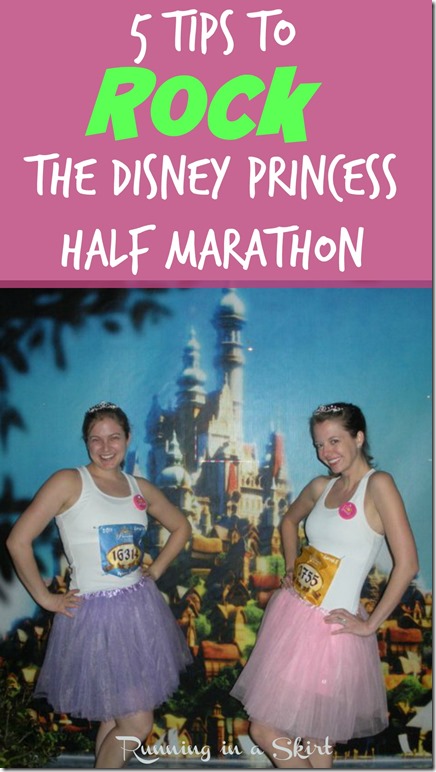 Happy Wednesday everyone!
If you've been a long time reader of the blog, you might remember I wrote a longer piece and recap about the Disney Princess Half a couple of years ago. I ran the race with my best friend Sarah. I recently revisited my memories at the Disney Princess Half for a Runhaven article and had so much fun writing it, I decided to share it here a well.
On a side note, I seriously think it is time to pull out the tutus again! The last time I wore one was for The Color Run and that seems like ages ago. I know there is a contingent of people who mock those who run in tutus, but I stand by it. Running the occasional race in a tutu just adds a little more sparkle to life. And I'm all about some sparkle.
That is my "rant" for the week. Thanks for staying with me 🙂
Moving on...
Disney Princess Marathon Tips
I am a sucker for Disney. I grew up in Orlando and always felt like I was on a first name basis with the mouse. I even worked at Disney when I was in High School as a character. Now that I live in North Carolina, I try to keep the Disney magic alive by going back to the park every couple years.
Even with all my time at Disney, my most memorable experience at the park is running the Disney Princess Half Marathon. Disney knows how to make running 13.1 miles magical. From the Fairy Godmother fireworks start to the gospel singing Epcot finish, the half stole my heart. I highly recommend running it if you have the chance.
If you do decide to run here are my tips for rocking the race!
1. Dress Up
There are not a whole lot of opportunities to wear a princess costume as an adult, so you might as well embrace it! Your outfit can be as simple as a tiara and tutu or as involved as a full Belle or Elsa outfit. Either way, take this chance to rock the look. You can order great costume options online before the race.
Bonus points for wearing your tiara to the expo!
2. Disney-fy your Playlist
Put some classic Disney songs into your playlist. You are spending a lot of money to get the full Disney experience and music makes it even more fun. Hearing these Disney hits will make you feel like a child again.
Suggestions: Hakuna Matata (Lion King), Kiss the Girl or Part of Your World (The Little Mermaid), Do Your Want to Build a Snowman (Frozen,) and Be Our Guest (Beauty and the Beast.)
3. Go to the Expo Early
Like many big half marathons, the expo gets crowded quickly. Expect long lines to pick up your packet. Go early to avoid the worst crowds and see all the vendors. Better yet, go to the expo on Friday if you can. The expo is amazing, but do not overdo it with too much time on your feet! You still have to run 13.1 miles Sunday.
4. Plan for the Early Wakeup Call
Disney races are notorious for starting super early. Plan ahead and eat your dinner the night before with the early birds. That gives your meal plenty of time to digest before the 3AM wakeup call. Also expect significant traffic on race morning. If you are not staying on property it will take you a long time to make it to the parking lot. Then once you get to the parking lot there is a long walk to the actual starting line. Get up extra early so you don't have to worry about missing the fireworks start!
5. Smile for the Photo Ops
There will be characters lining the course waiting to take pictures with you. If you are not running the race to PR, embrace the Disney magic and snap a few pictures with your phone. If you are running for a PR and don't want to stop running, there are lots of photographers along the course ready to take your picture while you are on the move. Look for them when you run out of Cinderella's castle and near the Epcot Ball. You don't have to stop and the action shots in front of iconic locations are priceless. They may be pricy to buy, but it will keep your memories of this awesome race vivid for a lifetime!
Thanks for hanging out today! Tomorrow I have an amazing recipe for Vegetarian Oven Fajitas. Grab the salsa because I'm having a fiesta. I'd love for you to join me.
Your turn!
How do you feel about running in tutus?
Have you ever run a BIG race like this?
Has anyone else run any RunDisney races?