The Disney Princess Half Marathon is this weekend! Are you running it?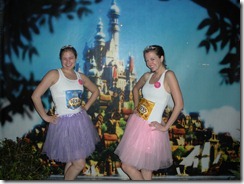 I am obviously not going this year, but I ran the race two years ago and it was hands down my favorite race experience ever! I ran it with my best friend Sarah and we regularly talk about how much fun we had. The race is an adult fairy tale with a true magical feeling. Disney really knows how to "make you wish upon a star." This time the "star" is the finish line after 13.1 miles!
We seriously considered doing it again this year, but the timing just didn't work out.
I'm honestly a little jealous of anyone who is going this year. It's the 5th anniversary of the race and I bet the medal is awesome!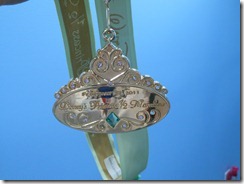 My favorite medal!
Here are tips on the race and pics from my experience!
General tips:
1. Decide ahead of time if you want to run this race for fun or time. I suggest running it for fun. There is so much to take in at the race. The whole course is lined with Disney characters and park picture ops. Decide ahead of time if you are willing to stop to take these pictures or if you just want to take it all in and keep moving. We raced for fun but did not stop to take the pictures. There will be lines to take your picture with the characters. It will slow you down a lot.
2. DRESS UP! Think ahead and buy tutus and tiaras online. Walmart and Michaels are also good places to find princess gear. OR if you really want to be creative, come up with a whole Princess costume. You will obviously have to make this around comfortable running clothes because 13.1 miles is nothing to mess around with. But it's not often that as adults we get a chance to be so silly and just have fun. Take advantage of the opportunity.
We got to the race and almost didn't wear our tutus because we thought it was ridiculous, but we were some of the least dressed up people at the race. You really can't go too far with your outfit. Our favorite memory was running behind a guy dressed head to toe in a FROG costume with a sign on his back that said "running to find my princess."
3. Put some Disney classic songs into your playlist. Suggestions: Hakuna Matata (Lion King), Kiss the Girl or Part & Your World (The Little Mermaid), Belle & Be Our Guest (From Beauty and the Beast.)
Expo Tips:
1. Go to the expo early Saturday or on Friday. Expect to stand in a line just to get in. It wouldn't be Disney without a line! Luckily Disney is well equipped to handle crowds and even with lines, things run very smoothly.
2. Did you buy a tutu and tiara to wear to the race? Where it to the expo too because it is just more fun. There will be "Fairy God Mothers" to sprinkle you with "pixie dust" and "Prince Charmings" to take pictures with. Enjoy!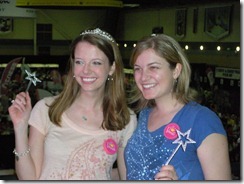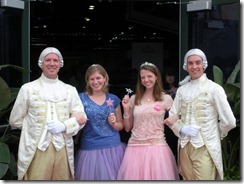 3. If you go on Saturday, don't spend too much time at the expo. As with any expo the day before the race, make sure you have fun, but don't spend all day on your feet. Your feet need some rest before running such a long race.
Race Tips:
1. The race starts crazy early! Disney basically wants to run the race and have people off the property before the regular park goers get there. Plan ahead for this—Eat your dinner the night before super early (give your dinner plenty of time to digest before the 3AM wakeup call) and go to bed early.
2. Expect traffic on race morning. Leave early and plan for traffic once you get on park property.
3. The walk from the parking lot to the start of the race is REALY long. Don't be surprised and account time for it. There are tons of bathrooms at the race start.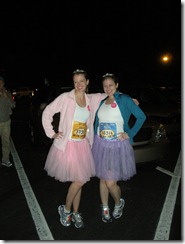 4. There are cute picture ops before the race. Take advantage of these if you don't want to stop along the course.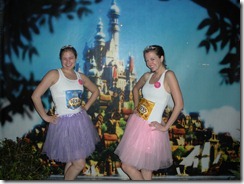 5. The "hills" in this race are actually interstate on ramps. There is one close to the end. Save some energy for it.
6. Pace yourself! This is such a fun race, but it is still a half marathon so don't forget to take care of your body and pace yourself so you can finish. Disney has great aid stations along the course.
7. SMILE huge and pose at the finish line! Check out the picture you can get! You will pay Disney a fortune for it afterwards, but this plaque (even though it had the wrong time) is one of my prize possessions!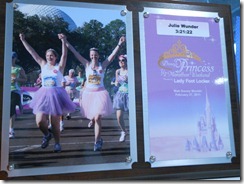 Happy Running fellow "Princesses!"[/fusion_builder_column][/fusion_builder_row][/fusion_builder_container]