*This is the 8th of of 10 Crock Pot recipes I am trying in January and February as part of the Peanut Butter Fingers Blog Crock Pot Challenge*
This is one of those recipes I printed out years ago to try and just never got around to making it. It is a little more labor intensive than I normally make during the week and it even starts with dry beans. But when I decided to do the Crock Pot Challenge, I knew that I'd have to make time for this one.
This recipe is just slightly adapted from THIS recipe from EatingWell.com. It has smoky peppers and tangy tomatillos that combine for a very flavorful and unique taste.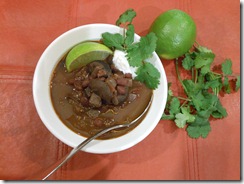 I have to admit, my husband and I both liked my original AWARD WINNING VEGETARIAN CHILI recipe a little more. But this dish still has a surprisingly different taste and it's a great way to shake up your standard chili night.
Crock Pot Black Bean & Mushroom Chili
Slightly adapted from EatingWell.com
Ingredients: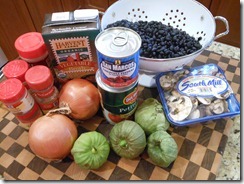 1 pound bag dried black beans
1 tbs olive oil
2 medium onions – chopped
1 pound portabella mushrooms – sliced
4 large tomatillos – husked, rinsed and chopped
¼ cup water
2 tbs chili powder
½ tbs ground mustard
½ tea ground cumin
¼ tea cinnamon
¼ tea nutmeg
1 32oz box vegetable broth
1 can diced tomatoes
2 tablespoons minced chipotle peppers in adobo sauce (canned)
Optional Garnish:
Fat Free Sour Cream
Cilantro
Lime Wedges
Directions:
1. Rinse and soak black beans the night before. Put them in large bowl with at least 8 cups of water. They will expand. Drain and rinse the beans in the morning.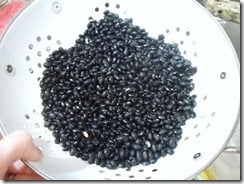 2. Cut up veggies and put in large pan with olive oil to sauté.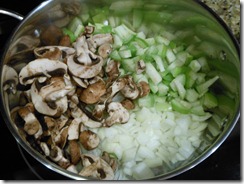 *Hint on tomatillos… just pull off the paper looking stuff and rinse them off. They will sort of look like green tomatoes with a slightly different consistency inside.*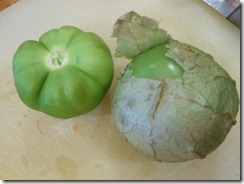 3. Add all spices and water to veggies. Cook around 10 minutes or until everything gets soft and slightly browned.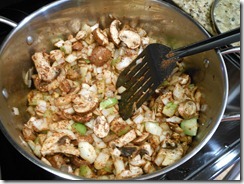 4. Put the black beans, veggie mixture, broth, chipotle peppers and canned tomatoes in the Crock Pot.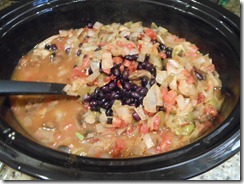 5. Cook on high for 5-8 hours or until beans are soft.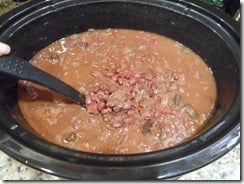 6. Garnish and serve with cilantro, sour cream & lime.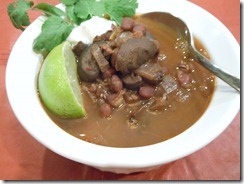 Enjoy!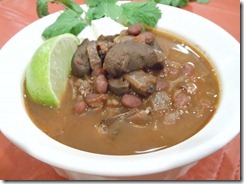 [/fusion_builder_column][/fusion_builder_row][/fusion_builder_container]