Thanks for stopping by Running in a Skirt! You can also follow me on Facebook, Twitter, Pinterest, Instagram. or subscribe by entering your e-mail address to the right!
Running your first Color Run? I answer all of your Color Run FAQ in my Ultimate Guide to the Color Run.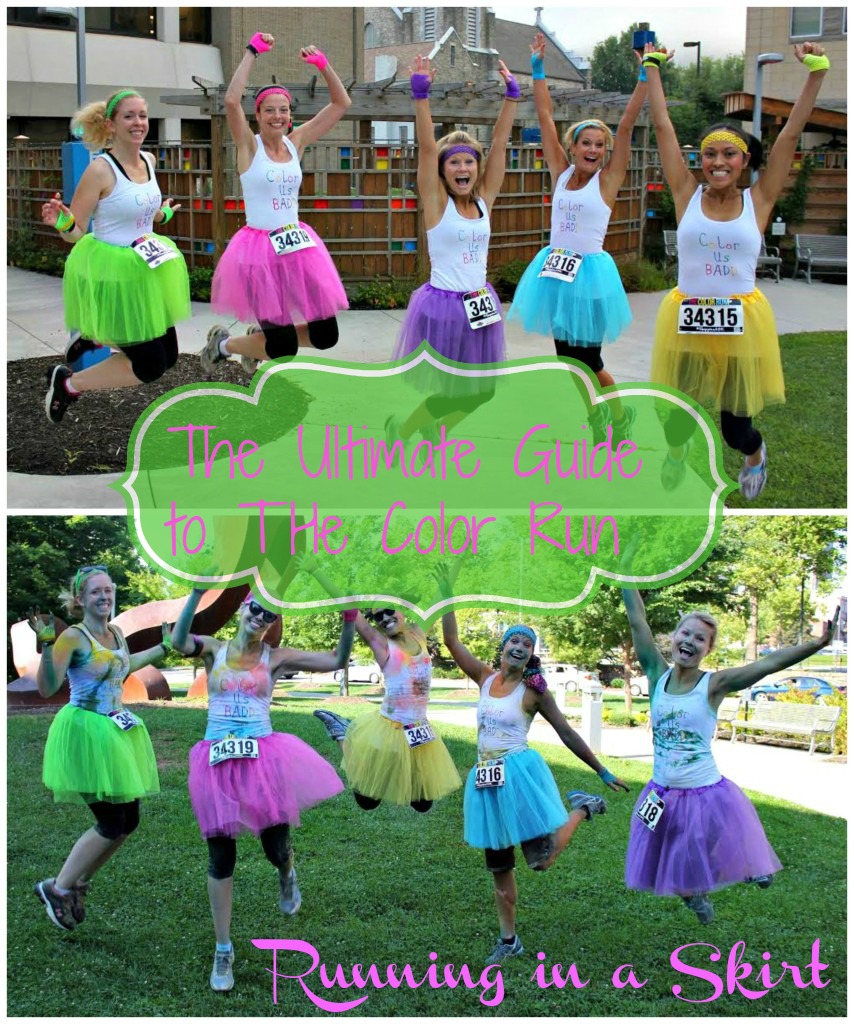 The Color Run Asheville certainly lived up to expectations. I can't remember the last time I've laughed as hard.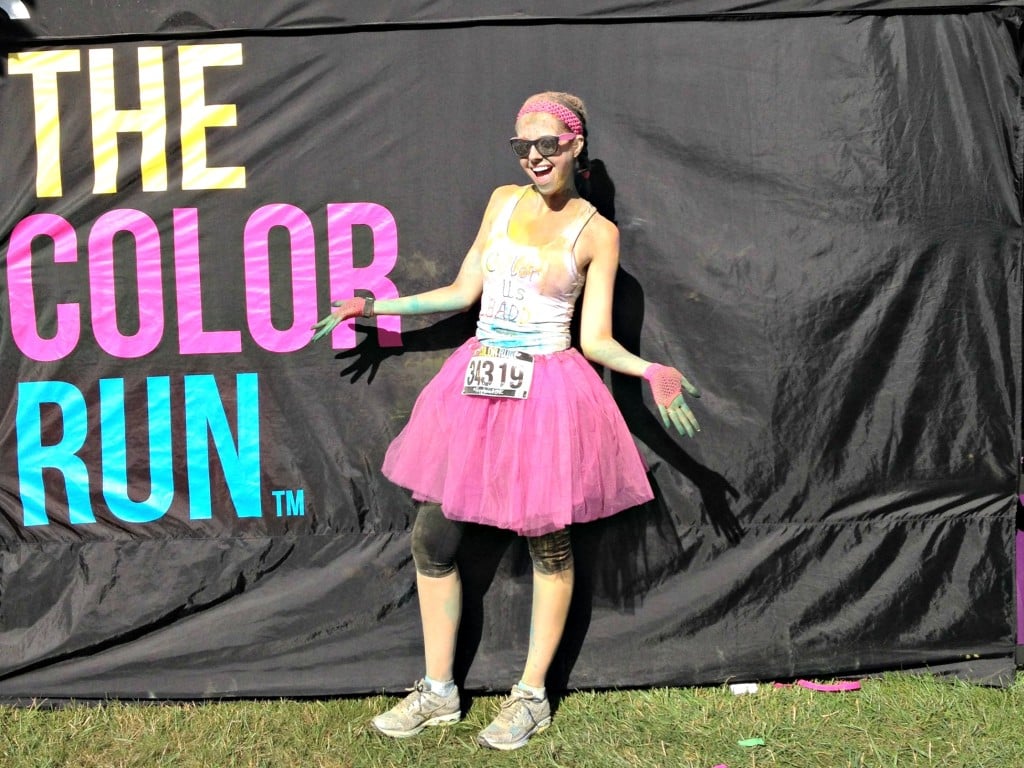 One of the reasons my group had so much fun is we did some prep work ahead of time to prepare for the event. Most of the time I spent was on our outfits. I love an excuse to dress up, so I jumped on the chance to create the perfect ensemble. I also think our Color Run experience was great because we planned ahead to make sure the color didn't cause any permanent damage.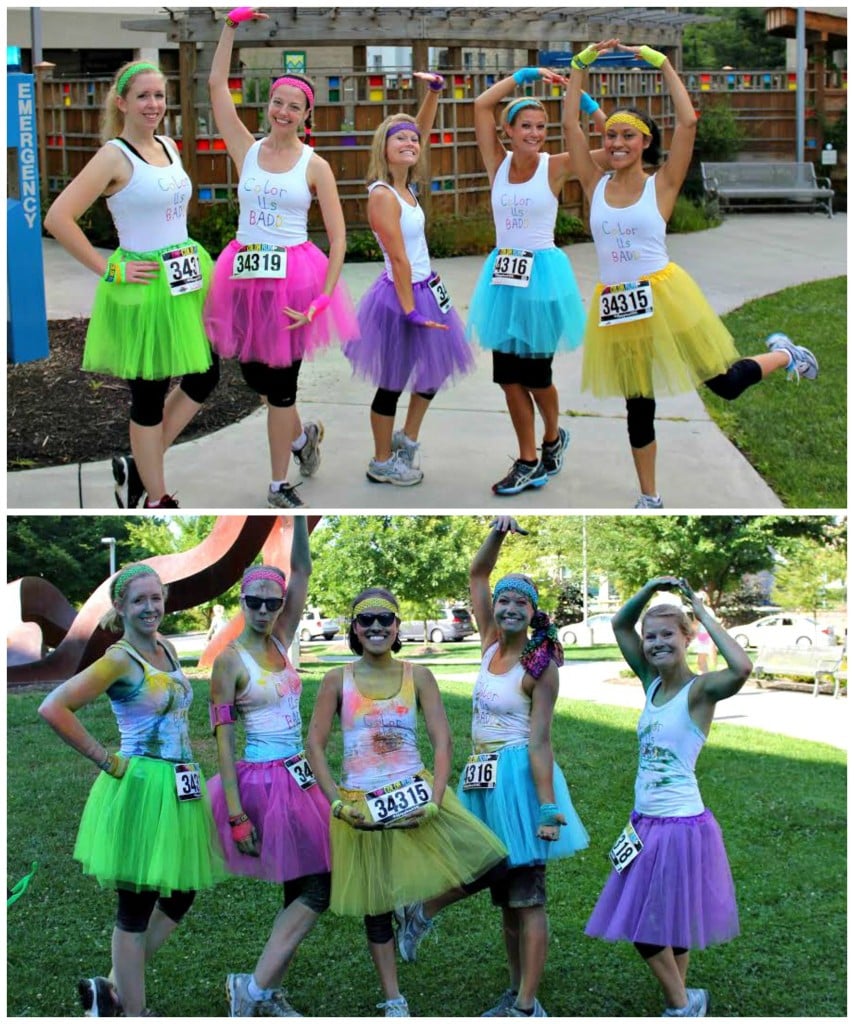 With that in mind, I thought I'd put together a little guide answering all of the color run faq from my group's collective experience called The Ultimate Guide to the Color Run!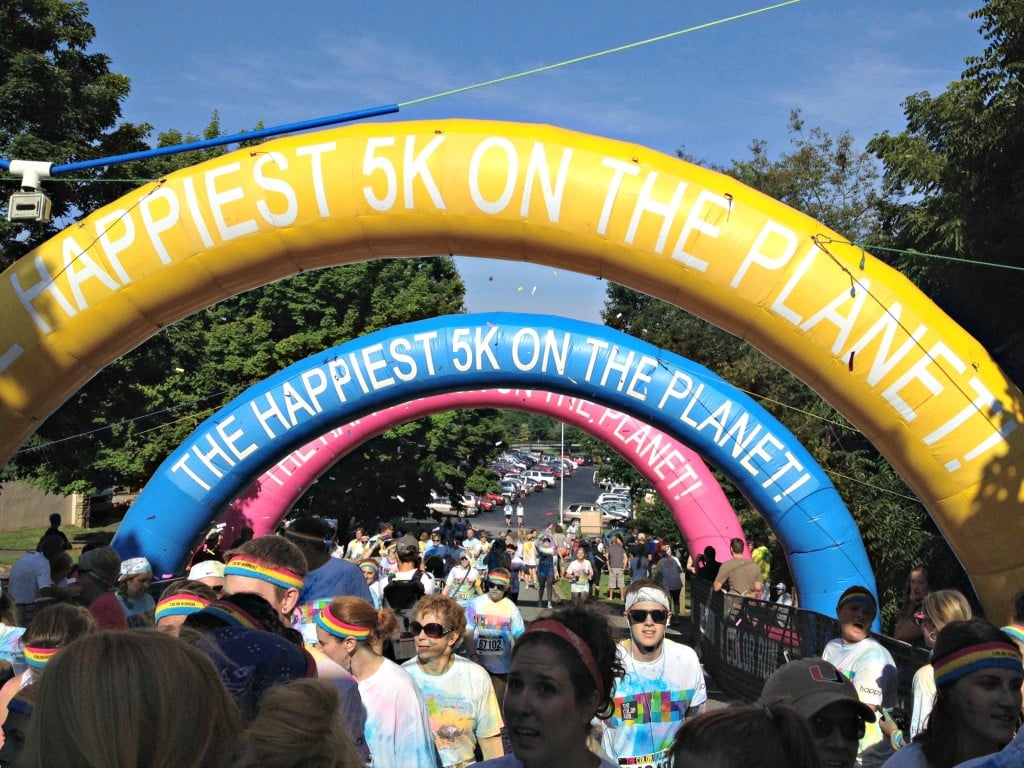 Team Up!
Step one is to get a team because events like this are best done in groups. Ask your friends, family and co-workers to join your team. It seemed like EVERYONE in Asheville was at this event, so chances are you will know someone in your hometown doing it too. Even encourage non-runners to sign up. The event is walk friendly and is more fun at a slower pace. You will be asked to come up with a team name at sign up. Ours was Color Us Badd.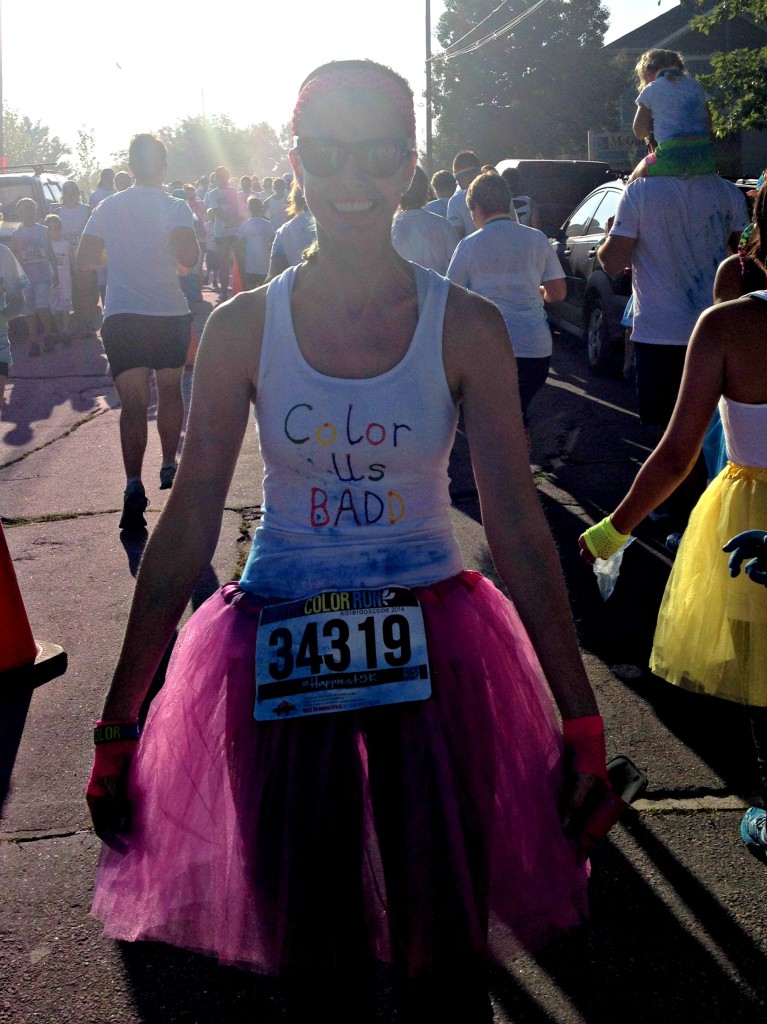 Color Run FAQ
What to Wear?
I think 80's fashion is an obvious choice for The Color Run! Neon accessories go perfect with the theme and add a perfect punch of color to your pictures.
If you liked our outfits here are the items I ordered on Amazon.
*These are affiliate links. I appreciate your support by ordering the items through these links!*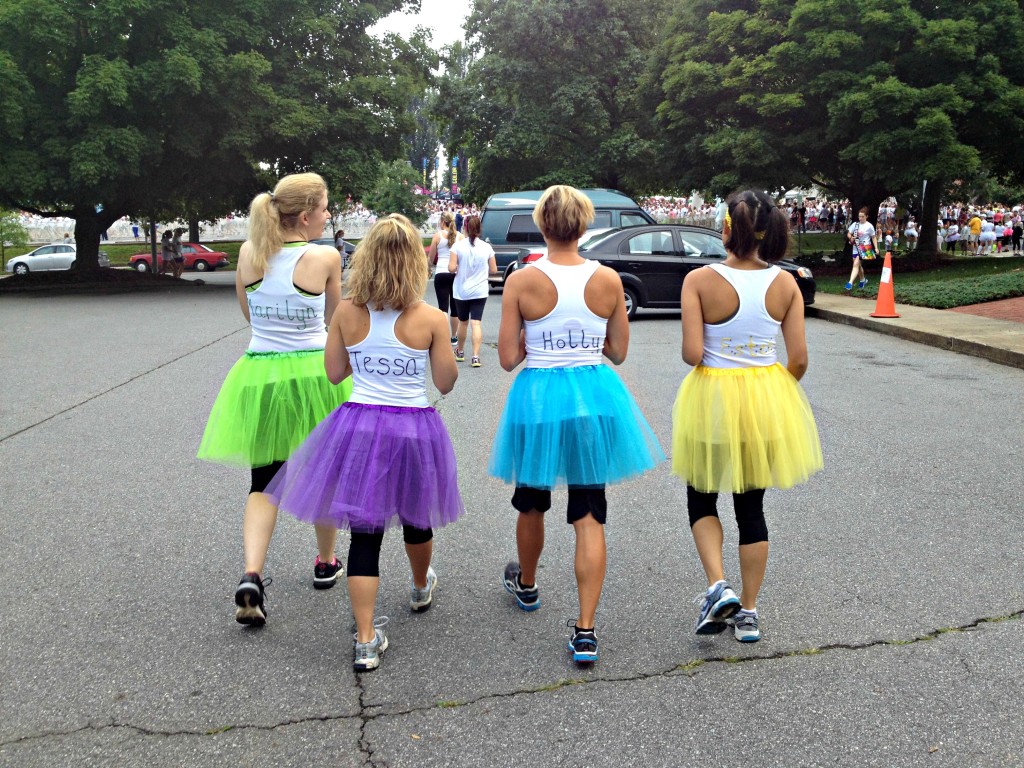 Buy cheap sunglasses to protect your eyes because the color is really dusty. My friend Jaime brought these and shared with my group. They totally saved the day.
We didn't get this, but I thought it would be hilarious to carry around!
If you don't buy a team outfit and you wear clothes you already own, make sure they are items you don't mind getting messed up. The color all came out of my pants, but you never know.
Also wear your oldest running shoes because they will never be the same. The color even gets inside of them.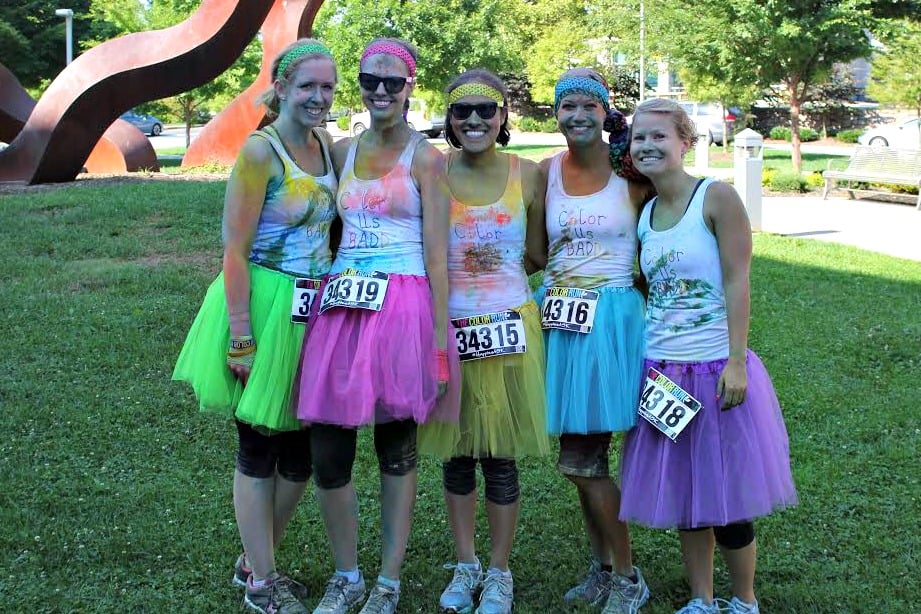 Finally bring a zip lock baggie or container for your phone if you want to carry it with you. I did for pictures and my phone was perfectly fine at the end of the race.
Protecting Your Hair
This is something you want to pay attention to, especially if you have light colored, processed or dyed hair. The color can stain your hair. My friends with the blondest blond hair all covered their heads with scarves during the actual race to make sure there were not any problems. They took the scarf off for the before and after pictures because let's be real, they did not go with the outfit.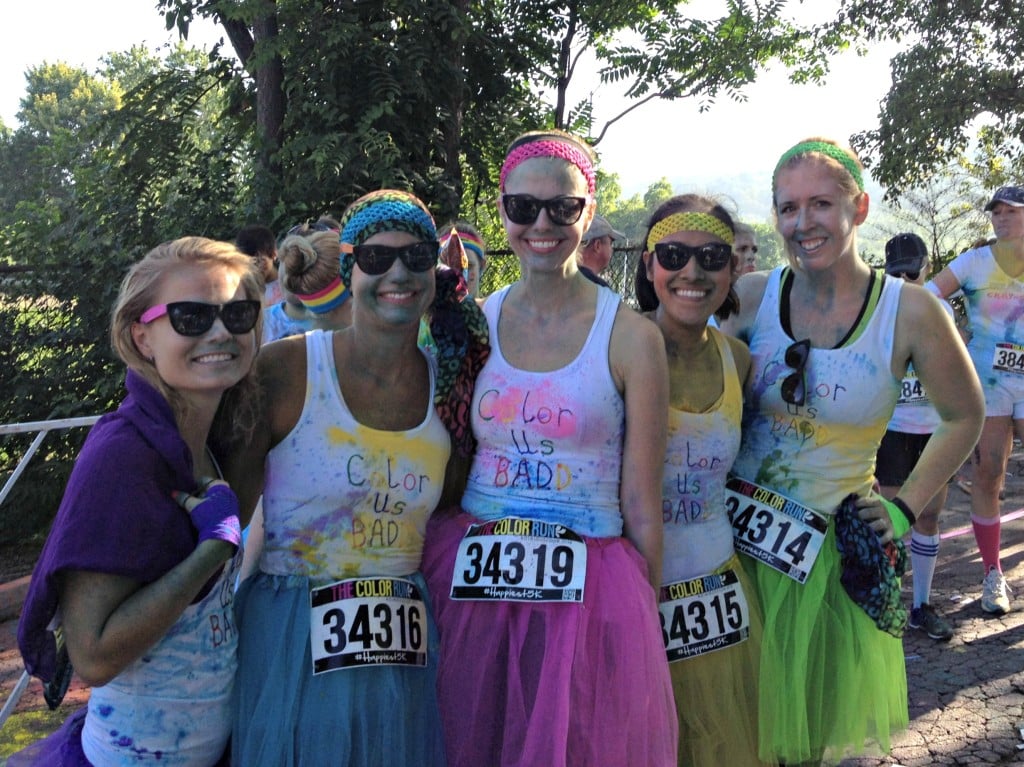 Before the race we read horror stories of girls having to go to the salon to get their hair fixed after the race. No one wanted to spend the time or money to do that so they went full on protection mode.
My hair is natural light to medium brown. I put it in a pony tail and braid so as little hair as possible was exposed to the color. I slicked it back with coconut oil. The coconut oil acted as a barrier to keep the color off my actual hair. I had no problem with the color coming out and I discovered that coconut oil is an amazing leave-in conditioner.
Before the Race
Get to the race early and get in line. We fooled around when we arrived and ended up in the very back of the line. We waited FOREVER just to start the run and some of the enthusiasm and momentum died off in the process.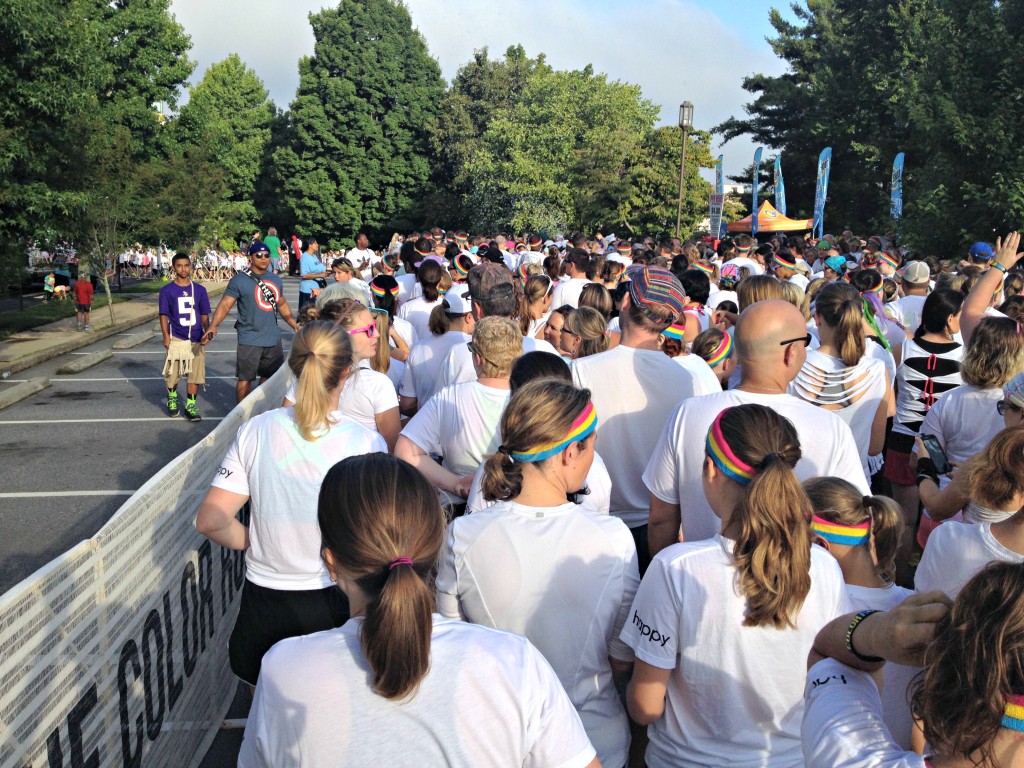 I'd also see if you can find a non-runner to take your before and after pictures. I feel like there needs to be documentation of this event!
During the Color Run & After Party
Don't be surprised if there is not as much color as you might think along the route.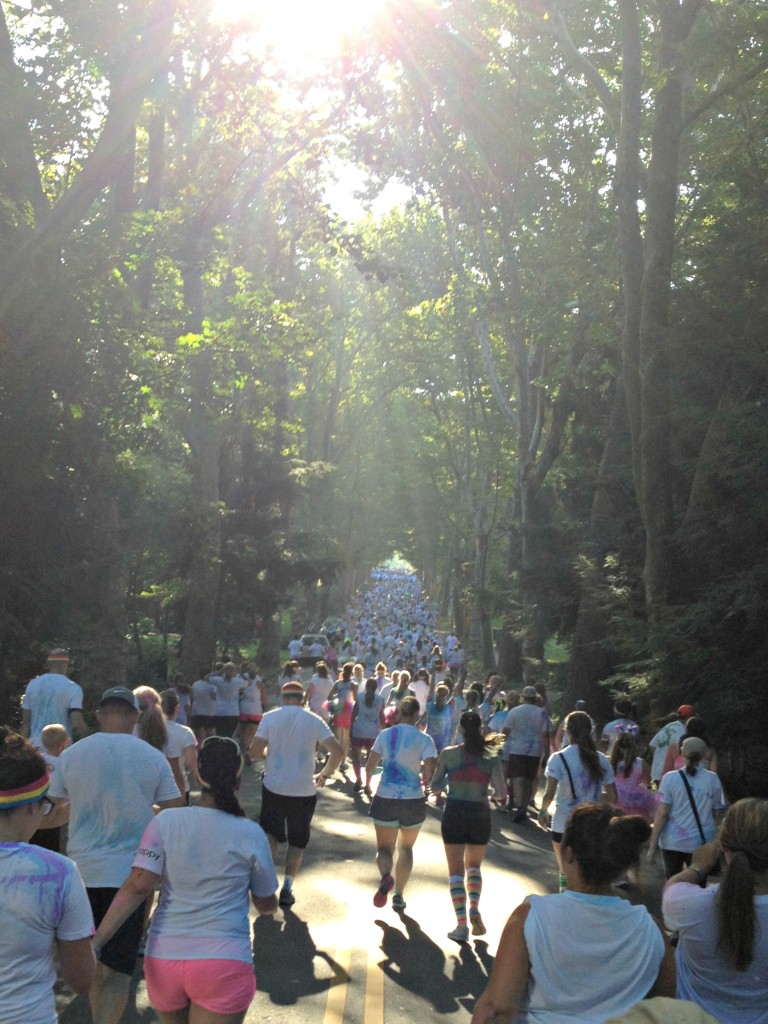 The only color comes from color stations along the 5K route. There are volunteers at each station with squirt bottles of the powder color. If you want to be extra colorful run closer to them. There are long stretches with nothing but the mobs of people running/walking.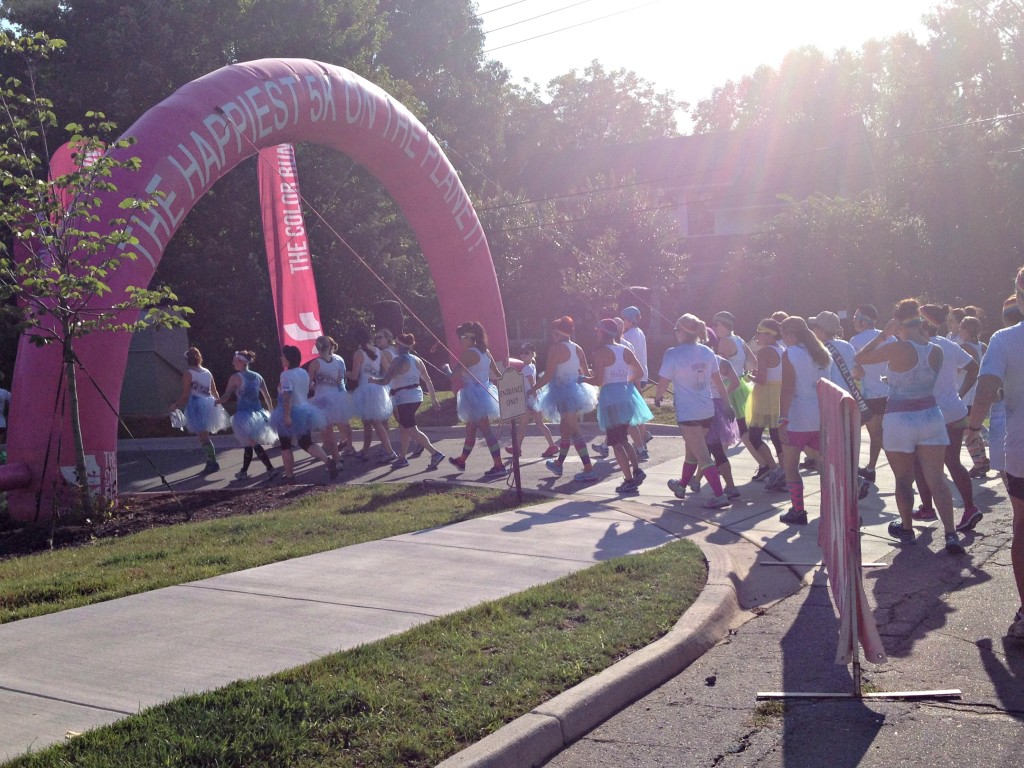 When you approach the Color Stations close your mouth. Unless you want funny colored teeth, don't smile.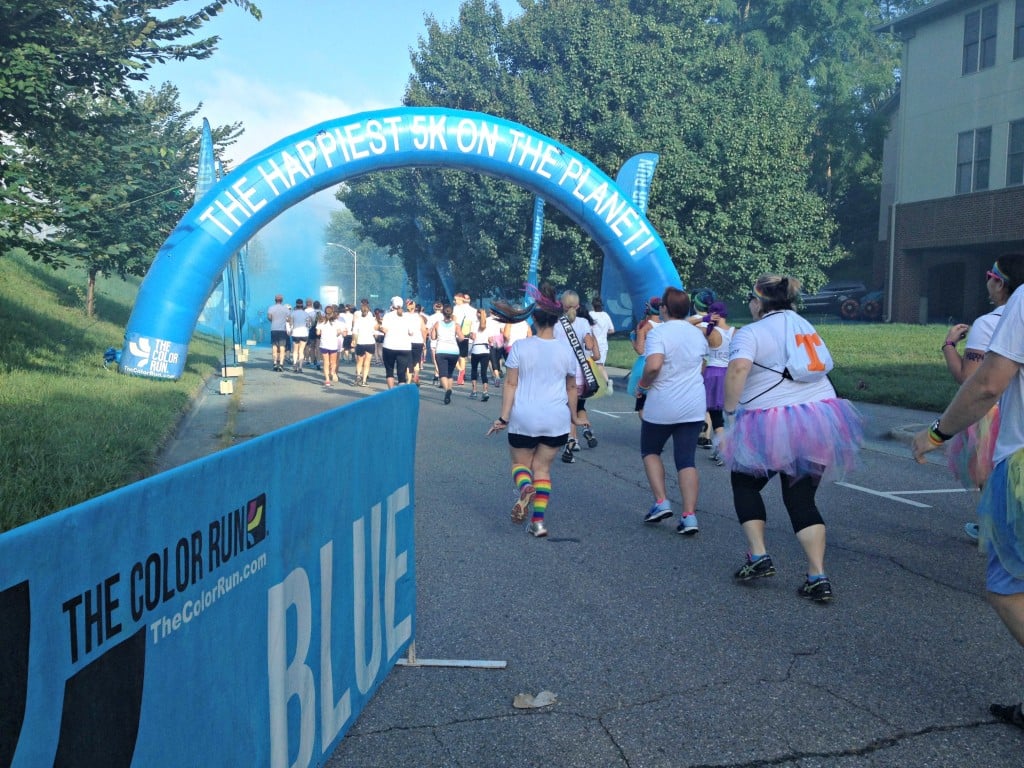 Don't plan on racing the event. The Color Run isn't even timed, so use the race as a way to spend time with your teammates and everyone stick together. You will burn more calories laughing, especially when someone forgets to close their mouth and ends up with blue teeth.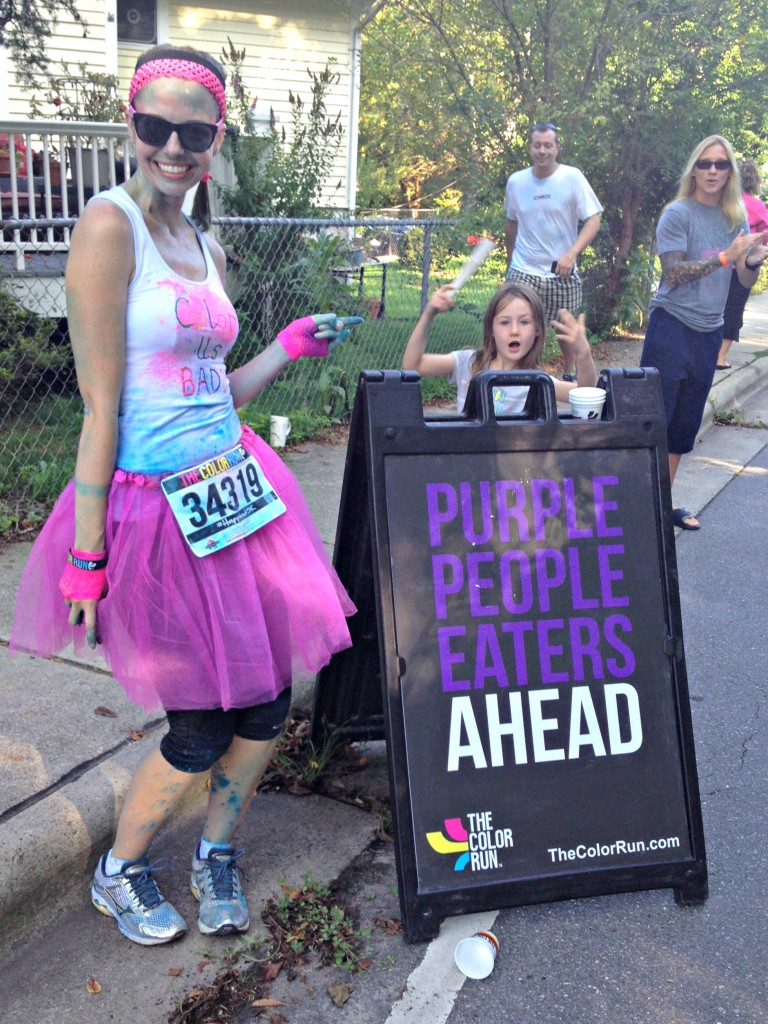 Think twice about going to the after party. After the race my group thought we weren't colorful enough so we walked over to the after party. At a specific time organizers put a ton of color powder in the air. It actually created this huge black cloud over the crowd. None of us could see or breathe for about thirty seconds. Maybe you like that kind of thing, but I didn't.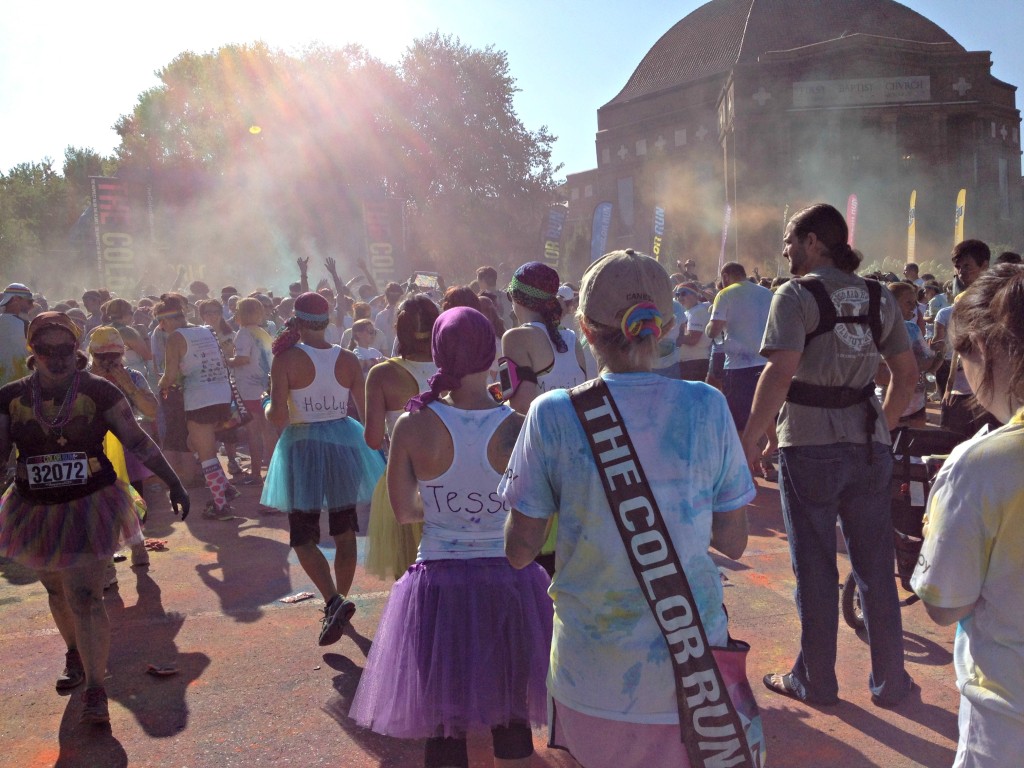 Post-Race
The color is powdery and it doesn't all stick to you. Once the color high fades and you start walking back to your car, you may feel a little like pig pen with a cloud of dust and dirt following you. It's all fun and games until someone's car upolstery gets ruined. Bring lots of towels and baby wipes to do a little clean up before you get in the car. Bring more towels to sit on for the ride home.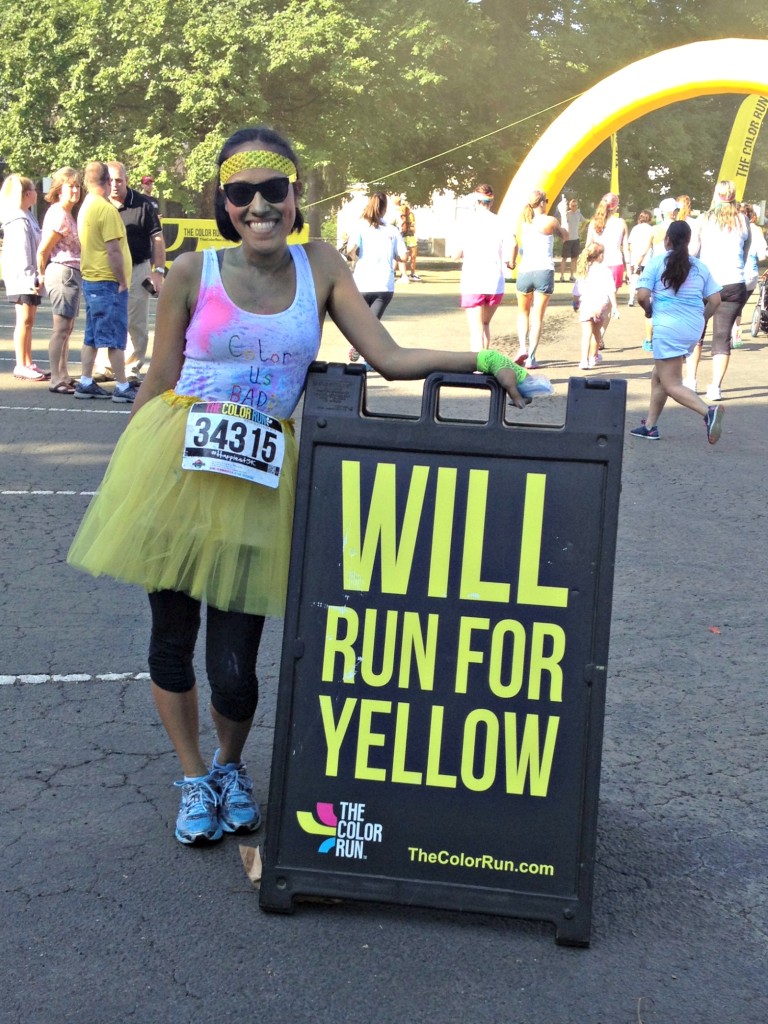 Clean Up
Before you leave for the race, do a little prep work at home. Have the shower ready with bar soap, exfoliator (loufa, mesh sponge) cheap shampoo, and a hand held mirror. Walk directly to the shower and don't touch anything in the house. The cheap bar soap got all the color off but I had to scrub a lot. I had to wash my hair several times and I didn't want to waste the good shampoo. The mirror will help you make sure you don't still have color on you before you get out of the shower. I had color everywhere and there is no way I would have gotten it all off in the first shower without the mirror.
The good news is all the color did come off but it did take a 30 plus minute scalding hot shower.
Does the Color Run Color Come Out?
Hopefully you wore old clothes so you don't have to panic about the color powder coming out of everything. I wanted to keep the running pants I wore so I put Shout all over them and washed them in hot water. It all came out and they are as good as ever! I'm not promising anything, but it came out of mine.
Follow these tips and suggestions and you too can have an absolutely amazing Color Run!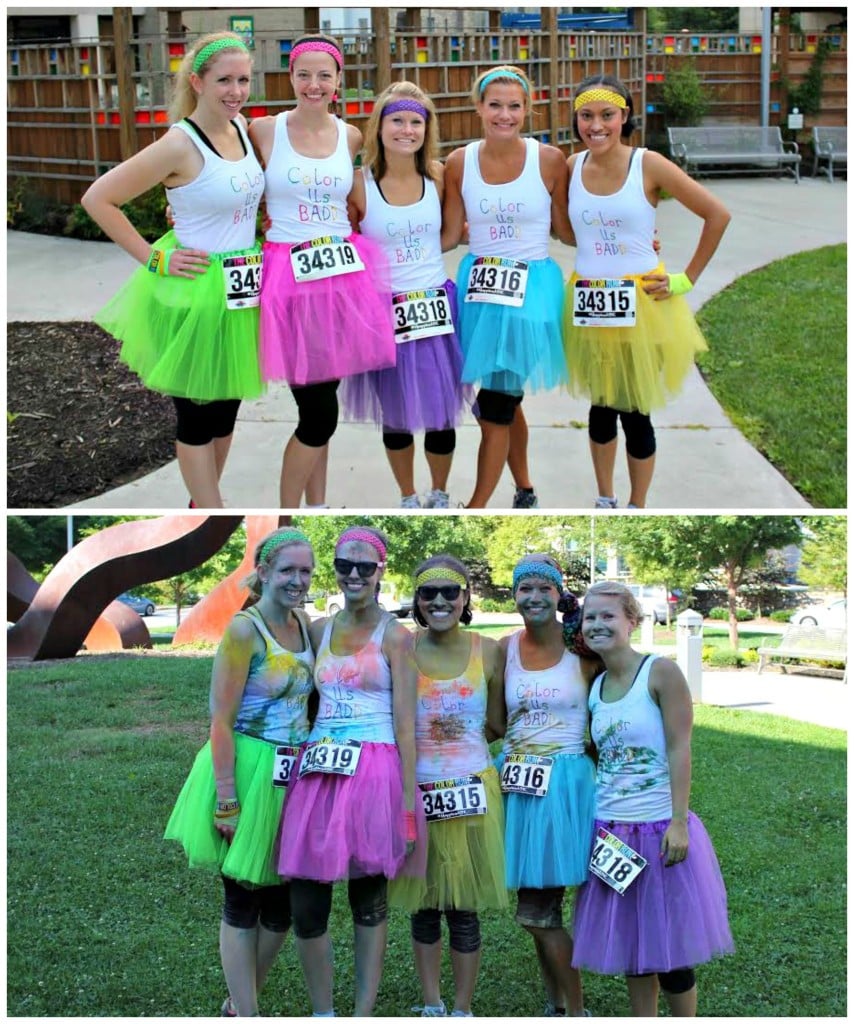 Hopefully this post will answered all of your Color Run FAQ and helps you get ready for the big, colorful race!
*The Amazon links are affiliate links. I will receive a small portion of the profits from what you order. I appreciate your support!*
Your turn!
Anyone else run this race?
Leave additional tips below.