Thanks for stopping by Running in a Skirt! You can also follow me on Facebook, Twitter, Pinterest, Instagram. or subscribe by entering your e-mail address to the right!
The Color Run Asheville is one crazy, colorful time that I will never forget!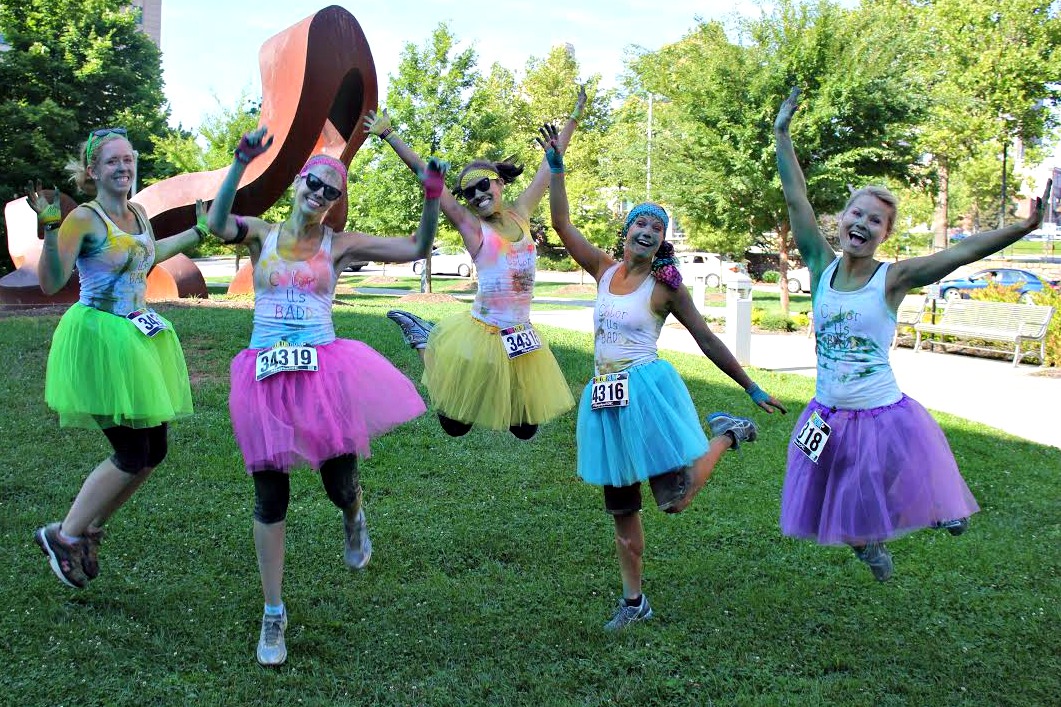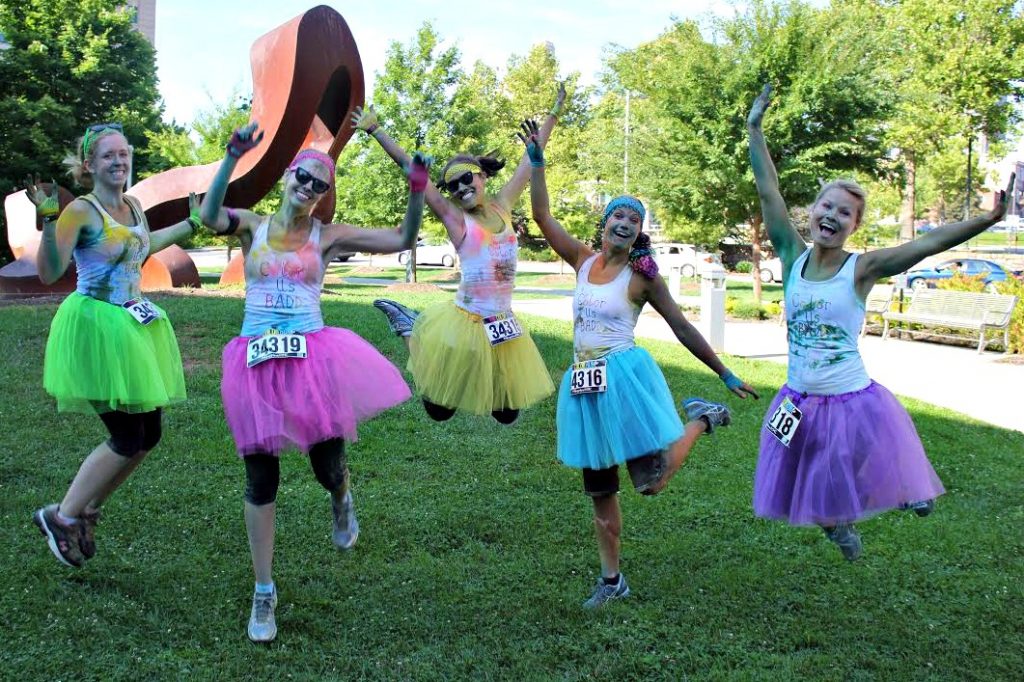 Color Run Asheville Recap
Marilyn, Tess, Holly, Estee and I meet downtown just as the sun is coming up Saturday morning. We are looking a little ridiculous, but ready to have some serious fun.
Team name: Color Us Badd
Costume: Tutus
Mission: To see what the Color Run Phenomenon is all about
We embrace the group costume idea and found some cheap accessories from Amazon in the weeks before the race. Holly & Tess painted the inexpensive Old Navy tanks with our team name and individual names.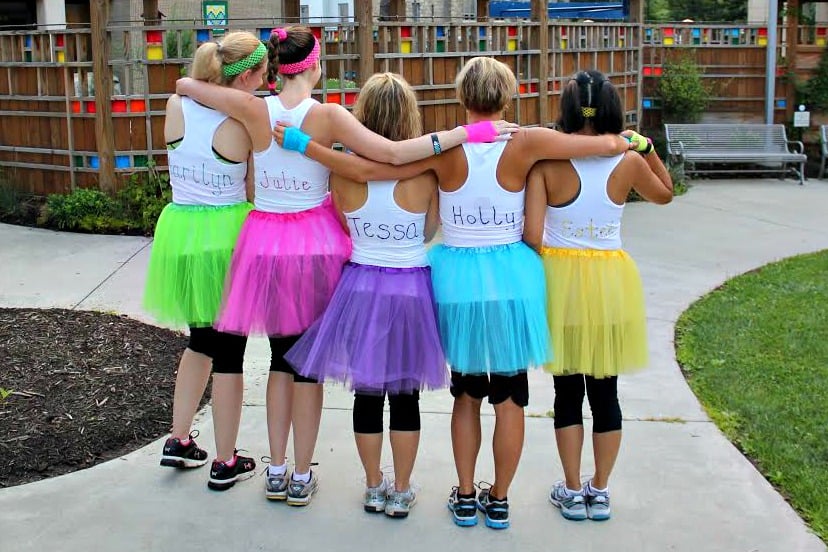 We laugh all the way to the YMCA parking lot where the race is scheduled to start. The costumes make the whole thing so much more fun. We are blown away by the size of the crowd and remark that this is the biggest race any of us have ever seen in Asheville.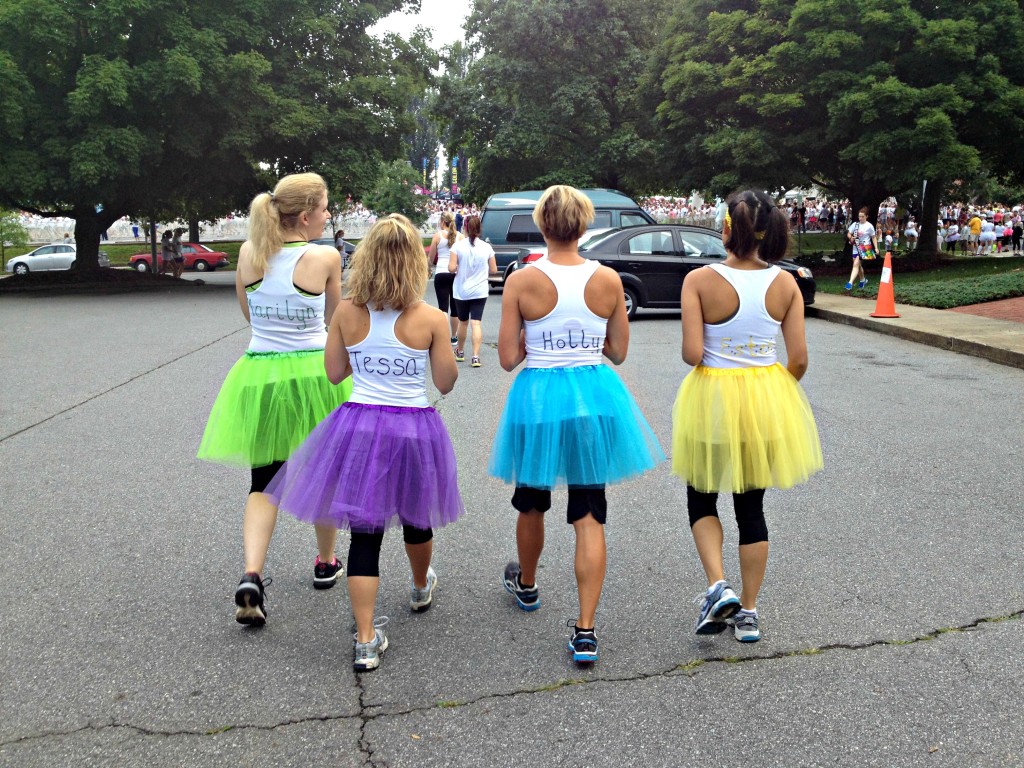 As the official start time approaches we have a little trouble figuring out where to line up to start the race. We are pumped and ready to go at 8AM, but we see the sea of people in front of us we realize it might be quite some time before we get our turn.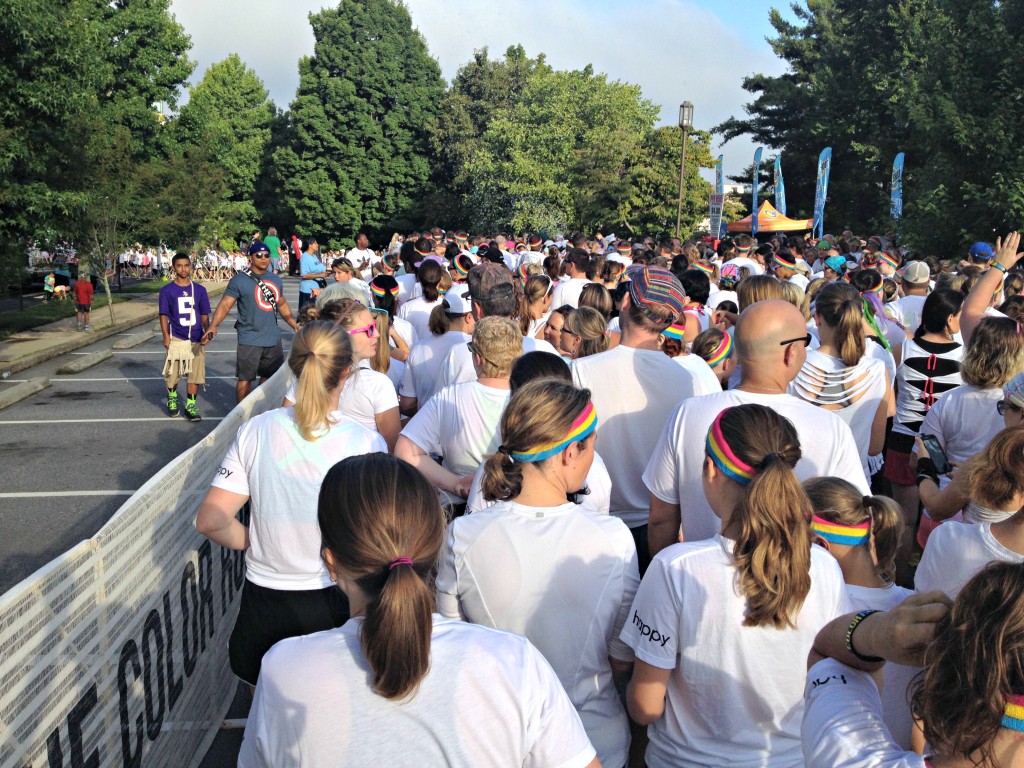 Organizers let waves of runners go every 10 minuets and after about 30 minutes of waiting we start to make some progress to the front. We are still pretty energized about the race and very curious about just how colorful we will get. In line we meet up with Teresa from work and Jaime from the blogging world. Jaime is kind enough to share her package of cheap and colorful sunglasses with us so we don't get dust in our eyes.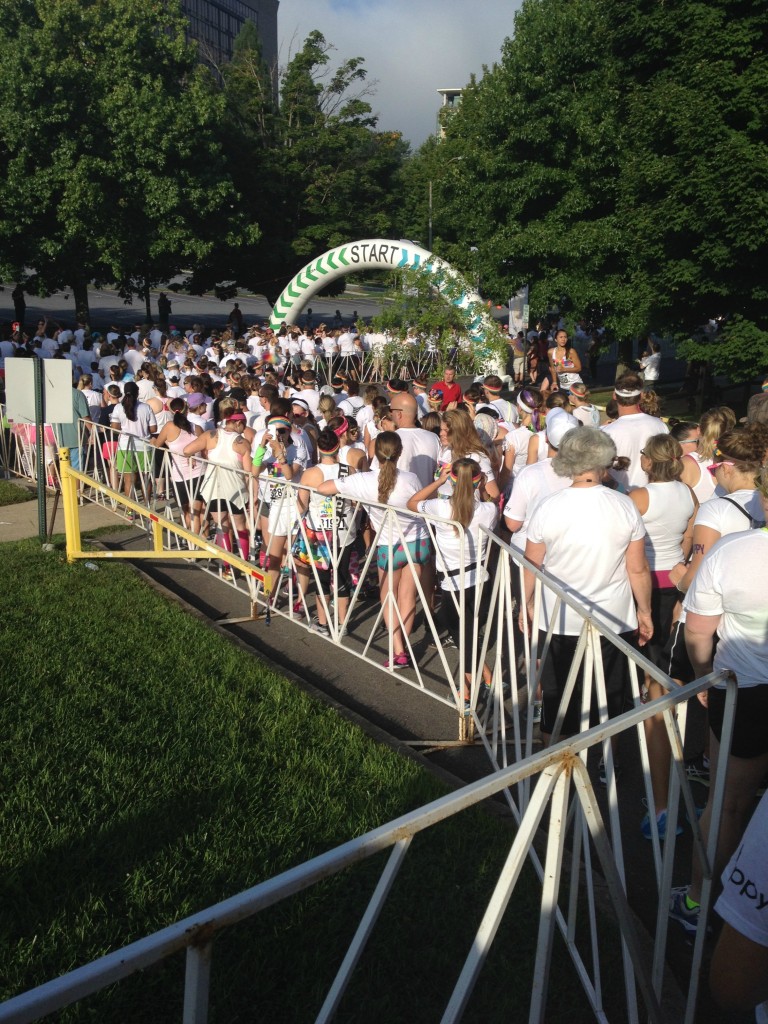 Even though there is quite a line, the atmosphere is fun and everyone is anxious to get started. I love this guys outfit and how he embraces the Color Run style. He totally rocks the tutu.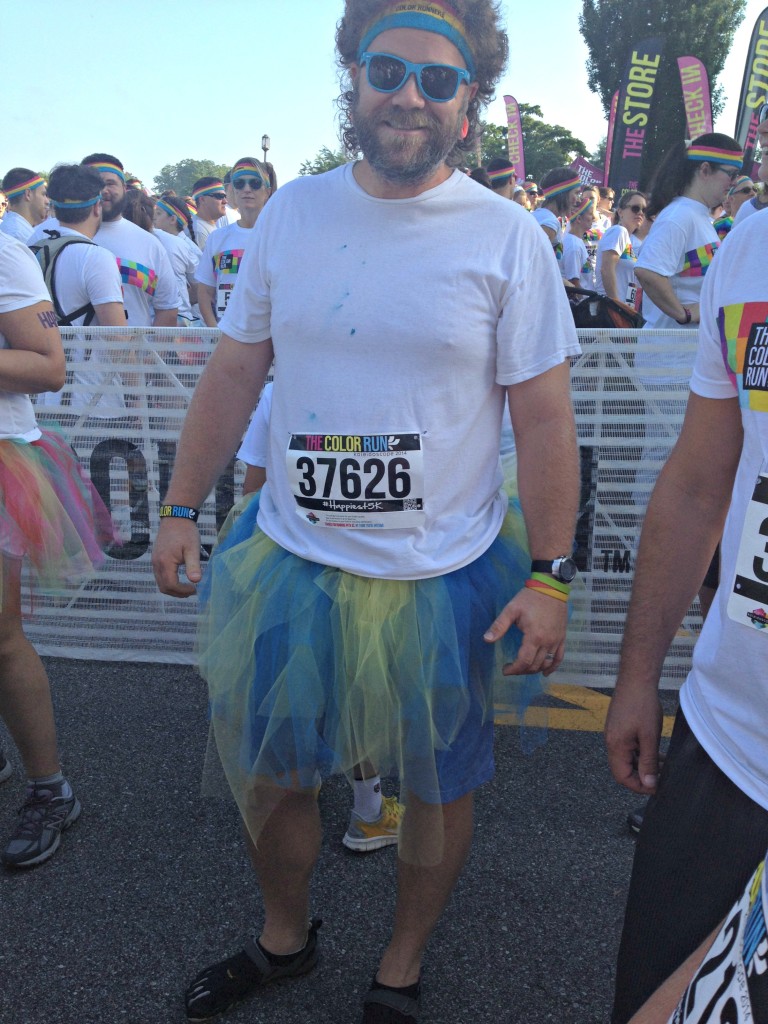 As we get closer to the start line I notice a sign that sends runners and walkers in different directions. We vear left with the "runners.' While we aren't planning on racing the event we do want to at least try to jog it.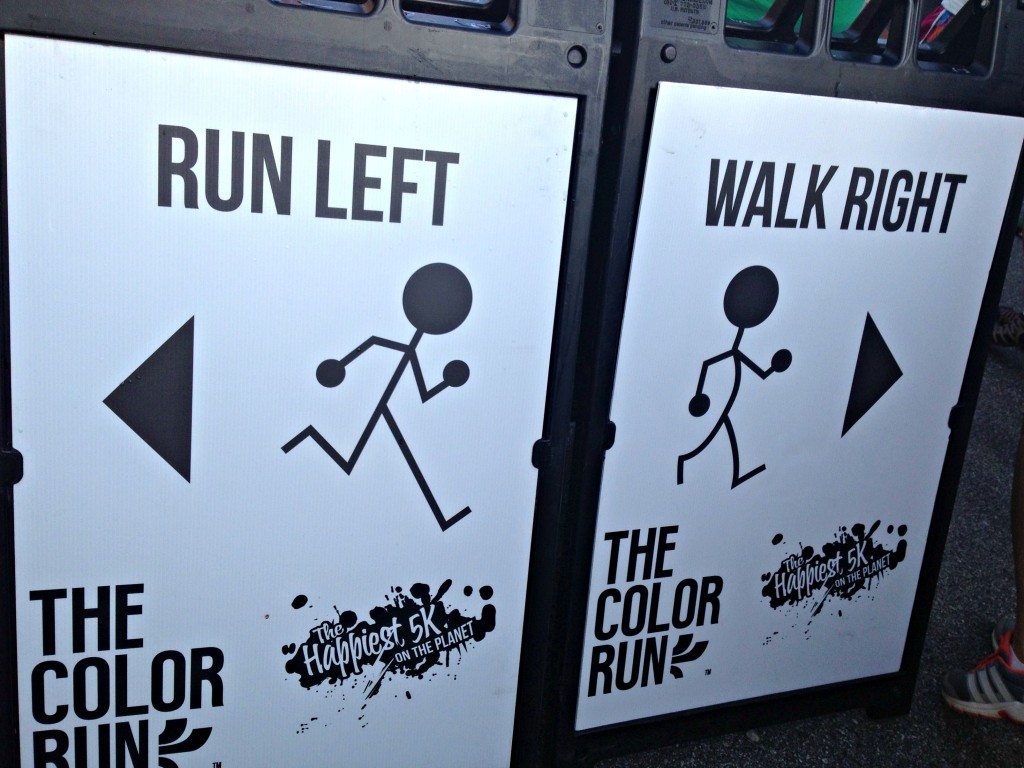 About 8:45 we finally get to start. The whole process is a bit anti-climatic for us. There is no color burst or big exciting start, we just eventually make our way to front of the giant mob.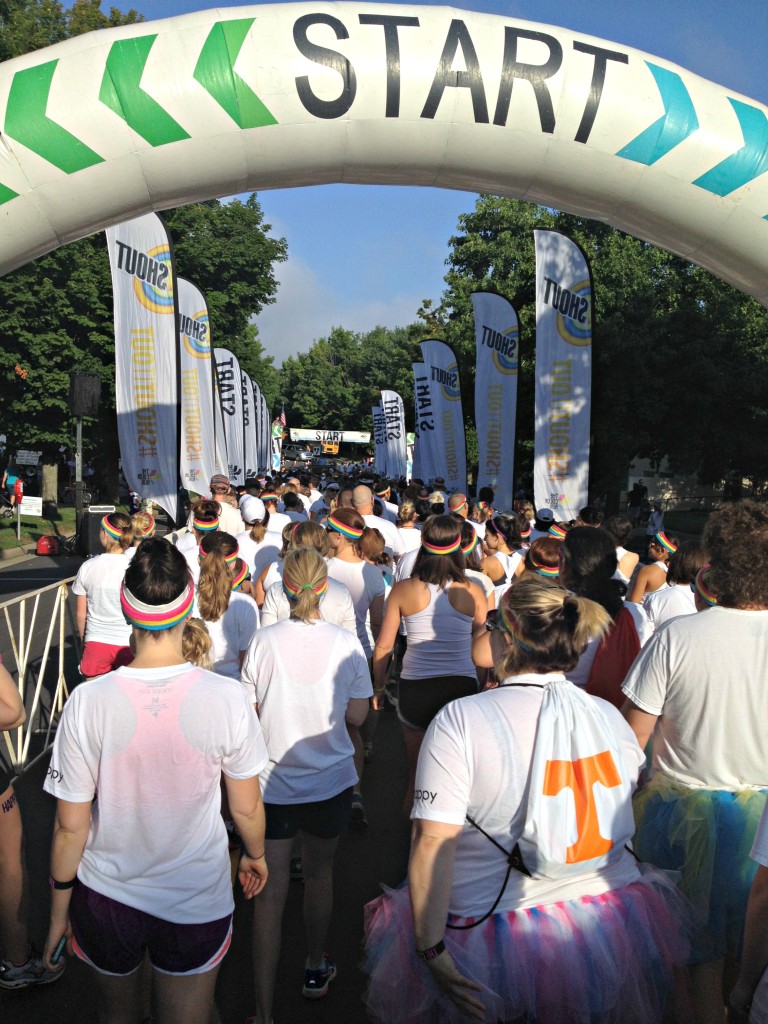 Once we get moving we are excited to start to jog. For about a quarter of a mile we run without any signs of color. We finally reach the blue station and our group is in the spirit.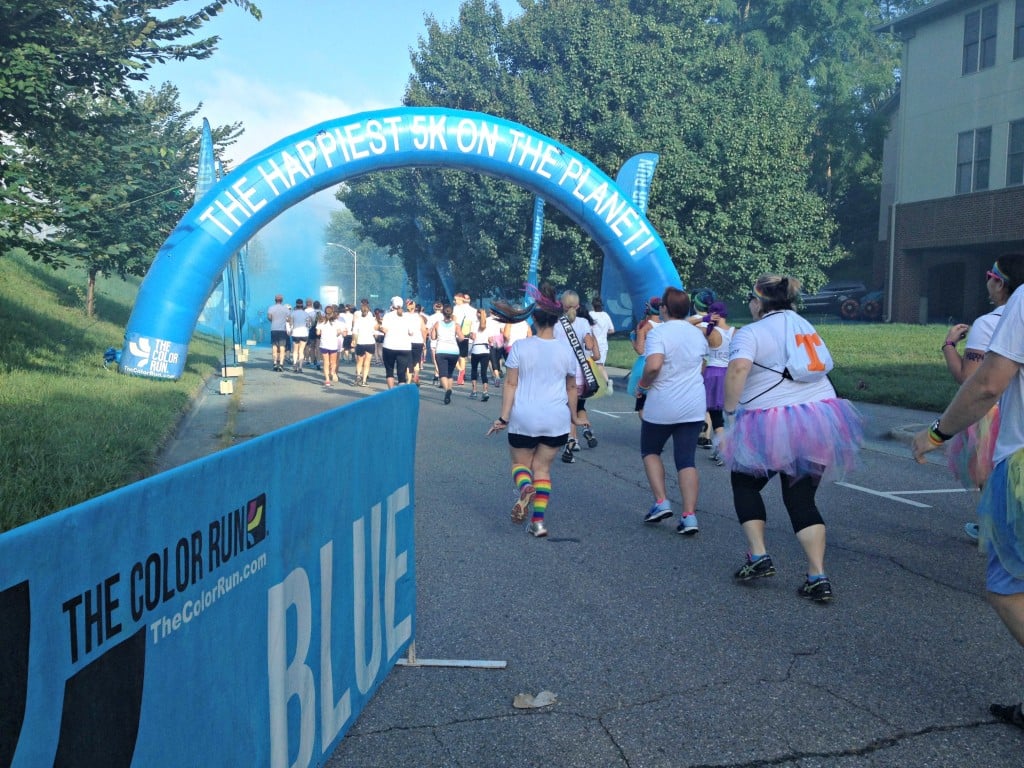 The station has volunteers on each side with bottles of corn starch with food dye in them. They create the cloud of blue we run through. If you want more color you can go closer to the volunteers and if you want less you can go through the middle. We all ran through the first round laughing.
Here is what I look like after the blue station!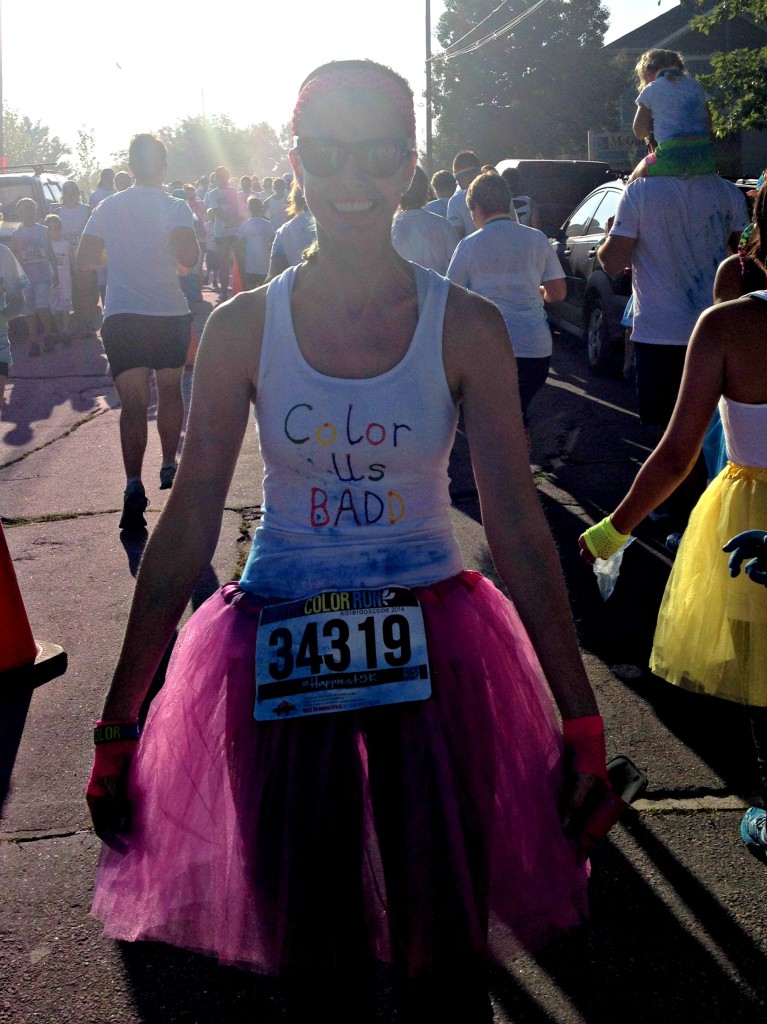 After another short jog we reach the pink station.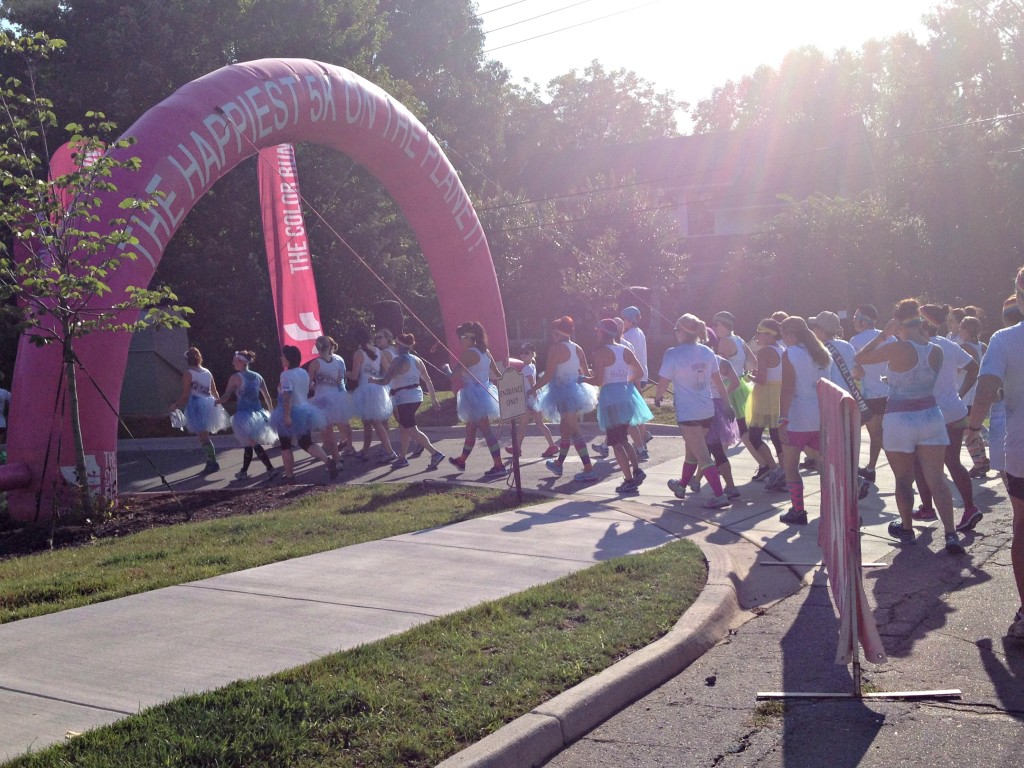 I love pink!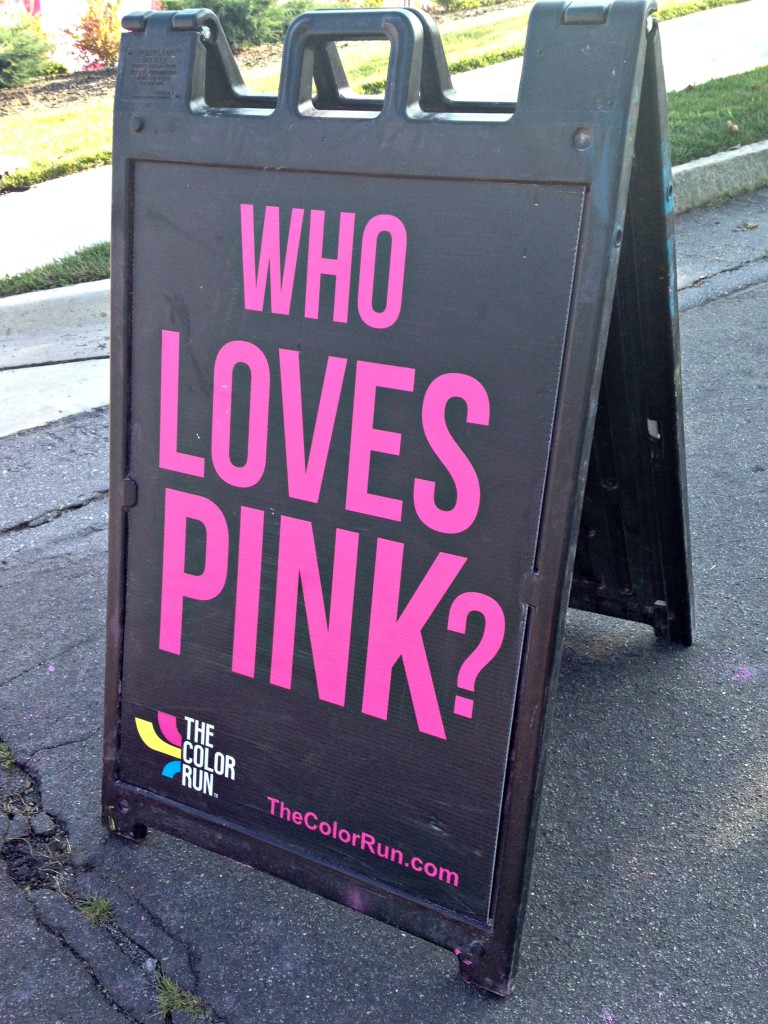 Since pink is my favorite color, I run a little closer to the sides this time. We all quickly learn to close our mouths and try not to breathe too much while running through the color stations. Blue teeth are not cute. At all.
This is what I look like after the pink.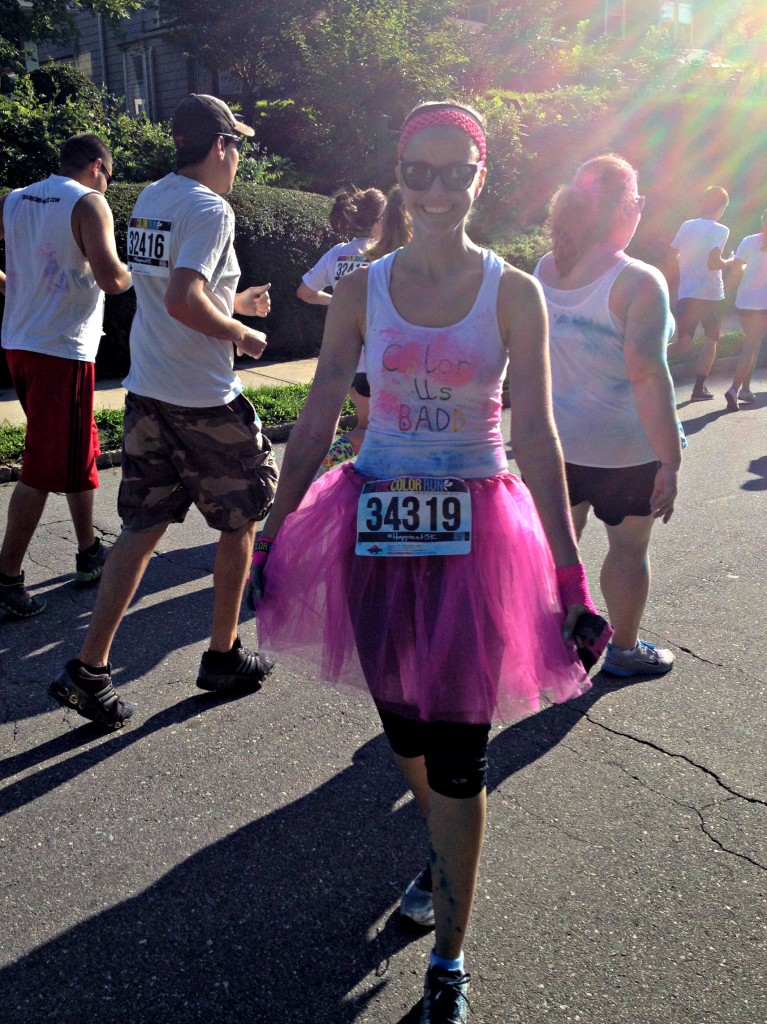 The course is pretty crowded so we are basically moving at a very slow jog. We don't really want to pass people since the event really isn't about finishing fast, so we just keep moving with the crowd.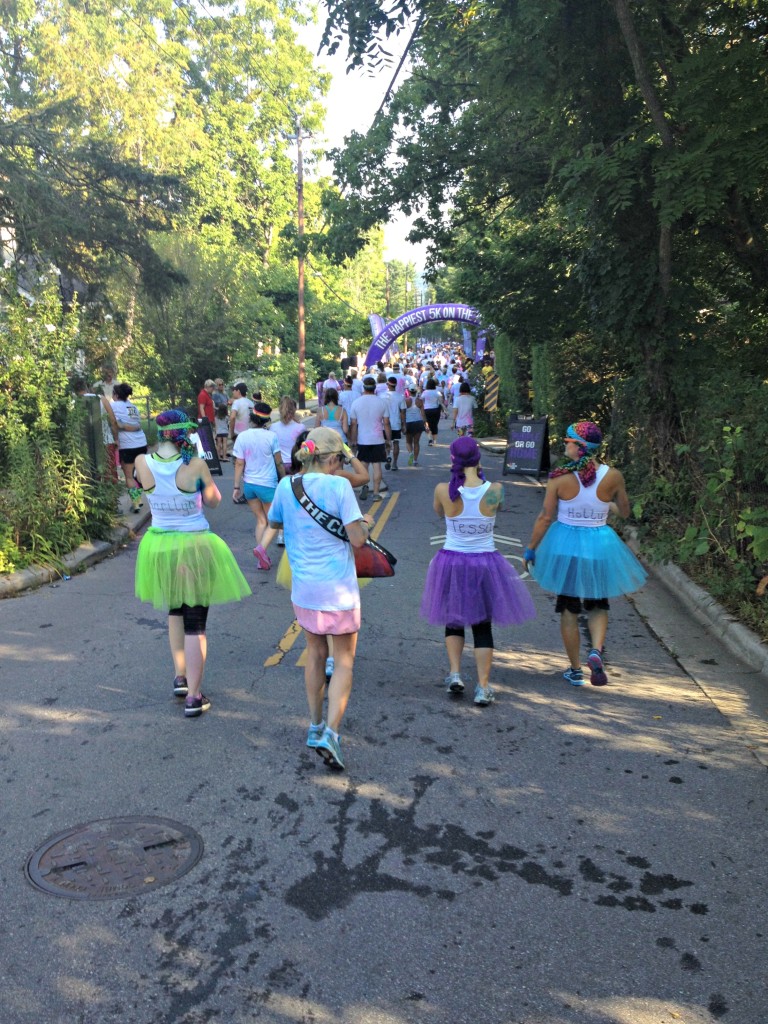 Purple is up next! (Look at my adorable photo bomber!)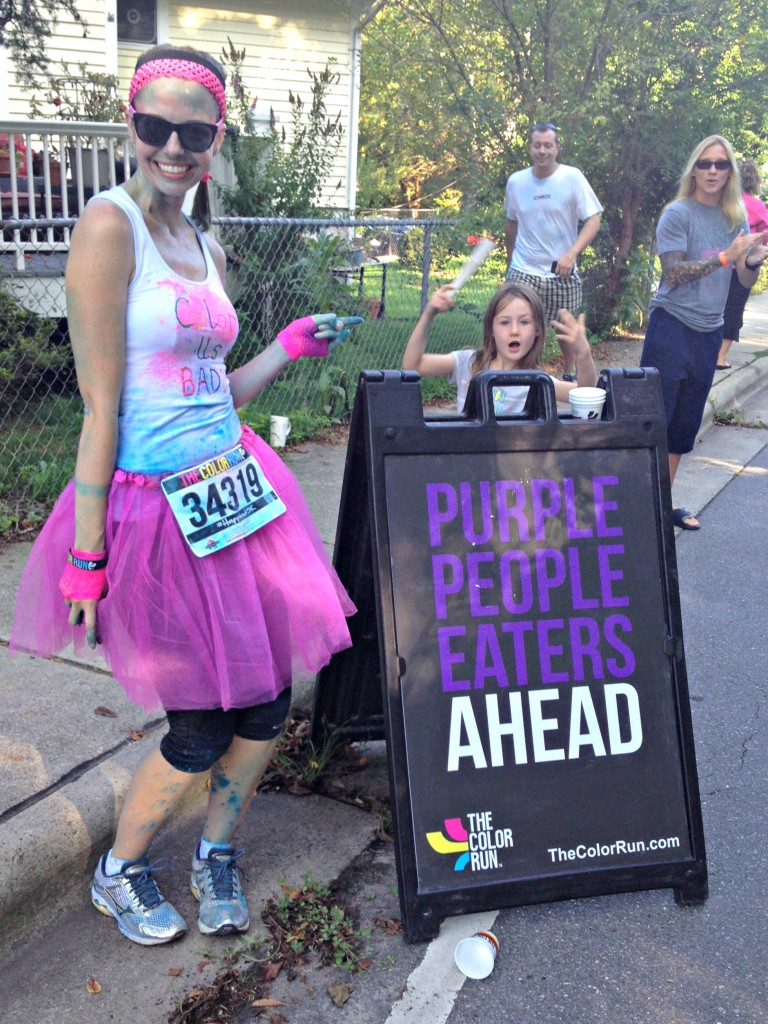 The purple station takes us all by surprise because the powder is mixed with water. I still don't feel very colorful at this point and am curious how it is all going to work out.
This is my I don't know how I feel about this color run stuff picture….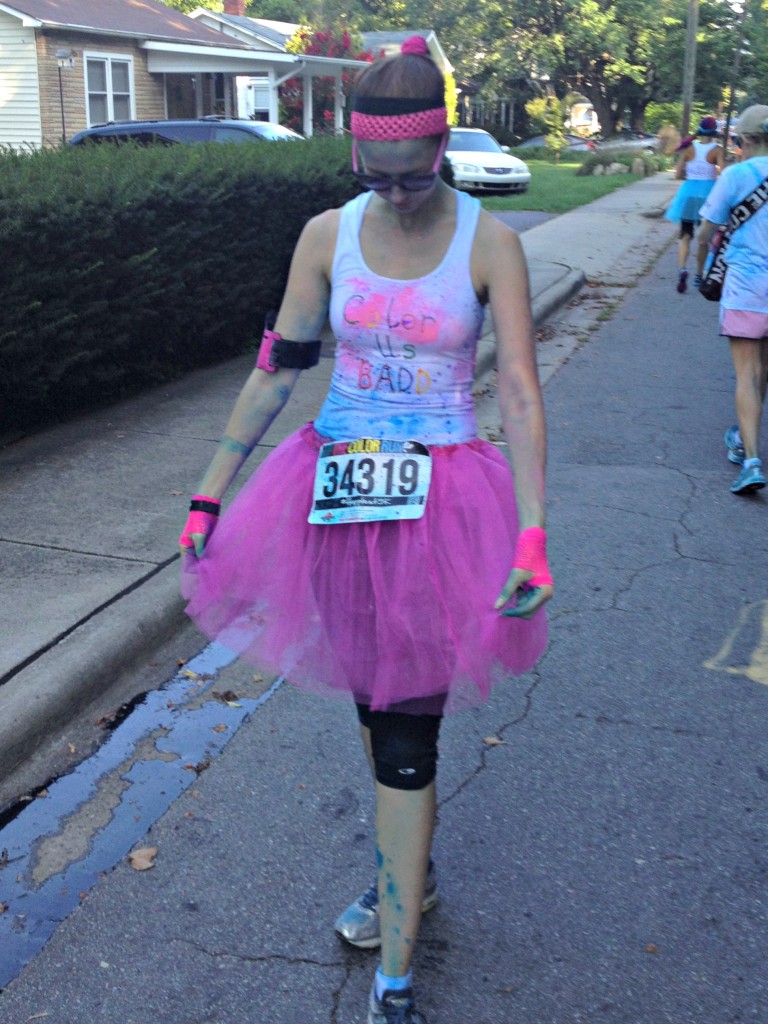 After the purple station we take a turn and hit a huge Asheville hill with the biggest mass of people I have ever seen in an Asheville. Despite the sign at the front for walkers to stay right and runners to stay left, almost everyone was walking at this point, so we embrace the crowd and walk up the hill.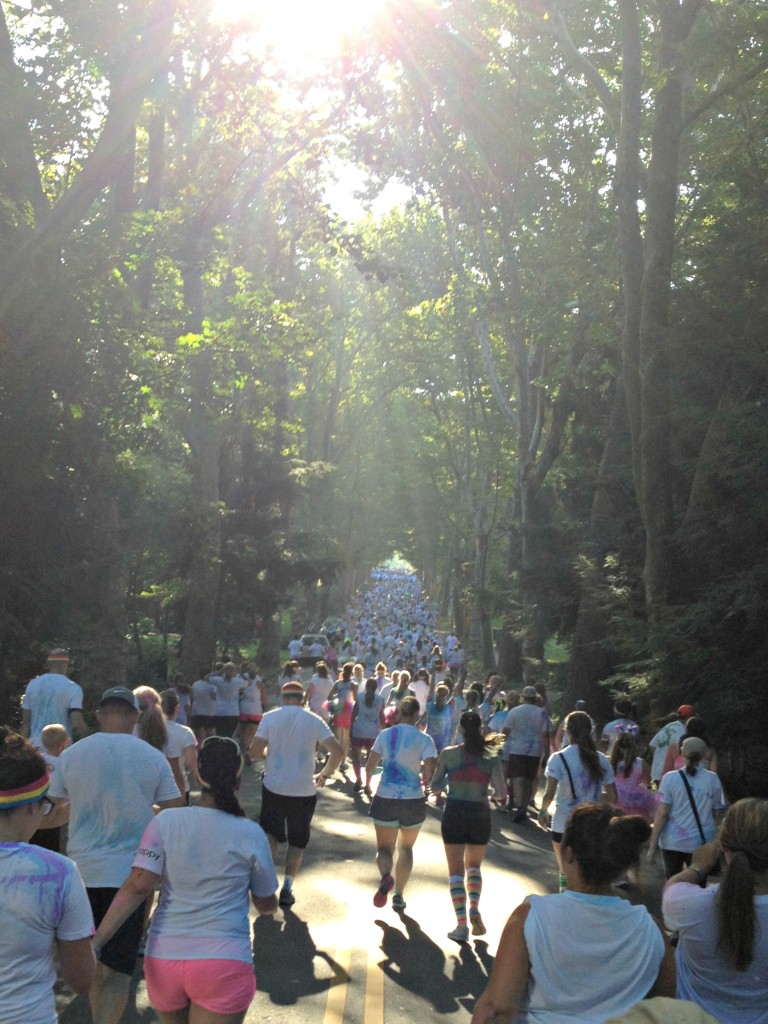 Finally we reach the last station - Yellow!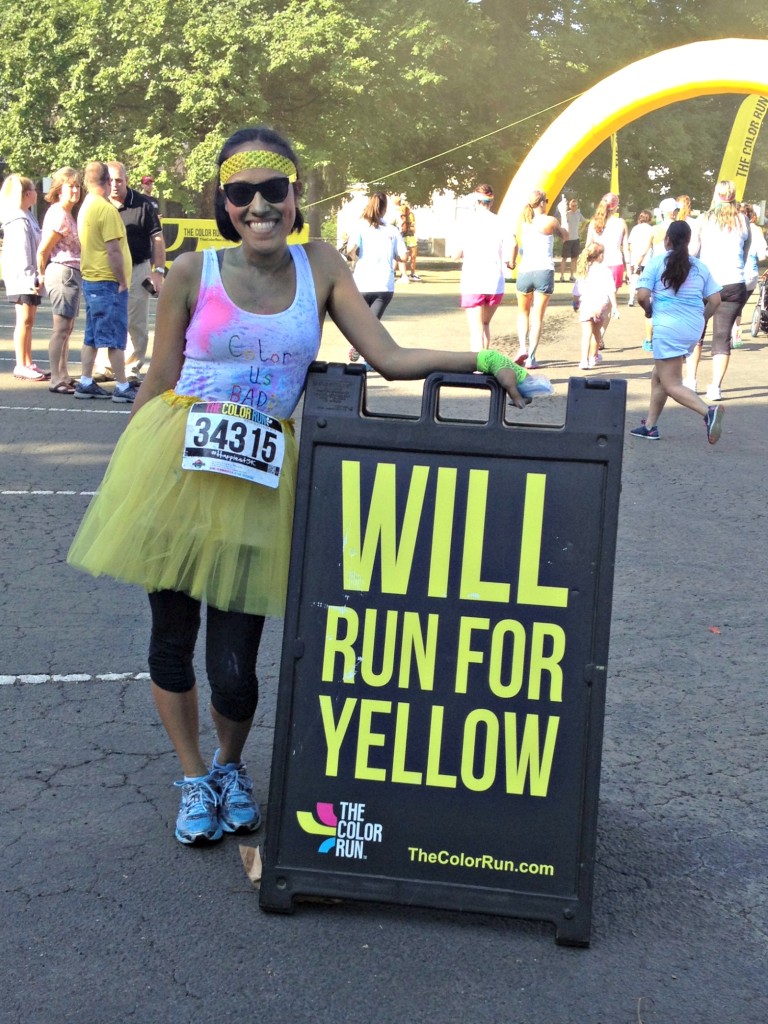 I'm still not feeling super colorful at the end, but it is still really fun.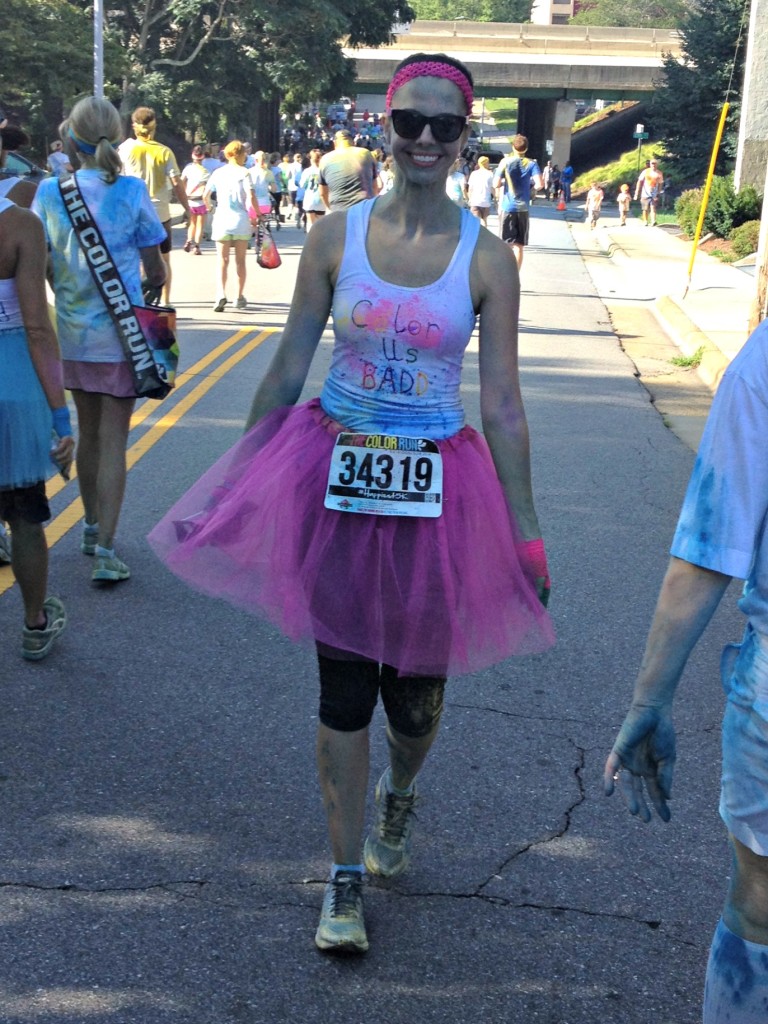 We finally reach the finish and decide to cross with some running power, despite the huge walking crowd.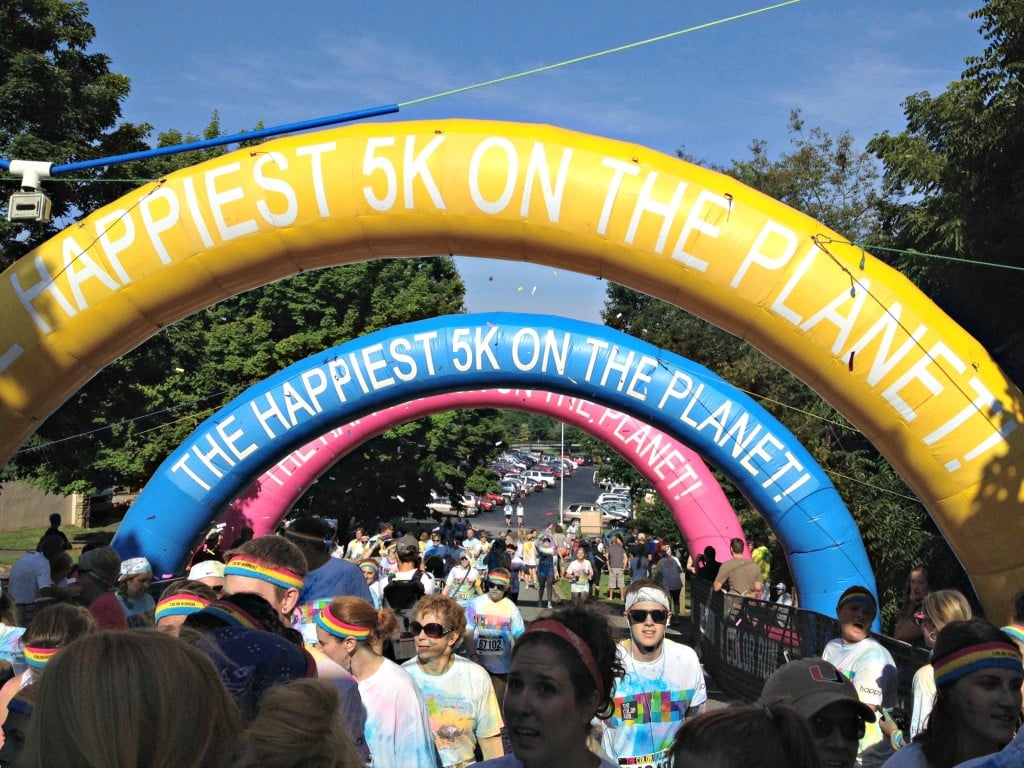 And done. The happiest 5K lives up to expectations!
This is what we look like after the 5K with the color stations.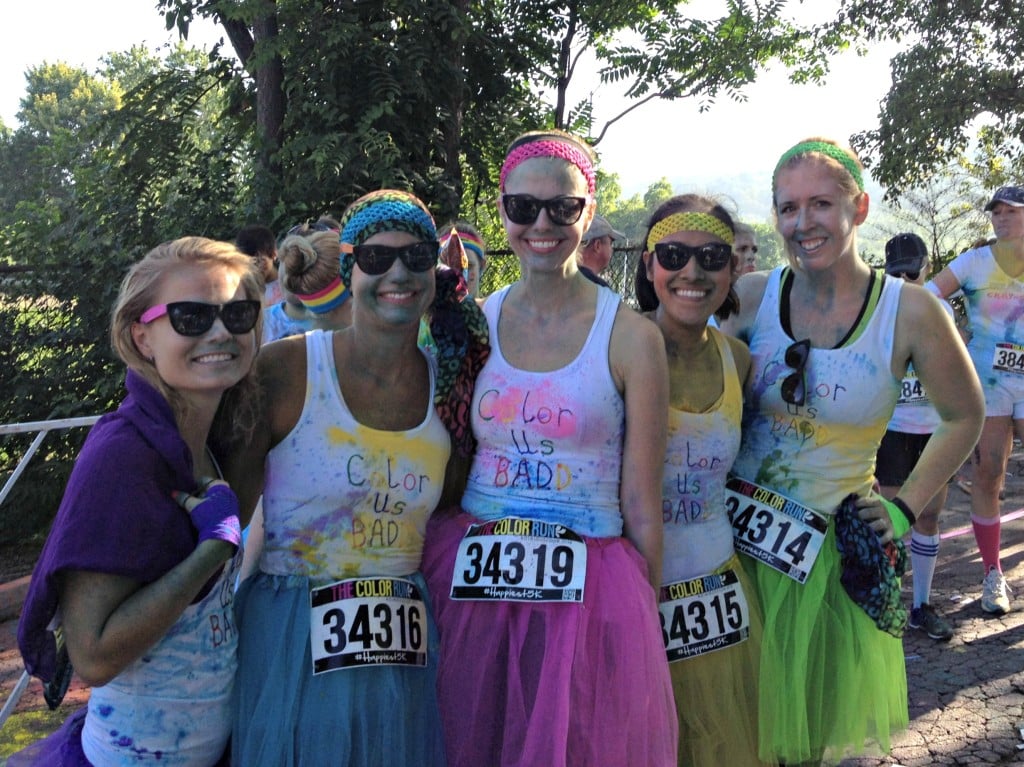 We decide we don't have enough color and head to the Color "after party" where there is a huge sea of color powder. Organizers give everyone a packet with the powder and on a count, we release our color in the air. It is super fun for a minute and then the powder cloud starts falling and the air gets so thick that we can't see at all and it is really hard to breathe.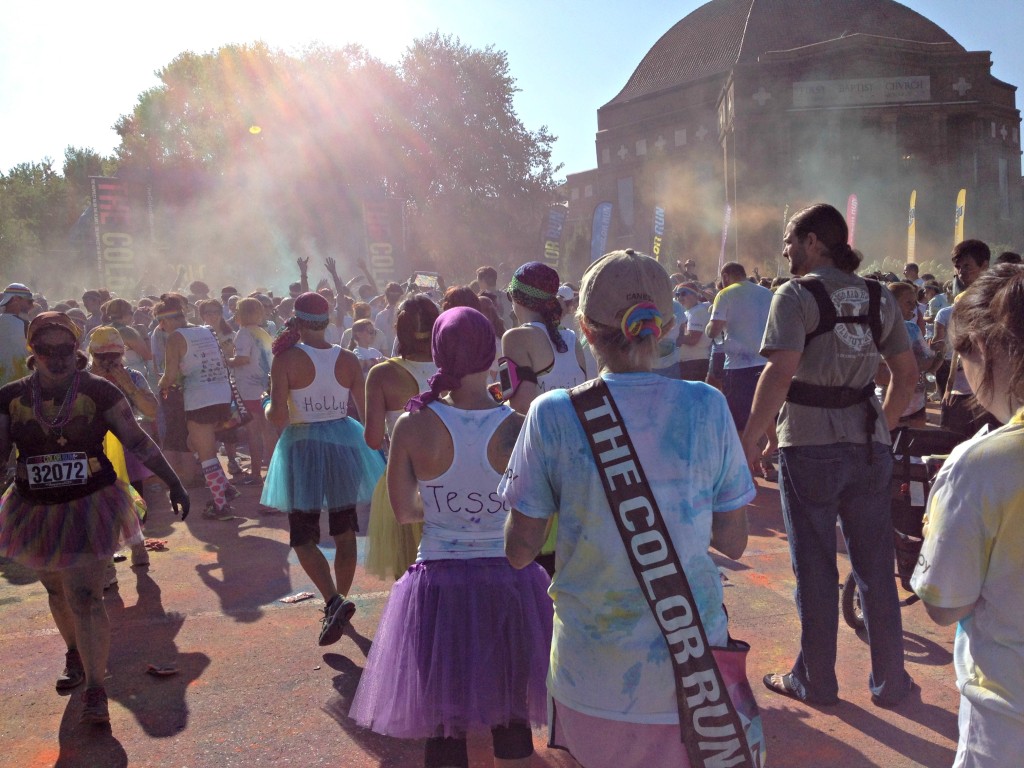 After one color release we decide we've had enough color fun for the day. None of us really like the feeling of being encased in the powder during the big group release. BUT! The color party did get us a little more colorful and gave us just enough of a rainbow for some pretty fun pictures.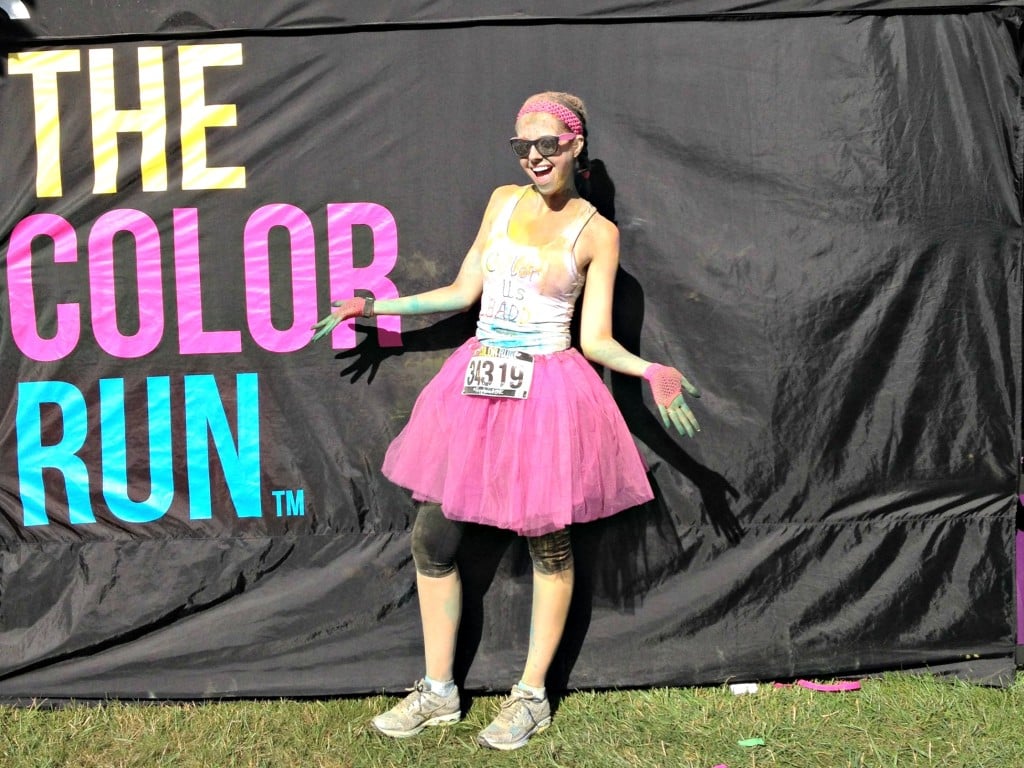 So what is the Color Run all about?
It's not about racing the 5K. Because of the crowds mostly walking, we struggled to run the whole event. It isn't the kind of thing you wanted to weave in and out of people to keep a pace. Regardless you still get some great exercise and it is an active way to spend the morning. No matter what pace you finish you still completed a 5K!
It is about embracing your inner kid and being silly with your friends. We had such a fun time putting together the costumes and completing the 5K. I can't remember the last time I have laughed so hard!
And where else can you end up looking like this?

Color Run: Mission Accomplished!
Before and After Pictures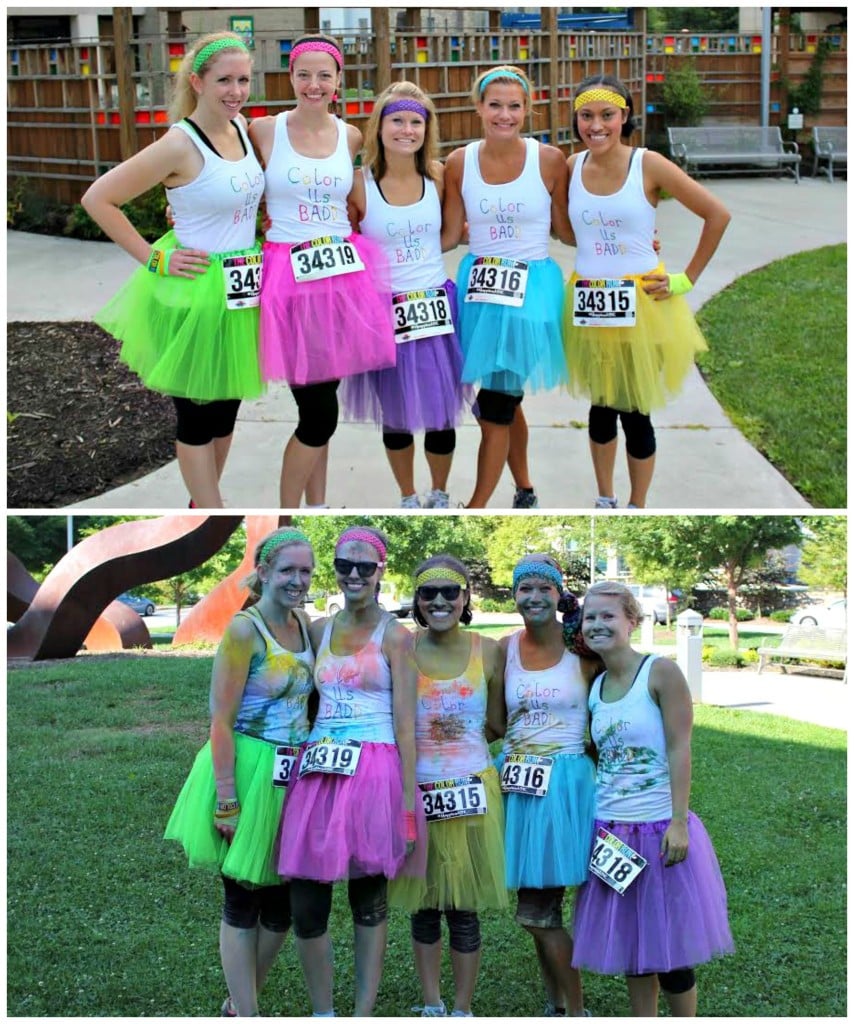 More Color Run fun coming soon on Running in a Skirt! I will be posting the Everything You Need to Know About the Color Run Guide in the coming weeks.
Your turn?
Have you ever done a theme race?
How was your weekend?
Mine was great! I also got to help celebrate Marilyn's son William's 2nd birthday party. He is such a sweet and cute little boy.