Thanks for stopping by Running in a Skirt! You can also follow me on Facebook, Twitter, Pinterest, Instagram. or subscribe by entering your e-mail address to the right!
My Dad was back in Asheville this past week and we explored the Biltmore Estate Gardens.
Biltmore Estate Gardens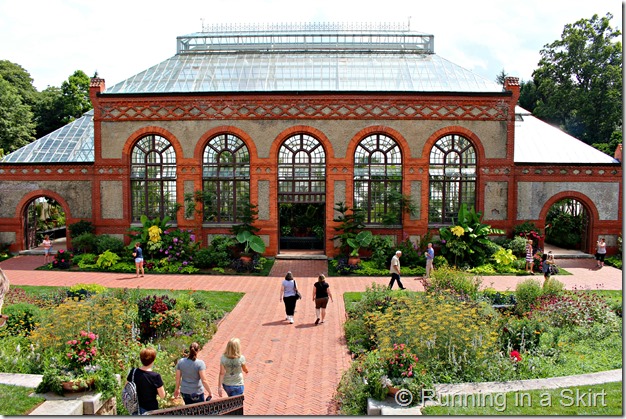 I've lived in Asheville 11 years now and have only seen the Biltmore House once. I think my Dad (who lives in Orlando) has been more times than I have! I've run through the property three times for the Biltmore 5K/15K races, but I still consider the estate uncharted territory.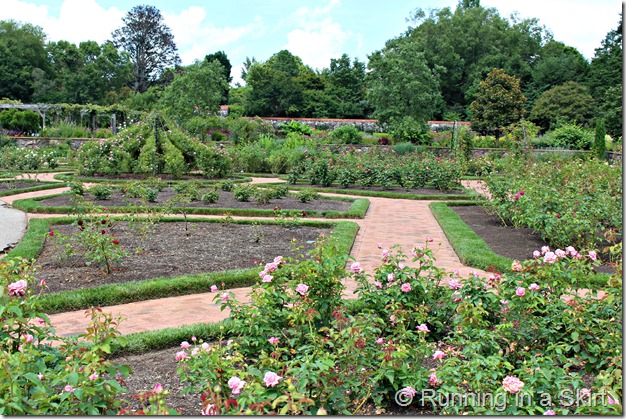 My Dad knew how I wanted to spend more time exploring so he bought me an annual pass on his visit so I could see the estate in all four seasons. Can you believe I've never seen the huge Christmas trees? Never mind I'm allergic to Christmas trees, but I still want to see it.
On this trip we only had a few hours after work, so we decided to skip the house and explore the gardens.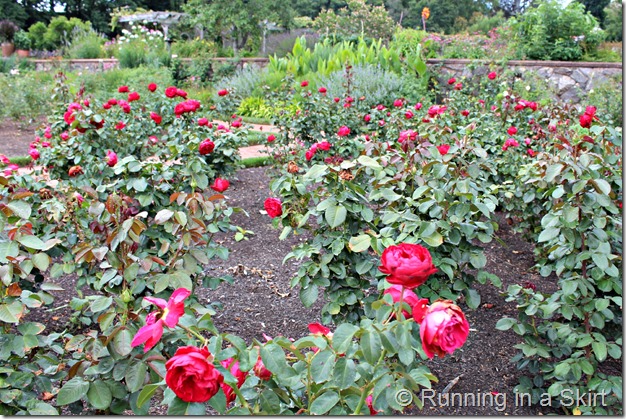 I was super curious about what plants would be blooming in July. Their big flower show is in early spring with tulips, but these roses are spectacular. I took some notes on how they were pruned to apply to my own rose plants.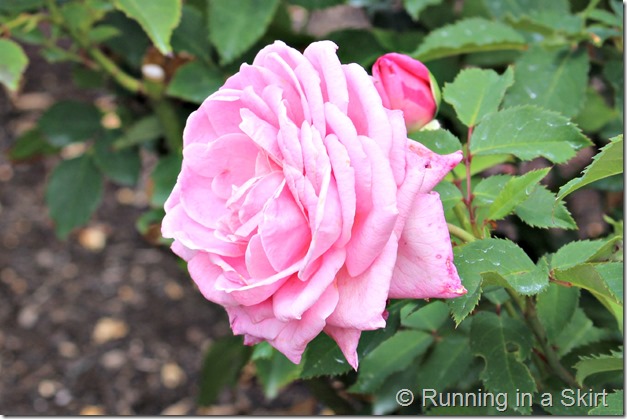 There were all sorts of little critters flying around enjoying the beautiful buds.
In the back of the gardens they had some amazing summer blooms with an almost tropical feel.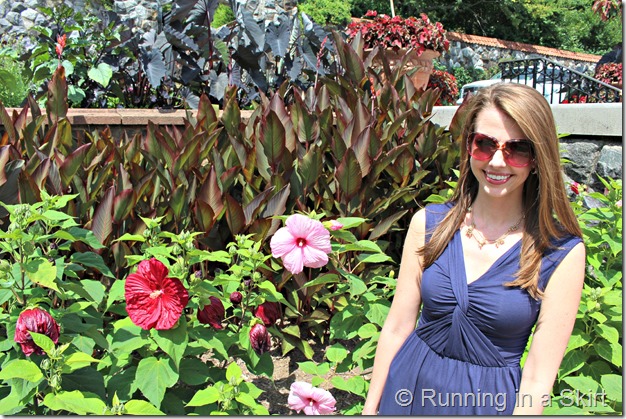 These flowers were as big as my head! I love them and must add them to my yard somewhere.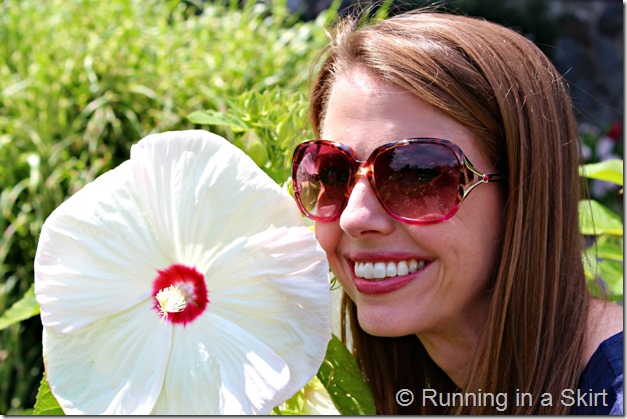 There was an enchanting shaded arbor with grapes hanging down, providing shade. Most likely a nod to the vineyards on the estate.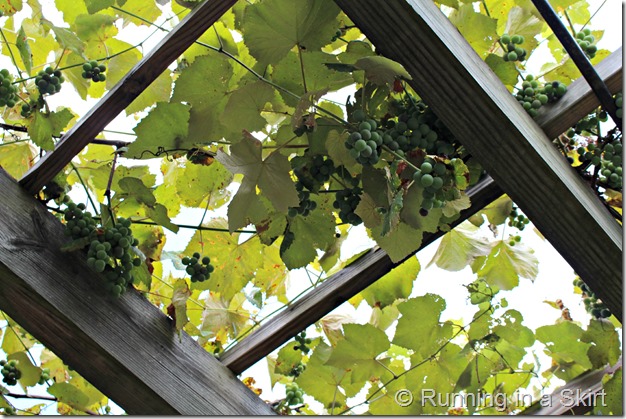 It could not have been a more stunning July afternoon to explore.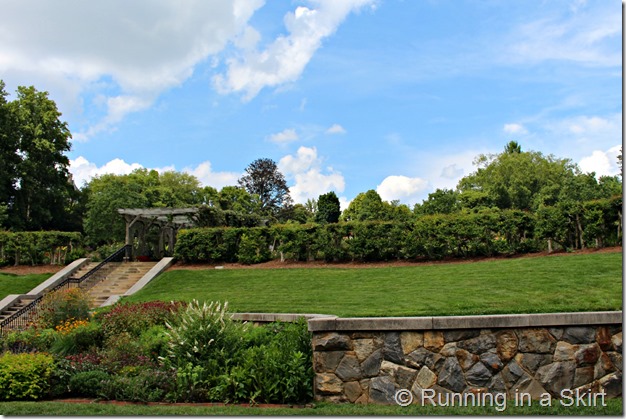 Antler Hill Village
After wandering the gardens we drove to Antler Hill Village in search of the famous Biltmore sunflower fields.
For some reason, even though sunflowers are one of my favorites, I can't grow a single one myself. I have a green thumb, but each time I plant a little sunflower seed they never make it to the full-grown, sunny plant.
Unfortunately, I think the deluge of rain we had over a solid week took their toll on these sunflowers too. I'm hoping they make a turn around. It looks like there might have been more planted in the next field.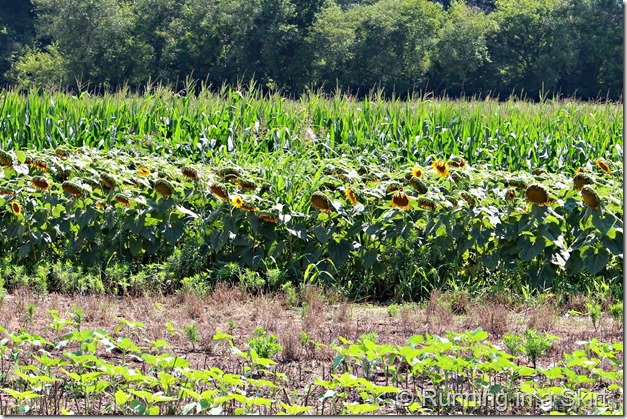 Even with the elusive sunflower we enjoyed about thirty minutes in the shade watching live music in Antler Hill Village.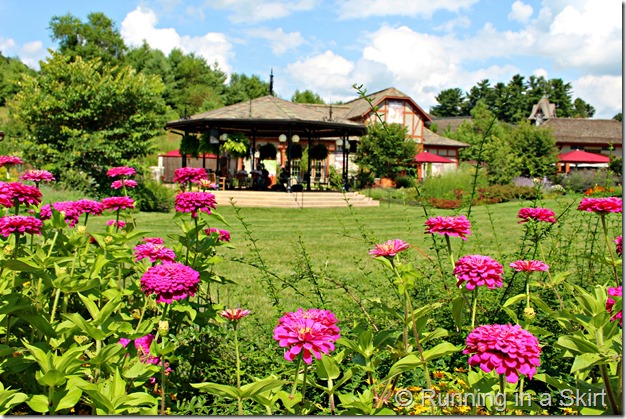 Farm Burger &
French Broad Chocolate Lounge
My Dad and I lost track of time and before no time we had to leave to meet the hubs downtown for dinner.
Downtown Asheville was buzzing! I am amazed at how busy and popular this small city has become. I've always known this a cool place, and it is nice that the rest of the world is catching on to what we already knew.
The three of us stopped for dinner at Farm Burger where the boys had a burger and I had a veggie burger. They make a pretty tasty Tempeh version of their popular sandwich.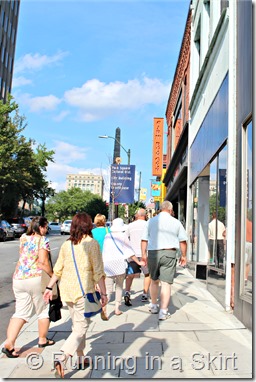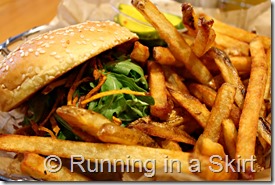 After dinner we went to the pinnacle of all dessert places…. The French Broad Chocolate Lounge.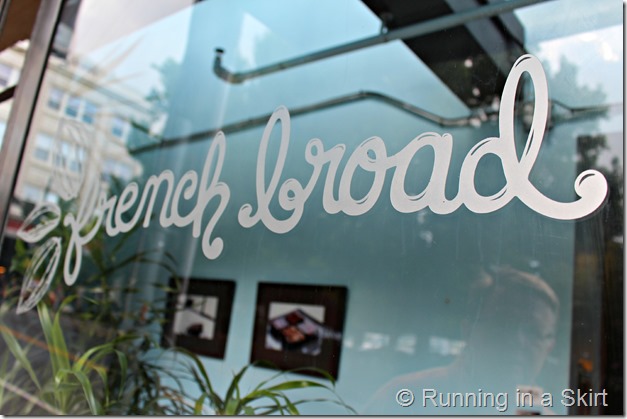 It's as divine as it sounds, my friends.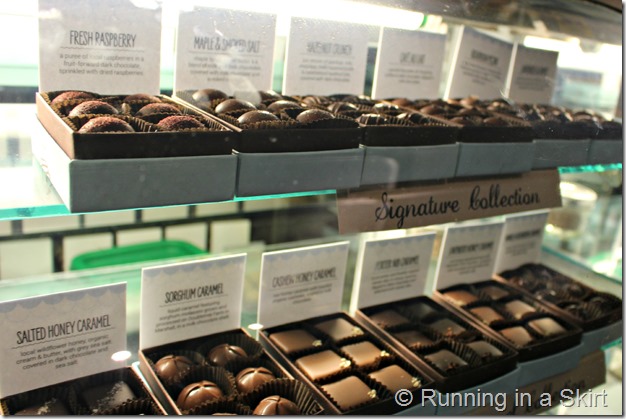 We ordered a collection of treats to enjoy and they tasted just as good as they looked.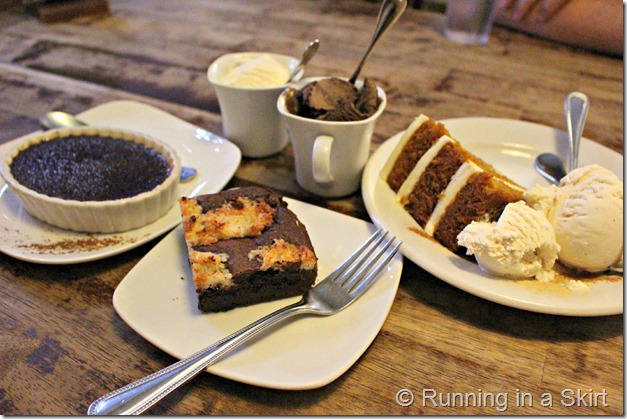 Such a great day with my Dad and I'm so glad he was back to Asheville to visit. I'm a lucky girl that he likes to travel so much and loves to these beautiful mountains.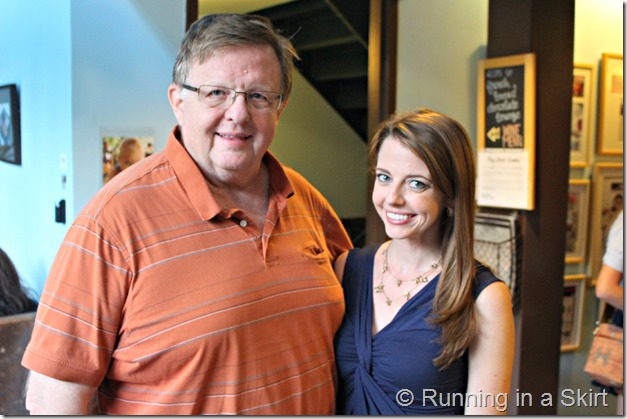 Your turn?
Have you ever been to the Biltmore Estate?
What is your favorite chocolate treat?
My all time favorite is the Chocolate Raspberry Truffle Cheesecake from the Cheesecake Factory…. BE-still my chocolate lovin' heart!!