The Biltmore 15K is one of my all-time favorite races. I've been lucky enough to run the race twice. The first time was just after I had just caught the "distance running bug" and race day was the first time I had run anything over eight miles.
The second time I ran it I was pre-training for the Chicago Marathon. I was so worried I would hurt myself during the race, jeopardize my marathon training, so I used the course as a training run, instead of actually "racing" it.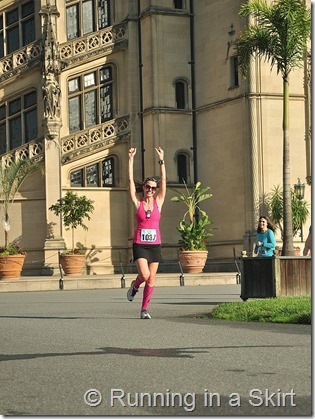 (Race picture from 2012 Biltmore 15K)
I would love to RACE the 15K again and see how I could do, but for now I'm focusing on increasing my speed and time in the 5K, so this year I signed up for the Biltmore 5K!
The 5K course may not be as spectacular as the 15K (it does not go in front of the the Biltmore House or through the gardens,) but it is nearly flat and is a great course to get a PR.
Race Report
After passing through several checkpoints on the grounds of the Biltmore Estate, I arrive at Antler Village, the staging ground for the event. I meet up with Jamie and Carol. You may remember Jamie from the Oskar Blues 4 Miler earlier this year. Both girls are signed up for the 15K.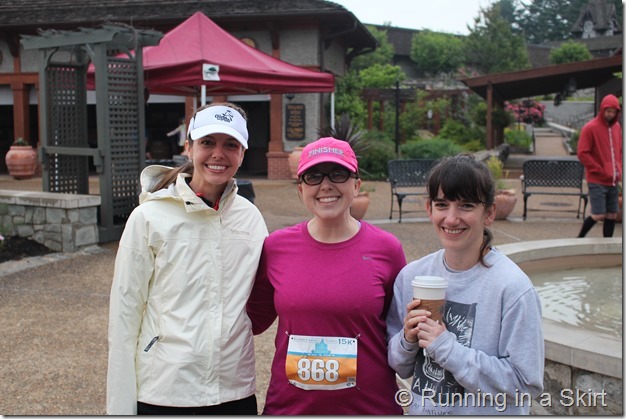 The weather is a little drippy and a lot cool. Remember how the Run for the Paws a few weeks ago was almost in the 80s? Race day this time is in the 40s and alternating between a light rain and mist. I am a little annoyed about the rain, but mega grateful for the cooler temperatures. I have found that I really struggle to run fast fast for me paces in "warmer" weather.
As race time approaches Jamie and Carol and I separate to line up for the race. The 15K runners stand up front, and the 5K runners stand in the back. The 15K gun goes off around 7:15.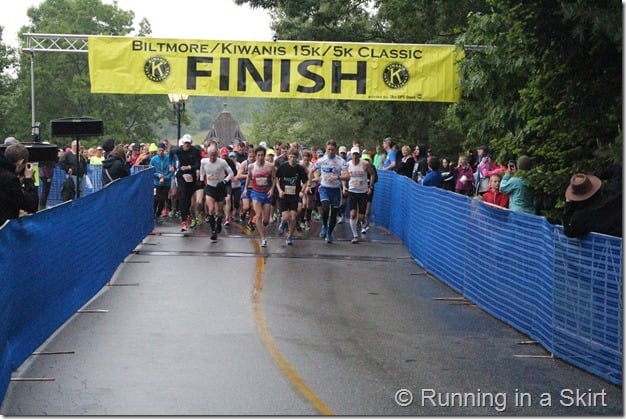 A few minutes later the 5K runners line up and have a little time to get situated before the 5K starts at 7:20.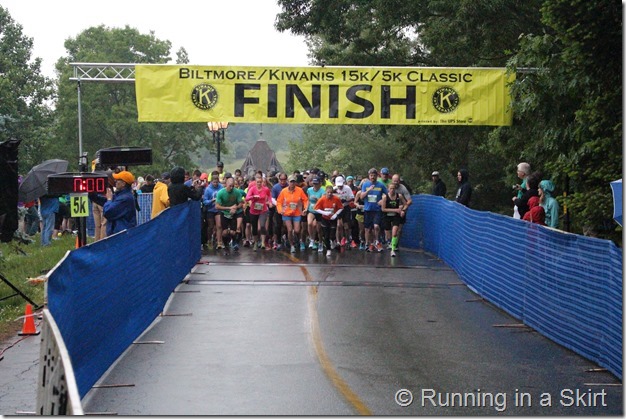 As the gun goes off I start my i-pod and GPS watch. The course starts slightly downhill and feels fast. The drizzle turns into a steady rain as we take off.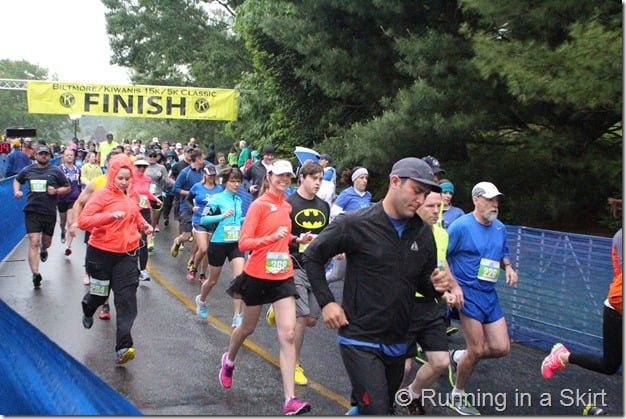 My goal is to keep my pace below a 9 minute mile without feeling too out of breath in the first mile. I want to be able to hold my time through the race. I am feeling great and keep seeing around an 8:30 pace on my GPS watch. I wonder if I am going out too fast, but I decide to go for it.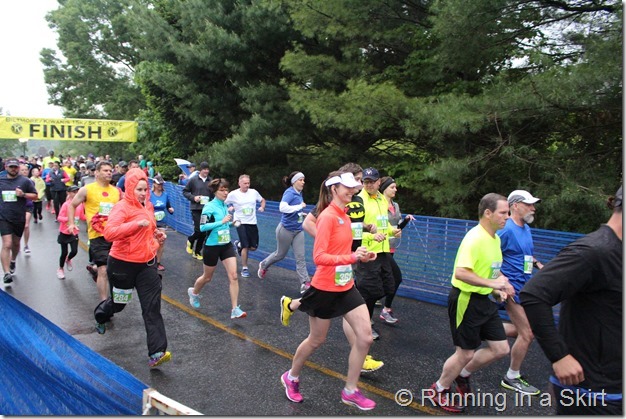 The course remains mainly flat to downhill, with a baby hill about three quarters of a mile into the race. At that hill the 15K runners veer to the left to run the grounds of the estate and the 5K runners go right along the river. This 5K course is by far one of the flattest courses in town (The 15K is really hilly though!)
Mile 1: 8:36 – REALLY?????!!!!!
As I start the second mile, I focus on keeping my leg turnover fast and try to keep my breathing as controlled as possible. I know that this is where the race gets hard. My game plan is to stay focused on the race and not let my mind wander, as I often let it do while running. The rain luckily turns back into more of a drizzle.
About half way through mile 2 is a turn around and at that point I know I just have to go back to where I started.
Mile 2: 8:46 – AWESOME!!
Mile 3 starts to feel hard. I notice a 9 minutes per mile pace as I look down at my GPS watch and know I have to try harder. The rain seems to be back, but by this point I don't even notice. My breathing gets heavy but manageable.
At the last quarter mile I feel the slight incline back up that felt so awesome at the start of the race. I struggle to keep my legs moving fast enough.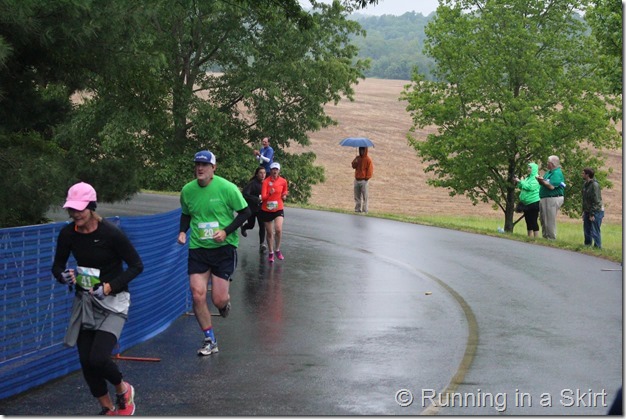 As I approach the final turn I feel a couple "shadows."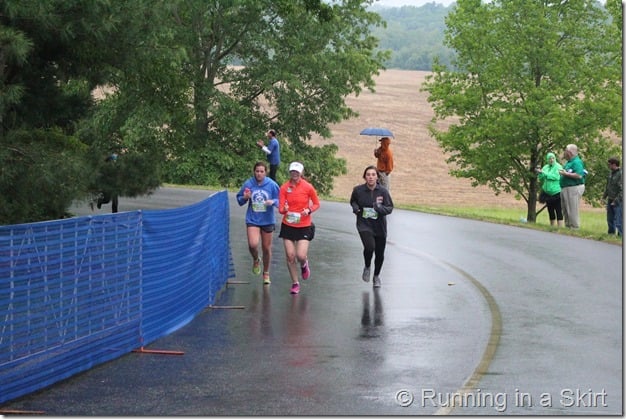 We all start kicking as fast as we can to the finish!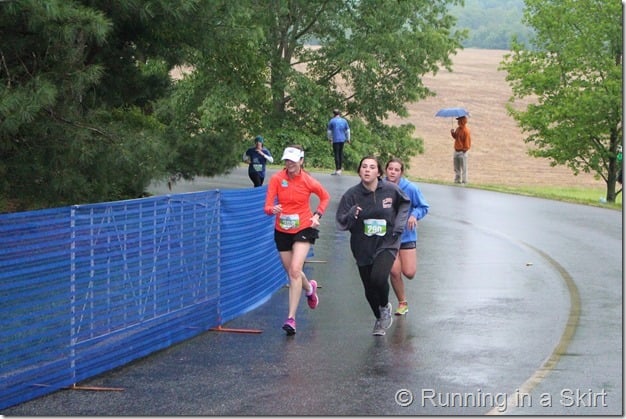 Looks like a photo finish to me!
Mile 3: 8:56- HOLLA!
I may not have kept my 8:36 pace for the entire race, but I did run an ENTIRE 5K at a sub 9:00 mile pace! I have never come close to doing that before! My fastest paced 5K before was 9:06 a mile.
GPS watch Pace: 8:45!!!!! GPS distance 3.16
Official time: 27:29
My fastest paced 5K ever and a PR on a certified 5K course!
I have run a handful of faster 5K's but they were not certified and many of the courses were closer to 3 miles than 3.1! This course was a little long. I hit the 3.1 mark according to my GPS at 26:59!
SOOOO…. I got to ring the PR Bell!!!!!!!!!!!!!!!!!!!!!!!!!!!!!!!!!!!!!!!!!!!!!!!!!!!!!!!!!!!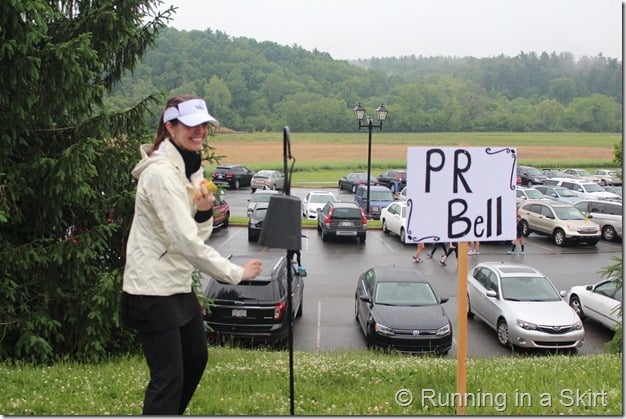 After I catch my breath, I watch the super speedy runners finish the 15K.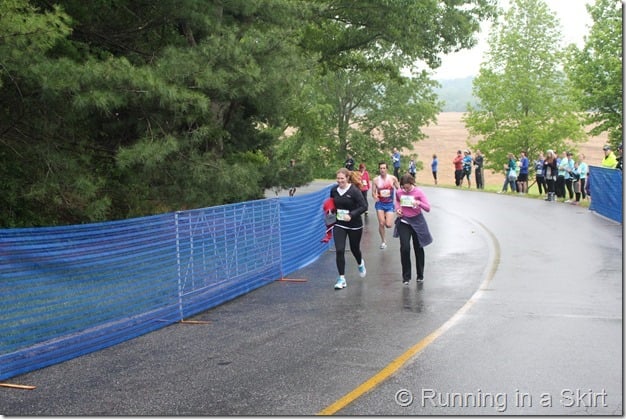 I feel bad for the winner of the 15K because he has to weave around a few 5K finishers. They had no idea he was coming up behind them!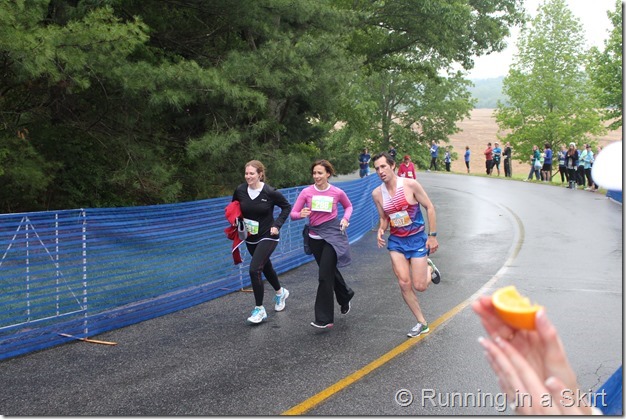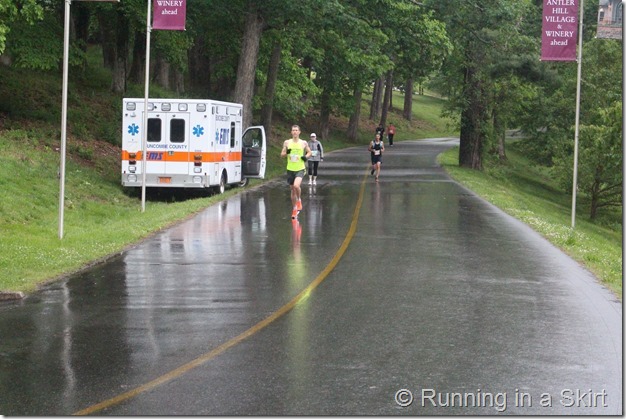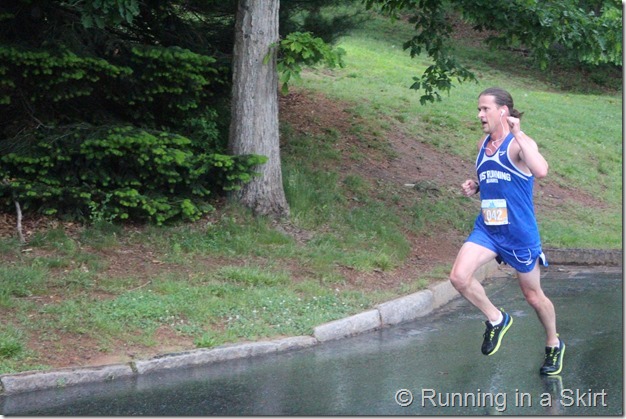 Just as I think the morning can't get any better, race organizers post the 5K results and I find out I WON 2nd in my Age Group! I see a podium for awards and literally get giddy with excitement. I've never gotten to stand on a podium before

When it's time for my age group I accept a super cool ceramic medal and feel like I might as well of won a medal at the Olympics. The podium is so much fun and is such a nice touch by IDaph, the race organizer.
This is my CRAZY excited face…
What a perfect day! And I have to mention that the Biltmore 5K and 15K supports the Kiwanis club of Asheville. They do so many wonderful things to support our community and this is one of their biggest fundraisers of the year. I am honored to be a part of this celebration!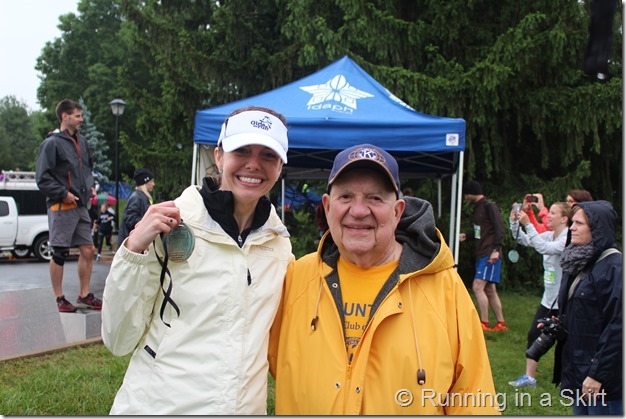 Your turn...
Have you ever run a race in the rain?
What's your favorite race?