Running is such a joy... but if you are not careful you can end up injured and just plain frustrated! To help keep you healthy I'm sharing my 10 Must Do Tips for Injury Free Running.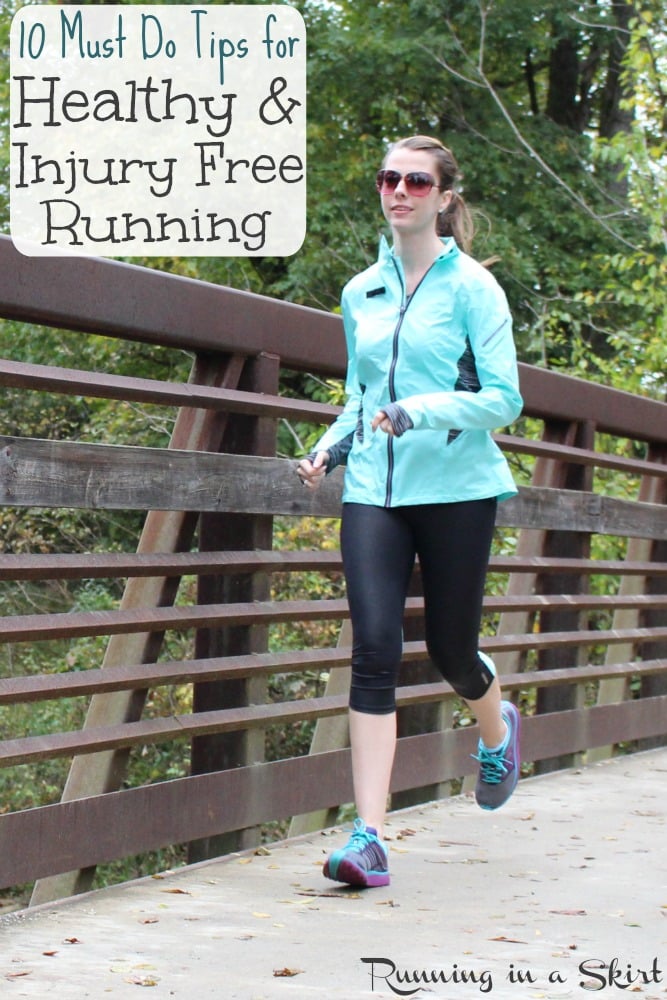 Hi everyone!
Even though I am running relatively healthy these days (other than Makena running into my knee and occasional nagging PF issues) that wasn't always the case! When I started running I seemed to do everything wrong and kept ending up injured a lot. I even ended up with tendonitis in my ankle and almost gave up the sport altogether because I couldn't seem to get it better. With a lot of trial and error, I finally came up with some changes in my running routine that not only got that issue under control but have helped me run healthier.
So to help you a bit and hopefully keep you from going through the same struggle, I thought I'd share those injury free running tips!
[fusion_builder_container hundred_percent="yes" overflow="visible"][fusion_builder_row][fusion_builder_column type="1_1" background_position="left top" background_color="" border_size="" border_color="" border_style="solid" spacing="yes" background_image="" background_repeat="no-repeat" padding="" margin_top="0px" margin_bottom="0px" class="" id="" animation_type="" animation_speed="0.3" animation_direction="left" hide_on_mobile="no" center_content="no" min_height="none"]Stop getting injured! Follow these 10 Must Do Tips for Healthy & Injury Free Running! Click To Tweet
10 Tips for Healthy & Injury Free Running
1) Buy Good Running Shoes
Visit a specialty running store and have them look at your feet. A really good store will have a treadmill to actually watch how you run. Let them help you pick out the shoes that will work with your foot. Some feet turn in or out and some people need extra cushioning. A lot of running stores will let you run in the shoes and bring them back if they aren't exactly right.
If you already have any sort of foot or leg injury, running stores can also fit you with an insert for your shoe that may be able to keep that injury from recurring. You will probably spend a little more for your shoes, but it's worth it. Doing this is the best money I ever spent on my running.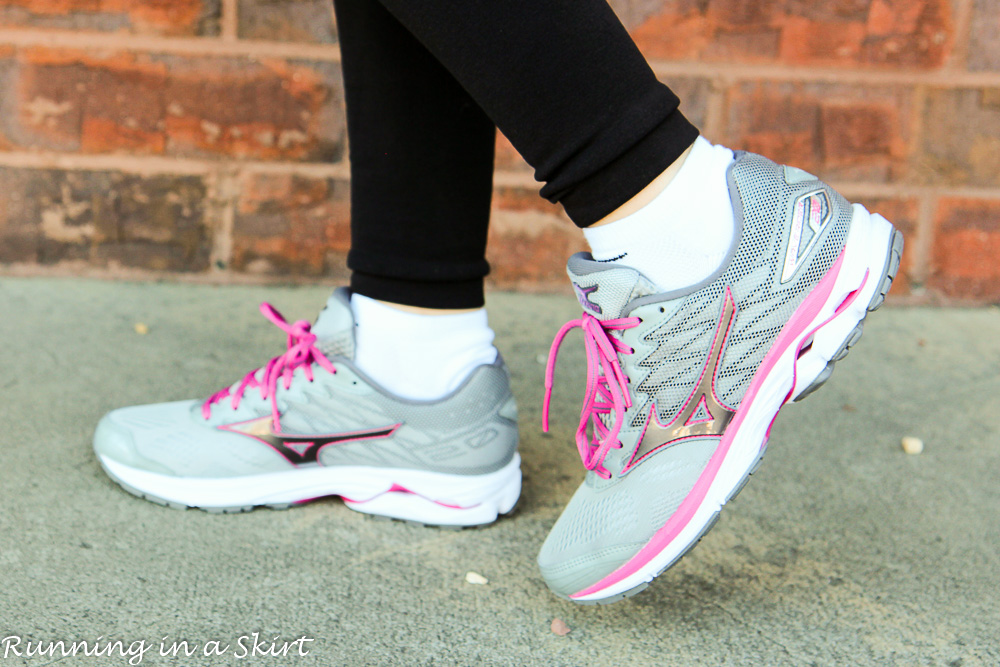 2) Don't Just Run
As much as you want to, don't run everyday. Try running every other day or three times a week and switch up the rest of the days with cross training! Biking, elliptical, swimming, yoga or circuit workouts are all great. Do something you enjoy and have easy access to! It can really help with injury free running.
Doing more than just running reduces the impact on your body and makes sure you use different muscles... both of which can help you stay injury free. You will be more likely to look forward to your running days!
3) Don't Run too Much
You have to ease into it! If you are just starting out... do something like 2 miles 3 days a week. Once you feel comfortable with that, increase one run to 3 miles a week… then 4. Don't ever increased your total weekly mileage by more than 10% . You may feel like you can run more, but in my experience, breaking this rule is a easy way to end up hurt.
4) YOGA!
Yoga is the best thing that has happened to my running. Running causes your body to really tighten up. Most running injuries are caused by muscle imbalances in the body. Yoga stretches those imbalances and keeps you limber.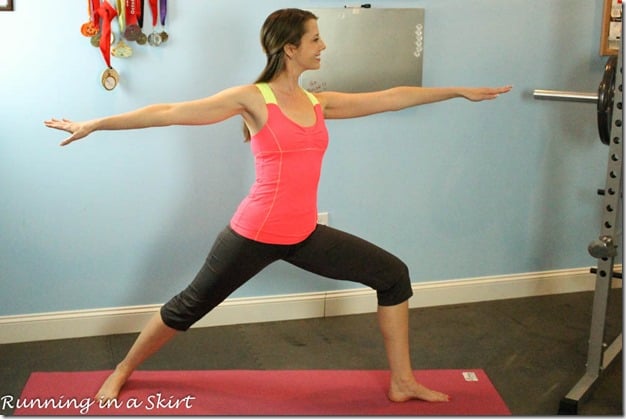 Another injury I faced when I was first starting out was bad shin splints. I took up yoga and they went away. The back of my legs were basically too tight and it was causing pulling in my shins. I realized I couldn't even touch my toes! As a former dancer, this was ridiculous. Yoga immediately helped my sore shins and legs.
It doesn't have to be anything fancy. Take a class at the gym or buy a 20 min yoga DVD to try. I am a big fan of this Rodney Yee Daily Yoga DVD and this Yoga for Runners DVD. I credit both of those DVD's for getting me through marathon training without a serious injury.
5) After a Hard Run, ICE!
I don't really do this now when I'm not running more than five miles, BUT I was all the time when I was training for longer races.
If you are having tweeks or twinges, ice your ankles and shins after a hard run. It keeps everything from getting swollen and sore. I either would fill zip baggies with ice or stick my feet in an ice bucket for 10 minutes. For the marathon I even graduated to ice baths for anything longer than 13 miles. It's hard for a seconds, but the payoff is worth it.
6) If it Feels Off, Hurts or Your Gut is Worried, Take a Day Off.
Sometimes your body needs a short break to recover. If something hurts (more than just "good" sore) and you just aren't sure what's going on, take the day off. It may seem like it will ruin your training program or your race, but it will be fine. Injury free running sometimes takes some serious willpower.
This is one tip I have a hard time actually following. I'm all about following the plan and it is hard to convince me that it's a good idea to not do what you are scheduled to do for the day. Usually someone talks some sense into me—Thanks Hubs….
Running on an injury is more likely to kill your program than just taking a day off. Often, that is all your body needs to repair the problem. If it still hurts after a couple days, have a doctor check it out. If you keep running on an injury, it will never get better. Really.
7) Take Vitamin C
Exercising regularly is great for your immune system, but training really hard for a longer race can be taxing on your body. Take extra Vitamin C to get some increased immunity. My doctor recommended Ester-C to me many moons ago and if I'm feeling sluggish I take it.
Also consider adding more colorful vegetables and dark leafy greens like kale to your diet to increase your vitamin count naturally.
8) Warm Up & Cool Down
Don't just jump into your run. Walk briskly for 10 minutes before you run to warm up your muscles, do some dynamic warm up moves and then stretch a little. That keeps you from stretching cold muscles. After your run cool down by continuing to walk another 10 minutes. This lets your heart rate slow back down at a nice pace. Take the time to do a long yoga inspired stretch after you run. Your body will thank you.
9) Use a Foam Roller
A foam roller can save your legs. Roll out your calves, thighs, hips and glutes after long run. It massages the muscles and keeps them loose. It hurts so good and can really keep injuries at bay. I'm a fan of this one here.
10) Try Adding Protein
When you are running extra long or doing really hard workouts, sometimes your body needs some protein right after your workout. The protein goes to your muscles and helps them recover faster. Injury free running even goes into the kitchen! Try adding a scoop to your favorite smoothie...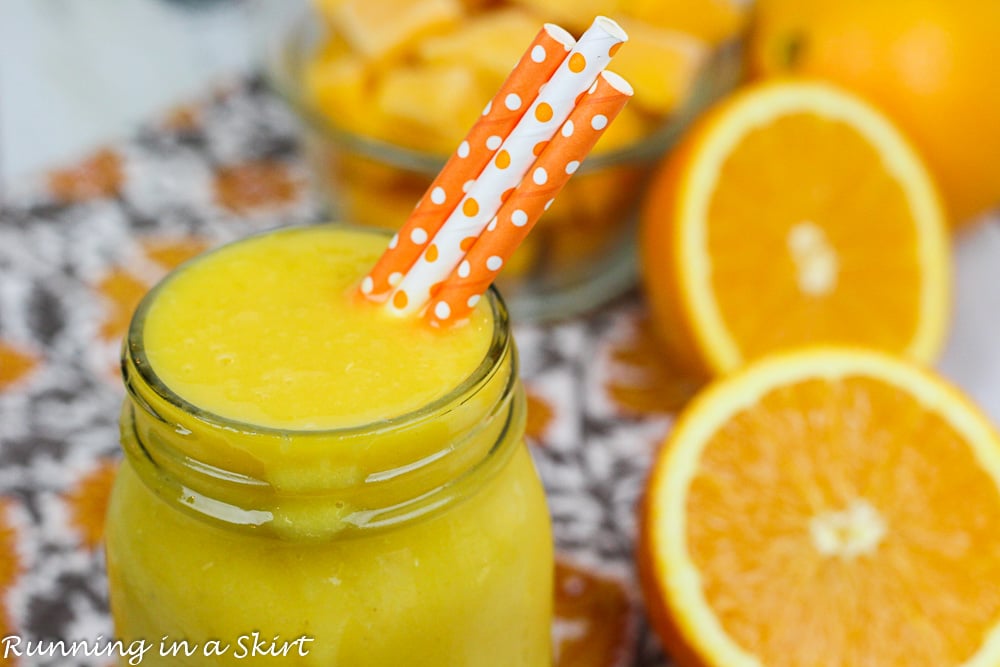 Or even make protein popsicles!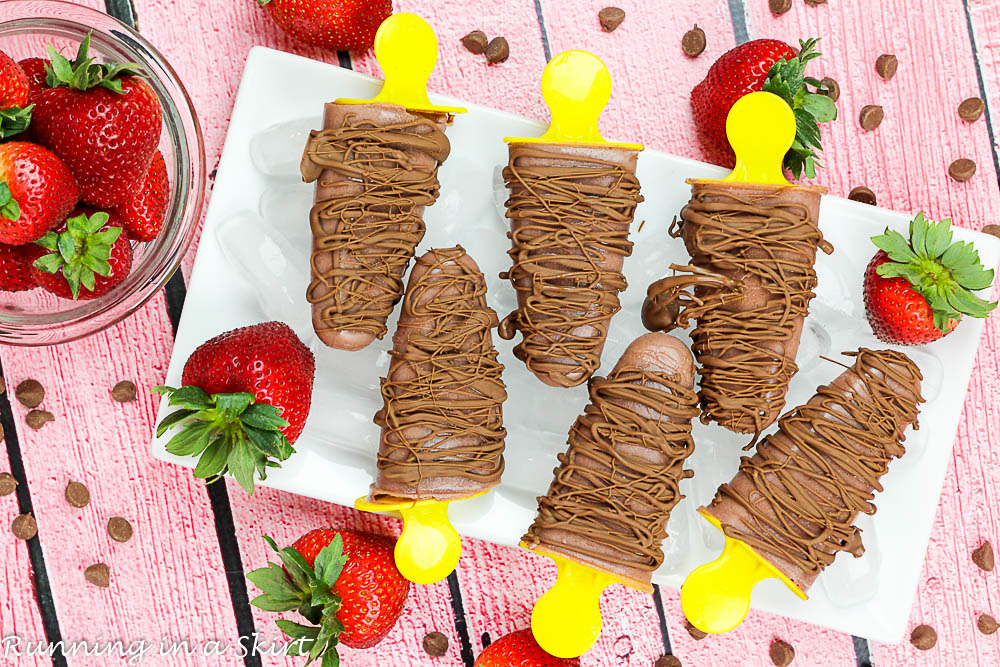 Both will help cool your down and recover faster!
10 Must Do Tips for Healthy & Injury Free Running from Running in a Skirt
Click To Tweet
Hope you enjoy my 10 Tips for Injury Free Running! Like this post? Find it later by pinning this to your favorite Pinterest board!

This post does contain affiliate links. I make a small commision on purchases, but it costs you nothing. Thank you for supporting Running in a Skirt.
Thanks for stopping by today! Come back tomorrow for an updated version of my favorite Kale Pasta.
Your turn!
Any tips to add?
What injuries have you had?
I'm linking this post with Marvelous Monday, Jill Conyers for Fitness Friday & Inspired to be Fit, Amanda for Thinking Out Loud Thursday, Coaches Corner, and Annmarie for Wild Workout Wednesday.[/fusion_builder_column][/fusion_builder_row][/fusion_builder_container]