Between the parties, cooking and family time running during the holidays is no joke. Here are my 5 hacks to keep moving!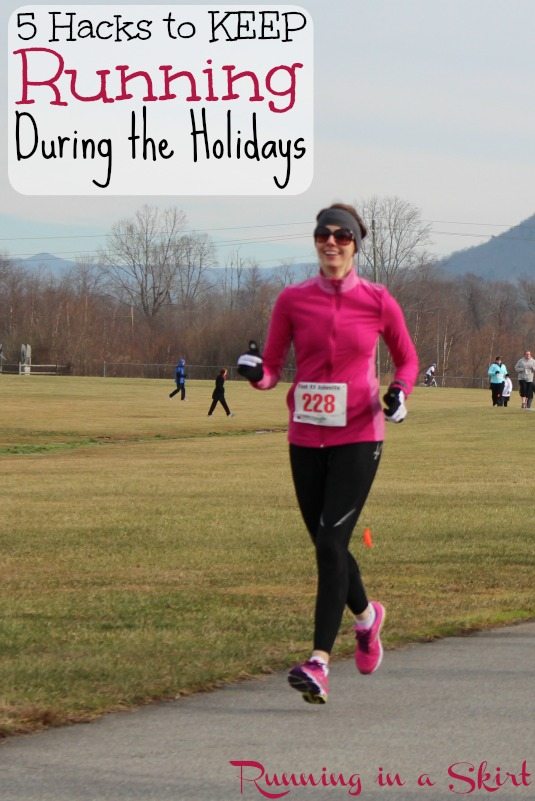 Hi friends,
There are so many magical things at the holidays... parties, lights, trees, family and tons of good food. With all the extras this time of year it can be a real struggle finding time to workout and run. I know there are many days I hit 5 o'clock and wondered what in the world happened to my day.
But I know that running and working out is when I reset my mind, find some peace and de-stress. Even if I'm really busy, it's important for me to find time to do something active or I start to loose my grounding a bit. And let's be honest, it also helps with the enormous amounts of food that I eat around the holidays too. Cookies anyone? 🙂
But even though it's busy running during the holidays can be done! Here are my 5 hacks to fit it all in.
5 Hacks for Running During the Holidays
Make it a Family Event
Sign your family up for Turkey Trot or Jingle Bell 5K! Get the whole family involved in a race that is friendly to walkers too. Our family did the Turkey Trot in Hilton Head this year and loved it!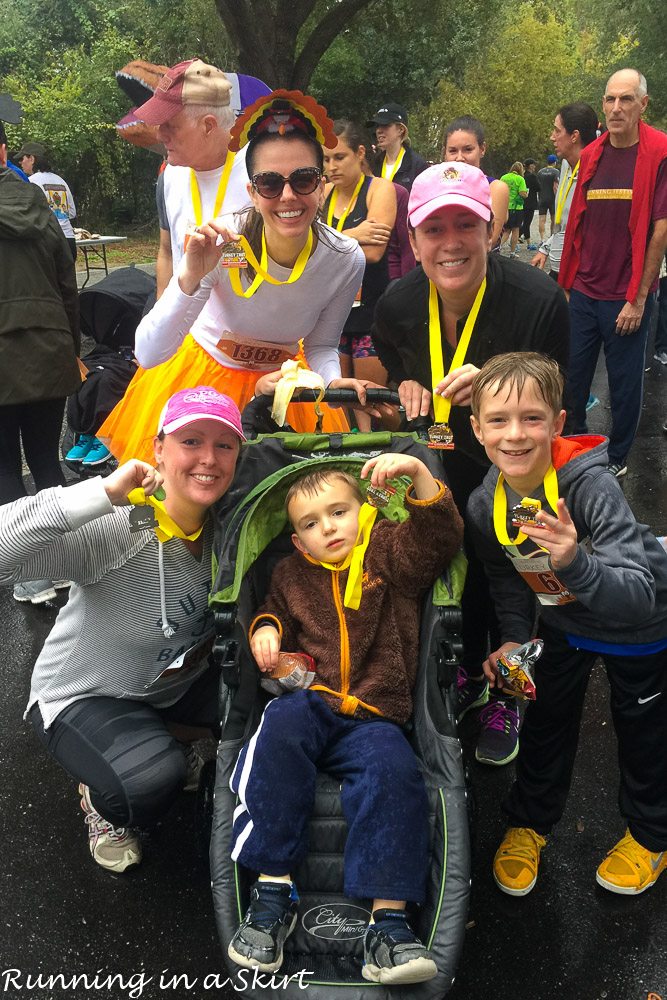 Lots of these races also have fun runs for the little kids so everyone can get involved. It's also great to show the kids that it's good to be active!
Focus on Quality
Something is better than nothing. If you really are very slammed two or three miles on the treadmill is better than not working out at all. If the weather's not cooperating or you have no time, don't just ditch the workout all together. Do a shorter version at a higher tempo of what you have planned. You can even try to add some speed work to your miles to get even more out of them.
You may be rushed, but you will feel better than if you did nothing at all!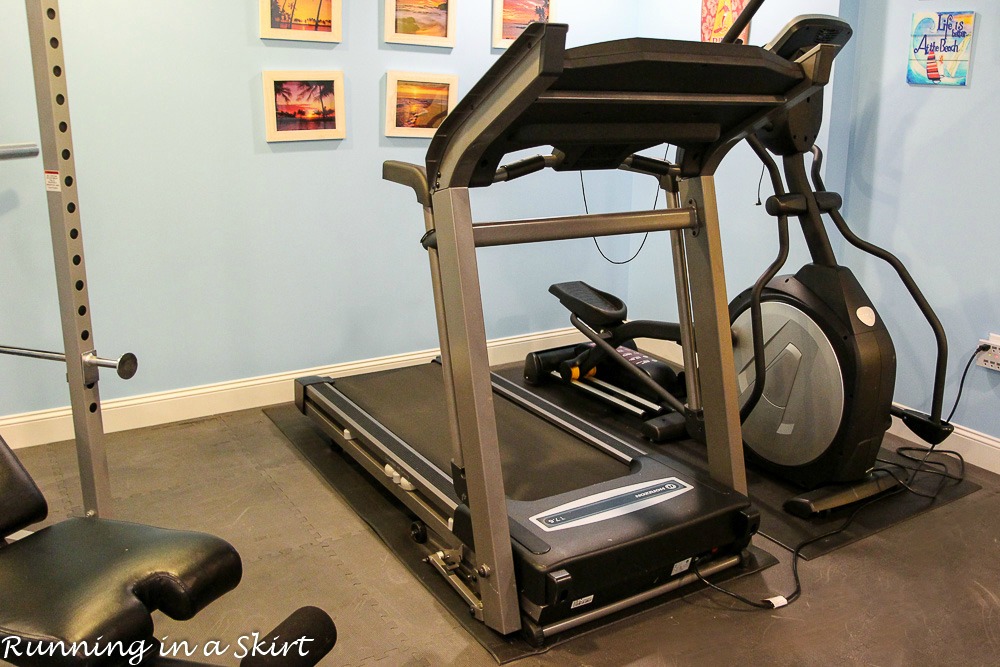 Get Up Early
When you have a house full of people waiting on your for a holiday meal or to hang out, it's hard to just up and leave to run. This time of year more than ever it can pay off to get up early and get your miles done before everyone else gets up. This works especially well if you have guests or are visiting family you don't see often.
RUNCH
If you are still finding mornings, evenings or weekends too crazy to run, try running on your lunch break. Focus on a high quality short run near a gym so you can change and refresh. Pack an easy peanut butter sandwich, fruit and healthy bars to eat at your desk afterward.
Sign Up for January Race
Sign up for a longer race in late January. If you have something on the horizon that you are training for you're likely to make time to run!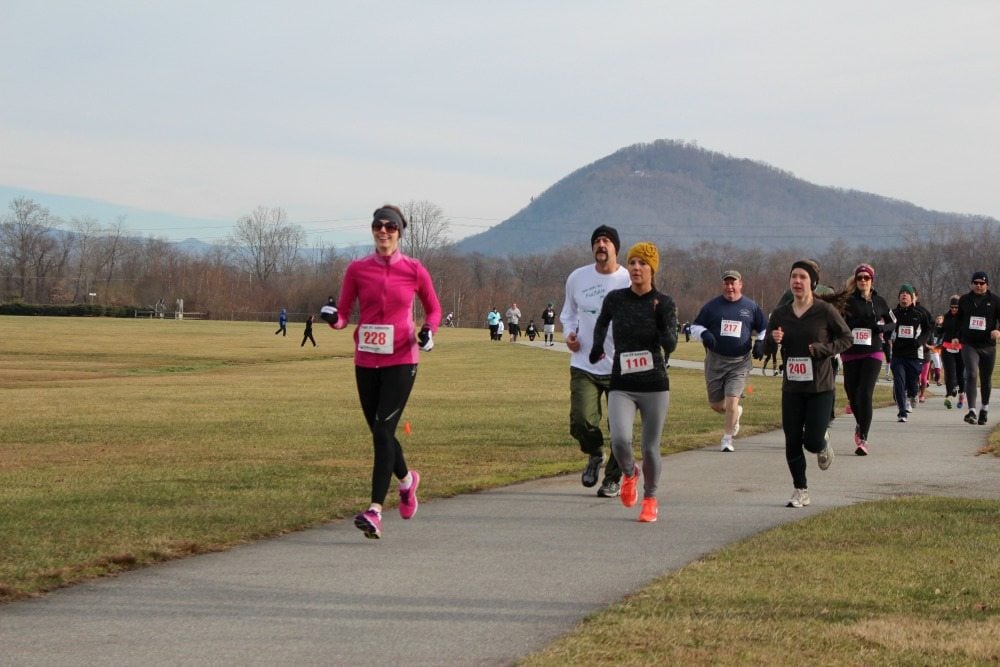 Hope these hacks make it easier for you to keep running during the holidays.
Like this post about running during the holidays? Pin this to your favorite pinterest board!


Thanks for stopping by today for this Throwback Thursday post. I'm refreshing, rewriting and updating some classic Running in a Skirt content (in this case circa 2013!) for new eyes! Tomorrow I have a new fashion post to share.
Your turn!
How do you keep running during the holidays?