Move over potatoes... try my low carb Healthy Mashed Parsnips recipe!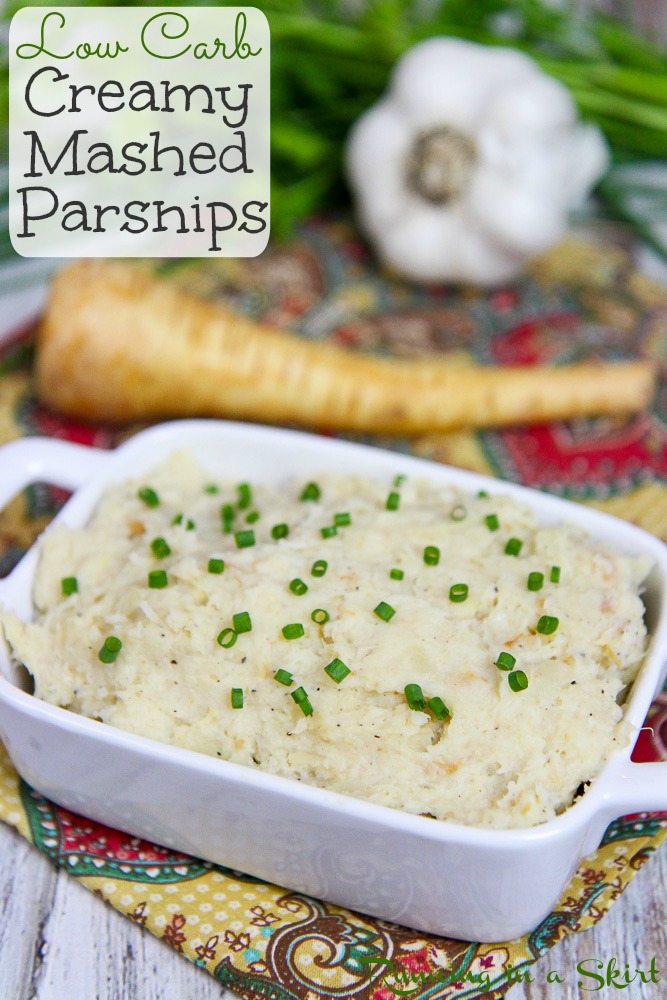 Hi everyone,
Why is it that some veggies vs. others get all the fanfare? Mashed potatoes always have a huge place at the holiday table. And recently cauliflower is being used as a sub for just about everything including my Parmesan Garlic Mashed Cauliflower. <---- which just happens to be one of the more popular recipes on Running in a Skirt But what about the lone parsnip? It really doesn't get the attention it deserves.
The other day I was eating in a local restaurant and ordered their vegan dish which came with mashed parsnips. One taste and I was hooked! I decided they could be a great potato sub for the holidays, especially if you are trying to stay low carb. But even if you are not, it's a great way to add more variety and nutrients into your diet. This dish is even easy enough for any weekday.
So to make a long story short, I decided to give those parsnips some love and create a holiday worthy Healthy Mashed Parsnips recipe that I think you will love.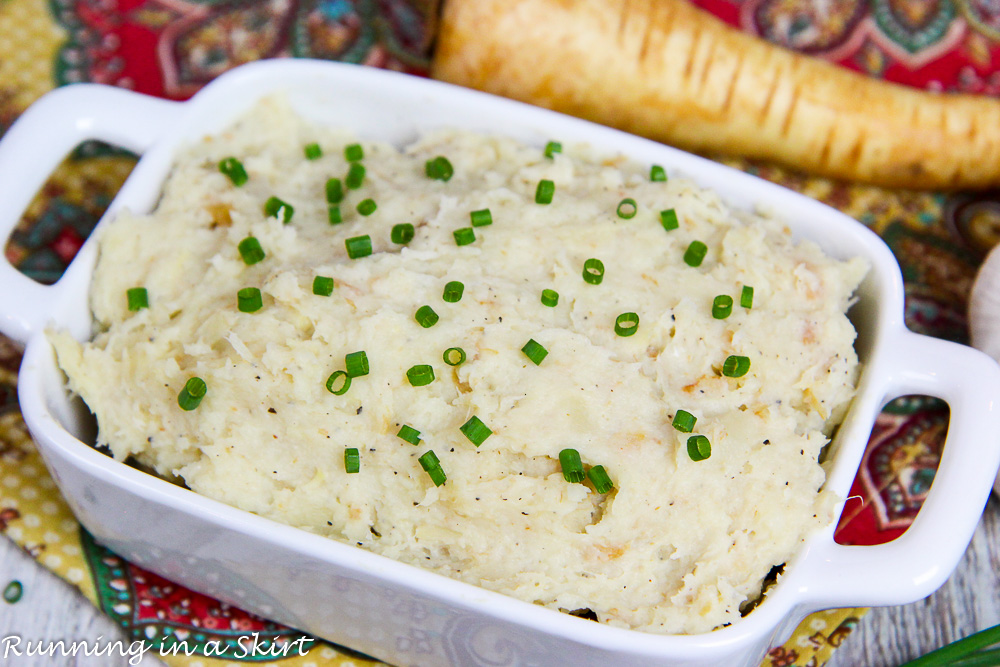 My Healthy Mashed Parsnips recipe is only FOUR ingredients! One of those ingredients just happens to be greek yogurt so they even have an extra boost of protein and probiotics.
If you aren't familiar with parsnips they look kind of like a white carrot. They are a root veggie with folate, vitamin C, naturally low calorie and high in fiber.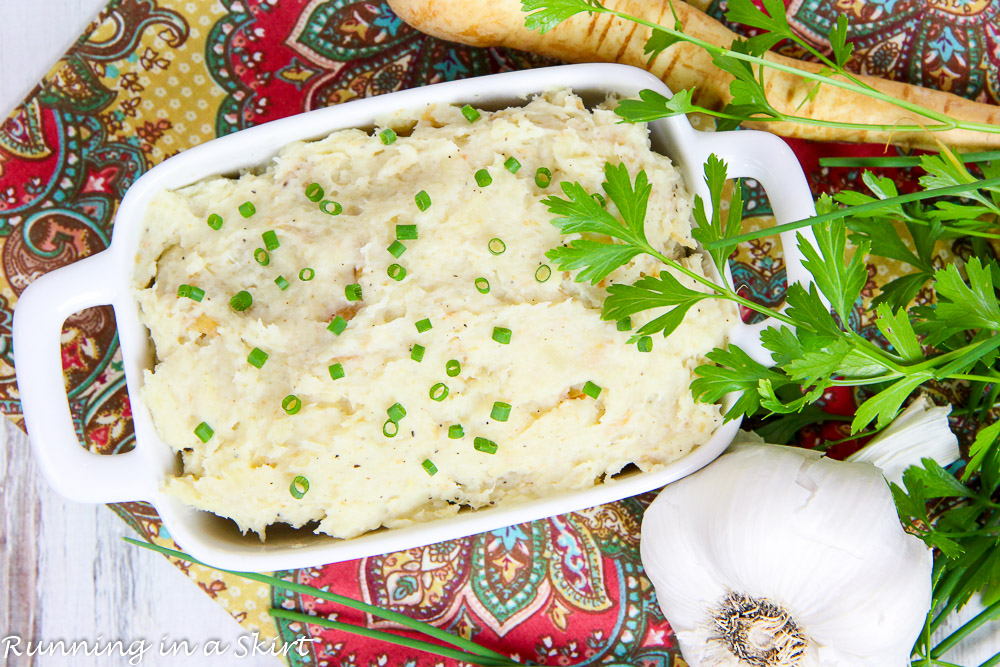 The flavor is a little different than potatoes, but the creamy texture is just as good! I left them simple with only garlic seasoning them but if you want to get fancy feel free to add some thyme, oregano or dill.
It's great on it's own or to use as the base for a fish dish. I also think they'd be lovely with my Farro Stuffed Acorn Squash.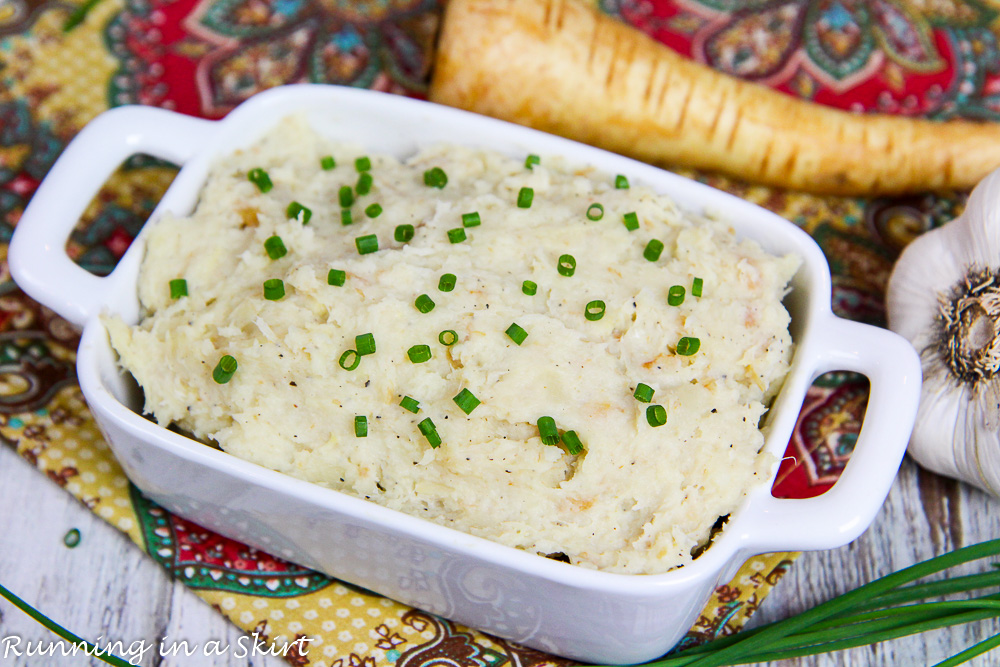 Any way you serve them you are bound to have people asking you more about that new veggie on the table! Make sure to give my Healthy Mashed Parsnips recipe a try and let me know what you think.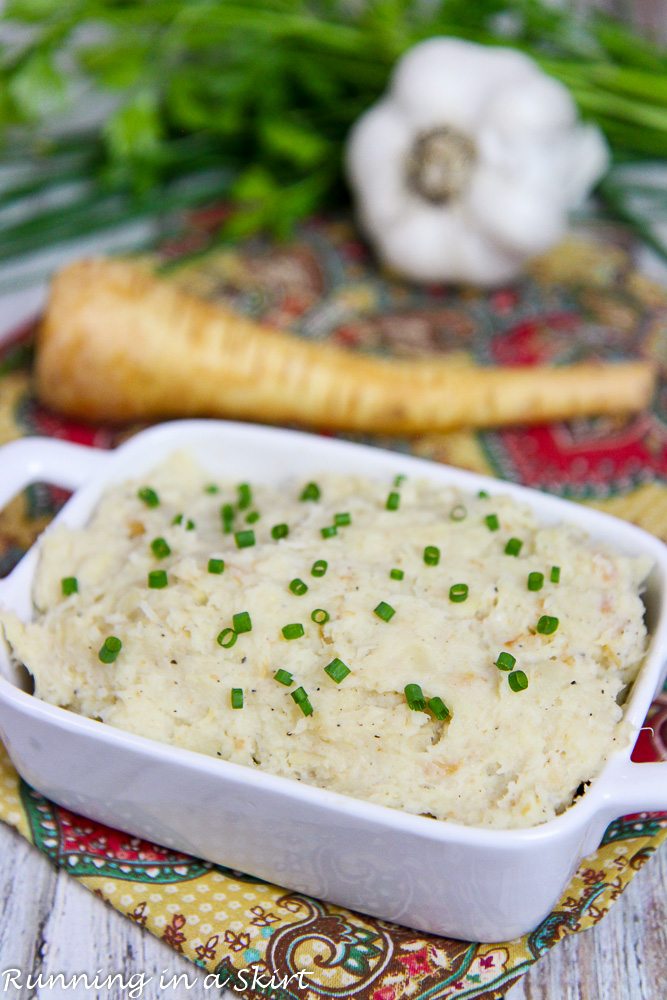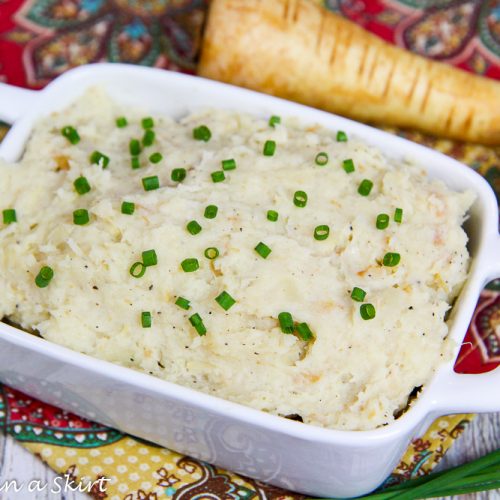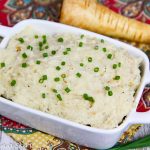 Healthy Mashed Parsnips recipe
Healthy Mashed Parsnips recipe made creamy with greek yogurt! A low carb alternative to mashed potatoes.
Instructions
Put the parsnips in a steamer basket and steam until tender. It should take 20-25 minutes.

Once tender put the parsnips in a blender or food processor. Blend with the garlic, greek yogurt and enough milk to get the blender moving. Season with salt and pepper to taste.
Notes
If you like to make these more indulgent, add a touch of butter!
Nutrition
Calories:
186
kcal
Carbohydrates:
42
g
Protein:
5
g
Fat:
1
g
Saturated Fat:
1
g
Cholesterol:
1
mg
Sodium:
32
mg
Potassium:
886
mg
Fiber:
11
g
Sugar:
12
g
Vitamin C:
39
mg
Calcium:
109
mg
Iron:
1
mg
Like Healthy Mashed Parsnips recipe? I'd love it if you could pin this to your favorite Pinterest board! Thank you so much for the support.


Thanks for stopping by today! Tomorrow I'm sharing some tips for running during the holidays.
Your turn!
Have you ever tried a parsnip?
I'm linking up my Healthy Mashed Parsnips recipe with: Meatless Monday, Meatless Monday, Full Plate Thursday, Foodie Friday, and the Weekend Potluck. Thanks so much ladies for the link up parties!