The best dogs for running may surprise you! This list has some of the fastest pups on the pavement.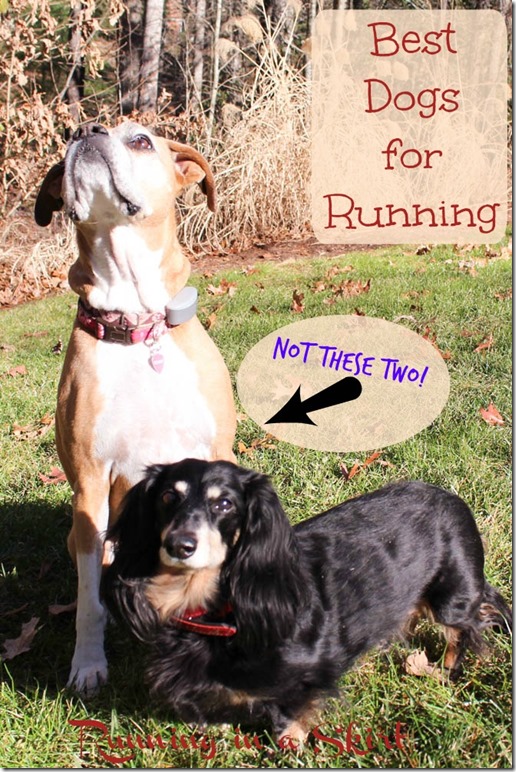 I wish I had a dog to run with. Don't get me wrong, I love these two looney toons dogs, but they are not built for running with me.
Rhett has three inch legs. In his younger days I think he would seriously attempt to keep up with me, because he loved me that much. But it would never be good for him.
Reina has a bum knee and even before that her complete and utter lack of concentration (OH-Squirrel!) made it very difficult to go more than a quarter of a mile. I tried.
So I love these two, but sadly they will have to settle for walks instead of being my running buddy.
If you are looking for the best dog to run with, here are some of my top picks for best dogs for running. And remember, you can always rescue any type of dog! I am not promoting buying a certain breed 🙂
Best Dogs for Running
Running can be even more fun with your furry best friend by your side. In fact, they just might be the perfect training buddy: they don't complain, they can always run your schedule and they always love to be with you, even early in the morning or when the weather is not ideal.
Not all dogs make the best dog to run with though. Before you decide on what type to get, you want to consider the climate you run in, plus how far and how fast you run. Here are some of the best dogs for running:
Vizslas
Vizslas are known for their lean physic and natural love of running. They are high energy dogs who excel at running fast and are easily trained. They are known as "Velcro" dogs because of their loyalty, affection and desire to stay very close to their owner. This trait also makes them great running buddies.
Weimaraner
Weimaraners are tall dogs with muscular physic. They are known for their high endurance and stamina, making them perfect distance runners. They are energetic and intelligent dogs that will also make a great family pet.
Greyhound
Greyhounds are probably one of the most famous breeds of doggy runners. They are fast and can reach speeds of 40-45 miles per hour. They have sweet, mild temperaments and would love to curl up with you on the couch after your run.
Labrador retriever
This popular dog breed has just enough energy to go for shorter runs with you. Labs are "working" dogs who like to get as much exercise as we do.
Jack Russell
These little dogs may have short legs, but they are full of energy to burn. They are great for shorter runs and will love every minute of your time out on the trails.
German Shepherd
German Shepherds are highly intelligent dogs who love to work. They will do just about anything to make you happy, including running with you! They are good dogs for security and running in colder climates.
Mixed Breeds
Mixed Breeds can be ideal for running because they tend to have less joint and hip issues than full bred dogs. Mutts with pointer, retriever or shepherd are good bets. You can also look for a dog with a muscular physique and energy.
Adopt
Remember, you do not need to buy any of these types of dogs from a breeder. There are many available at your local animal shelters for just a small adoption fee. Some shelters will even let you work with the dog before you adopt to see if he/she is exactly what you need. There are also breed rescue groups for each specific type of dog, if you don't find what you are looking for at the shelter.
Also remember you have to train your dog just like you would train yourself. Start out slow and short and build to long and fast over time. Spending extra time to train your pup correctly leads to many years of happy running for both of you!
This article was also published on RunHaven!
Your turn!
Do you run with your dog?
Any types of dogs to add to the list?