Colored jeans are so popular right now and if worn right they can be a key piece to wardrobe. So the question for today's Fashion Friday post is how to wear colored jeans?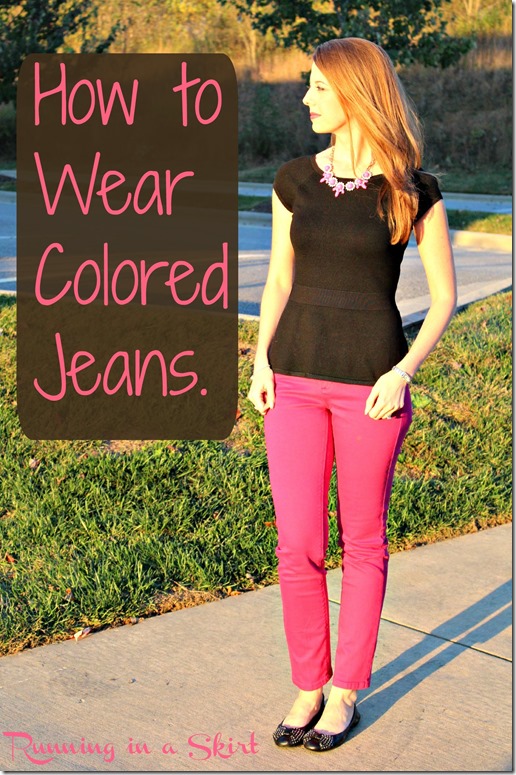 I am totally dating myself here, but I remember the last time colored jeans were in style. It was late middle school- early high school. I had a pair of hunter green jeans and a red pair. I love the way adding color to jeans made them feel fancy.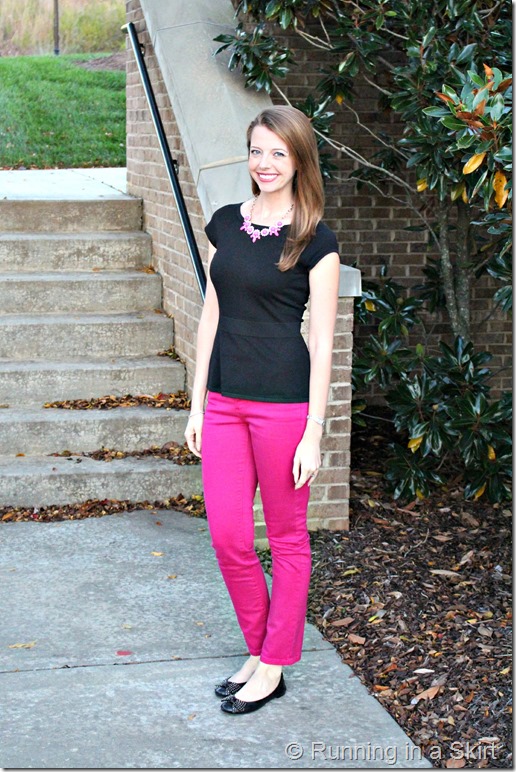 Fast forward more than a dozen a few years and colored jeans are back with a vengeance. This time around I opted for a slim cut pair of hot pink jeans. They say you have to be careful about wearing a trend the second time it comes around, but I think this style works even better now.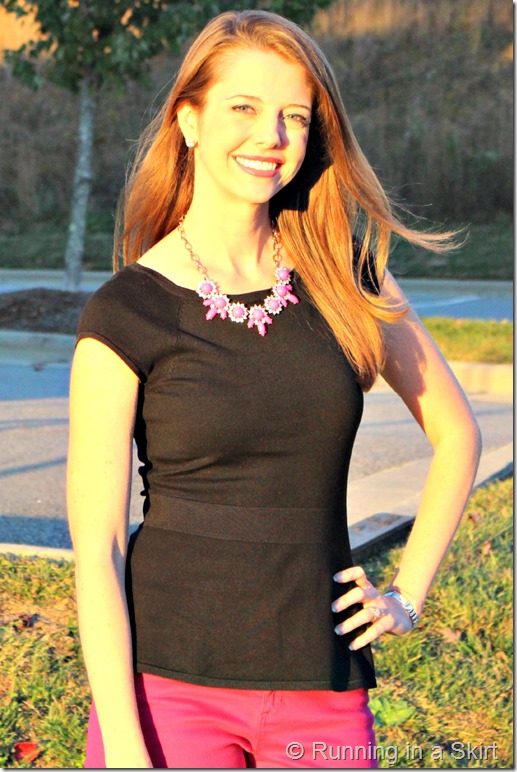 Here are my current thoughts on how to wear colored jeans….
1) Choose a slim or skinny cut jean. With the pop of color, the fitted styles work better.
2) Pair the jeans with a neutral top in a solid color. Grey, tan, black, white or navy will work perfectly. A denim chambray shirt is also a good option.
3) If you choose a pattern, make sure it is a simple neutral pattern and be careful! You can very quickly overwhelm the jeans. A simple stripe or polka dots can work, as long as the color is neutral.
4) Use the accessories to pull the outfit together. Bring in the color of the jeans through a scarf or necklace. You can carry a purse in a contrasting color.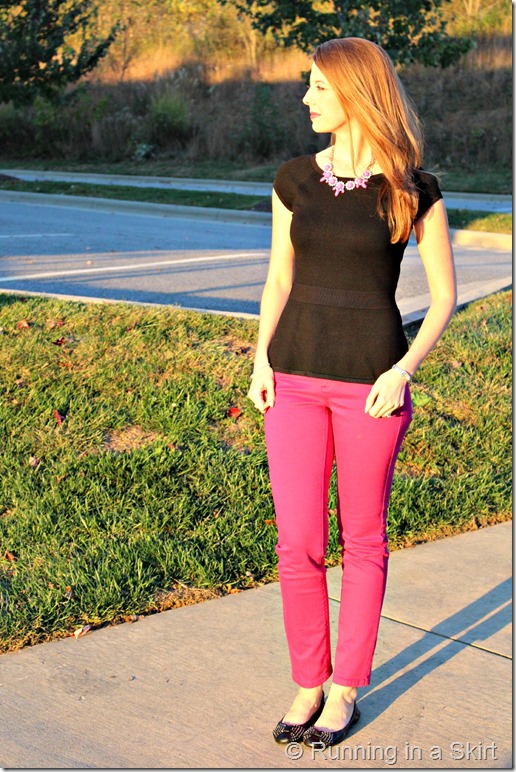 W
Where I shopped:
Jeans: White House Black Market
Shirt: White House Black Market
Necklace: JCrew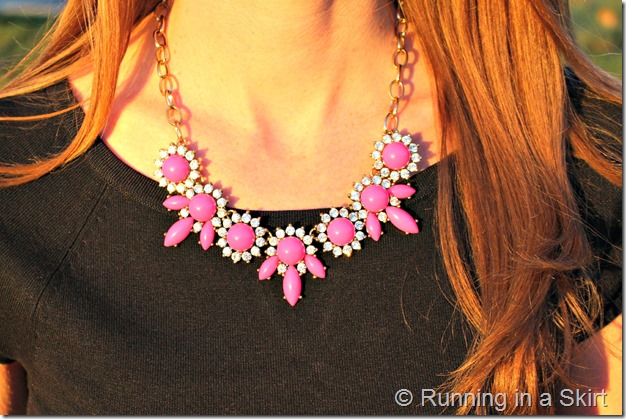 Shoes: Macy's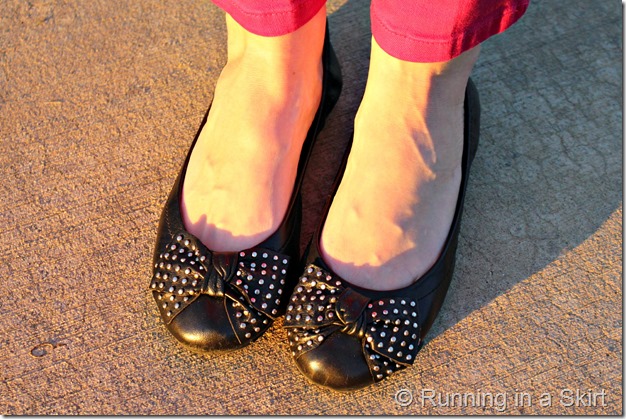 Places to buy colored jeans: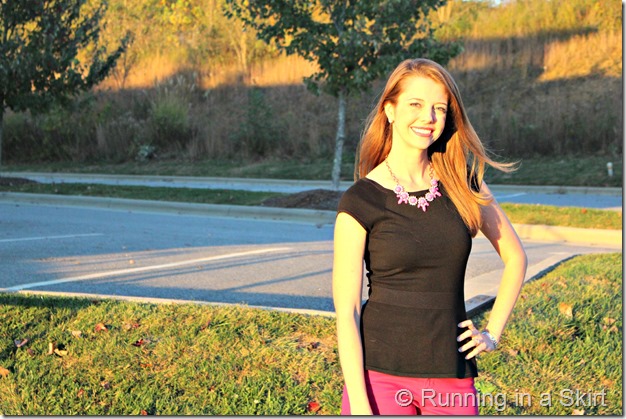 Reina Update
After a lot of family debate this week, we decided to move ahead with the surgery for Reina's leg. She had surgery yesterday to repair her cruciate ligament in leg. We got a call from the vet by late morning that she is recovering and should be able to come today. The vet said her ligament was completely torn, so we made the right decision. They are keeping her at the vet's office to give her more pain meds and to monitor her. I was really upset that she needed the surgery, but I am glad it is over and I can't wait to have my crazy boxer home. Hopefully she will be back on squirrel patrol soon.
Thank you to everyone who has been asking about her condition and praying for her recovery. She is truly a member of our family.
Pearl iZumi Giveaway Winner
Congratulations to Janlyn Messina! You won the Pearl iZumi running shoes giveaway.
Thank you to everyone that entered. I am planning more great giveaways in the coming months.
And Thank you to Nicole for hosting the Fit & Fashionable Friday Linkup! I am sharing this post on her site!
Your turn?
Did you wear colored jeans last time they were in style?
Did your dog ever have to have surgery?