Just think of today as a little combination of two of my favorite things: fashion and fitness! #fashionfriday
Wednesday I wrote about the five reasons I believe fall running is fabulous, and today I'm talking about the perfect gear to wear running when the weather starts to turn a little cooler.
Also today you have a chance to win a brand new pair of the Pearl iZumi EM Road N2 running shoes that are featured in this post.
Compliments of Pearl iZumi, you can choose the men or women's version of the shoe AND pick out your favorite color.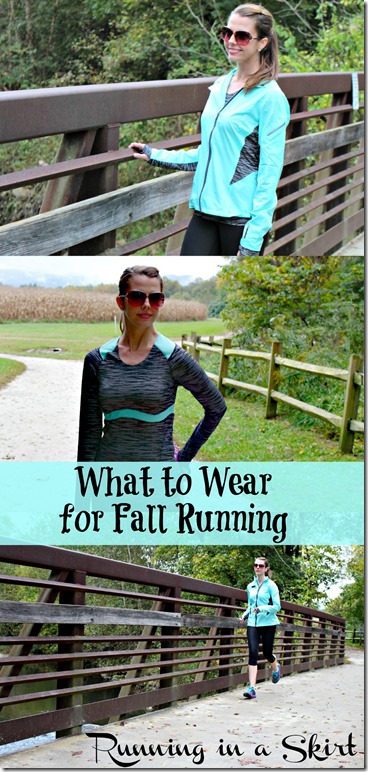 What to Wear for Fall Running
We are finally getting some cooler days in the mountains and I've had to pay close attention to the temperature before I head out to run. You guys know that I hate being cold!
As the weather transitions from warm to cold, it is important to have light pieces that layer well. The Pearl iZumi Flash Jacket is great for fall days that can be cool, windy and wet because the solid color barrier is wind and water resistant. The black sections actually allow for breathability and air to move through the jacket to keep you from getting too hot.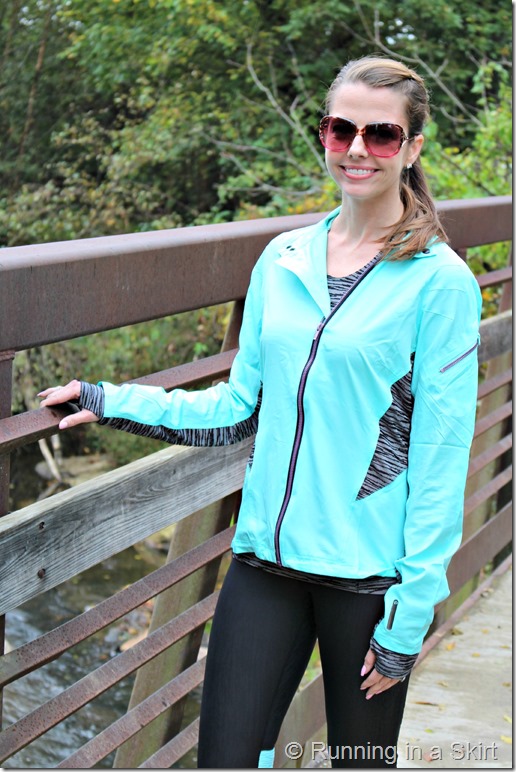 This Flash Jacket is not only functional, but it is also cute. I love the style detail of the asymmetrical zipper. There is also a highly functional zipper compartment on the side.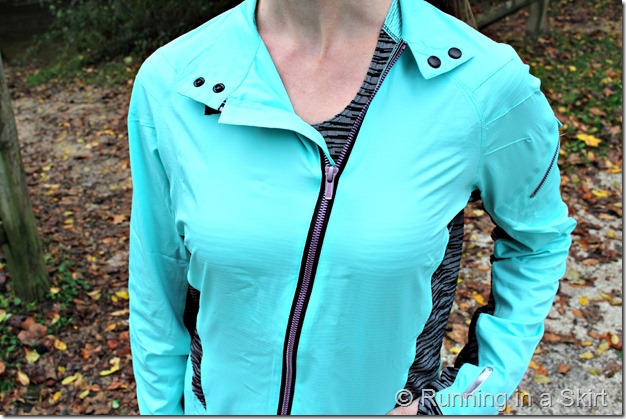 Thumb holes are a fabulous feature that keep your hands warm on cool mornings where gloves would be too hot.
The Pearl iZumi Flash ¾ Tight fit really well and don't pinch on the top.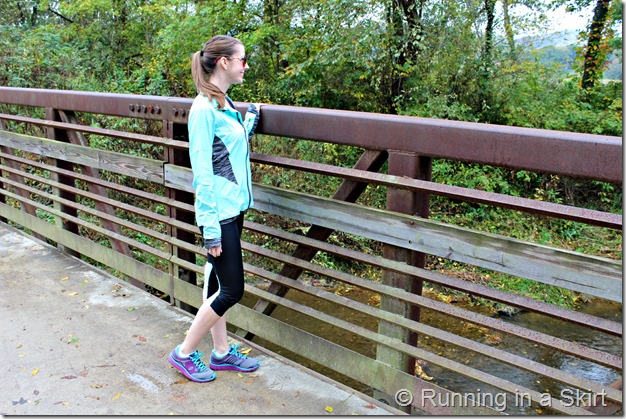 They are great for fall running because they have cool mesh behind the knees that allow for the fabric to breathe. They also have a zipper compartment around the waist in the back, which is perfect for a single key.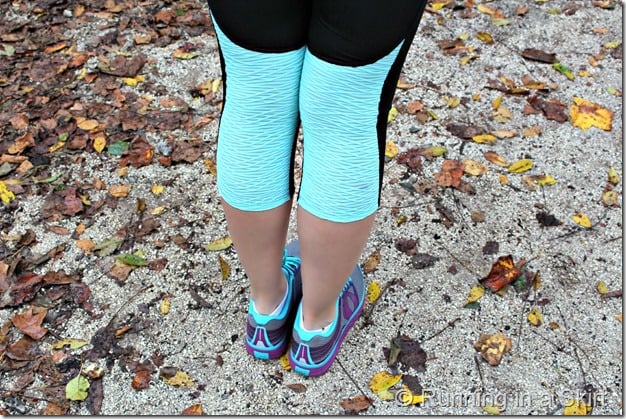 If it is not cool enough for the jacket yet, this long sleeve Pearl iZumi Flash Shirt has stylish details and the same mesh breathability.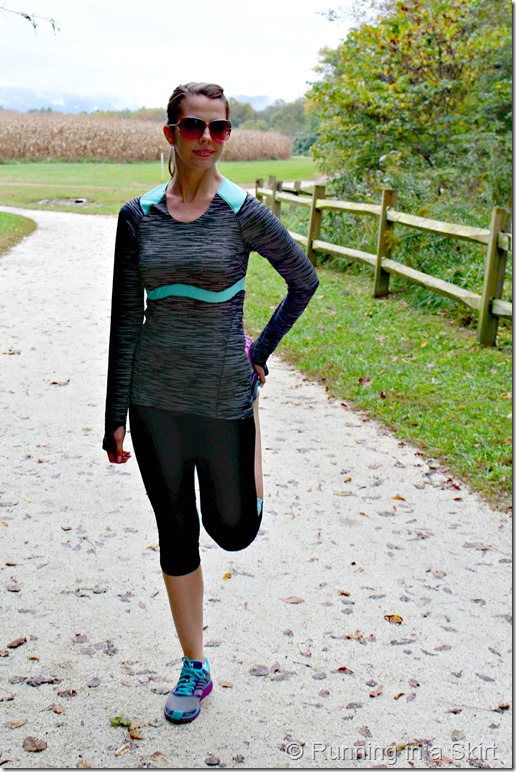 The fabric can help regulate your temperature while you are running. AND it has more thumb holes. Holla!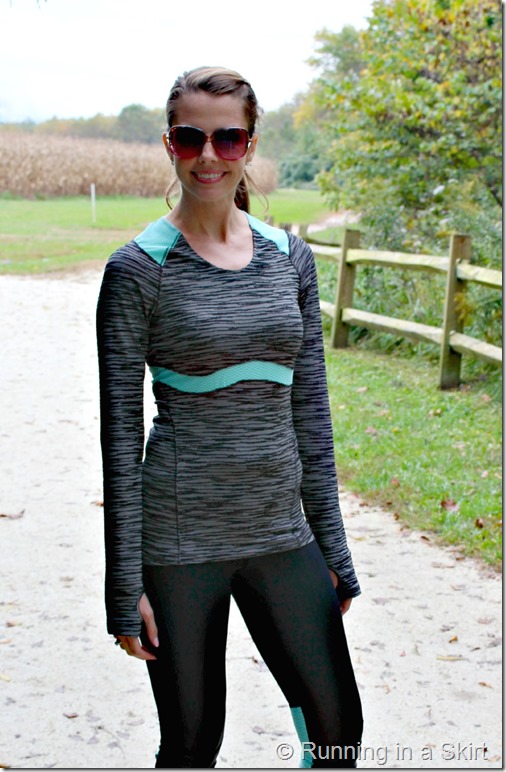 So let's review!
Here are five things to look for in fall running gear.
1. Layers that coordinate well
2. Thin layers of fabric that breathe
3. Water resistant barrier
4. Zipper compartments
5. Thumb holes to keep your hands warm (and because they rock)
Pearl iZumi EM Road N2 Running Shoes Giveaway
Now it's time for the big giveaway!
These are my new Pearl Izumi EM Road N2 shoes. They are a neutral shoe that has some cushioning but is also very light weight. Pearl iZumi says these shoes will also stand up to high-mileage running.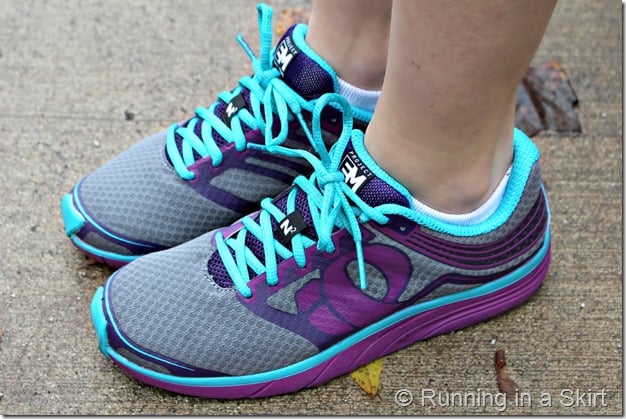 I'm enjoying wearing them so far and I am excited to give one Running in a Skirt reader their very own pair.
The winner can choose whether they want the MENS OR WOMENS version and choose the COLOR of their choice!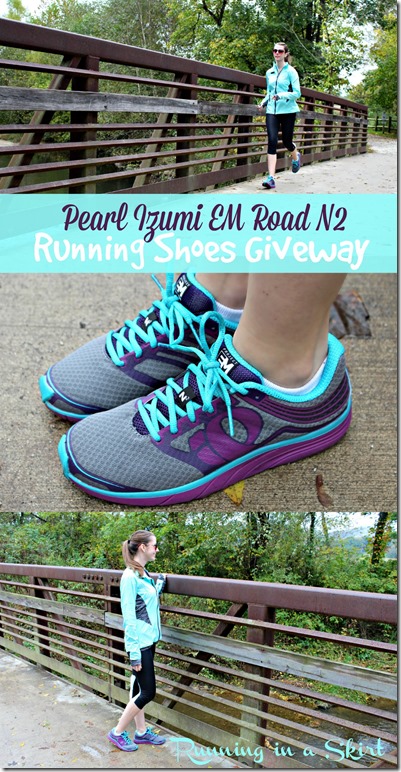 To enter fill out the form below and follow the entry prompts. The contest will run until midnight Wednesday October 22nd. I will automatically draw a winner and will announce that name on Running in a Skirt Friday October 24th.
Head over to Pearl iZumi to see the shoes and their size chart so you know what size to choose if you win. You can also pick which color.
For the Men's version click here.
For the Women's version click here.
*Disclosure: Pearl iZumi gave me the running clothes and running shoes to review and are hosting this giveaway. All opinions though, as always, are my own*
Your turn!
If you win, which gender, color and size would you pick?
What other Pearl iZumi products do you like?