National Weather Person's Day
Before I talk about the title of this post, Pushing Past Status Quo, I want to say thank you to Blue Bell Ice Cream for sending me these goodies for National Weatherperson's Day.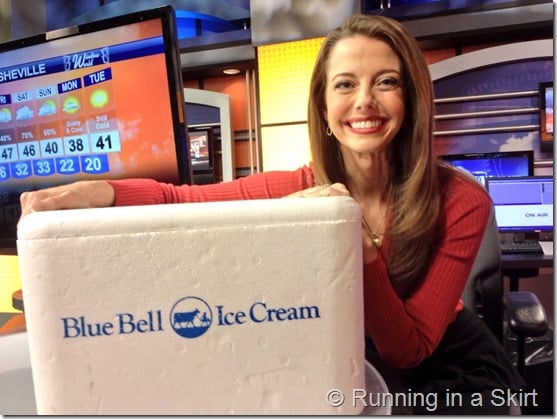 It's so nice when someone says thank you for doing your job!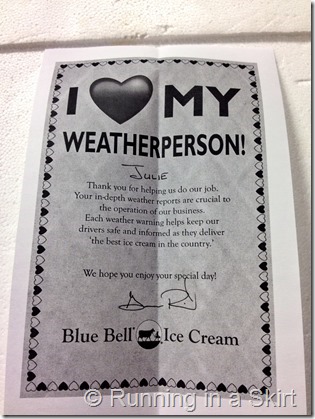 Let's be clear, I will run for ice cream, as it is my absolute favorite sweet indulgence. The new flavor - I "heart" Chocolate is OUT OF THIS WORLD. Muh-haaaa…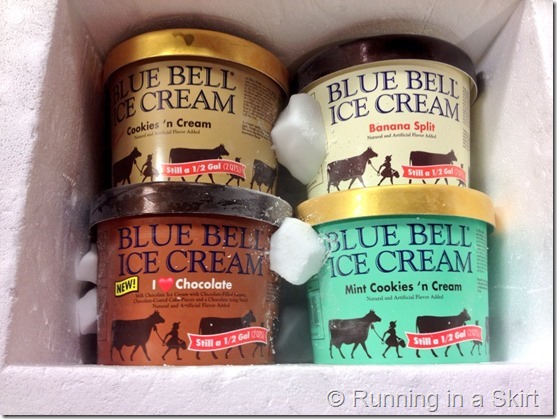 Pushing Past Status Quo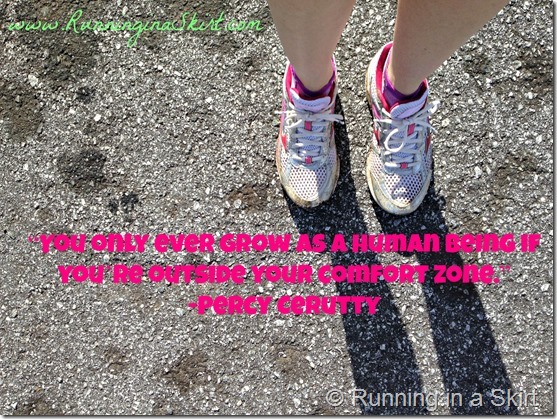 Now for a little running heart to heart. I haven't been writing as much in the past few months about my current running regimen or specific training plans. That's because I have been operating in a running status quo. 3 miles, 3 times a week with cross training 2 other days a week. Running the same thing all the time doesn't make for the most interesting blog post!
The reason I sort of backed off my training is I hit a bit of a running obstacle sometime in October. I developed more breathing troubles while running. My vocal chords have actually been constricting on me when I run, making it very hard to breathe at times. My lungs and asthma are doing well and are currently well maintained, so this development really surprised and frustrated me. I know I've briefly alluded to these problems a few times on the blog, but I don't really want to focus on them because I'm so over writing about health problems.
The good news is that I have worked through some of those issues and I'm running a little easier these days. I was lucky enough to keep getting the miles in even when I was having the most trouble, but there have been days where I have had to stop running in the middle of a 3 mile run to catch my breath. I think it is going to be an issue that I just have to face on a run to run basis. With that in mind, I'm actually pretty grateful that I've been able to maintain status quo.
I used routine to allow my body to figure out how to run without so much struggle. Sometimes status quo is a good thing and can keep you going when you are busy or having issues like this.
It's time though.
It's time for me to push past status quo.
My legs have been itching to do some longer runs. My mind has been wishing for the clarity and joy that comes with running farther. I can feel it. So I did this.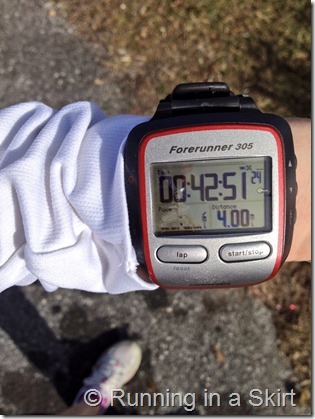 Yup. 4 miles. A slow (for me), and poorly executed 4 miles, but it felt so good to do something a little different.
I think it's important in running and in life sometimes to push past your status quo. It's good for the muscles and mind to shake things up. It's good to surprise yourself.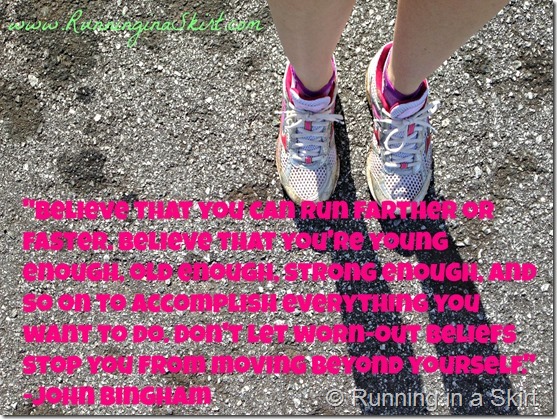 I'm still not putting an official training plan down on paper, but I will be shaking it up a bit.
And maybe if I'm lucky, we will have some noteworthy runs to write about.

Questions:
What's your running status quo?
How has your running been going lately?
[/fusion_builder_column][/fusion_builder_row][/fusion_builder_container]