Hello readers! I went to Florida earlier this month for a long overdue visit with my Dad. I'm picking this post up from where I left off on recap 1. If you didn't see the first one, Click HERE.
Hot Krust Panini
I promised in my last post to tell you about one of my Dad's favorite locally owned restaurants in Orlando. He frequents Hot Krust Panini because of the quality food at affordable prices and super friendly owners who treat you like old friends.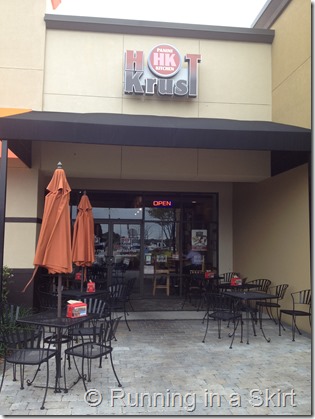 Dad thought I would really like the menu so he took the hubs and I out to lunch.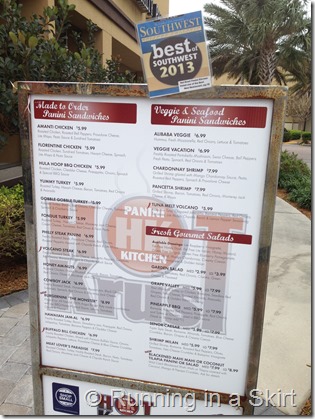 I was immediately impressed that they don't fry anything in their kitchen and don't serve any processed meat. This is my Dad's favorite salad!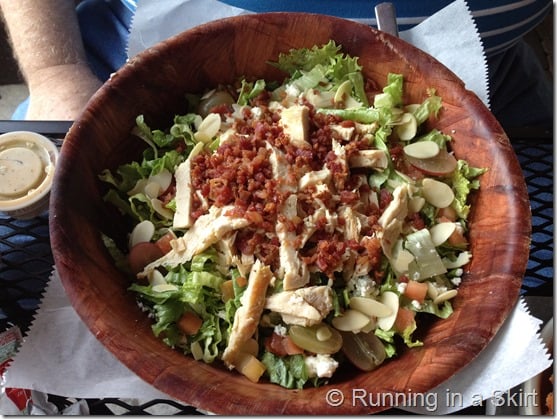 I ordered a veggie sandwich with a side salad. The flavors were unique and fresh.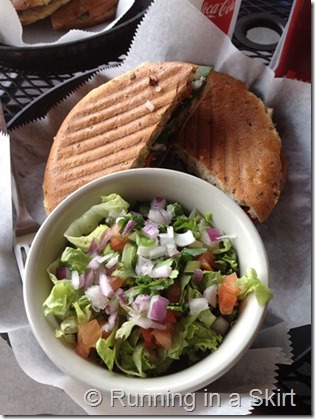 They even BAKE their waffle fries to make them healthier. They tasted really good and it was so nice to eat fries without all the grease.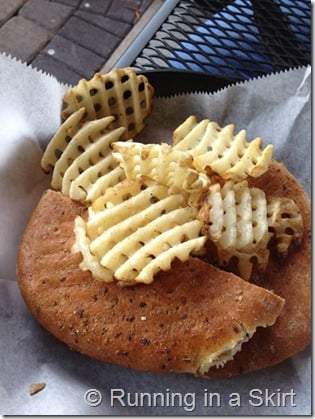 The owner even brought out their signature sides for us to try… Sweet potato waffle fries (Baked too!) and Cactus Chili. Both were great!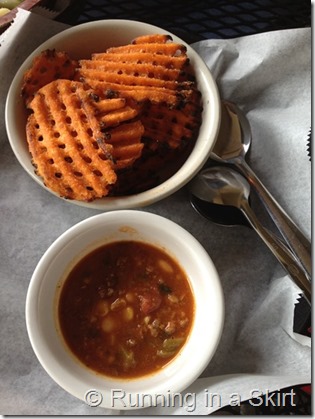 If you happen in be in Orlando, Check them out. This place is Dad tested… Julie approved.
Old Friends
Going "home" is always hectic and I never have enough time to see everyone and do everything I want to.
This trip I got a chance to catch up with one of my college roommate, Kristin. We shared an apartment together junior and senior year at the University of Florida. Sadly, distance and life kept us from staying as close as we once were, but it was SO nice to reconnect!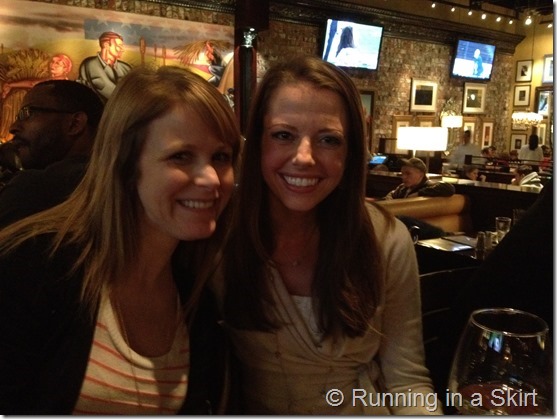 Kristin is actually a wonderful and accomplished author. Her latest book is simply captivating. It's called The Sweetness of Forgetting. If you are looking for a good winter read, I highly recommend it. HERE is an amazon link to it.
I also got a chance to catch up with a familiar face to Asheville, Jenny Dunn. I sadly forgot to take pictures, but she is doing well. Her two kiddos are adorable and I loved playing with them.
Don't you love catching up with old friends?
Disney World – 3 Parks in a Day!
Now, for the epic highlight of this post…. HOW we did 3 Disney parks in a day!!!!!!!
*CUE Disney sound effects*
I know, crazy. It can be done though. This actually isn't the first time I've done it, but it is the first time I've written about it on the blog. One time my hubby and I actually did 4 parks in a day. That was nuts.
The hubs and I got park hopper passes for one day when we were in Orlando. Since tickets are SO expensive these days we wanted to get the most for our money. My Dad has an annual pass, so he joined us as well.
We are able to maneuver through the parks pretty quickly because I used to work there and have a pretty good memory of where things are.
Our plan was to go visit our favorite attractions at the Animal Kingdom and the Magic Kingdom and finish the day with dinner and fireworks at Epcot!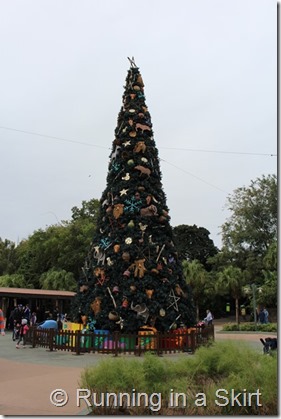 Even though we visited well into January, Animal Kingdom still had some of the Christmas decorations out. It is so neat the way they tailor the decorations to the individual parks. So pretty and such a "Disney touch."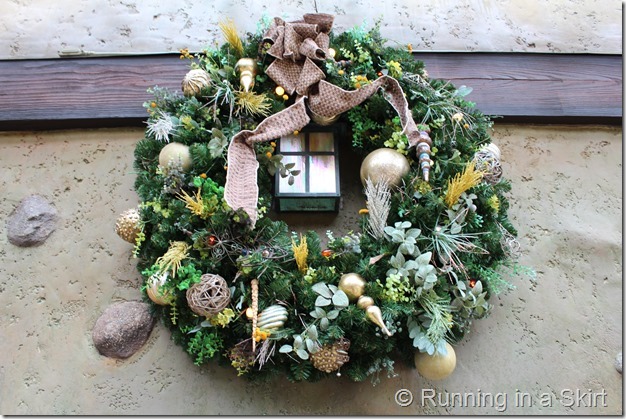 I never really appreciated Disney when I lived in Orlando, but now that I have been gone for awhile I am all about the MOUSE.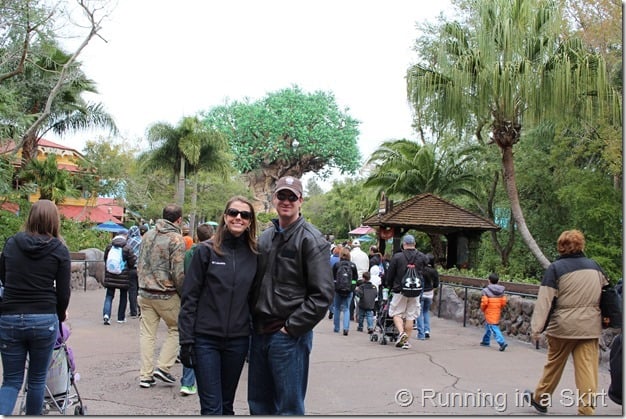 We arrived early and immediately went to get fast passes for Mt. Everest.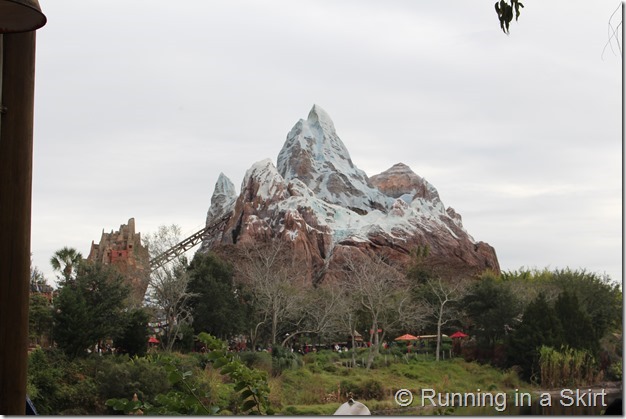 The park was testing out this new version of fast passes where you could pick your ride times for 3 rides at a time in one location.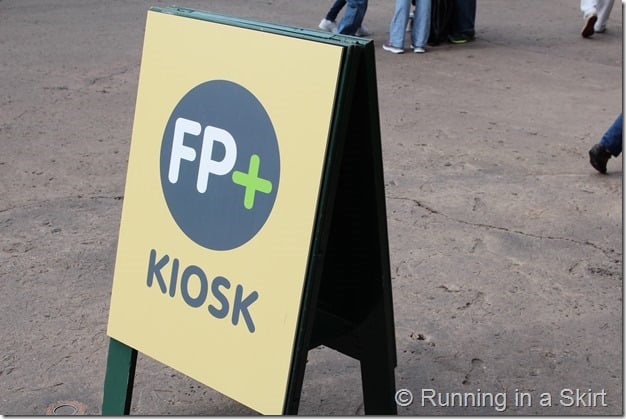 It was a little confusing at first, but luckily they had plenty of Disney staff around to explain the concept to you. It's a great idea and if they do it right, it could completely change the way you spend your day in a theme park. Disney is always revolutionizing ideas like this!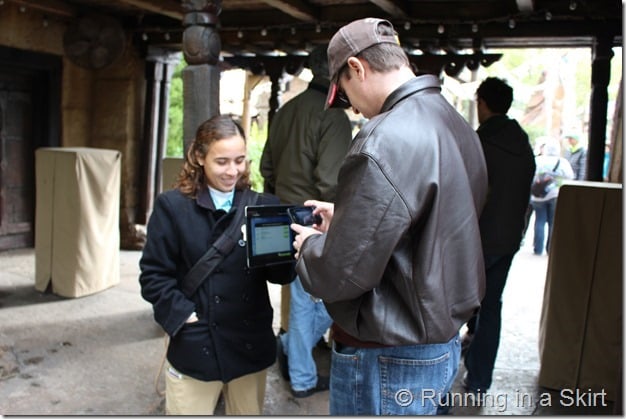 After we booked our ride times for Mt. Everest, we walked to the Kilimanjaro Safari. Along the way we had just a little company!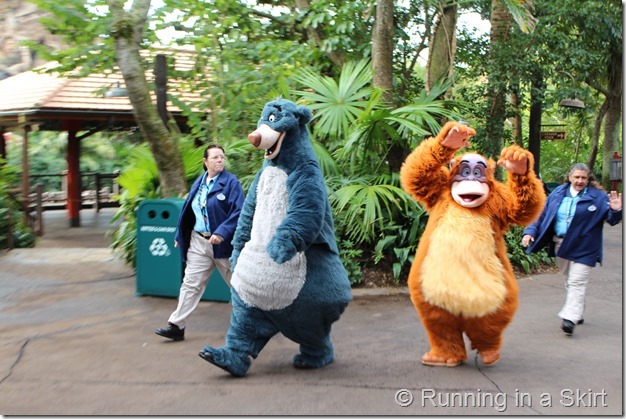 The safari is an amazing experience and because there are so many animals along the route, it is different every time you go on it.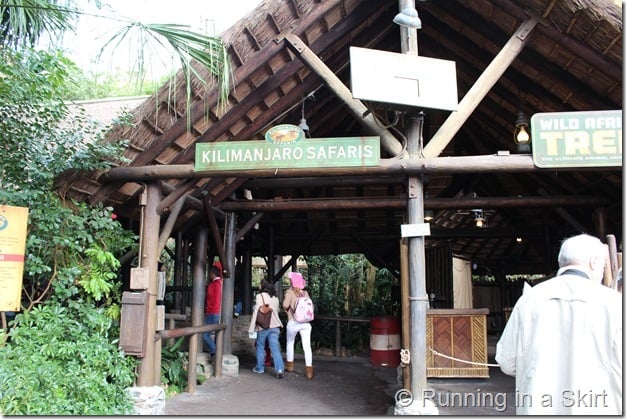 My Dad goes on this ride all the time and says every time he goes he sees something different.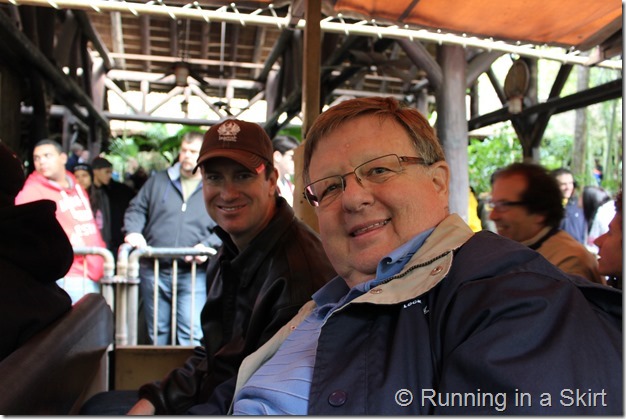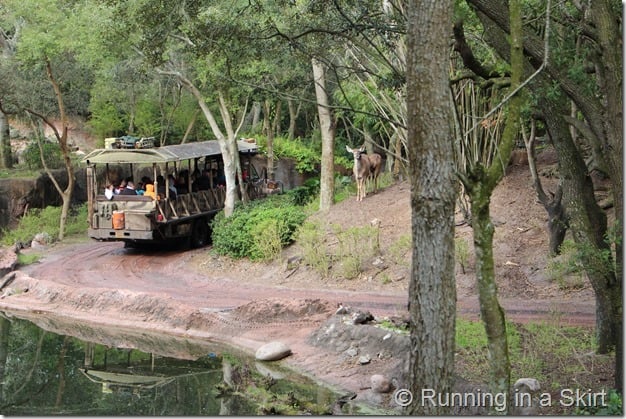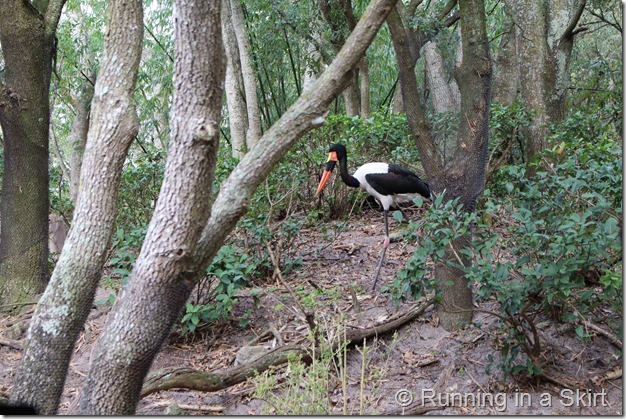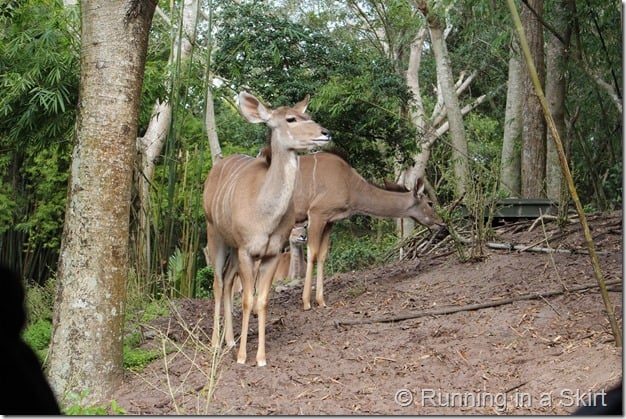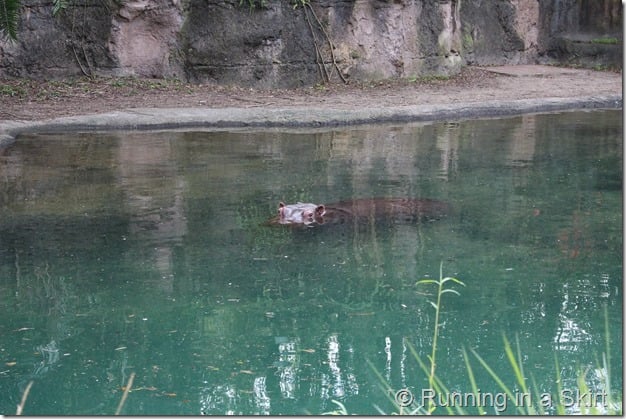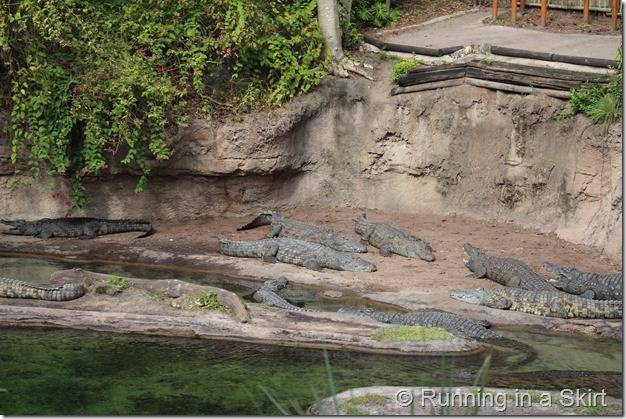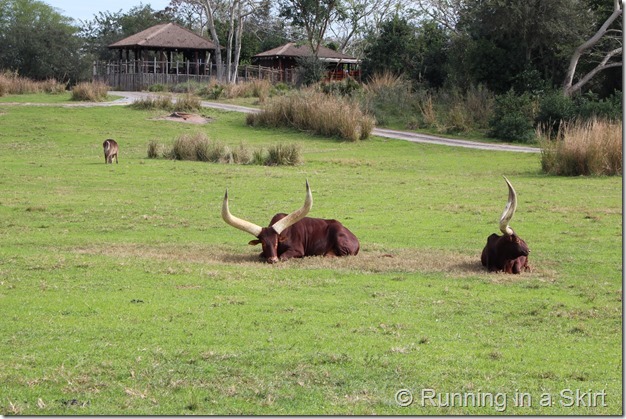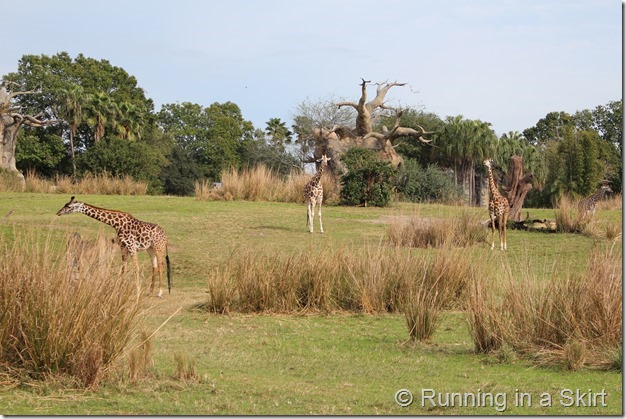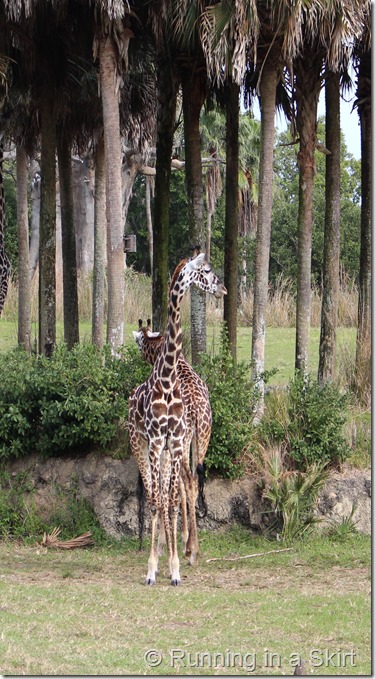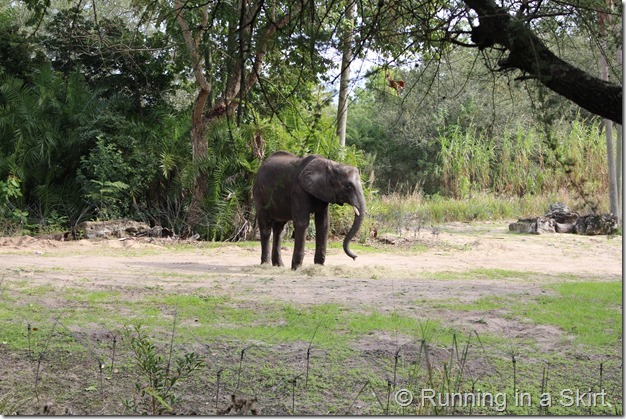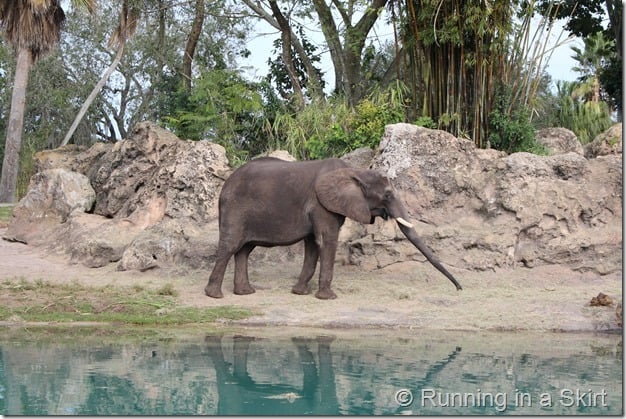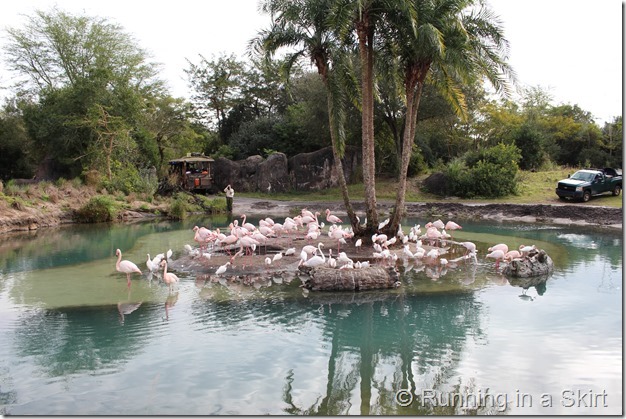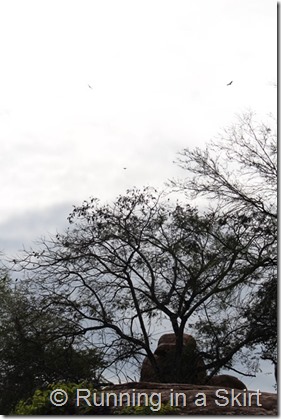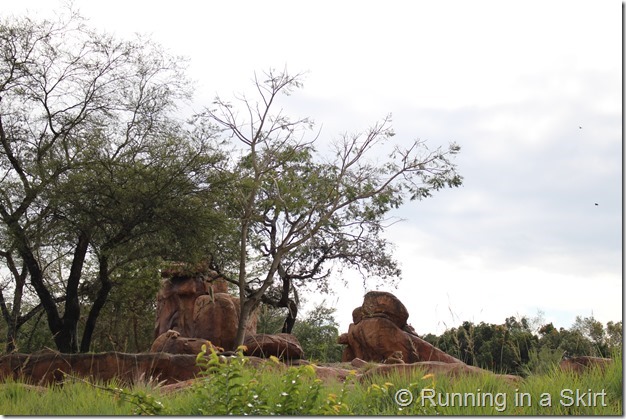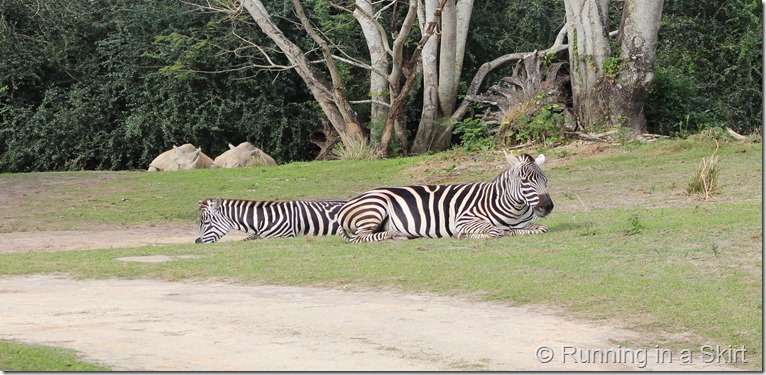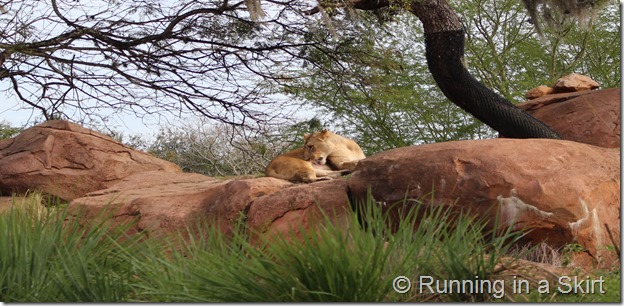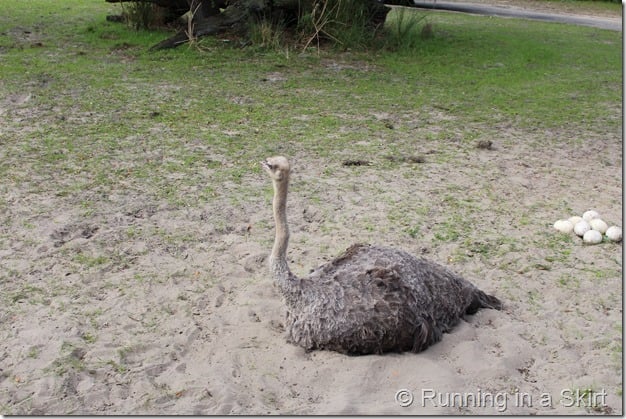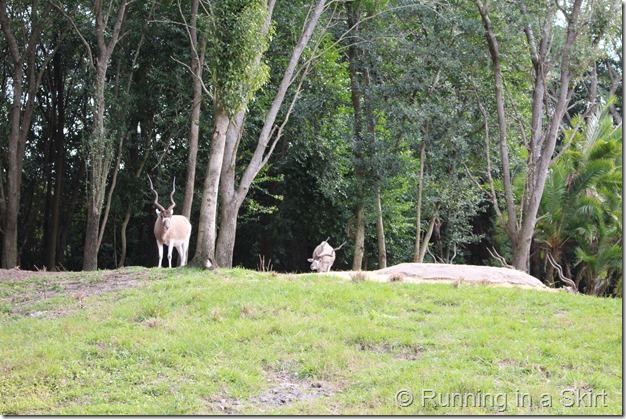 After the safari, the hubs and I rode Mt. Everest and met my Dad back at the Rainforest Café for lunch. I love this place! Orlando knows how to do crazy themed restaurants.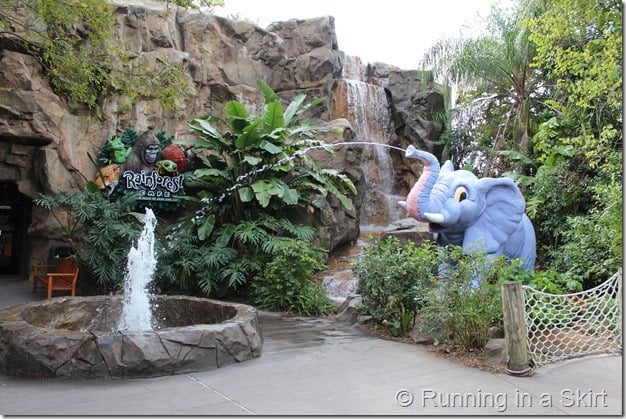 After lunch we had to make ONE more stop in Animal Kingdom… "It's Tough to be a Bug!," which is the show INSIDE the tree of life. It is so cute and is one of my absolute favorites in all of the parks.
"… Because we've pollinators!"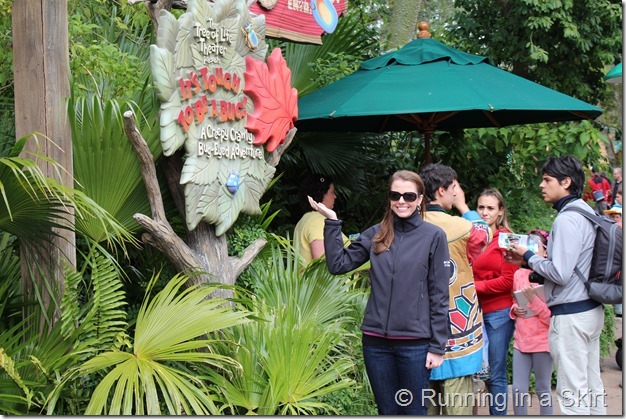 In early afternoon we moved the car from Animal Kingdom to Epcot and took the monorail to the Magic Kingdom.
We caught the end of the big holiday parade on main street.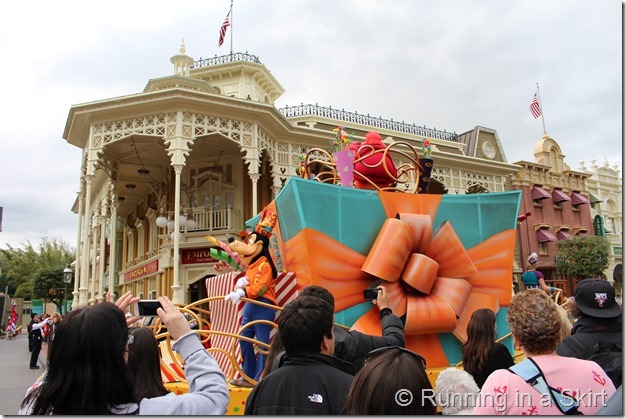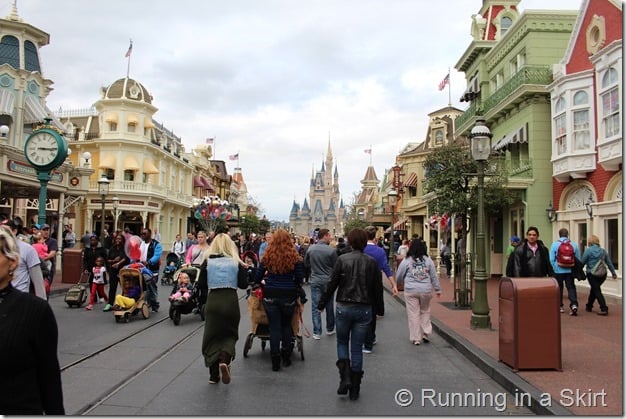 And most importantly we discovered Main Street is now the home to a Starbucks. Totally not "Disney" but exactly what we needed for a pick me up!
My main agenda in going to the Magic Kingdom was to check out the brand new sections of Fantasyland.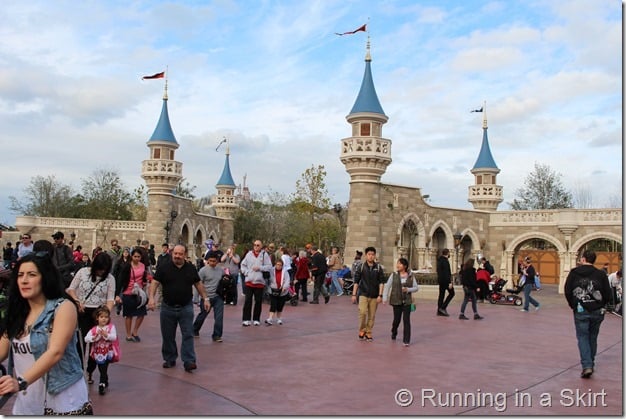 The entrance with Belle's castle in the distance looks so enchanting.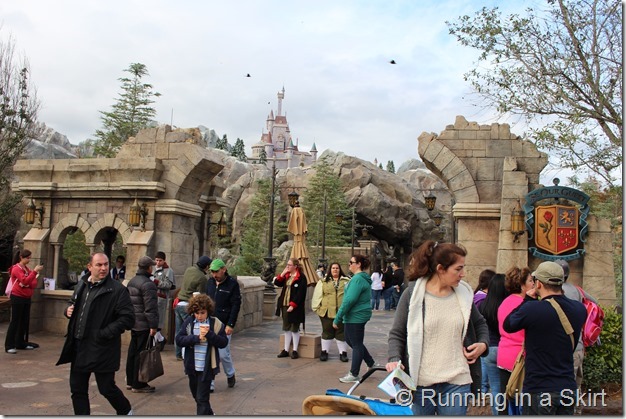 A huge section of the new Fantasyland is dedicated to some of the "princesses" of my childhood like Belle and Ariel. Beauty and the Beast is my all time favorite Disney movie.
I loved the new additions to Fantasyland. They took a small section of the park and made it seem much more modern and detailed. Next time I go back I really want to eat in the "Be Our Guest" restaurant. I called for reservations when I saw it, but they were all booked up. I read online that you need to call months in advance to get in.
The back part of the new Fantasyland has a toon town or circus feel. They even expanded the famous Dumbo ride to include twice the number of seats.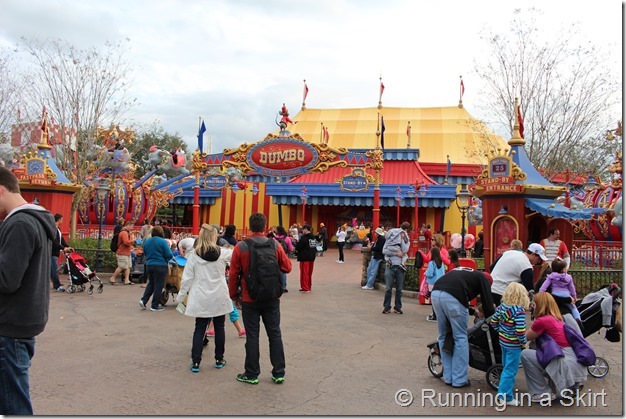 After exploring the new Fantasyland we rode the Haunted Mansion and the Pirate's of the Caribbean.
My Dad thought this was hilarious…
I think we were wearing him out!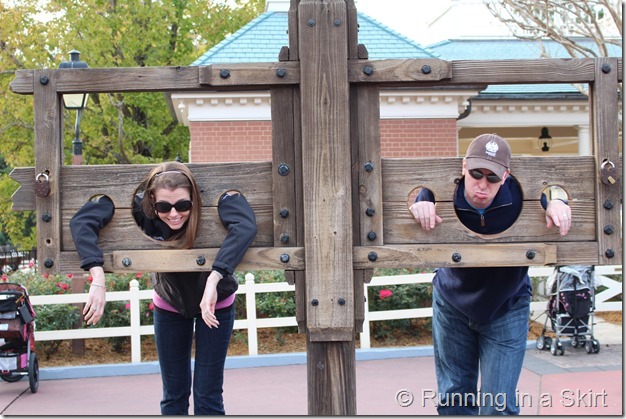 As dusk approached we left the Magic Kingdom and took the monorail back to Epcot. The hubs and I raced to catch the Mission: Space ride before our dinner reservation. So much fun!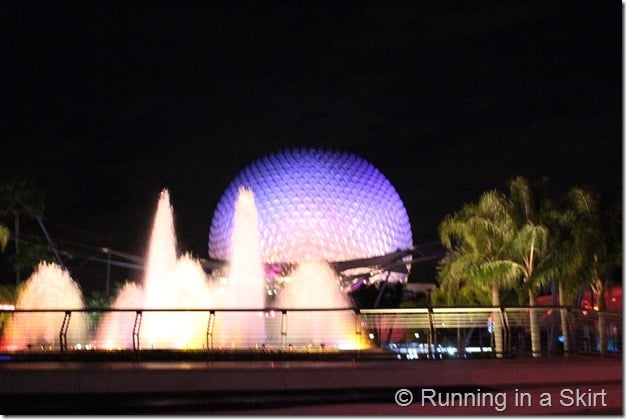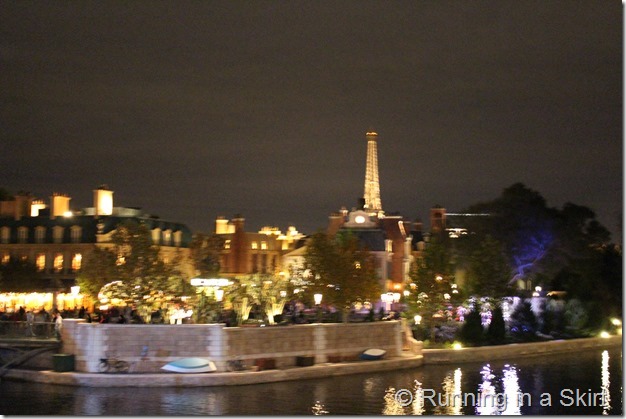 We ate at the restaurant in Morocco. My Dad and hubby loved it, but it was not my favorite.
They got beef…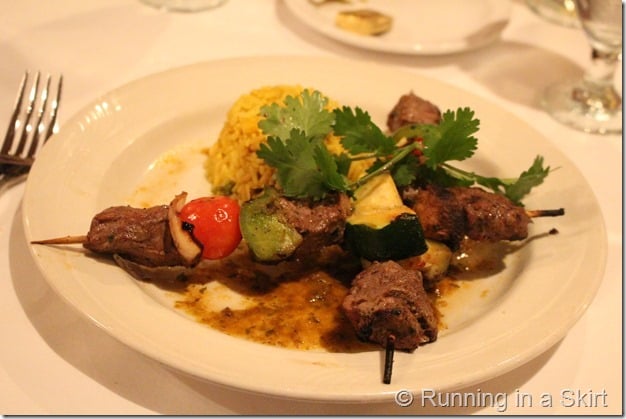 … and I got a Mediterranean salad sampler. THAT must be why they liked theirs more!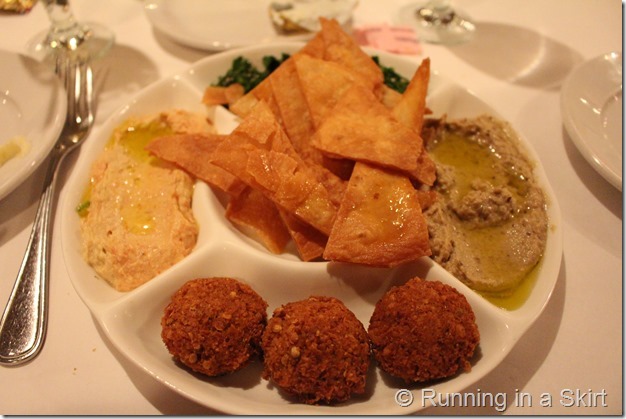 By this time we were all EXAUSTED!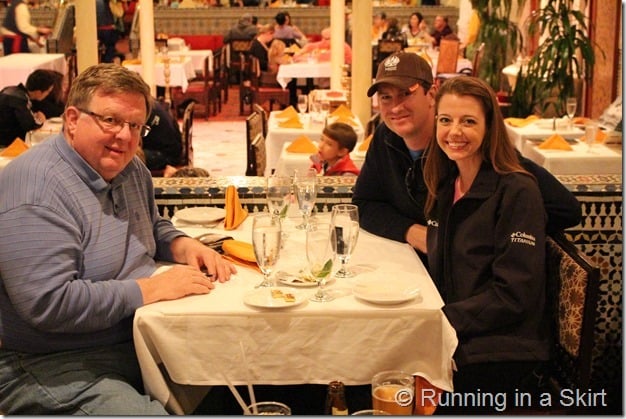 We powered through our exhaustion long enough to get a cannoli from Italy and watch the infamous Epcot fireworks.
A perfect ending to a perfect Disney day.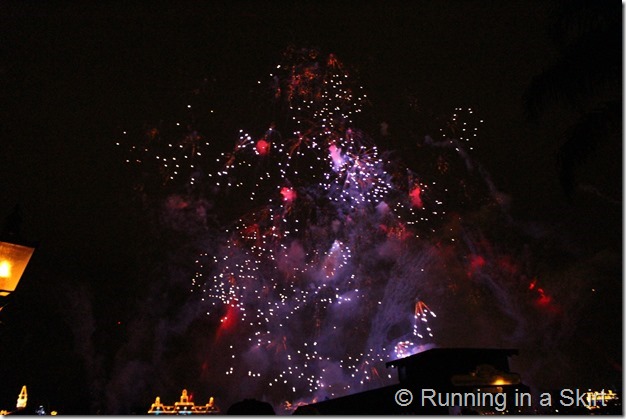 And that my friends is how you do multiple Disney parks in a day. Please give yourselves multiple days to recover from the insanity
QUESTIONS:
What is your favorite Disney movie?
<a href="http://www.bloglovin.com/blog/4707371/?claim=srpdtzs2acp">Follow my blog with Bloglovin</a>
[/fusion_builder_column][/fusion_builder_row][/fusion_builder_container]