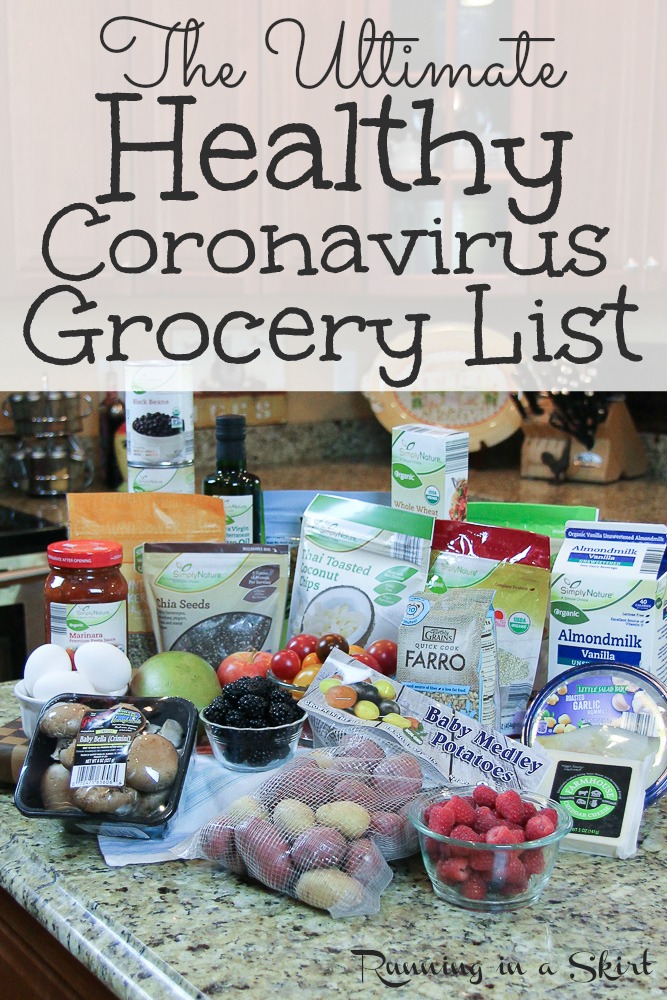 Wondering what to buy during these crazy times to keep your family healthy and fed? Today I'm sharing what I bought in with my Healthy Coronavirus Grocery List.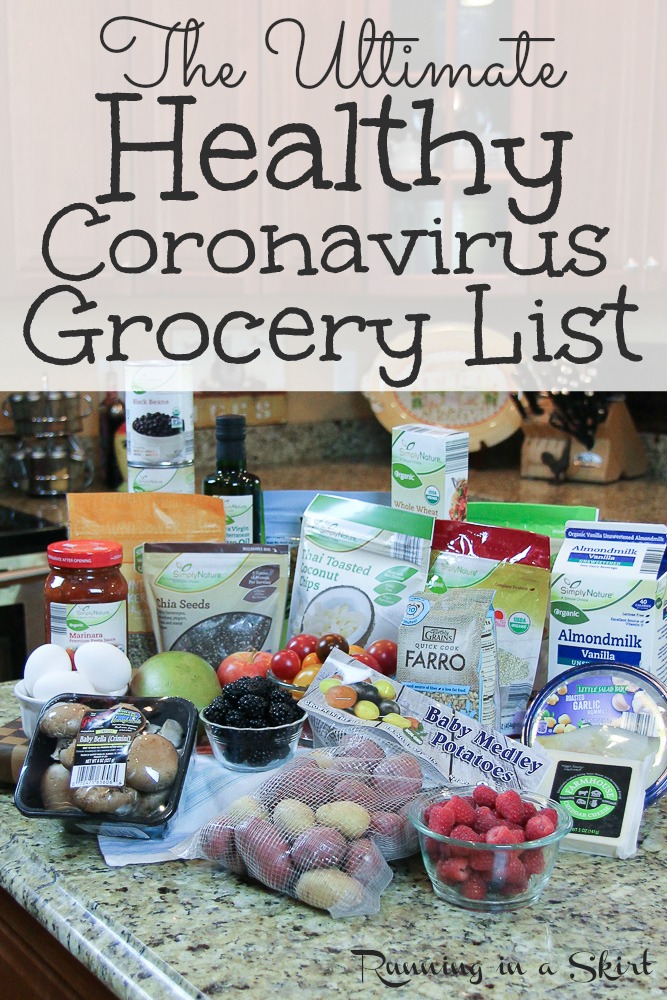 The world has changed and shifted this week. It's strange and unsettling everything that has happened and I'm sitting here kind of shock I'm even writing this post about a Coronavirus shopping list. We are living in unprecedented and nerve-wracking times for sure. I've pushed back the blog posts I had planned this week and have worked on some content to hopefully help you during these challenging times.
I'm holding my breath like most of you that all the measures that have happened in the last few days will slow this thing down and keep it from being as bad. I'm optimistic but I'm also a realist and someone who always likes to be prepared... which I feel is very different than hoarding or panicking. I decided a few weeks ago to stock out the pantry and fridge with a few extra things in case this happened. Nothing crazy or excessive, but enough to feed my family healthy meals if and when the virus got here. I worked hard on thinking through what my family could eat from our pantry and freezer if we did get quarantined OR decided to stay home to avoid it. It kind of felt like an insane thing to do at the time but I guess I really wasn't that crazy.
I know a lot of you probably ran out and got a bunch of stuff last week, but I decided to publish this anyway. It's my healthy Coronavirus grocery list PLUS some simple vegetarian recipes to make with a lot of the pantry and freezer staples. I might be wrong again, but I have a feeling this is going to go on for a lot more than two weeks and everyone will have to go back to the grocery store and do this again. It seems like grocery stores are going to stay open during this but shopping for a few weeks at a time can keep you out of the store and help you from either getting exposed yourself or exposing someone else. This is a vegetarian shopping list that is filled with non-perishables, longer-lasting produce, and freezer foods. I also included some notes about adding some pescatarian essentials to the list. If you do eat meat, just trade out the frozen fish for frozen meat of your choice.
Healthy Coronavirus Shopping List
Non- Perishables
Canned Beans <--- black, white, kidney and garbanzo
Canned Fire Roasted Tomatoes
Canned Green Chilies
Rice
Quinoa
Dried Lentils
Chia Seeds
Nut Butter
Tahini
Jelly
Nuts
Pasta
Pasta Sauce
Parmesan Cheese
Vegetable Broth
Oatmeal
Cereal
Popcorn
Healthy Pancake Mix
Syrup
Crackers
Bread <--- I put extra in my freezer
Tortillas
Tortilla Chips
Salsa
Dried or Canned Fruit
Oils & Sauces
Jarred Minced Garlic
Condiments & Spices
Tea & Coffee
Freezer Food
Frozen Plain Vegetables
Frozen Fruit
Frozen Stuffed Pasta - tortellini or shells
Frozen Egg Muffins
Frozen Whole Wheat Rolls
Frozen Healthy Waffles
Frozen Convenience Meals <--- Without eating out you will want some of these!
Perishables That Last Longer
Apples
Oranges
Lemons
Limes
Onions
Potatoes & Sweet Potatoes
Carrots
Cauliflower
Broccoli
Spaghetti Squash
Tougher Greens <--- curly kale, collards, ect.
Bell Peppers <--- I bought extra, chopped them and froze them.
Avocado <--- I bought extra, halved them and froze them.
Shredded Cheese <--- Italian and Mexican Blend
Almond Milk
Plain Greek Yogurt
Pescatarian Options
Frozen Fish & Shrimp
Canned Tuna
Indulgent Extras
Chips or Snack Food <--- I usually pick baked chips for a slightly healthier pick
Ice Cream
Frozen Dessert
Brownie Mix
Wine or Beer
21 Plant-Based Recipes to Make with Pantry or Freezer Staples
After you do your shopping are you now wondering what to do with this food? I wanted to share some of the meals we will be eating with this healthy Coronavirus grocery list.
Pasta & Pasta Sauce
This is a great standby in tough times! You can, of course, make your own pasta sauce using my slow cooker recipe or just buy a good sauce and get dinner on the table quicker. My family also loves the frozen stuffed pasta like stuffed shells or manicotti for a quick meal. I always like to balance out the plate with a generous portion of a veggie side dish. The Parmesan Roasted Broccoli is one I pair with pasta often.
Roasted Vegetables
I love roasting vegetables and it's a great side dish with some of those tougher veggies that last longer in the fridge.
Roasting makes them taste so much better and with the veggies I suggested you buy in my Coronavirus grocery list, you can make some tasty versions. My Parmesan Roasted Broccoli is just a few ingredients, which are all on the list and so much better than steamed broccoli.
Cauliflower is another great fresh vegetable to buy that can last a bit longer in the fridge. I love making mine with Parmesan and Ranch OR this crazy addictive Curry Roasted Cauliflower Recipe. Also, consider roasting your carrots with my Parmesan Garlic Roasted Baby Carrots.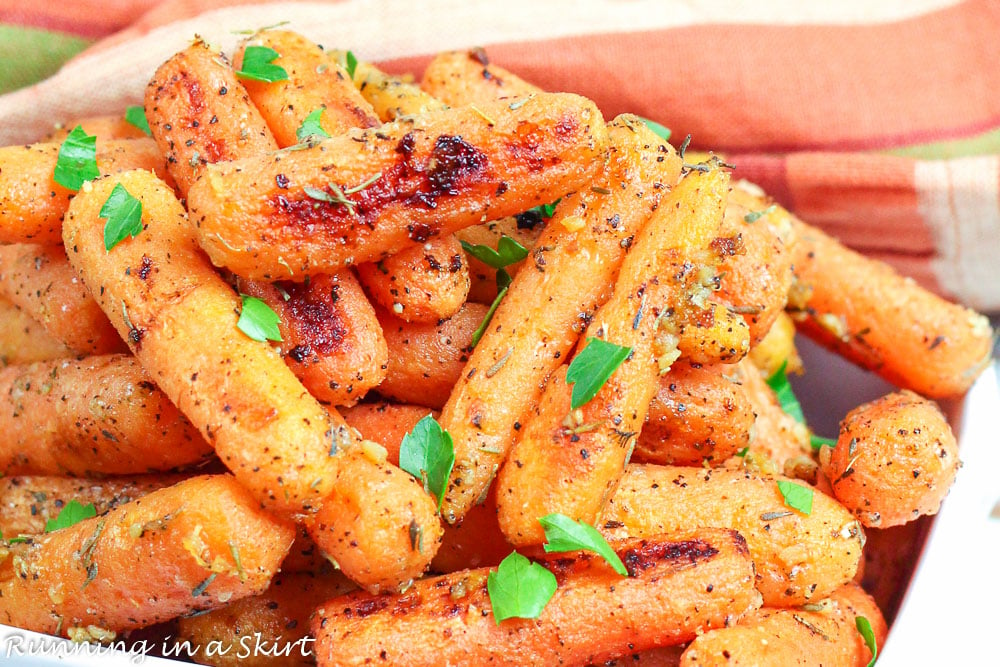 Roasted Veggies, quinoa, and canned beans make a great base for a tasty buddha bowl too. Just use one of your favorite dressing on top for a fast and tasty lunch.
This is a great, healthy twist on pasta with a light lemon tahini dressing, canned chickpeas, and roasted broccoli.
I make this Twice Baked Spaghetti Squash pretty routinely in my house. Spaghetti squash can keep well in the fridge for weeks and makes the most delicious boat for a low-carb, veggie-packed twist on pasta. This recipe uses jarred pasta sauce and canned tomatoes.
This soup is so cozy and perfect if you actually get sick. It's my vegan version of Chicken Noodle Soup using chickpeas instead of chicken. The perfect addition to a Coronavirus grocery list.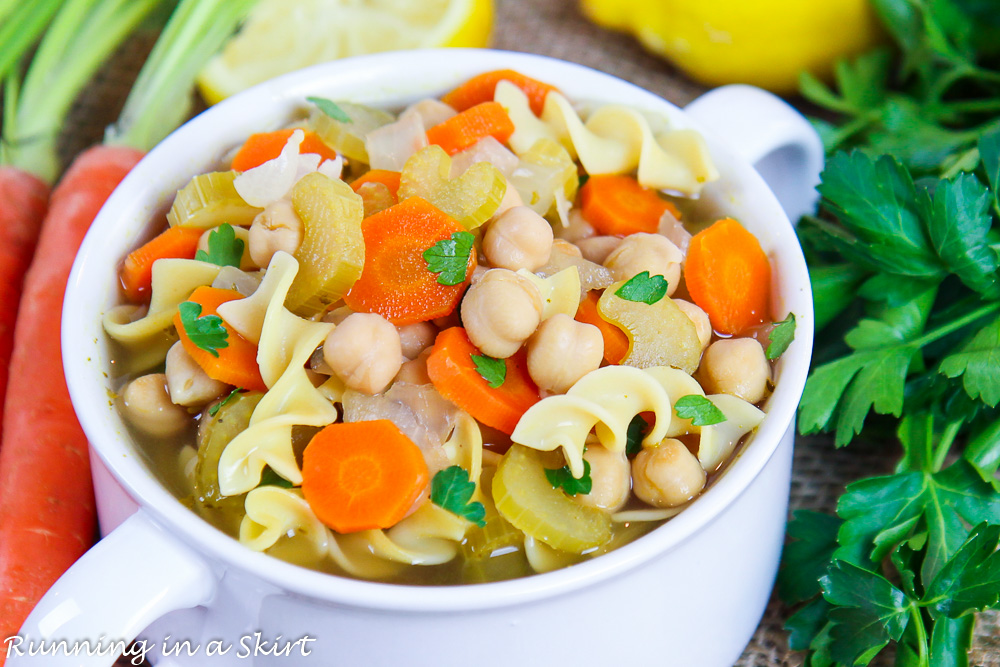 This is such a great recipe because it's a vegetarian slow cooker recipe that's not soup. Use the quinoa and bean filling as the base for a Mexcian themed bowl or even for tacos. It's so delish! I'd also like to suggest this Lentil Quinoa Taco Filling which is super delicious even though it's not crazy photogenic.
I eat Homemade Black Bean Quesadillas a few times a week. The recipe I shared includes avocado but feel free to skip that if you don't have anymore fresh left. The black beans and cheese are such a great meal too. I serve it with a side of plain greek yogurt, chips, and salsa.
These Taco Stuffed Sweet Potatoes are so much fun! Instead of fresh guacamole serve jarred salsa and/or plain greek yogurt on top.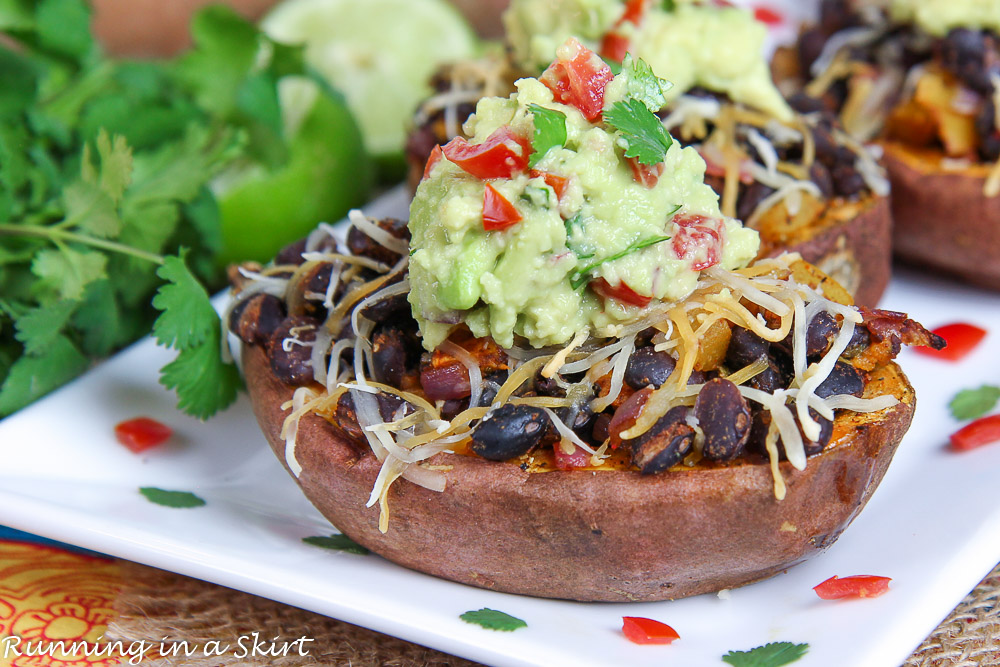 This is another recipe I make regularly in my house. It starts with perfect lemon garlic kale and adds super tasty pasta to the dish. It's so cozy yet nutrient-packed with the kale. You could also try my Kale Ceasar Pasta Salad which is only a handful of ingredients.
This Black Bean Enchilada Stack has an oven OR crock pot recipe. It's kind of like a Mexican lasagna or enchiladas that are stacked instead of rolled. It's simple to make, keeps well for leftovers and tastes amazing.
This is another good one that I make frequently and freezes well too.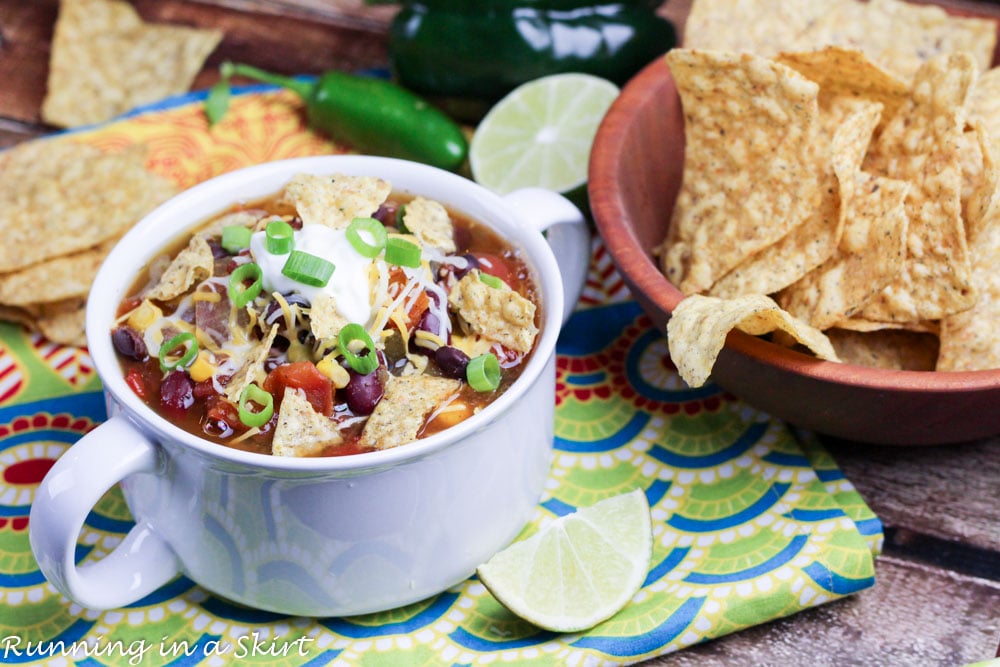 Smoothies
Keeping fresh fruit around during something like this might end up being hard. That's why enjoying smoothies using lots of frozen fruit is a great idea. Check out this post with 15 Fun & Fabulous Smoothies OR my Smoothie Recipe Page to get you started with ideas.
This homemade soup is filled with flavor and delicious. The quinoa fills it out and makes it a more rounded meal. You could also make it without the quinoa and serve it with a simple homemade grilled cheese using the bread and shredded cheese. SO GOOD!
Made with almost entirely pantry food this is the best recipe to make in a pinch. Make it last when all your perishable food is gone. I like to buy some of the pre-made store made corn muffins and freeze them for when I want to serve them.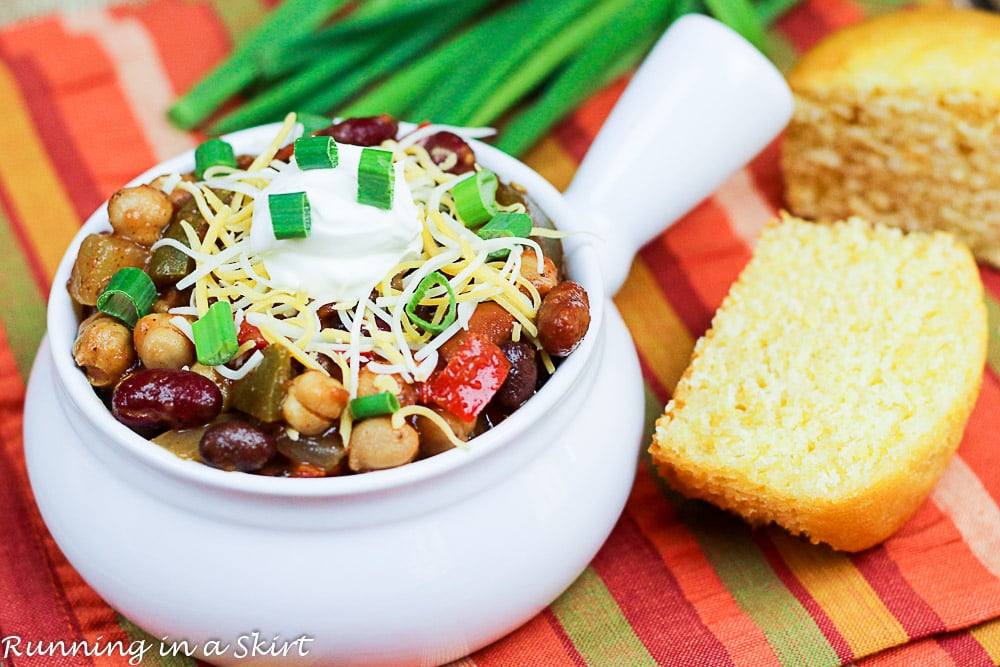 This is another great vegan recipe that uses lots of pantry staples from my Coronavirus grocery list. It's filled with beans, pasta and the perfect blend of spices.
Here's a great way to use that frozen stuffed pasta! My Kale Tortellini Soup is so cozy, vitamin-packed and nourishing with lots of kale.
I have been making this recipe since my early 20's. It's a perfect use of pantry food including canned beans, canned tomatoes, and rice. The rice recipe calls for cilantro but feel free to skip it since fresh herbs don't last that long. You could also use frozen cauliflower rice or quinoa instead.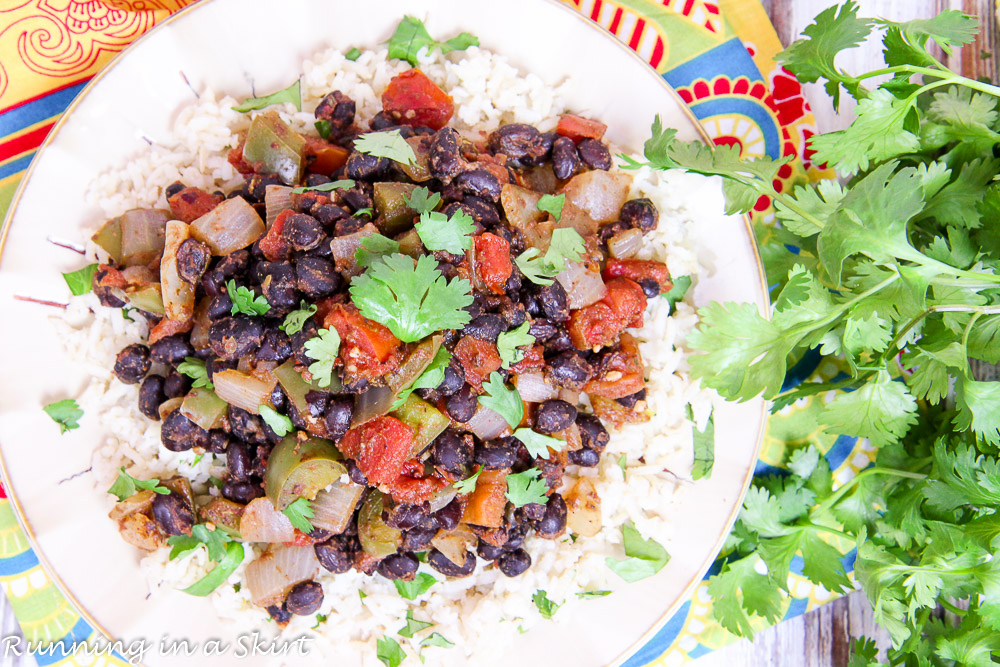 This soup is so cozy and uses lentils which is a great plant-based source of protein. It also has vitamin-packed kale.
Overnight Oats
Overnight Oats are a great breakfast idea without a lot of fuss. I have TWELVE versions on my site which all happen to be dessert-inspired. Get those recipes HERE.
Roasted Chickpeas
Homemade roasted chickpeas are the perfect healthy snack! Try my Ranch Crispy Chickpeas, BBQ Roasted Chickpeas, Everything Bagel Crispy Chickpeas or Chili Lime Crispy Chickpeas.
This is one of my favorite slightly healthier dessert recipes to make. It uses only TWO pantry staples and you HAVE to try it while we are all stuck at home. In a pinch I used packaged icing to make them extra indulgent.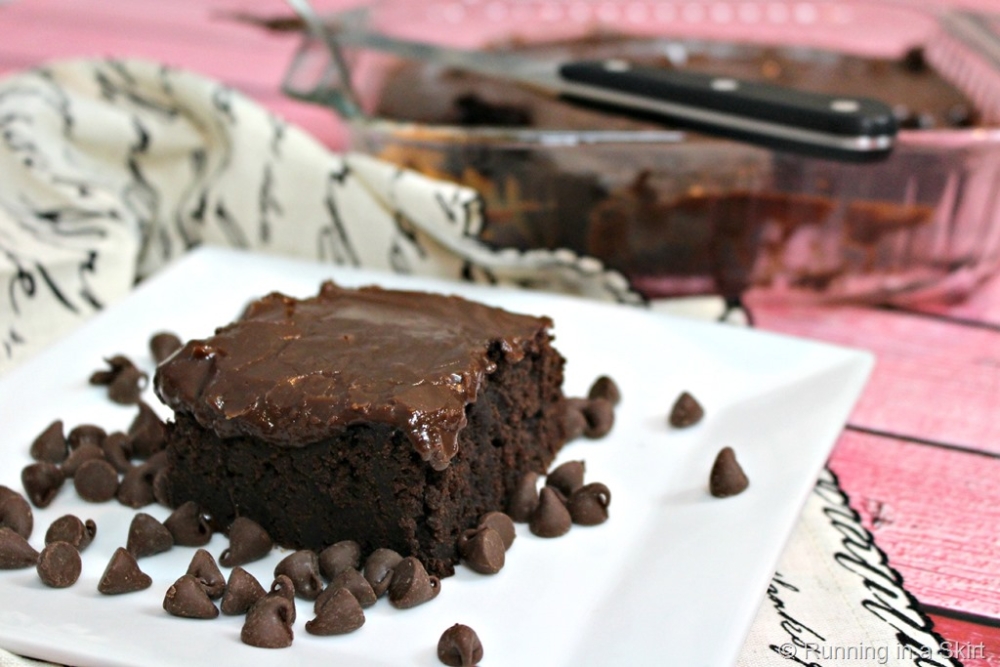 Pescatarian Additions
We'll also be eating a few pescatarian meals a week including this salmon recipe, my no-mayo tuna salad, and these shrimp! I'll serve the fish and shrimp with either a baked potato, quinoa, rice and then a frozen vegetable on the side. You could do the same with chicken, beef or pork too.
This is a stressful time and anything you can do to make life easier on yourself right now is ok. The Hub's and I will also be eating lots of simple things like peanut butter and jelly, regular baked potatoes, cereal, and almond milk and frozen meals too! Do what you need to do to survive this.
I hope this helps with your food planning just a little. I'm thinking about all you guys during this crazy time.
More helpful tips...
Pin for later...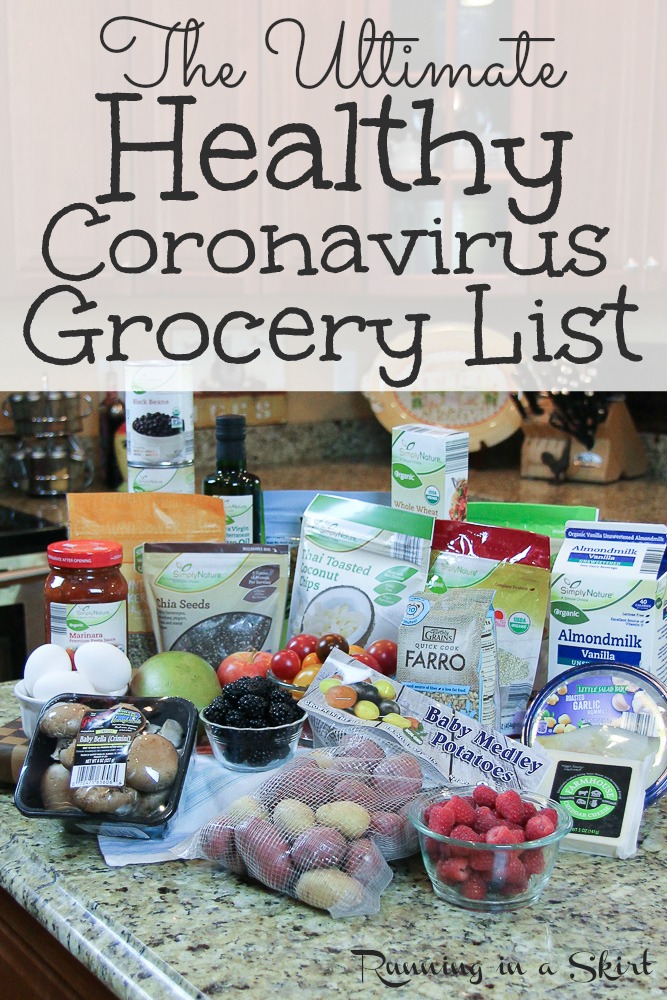 Your turn!
How are you? What is it like where you live? Are there any other articles I could put together that you would find helpful?