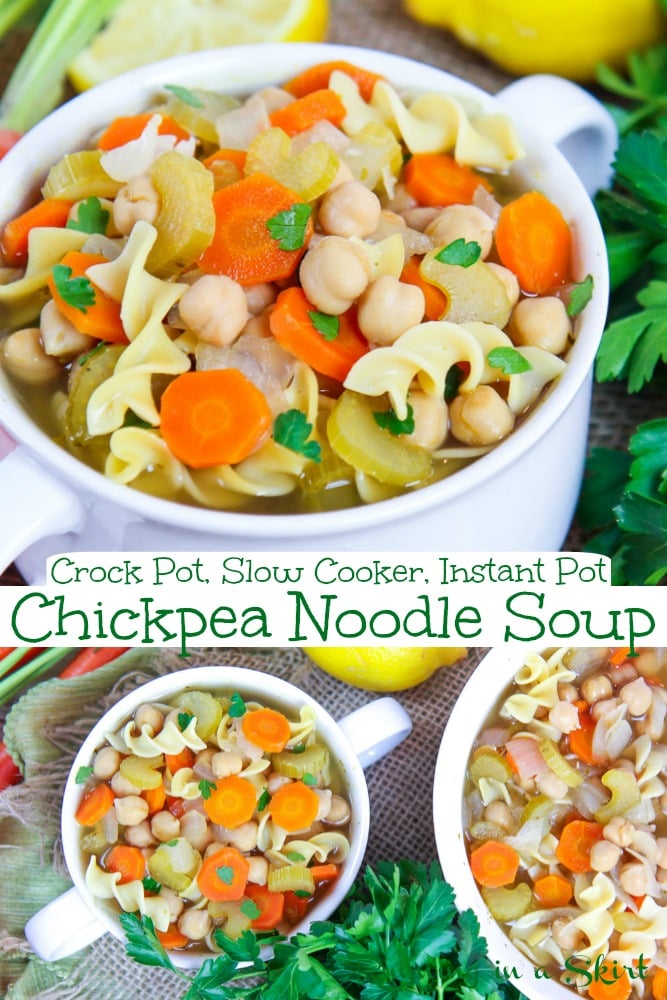 This Crock Pot Chickpea Noodle Soup recipe is the BEST Vegan Noodle Soup. It's cozy, nourishing and the perfect vegetarian substitute for traditional Chicken Noodle Soup.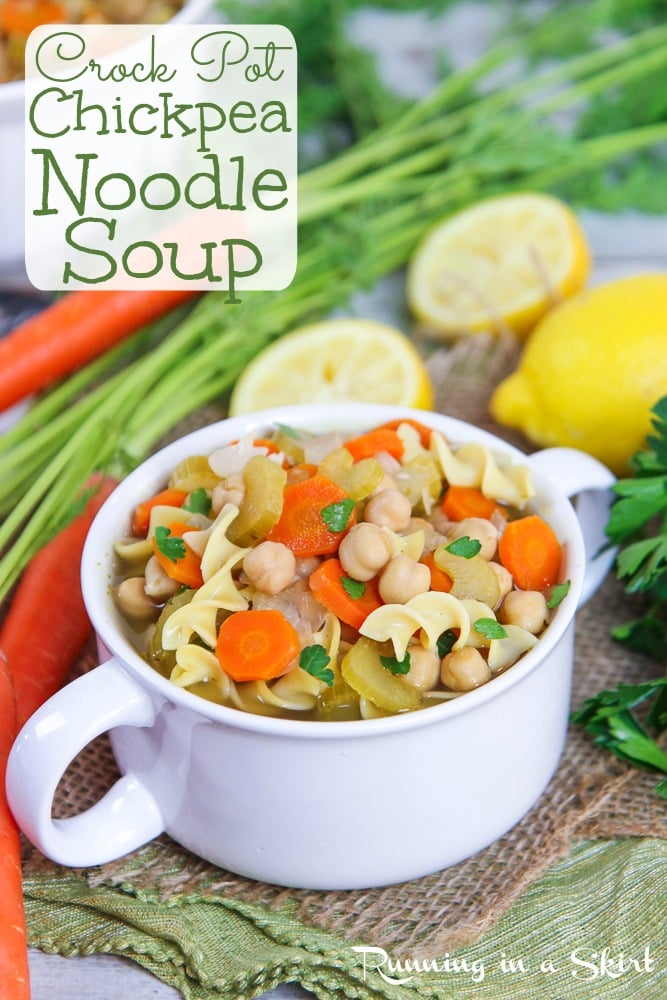 With colds, flu and now the Coronavirus going around I decided to take my twist on everyone's favorite get well soon food... Chicken Noodle Soup. My Crock Pot Chickpea Noodle Soup recipe is my vegan / vegetarian twist on chicken noodle soup but has chickpeas instead of chicken!
Like most folks, I always had chicken noodle soup when I was sick as a kid, but I hadn't really ever found a great substitute for that since I stopped eating meat. I decided to create a soup that would not only hit that flavor you have come to know and love but also have some immune-boosting goodies like garlic, ginger and lemon!
And of course, my version is crazy easy to make in the Crock Pot because we all have crazy busy lives these days.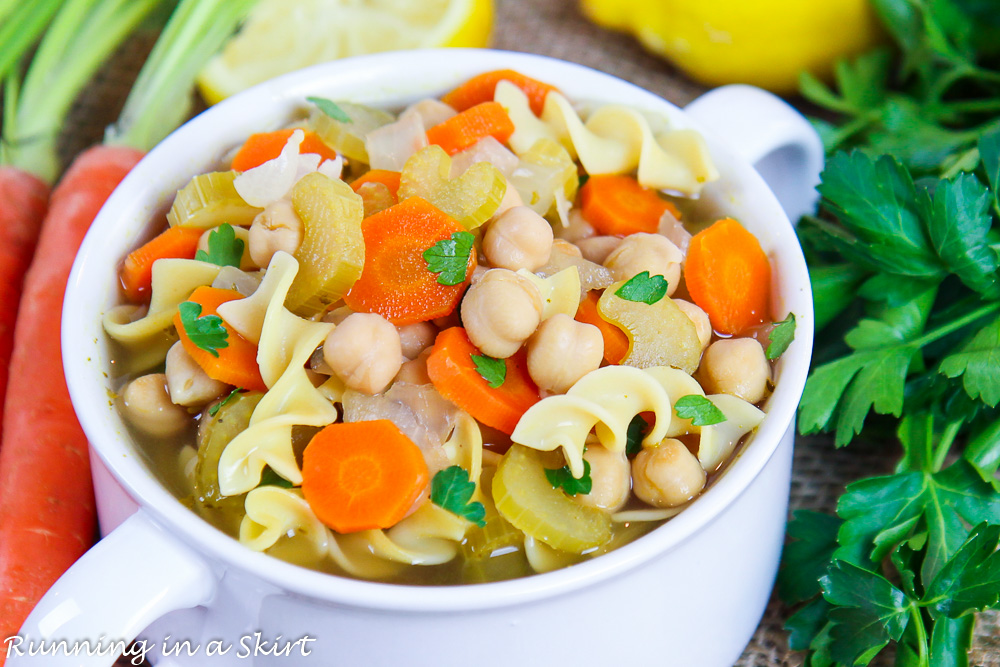 Crock Pot Chickpea Noodle Soup recipe
This Crock Pot Chickpea Noodle Soup is so perfectly COZY and slurpable. It starts with all the basics like a tasty broth, onions, celery, and carrots. I thought about adding more, but when you are looking for a soup like this you don't want any surprises.
This is vegan comfort food at it's finest!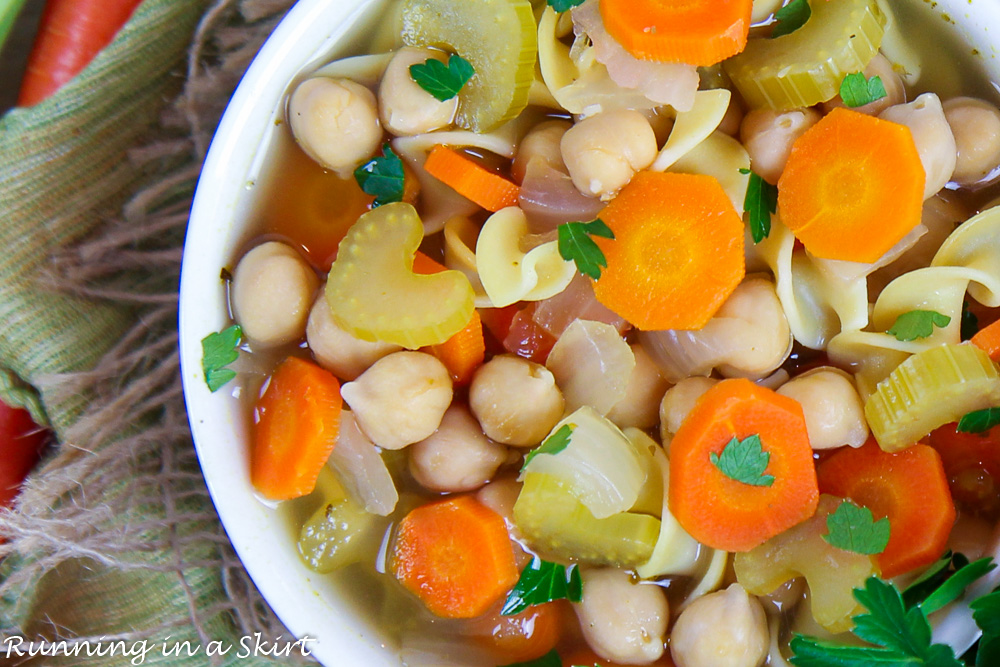 It's like a Vegan Chicken Noodle Soup recipe - with no chicken!
This Vegan Chicken Noodle Soup recipe has a quick swap. Instead of chicken, I did a swap for healthy, protein-filled chickpeas. They give the dish more substance without the meat.
The key to getting good flavor here is using a really nice, high-quality vegetable broth AND spices. Since you don't get that flavor boost from the chicken broth you have to pick out something nice.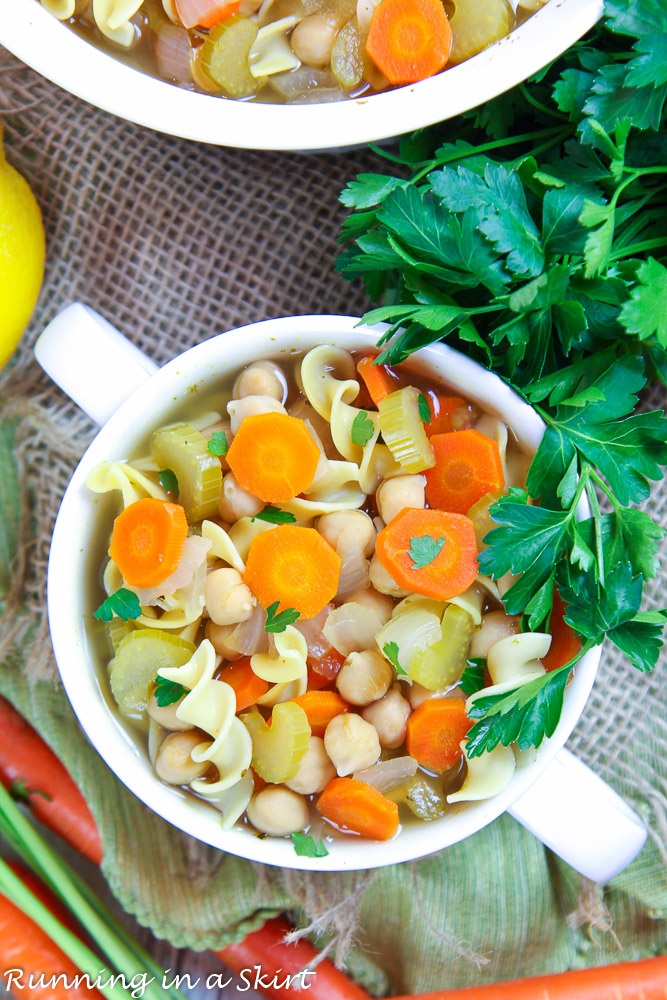 The BEST Vegan Noodle Soup
This is the Best Vegan Noodle Soup because I added some flavorful surprises to give this soup more fresh flavor and vitamins. I added garlic AND ginger to the mix. I also squeezed fresh lemon over the dish at the end to brighten it all up. That really makes this Crock Pot Chickpea Noodle Soup stand out.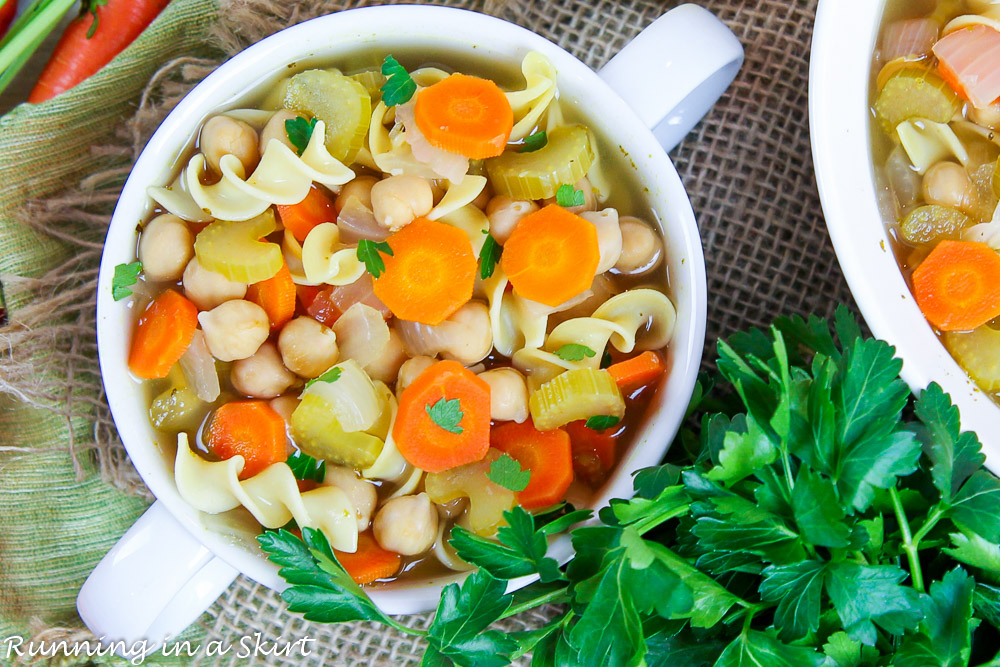 What's in this Crock Pot Chickpea Noodle Soup recipe?
Onion
Celery
Carrot
Chickpeas
Garlic
Ginger
Lemon
Wide Pasta or Noodles
Vegetable Broth
My other unique twist to this dish is using Herbs de Provence. It's a delightful blend of savory, thyme, rosemary, basil, tarragon and lavender. It's a French spice that I love playing around with. Pick some up HERE or you can also sub any combination of rosemary, thyme, and basil you have in your spice cabinet.
How to make my Crock Pot Chickpea Noodle Soup recipe...
Put all the ingredients except the pasta and lemon in the slow cooker or crock pot.
Cook for 3-4 hours on high or 6-8 hours on low or until the vegetables are tender.
Add the pasta! There are two ways to do that and I've noted that below.
Just before serving stir in the fresh lemon juice.
There are two ways to cook the noodles for this vegan noodle soup. First is to pull out a separate pot and cook them separately on the stovetop according to the package instructions. This works well if you plan on reheating the soup for later or you don't want super tender noodles. The second way is to turn the pot onto high, put the pasta in and cook until tender. This works great especially if you are eating the entire batch right away. If you store the soup with the noodles in it they will soak up more of the broth and become more tender. Either way works!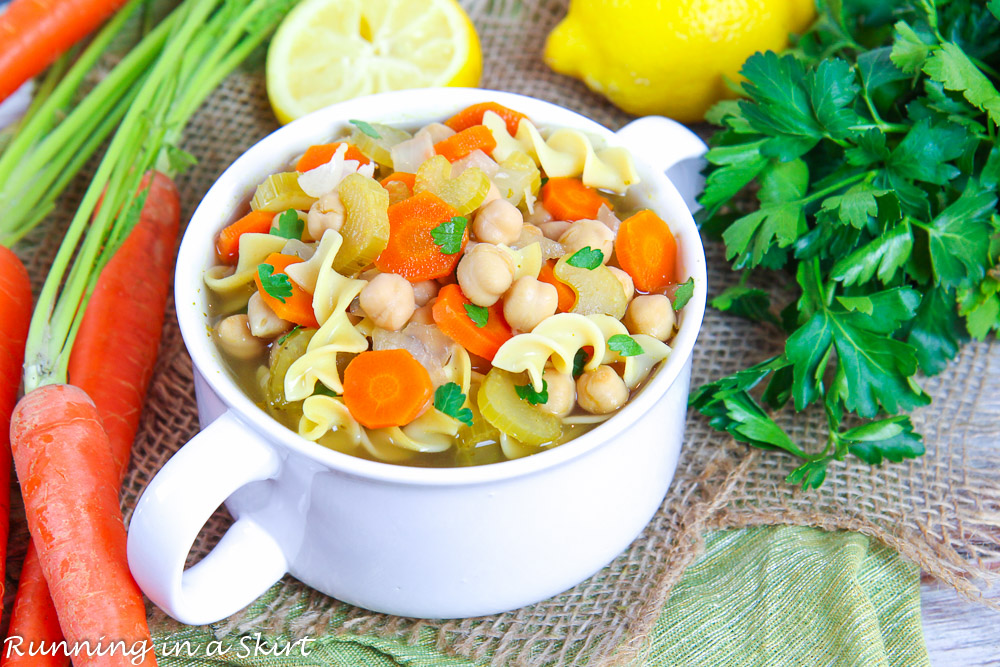 Can you also make this in a slow cooker or instant pot?
YES! This Chickpea Noodle Soup recipe works in any slow cooker or even an instant pot. You can use the slow cooker setting on the instant pot or cook like other traditional soups.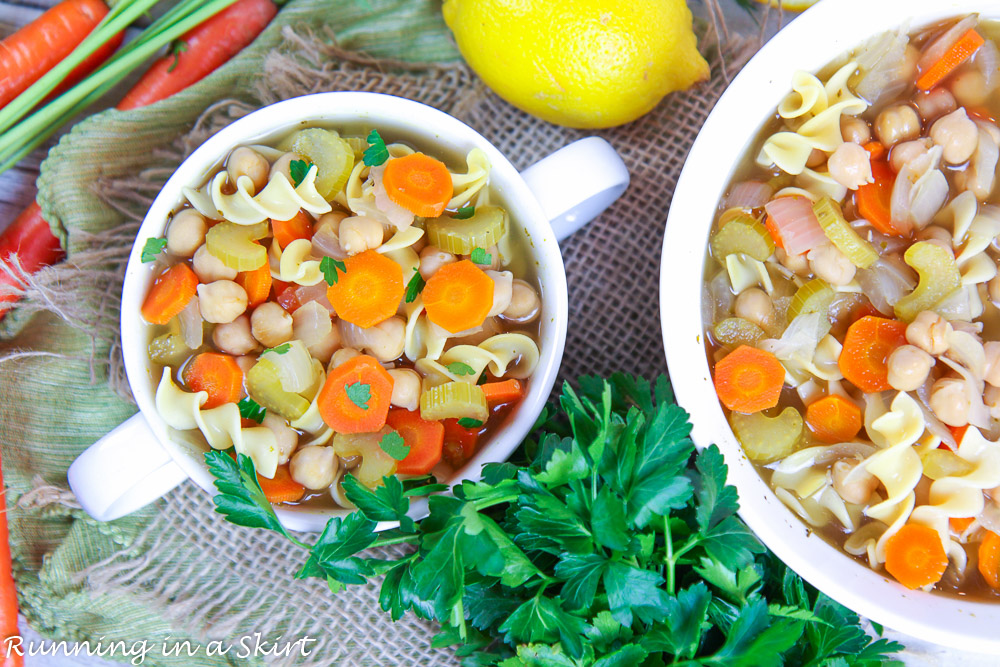 This cozy Crock Pot Chickpea Noodle soup recipe is one of my new favorites! I love that it's made with mainly pantry staples too. I'll be keeping them around for the next time we get sick or just need some extra TLC.
Give it a try and let me know what you think.
Also try...
Pin for Later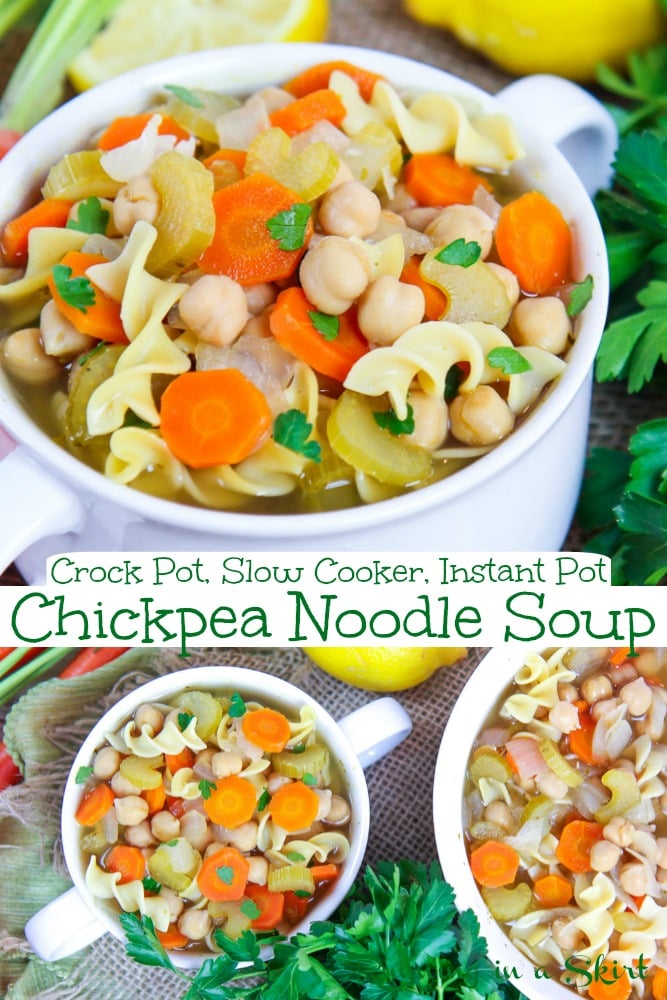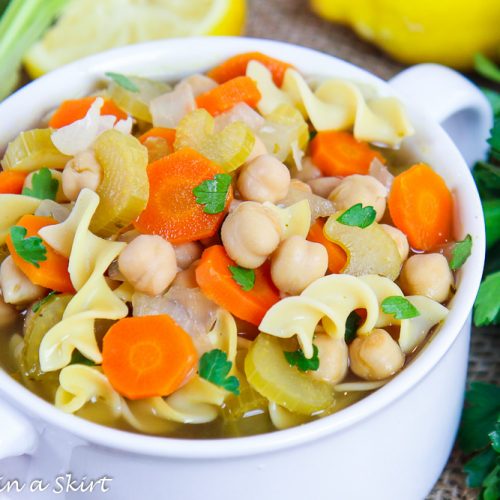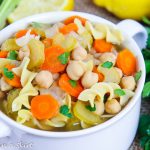 Crock Pot Chickpea Noodle Soup recipe
This Crock Pot Chickpea Noodle Soup recipe is like a Vegan Chicken Noodle Soup with chickpeas instead of chicken. It's filled with flavor and noirshing ingredients for a cold day or when you are under the weather.
Instructions
Add everything except the noodles and lemon to a large crock pot. Turn on low to cook for 6-8 hours or high to cook for 3-4 hours. Cook until the vegetables are tender.

When you are ready to eat you can either cook the pasta separately on the stove according to package instructions or add the pasta directly to the broth in the slow cooker. To cook them in the soup turn the pot up to high, put the noodles in and let them cook until tender.

Just before serving stir in the lemon and add the noodles if you cooked them on the side. Garnish with parsley.
Notes
I like the cook the noodles on the side if I am keeping some of the soup for leftovers.  I'll add the noodles to the portion I am eating at the time and keep the rest on the side for later.  That keeps the noodles from getting soggy in the fridge.  It can also be done the other way but the noodles get more tender with time.
Nutrition
Calories:
369
kcal
Carbohydrates:
66
g
Protein:
16
g
Fat:
6
g
Saturated Fat:
1
g
Cholesterol:
24
mg
Sodium:
2541
mg
Potassium:
571
mg
Fiber:
13
g
Sugar:
8
g
Vitamin A:
6186
IU
Vitamin C:
19
mg
Calcium:
134
mg
Iron:
5
mg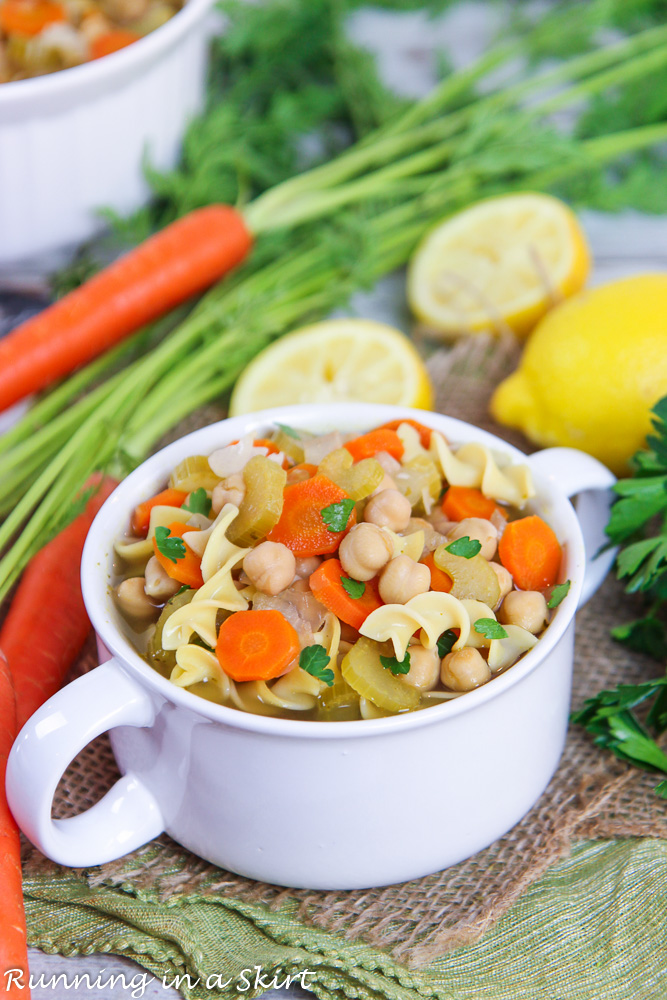 Your turn!
What's your favorite thing to eat when you are sick?