Hi guys,
This week feels like some big surreal blur that I keep trying to wish away. Like all of you, I'm shock of everything that has happened and more importantly everything that could happen in the coming weeks and months. The last time I wrote one of these posts we lived in a different kind of world. I wake up every morning and have to remind myself of our new reality. I'm sure you are doing the same.
I know everyone has had some tremendous hardships this week, so I don't want to linger on mine. I already work from home and am used to spending a lot of time in my house, so this probably isn't as hard on me as it is most folks. I am though a little fearful that my asthma will put me at risk of having complications if I catch it.
I've been working on some content to help everyone through this. Last week I published an article about Natural Ways to Boost Your Immune System. This week I put together a post that shared my Healthy Grocery List and it also included 21 recipes that I'm making with my freezer and pantry staples.
Next week I'm publishing some home workout ideas that can hopefully help you since your gym is closed. Wednesday I'm sharing an article about things I've learned about working from home. I've done it for nearly 6 years now, so I feel like I have some helpful tips.
Today though, I decided we all needed a little break and perhaps some reasons to smile. The twins are blissfully unaware that anything is going on and have been on the same schedule all week like nothing has changed. They have been full of smiles and adventures from home.
So to perhaps help you take your mind off of everything, even just for a few minutes, I decided to go ahead with my regular Weekly Happenings this week. I hope you'll appreciate a little levity in these hard times.
I'll start it off with late last week when we had no idea of everything that was going to happen. If only we could all go back!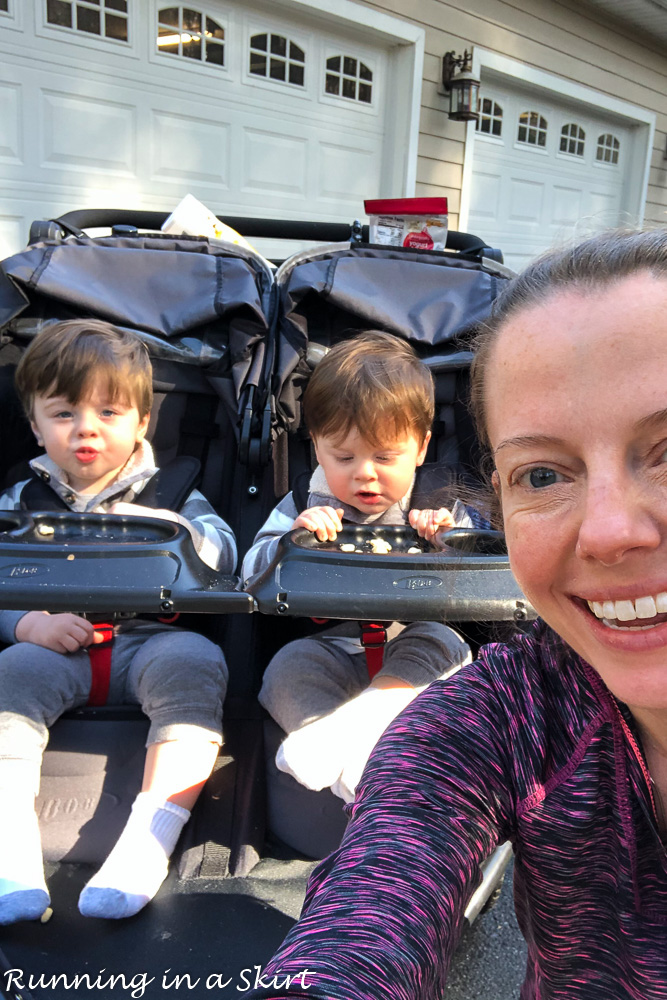 The boys seem to enjoy their walks and getting outside helps everyone.
After our walks, we've also been enjoying some time outside of the stroller. I've been letting them just play which is such fun to watch.
I moved these lawnmowers to be outside toys and it was like I gave them a new toy.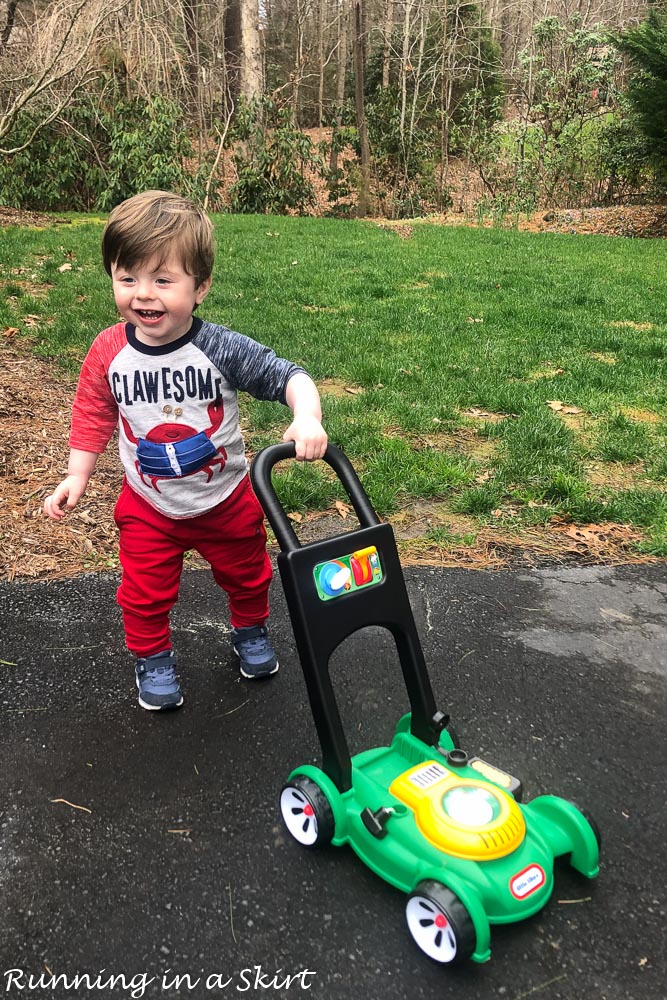 They have been running them up and down the driveway, which has been super cute.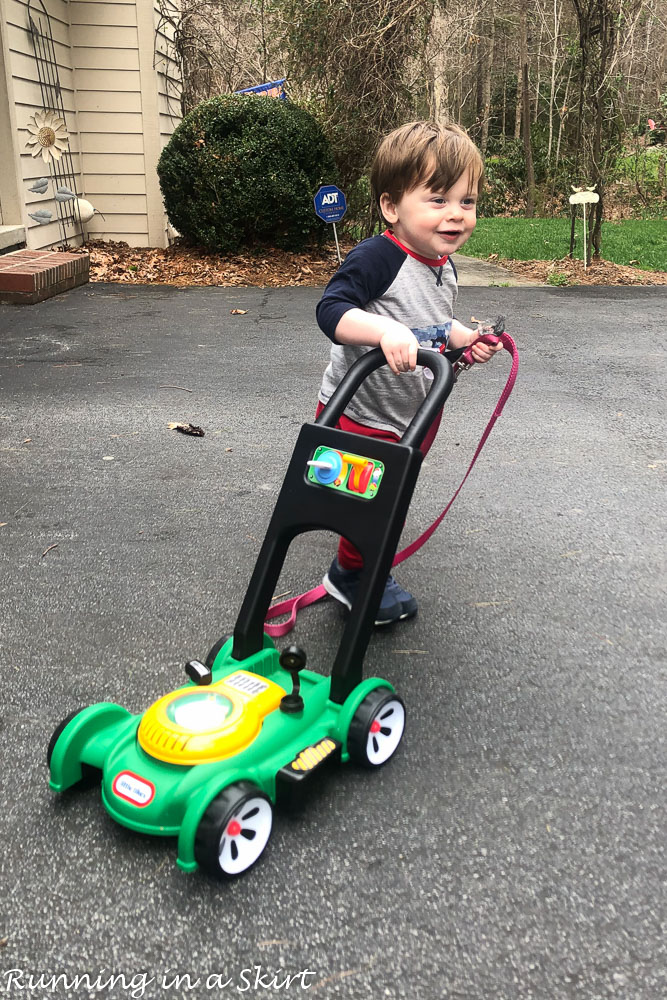 What's not cute is when they run in different directions down the driveway and I have to pick which one to chase first. 🙂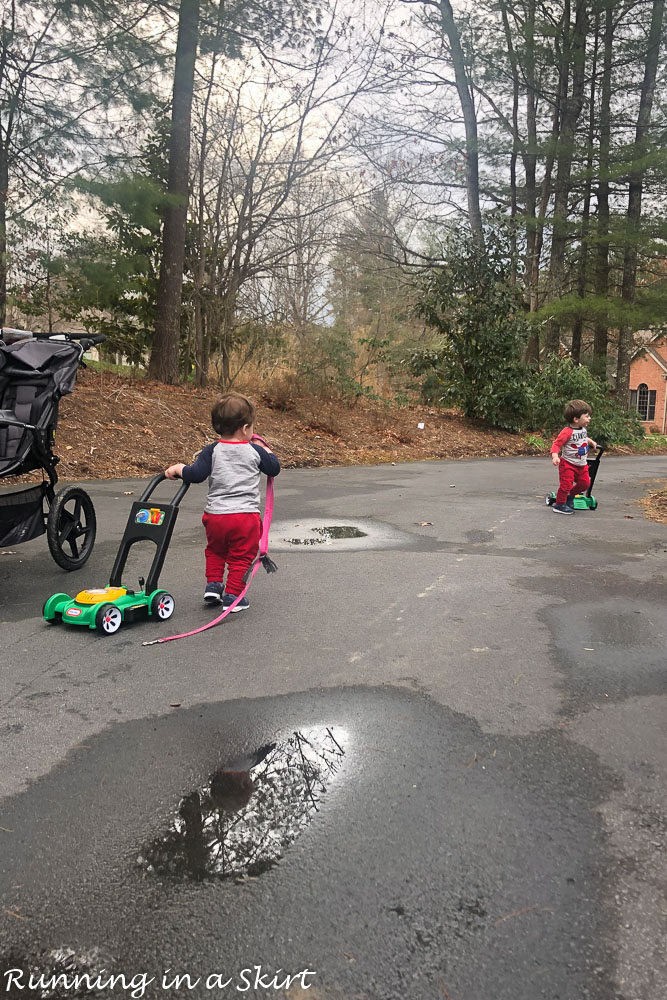 This weekend the Hubs had to work all day both days since there was a tax deadline Monday. My SIL Megan was supposed to come and visit to help and bring the boy's cousin Keegan but we decided it was best if she didn't travel with everything going on.
The twins and I made the most of it and the boys thought it was hilarious to put our mixing bowls on their heads.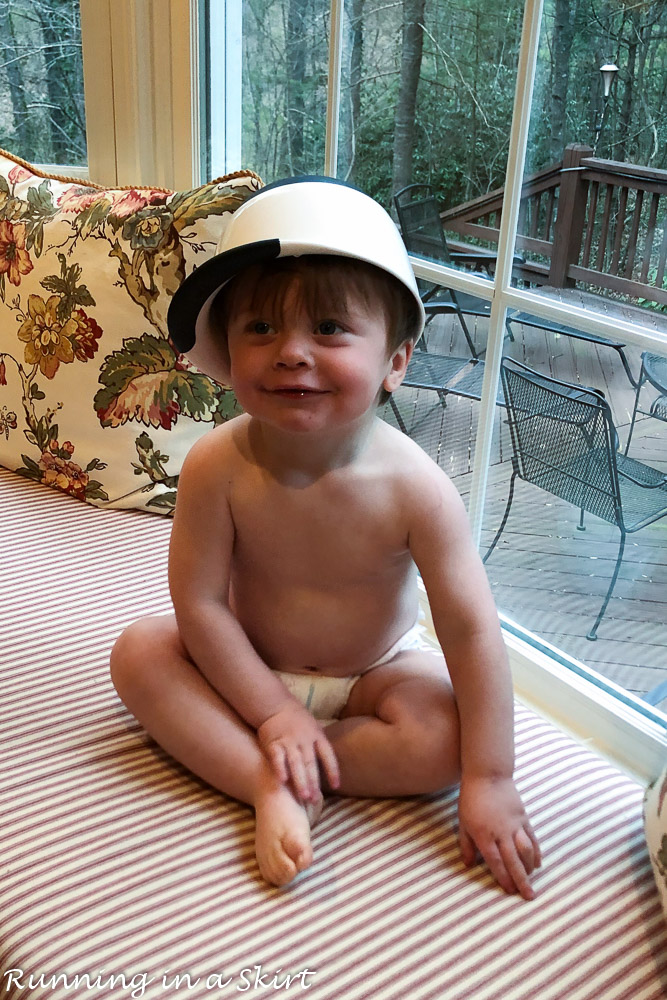 We joked it was their Coronavirus helmet.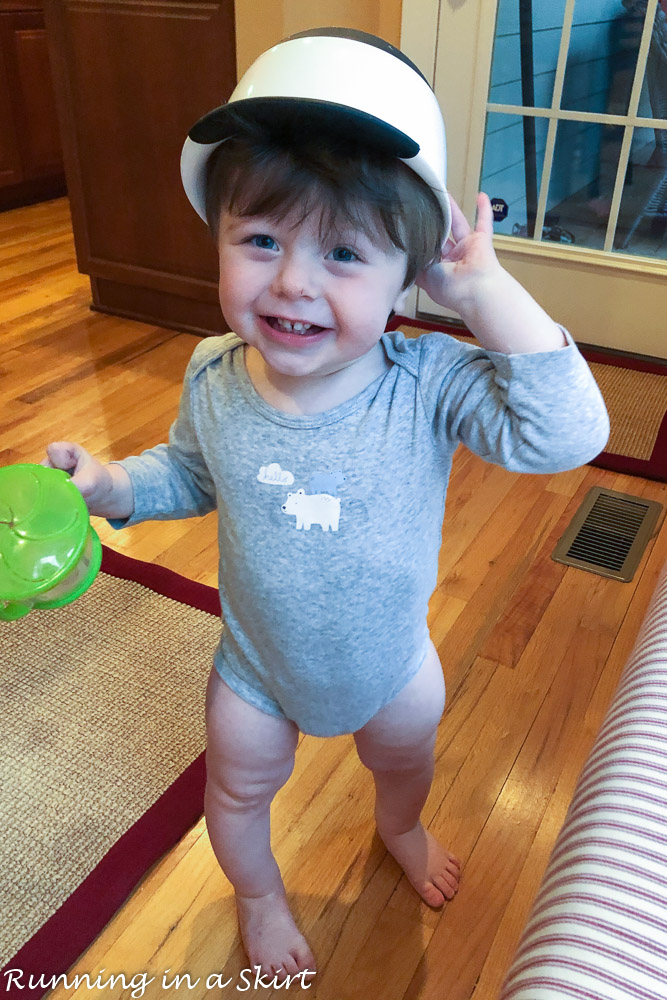 On Sunday we got some nicer weather and we all went outside again. We've had on and off rain but most days there has been enough of a break to at least get out of the house.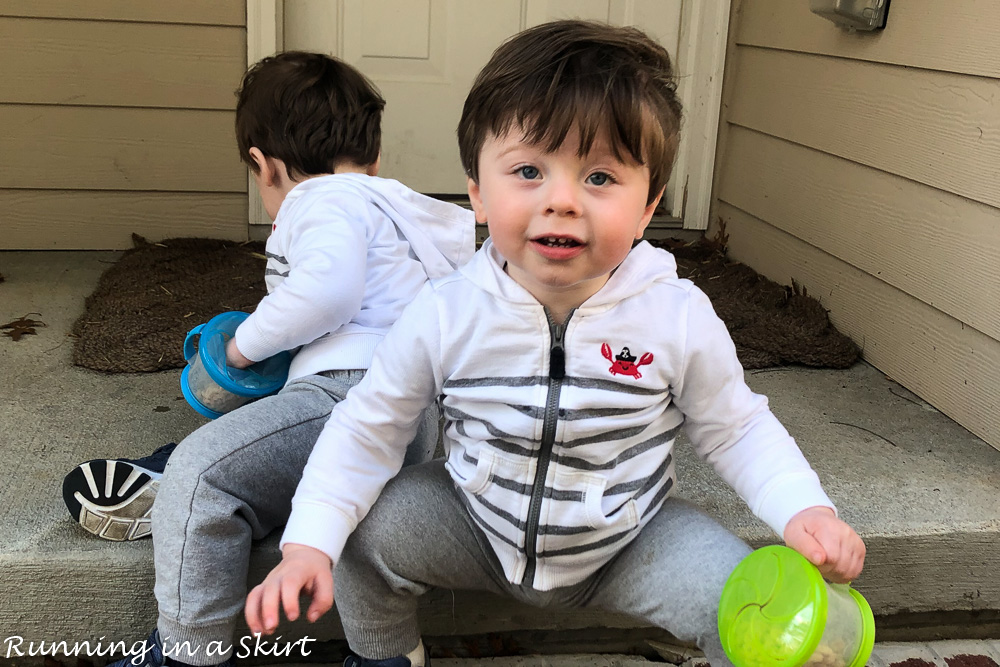 By Monday the reality of the new normal was really setting in. We were supposed to go out to celebrate the tax deadline, but obviously canceled and stayed home. We also found out a wedding we had this upcoming weekend was canceled.
The boys once again had no idea though which has been refreshing.
I had recently bought them some sidewalk chalk and they tried it for the first time.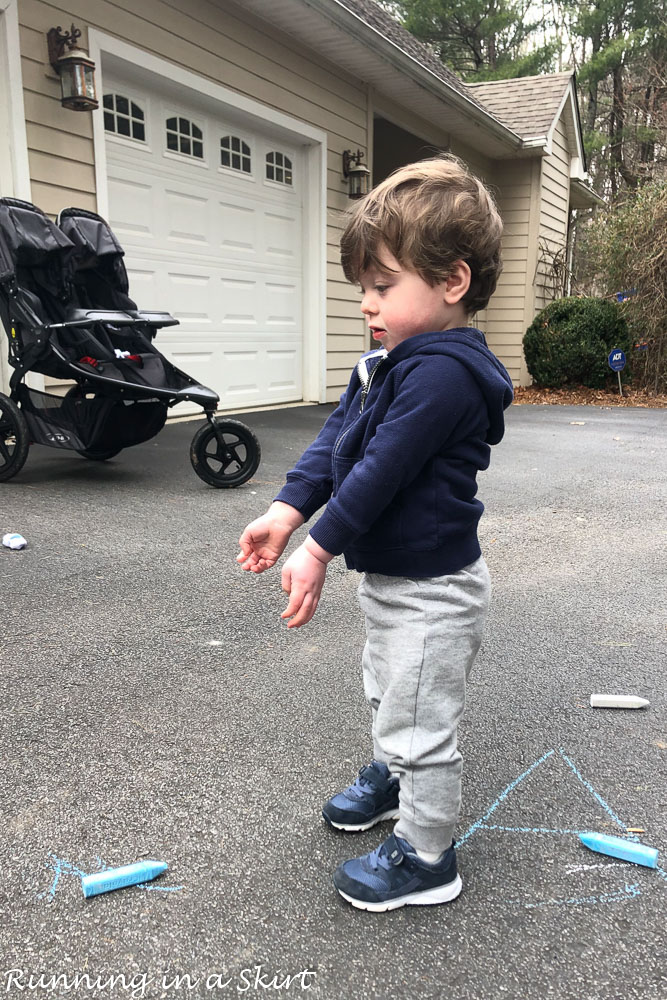 They played with a little and mostly fought over who got to carry around this box.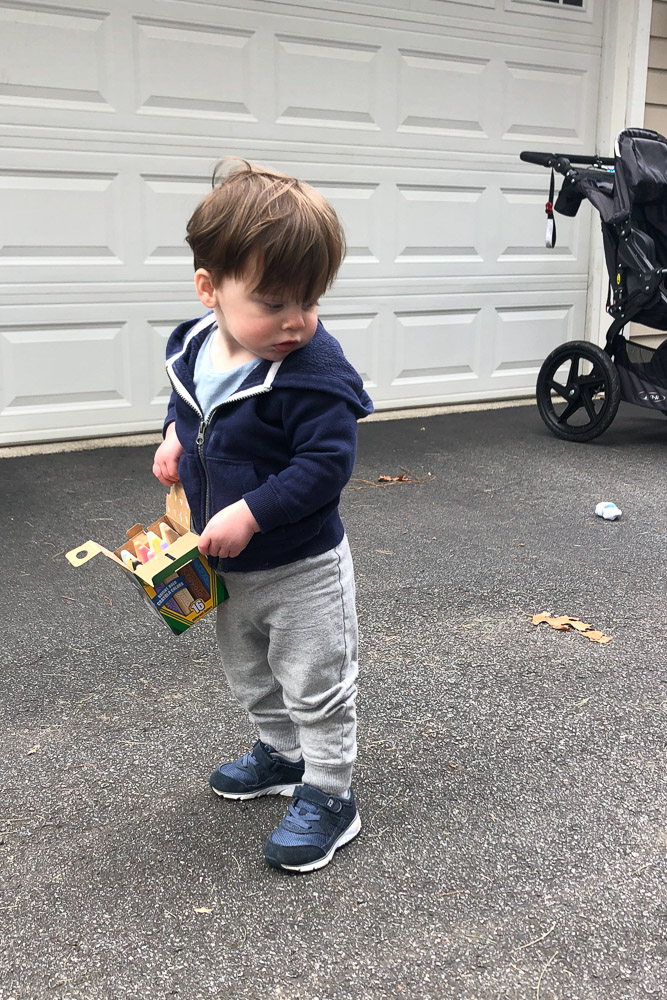 I do think they will keep learning how to use it though and it will be a fun toy for us to have this summer.
One of the many sad parts about this week was when all the kids in the neighborhood were out playing in their own driveways and no one could play with each other. We usually all gather around one house and chat with the kids playing and it was so strange to have to keep separate. I know that is just a small inconvenience compared to what so many folks are dealing with right now.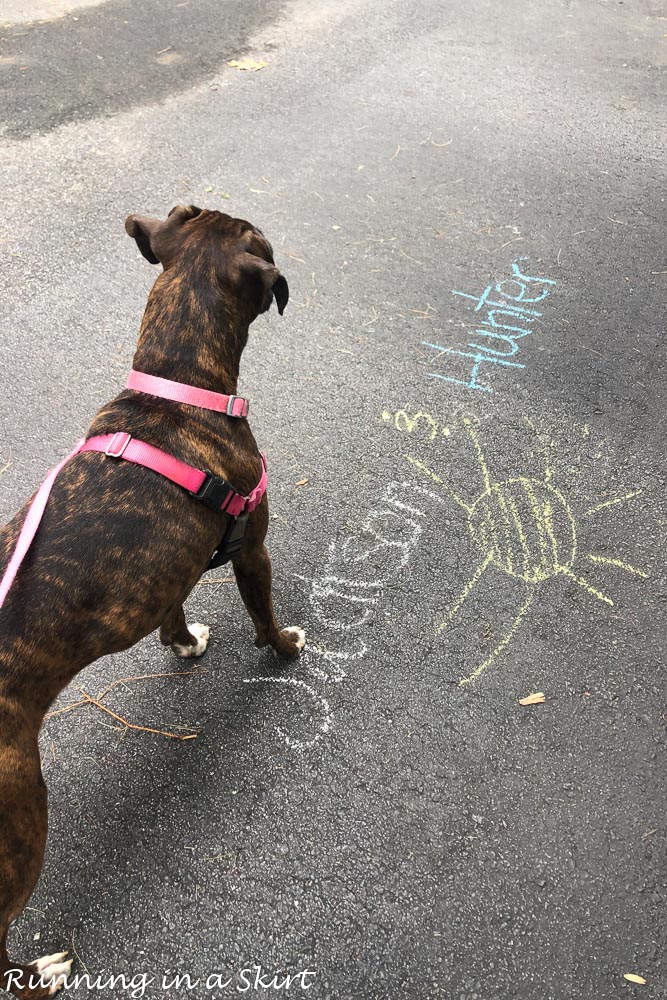 The rest of the week was spent with more social distancing and keeping the babies out of trouble. I feel like we are at the age where I spend most of my day keeping them from hurting themselves. Hunter learned how to climb on the changing table this week and started to take his diaper off in his high chair.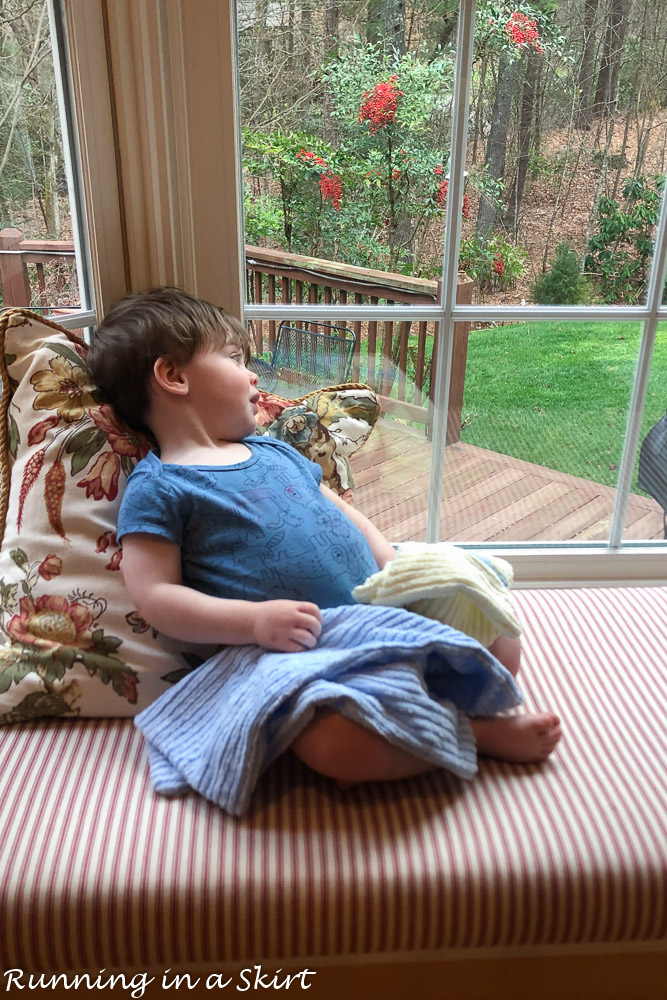 We also made lots more high chair messes. Jackson has been especially crazy about throwing his food. Does anyone have any ideas on how I can handle that?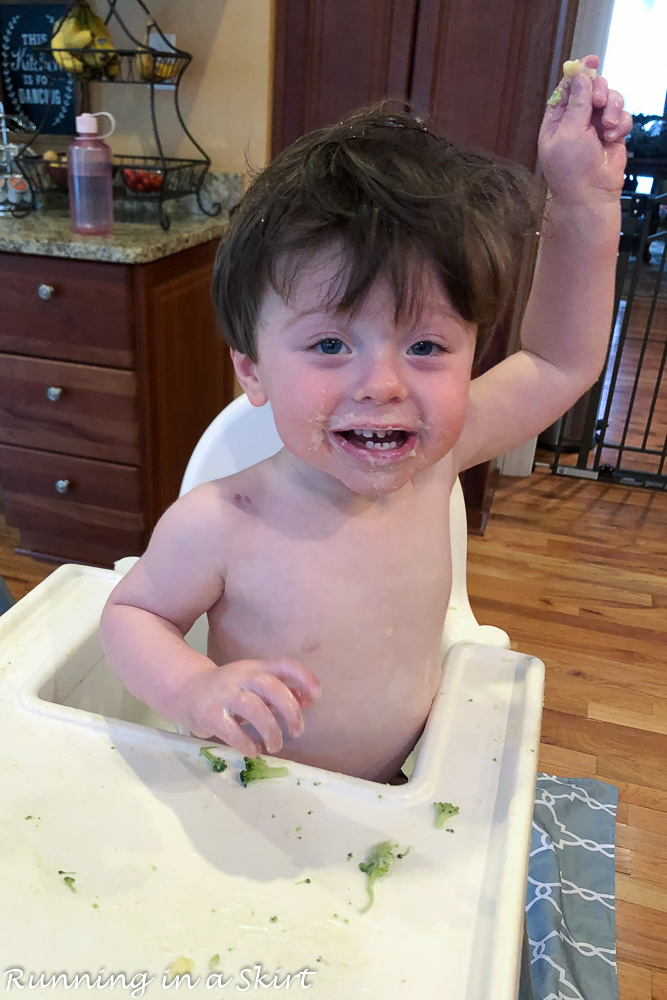 We are trying to make the best out of a terrible situation and staying put. Luckily I have these cute faces to enjoy.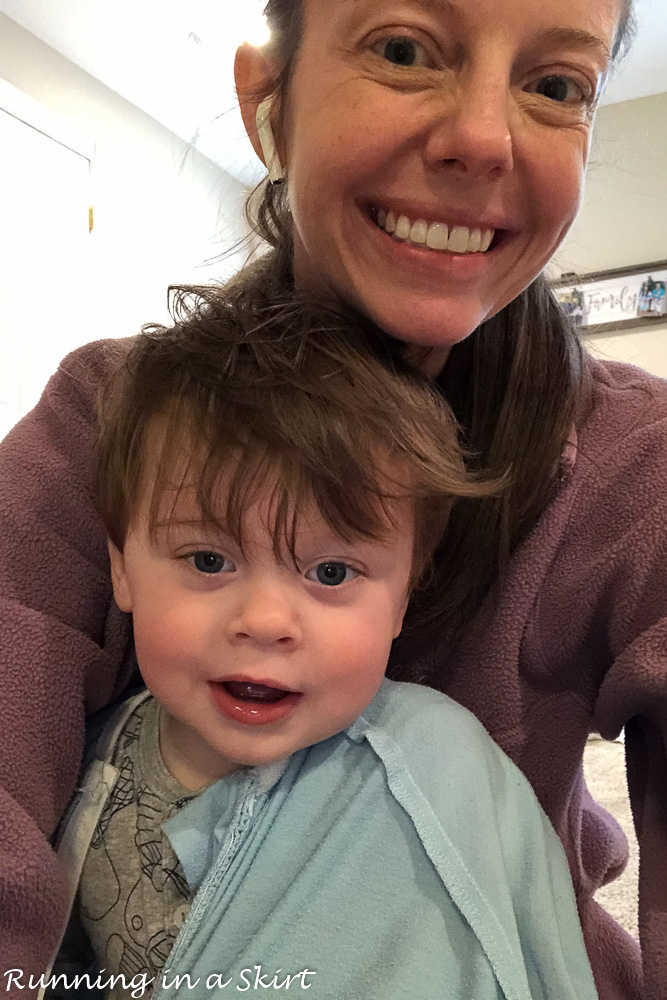 That's about it for this week! The days are starting to run together here.
I hope you are ok mentally and physically. It's been a week I never could have imagined and I'd really love to know how you are doing too. Let me know in the comments below.