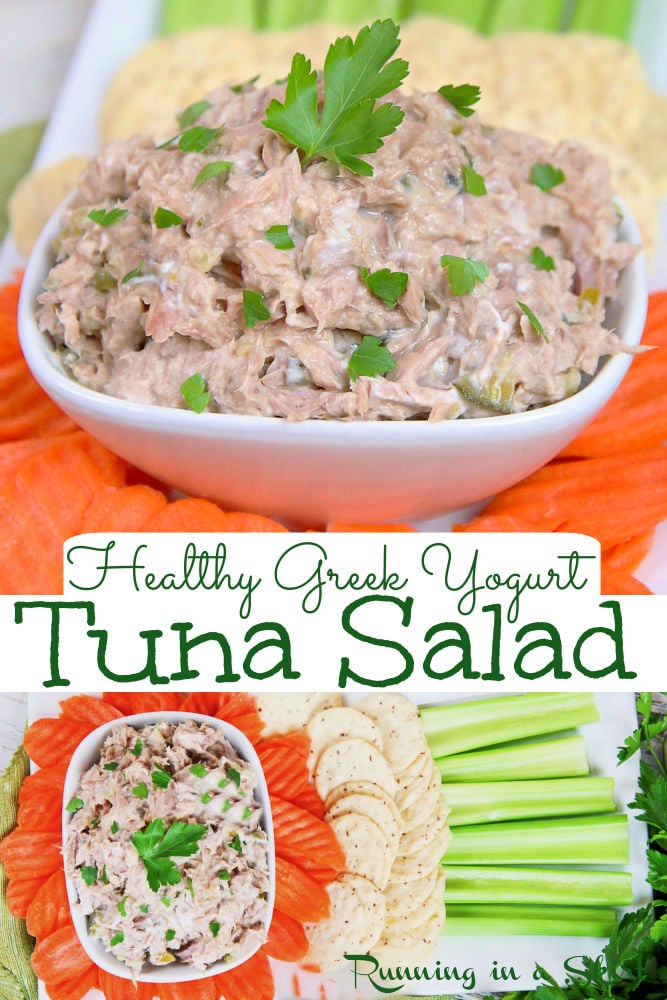 Tuna Salad with Greek Yogurt is a favorite low-cal and low-fat recipe in my house! I gave the classic version a makeover by taking out the mayonnaise (no mayo!) and adding plain yogurt. My 3 Ingredient Healthy Greek Yogurt Tuna Salad recipe is so delicious you'll never miss the fat.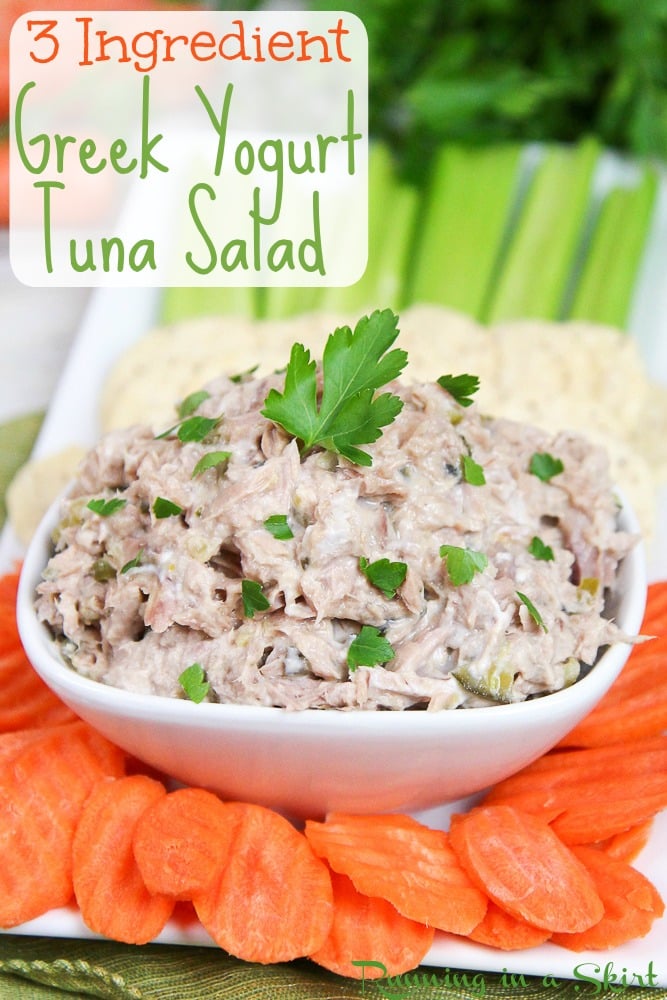 Tuna Salad with Greek Yogurt
It's easy to forget about the humble tuna salad. If you get it out it's often laced with too much mayo (or even Miracle Whip- yikes!) and not enough flavor. It can seem old school and plain ole' boring. My Tuna Salad with Greek Yogurt is nothing but boring though.
The traditional version of this recipe is often super high-calorie because of the added mayo but my version with greek yogurt actually makes a super healthy meal or snack.
With a few simple swaps, it's a dish to really remember. This 3 Ingredient Greek Yogurt Tuna Salad recipe is so tasty and healthy, it's sure to be a frequent visitor at your table. You are going to love the light and creamy lunch idea.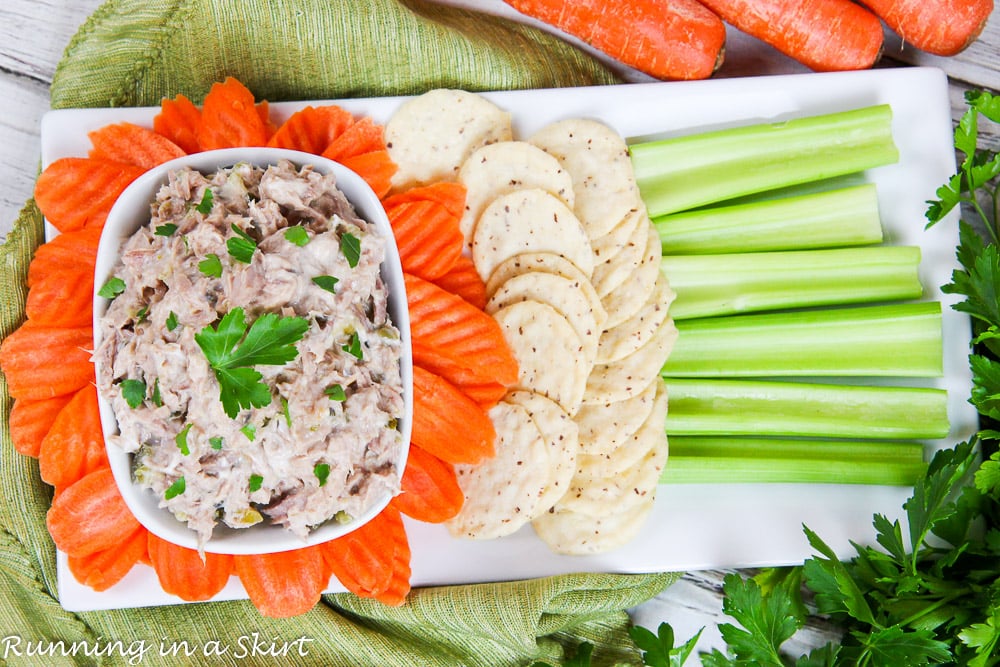 Can You Make Tuna Salad with Greek Yogurt?
YES! Greek Yogurt makes the perfect substitute for mayonnaise in tuna salad. My version uses greek yogurt and a great kitchen shortcut... pickle relish! It gives it just enough something-something to make it interesting. I'm a big pickle fan, so I add a lot but you can of course adjust that to your personal tastes. My grandmother taught me to use it and it stuck. I think it's a southern thing?
You can then add salt and pepper to taste or even a little celery salt if you'd like. It somehow comes out tasting very close to the real deal but better because it's lower in calories.
The way I make my Healthy Tuna Salad recipe it gets even more protein and probiotics from the Greek yogurt. It goes from being something indulgent to a dish that is completely healthy. Plus you have to love a recipe that's only THREE ingredients.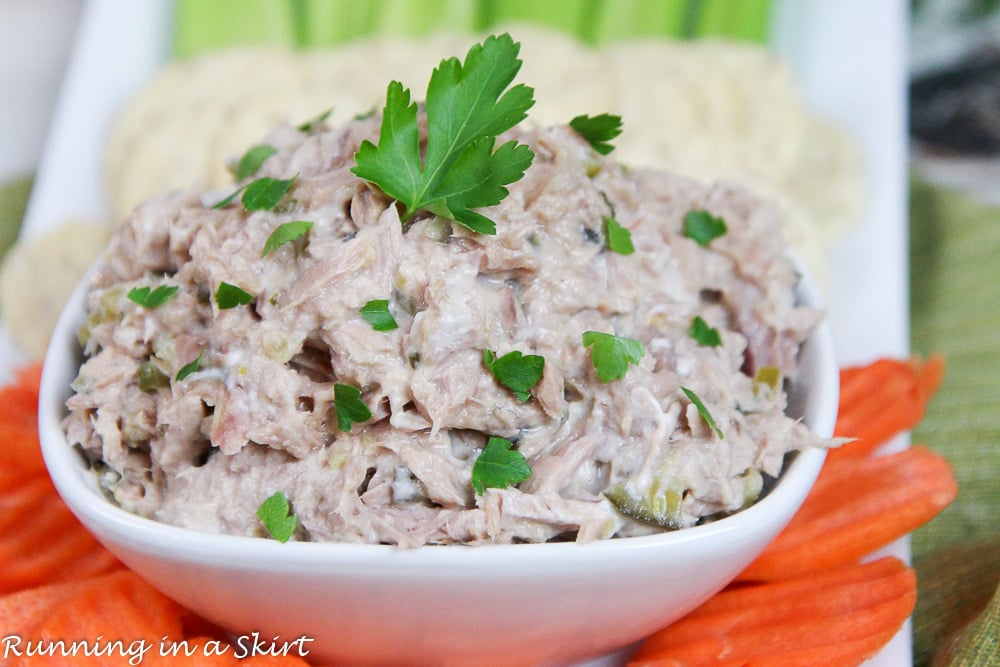 Ingredients in the Healthy Tuna Salad:
Canned Tuna: You can use your favorite type of canned tuna for this recipe. Albacore or Chunk Light will both work. I do like to tuna packed with water because it's healthier. You can also use the pouches of tuna without the water.
Plain Greek Yogurt: I like to use low-fat plain greek yogurt but full fat or whole milk greek yogurt will work depending on your dietary preferences.
Pickle Relish: Jarred pickle relish add just a bit of sweetness and bite to your tuna salad with greek yogurt.
Optional: I love a dash of celery salt in my tuna salad. It adds a bit of traditional Southern flavor to tuna salad.
Other Additions:
I love this basic recipe because it's so simple and only three ingredients BUT there are so many ways you can mix it up. Here are some yummy additions. Jazz it up even further with one or more of these.
Chopped Celery
Chopped Red Onion
Chopped Bell Pepper
Capers
Parsley
Diced Avocado
Diced Tomato
Dijon Mustard
Is canned tuna healthy?
Canned tuna in water really can be a great choice for a healthy meal in moderation (because of mercury) because a single serving is low in calories AND has nearly 16 grams of protein. As someone who eats mainly plant-based, I like having that burst of protein in my diet sometimes. If you are watching the levels of mercury in your seafood, chunk light has significantly less than albacore.
Is Greek Yogurt healthier than mayo?
Nonfat plain Greek yogurt has far fewer calories than mayo or sour cream but has a very similar consistency so it's a great substitute.
One cup of mayo can be up to 1600 calories and have over 24 grams of fat while one cup of greek yogurt is around 100 calories and has around 17 grams of protein.
This recipe will make you a believer!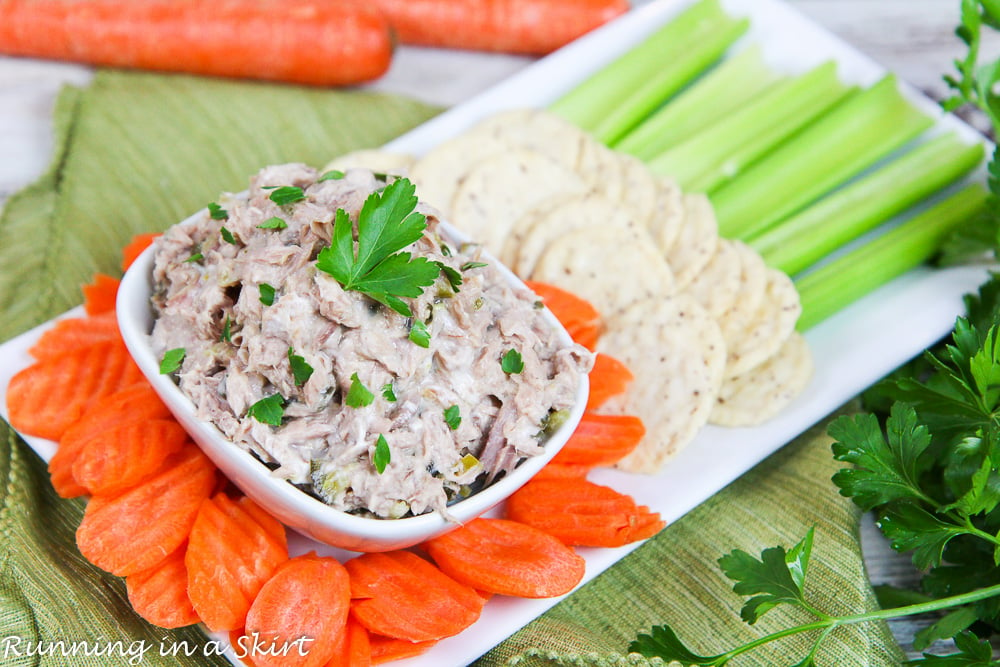 How to Make Tuna Salad with Greek Yogurt:
Open your canned tuna and drain out the water.
Stir in the plain greek yogurt and pickle relish.
Add celery salt, regular salt, and pepper to taste.
How to Serve the Salad:
With crisp veggies and crackers.
In a tuna wrap with a tortilla.
In a healthy tuna sandwich with whole-grain bread, dark-green lettuce, and a ripe summer tomato slice.
Serve it on toast with avocado slices on top.
Serve it on top of a big green leafy salad.
Stuff it into an avocado or tomato.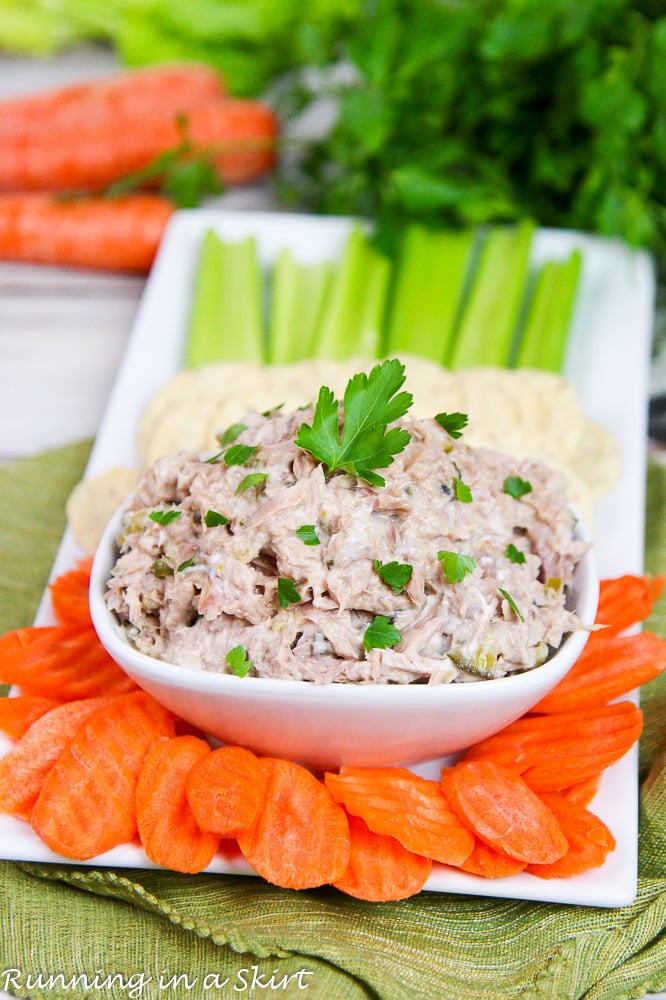 Frequently Asked Questions:
Can you freeze tuna salad?
Technically you could but the greek yogurt wouldn't keep its consistency so I'd suggest enjoying this healthy tuna salad within a few days of making it.
How long does tuna salad keep?
Tuna salad with greek yogurt can keep in an airtight container in the fridge for 3-4 days.
This is one of my favorite easy pescatarian meals. It's fast, inexpensive, and easy which is exactly what I'm looking for in my lunch most of the time.
My Tuna Salad with Greek Yogurt is the perfect way to enjoy this classic lunch! I hope you'll give it a try and let me know what you think.
Can't wait to try this 3 Ingredient Healthy Tuna Salad from Running in a Skirt!
Click To Tweet
More Recipes Using Greek Yogurt:
If you make this recipe, I'd love to hear what you think! Leave a comment and a star rating ★ below. Make sure to follow me on Instagram, Pinterest, and Facebook too!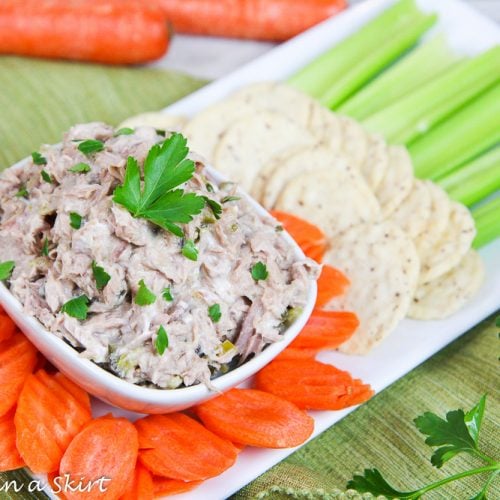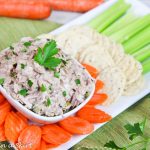 3 Ingredient Greek Yogurt Tuna Salad
You'll love this simple Tuna Salad with Greek Yogurt. Made with just 3 ingredients this Greek Yogurt Tuna salad is low cal and super healthy.
Ingredients
1

3 ounce

canned tuna

,

drained

1-2

tablespoons

greek yogurt

1-3

tablespoons

pickle relish

salt and pepper to taste

optional: celery salt
Instructions
Stir the tuna greek yogurt and pickle relish together in a bowl. I use 2 tablespoons to both greek yogurt and pickle relish but you can adjust the proportions to your taste buds.

Serve with crackers, carrots and celery!
Notes
The nutrition facts are calculated with 1 tablespoon of greek yogurt and pickle relish.  
This can store in the fridge for a few days.
Nutrition
Calories:
84
kcal
Carbohydrates:
2
g
Protein:
17
g
Fat:
1
g
Saturated Fat:
1
g
Cholesterol:
31
mg
Sodium:
294
mg
Potassium:
152
mg
Sugar:
1
g
Vitamin A:
48
IU
Calcium:
23
mg
Iron:
1
mg
Pin for later!