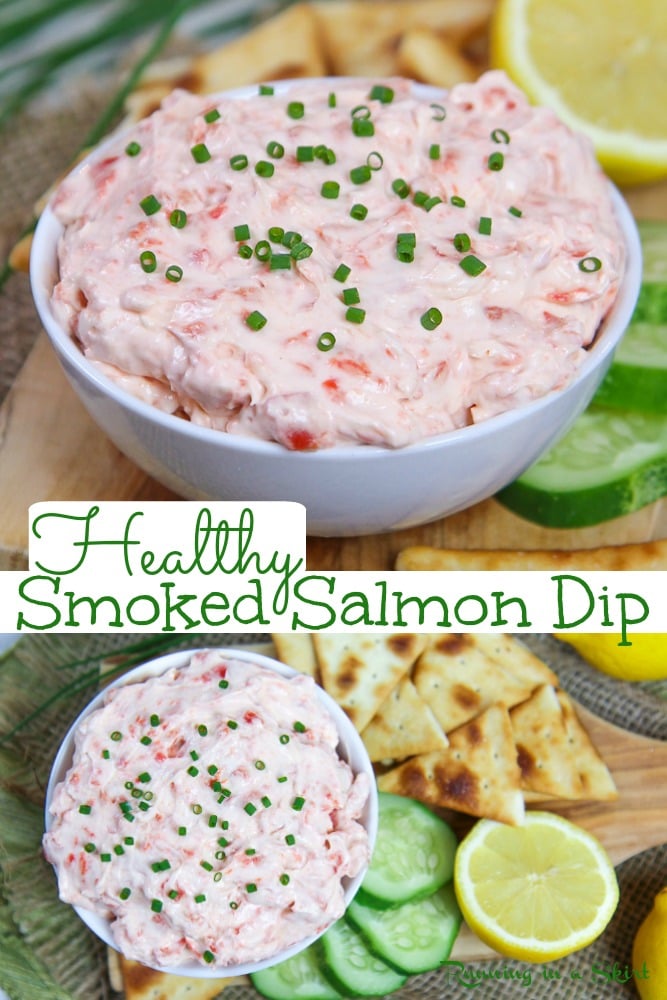 Healthy Smoked Salmon Dip: The perfect 5-minute healthy party dip or spread for any season! This creamy and yummy 5 ingredient Healthy Salmon Dip is lighter by swapping fat-free Greek yogurt for mayonnaise. It also features whipped cream cheese, lemon, and horseradish for an irresistible flavor that's perfect for a brunch dip or even on bagels.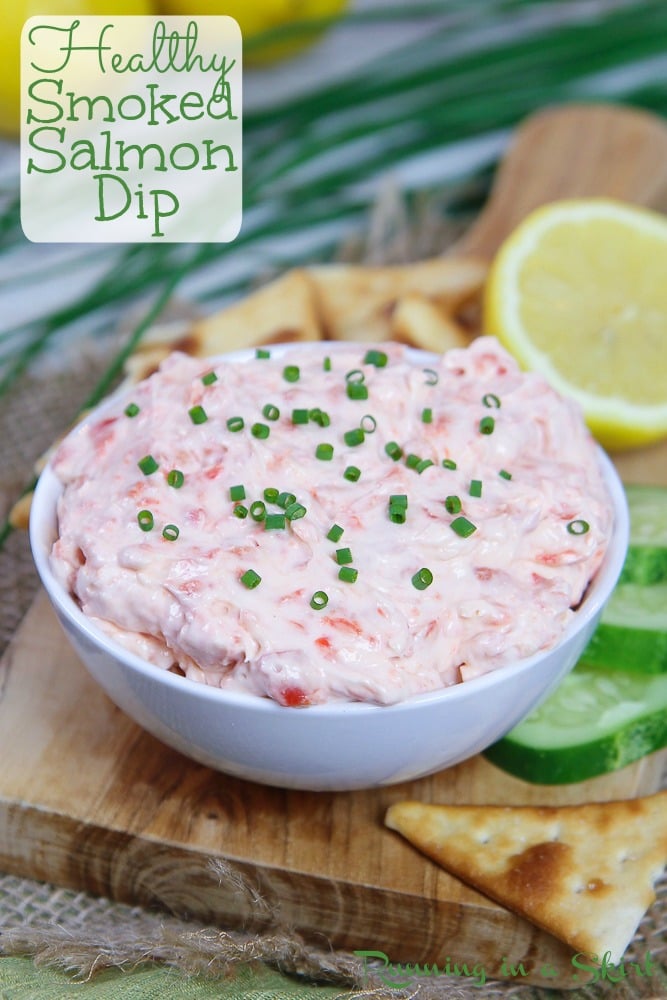 I'm a sucker for a good dip or party appetizer. Anything you can dip, dunk, or eat in one baby bite makes me happy. Of course, appetizers and dips are traditionally pretty unhealthy BUT I like to make some healthy swaps and come up with some better for you alternatives that we all can enjoy during the party season. And of course like all of my recipes they are simple, easy, AND DELICIOUS!
Healthy Salmon Dip
My Healthy Salmon Dip with smoked salmon is the perfect place to start. This super creamy Healthy Salmon Dip is made with just a few fresh ingredients including fresh smoked salmon, cream cheese, AND low-fat or fat-free Greek yogurt. I found the perfect mixture to lighten up this brunch or party favorite without sacrificing that creamy texture and taste you crave.
I labeled this recipe a dip but it also can easily work as a Healthy Smoked Salmon Spread for bagels, toast, or any brunch favorites. You could also easily make a snack style healthy lunch with this spread with sprouted seed crackers and some vegetables.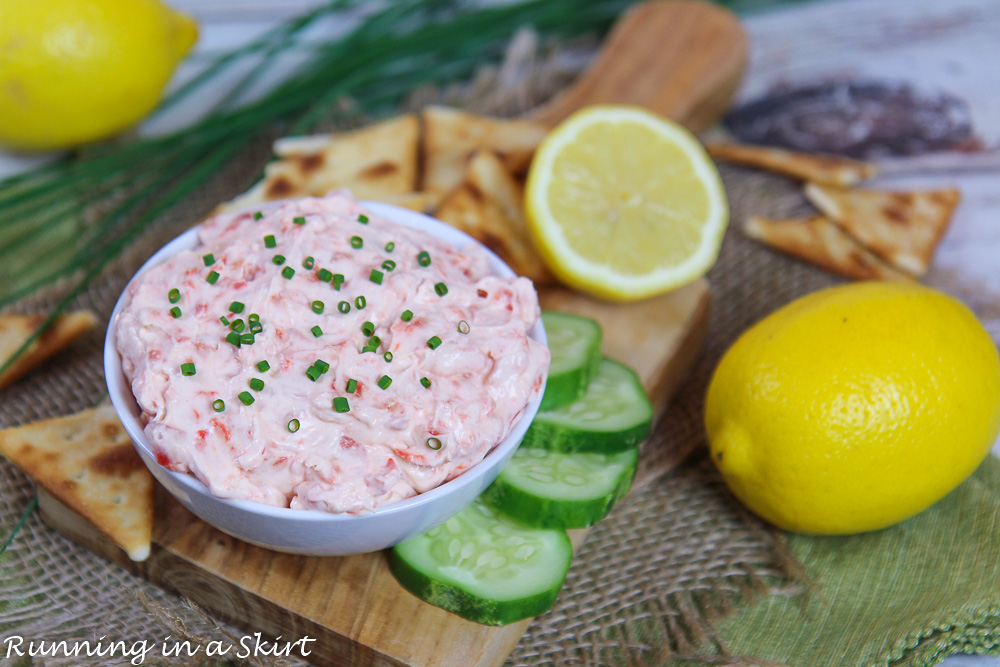 Why You'll Love this Healthy Smoked Salmon Dip...
This Healthy Smoked Salmon Dip is one you can LOVE because it's made in just FIVE minutes with just FIVE ingredients. You really can't beat a 5 in 5 recipes!
There are so many flavors you can add to Healthy Smoked Salmon Dip but I stuck with lemon and horseradish for mine. Both of these items are pantry staples for me and should be for you too. The lemon adds a bright zest to the healthy dip without adding calories and the horseradish gives you that seafood kick you love. It's an easy way to really add to the flavor profile!
You can make the salmon dip from smoked, canned, or fresh salmon but for mine, I used smoked salmon because it's easy to find and gives the dip that rich bagel-y flavor I love. I know you will too!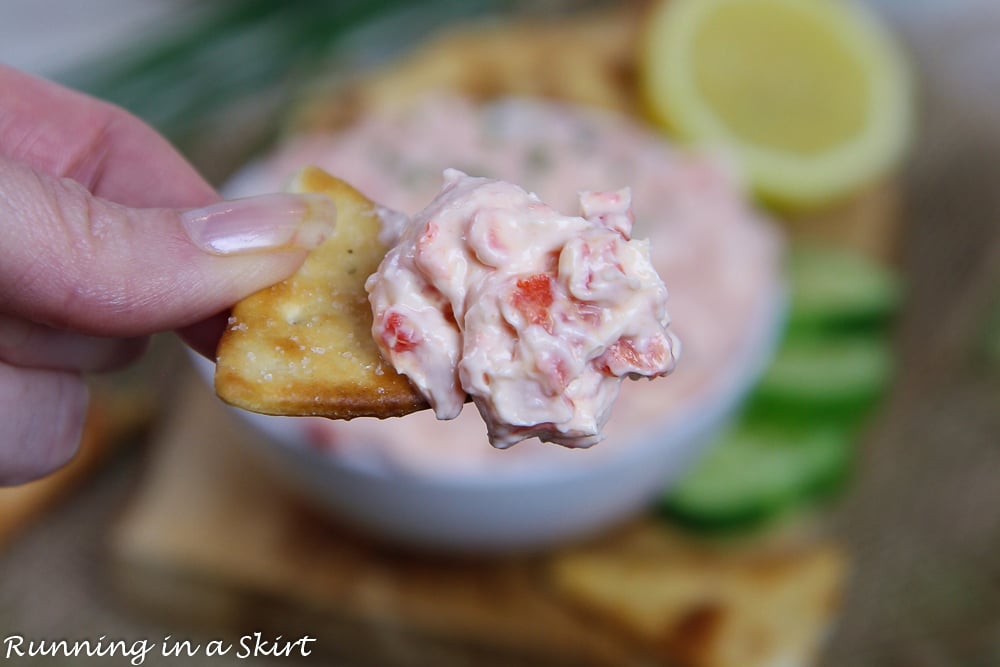 Ingredients in the Healthy Salmon Dip:
This Healthy Salmon Dip is only 5 ingredients most of which are pantry staples making this a great recipe to make when you need something delicious fast to take to a party.
Smoked Salmon: To make this dip as photographed you will want to find the cold-smoked salmon for this recipe that is traditionally the same orange or red color most salmon is. I added some variations using different kinds of salmon below.
Plain Greek Yogurt: Plain greek yogurt is the only choice for this recipe! You can use either low fat, fat-free or even full fat depending on your dietary preferences. The full fat will lead to a creamier Salmon Dip but it will have more calories. Fat-free yogurt will make the dip less creamy but it will be much lighter on calories.
Whipped Cream Cheese: You can use regular cream cheese for this BUT I love WHIPPED cream cheese for my dips. It leads to a much lighter finished product for my dips.
Horseradish: This slightly spicy and flavorful addition is my secret ingredient! It adds so much flavor and punch to my dip without a lot of fuss.
Lemon: Lemon is my other secret ingredient keeping my dip light and bright. I think lemon is a MUST for any seafood dip.
Salt to Taste
These simple ingredients come together perfectly for a healthy dip everyone will love.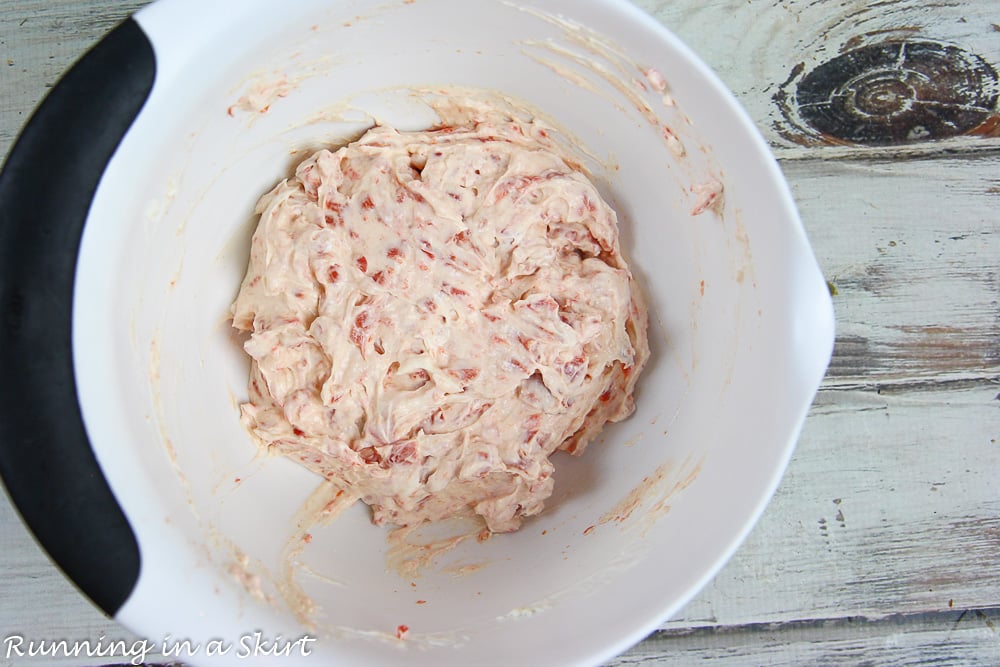 How to Make this Easy Dip:
This is the perfect dish to bring to a party or serve at one of your own at home.
Cut your smoked salmon into very small bites. You almost want to mince it.
Stir together all your ingredients. I like to use a plastic spatula to break down the smoked salmon into the cream cheese so the actual cheese and yogurt mixture starts turning pink like shown above.
Serve immediately or allow to chill in the fridge letting the flavors combine even further.
Serve with chips, crackers, crostini, carrots, cucumbers, or even as a spread on your favorite bagel!
You will love this classic dish for brunch time or party time. 🙂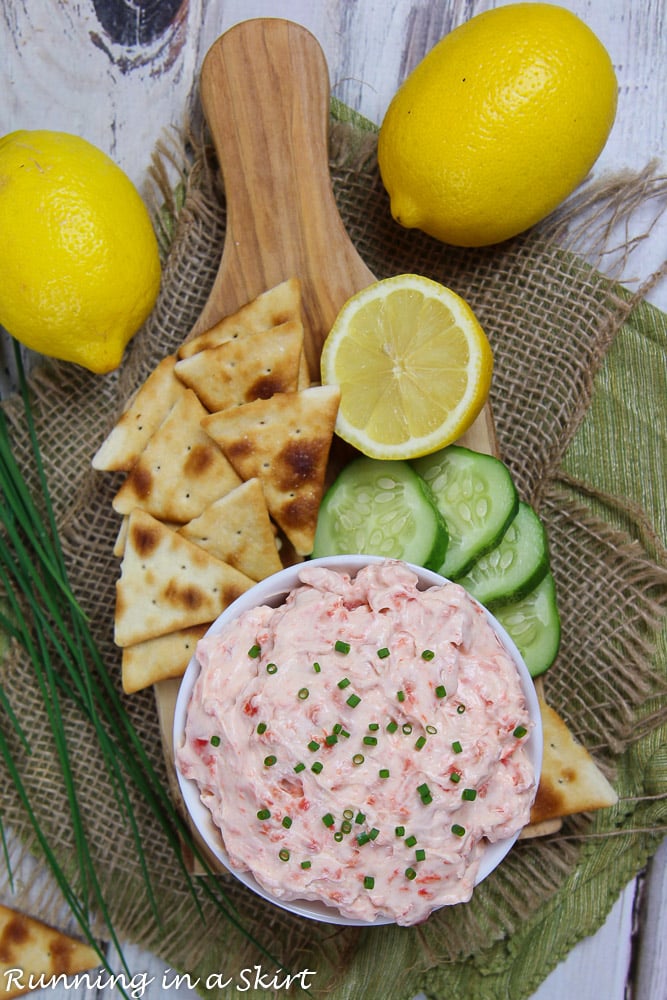 Variations & Questions
I used cold smoked salmon for my recipe BUT you can substitute hot smoked salmon, canned salmon, or even just cooked salmon. The texture and flavor will be different for all of those examples but the cream cheese and greek yogurt base is pretty forgiving. You can also substitute any other smoked fish you like including trout!
Other delicious additions to this recipe would be chives, dill, Worchester, and capers! If you'd like some heat to add your favorite hot sauce.
If you don't want to hand mix the dip you can pull out a mixer or food processor. <---Amazon Affiliate Link
How Long Does Smoked Salmon Dip Last in the Fridge?
Cold Smoked Salmon doesn't have a long shelf life so this recipe should be enjoyed within just two days of making it. Store it in an airtight container in the fridge. If you substitute hot smoked salmon (which is more traditionally cooked) you can save it for up to five days.
Can I Freeze A Smoked Salmon Spread?
Technically you can but the texture of this might not be the same after you do. I would enjoy this dip within a day or two of making it.
Can I Eat Smoked Salmon Straight from the Packet?
If you aren't too familiar with buying cold-smoked salmon like this you might be wondering if it's safe to eat right out of the package. It is and doesn't need to be cooked before eating. Cold smoked salmon goes through a special process with cooks it without heat and it is safe to eat.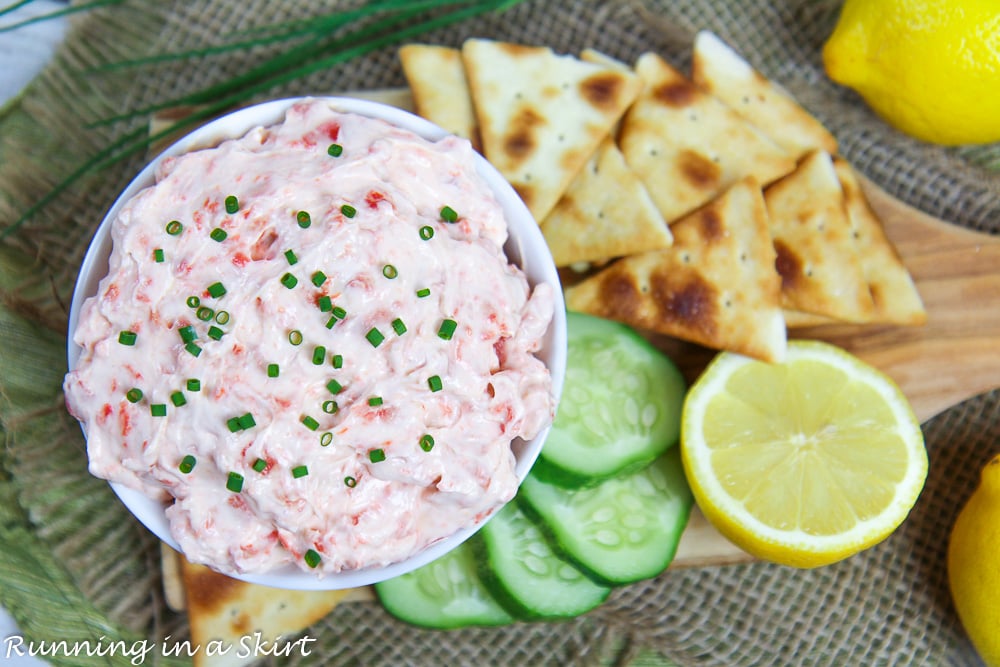 This Healthy Smoked Salmon Dip truly feels indulgent but it's actually good for you! The salmon is full of Omega-3's and protein and the greek yogurt has protein AND probiotics. This simple little five-ingredient recipe is one you'll find yourself whipping up again and again.
I hope you love it as much as I do!
More Healthy Dip Recipes to Love:
If you make this recipe, I'd love to hear what you think! Leave a comment and a star rating ★ below. Make sure to follow me on Instagram, Pinterest, and Facebook too!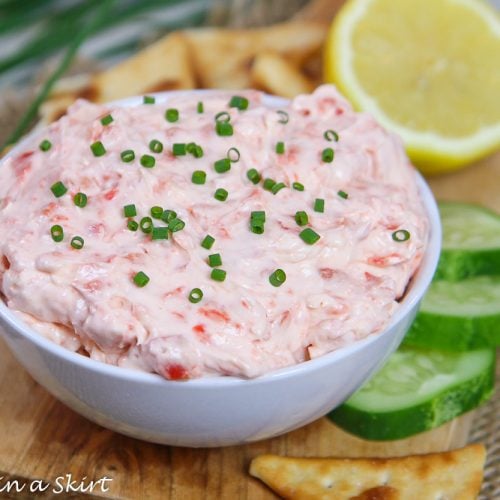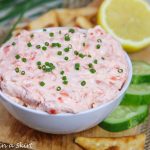 Healthy Smoked Salmon Dip
Healthy Smoked Salmon Dip: The perfect 5 minute healthy party dip or spread for any season!  This creamy and yummy 5 ingredient Healthy Salmon Dip is lighter by swapping fat free greek yogurt for mayonnaise.  It also features whipped cream cheese, lemon and horseradish for an irresistible flavor that's perfect for a brunch dip or even on bagels.
Ingredients
6

ounces

smoked salmon

,

minced

8

ounces

plain whipped cream cheese

½

cup

plain greek yogurt

1

tablespoon

horseradish

1

lemon,

juiced
Instructions
Put all the ingredients in a bowl and mix well. Use a plastic spatula to break the salmon down into the cream cheese mixture.

Serve with your favorite crackers, vegetables or even as a spread on a bagel.
Notes
Store in an airtight container in the fridge for up to two days.  The dip may be a bit hard when you pull it out of the fridge.  Allow warm up just a touch and stir it again to loosen it up.
Other great additions to this recipe are capers, dill, chives, minced red onion, or Worchester sauce. 
Nutrition
Calories:
125
kcal
Carbohydrates:
6
g
Protein:
10
g
Fat:
7
g
Saturated Fat:
4
g
Cholesterol:
28
mg
Sodium:
417
mg
Potassium:
197
mg
Fiber:
1
g
Sugar:
3
g
Vitamin A:
233
IU
Vitamin C:
10
mg
Calcium:
82
mg
Iron:
1
mg
Pin for Later