Yes, you can love running! Here are 101 reasons to run.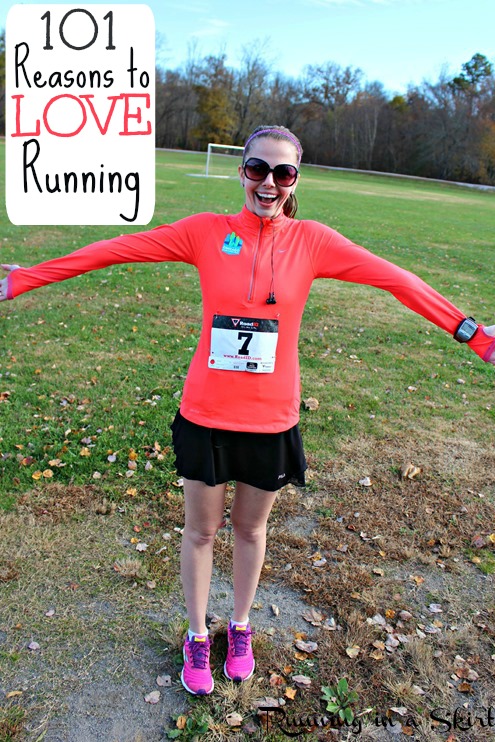 Hi friends!
I've been thinking about how this little blog started a lot lately and how it's morphed into what it is. I find such joy in sharing a variety of posts these days and the fact that Running in a Skirt is more of an online healthy living magazine for you... not just about me. I've poured my heart and soul into making that happen. BUT I do have parts of me that miss the days where I talked more about my first true fitness and blogging love... running.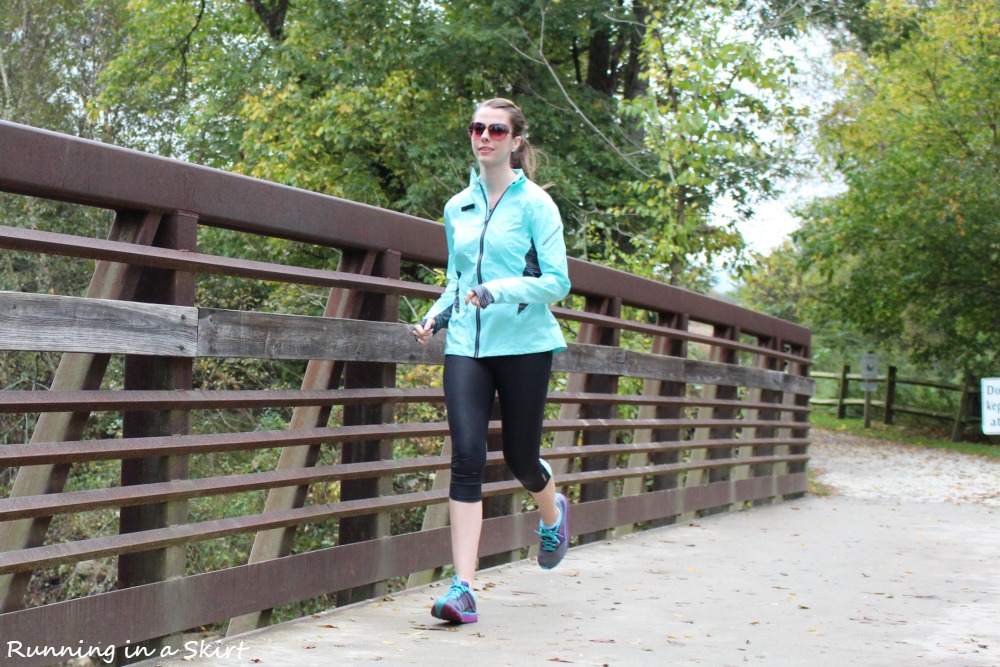 Once upon a time, I wrote about things like 18 mile runs and training for big races. Although I'm taking a break from longer distance running, it doesn't mean that I don't still truly enjoy running just as much as I did back then. Honestly I probably love it even more because running has been a part of my life for so long at this point. I'm running just to run these days and there is such joy in that.
Running is simply a big part of who I am. I make time for my miles every week, even if I don't talk about it as much or are training for anything specific.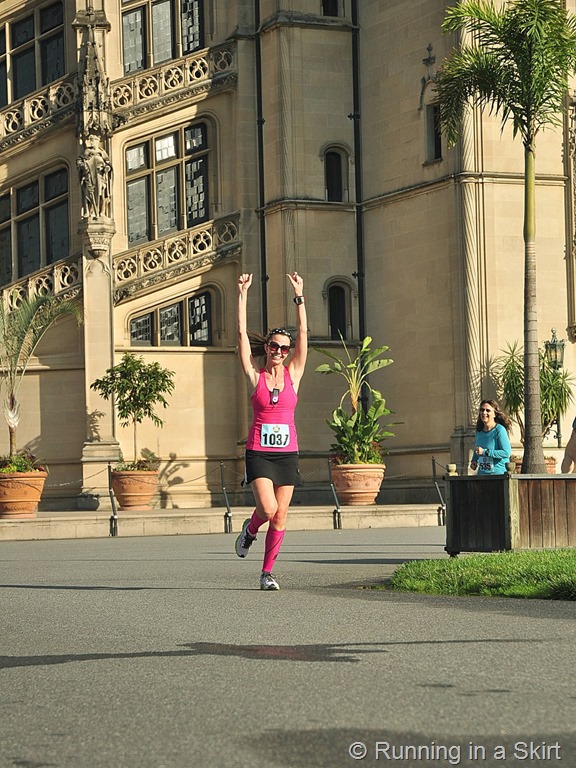 So I thought I'd go back to the roots of Running in a Skirt and share some of my favorite reasons I love to run. I came up with 101... but honestly I could probably come up with 1000. Running is just that awesome.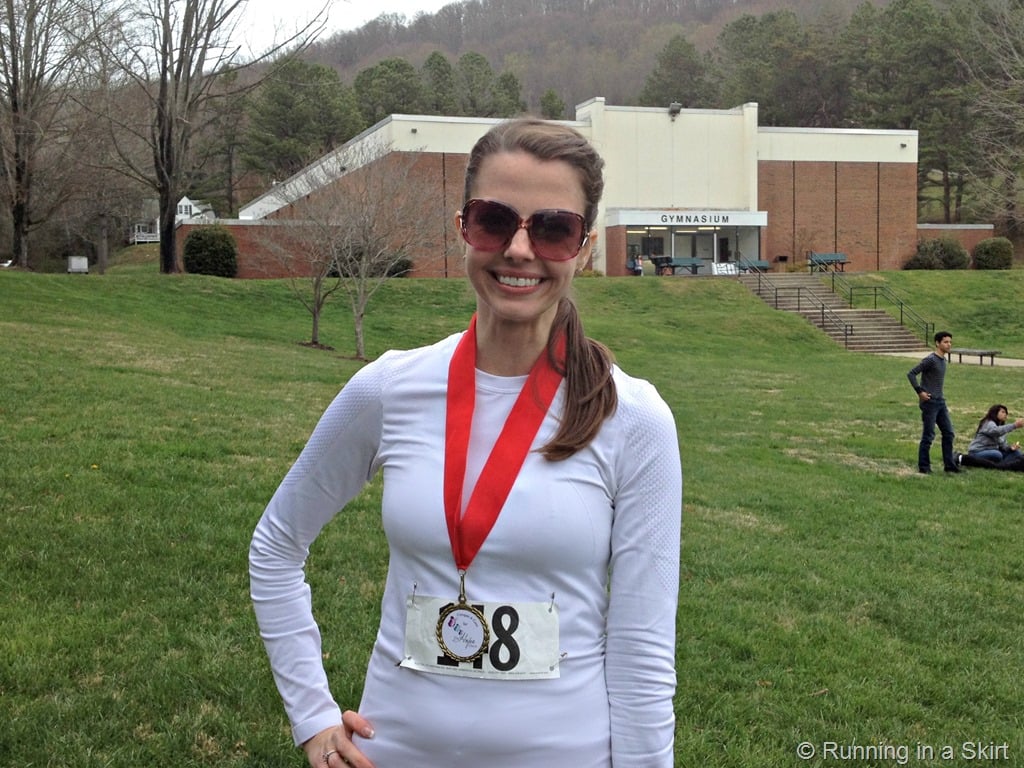 Hopefully this will inspire you whether you're already a runner or have just been thinking about giving it a try.
[fusion_builder_container hundred_percent="yes" overflow="visible"][fusion_builder_row][fusion_builder_column type="1_1" background_position="left top" background_color="" border_size="" border_color="" border_style="solid" spacing="yes" background_image="" background_repeat="no-repeat" padding="" margin_top="0px" margin_bottom="0px" class="" id="" animation_type="" animation_speed="0.3" animation_direction="left" hide_on_mobile="no" center_content="no" min_height="none"]Need some running inspiration? Here are 101 Reasons to LOVE #running #run #fitfluential Click To Tweet
101 Reasons to Run
When you finally hit that runners high.
Days where it feels like you can run forever.
Running teaches you that sometimes things feel impossible, yet somehow you do it.
The days you feel like you CAN'T finish your run, but somehow you do.
The familiar feeling on your favorite running path.
Running along the first blooms of spring.
Getting stuck outside running in a flurry, but you realize you really aren't that cold.
New running shoes.
Participation medals.
Marathons.
Running skirts.
Coordinating running outfits.
It's an exercise you can do anywhere.
Sightseeing through running.
Running alone.
Running with friends.
Finding a new to you running route.
Trying trail running for the first time.
Falling in love with trail running.
Finding running friends who want to talk about running as much as you do
Running blogs.
Running your crazy out.
Training plans.
Running stores.
Running the same race several years in a row and actually getting better each year.
Running without music.
Running with music.
Knowing that you've got all your steps by 8 am.
Knowing you really don't have to feel guilty about eating ice cream.
Run-ger.
Getting your ME time.
Because you didn't quit.
Because running clears your mind.
All the blog posts ideas you can come up with while running.
That time you pass someone who looks faster than you.
Your first double digit run.
Spending four months training for one race.
The super awesome people who volunteer to hand out water at a race.
How running teaches you to keep moving forward, even when it feels too hard.
Running increases self esteem.
Running is a natural anti-depressant.
Running reduces stress.
The discipline running gives you.
Encouraging your running friends who are training for races.
Those moments in a run where you just feel like life is wonderful.
Being able to run away from your problems, even for just 30 minutes.
Being sore after a long run.
Not being sore after a long run.
Learning to cross train and do yoga.
Being able to run off a crappy day.
Running makes you feel strong.
Running can humble you.
The look on peoples faces when you tell them how far you ran today.
Foam rolling.
Because it is NOT bad for you knees.
Because it can get you in the best shape of your life.
The camaraderie at races.
Because running like a girl is good thing.
Endorphins.
It's cheaper than therapy.
You have more energy.
Running increases your metabolism.
Meeting someone who has run the same big city race as you have.
Being able to enjoy sunny days where the sky is so blue it almost glows.
The first cool morning of fall where you feel like you can run forever.
The hottest run of the summer where you think you can't sweat anymore.
Figuring out a fueling and hydration plan that works for you.
When you get a cute race t-shirt.
Running makes you healthier.
The day you realize you are a runner and always will be.
When you finally get a friend or loved one to try running too.
The feeling you get at the top of a giant hill you just conquered.
Running is always an adventure.
The time running gives you to sort out all the thoughts in your head.
Running gives you strong legs and a strong heart.
Running through hard times, helps you through hard times in life.
The times running gives you the feeling that you can do anything.
Running rocks! Here's 101 Reasons to LOVE it! #runchat #running #fitfluential #run #sweatpink
Click To Tweet
Soooo... basically running rocks! If you are a runner, I'm pretty sure you're nodding your head these and have a few more of your own to add. If you aren't a runner, what are you waiting for! Give it a try. Start with this post here---> How to Start Running And after that get some inspiration with my ultimate list of tips and tricks for runners here!
Like this? I'd love it if you could pin this to your favorite Pinterest board!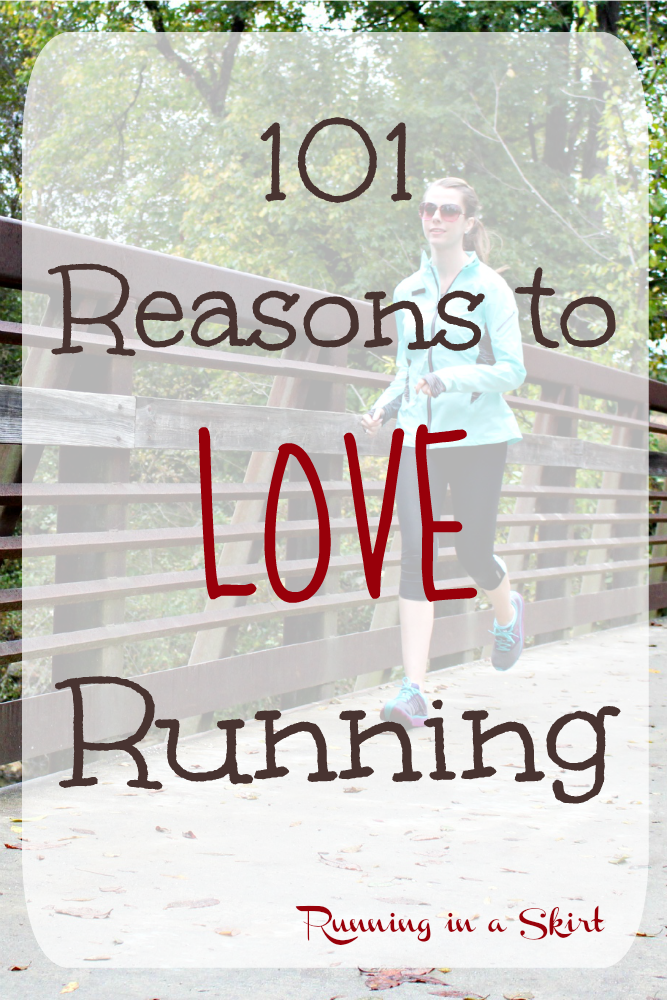 Need some running inspiration? Here are 101 Reasons to LOVE #running #run #fitfluential
Click To Tweet
Thanks for stopping by today and indulging me in my running list! See you tomorrow for a easy and delicious Crock Pot Red Pepper Soup!
I'm linking this post with Marvelous Monday, Jill Conyers for Fitness Friday & Inspired to be Fit, Amanda for Thinking Out Loud Thursday, Coaches Corner, and Annmarie for Wild Workout Wednesday.
Your turn!
Help me out! Add more reasons you love running to the list![/fusion_builder_column][/fusion_builder_row][/fusion_builder_container]