Hello from windy & cold Chicago! We've had a fun couple of days getting ready for the big event tomorrow.
We arrived Friday morning before sunrise. The early direct flight from the Asheville airport is awesome and makes this such a quick trip. I highly recommend it.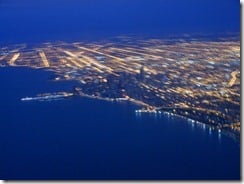 Well, hello tall buildings!
After we landed in Chicago, we made our way downtown to the Chicago Hilton. We had a light breakfast and decided to take advantage of our Friday arrival by going to the marathon expo early. That was a great idea because we beat the crowds. We got right on the bus heading to the expo—no wait! We later saw the lines for this bus go around the building,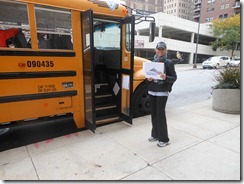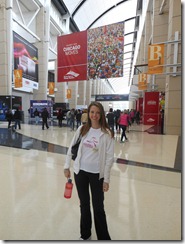 We finally made it to the expo!
It all seems so real now!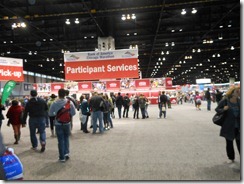 There were three things you had to do at the expo. Get your race bib, get your timing chip activated and pick up your race shirt and goodie bag. The process
was quick and pretty exciting.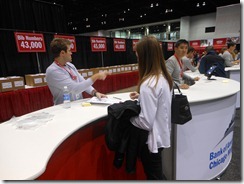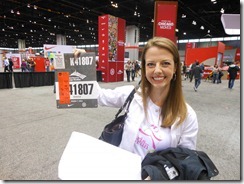 My race bib for the Chicago Marathon! woop!
After you did the mandatory stuff, there were isles and isles of entertainment for all of us crazy runners.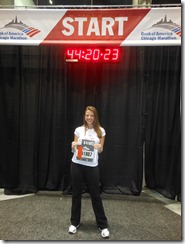 Take a cheesy picture in front of a fake start line?
Sure, why not?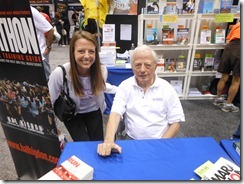 Meet Hal Higdon!
Hi Hal, I'm sorry I sounded like a stumbling, silly girl when I met you.
I was star struck! Thanks for the picture and advice.
His advice—don't start too fast!
You probably remember I am running the marathon as a SoleMate to support WNC Girls on the Run program. Chicago has the same program and they were kind enough to include me in the their pre and post race activities! I met their director, Charlotte Schultz, and was very impressed with their program. She said they had 230 SoleMates. So cool. I hope all the Chicago Solemates do awesome. I'm looking forward to meeting some more of them tomorrow.
And by the way, it's not too late to donate. Click on my donations page to make a secure credit card donation!
http://www.active.com/donate/solemateswnc11-12/JulieWunder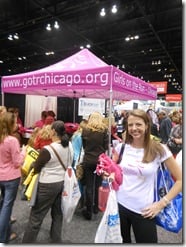 Those are pink shirts for my "cheer squad"
My husband is going to look great in that…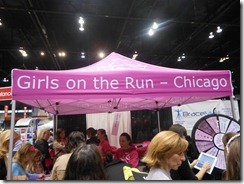 We tried to not spend too much time at the expo because it's important to not wear yourself out in the days before the marathon. It's a hard thing to do because I really wanted to explore the city!
After the expo we made it back to the hotel and got our room. Can you believe this view? We didn't book a special or view room so this was quite a treat. So amazing!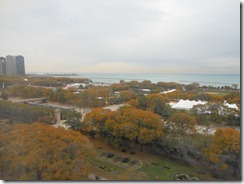 For dinner we tried to find something local and Chicago themed… but we got distracted by this.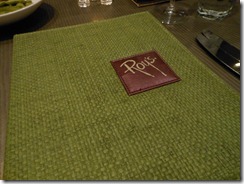 Roy's is a chain straight out of Hawaii. There are not a ton of them, so it's awesome to find one. We ate at one when we visited The Big Island on our first trip to Hawaii. Since we got married in Hawaii almost a year ago, anything Hawaii themed is close to our heart. We couldn't resist. It was a crazy good meal and was worth every penny!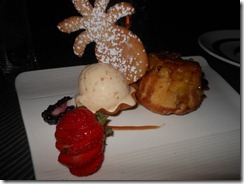 Yes, Hawaiian Pineapple Upside Down cake is the perfect prerace food!
Don't judge.
This morning we walked around the city a little and checked out some of the
sights.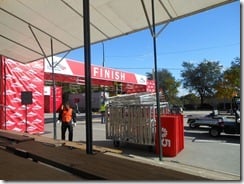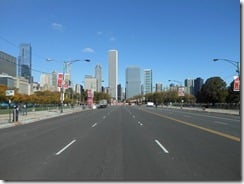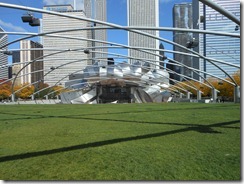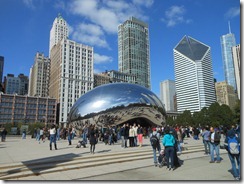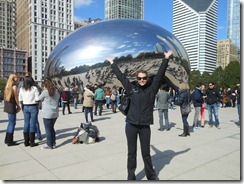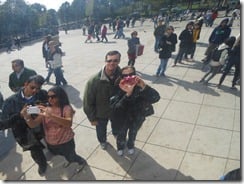 Chicago, so far I love you! You are a clean beautiful city with so much to offer. I can't wait for the tour of all tours tomorrow—running 26.2 miles of your streets!
We will be heading off to a pasta/ carb heavy dinner soon. Thank you all for the well wishes, advice, and kind words. I'll keep them all in mind tomorrow during the race.[/fusion_builder_column][/fusion_builder_row][/fusion_builder_container]