Oh my goodness! There are only two days between now and the marathon! For the longest time it was this crazy thing that was so far off on the calendar. But now it's very real and it's time to get ready to go to Chicago. I can't believe it's finally here. It's been a very busy week getting ready for the race. Between packing, playlists, posters and last minute craft projects, my days have been full.
I've been worried about packing for the race, so I laid out all of my running stuff earlier in the week. I am so afraid I'm going to forget something critical! At least I'll have my running outfit and running shoes. I guess the rest of it is secondary. The good thing is I can't bring a bunch of fancy shoes on this trip because heels and running don't mix. My extra shoes always weigh down my bags—the hubs will be thrilled!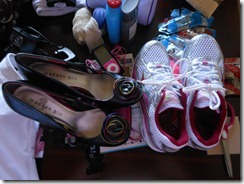 I'll catch you on the flip side cute heels!
It's running shoes and flats for me all weekend
I ran my last three miles before the marathon on Tuesday. I took a week off during the taper period to give my strained muscle a little rest. It's been so hard not to run and to not focus on the injury, but at least the 3 mile run didn't seem to make it worse. I'm fairly confident I will have sore hips during the race, but hopefully it will not be any worse than my 18 or 20 miler.
I spent yesterday afternoon making my Chicago Marathon Playlist! 5 hours of country, pop, rock and musicals. I tried to find a good mix of songs with a fast beat and powerful messages to pull me though. I have to admit it's a pretty random assortment of music. But I love it!
A 5 hour playlist takes FOREVER to make!
I am really good at making more work for myself when I'm already busy… so it's no surprise that I came up with a little craft project for myself. This morning I ironed my name onto the front of my shirt and my blog logo on the back. Yes, cheesy I know, but I'm a cheesy sort of girl.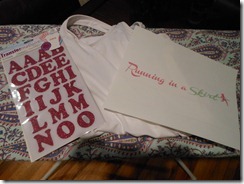 Pink glitter letters?
Yes, please!
My best friend Sarah, who lives in Pittsburgh, had a little craft day of her own. She's coming to Chicago with her husband to cheer me on… and look what she came up with. Best signs ever.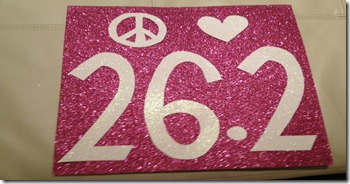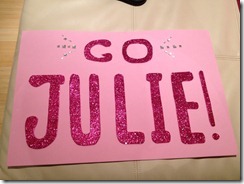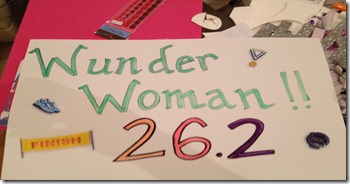 She knows me so well.
More pink glitter.
In between all these shenanigans I've been trying to get enough sleep, eat well and drink two Nalgene bottles of water a day. It is after all - almost time to run!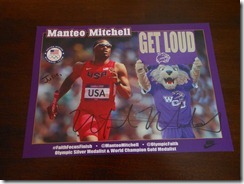 I got this signed picture and some advice from
Olympic Silver Medalist Manteo Mitchell at work today!
Talk about a good luck charm!
The next update will be from the Chicago Marathon 2012!![/fusion_builder_column][/fusion_builder_row][/fusion_builder_container]