I did something completely out of character for me this past weekend. I made a last minute decision to run what may be the final Bele Chere 5K. Yes, I did something spontaneous! I have been itching to do a race since I had to pull out of the Frostbite 10K last February. I just wanted to really feel like a runner again

I ran the Bele Chere 5K twice in my first couple years of running and always enjoyed the big race that closed off streets through the heart of our downtown. A "big" race for Asheville is about 1,200 people. The festival around the race is being cancelled due to lack of city funds, so the race, will probably not happen again. I suspect organizers will put something else together, but with the festival gone, it will not be the same. I did not want to miss out on running the last one.
I knew I wasn't in real racing shape and really hadn't trained for the race. But I have consistently been running 3 miles several times a week and I was positive I could finish the race running. And most of the time that is a victory alone!
So I put on my one of my favorite summer racing outfits…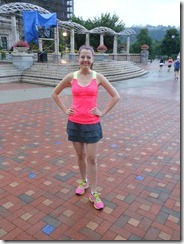 Yellow and pink tank- Avia -Marshalls
Grey "swagger skirt" – Athleta
Pink Mizuno Wave Precision – They stopped making these… boo!
My lucky pink running headband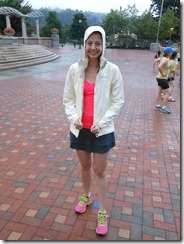 And… My rain coat. Yup- it was raining. It stormed all night and continued to rain in the morning. I tried to stay a little dry before gun time. My dad was in town and was kind enough to wake up for the early race and carry a giant umbrella and take some pictures for me.
I looked at the radar before we left the car and there was a giant cell heading straight for downtown. I knew it was coming, but I didn't know exactly what it would do to my race.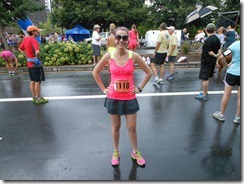 I stood in the middle of the pack waiting to move up to the start line.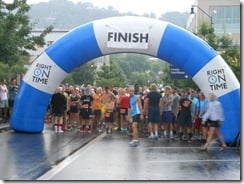 And we are off!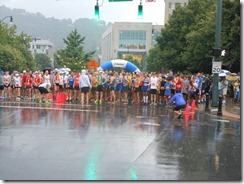 Just as the gun fired it started to POUR! I usually avoid running outside in inclement weather (hello treadmill!) and had never before run in rain this heavy. In the 19 races I've run I have run in cold, heat, fog and light rain but nothing like this! At first it was a little shocking, but after you were drenched it didn't matter as much.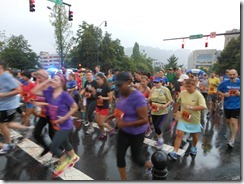 I did struggle with my wet and heavy shoes. There were huge puddles everywhere. People started joking that this was going to end up like a mud run. I also ended up with water pouring down my face so badly that I almost had a contact wash out of my eye. I had to blink it back into place. I saw people all around me stop running and a few even looked like they were going to quit.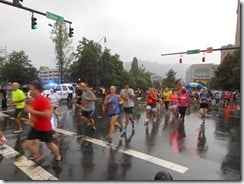 Mile 1 was fast. Too fast. Despite the downpour, I felt pumped to be back in the game. It was pouring so hard though that I could hardly even see my pace watch. Pace- 9:10. It felt mainly downhill and smooth. I had no idea how fast I could really run so I didn't have any set goal paces.
Mile 2 was probably a better goal pace for me considering I'm coming back after an extended illness and surgery. Pace- 9:52! Hello hills!
Mile 3 was hard. The wet shoes and clothes started feeling yucky. The hills also started to feel brutal. I believe we were coming back up from the smooth downhill in mile 1. On the downhill bursts in Mile 3 I started to worry I was going to slip if I pushed too hard. 10:21- DOH!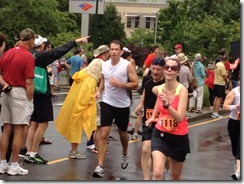 Last .10 – MORE UPHILL! Uphill finishes to races are hard! I gritted to get past the finish line! Pace, 9:26
Chip time: 30:05!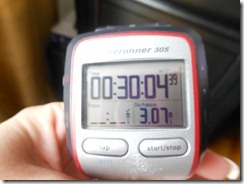 Couldn't I have at least pulled another 5 seconds out of my legs to break 30 minutes??!! Aw man!!!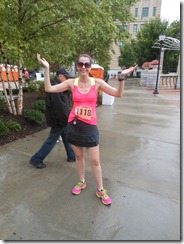 Oh well.
I was DRENCHED!!!!!!!
Considering the circumstances, I think it actually went pretty well. It was only June 17th that I posted about my first run back after surgery. I knew I had to go into it remembering I'm just getting back into shape and my time wasn't going to be where I was before. I knew a PR wasn't going to happen (My 5K PR is 27:22) so it was about having a good time. Mission accomplished; I was so happy to just be able to run a race. A month ago I would not have even been able to finish this race running.
There are two minor victories and race accomplishments though….
My previous times for this race (different course) were 31:16 in 2009 and 31:17 in 2010. SO…. 30:05 is actually a Bele Chere 5K PR!
AND… remember how in this post I wrote that my short term running goal was to run 3 miles in under 30 minutes? Well, according to my GPS I hit the 3 mile mark at 29:22!! BOO-YA!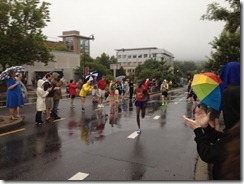 Maybe one day I'll look a little more like the winner finishing this race! He looks fierce!
--------------------------------------------------------------------------------
QUESTIONS:
HAVE YOU EVER SIGNED UP FOR A RACE LAST MINUTE?
HAVE YOU EVER RUN A RACE IN THE POURING RAIN?
WHAT'S YOUR FAVORITE RACE?[/fusion_builder_column][/fusion_builder_row][/fusion_builder_container]