Got 2 days in Rome? Here's how to hit the highlights!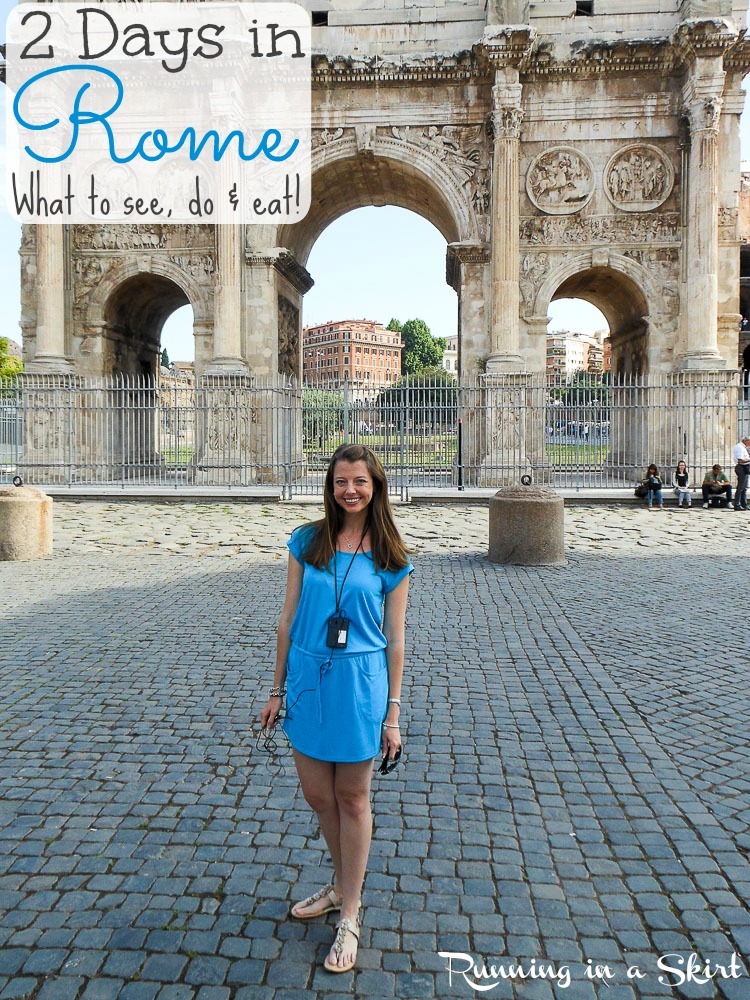 Hi everyone!
The last leg of my Italy trip took me to Rome, which was marvelous. We just had 2 days in Rome, but made the most of it! Here are the highlights...
Just joining me? Start with 2 Days in Venice, Cinque Terre in May, Tuscany and Florence.
2 Days in Rome
Even though we are so excited to visit Rome, we linger on through the morning in Tuscany. It is almost too beautiful to leave. By late morning we break the trance Tuscany has over us and drive the Fiat to the train station in Rome. We quickly learn about the famous Rome traffic and after a bunch of confusion over returning the rental car, we take a taxi to our hotel. The rental car drama leaves us so tired that we scrap plans for a fancy dinner and walk to a nearby pizzeria. The hotel sends us to a very authentic place with thin, crispy and mouthwatering brick oven pizza. It turns out to be the best pizza we have ever eaten! But, we are so tired that I don't even take a picture of it!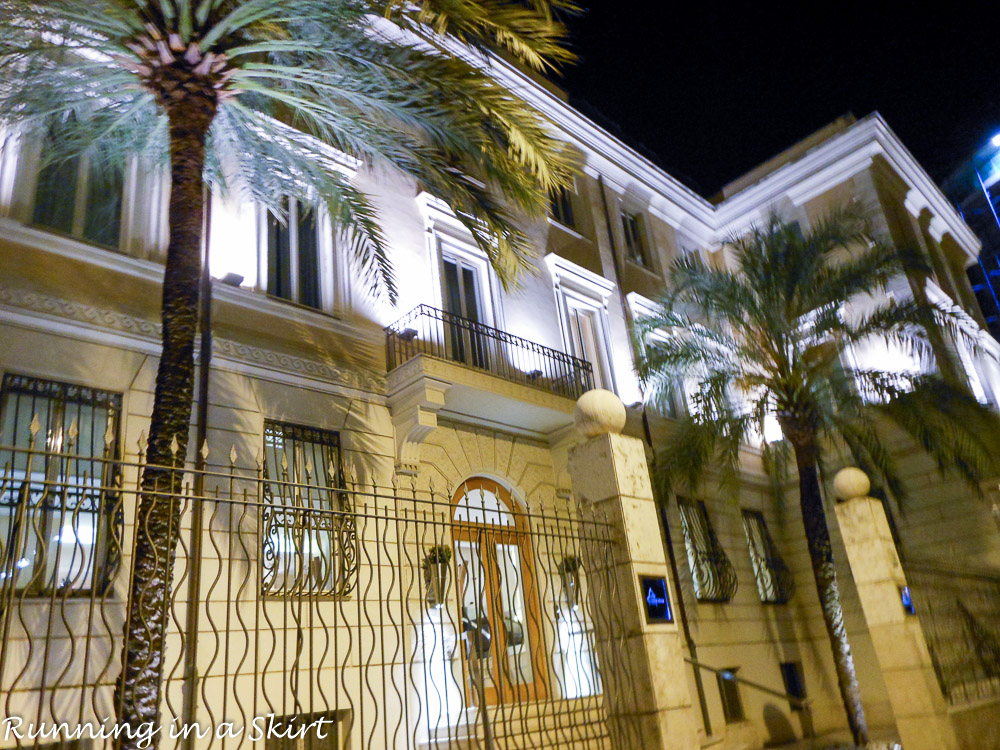 Day 1 of 2 Days in Rome
After a good nights rest we are ready to face the hustle and bustle of Rome. We eat breakfast on the rooftop of our hotel with a view of the coliseum and these animated pigeons which I find strangely amusing. The hubs says I'm easily entertained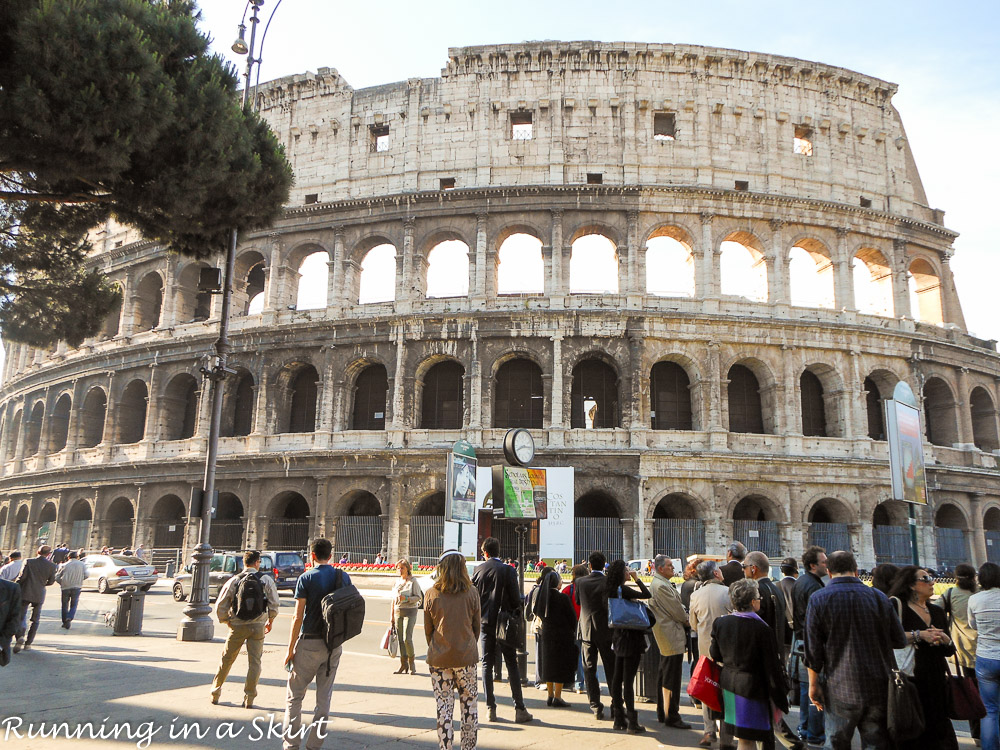 We quickly learn survival in Rome means to be alert, walk quickly and don't assume cars will stop for you even if you have the right away! Those crazy little FAST Vespa's are everywhere and will run you over. I honestly don't love huge urban cities so I get a little intimidated, but the sites we start seeing win me over. Once we see this in person, I am sold on this place.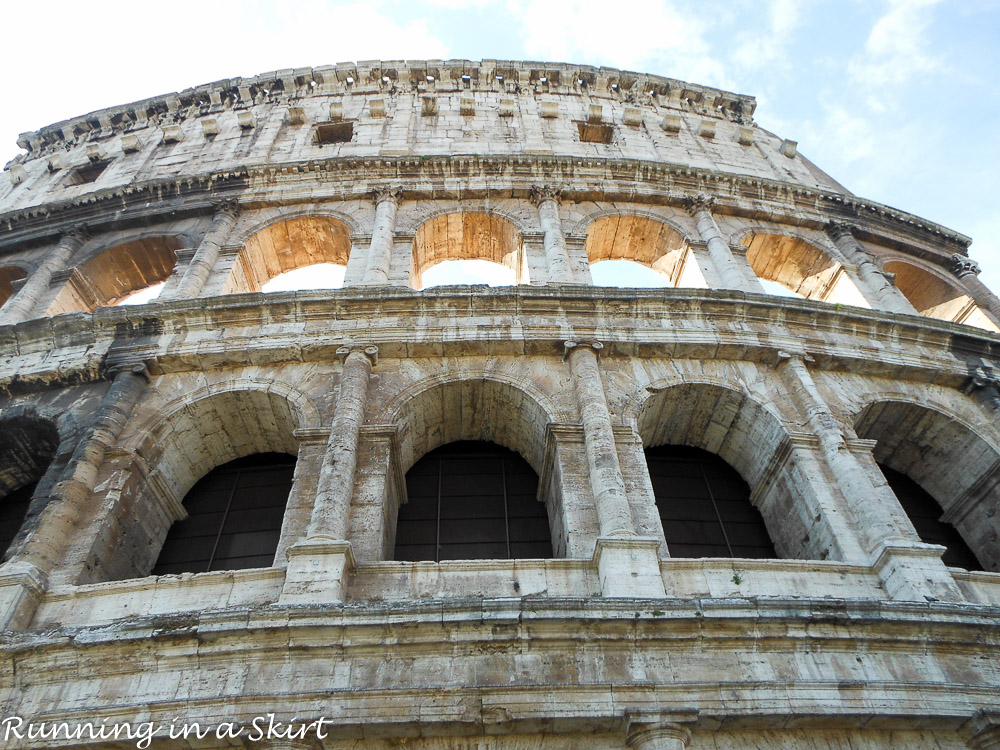 Our early morning small group tour meets right in front of the Coliseum. The plan is to end our tour by going inside, but I can't resist snapping those first images.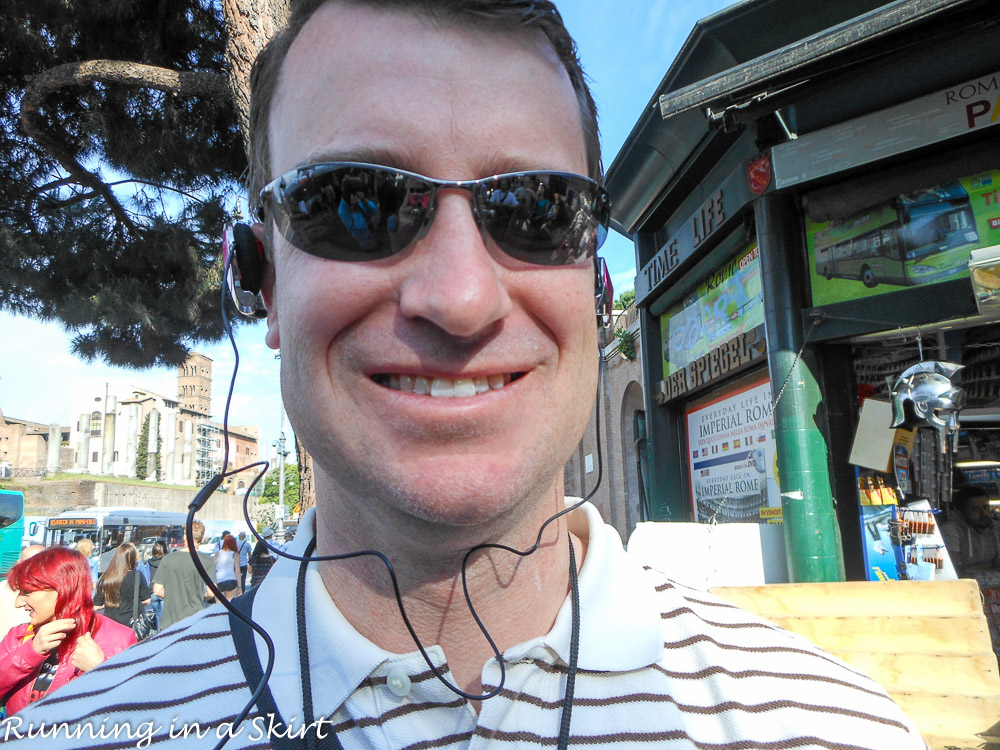 The tour guide is once again amazing and he weaves the stories of the Roman empire through the rise of Christianity and into the modern world. It is simply astonishing that these sights still stand today.
The iconic Arch of Constantine, in the shadow of the Coliseum is one of my favorites.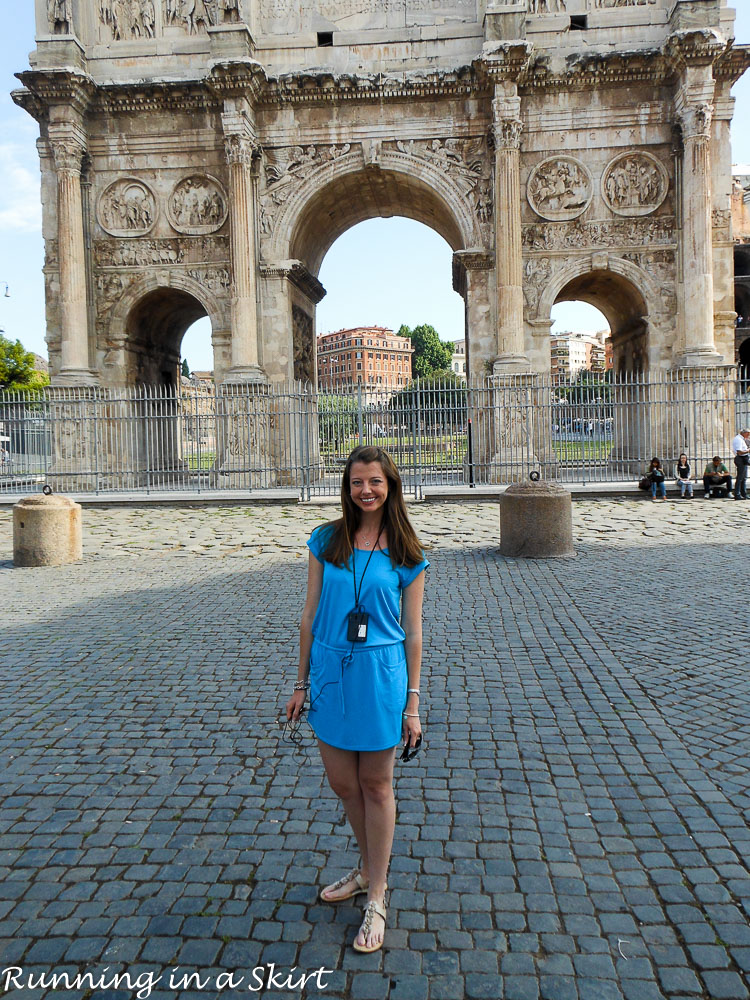 Christmas card pic, maybe? We only got a handful of ones of us together on the whole trip!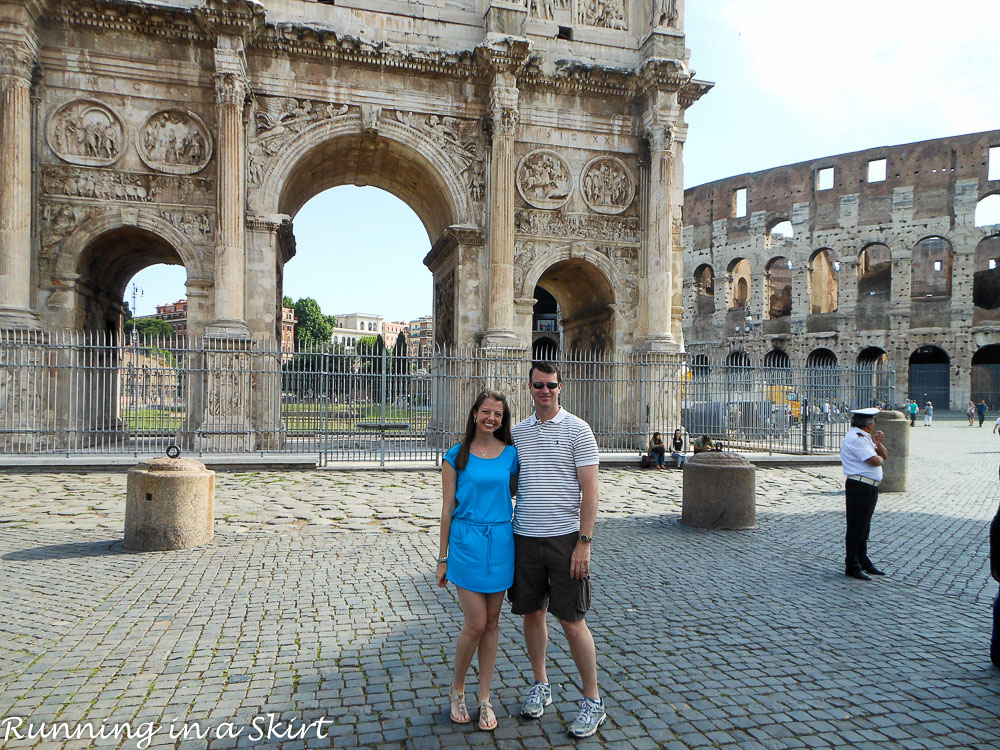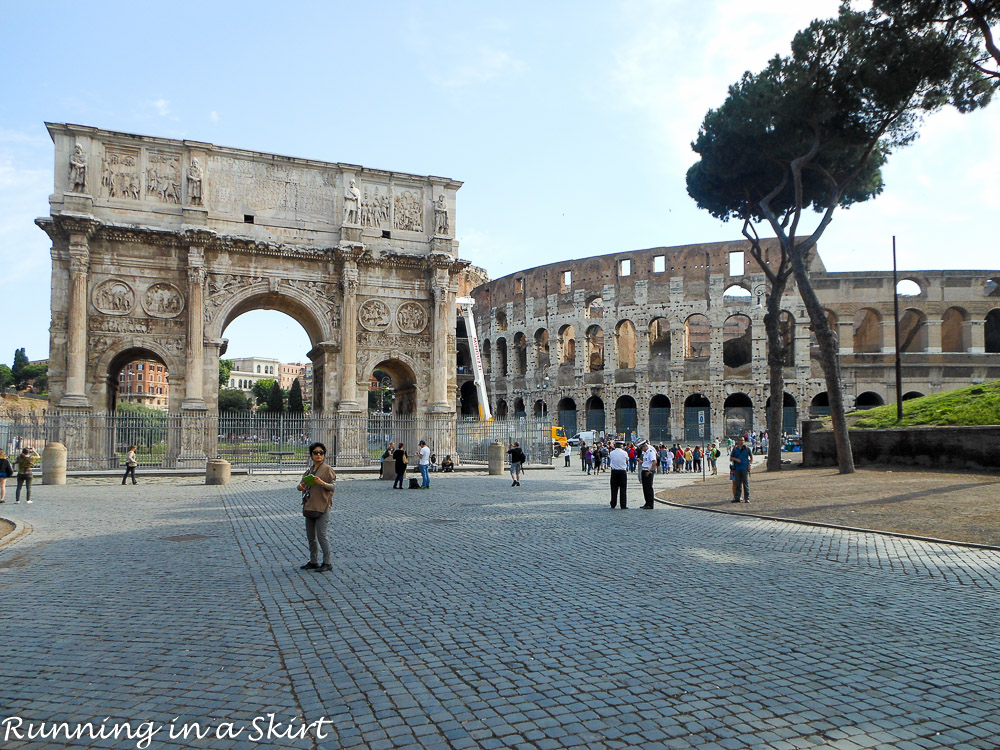 Next stop is the Roman Forum.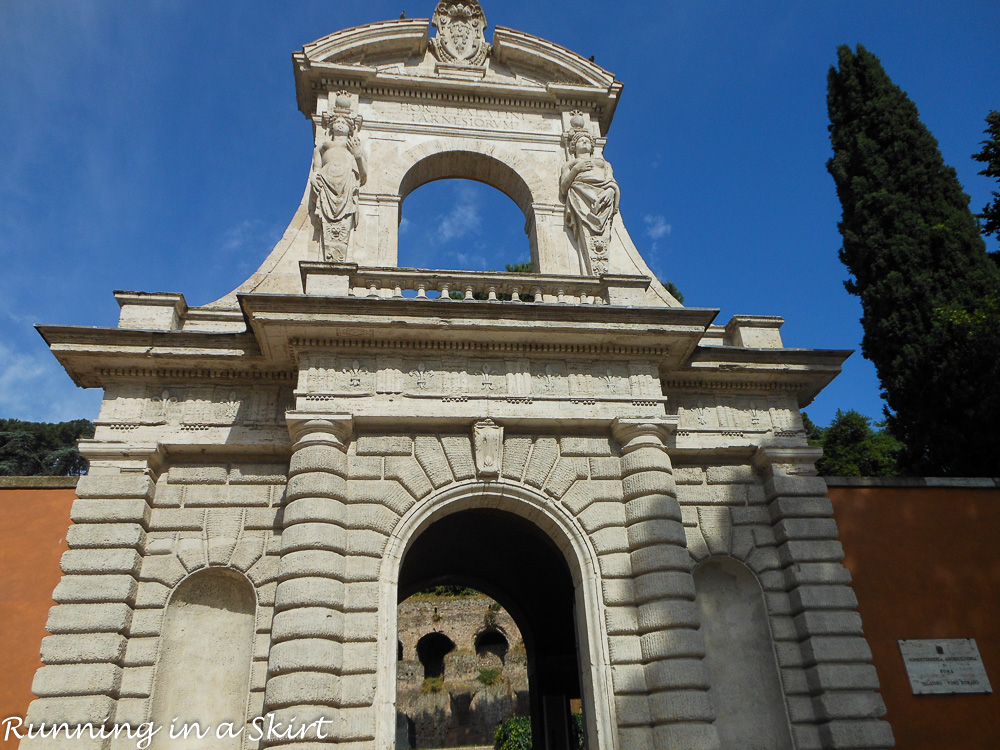 The Forum was the heart of the Roman Empire. This is where all of the most important buildings in the empire used to sit.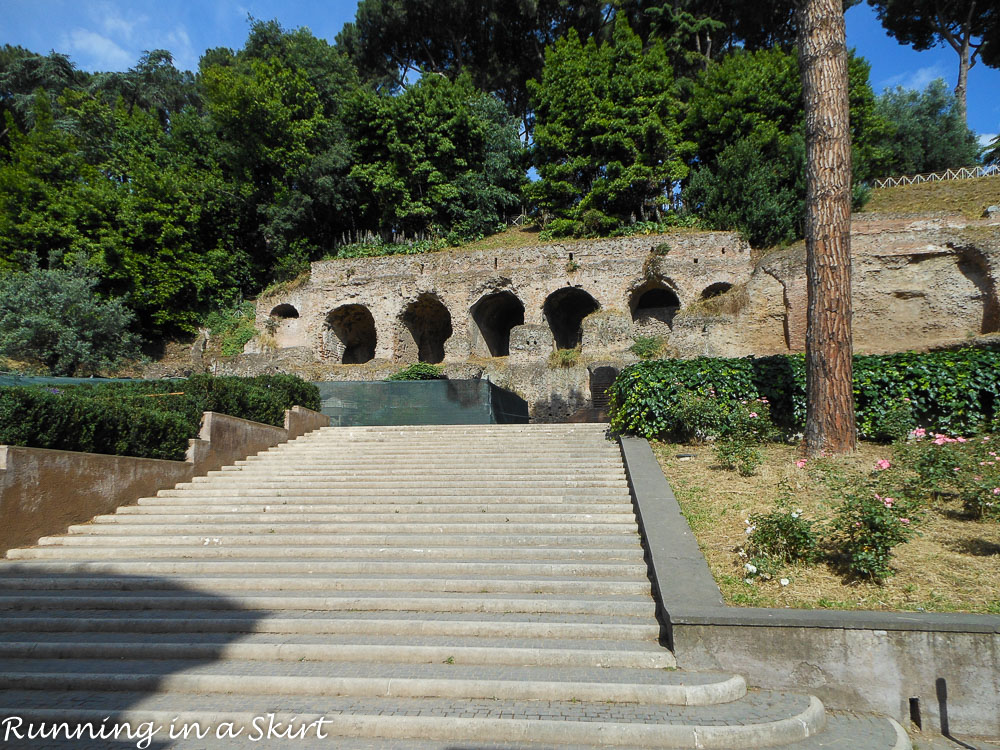 Even though what is left is basically rubble, you can squint and almost imagine the grand scale of these buildings.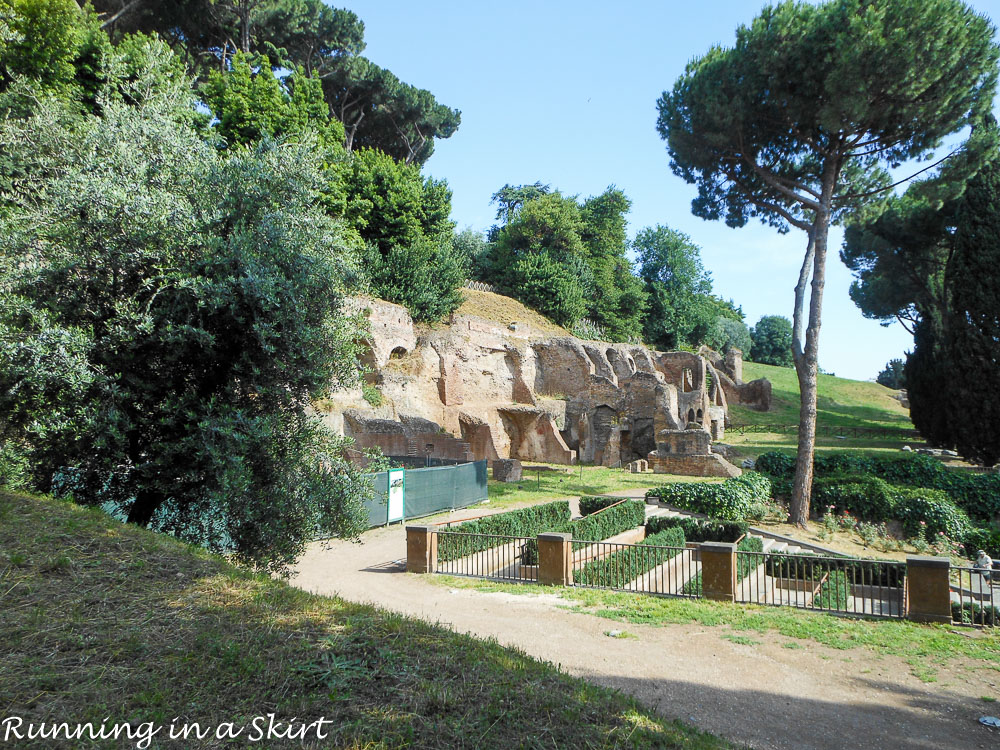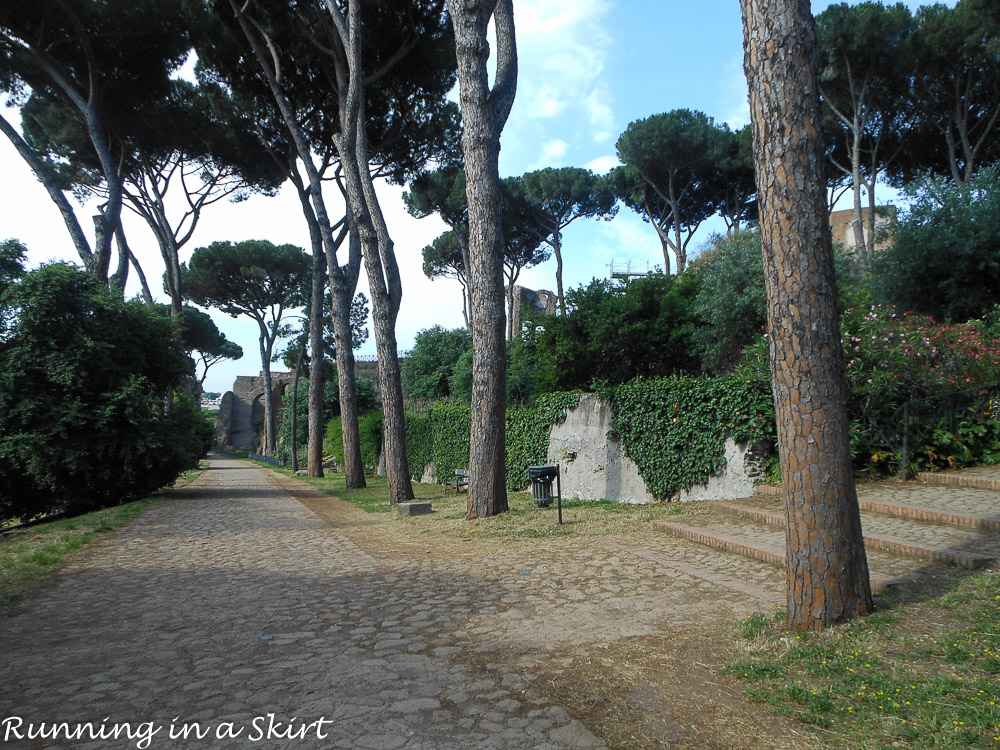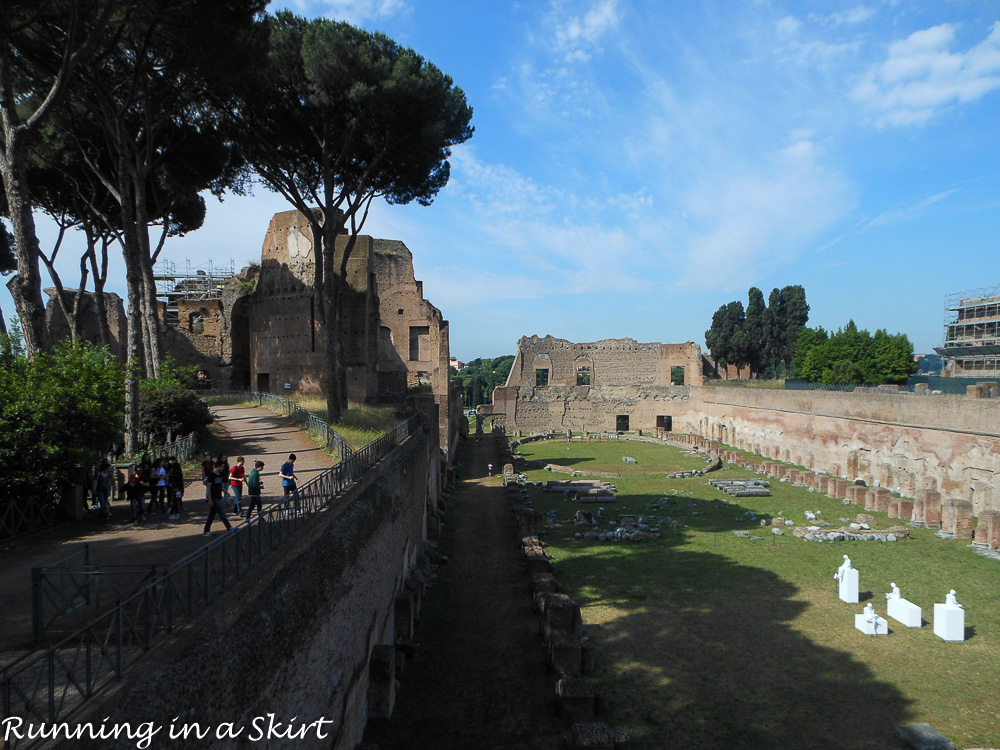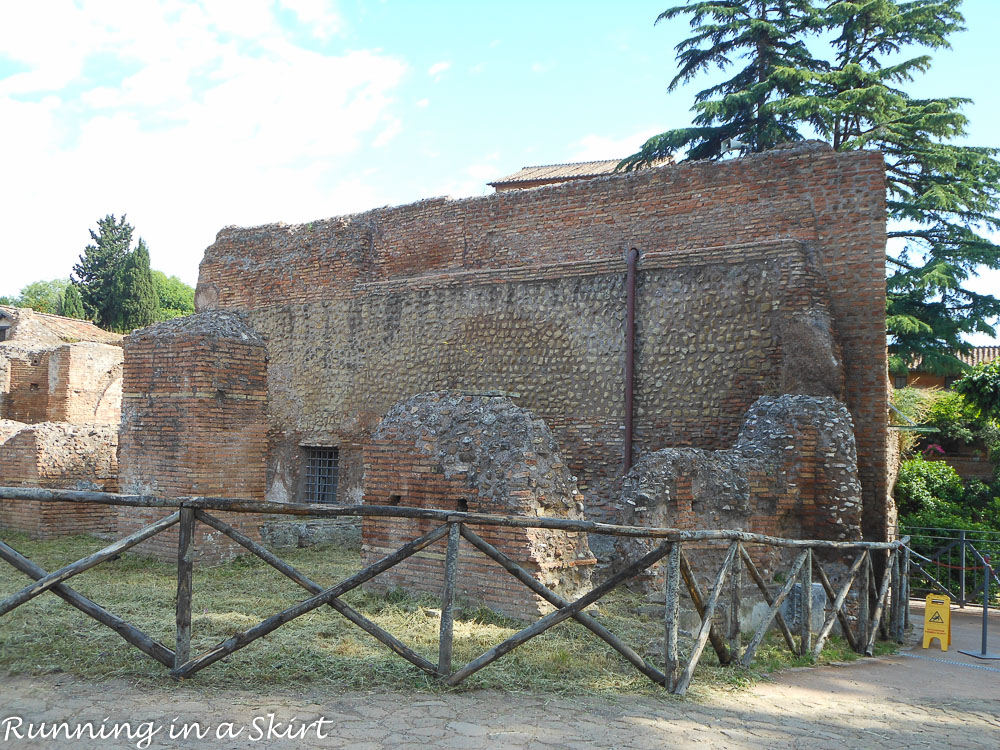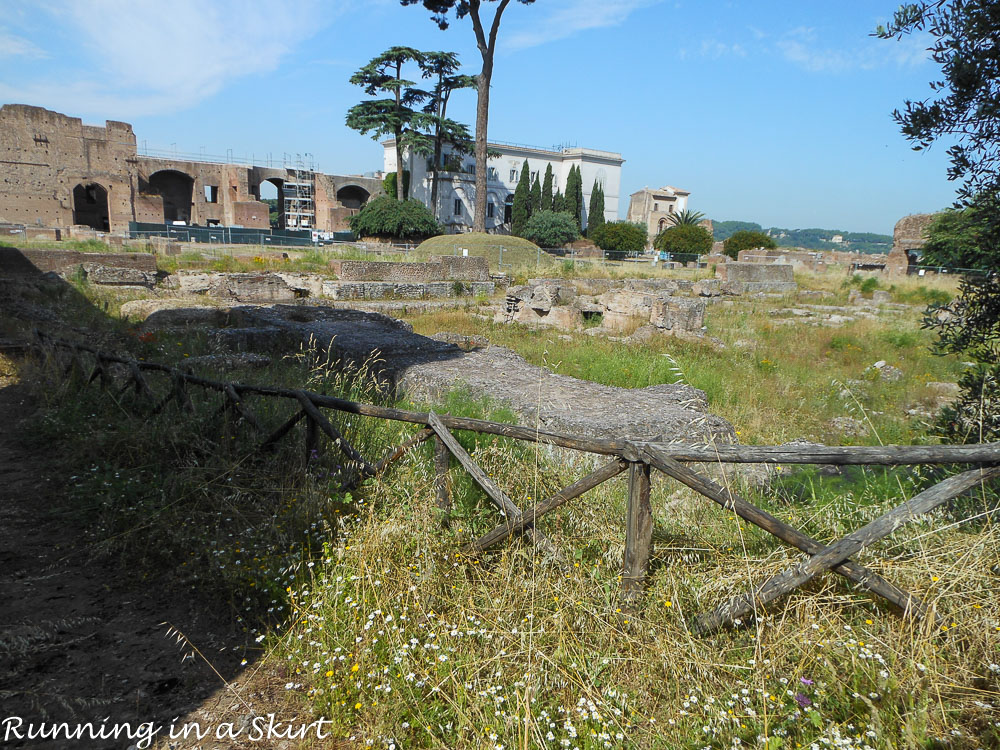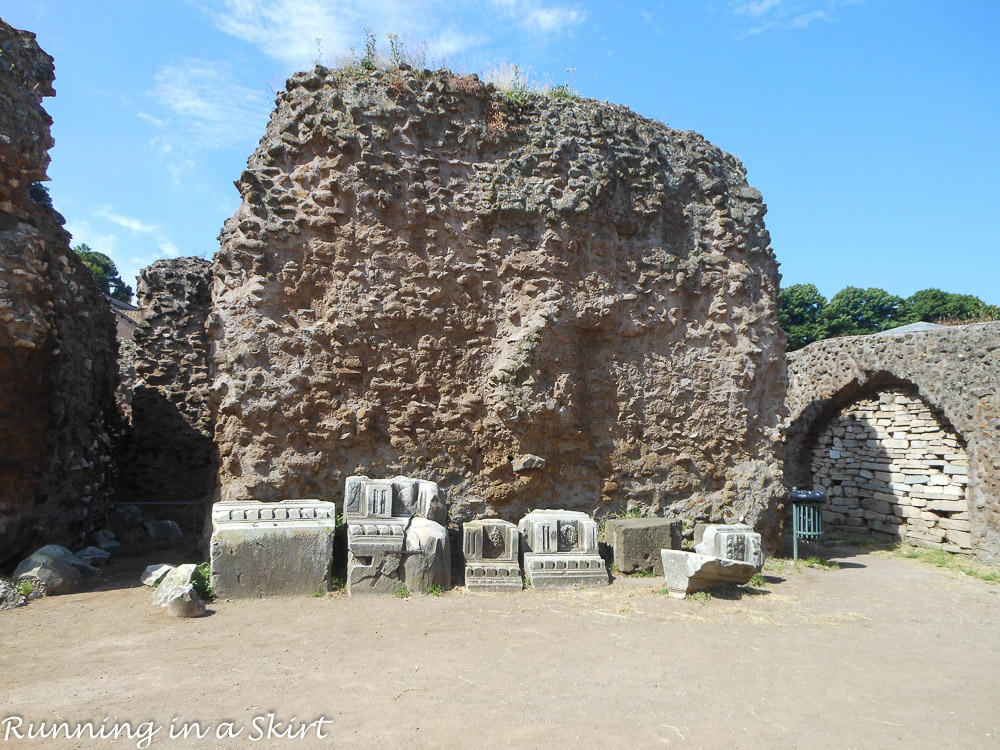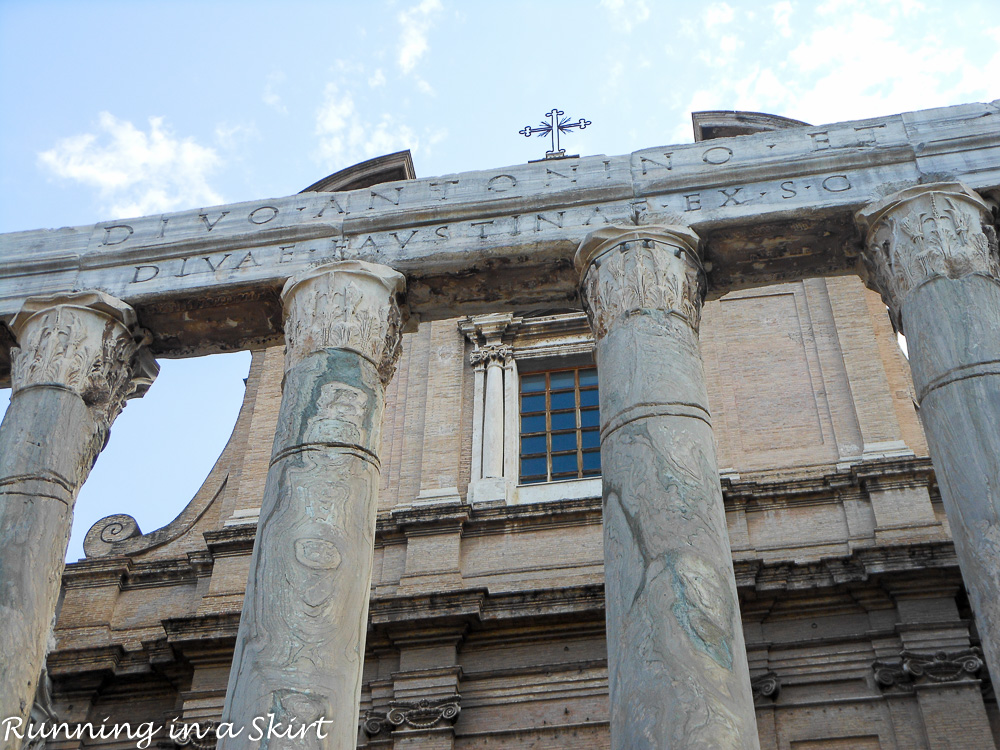 Next up… Arch of Titus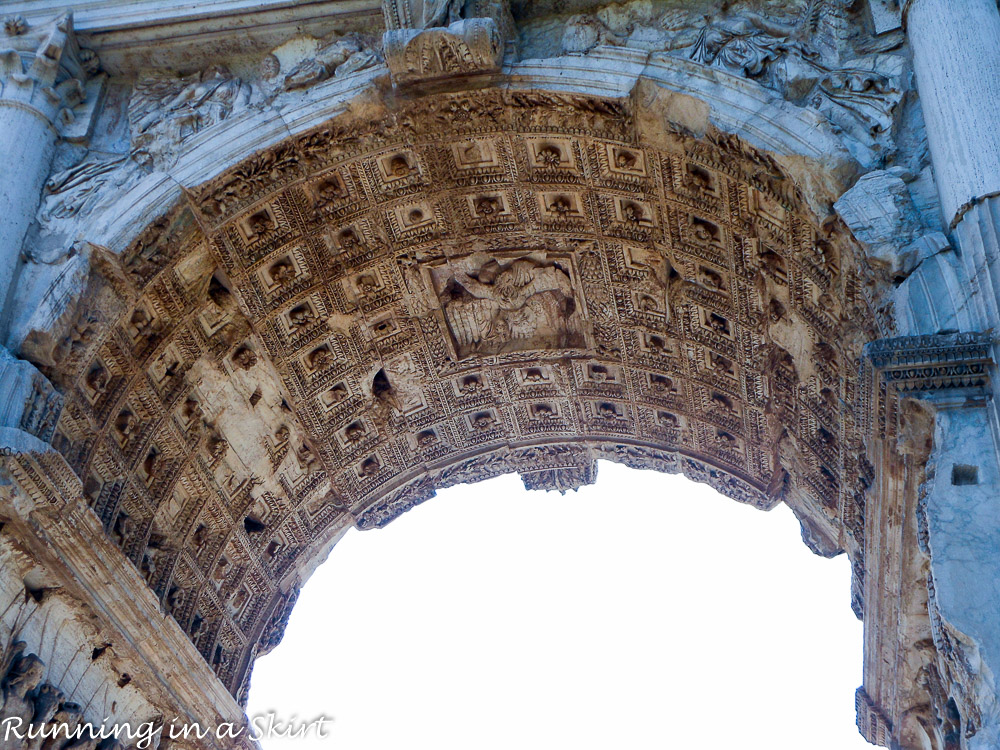 After a sweeping tour of the forum we find ourselves stuffed with history and standing back in front of the Coliseum. Our tour guide sets up the story that this building was actually constructed to rally people back together to support the empire. Even though it is a magnificent place, it was built to put on shows where animals AND people were killed.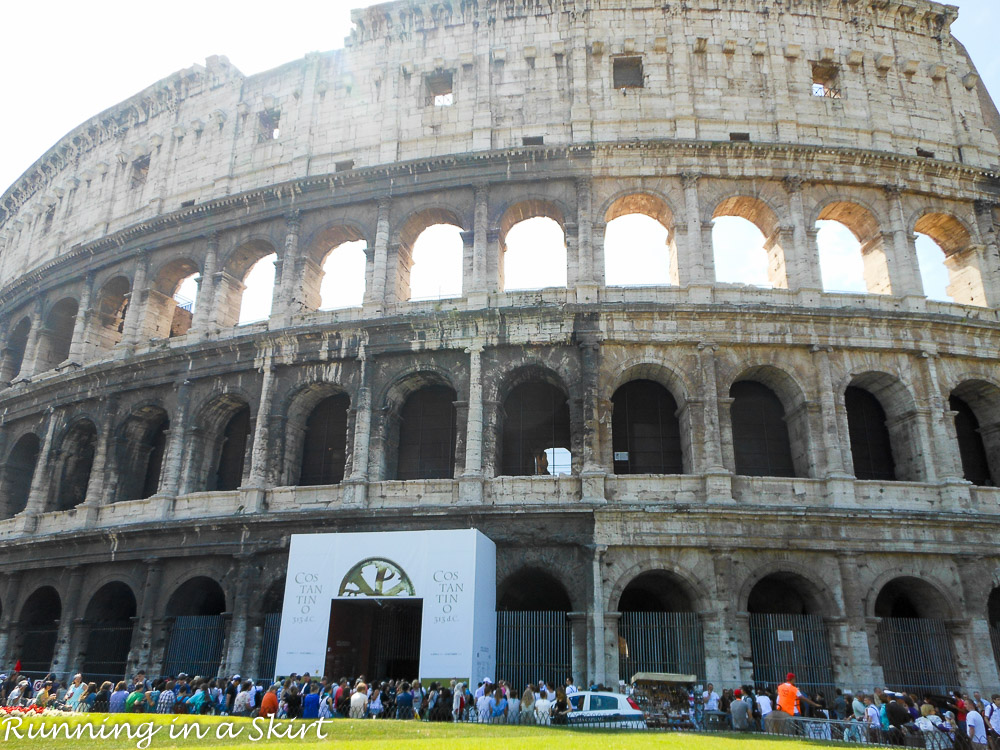 The tour is set up where you enter through a gate, much like someone would have done thousands of years ago.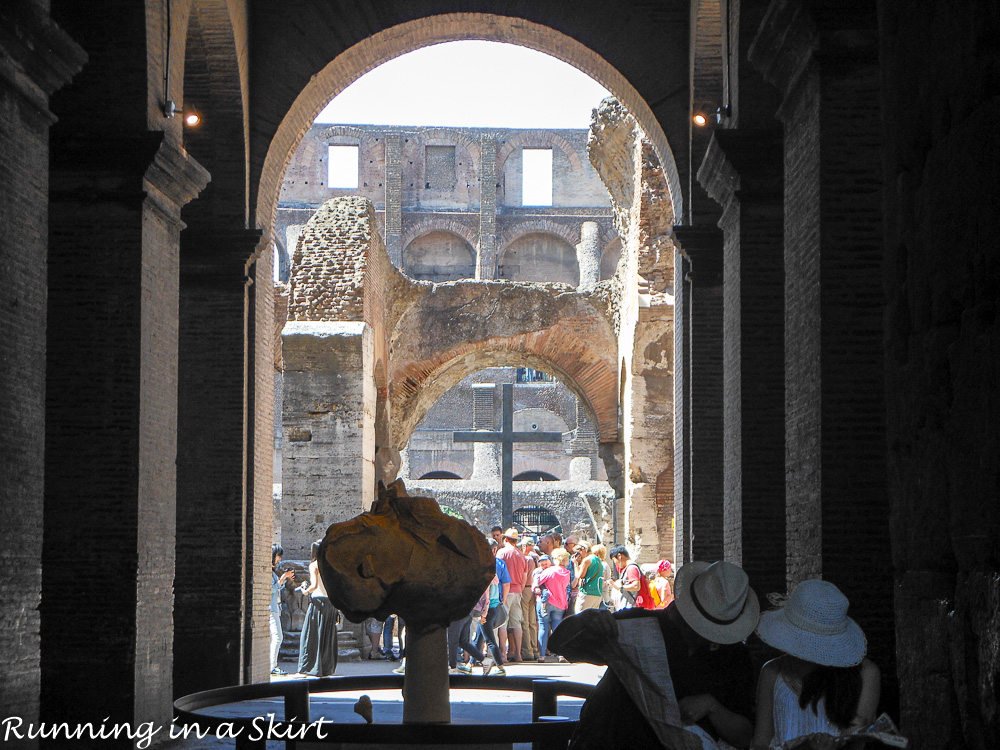 Once you step inside you feel like you are in another world.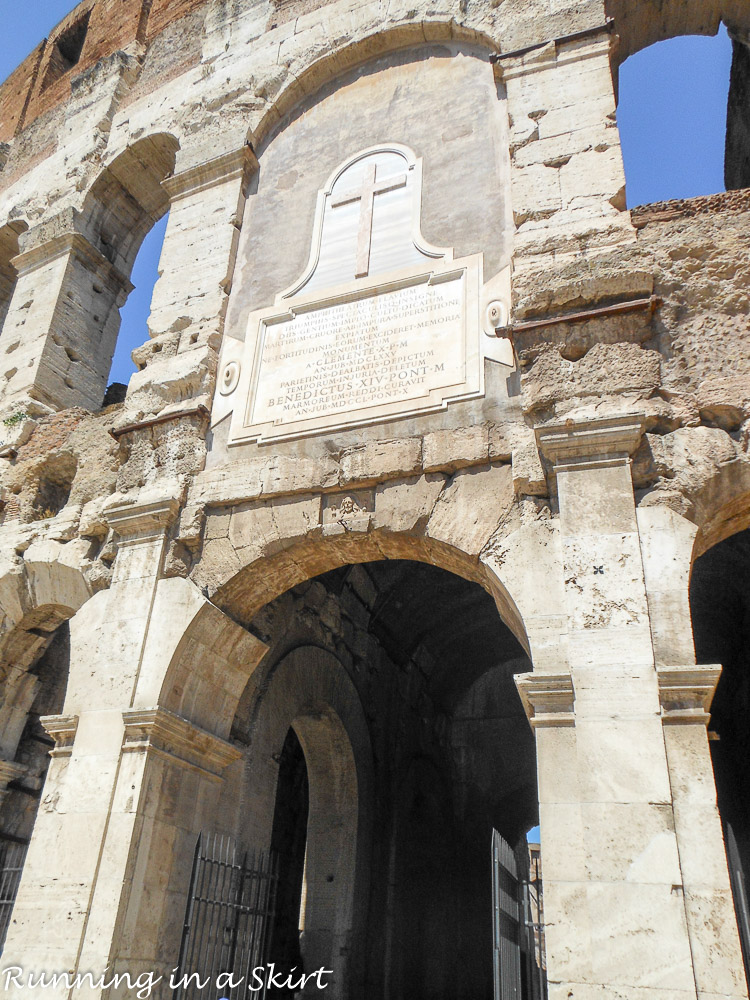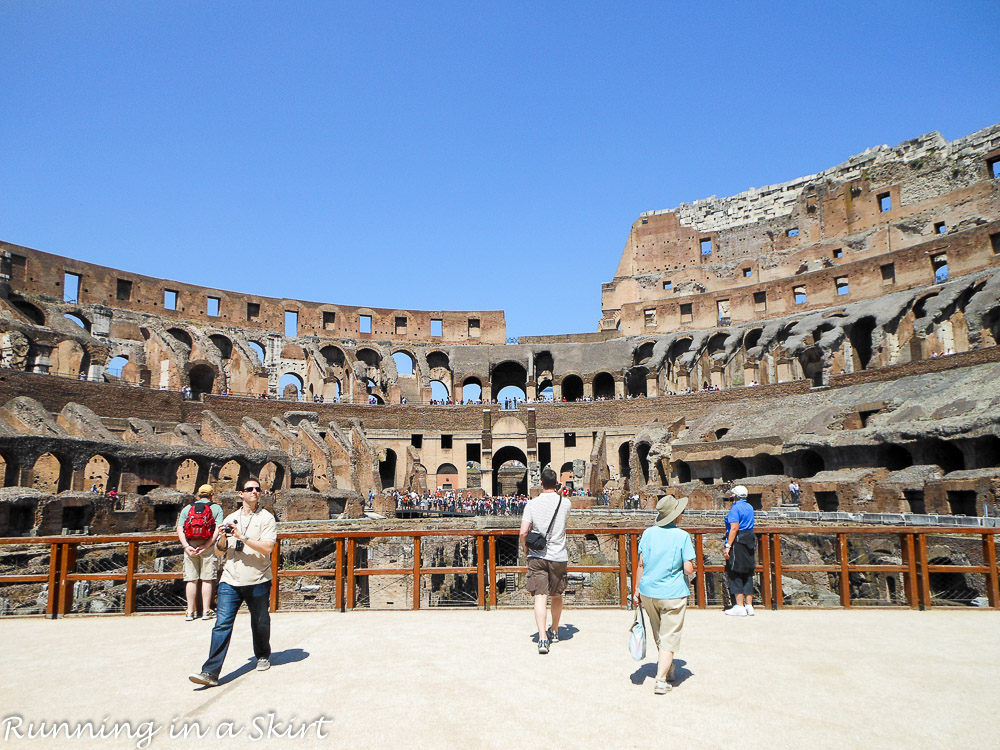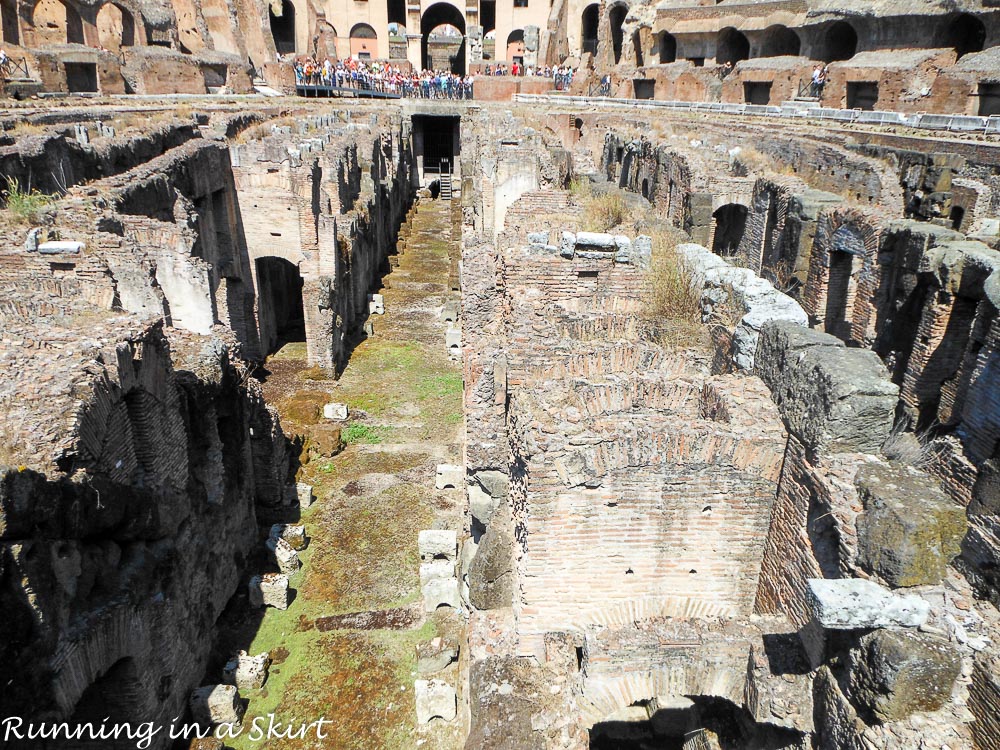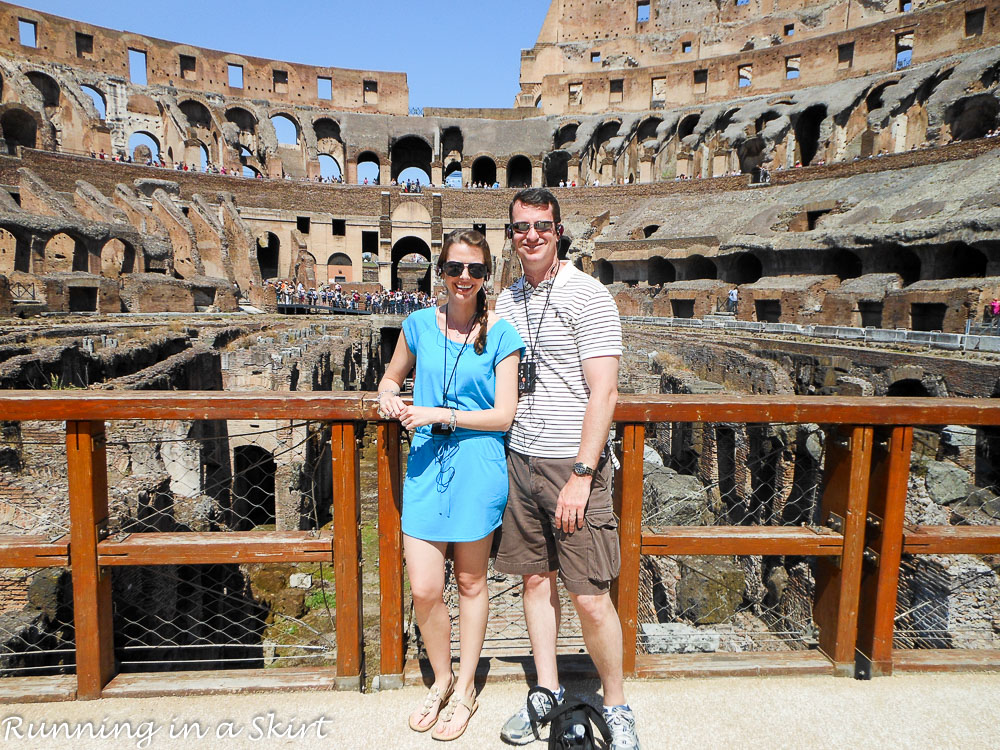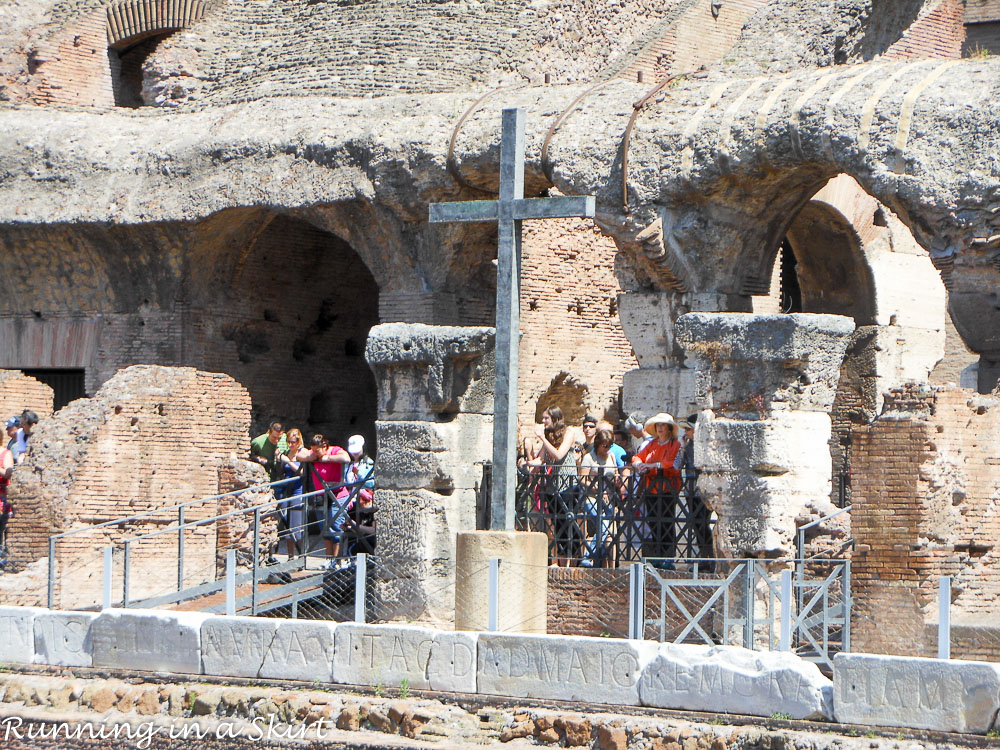 After touring the upper levels, we head down ancient stairs to the underground.
This is what it would have looked like for a gladiator who was below ground waiting for his turn to be pushed out on stage.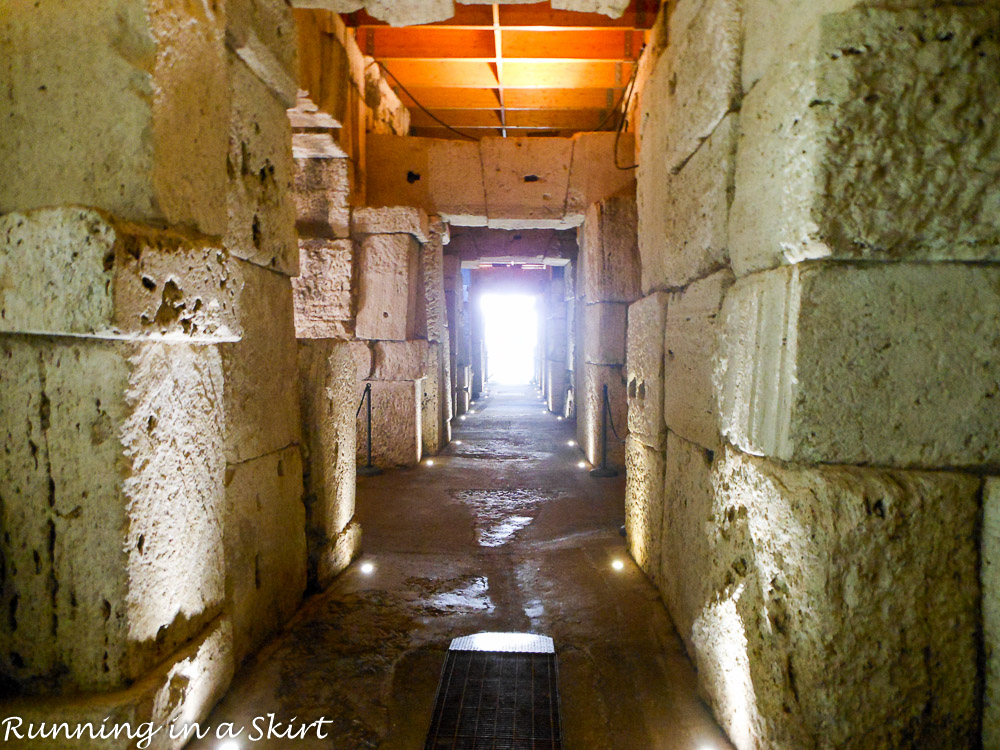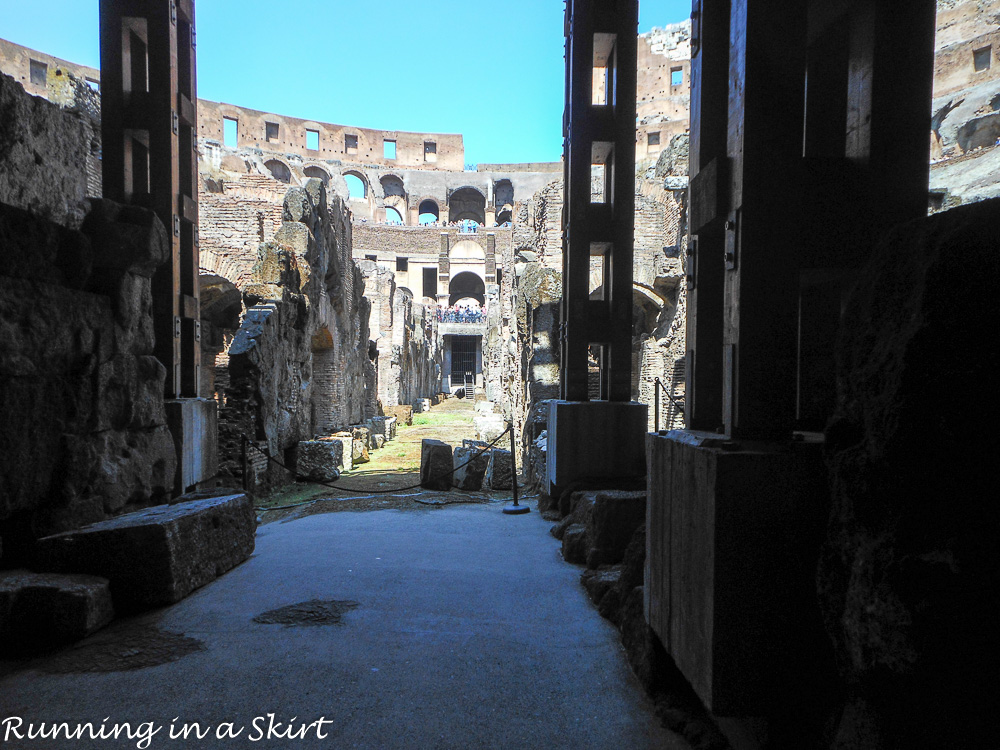 Elaborate pulleys and lifts, worked by slaves, brought animals and sets up to the main level. This is what is left.
The tour is so insightful and educational. We are so glad we take the time to listen to the history and put context to the ancient sites. But after four hours we are exhausted and a bit numb from information overload! We go to the hotel to get a brief break from the heat.
We don't rest long because we only have two full days in Rome and SO many must-see sites. We refuel with espresso and a cannoli and we are off again!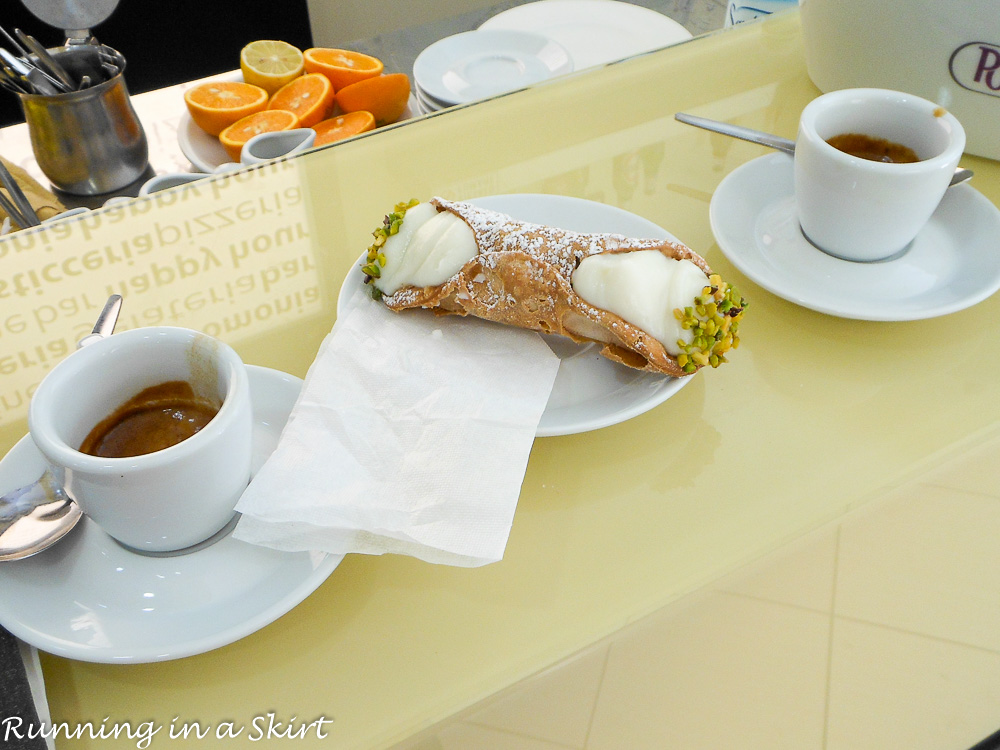 Have I told you yet how I am obsessed with cannoli and gelato?
First up… a current government building. We are told locals call it a wedding cake…. ummm…..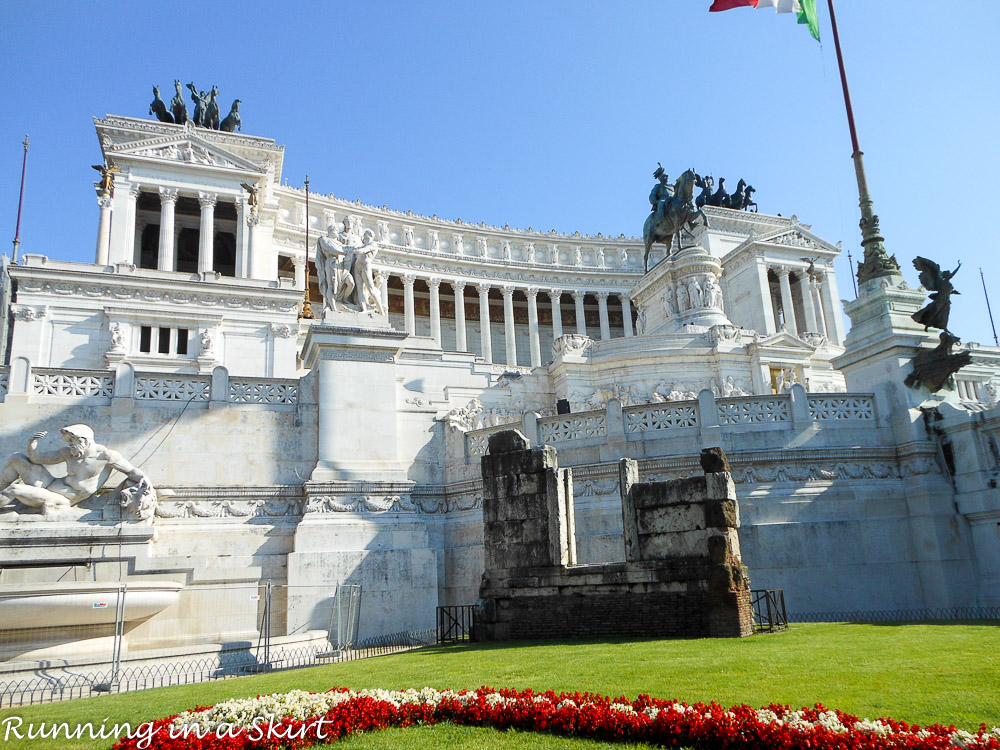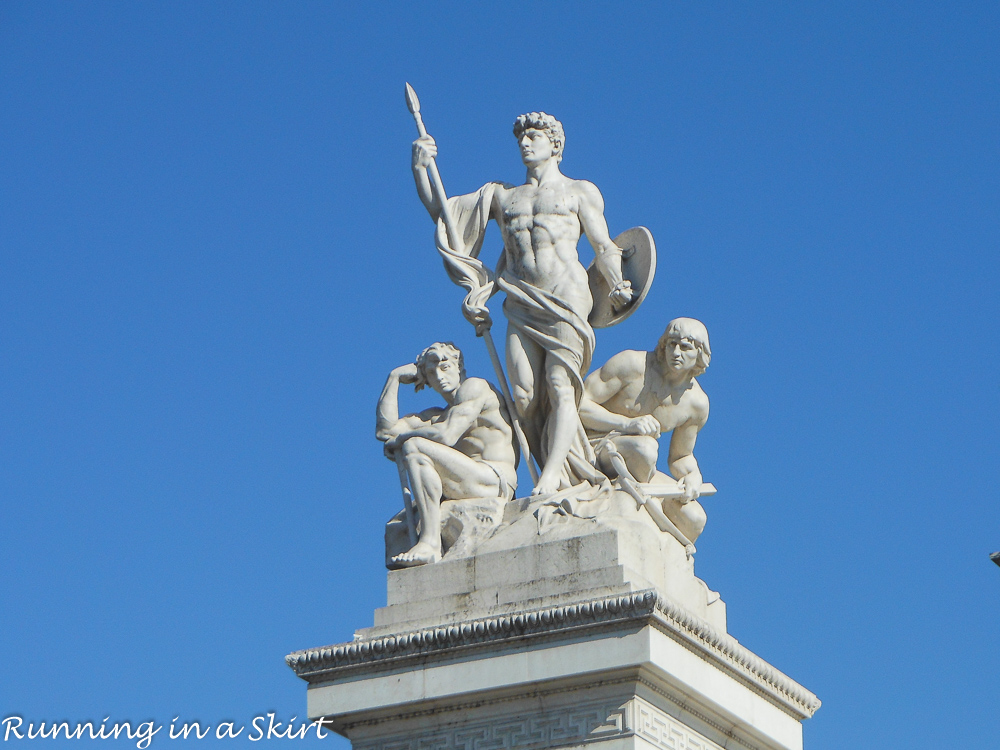 Our big mission is to follow the self guided tour in the Rick Steves' book called "Heart of Rome Walk." It gives us detailed instructions on where to walk to hit up most of the places we really wanted to see.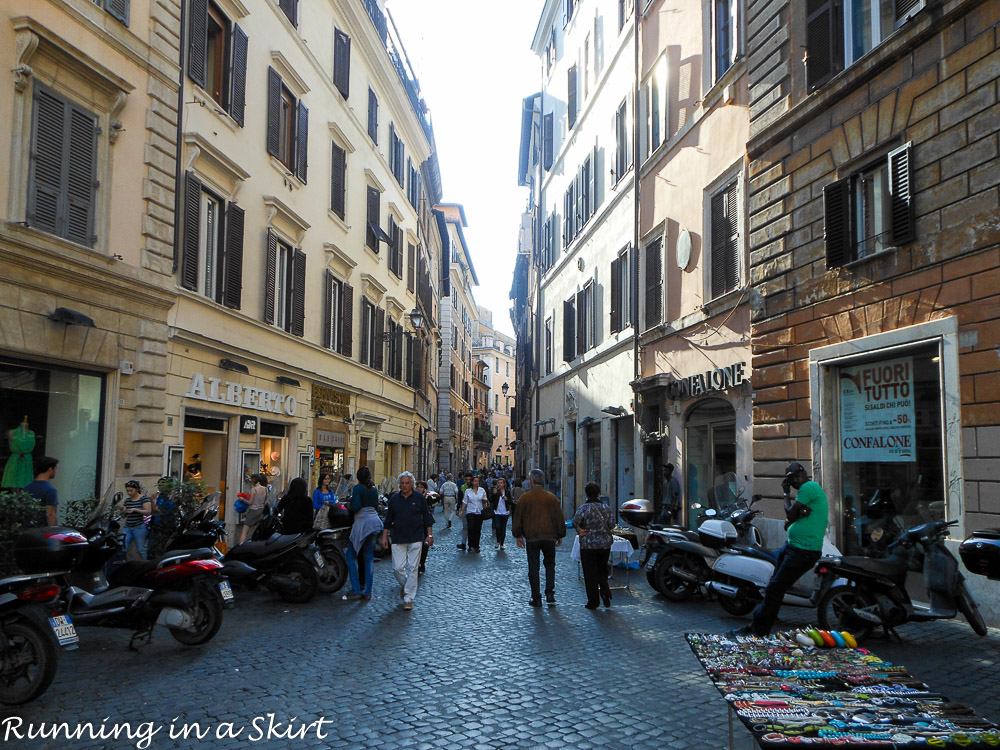 First stop is Campo de' Fiori.
Next up Piazza Navona….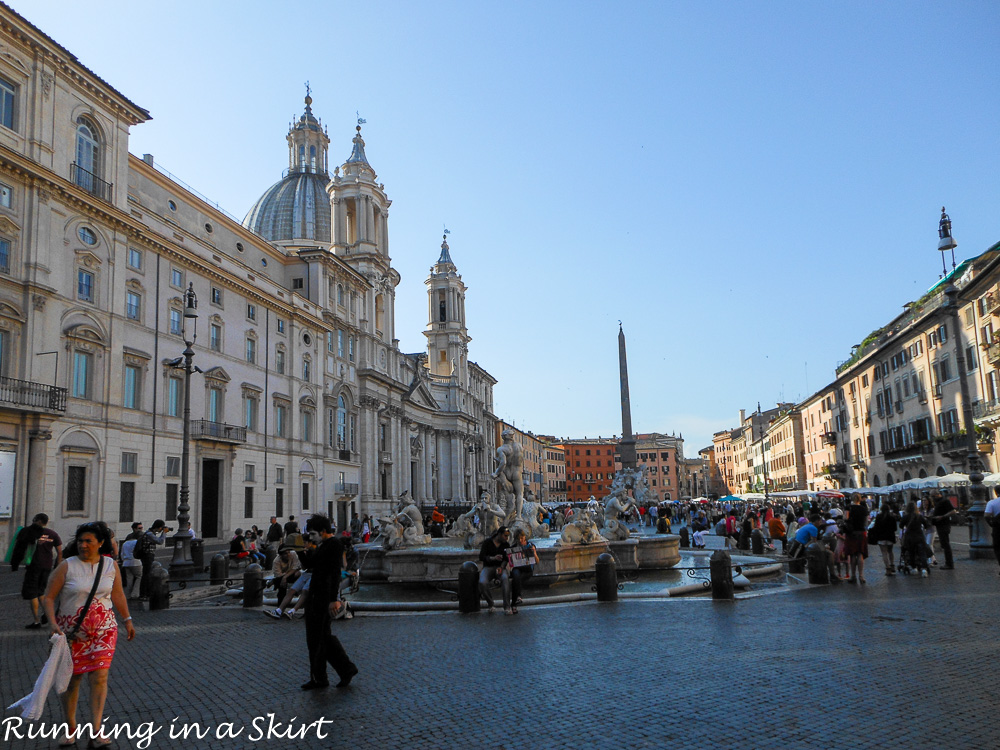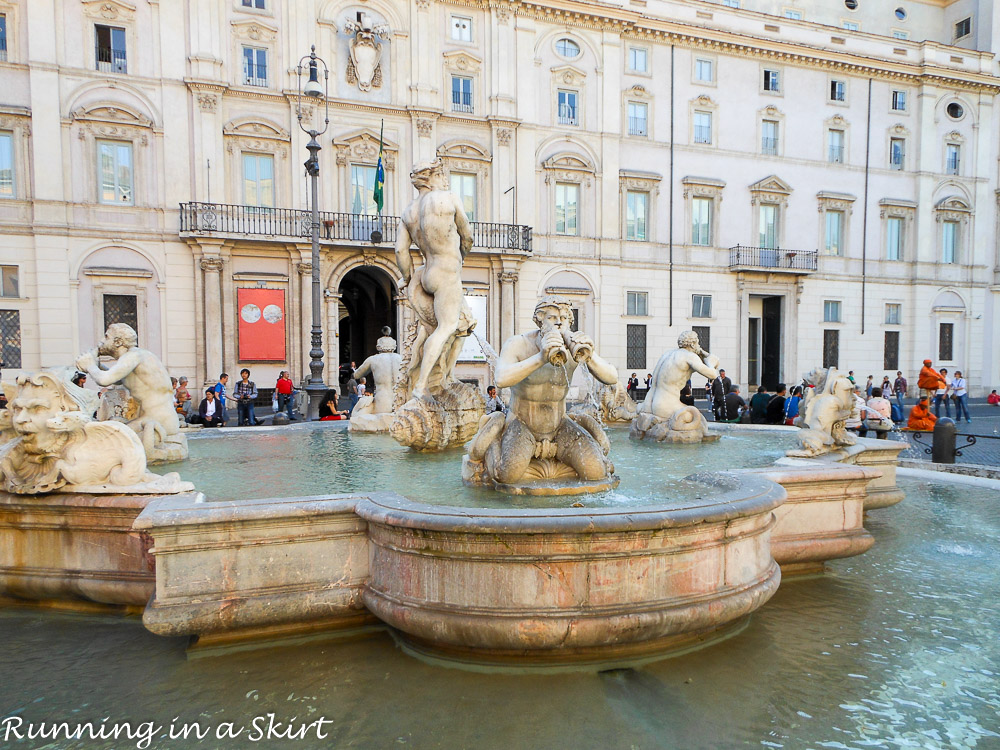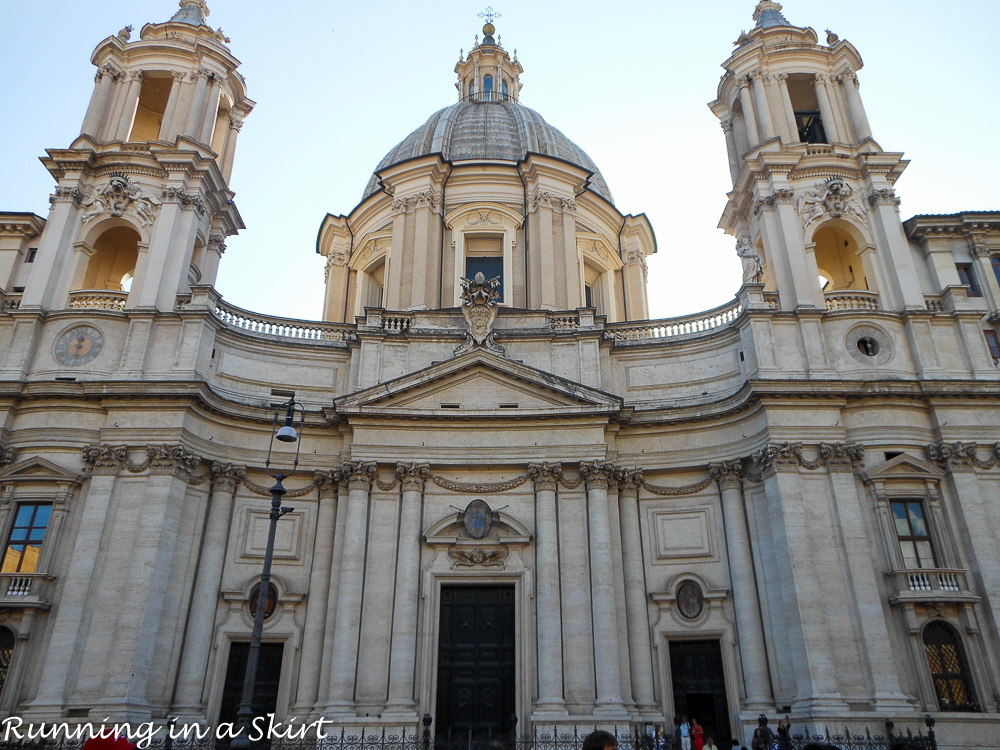 In this piazza we see the Four Rivers Fountain. It is one of the most famous Baroque style fountains by Gian Lorenzo Bernini. Each statue represents one of the four continents that were known in 1650.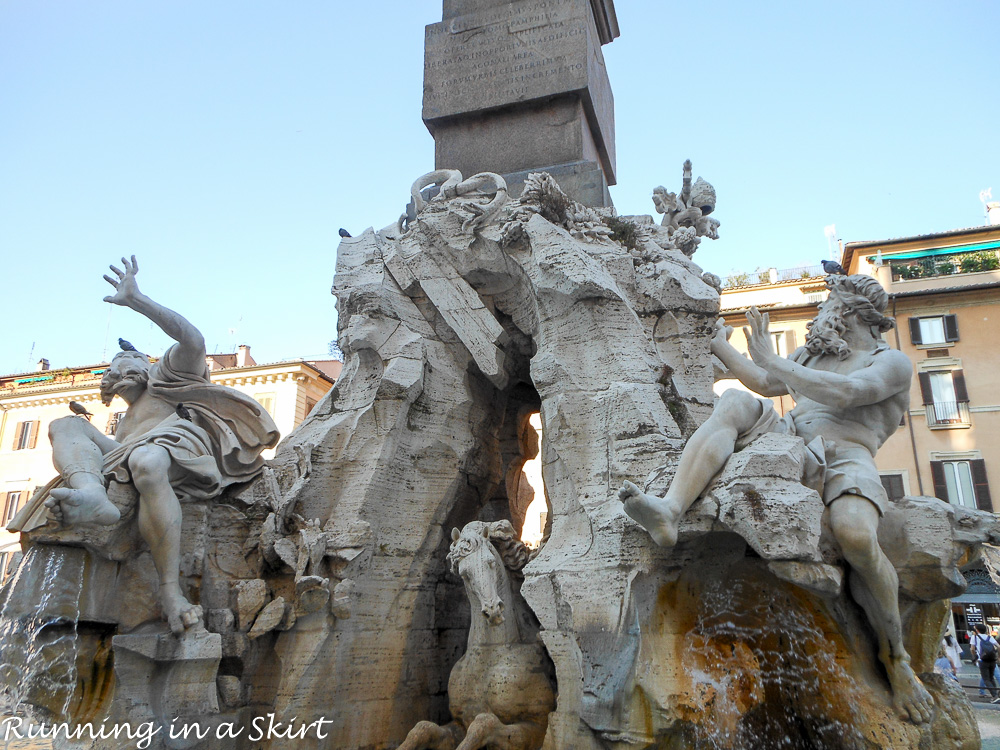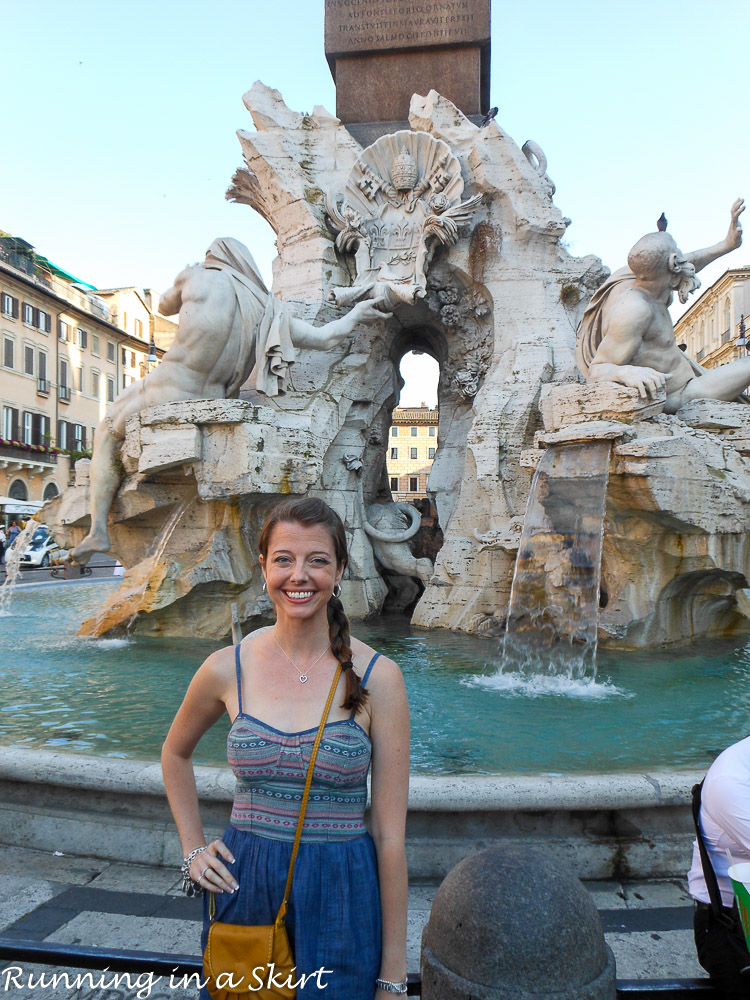 The fountains in Rome just bring life and serenity to a very chaotic place.
Along the way we see the Pantheon. We actually downloaded a free Rick Steves' audio tour of this before we left. We walk around like tourists with ear buds, listening to how this building became one of the only buildings that remains completely untouched from Roman times.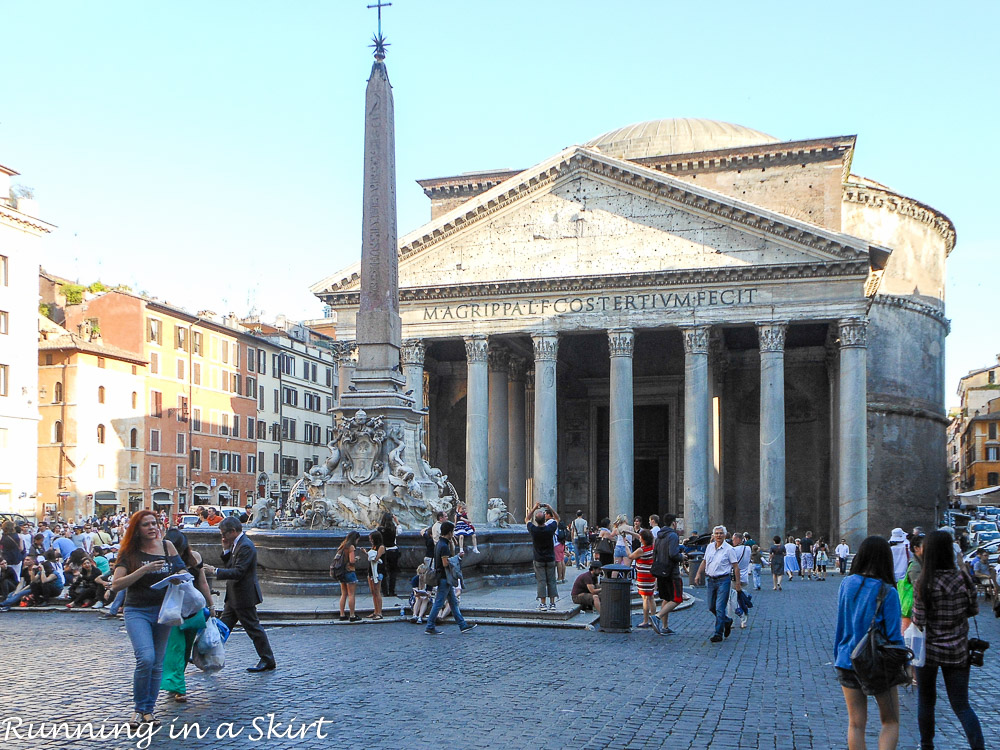 Remember the dome we talked about in the church in Florence? This is the dome that it was modeled after.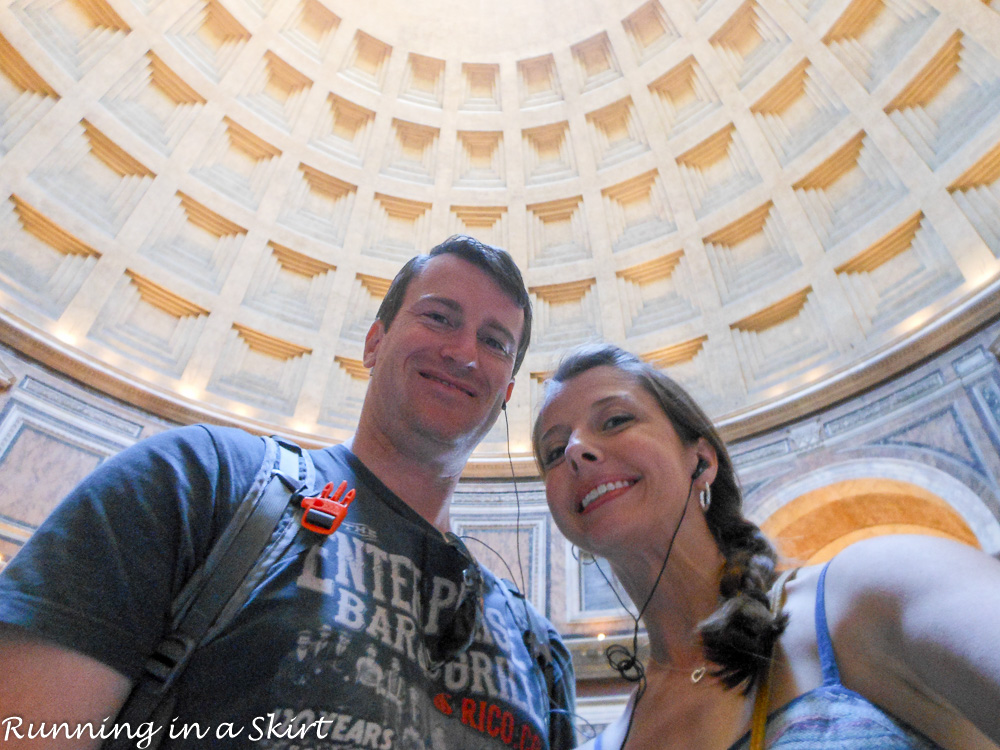 The center of the dome actually has a hole in it and it will rain inside the building. See earbuds!
After the Pantheon we walk more to see Piazza Colonna.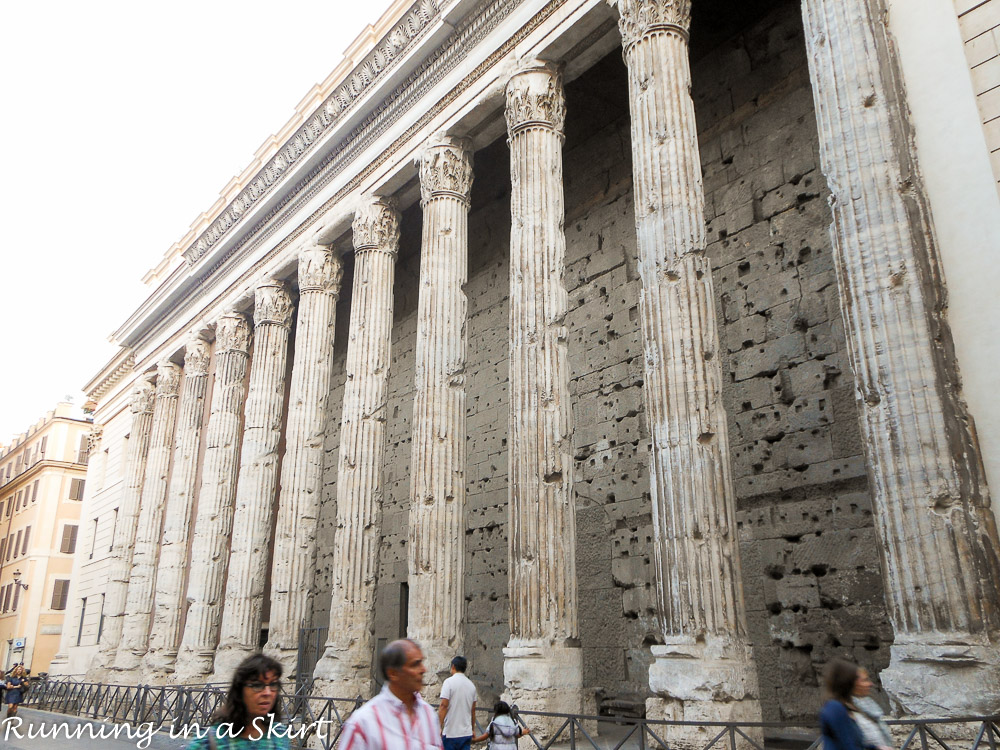 TIME OUT! We still have a ways to go on our walk but we are hungry and tired… SO, when in Rome… stop and have a drink and a snack like the Romans do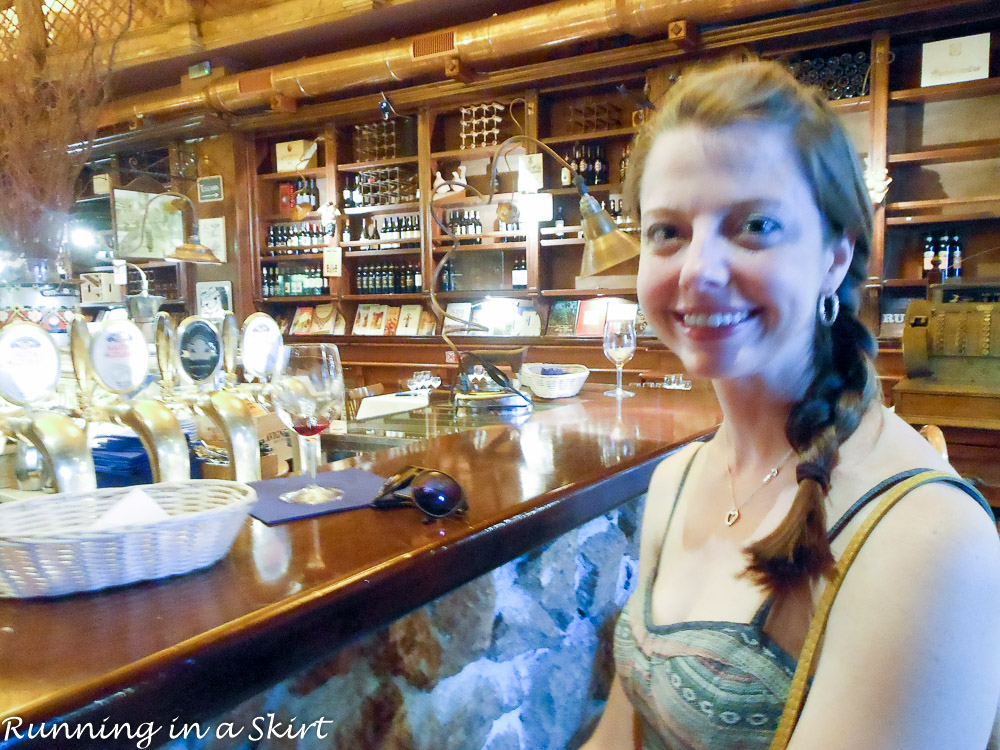 The wine bar feels so authentic and enchanting. Everywhere in Italy they serve little snacks like chips, pretzels, olives or nuts when you order a drink. At this local restaurant we get a basket of homemade pizza bread. Yum.
After a quick break, we continue our walking tour. Everywhere we turn we see stuff like this building, but you have no idea what it is. The whole city is just one giant museum.
We finally arrive at the place I am looking forward to seeing the most.
The Trevi Fountain!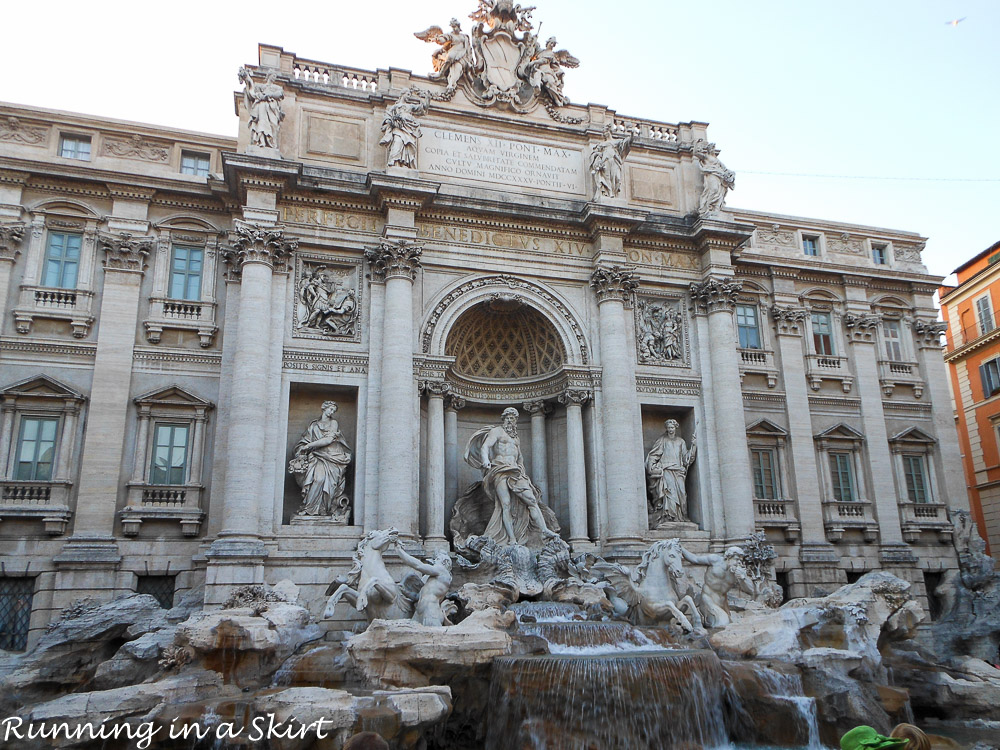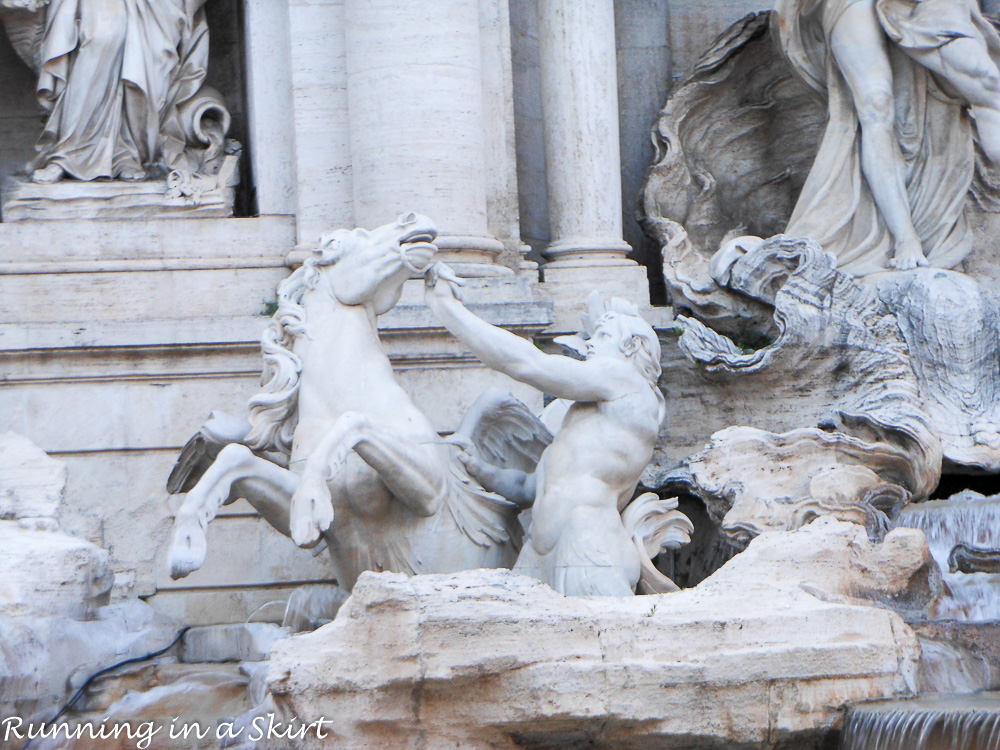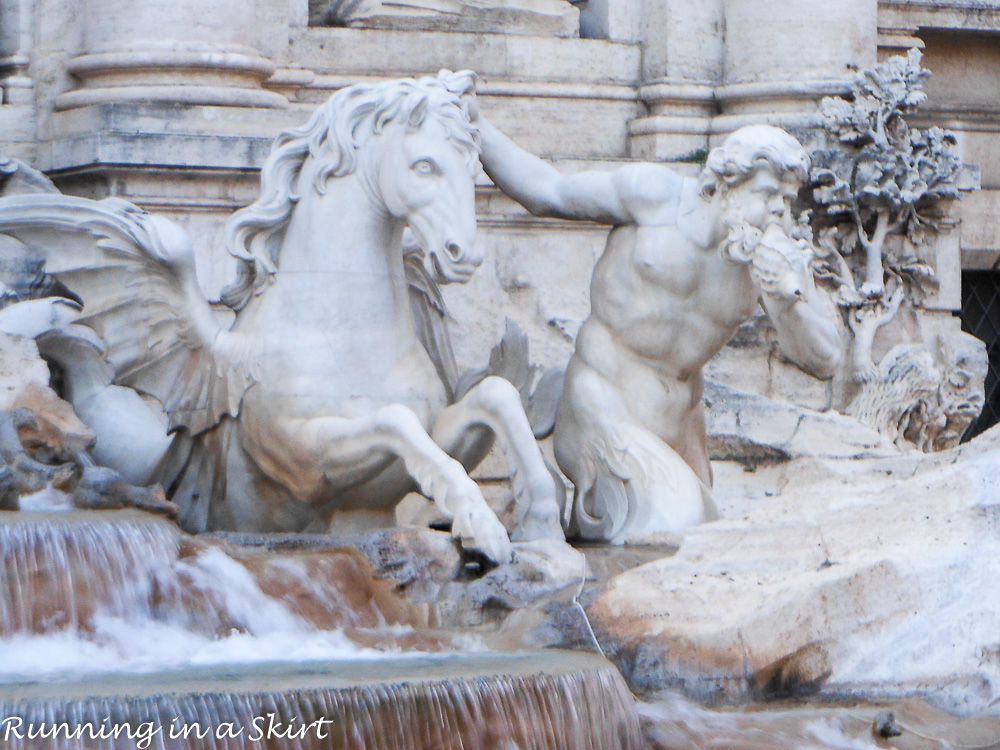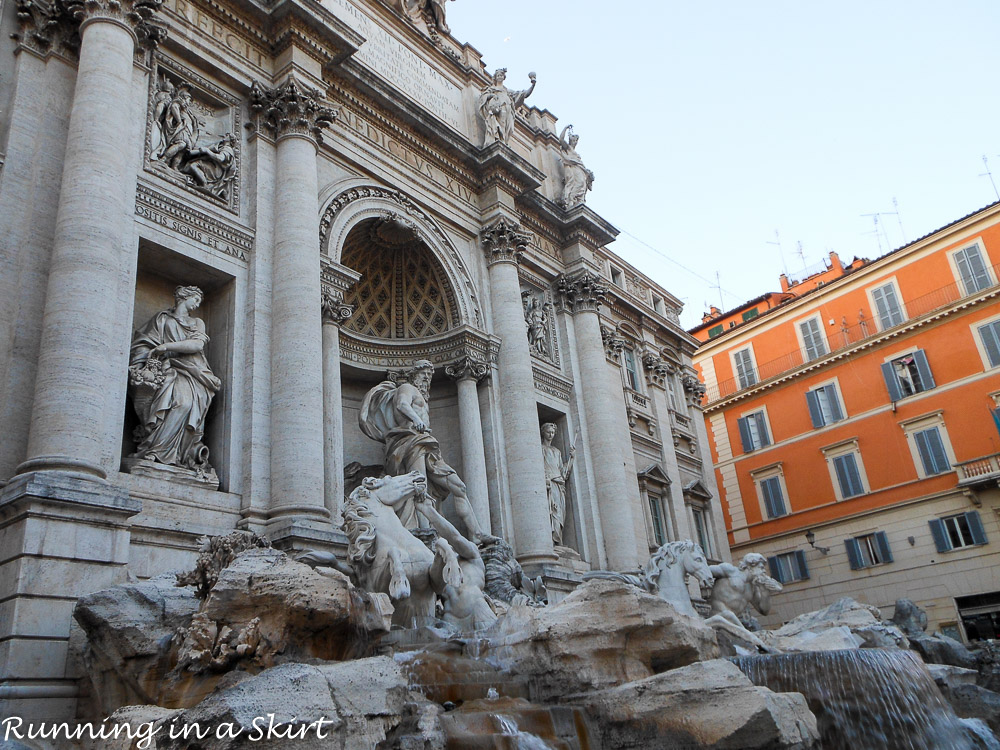 It is intricate and massive. I'm afraid my pictures just don't do it justice. Legend says that if you throw a coin in the fountain you will return to Rome again… so we do just that!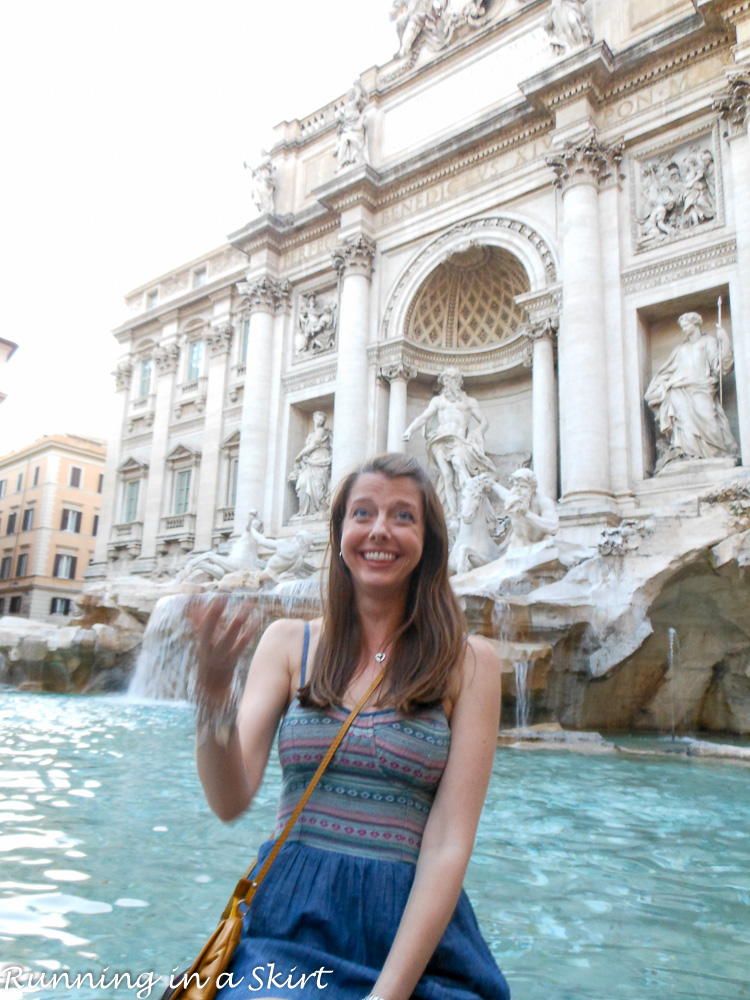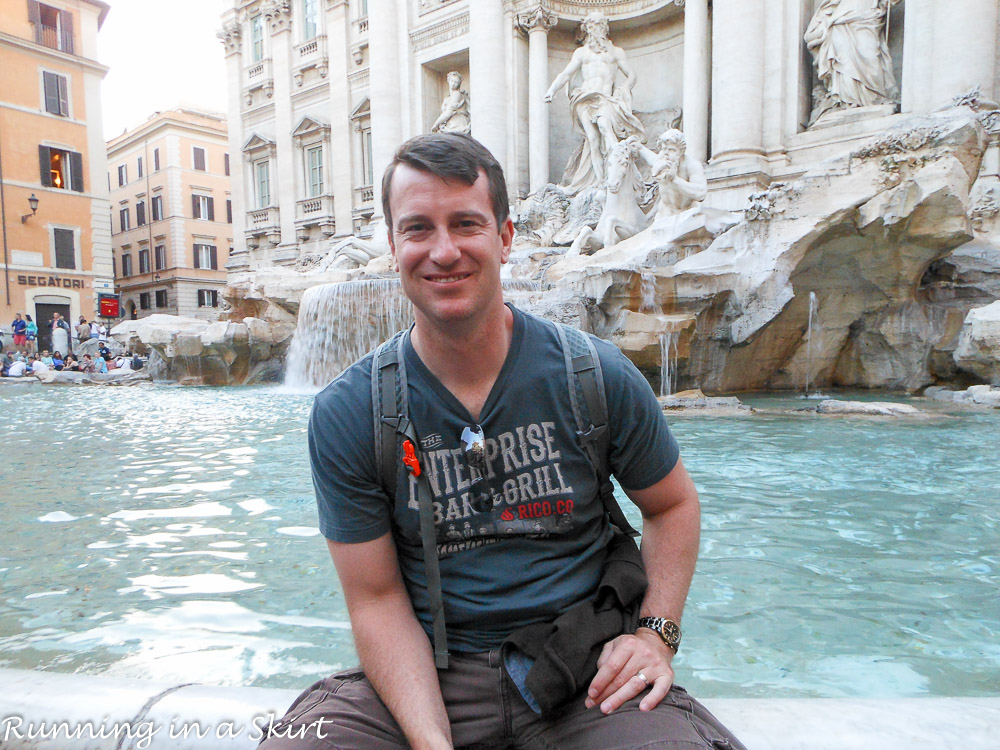 I am for some reason surprised at the massive crowd. All of Rome is crowded but this is crazy! There are con artists all around trying to get you to buy something or fall for their scam. Bummer. It makes it hard to really enjoy the beauty of this amazing piece of art. We find a quiet corner and watch the mass of people. I wonder if you could ever be at this place by yourself.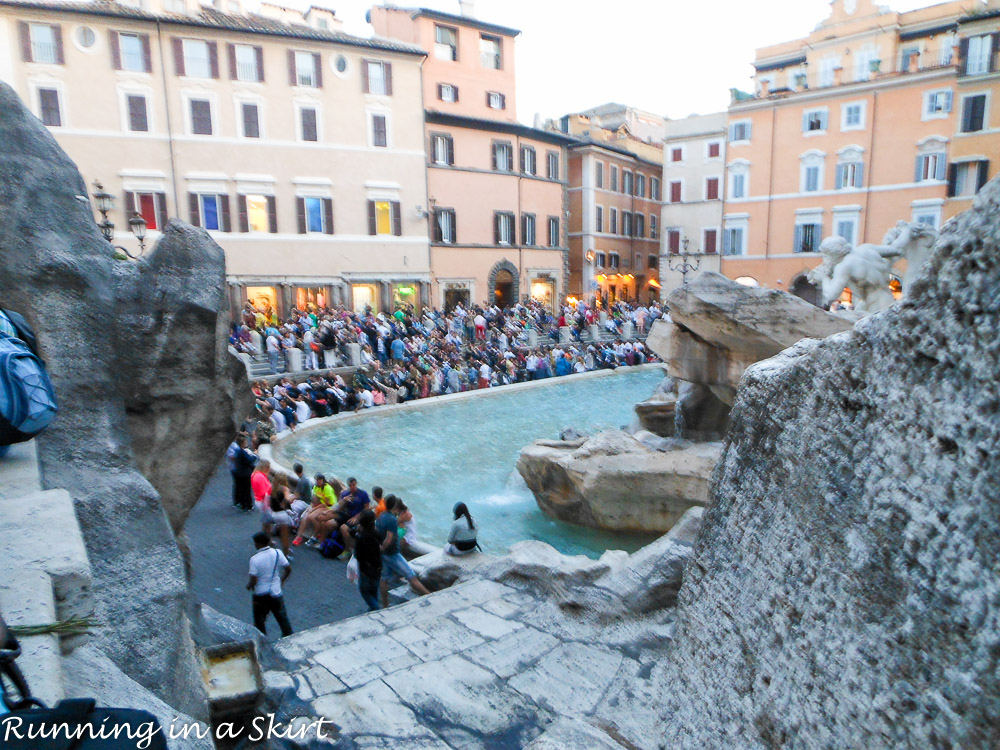 The final stop on our super long walking tour is the Spanish Steps.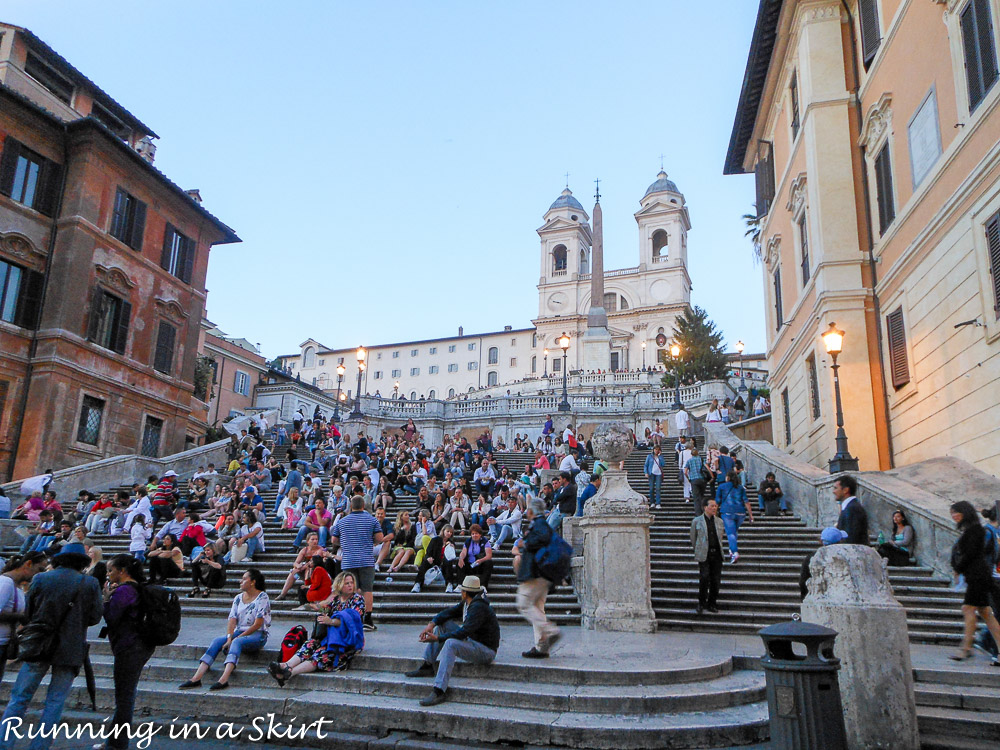 Also amazing but we are harassed by more con artists trying to sell us roses. They don't respond to polite requests to be left alone and you are forced to be rude to them. We once again walk away from the crowd and take in the view from above.
As the sun falls we find a quiet alley restaurant to eat outside and enjoy the sweetness of doing nothing. What a great day 1 of 2 days in Rome.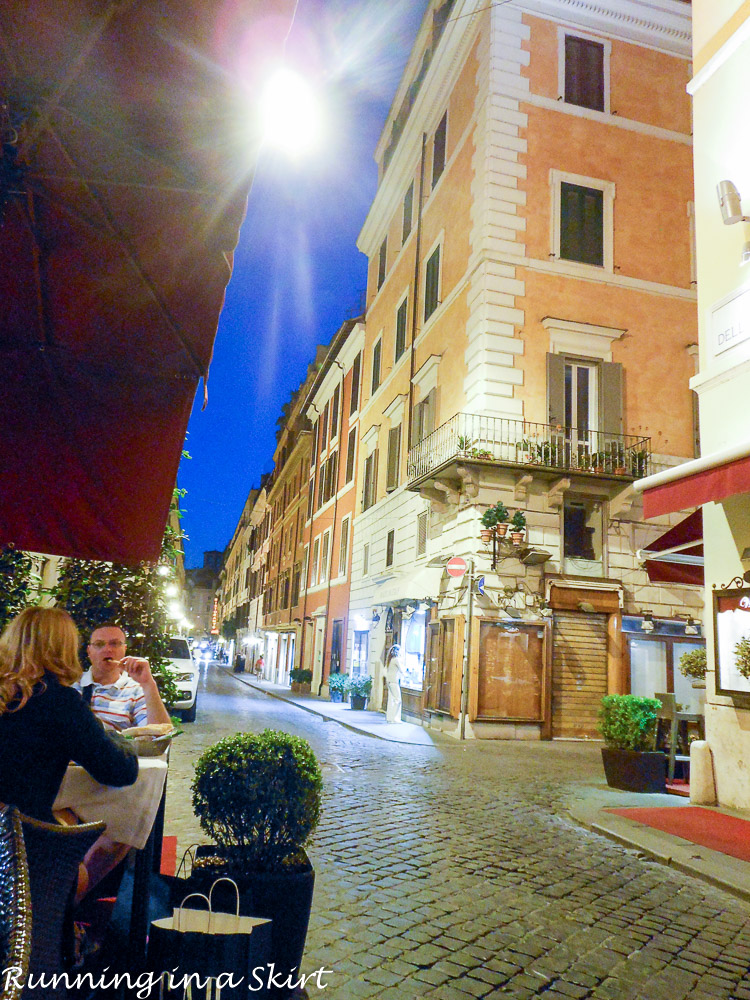 Day 2 of 2 Days in Rome
After a long dinner, we take the epic stroll back to our hotel and rest up for another big day.... day 2 of 2 Days in Rome.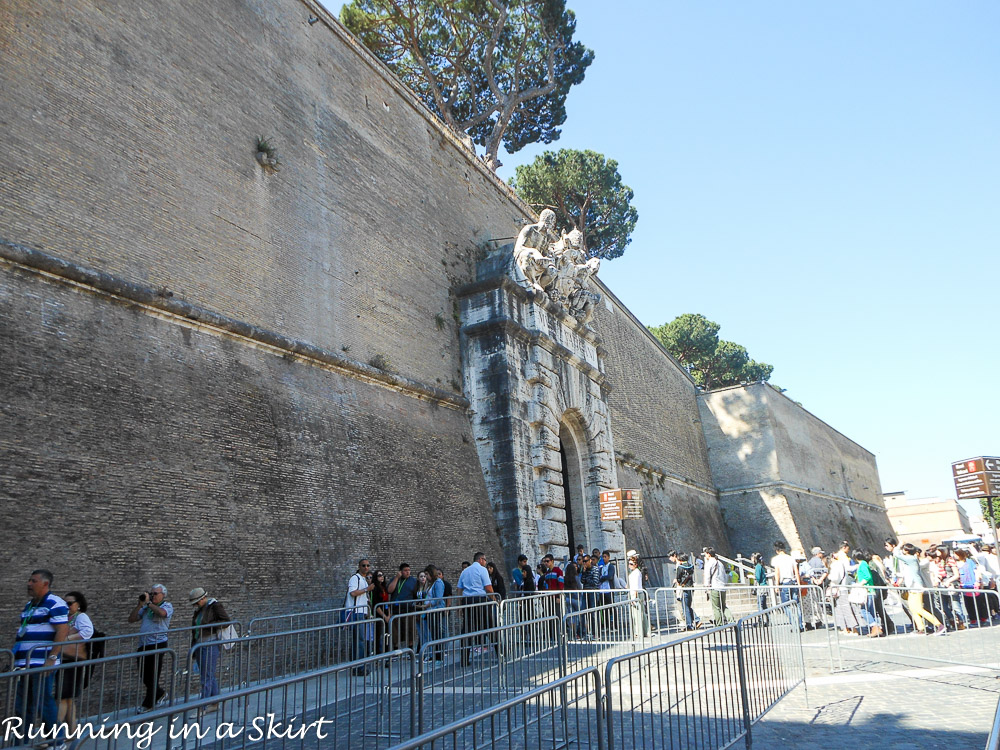 You see… we saved the best for last! It's our last day in Italy and we have a private tour of the Vatican and the Vatican museum booked. My husband really wanted us to be able to enjoy the experience at the Vatican as much as possible.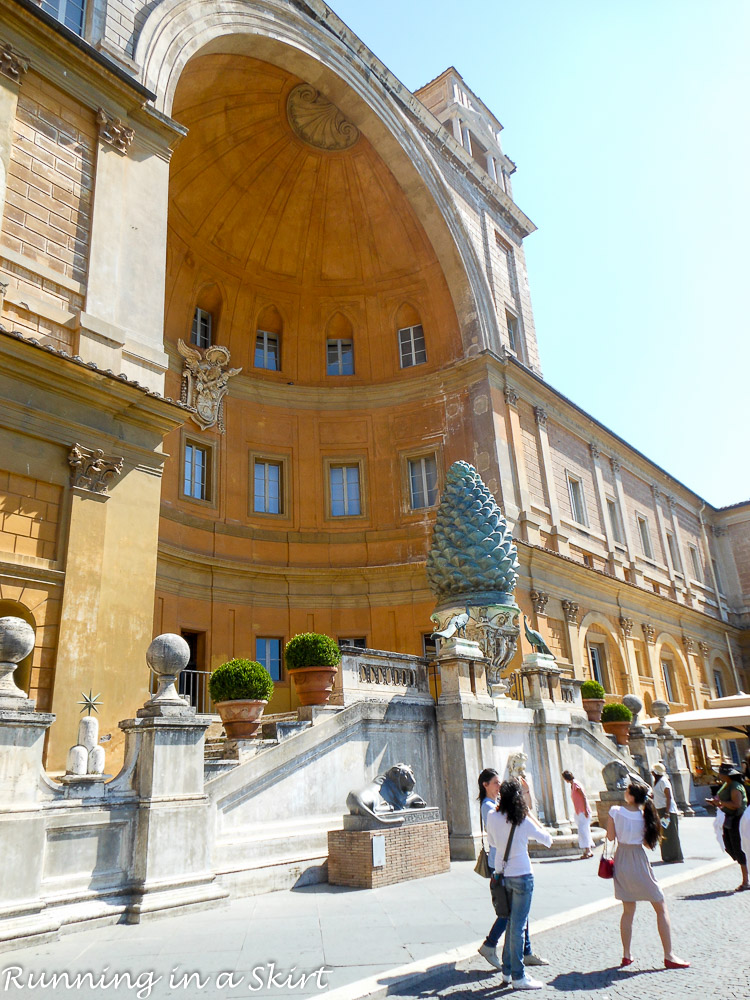 The museum is more than we ever dreamed. Our tour guide is an expert in art history and points out the important pieces and tells us what they mean. She also helps us maneuver around crowds like this…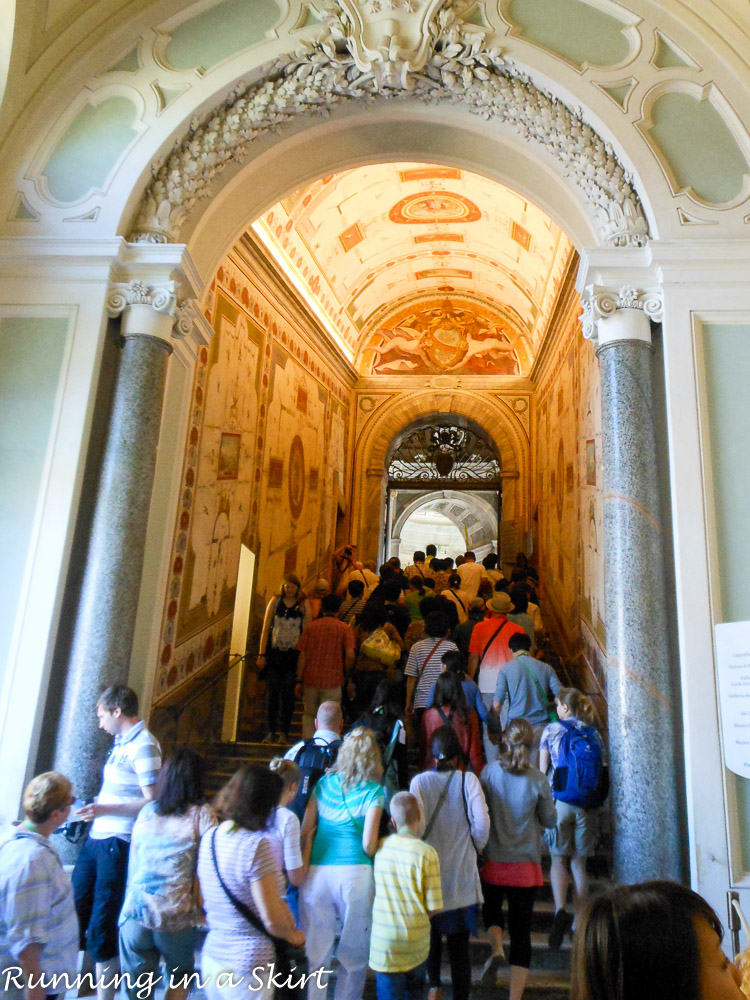 She teaches us the importance of the different statues and art.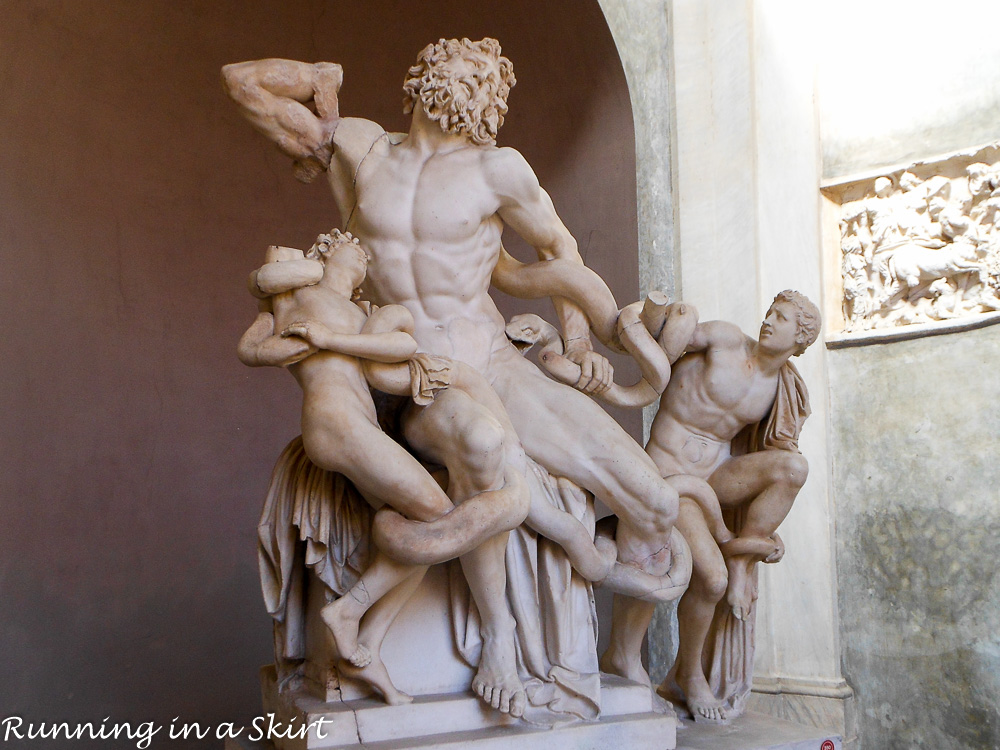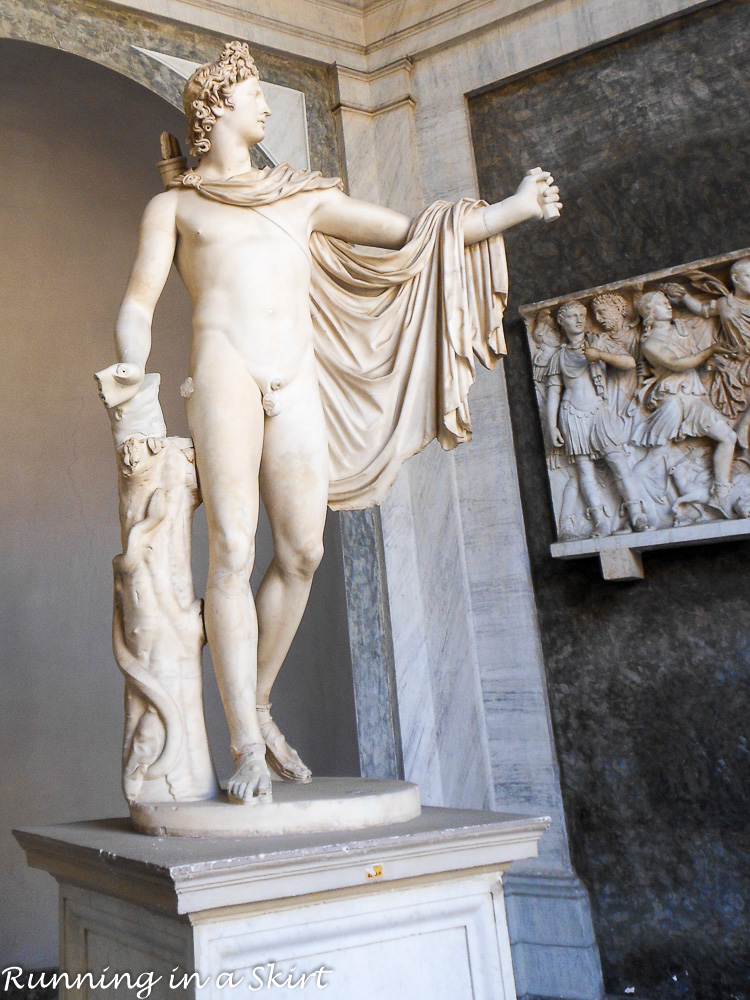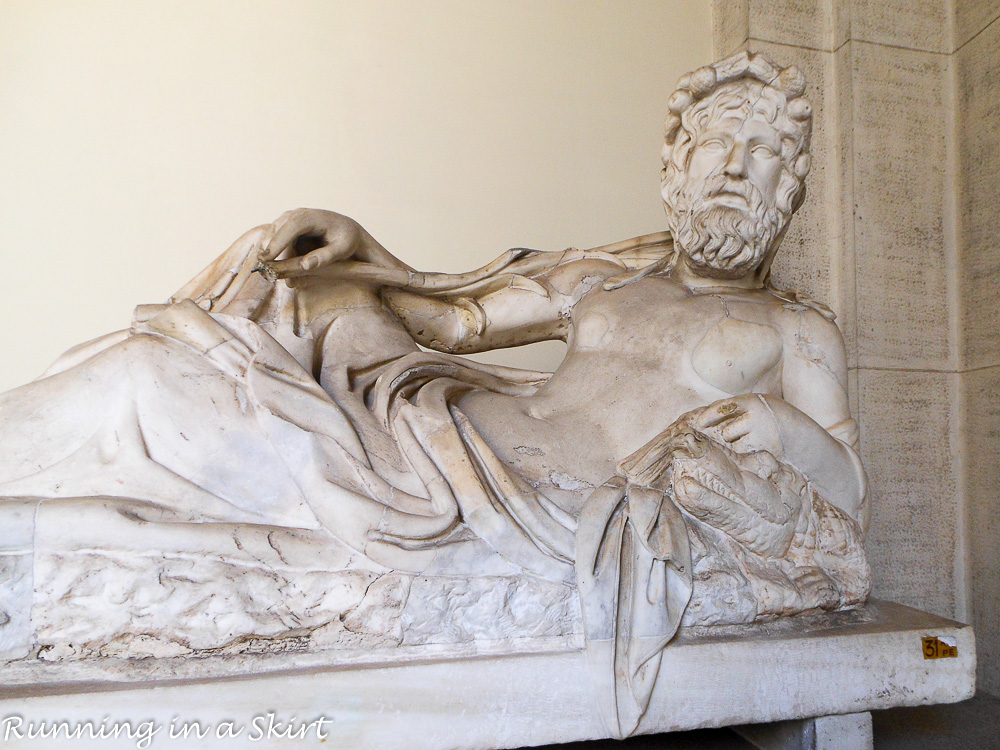 Take a close look at this one. The guide tells us to look inside the vase.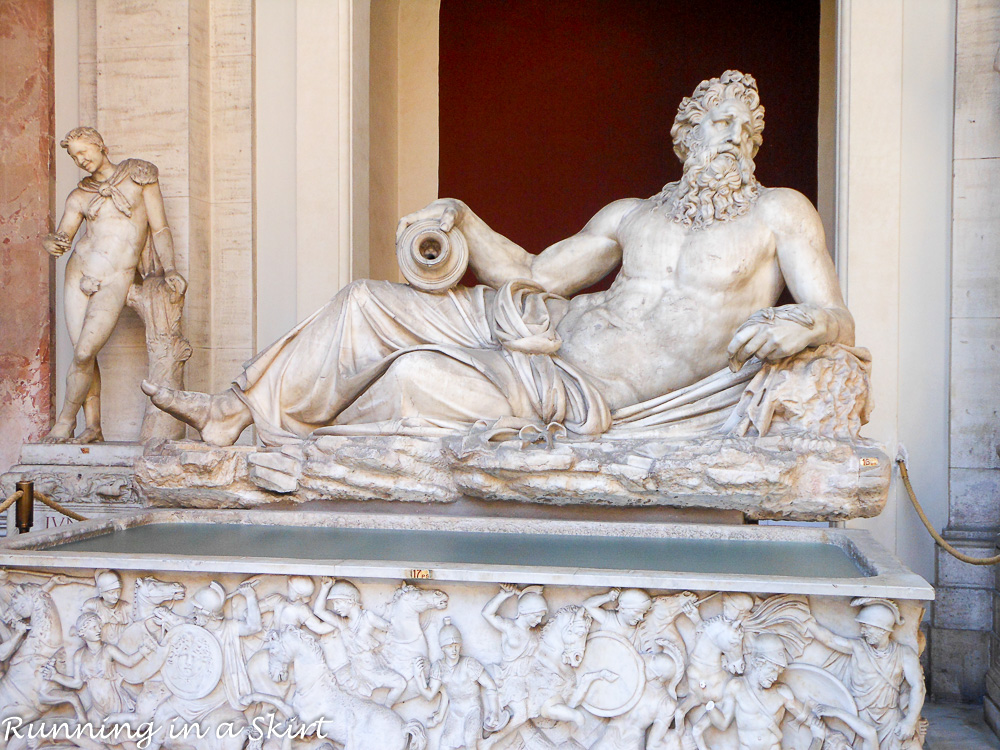 See the lion head? Wow! The collection of Roman art is amazing.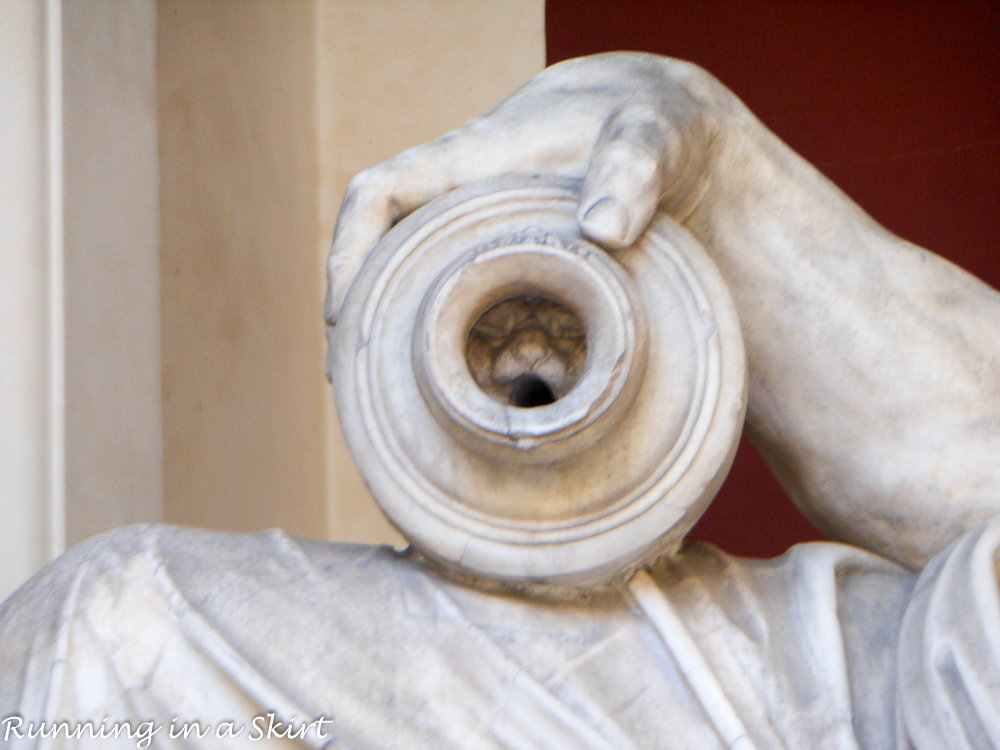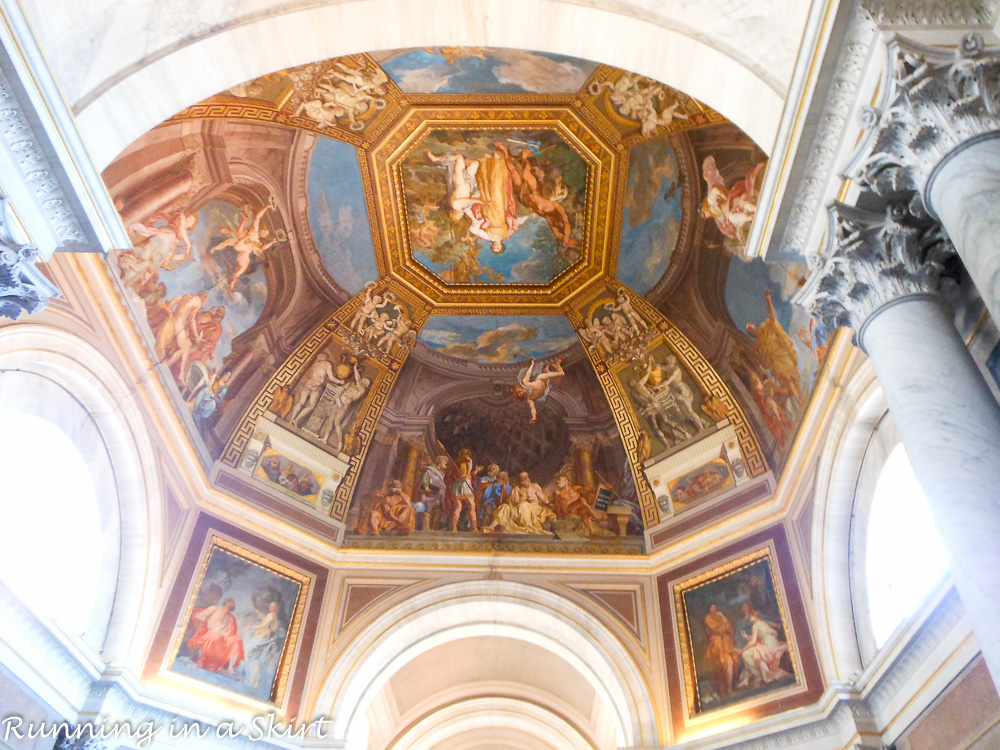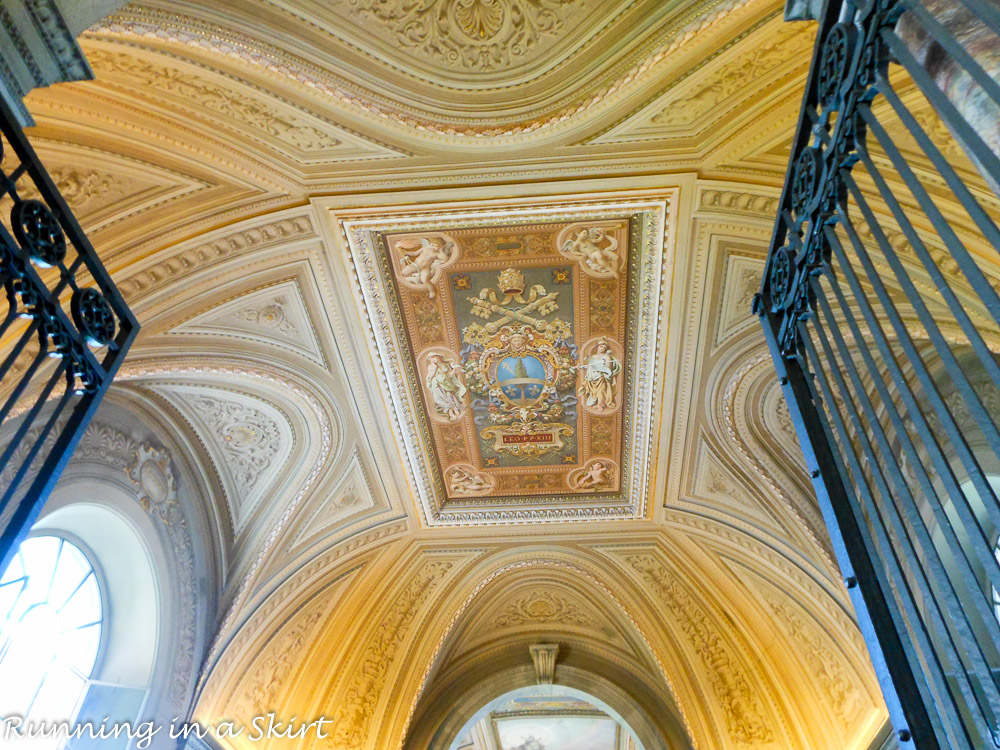 There are dozens of rooms, each with a theme. This one is maps.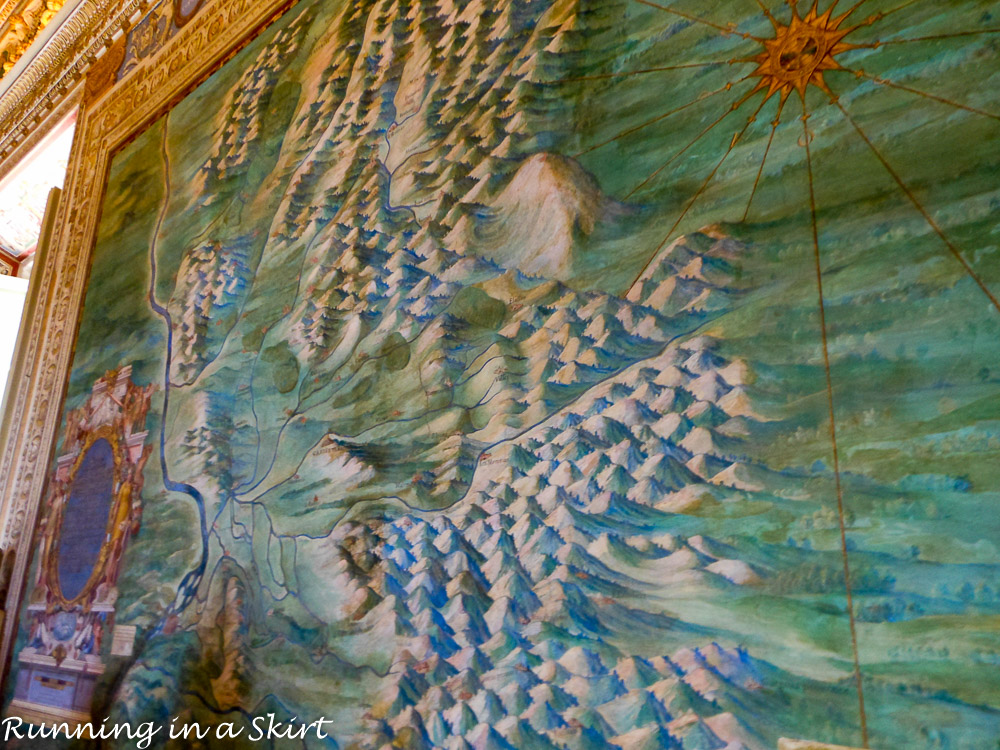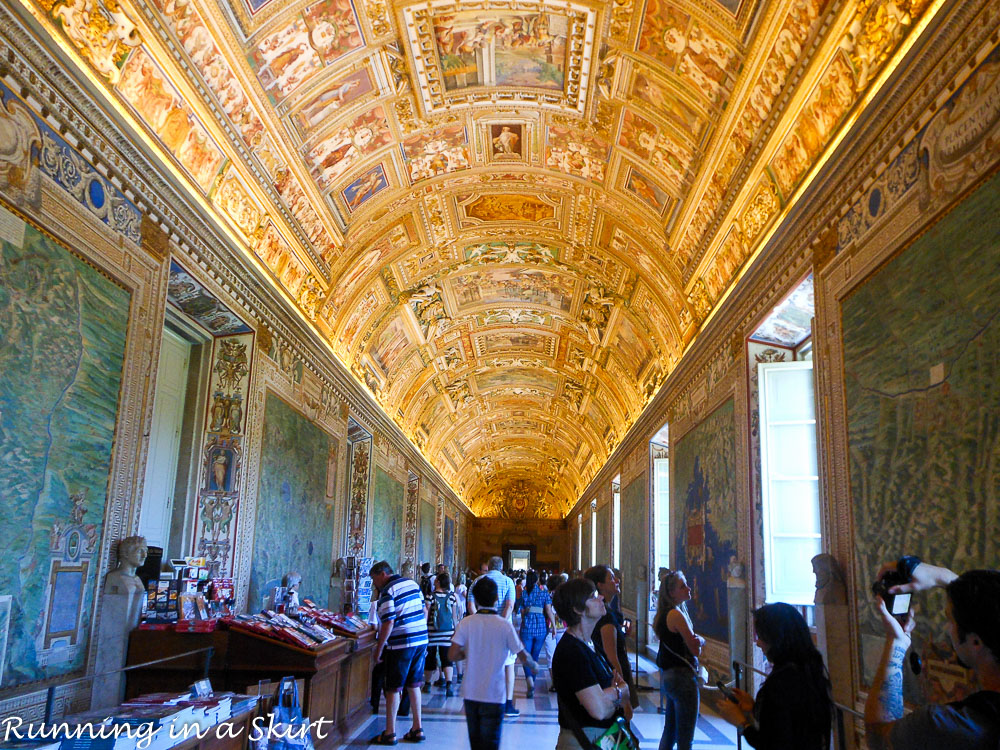 We also visit the rooms with the glorious artwork by Raphael.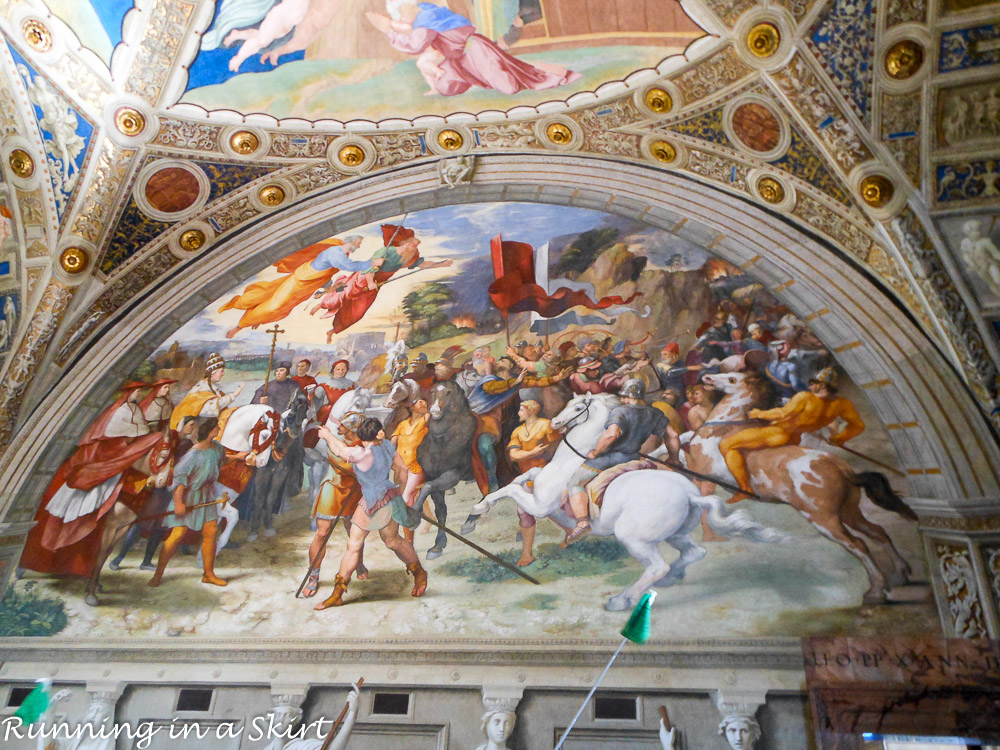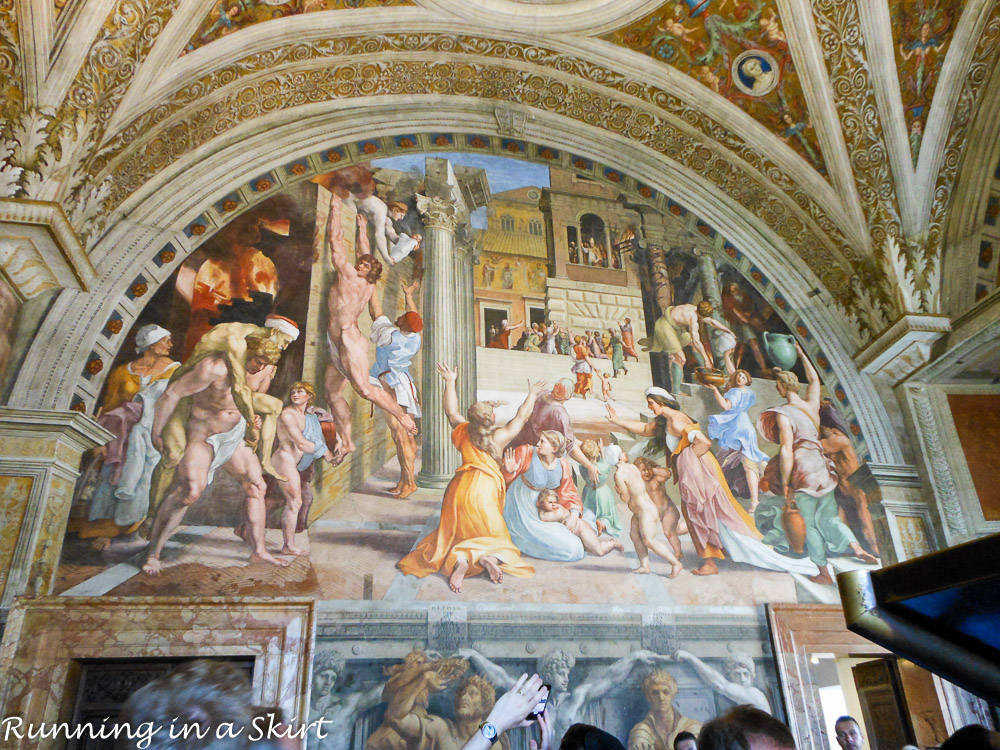 After hours of looking at amazing art and history we are told to put our cameras away. The one place you can't take pictures in the Vatican is the Sistine Chapel. Before we go into the Chapel, our tour guide takes us into a quiet corner to show us a picture of Michelangelo's Last Judgment and the famous fresco ceiling. We are not allowed to talk inside the Chapel so the pictures she shows us gives us perspective on what we are about to see. She explains how Michelangelo was commissioned by the Pope to paint only twelve figures on the ceiling, but when he was done painting there were over three hundred. She also explains how the Last Judgment upset some of the Bishops at the time because there is so much nudity in it and how Michelangelo painted his own face on the famous and disturbing flayed skin.
Here is a link to pictures from the Sistine Chapel since I couldn't take any.
Walking inside the Sistine Chapel is a once in a lifetime experience. We spend a good deal of time with our necks craned trying to make sense of the elaborate ceiling fresco. It is more colorful and vibrant than you could ever dream of. The Last Judgment is meaningful and terrifying at the same time. It is so hard to believe that the same person created the innocent David statue we had seen in Florence just a few days earlier. You can really tell how Michelangelo may have become more jaded through his life and poured his feelings into the art.
We leave the Sistine Chapel and are quickly whisked away into St. Peter's Basilica.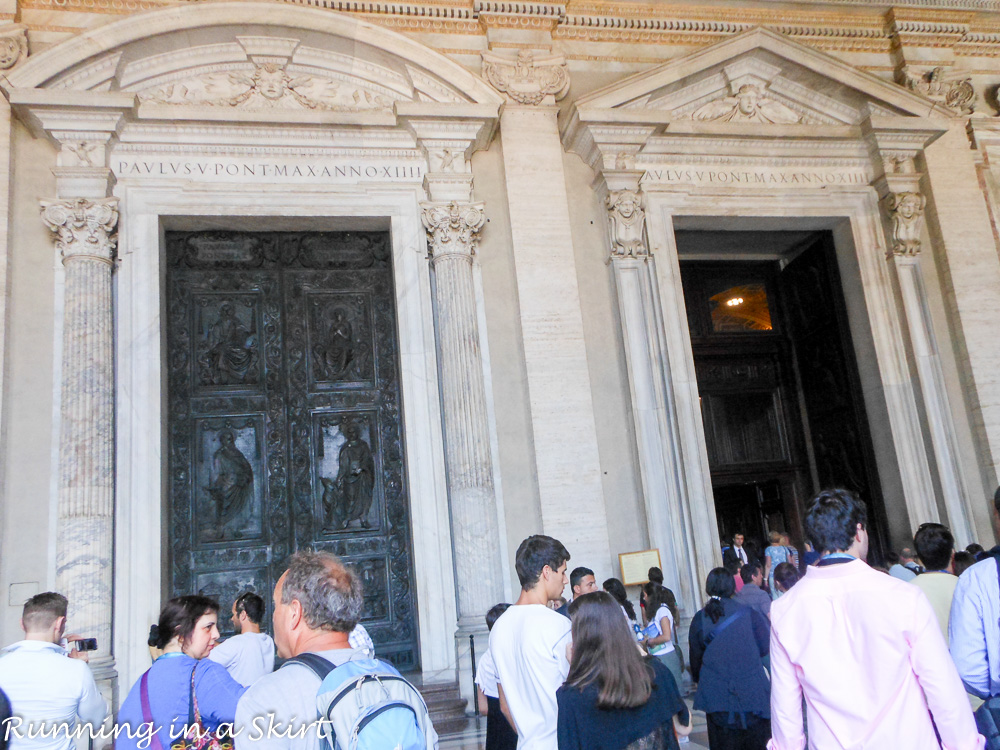 We fall back into a massive crowd of people entering the large doors. My husband and I both gasp at the scope, size and relevance of standing inside the most impressive and powerful church anywhere.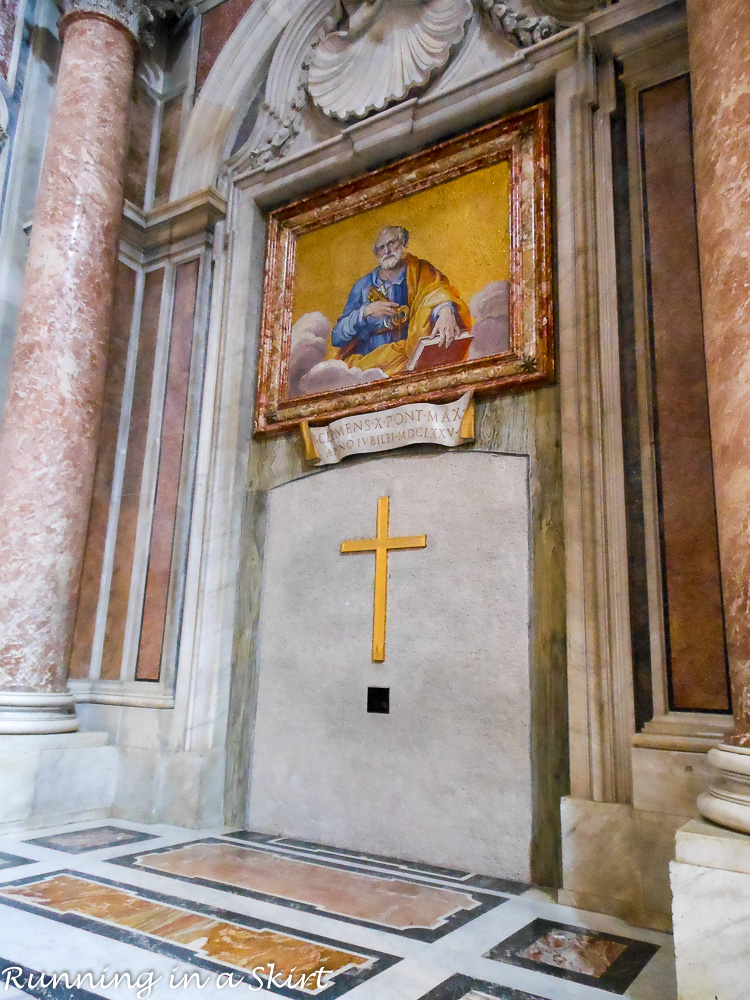 We are surprised that you can basically walk anywhere and take as many pictures as you want.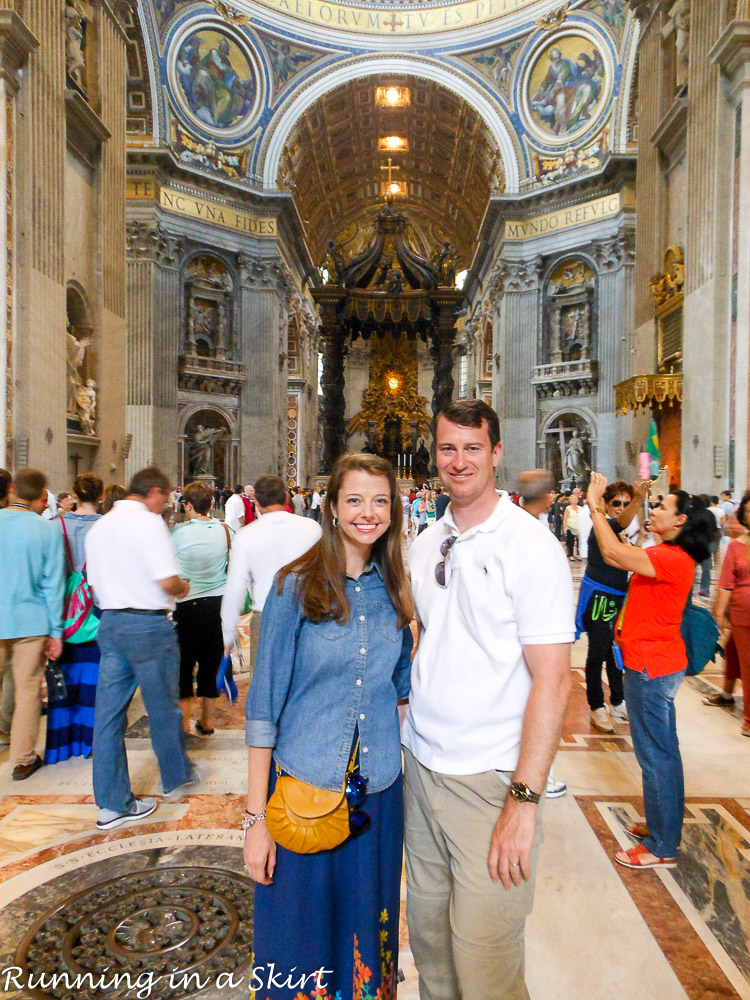 The most beautiful part is the alter in the front.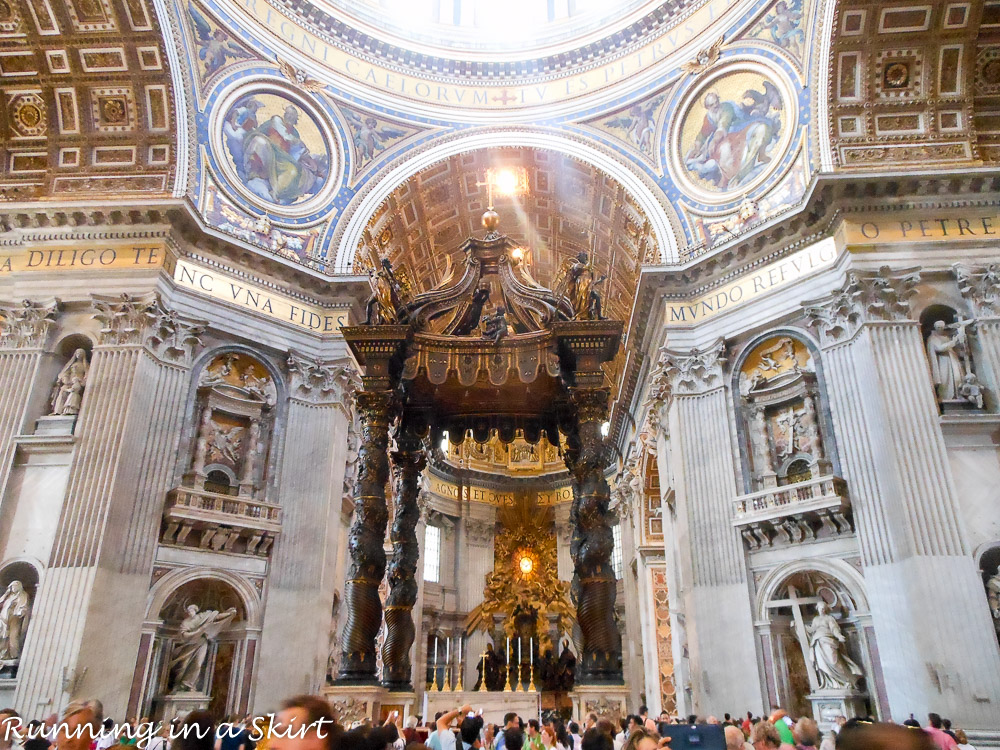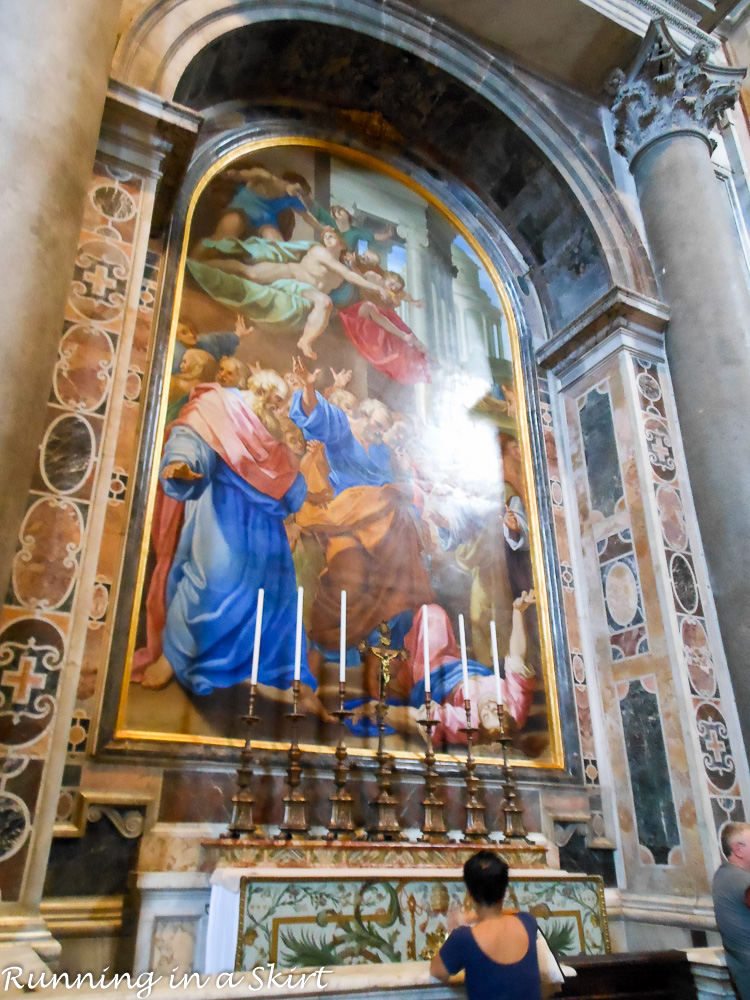 The most surprising part is this this actual mummified body of a diseased pope. The casket has clear glass on it. The hubs and I had no idea we would see that.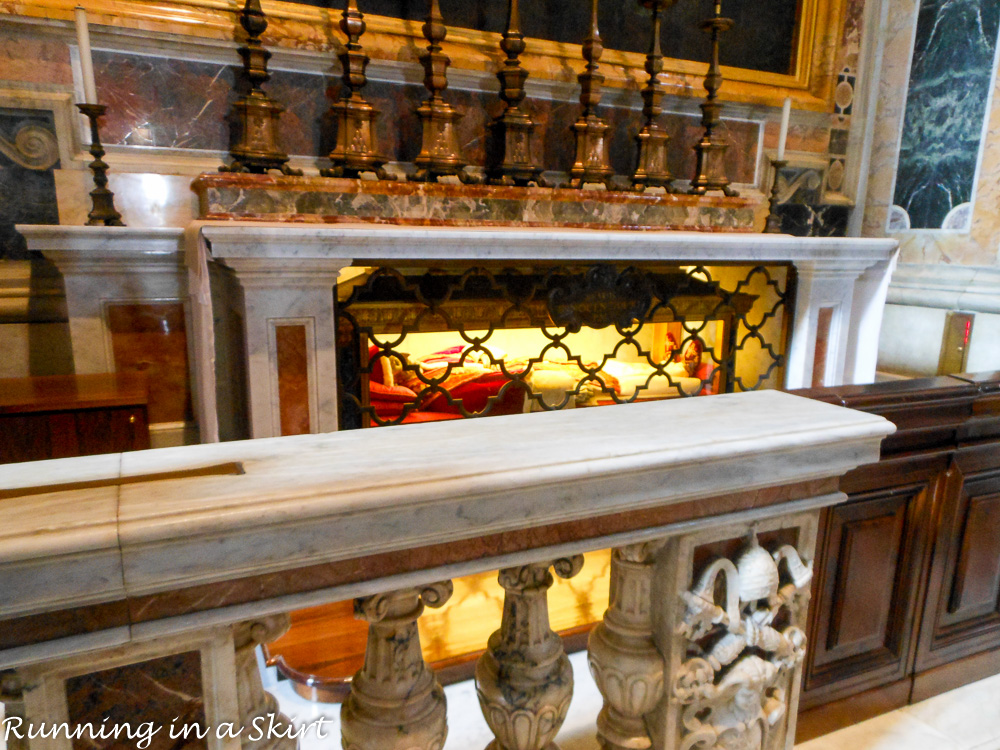 We put down our cameras and just take in the scenery and the significance of standing in this holy place.
After some time we leave and we walk down the front steps. On our way out we see a Swiss guard! Just like on TV!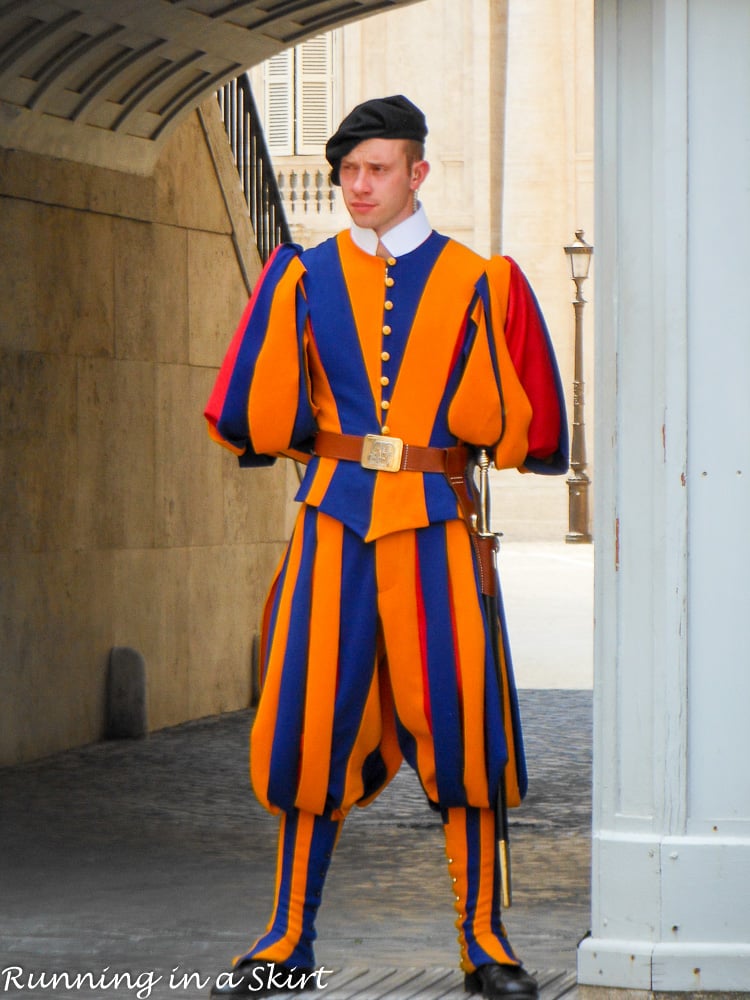 Vatican square is equally impressive. We imagine what it would have been like to be here when the new Pope was elected just months before. We part ways with our tour guide and just enjoy the moment.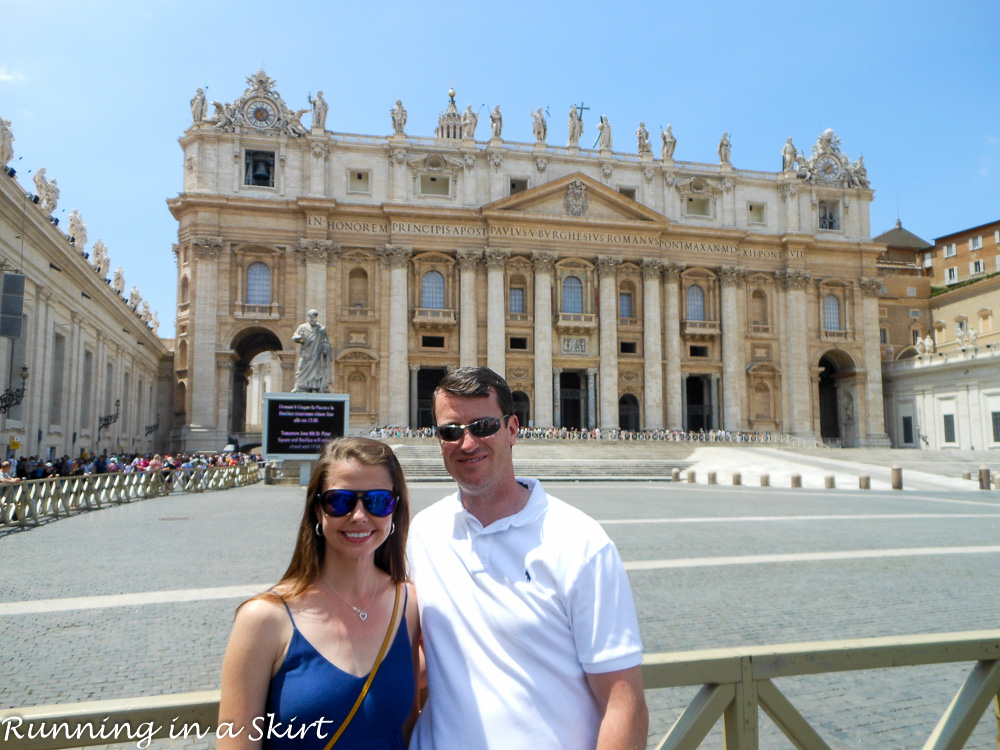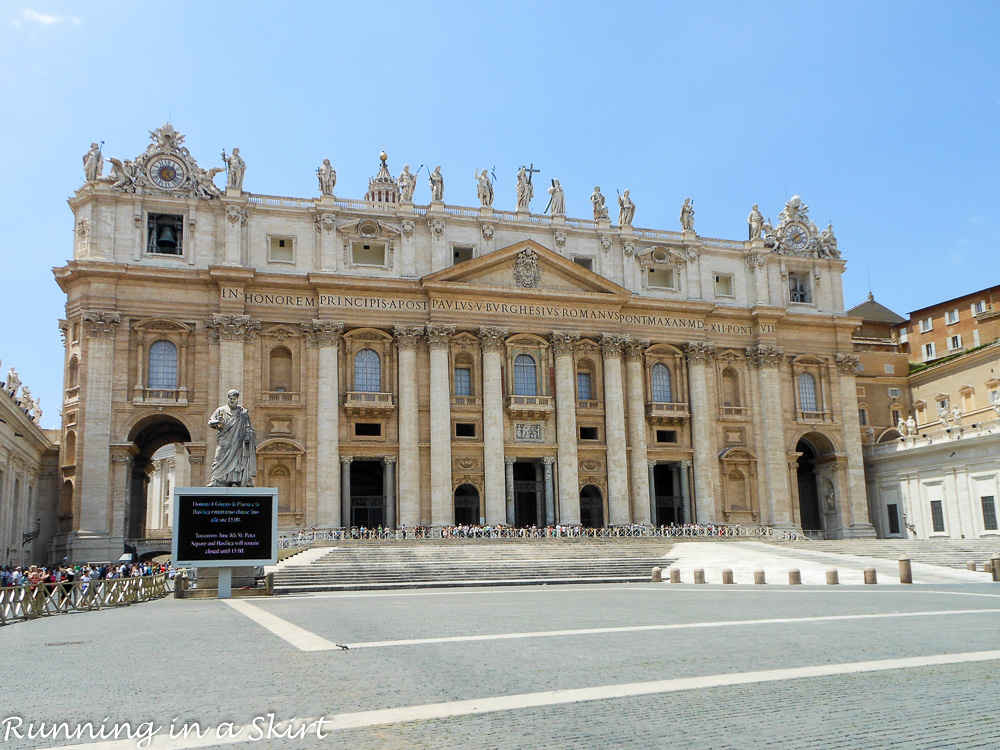 We fill up on water (free water everywhere in Rome!) and head back to the hotel.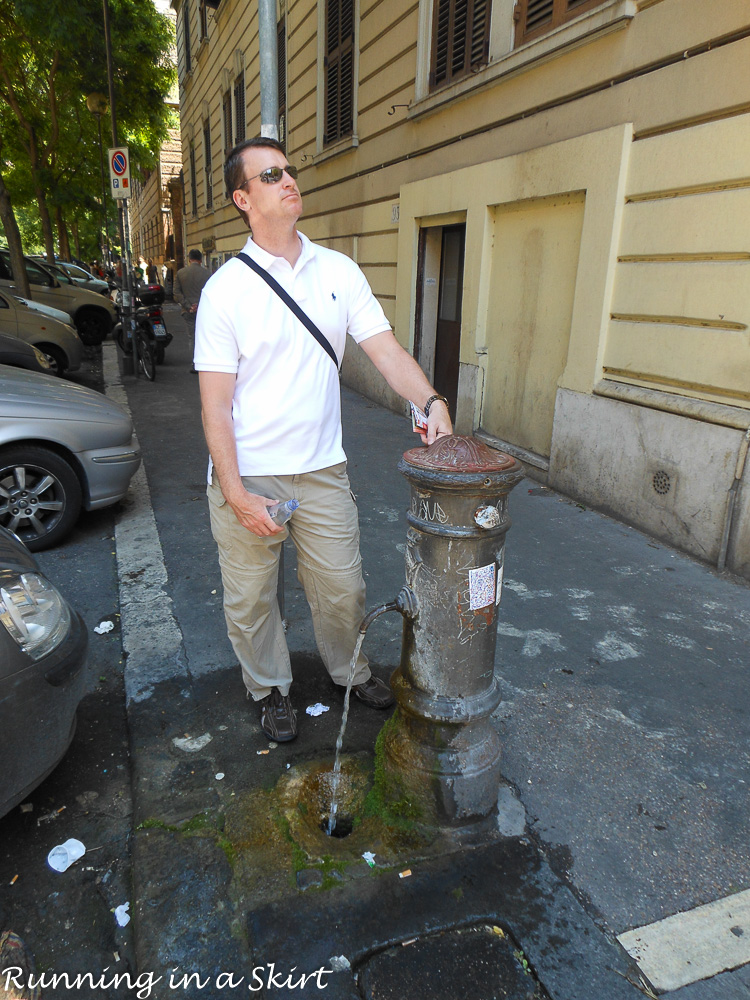 We are heading back home in the morning so we put our cameras away and just enjoy the stroll. We know we could never actually see all of Rome in two days, but it sure feels like we walked all of Rome! We enjoy many of the big sights we saw the day before on our walk and take frequent rest stops along the way. More Gelato please! Eventually we get too tired of walking and grab a taxi for the last few miles enjoying the chaos and beauty of Rome from the comfort of the car. Our last evening we planned on another fancy meal, but the authentic Italian brick oven pizza we had the first night was too good. We decide that we must go back. We cancel our reservations, put on jeans and sit outside enjoying our pizza and reminiscing about what we will always remember as one of the best vacations ever.
Chio Italia!
Reflections on 2 Days in Rome
I will never forget the moment I stood in the Coliseum gazing at the massive thousand year old structure. I felt connected to the gladiators and spectators and felt their stories come alive.
I will also treasure the the time we spent gazing at Michelangelo's art in the Sistine Chapel. Walking into St. Peter's Basilica literally took my breathe away.
Visiting Rome is like opening up the most amazing history book and it all coming to life. I feel so lucky that I could see all these amazing places in person.
On the flip side I know Rome is not the kind of place I would like to spend a lot of time. As someone who doesn't love crowds and huge urban areas, I feel Rome is best experienced in small doses. After two days we were weary of fighting the crowds and traffic. We were ready to go home. I know we only touched the surface on things to do and see in Rome, but I feel like we did a good job hitting the highlights. I don't feel like I missed anything I really wanted to see. It took a good deal of planning and a crazy amount of walking to make this happen though.
Thoughts on Our Big Italy Adventure...
Italia, Sono abbagliato da te!
(Italy, I am dazzled by you)
Going on this trip was one of the most memorable experiences of my life. While it was different than what I expected, it absolutely lived up to my very lofty expectations. The whole trip almost seems like a dream now. I am actually glad we have these recaps so we can remember some of the details of the trip over time. It's amazing how even the most memorable moments become blurry over the years.
I really hope those of you who have gotten to this point have enjoyed reading them.

I'd love to go back to Italy one day, but who knows what the future holds. In a perfect world I would spend a few more days in Rome, a week in Tuscany and explore the southern part of the country. There are so many places in the world to see.
In the meantime we will keep Italy close to our hearts and on our plates. I'm hoping to recreate some of those amazing dishes we ate along the way. I'll keep you posted if I have any luck!
Catch my Entire 2 Week Italy Trip
Like this post on 2 Days in Rome? Pin it to your favorite travel board?