On Sunday it was finally clear and sunny (we have had one of the rainiest summer's on record) AND my best friend Sarah was in town from Pittsburgh. The hubs and I decided it was the perfect opportunity to do a little exploring. We set out to find Crabtree Falls!
Awww… isn't it gorgeous?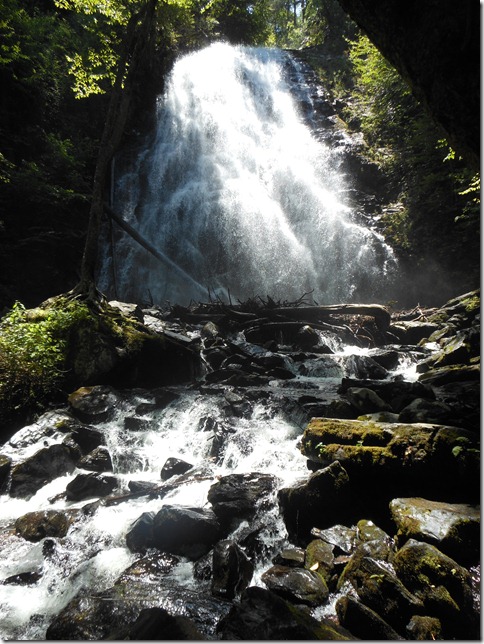 We use our trusty guidebook to find the waterfall. None of us had ever done this hike before so we need a little guidance.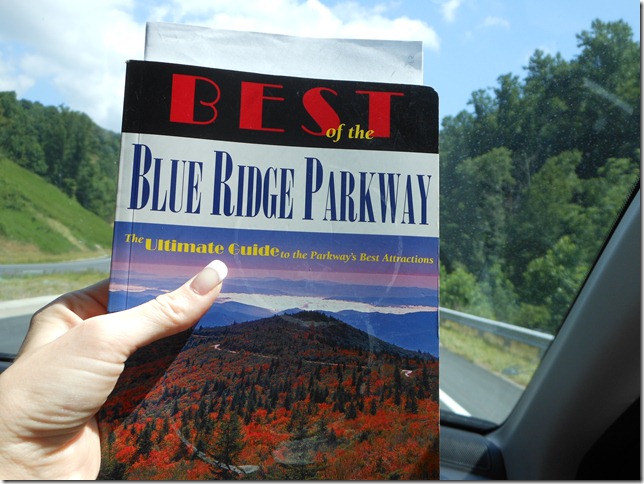 Luckily we remember at the last minute that the Blue Ridge Parkway is blocked to Mt. Mitchell so we take a detour on Highway 19 in Yancey/Mitchell county.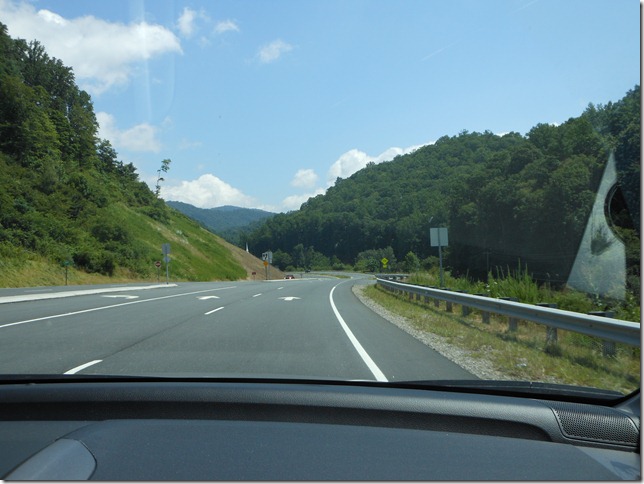 It takes us a little longer to get to where we want to be along the Parkway, but it is still a beautiful drive.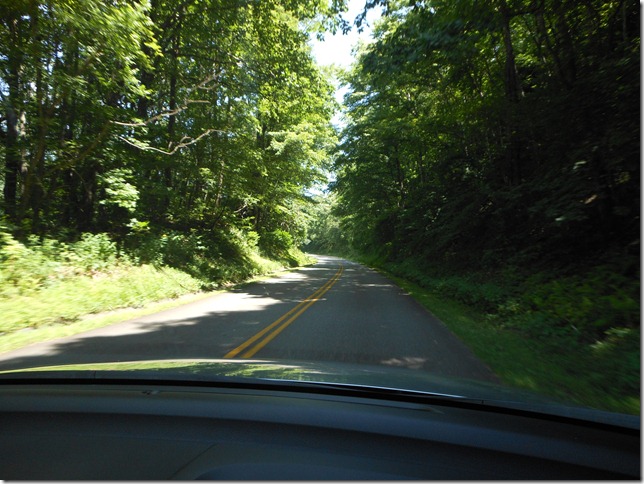 We finally arrive at mile post 339 and it is a perfect 75 degrees and sunny! Don't you love cool mountain summers?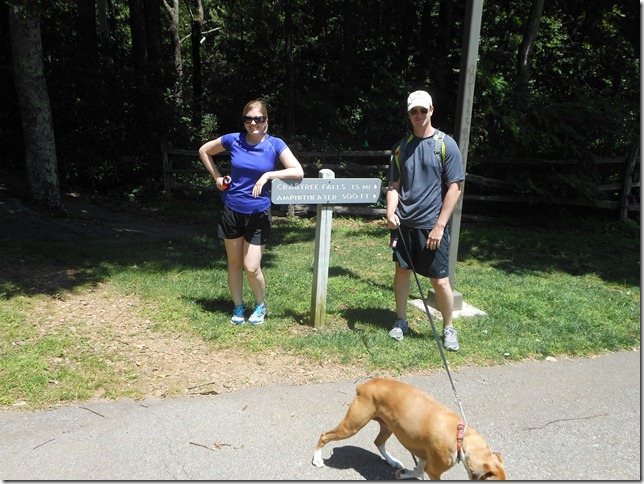 We bring Reina who is so excited we can hardly get her to sit for a picture. Poor Rhett has too short of legs to go on hikes… sometimes it's rough to be a doxie.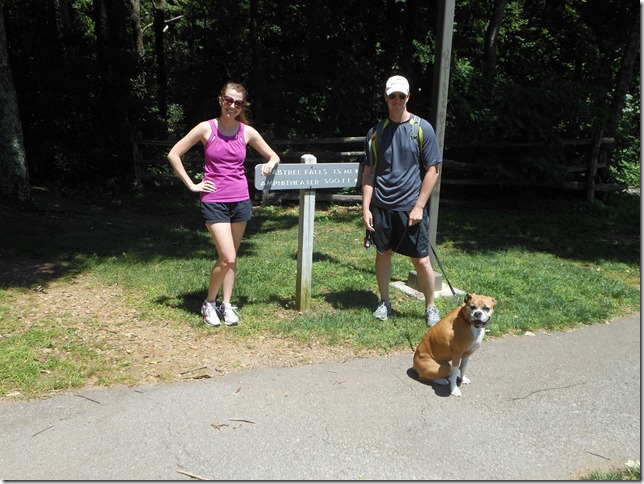 The trail is well marked from the parking lot and we have no trouble figuring out where to go. It is relatively quiet and the store and snack bar are closed. We assume this is because of the road closure and detour making it harder for people to get there.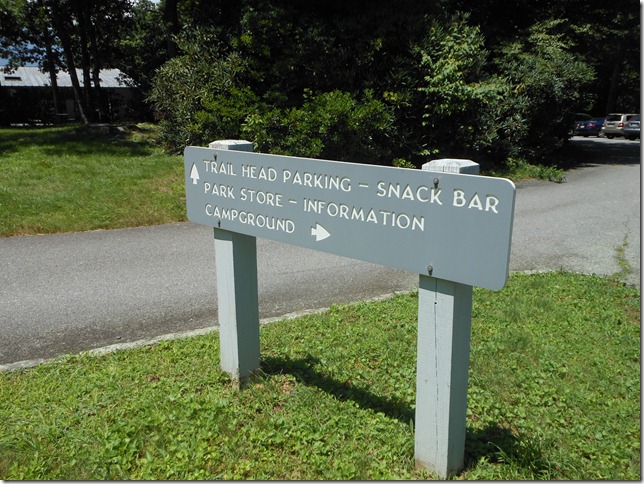 The trail starts with a paved tree lined path through the campground (also closed.)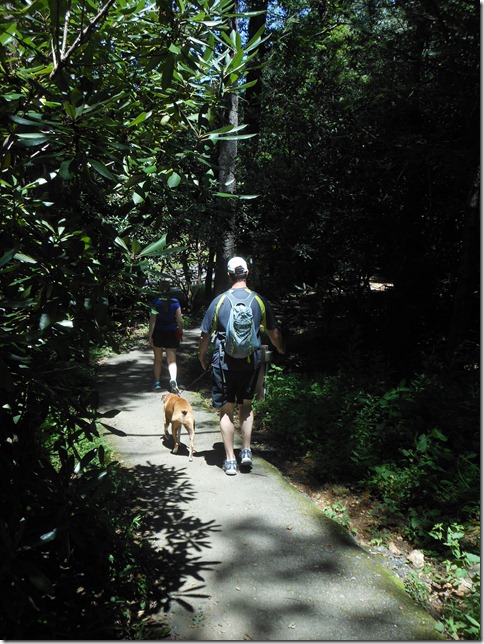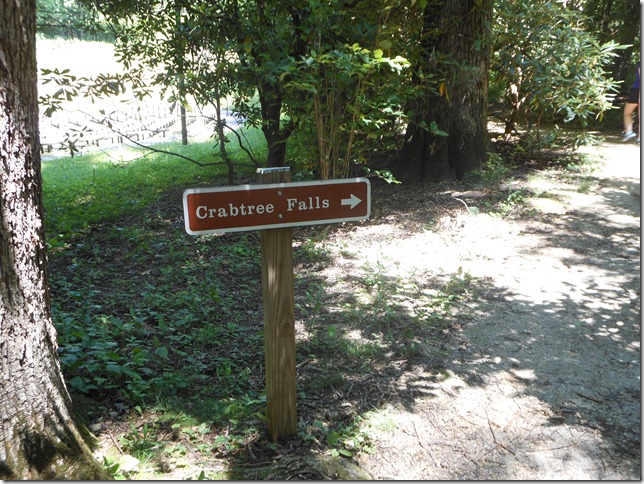 We pass a cool looking amphitheater that we imagine must be fun on camping trips.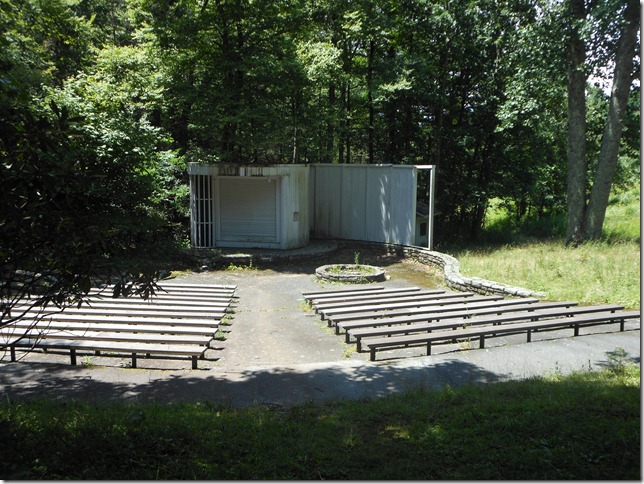 As we walk farther the pavement turns into packed dirt which is easy to walk along.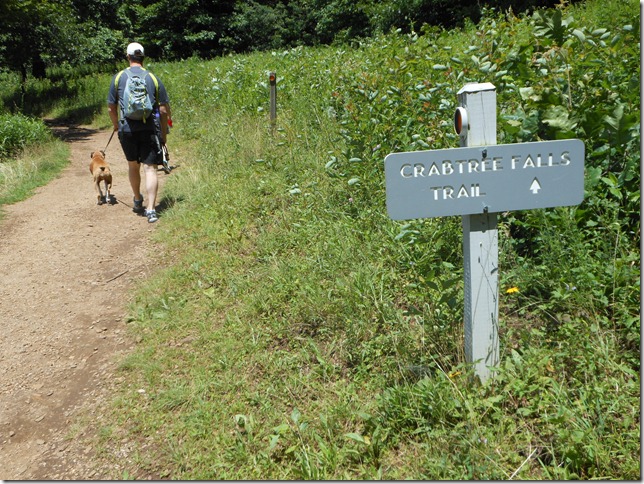 I see Black Eyed Susan's, which just scream mountain summers to me.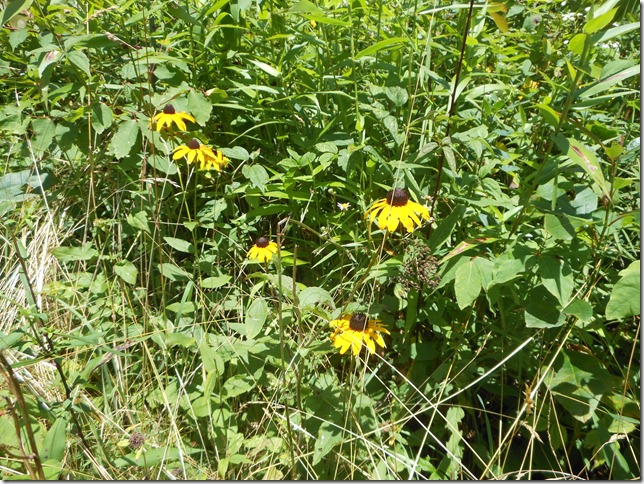 And we also notice these super cool flowers that I have never seen before. Does anyone know what they are?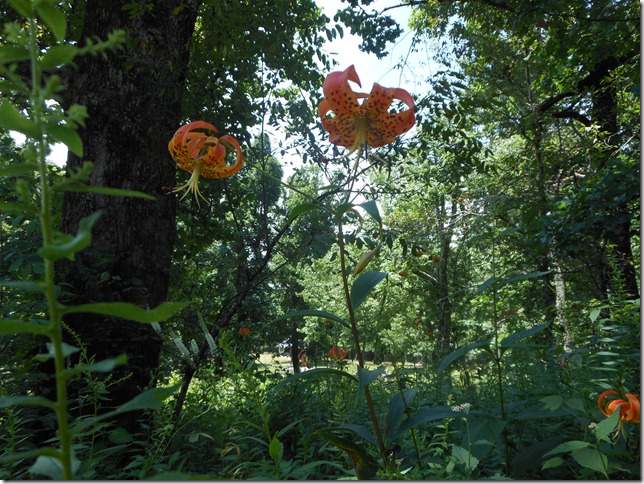 Just past the campground we spot more signs.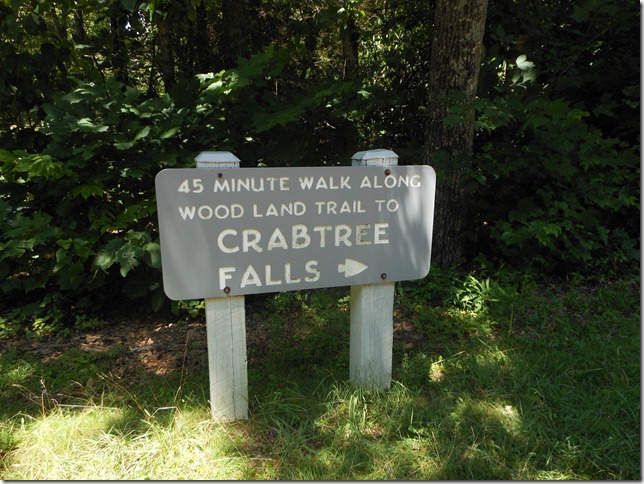 This one says the hike is strenuous. We are a little concerned because we think we are in for an easy hike, but we decide to keep going.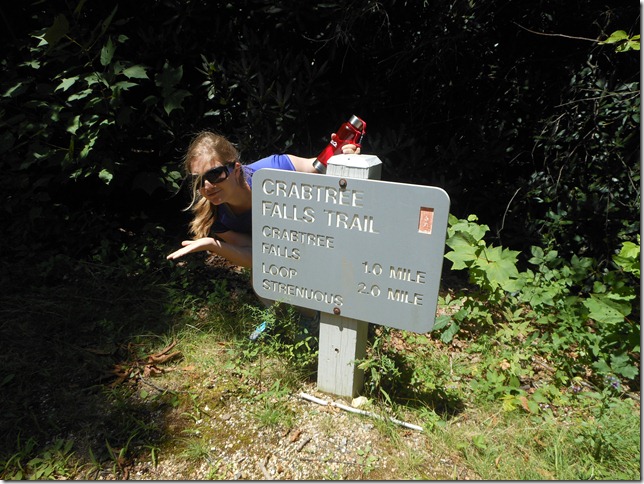 Reina doesn't seem to care as she is just so excited to be along for the journey. Look at this happy face!!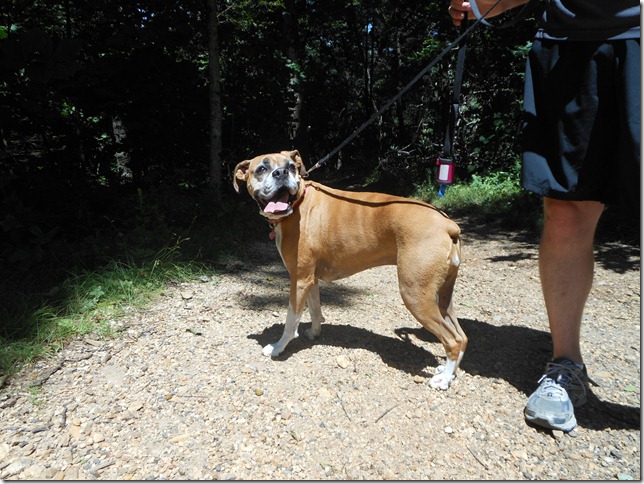 The trail starts off with more packed dirt and stones.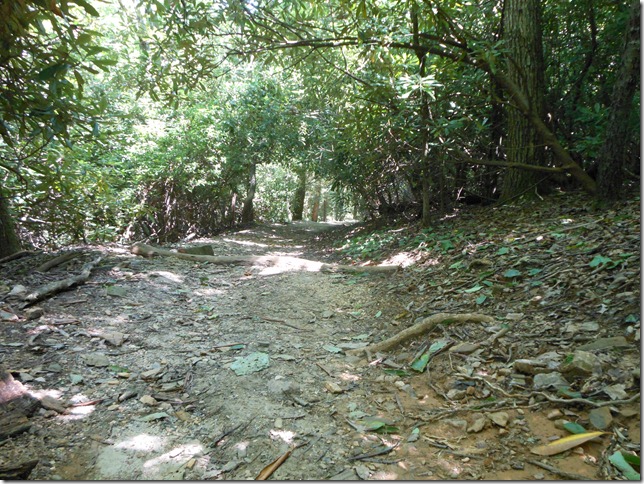 There are several areas with steep steps and bridges. We are definitely aware that we have been walking downhill for a long time. What goes down… must come back up…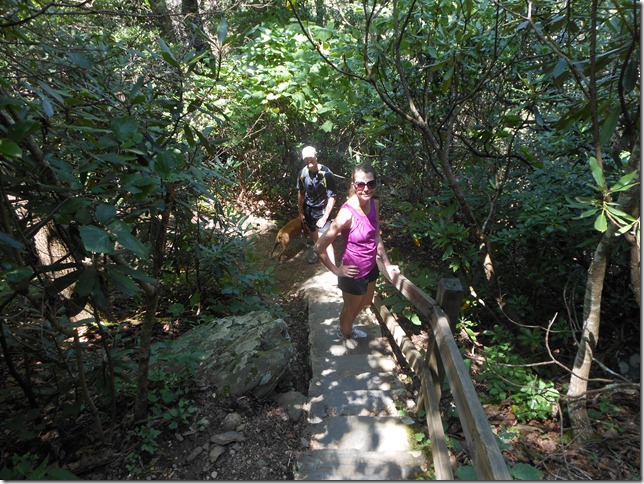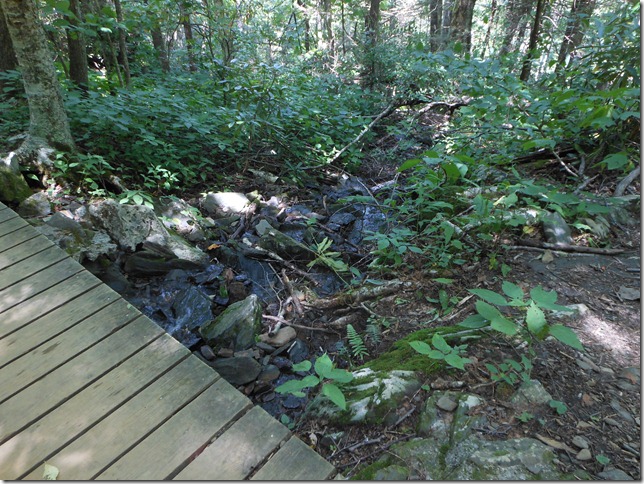 As we get closer to the water the trail turns into a stone walk that is uneven and hard to maneuver.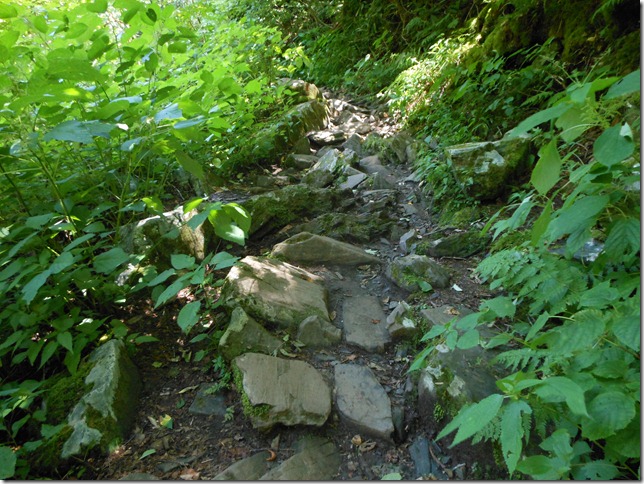 We even see signs of what must be weather damage from all the rain we have seen this summer. We walk for about a mile and maneuver those uneven stones for about half the time.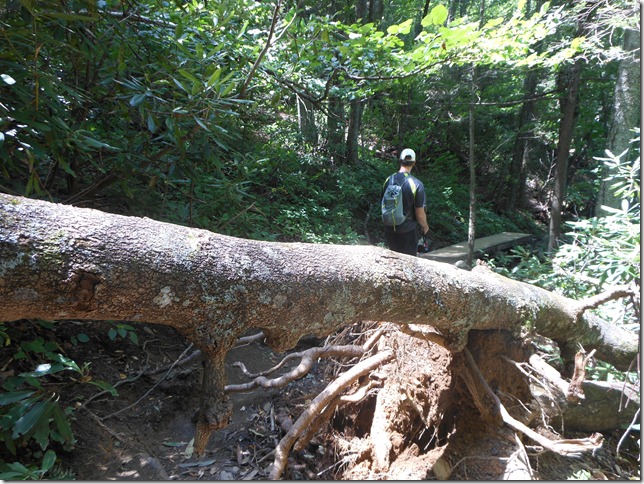 Just as we are getting a little tired of walking the trees open and we see this…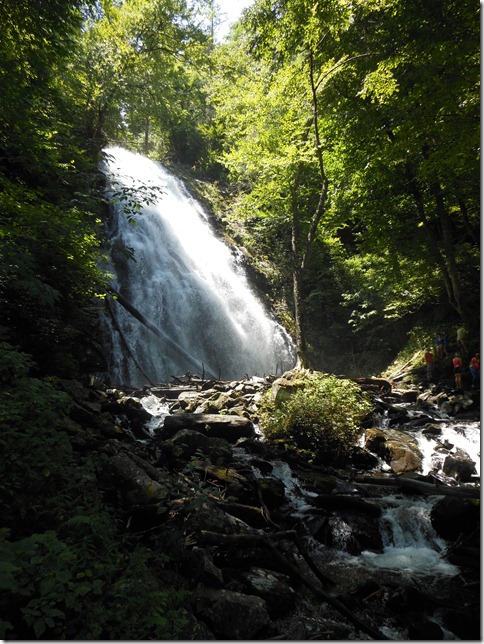 70 feet of crashing water with sun glistening off the top. It's the perfect day.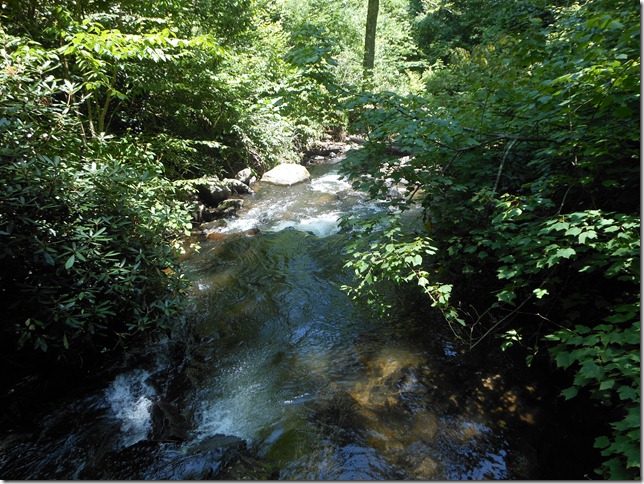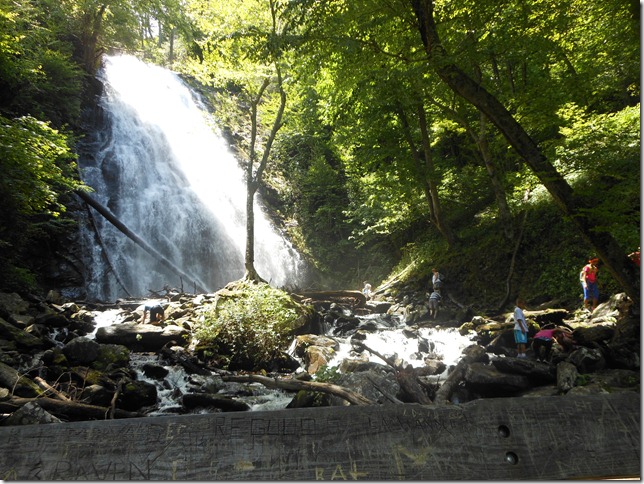 The water is running high and the waterfall gushes a cool breeze everywhere. We didn't pass hardly anyone along the trail or in the parking lot and are surprised to see dozens of people at the bottom of the falls.
We get a great seat on a bench and eat lunch.
I'm loving my PB&J and Reina is loving her water!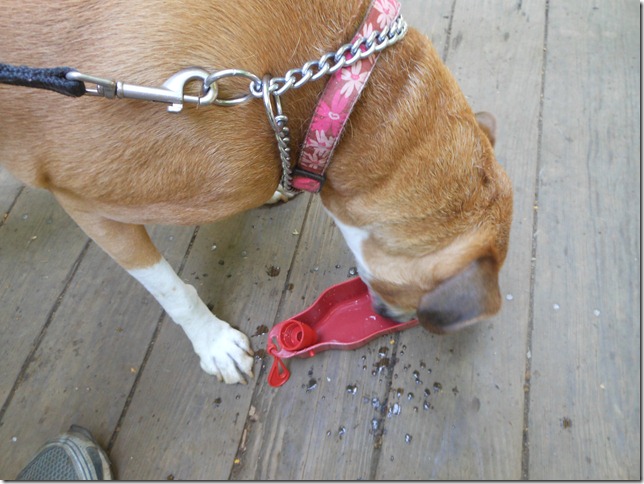 After lunch we enjoy the views and take some pictures.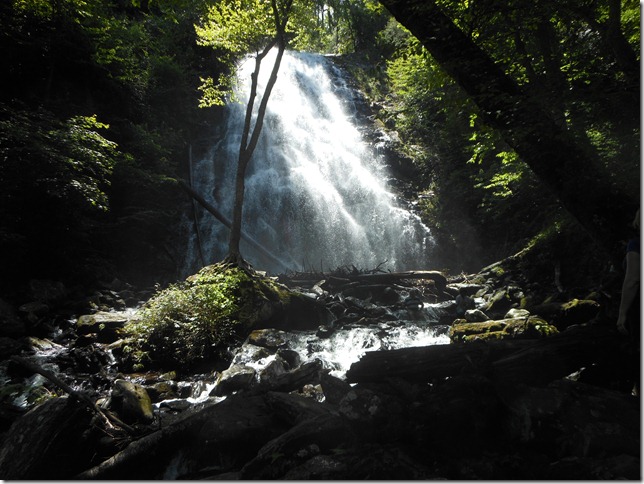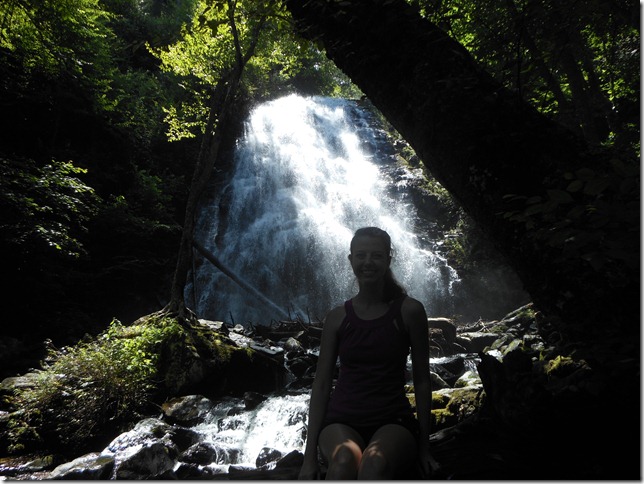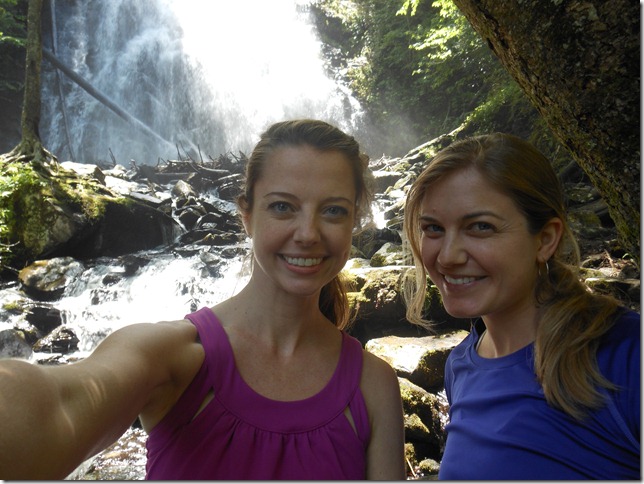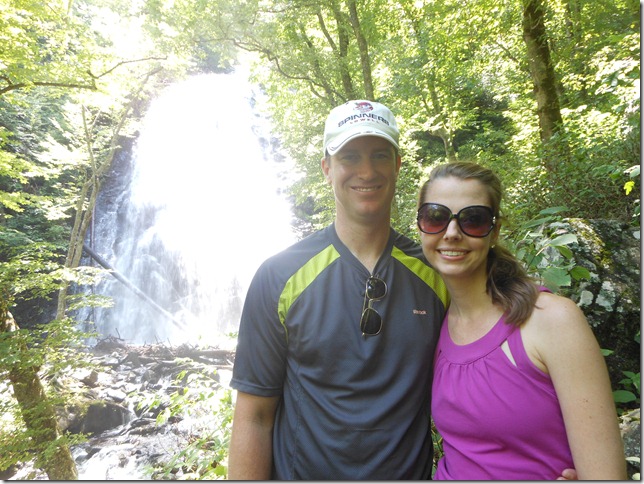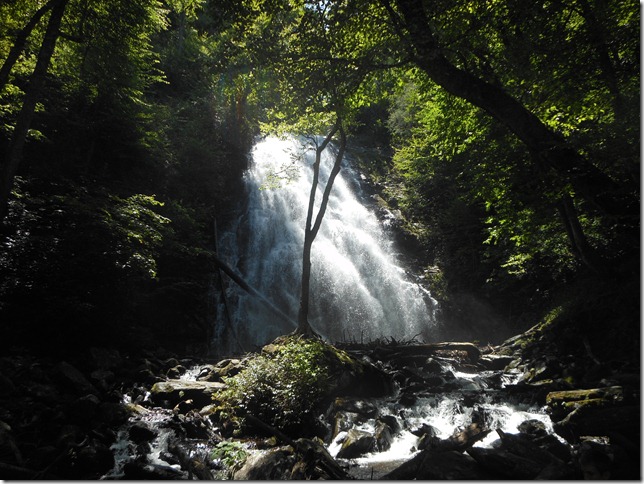 Eventually we decide to head back to the car. The hike is actually a big loop so we can head back the way we came, which is shorter, or check out the longer remaining portion of the trail. The rocks were pretty hard to walk along on the front side of the loop so we decide to see if the second half is any smoother. We see the huge set of stairs we must climb up now and grow concerned again… maybe walking back uphill is where this hike gets "strenuous."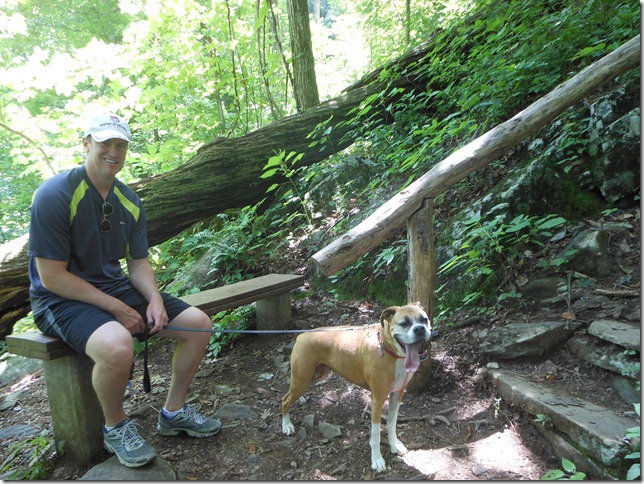 The way back is uphill the whole way but it is less rocky and more comfortable to walk on. We see some beautiful sites along the way.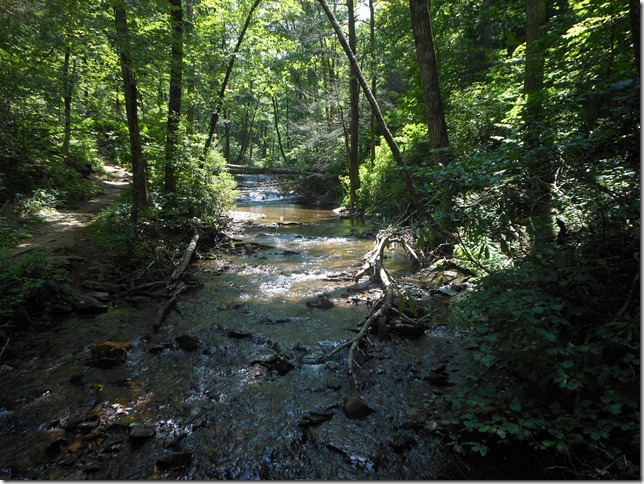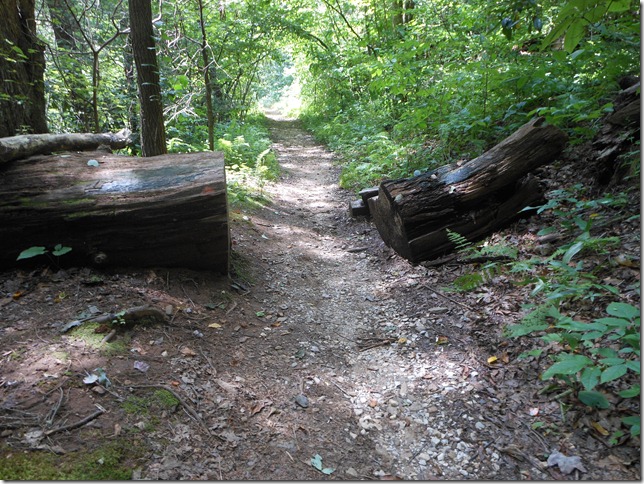 Just when we think we must be getting close to the car we see this…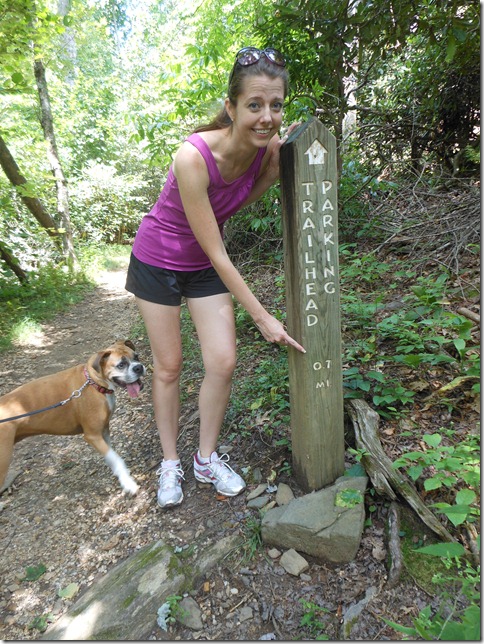 … a sign that says we still have seven tenths of a mile left! HA! Our legs are getting tired and Reina is not as excited to be walking anymore. The hike seems like a good bit longer on the way out. I read afterwards that it is an additional six tenths of a mile longer this way.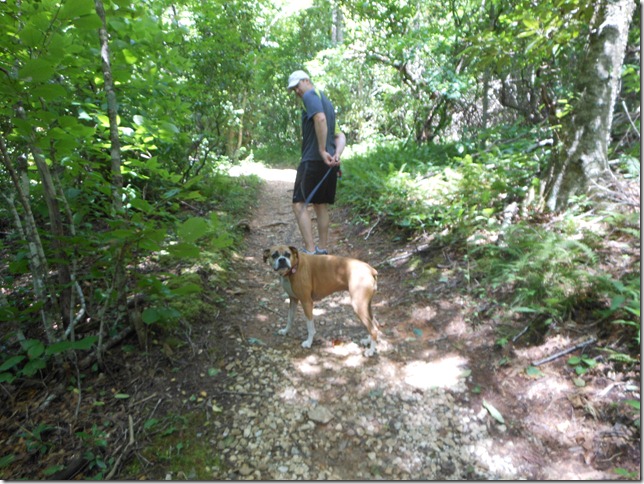 By the time we get back to the parking lot we figure we walked almost 3 miles. It seems a little long on that last uphill stretch, but it is really the a perfect length for a pleasant afternoon hike.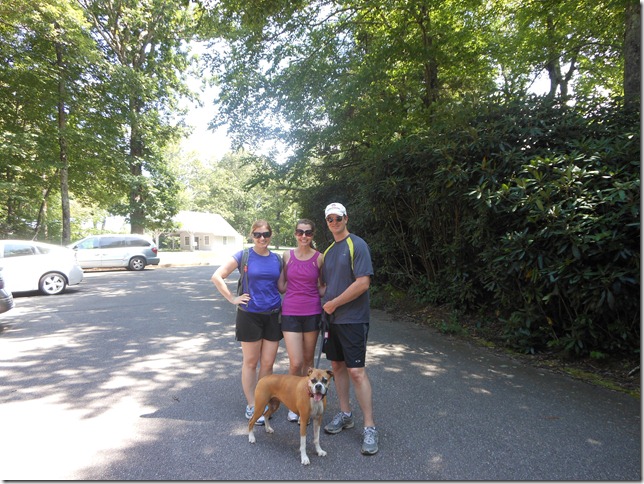 I love living in a place that we can do so many outdoor things in our own backyard! I hope we have more time before the weather turns cold to enjoy more of these sites.
** Not to sound preachy… but please remember to enjoy these sites with CAUTION. Every year I hear about people getting hurt or even dying at our local waterfalls. Most of those accidents are from people climbing to the top of the falls or walking along the top of the falls. Please enjoy the site from the bottom where it is safer and do not climb the rocks. Also please do not go to the falls when it is raining or when the ground is still wet from rain. The rushing water can be dangerous and the wet rocks can cause you to slip. You have to respect mother nature!! **
----------------------------------------------------------------------------------
QUESTIONS:
WHAT DID YOU DO OUTSIDE LAST WEEKEND?
WHERE IS YOUR FAVORITE WATERFALL?
WHAT COOL OUTDOOR SITES DO YOU HAVE IN YOUR TOWN?
[/fusion_builder_column][/fusion_builder_row][/fusion_builder_container]