A year ago today I published my first post on Running in a Skirt. That means today is my Blog Birthday!
If you are just joining my blog or have not been around for the whole year, make sure to check out the MUST READS page on my blog.
This time last year I was in the middle of Chicago Marathon training. In the process of learning more about running a marathon I stumbled across the blog community. I found tons of stories online of people who had run marathons and shared their stories online. I started branching out and reading running blogs, healthy living blogs, cooking blogs and lifestyle blogs. I found these online journals to be inspiring, informative and entertaining. I was running the Chicago Marathon as a SoleMate for Girls on the Run of WNC and I started thinking that publishing my own marathon experience might help me raise more money for the cause.
After much convincing from friends (fellow blogger Sommer from A Spicy Perspective- Thanks Sommer!) and my husband, I took a leap of faith and started a blog of my own. I titled it Running in a Skirt because I was running all the time and often in a skirt. I added the tag line… Julie Wunder's Blog, Balancing Fitness, Food, Fashion and Fun because I thought I would occasionally like to write about other aspects of my life. I mainly intended for this to be a running blog though. Little did I know my life would take as many twists and turns as it did this year. I never expected my blog to venture so far away from running.
My first blog post is simply titled Chicago Marathon. You can read it HERE. In it I write how "I'll be writing on my new running blog www.runninginaskirt.com as I'm training for this huge race. I will also have running tips that have worked for me, ways I try to run healthy, and some crazy side stories from my life. Even if you are not a runner, I think you will enjoy it. My goal is to inspire someone to get active in any sport or try something that you once thought was impossible. I hope it will give you a chance to get to know me a little better."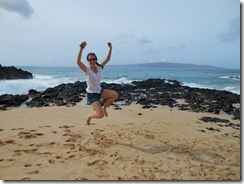 See... leap of faith!
At the time I said starting this blog was a leap of faith, now I believe in many ways God put this blog into my life to help me cope with the hardships I faced this past year…
I will never forget the outpouring of love and support you guys gave me during those hard times. You kept me going.
This blog has also allowed me to share some of the most amazing moments of my life…
LIKE FINISHING THE CHICAGO MARATHON
As it turns out, one year later, I have a lot more than running to talk about on Running in a Skirt. Over the course of a year my little blog has morphed from a running blog to a lifestyle blog with some running on the side. Let's just say… I'm running through life in a skirt! My main goal is still to be a positive place on the internet with plenty of fun and inspiration. Whether that involves running, travel, food, fashion or finding "sunshine," I'll be here. I love this blog and have poured my heart into it.
But at the end of the day, YOU guys are responsible for this blog being successful. I'm so grateful that so many of you have kept reading and kept my little experiment going. Starting this is the best leap of faith I've ever taken. THANK YOU so much for reading and sticking with me though the ups and downs of the year!!! I promise more fitness, food, fashion & fun through the years to come.