Sometimes the best part about running is the numbers. I find such satisfaction in tracking my runs and watching the times go down or the miles go up. I've found that if I work hard and am patient I can really see results.
A few weeks ago I made a short term running goal to get my 3 mile run back under 30 minutes. I'm taking my time with this comeback, but I needed something quantitative to work on to let me know I'm actually improving. To put this in perspective, before I got sick in February, I was running 3 miles in 28ish minutes. When I first started back running again in June I was running 3 miles in 33 minutes.
So, GUESS WHAT?! I'm getting faster and I have the numbers to prove it.
It was honestly just sort of fun typing that.

My hubby and I both have "workout" boards where we track or plan the workouts we do during the week. They are basically dry erase boards with a fun silver back. I know… we are both Type A.
This was my board two weeks ago…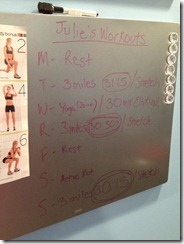 My 3 mile time started at 31:15. Then it went to 30:30 and then down to 30:15!
This is last week…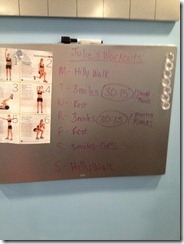 30:15, 30:15 and ….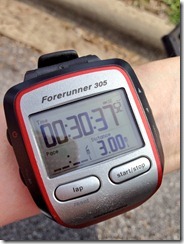 …but it was super HOT and HUMID during this run so I actually consider this one a victory too. My last super steamy outdoor run was 30:55.
This week I know I'll hit my goal. I'm so close. I already ran 3 miles in 30:05 on Monday.
Hey, did you hear? I'm getting faster, the numbers don't lie.
(The magazine article page next to my workout list is a kettle ball workout I ripped out of a magazine that I want to try.)
--------------------------------------------------------------------------------------------
QUESTIONS:
DO YOU EVER SET SMALL GOALS FOR YOURSELF?
WHAT'S YOUR CURRENT RUNNING GOAL?
DO YOU TRACK YOUR WORKOUTS?