Normally "I went for a run" would not justify its own blog post. When I'm in my normal routine, It's something I do at least three time a week. But since I had surgery in late March, my life and especially my workout routine has been anything but "normal."
In the past month, I have been able to run on the treadmill up to a half mile at a time, but had not taken my Mizuno's out on the road yet. The doctor gave me the all clear to run several weeks ago, but with our trip to Italy on the books, I decided to wait until after vacation to get back into any running routine.
I wake up Saturday morning excited and anxious about my run! It sort of feels like a race morning getting ready and making sure I have all my gear with me. When I turn on my GPS watch, it is still flashing my last glorious 8 mile run from LAST FEBUARY! I can't believe I haven't been able to run outside since then.
My hubby (who normally isn't a runner) decides to go with me to make sure I am ok and don't have any problems. He thinks running 1 mile is a good idea and I think running 3 miles is perfect. We compromise and decide to run 2 miles. We agree that if I am struggling too much we will walk.
We set off at a brisk pace and my legs and lungs feel rested and healthy. Around a half mile I can tell I have lost a lot of muscles in my legs, but I am thrilled to start the process to get them back. I know, I'm a nut

.
We keep a solid pace for the first mile and when my watch beeps to indicate we have gone a full mile I feel a huge sense of relief. I even start tearing up. I feel like running has been taken away from me because I was sick for such a long time. Getting my "running legs" back makes it seem like I can finally put this mess behind me. Being able to run makes me feel healthy again.
We slow down a bit during the second mile and it gets harder, but we still keep a respectable 10:30 pace. Considering all that happened with my health, I actually expect to run much slower. I don't care though, I would have been happy with any time! 2 miles turns out to be a perfect starting distance and I never feel like I need to stop. It's challenging but not exhausting.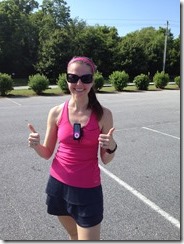 Post-Run Pic!
It's just good to be back. I'm not going to push myself to reach any certain distance or time goals in the immediate future. I'll listen to my body and will hopefully know when it's time to make some goals again. I still have my heart set on breaking a hour in the 10K this year

But for now, I'm running for the pure joy of it.
Related Article: Getting Back into Running After An Injury or Illness
-------------------------------
QUESTIONS:
How has your first run back after an injury or illness gone?
Any tips on my running comeback?
Did you do something outside this weekend to enjoy the summer weather?