Bonjourno! The hubs and I are back from a trip to Italy (with a 22 hour layover in Paris.)
We planned the trip over a year ago and had our plane tickets and hotels booked and paid for long before I got so sick in February and we found out I had to have surgery. So even though the timing was bad (bad for work and me still not being 100%), we decided to just go. I've learned this past year how short life can be- so we weren't' going to miss this once in a lifetime trip!
The trip was amazing. We saw mind boggling historical sights, stunning views and vistas and ate ridiculously good food. It was different than we dreamed, but still absolutely unbelievable.
I'm planning on doing several posts on the trip over the next couple weeks, but for now here are a few pictures. Enjoy! (Keep reading to find out the winner of the Gift Card.)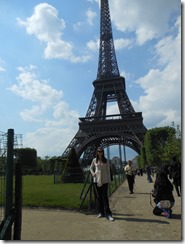 A quick glimpse of the Eiffel Tower on our 22 hour layover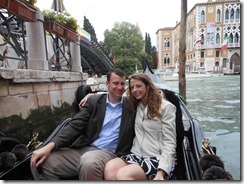 Gondola ride in Venice (It was UNSEASONABLY COLD!!!)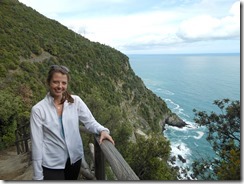 Hiking between towns at Cinque Terre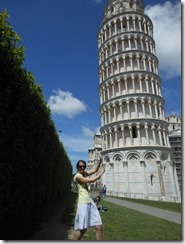 "Holding" up the leaning tower of Pisa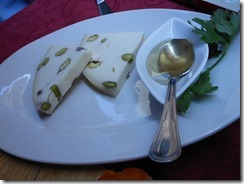 Cheese (Because I ate a ridiculous amount of it on the trip- oh so good)
Touring the Tuscan hill towns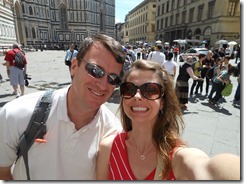 Becoming "Renaissance" historians in Florence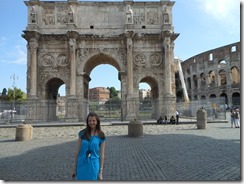 Learning about the Romans at the Coliseum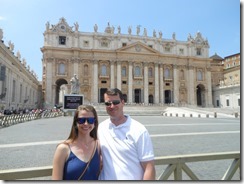 Blown away by Sistine Chapel and St. Peters Basilica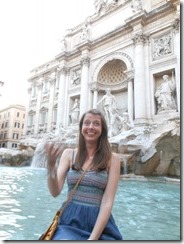 Throwing a coin in the Trevi Fountain so we will return to Rome again someday!!
It's amazing to travel and have the chance so see such awesome things… but it is SO nice to be home. We certainly missed and appreciate the comforts America has to offer!
AND NOW for the winner of the $25 dollar Target Giftcard! I randomly computer generated a winner from the comments on my blog.
The winner is… Nicole Wright.
She says: I have a 7 month old son so we do alot of walking and playing. He loves to get strapped on with hours moby wrap and go walking round the pond near our house. We walk at least 2 miles a day and sometimes try to do more. We eat whole foods and try to keep our diet clean. My son eats mostly what we eat but I also make some of his food.
Nicole… send me an e-mail at runninginaskirt@gmail.com with the address you would like me to send the gift card to and I'll mail it out to you.
Congratulations! Thank you so much to everyone who entered. I am continuing my partnership with C9 by Target so I hopefully will have more opportunities to win again.
**The Giveaway is sponsored by Target and I was compensated for it. All opinions, ideas and commentary are my own**[/fusion_builder_column][/fusion_builder_row][/fusion_builder_container]