Oh so tired...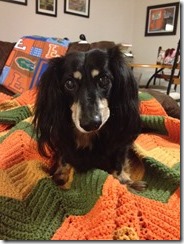 "What? Jet lag? Is that because you went somewhere without me? How could you?"
I love traveling, but it can be so hard to get back into the swing of things after vacation. Yes, I have a mild case of jet lag.
I'm trying not to complain, because it's just a price I pay for going on a cool trip, but it's tough. Luckily I think my early morning wake up call has actually been working in my favor this time. I've had jet lag much worse coming back from Hawaii. The morning show shift is sort of like living in the Italy time zone. Sort of….
So I'm fighting the time change and a serious case of the "daydreams." The hubs and I keep joking and dreaming about going back and spending the day at various beautiful Tuscan hill towns instead of work…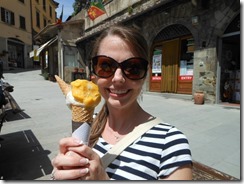 Does anyone want to go to Cortona and get a gelato with us today?
It's good to be back though. I missed Asheville, my life and especially the dogs.
Is it bad that I even missed good iced tea? (That makes me pretty southern huh?)
I'm also grateful that I'm finally starting to feel better. It seems as though the vacation and NOT thinking about my voice problems has helped some. My breath control for my voice is coming more naturally now and I'm starting to not feel as lightheaded and in as much pain when I talk.
I know I'm still not back to my old self. I'm not sure when that will happen and it's so hard to know I'm not completely "normal" yet. But it's getting better and I'm doing to best I can. It seems as though time and patience is a good thing.
My Speech Pathologist even said that she thinks I'm getting my groove back.
I'm feeling a little spring in my step. Bounce. Bounce.
And even through the light jet lag haze, that feels pretty awesome.
PS…. More posts and pics from our big trip coming up!
QUESTIONS:
ANY TIPS TO COPE WITH JET LAG?
DO YOU "DAYDREAM" OF PAST VACATIONS? WHAT VACATION?[/fusion_builder_column][/fusion_builder_row][/fusion_builder_container]