Does anyone else find themselves asking the question…. What's for dinner every night around 6PM? Here are 6 Easy and Healthy Vegetarian meals are even hearty enough for meat-eaters!
Maybe one of these ideas can help you out tonight!
Easy Black Beans and Rice- Made very quickly with pantry ingredients your probably already have!!
Mediterranean Quinoa Veggie Salad- Quinoa is a power food full of protein and very easy to cook. This is a great way to enjoy it!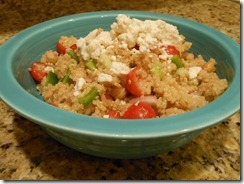 MEDITERRANEAN QUINOA VEGGIE SALAD
Hearty Italian Vegetable Soup – Crock Pot Recipe!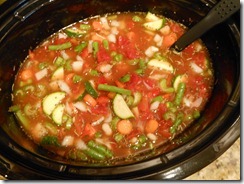 CROCK POT HEARTY ITALIAN VEGETABLE SOUP
Black Bean Enchilada Stack – Crock Pot Friendly, but also feel free to change the recipe and put the stack in a glass pan and stick in oven 350 degrees for 20-30 minutes until the cheese is bubbly.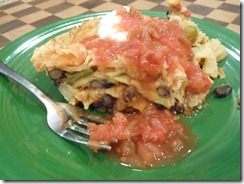 Asparagus & White Cheddar Chopped Salad – I know… a salad? This one is hearty and has a zesty homemade dressing that you will love.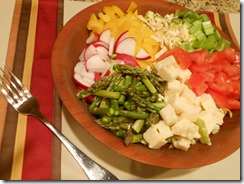 ASPARAGUS & WHITE CHEDDAR CHOPPED SALAD W/ BALSAMIC THYME VINAIGRETTE
Award Winning Vegetarian Chili – The best Vegetarian Chili Ever. For real.
AWARD WINNING VEGETARIAN CHILI
------------------------------------------
Related Articles:
http://www.cookinglight.com/food/quick-healthy/quick-and-easy-vegetarian-recipes-00400000042999/page15.html
http://www.prevention.com/food/cook/healthy-vegetarian-recipes-5-fast-easy-meatless-meals
http://allrecipes.com/recipes/everyday-cooking/quick-and-easy/quick-and-easy-vegetarian/
----------------------------------------------
QUESTIONS:
DO YOU HAVE ANY QUICK AND EASY VEGETARIAN MEAL IDEAS?
WHAT ARE YOU HAVING FOR DINNER TONIGHT?[/fusion_builder_column][/fusion_builder_row][/fusion_builder_container]