Running is important to me for so many reasons. It makes me feel strong, fit and powerful. It is my ideal stress relief and it can literally take my mind to a happy place. I enjoy the personal competition with myself to improve and the mental and physical challenges I face. I love watching the seasons change with the miles I run.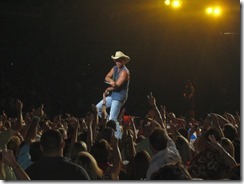 Well, Hello Kenny.
My favorite playlists actually aren't hard hitting fast music though… they are actually songs with some sort of meaning to me that allow me to reflect or take my mind away.
I know country music isn't necessarily classic workout music, but this collection of songs inspire me to live for the moment, love living in the mountains, be fearless and even make me feel like I can soar (even at an 11:00 mile pace :0)
As usual you can download Spotiy for FREE
The website allows you to listen to the music on my playlist on your computer for FREE. There are sometimes a few commercials involved. To listen to it on your phone or Ipod you have to upgrade the service or buy the songs.
Click on the link below to go to the playlist after you have Spotify.
My Favorite Country Running Playlist
MY FAVORITE COUNTY RUNNING LIST
Free and Easy (Down the Road I Go) – Dierks Bentley
Fearless – Taylor Swift
Best Days of Your Life – Kelly Pickler
Honey Bee – Blake Shelton
Fastest Girl in Town – Miranda Lambert
We Run – Sugarland
Wide Open Spaces – Dixie Chicks Ready to Run
Free – Zac Brown Band
Every Mile A Memory – Dierks Bentley
Born to Fly – Sara Evans
Something Like That – Tim McGraw
Never Wanted Nothing More – Kenny Chesney
Perfect Day – Lady Antebellum
----------------------------------------------------------
QUESTIONS?
WHAT'S YOUR FAVORITE COUNTRY RUNNING SONG?
DO YOU EVER LISTEN TO UNTRADITIONAL MUSIC WHILE RUNNING?
ANY SUGGESTIONS TO ADD TO MY LIST?