Did anyone else have an explosion of pollen in early June? While we were in Italy it seemed like ALL the trees and flowers dumped that gross yellow gew all over our deck. We came back to a solid sheet of it all over our deck and planters. You could seriously barely see the wood.
Since it seems like pollen is basically out to kill me, the hubs spent Saturday morning uncovering our deck. The hose didn't even come close to getting it off. He had to take an outdoor brush and scrub it away. Guess who is asking for a pressure washer for his birthday?!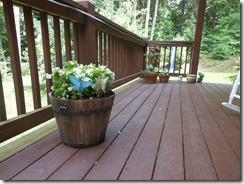 It was questionable on whether our deck would ever look brown again…
While he was working on the deck situation I got our summer flowers in their planters. We decided to wait until after Italy to plant them this year.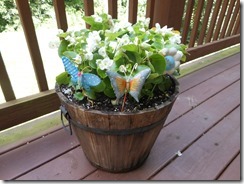 It was worth the wait—I think they turned out great!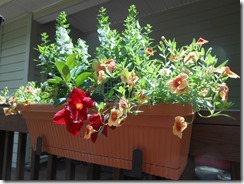 So pretty. I'm such a sucker for annual flowers. They may not last forever, but they certainly bring me a summer's worth of joy.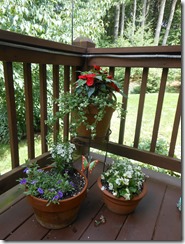 Do you have a favorite summer flower? I love colorful ones like petunia's. I always try to find something new every year though.
I also had to spend some time tending to our garden. WOW— some of our maters exploded already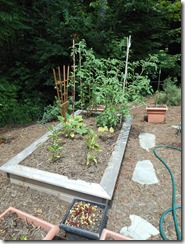 This week- HUGE plants!
HERE is what they looked like when we planted them just a few weeks ago…
I'm a little disappointed in our "Sweet 100's" (tomatoes) this year. They don't seem to be growing much at all.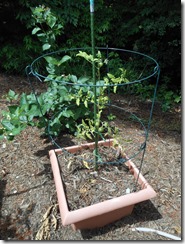 I've planted them in the exact same way in the same pots for probably five years and this is the first time they have never taken off.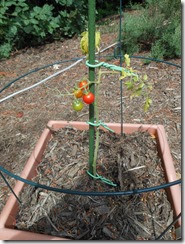 oh… so sad… it may be a lost cause! Is it too late to replant?
I'm going to try to move them to the other side of the raised bed and see if they get more sun there.
Any suggestions?
Everything else seems to be doing great! They certainly have had their fair share of RAIN. I can't wait until our first harvest!
QUESTIONS:
Did you have serious deck pollen this year?
How is your garden going this year?
Do you plant annuals?
Do you have any tips for my tomatoes?[/fusion_builder_column][/fusion_builder_row][/fusion_builder_container]