Got 2 Days in Venice? Here's what to see do and eat!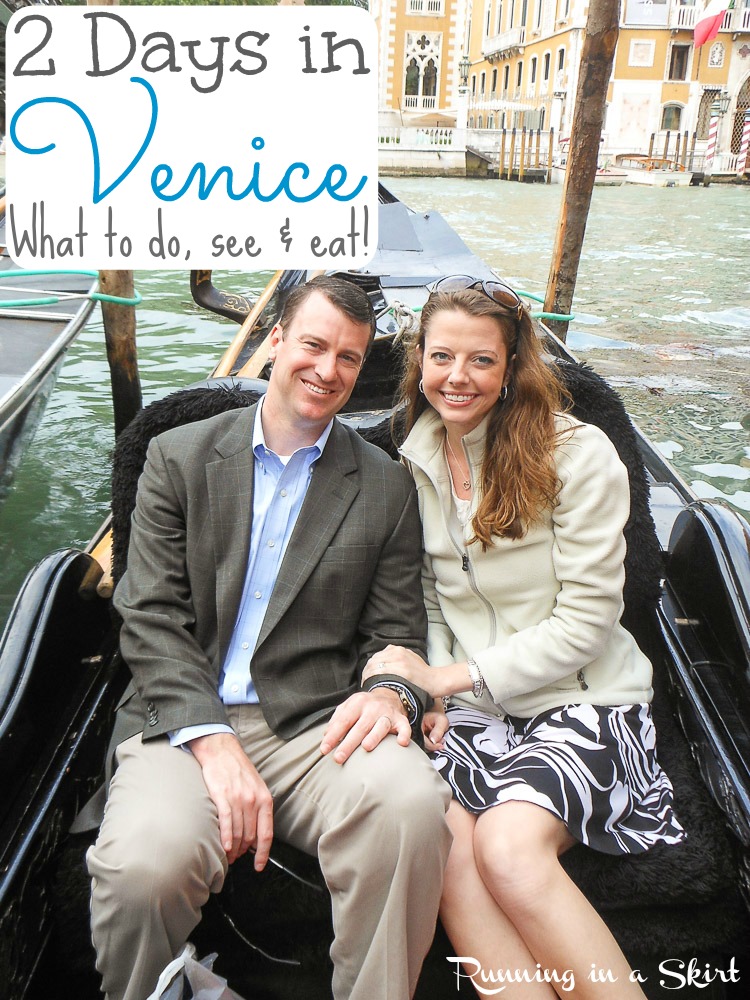 Hi travel loving friends,
Visiting Italy was something the Hubs and I talked about from the time we met. We were mutually drawn to the history, scenery food and wine. We dreamed about going for years... longing for homemade pasta, pizza, and deep red wine.
We finally took the plunge and went! After some serious research on Italy, we decided to go to Venice, Cinque Terre, Tuscany (with a day trip to Florence), and Rome. The trip started with three nights and two days in Venice. It was absolutely magical. I'll take you along for the fun, so you can dream or get some ideas for your next trip!
2 Days in Venice
We arrive in Venice mid-afternoon Sunday. After the overnight, transatlantic flight and a whirlwind 22 hours in Paris, the hubs and I are completely exhausted. But the thought of finally being in Italy and staying in such an iconic and historical city really keeps us moving.
We had read beforehand that it was hard to maneuver heavy luggage (We had forced ourselves to pack light- but we still had a ton of stuff) into Venice using public transportation. So we decide to take a "speed boat"… which is basically Venice's version of a taxi. Venice is essentially an island that you must reach by water.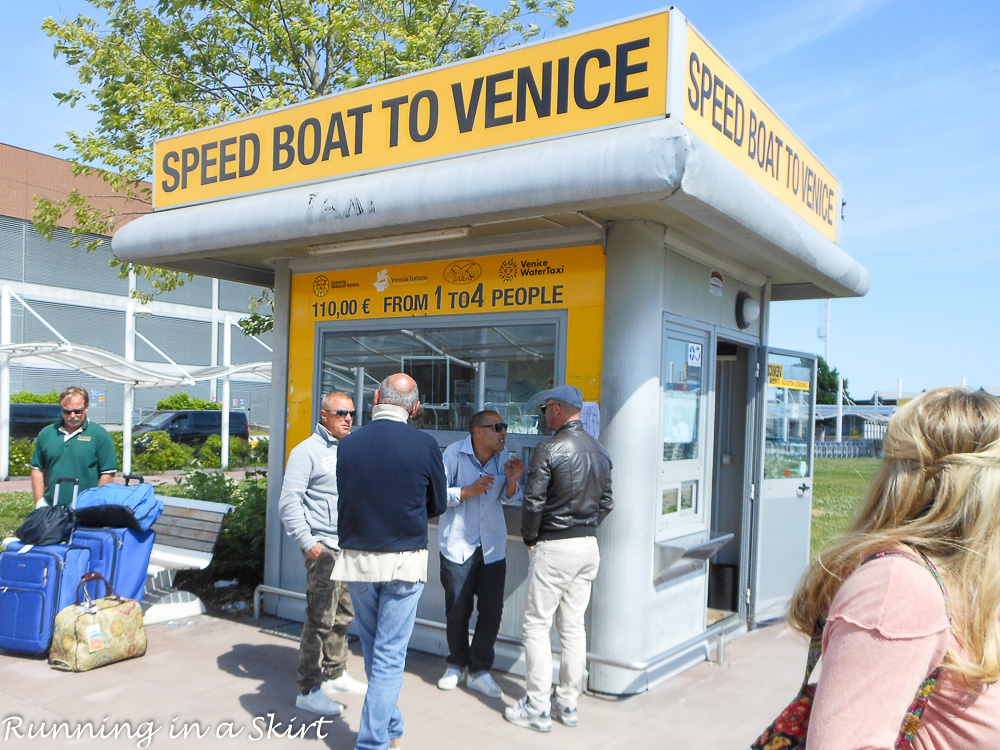 The ride into Venice is a splurge but it is totally worth the scenery and stress-free experience. If you only have 2 days in Venice it's a great way to save time.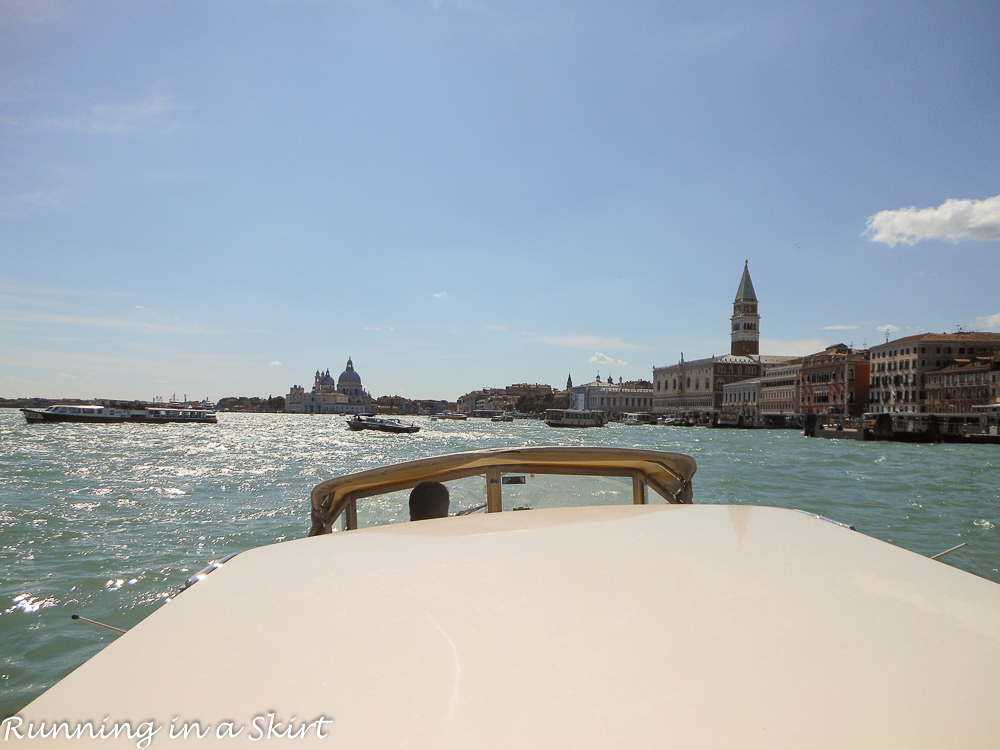 Check out these views!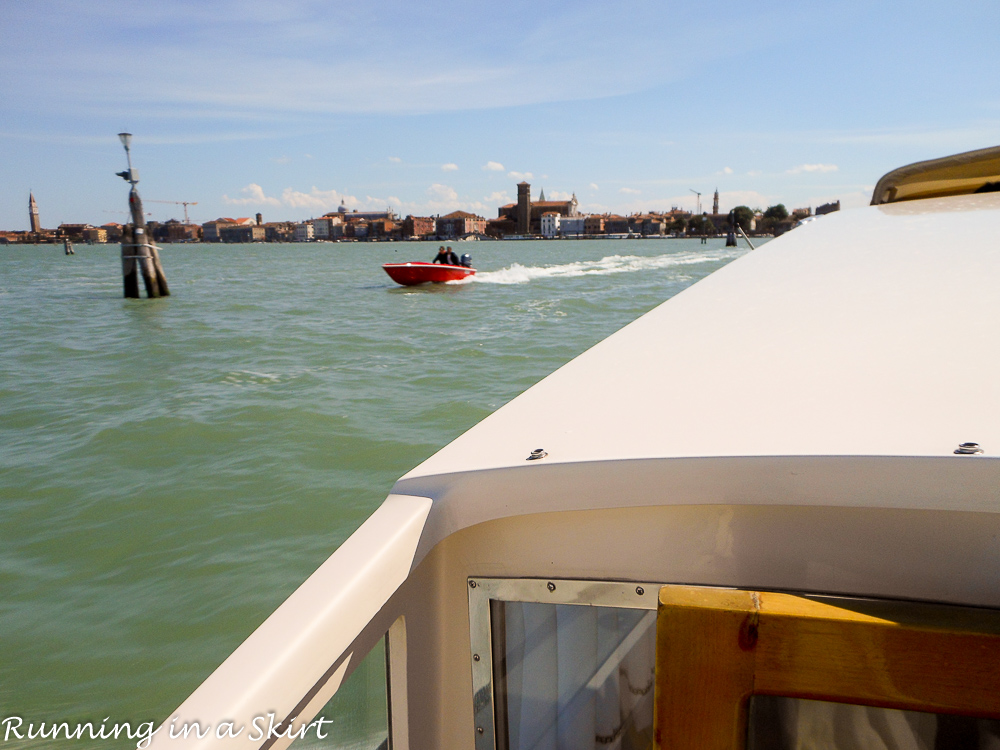 The speed boat drops us as close to our hotel as he can get, but Venice streets are only pedestrian friendly.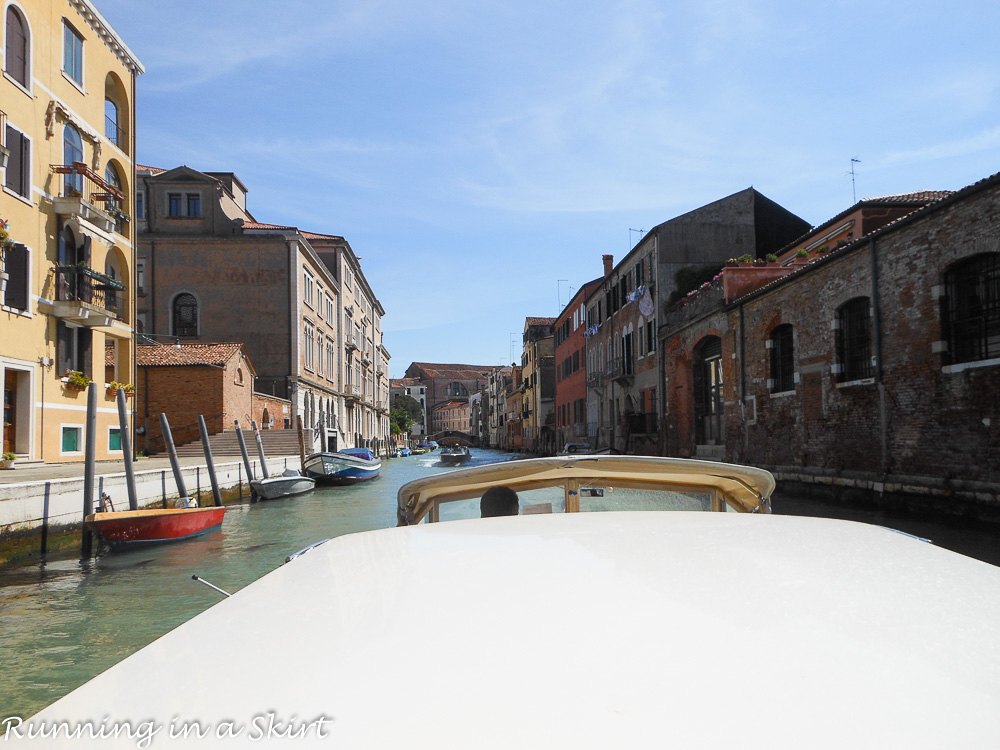 It's all by boat or on foot. At some point, you will have to walk! We are on our own to get ourselves and our bags a few blocks into town. Luckily our hotel is easy to find and we quickly change to go back out and take in some of the sights.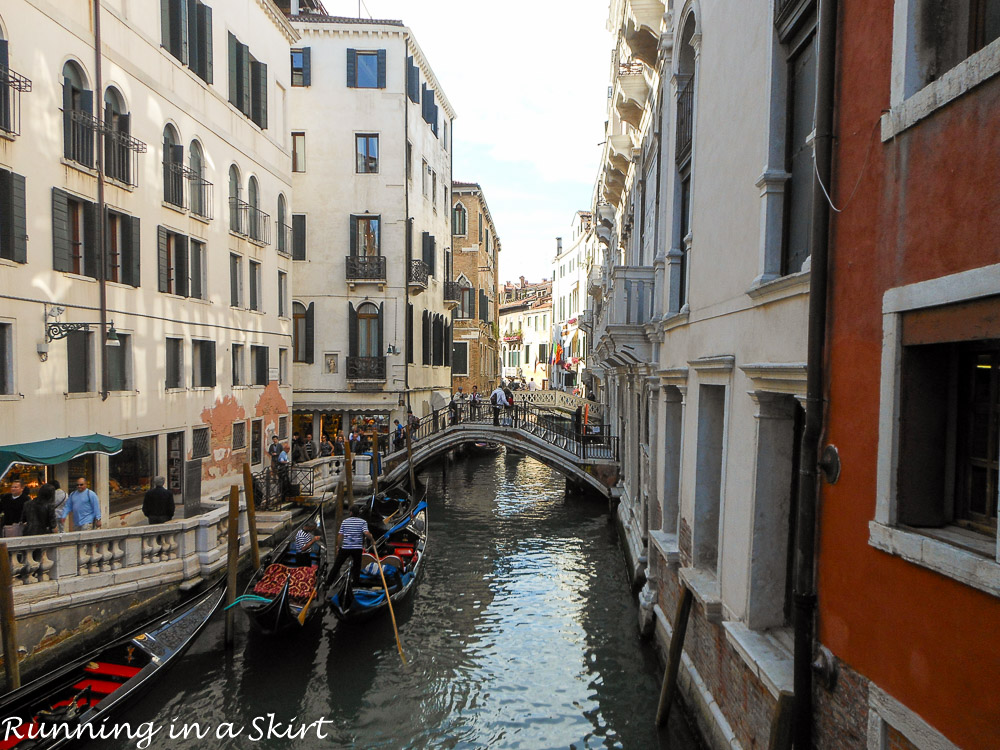 We walk around and see St. Mark's Square...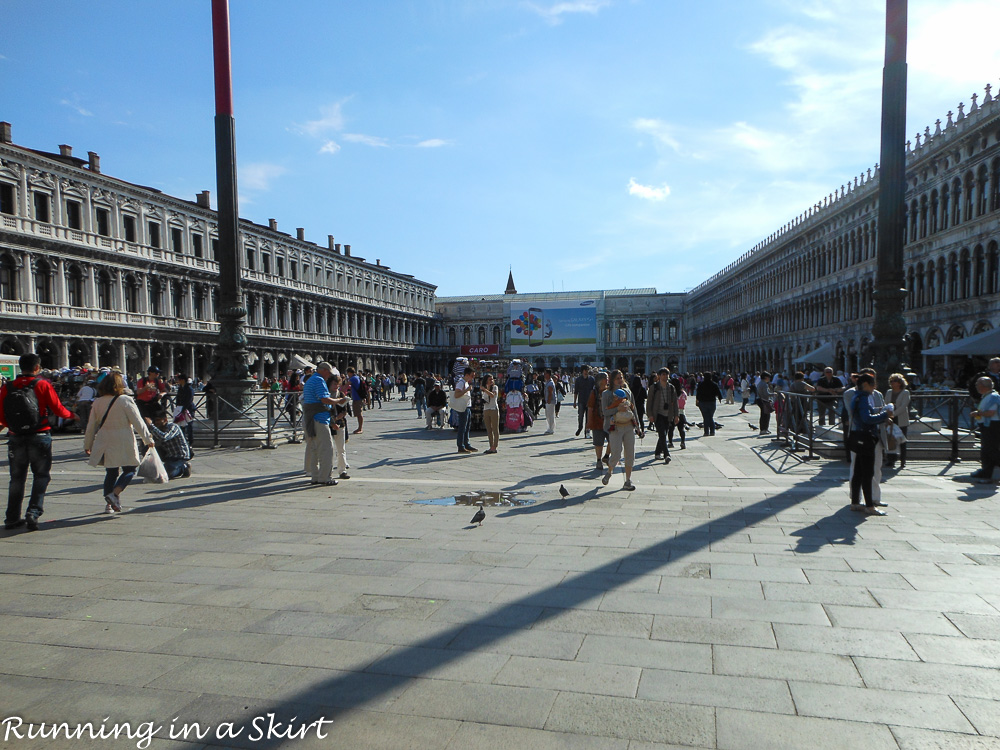 the outside of the Basilica,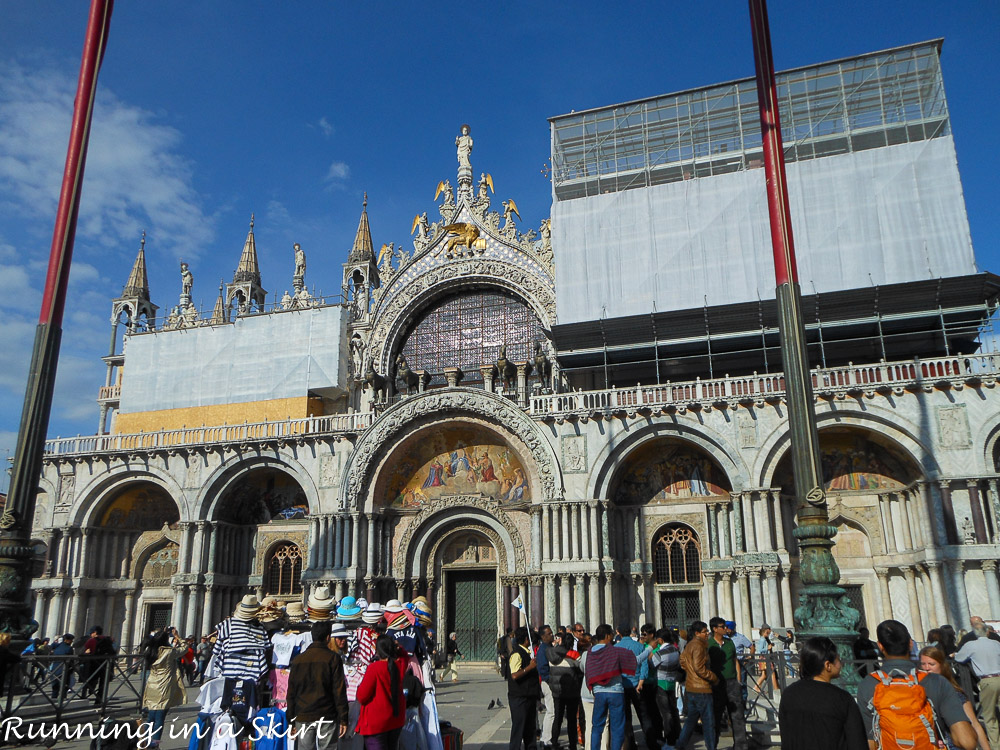 and the bell tower.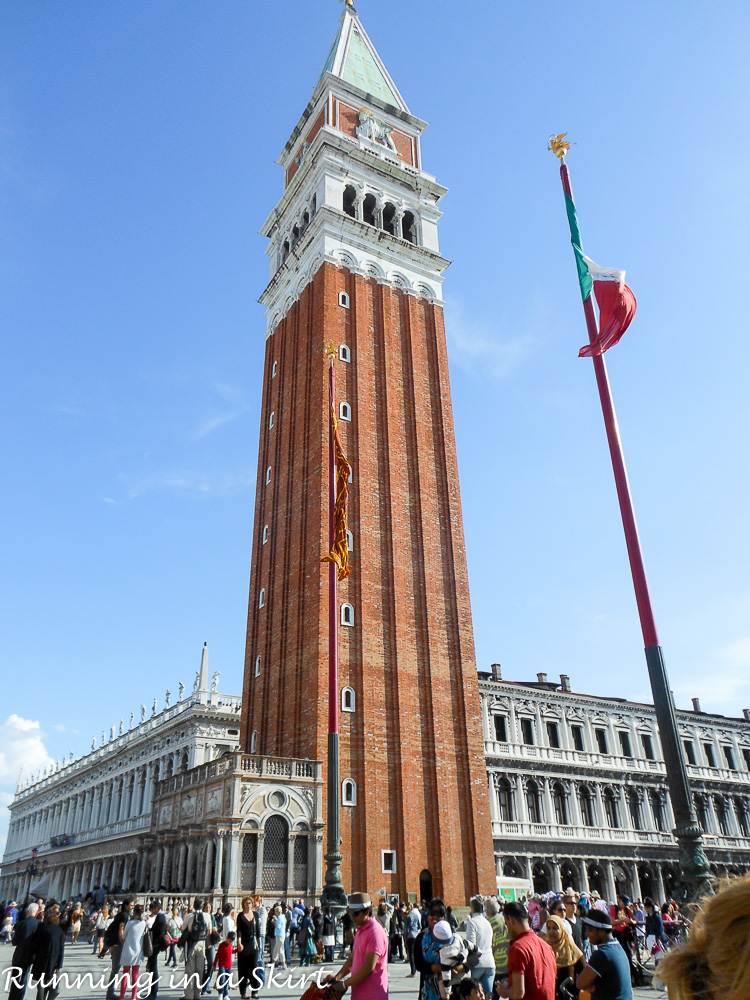 They all take your breath away in person. The pictures don't even seem to do them justice.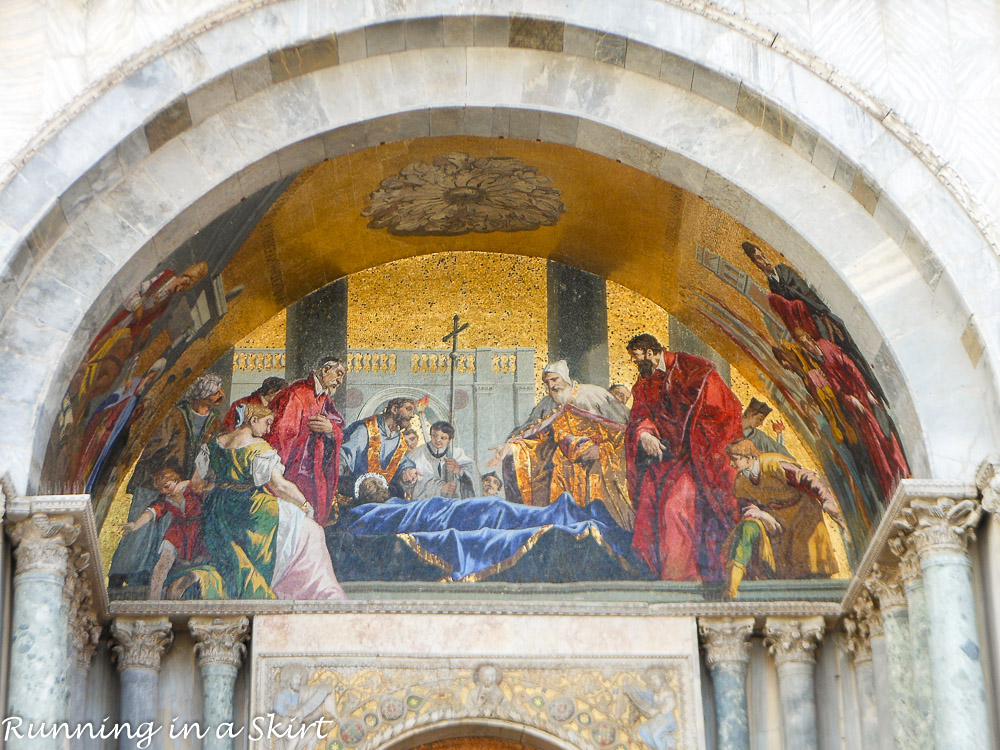 Early the next morning we take a tour of St. Mark's Basilica and the Doge's Palace.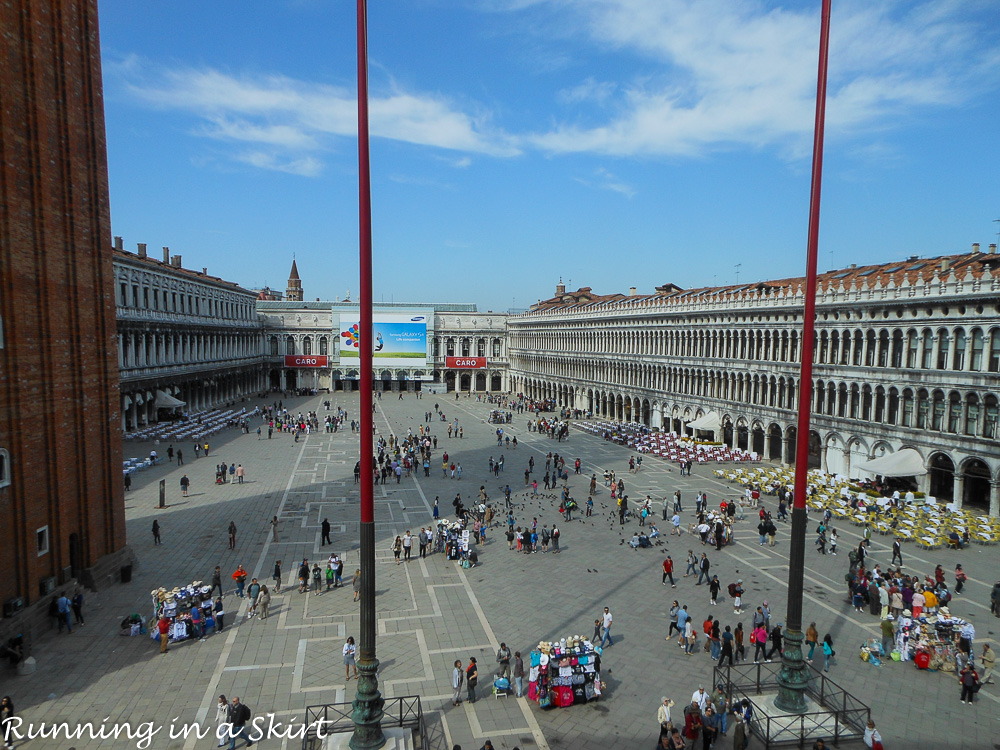 The history and beauty in these places bring the past alive.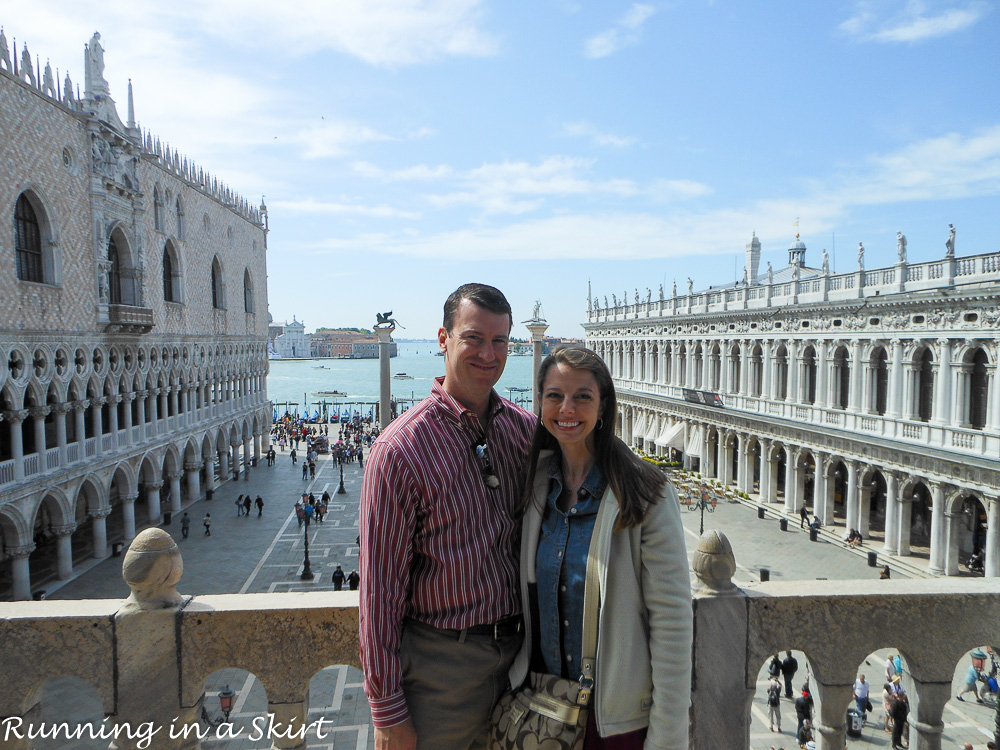 We are not allowed to take pictures inside, but here a few views from the balcony's where we can take pictures.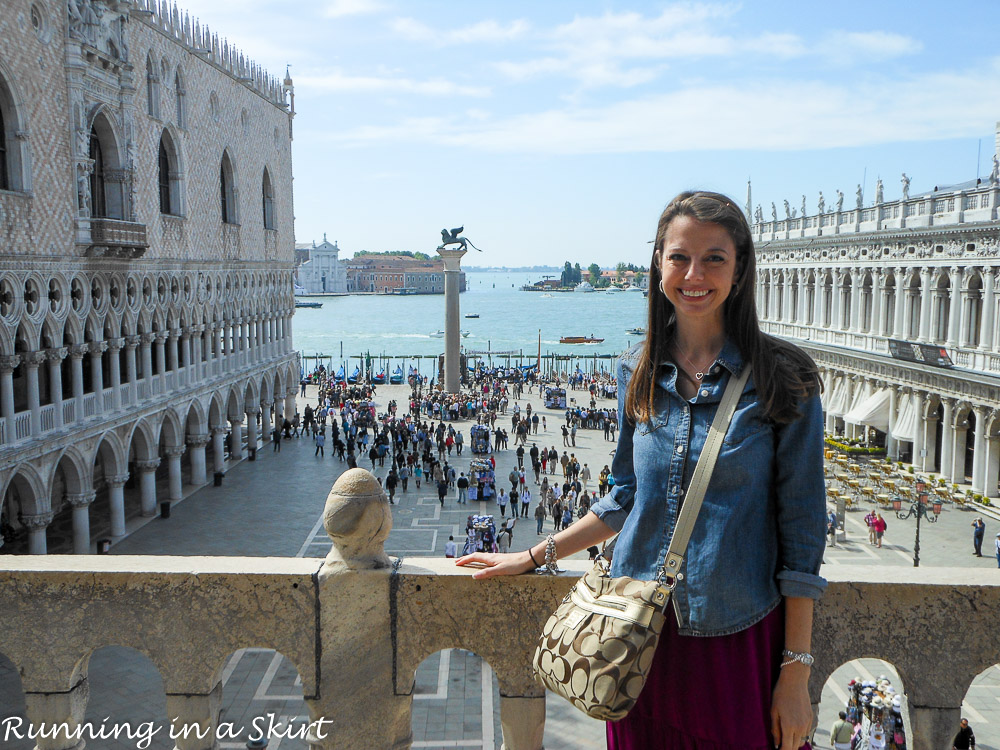 This is the exterior of Doge's palace.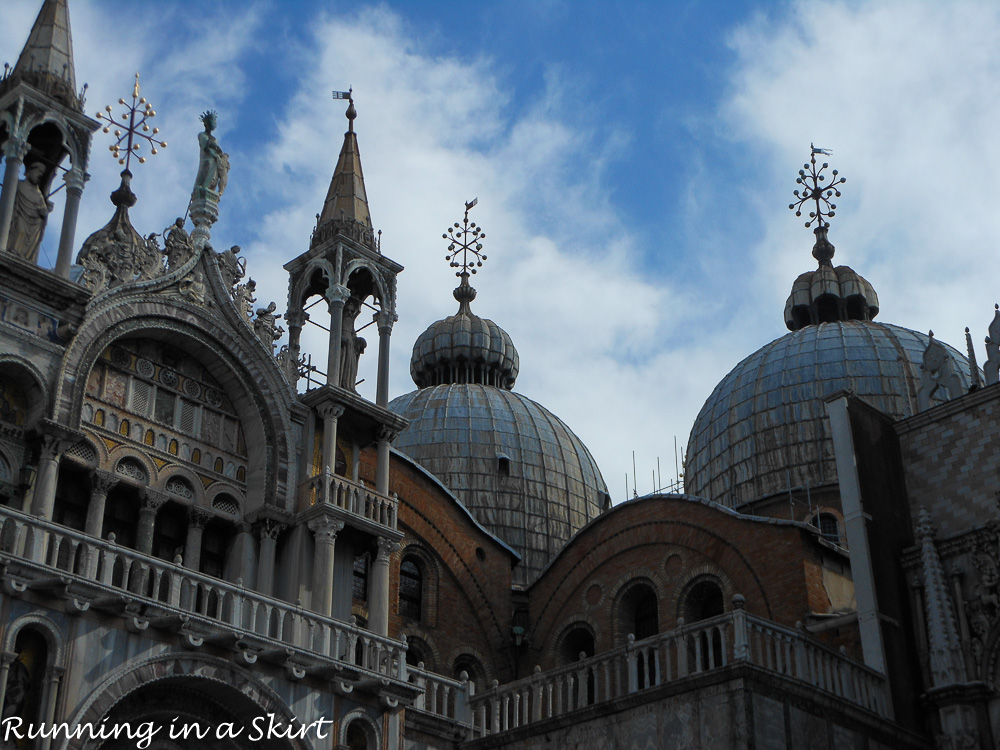 A Doge is an equivalent to a king in Venetian history. Before Italy was unified into a country in 1861, each area had its own government. Venice was ruled by the Doge and the palace was the economic and political center of the land.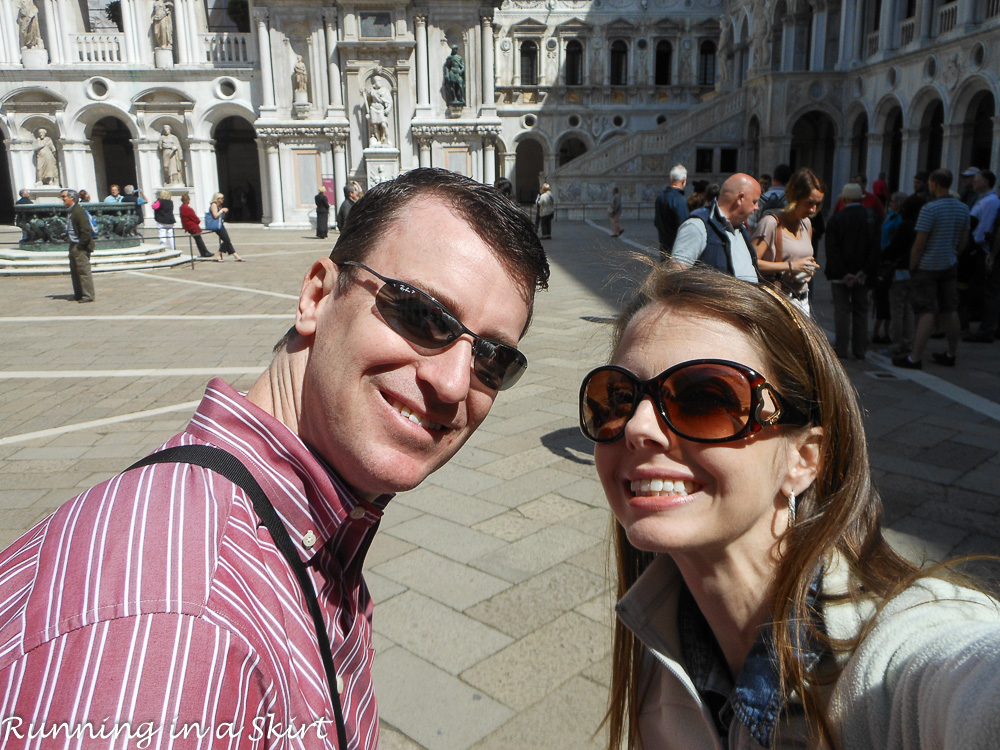 It remains an incredibly impressive site.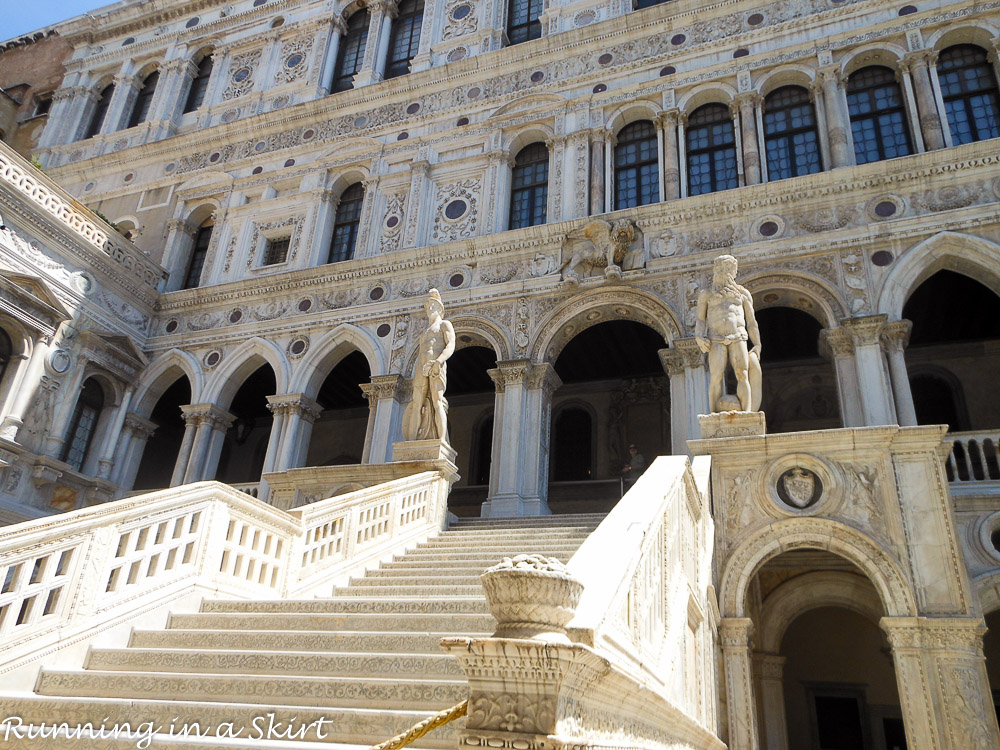 I get the feeling from our tour guide that many Venetians would still prefer to be in their own country.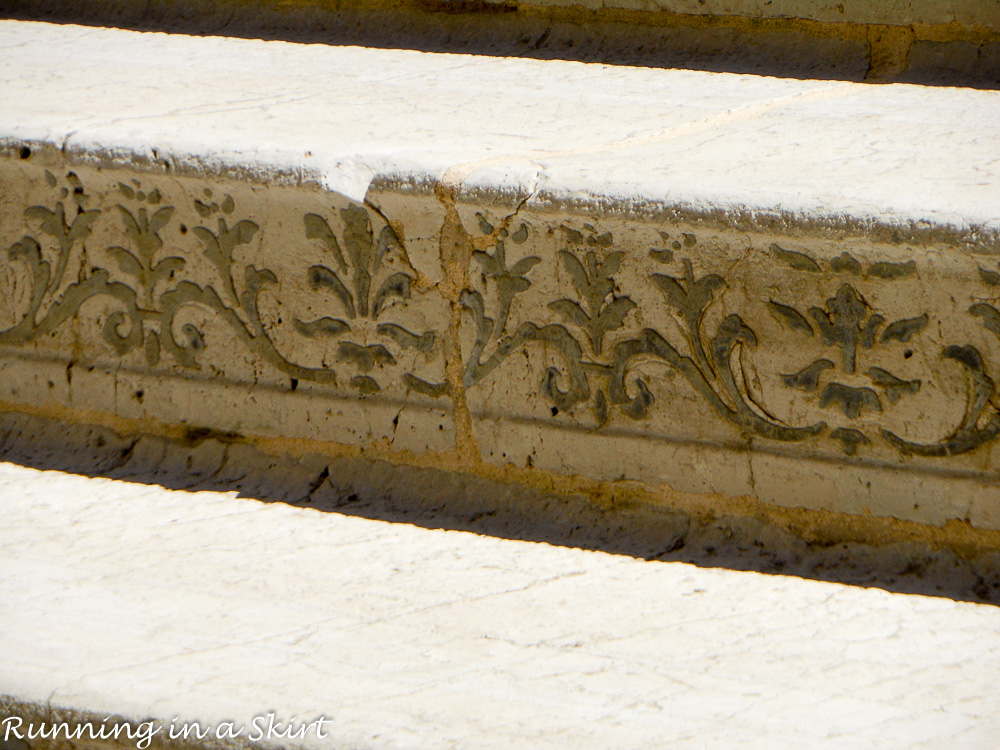 After our tours we hunt down a local, non-touristy place for lunch that we find in the guidebook. Check out the spread!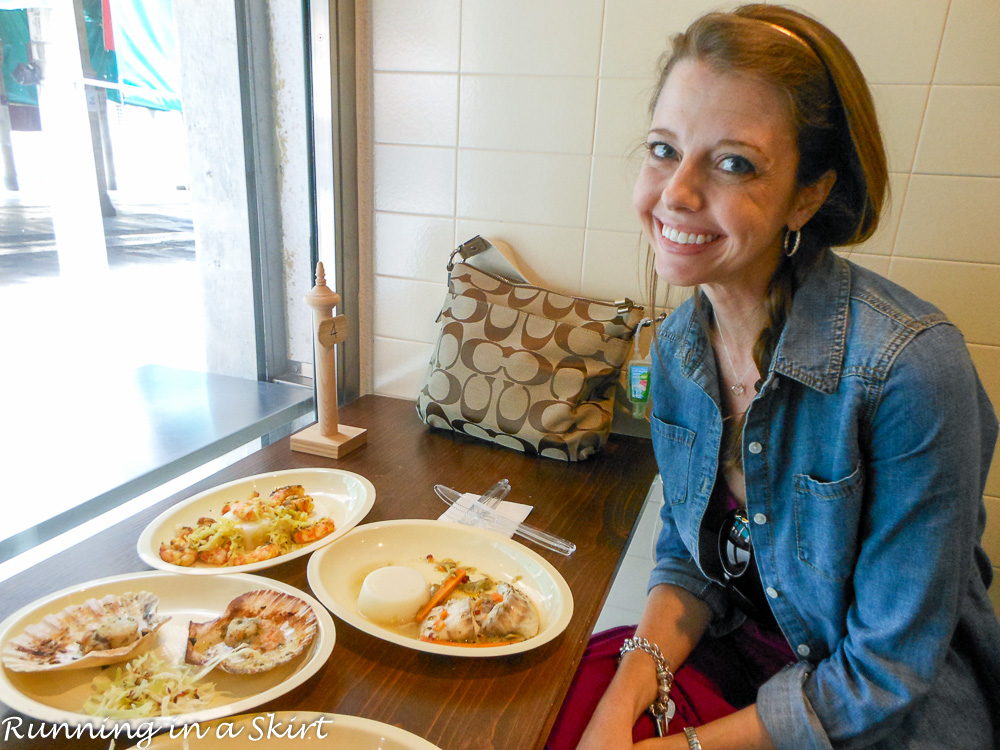 We walk around more and see a traditional Venetian singer joining some tourists on their Gondola ride. The Gondelier's themselves actually don't sing and you have to pay extra and arrange for a singer ahead of time. So it was a special treat to hear those traditional sounds coming through the canal.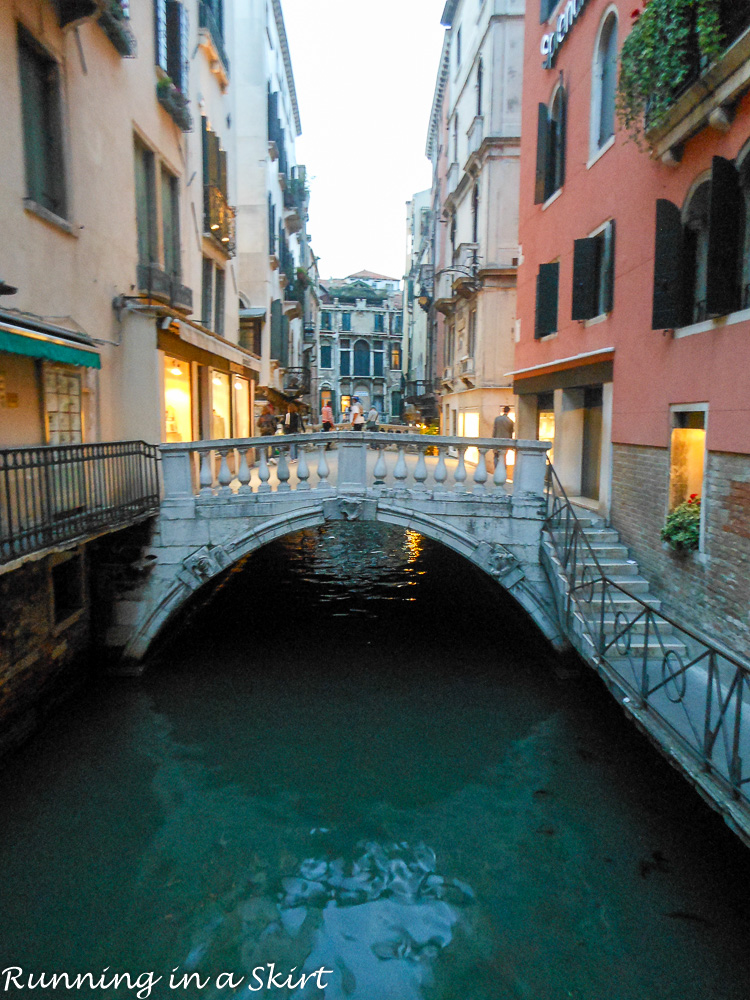 Later that evening we go on the hunt for Cicchetti and a Spritz."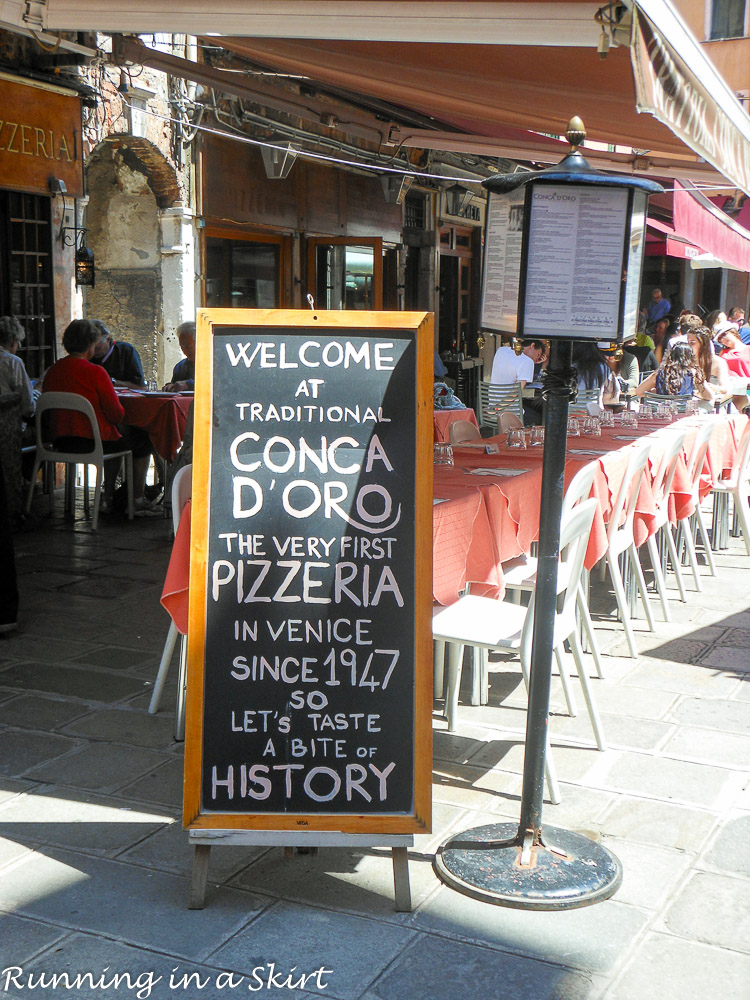 Cicchetti are small tapas-like food that is popular with locals.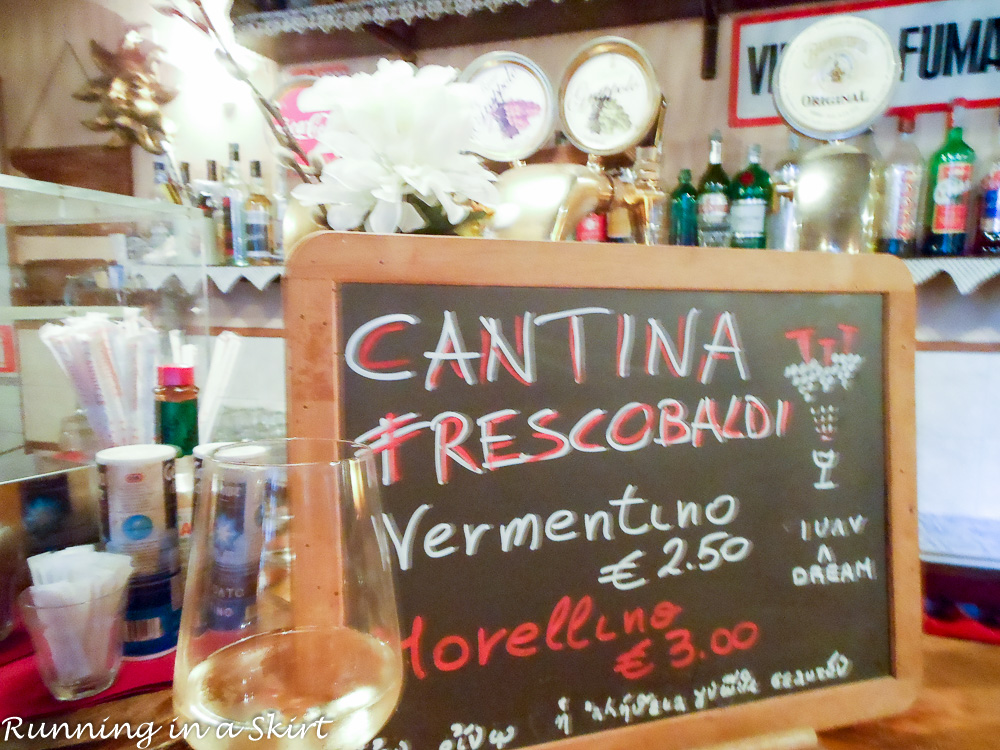 A Spritz is a wine based drink that is sweetened with liquor that you see lots of Italians drinking.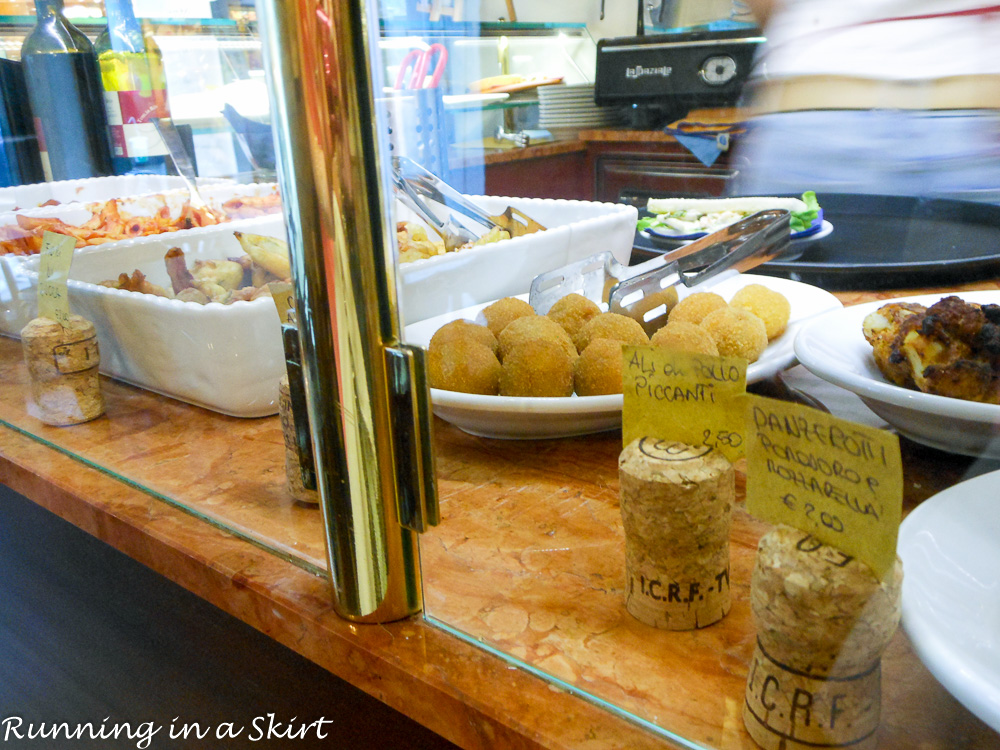 You eat and drink standing at the counters of small eateries. We discover that it is hard to find the "real" local places and you have to hunt to get non-tourist food!
We do find some fun and original dishes….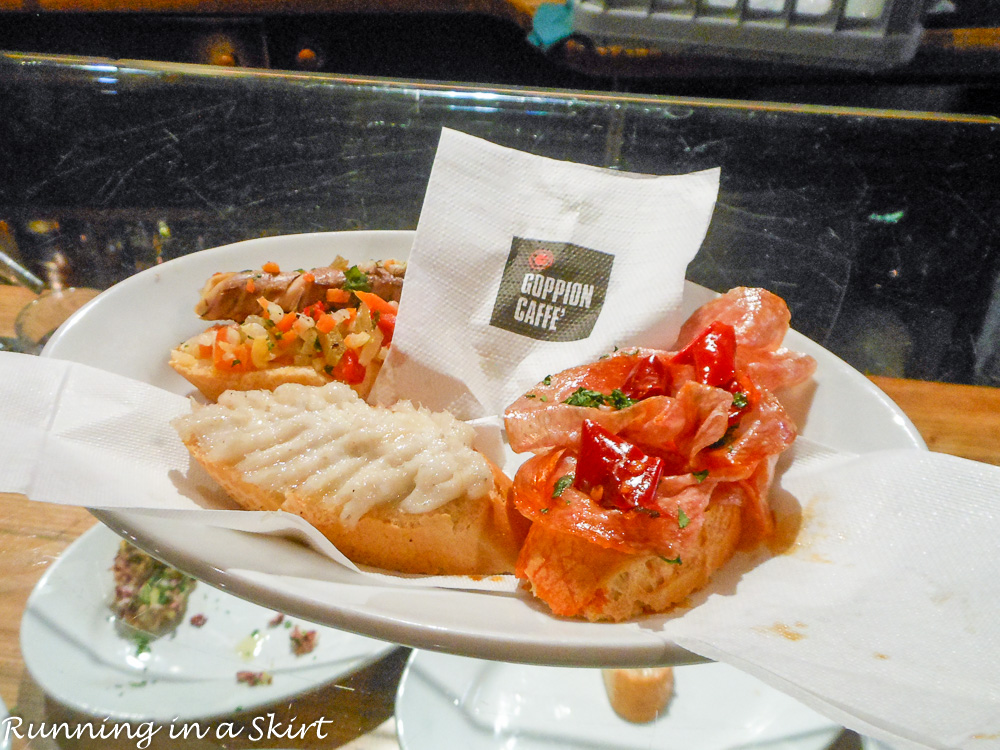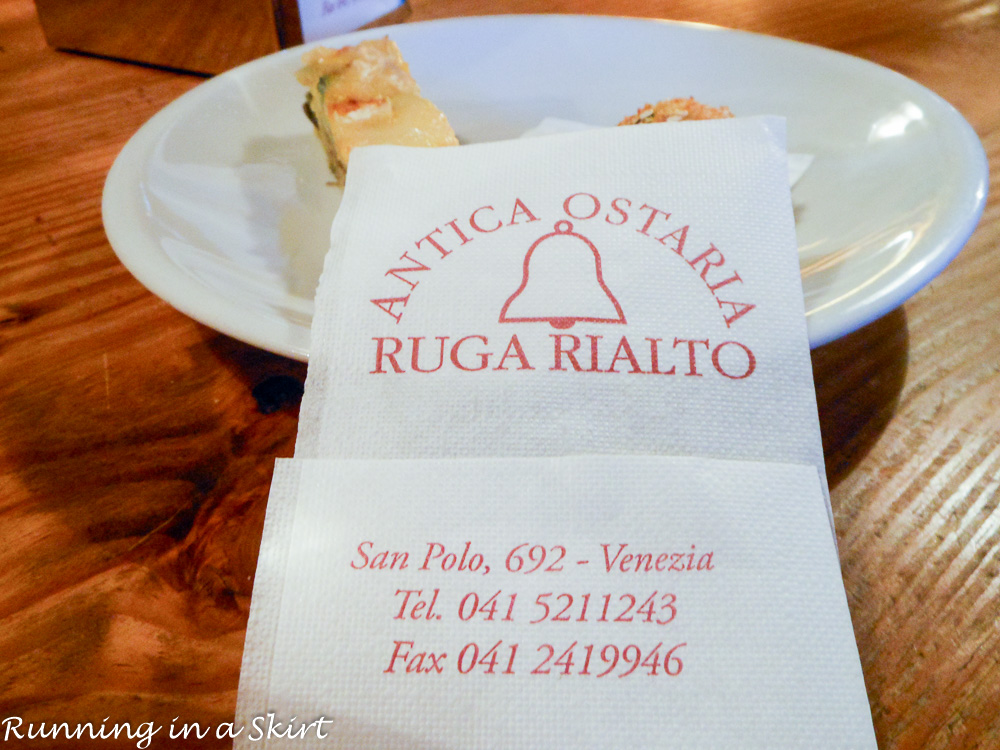 And the "Spritz!" It's a little too sweet for our tastes, but we are glad we try it!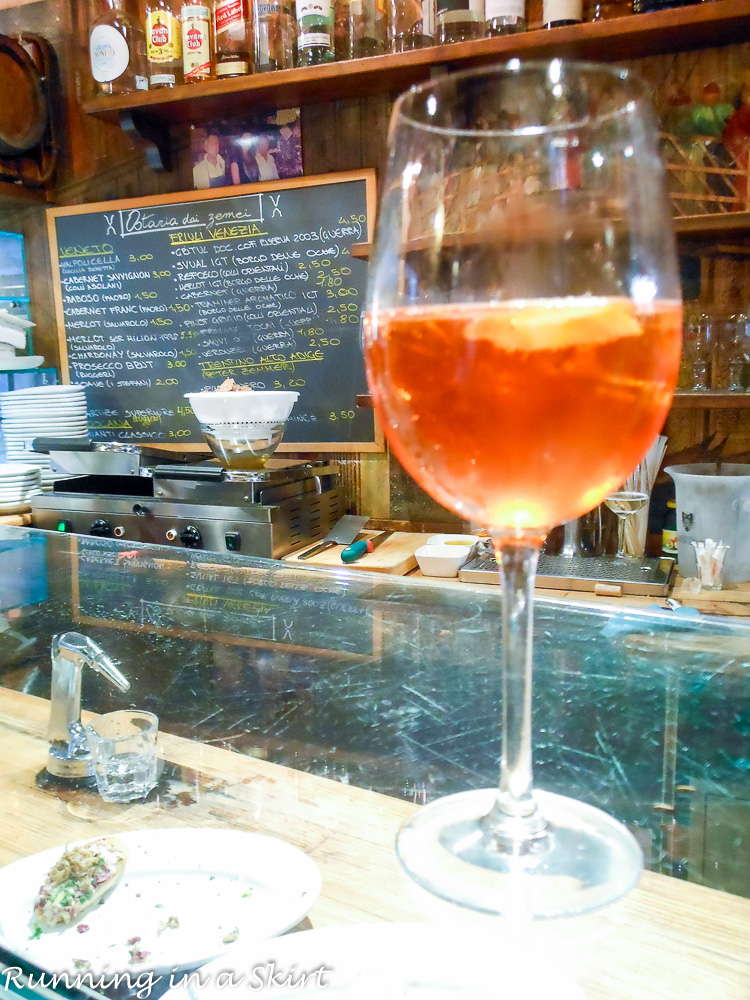 Venice is beautiful during the day, but at night it is extra charming.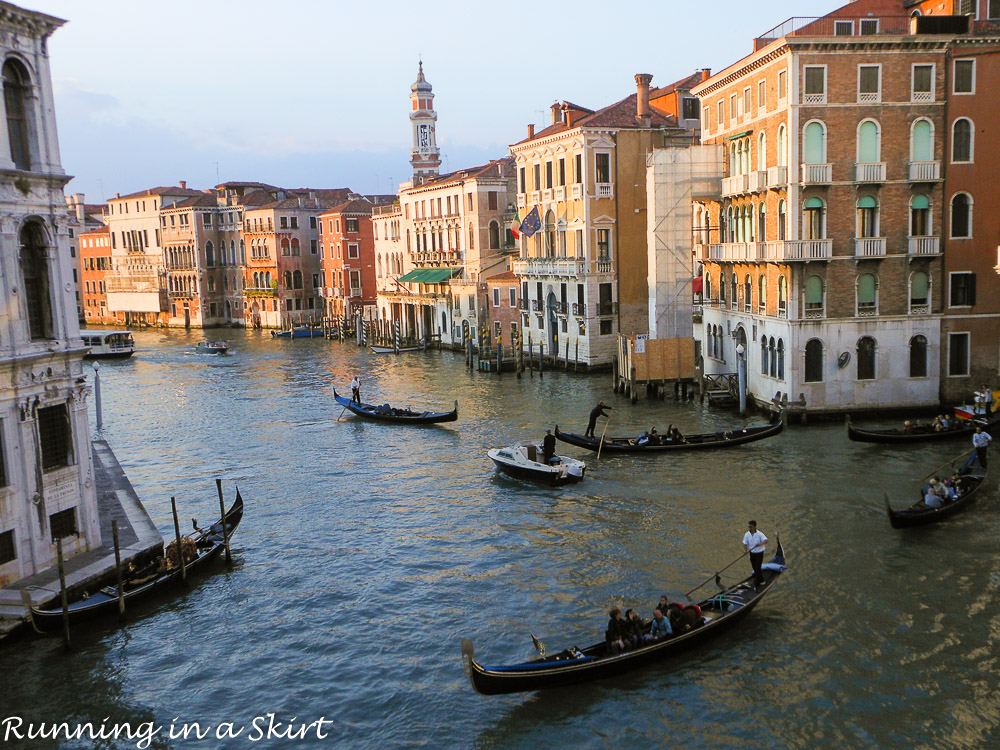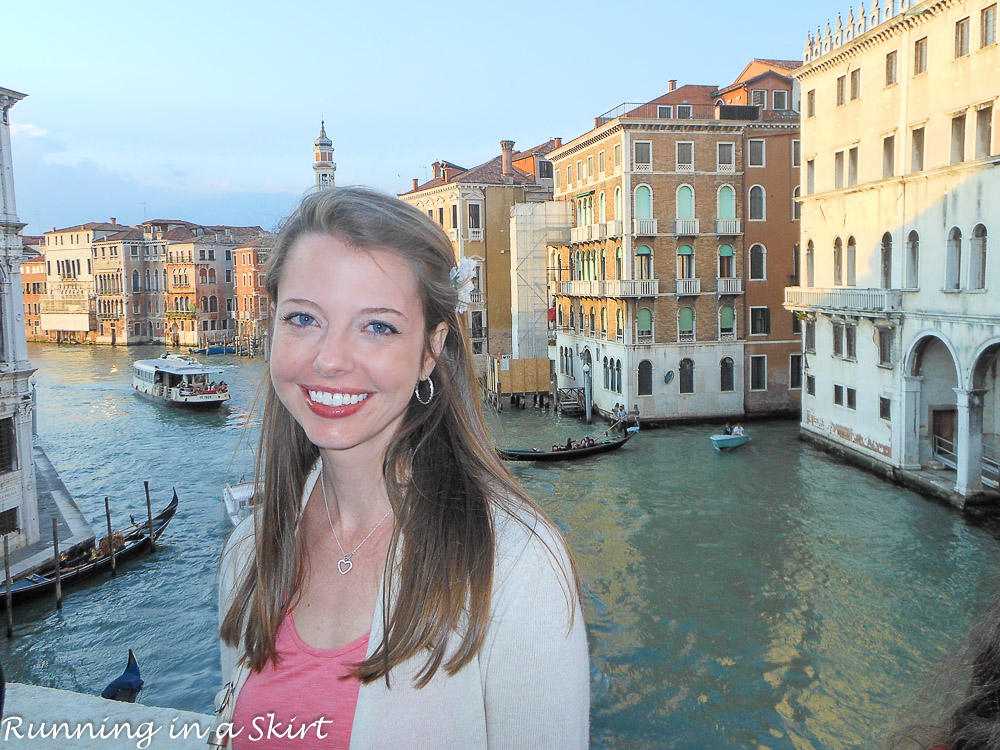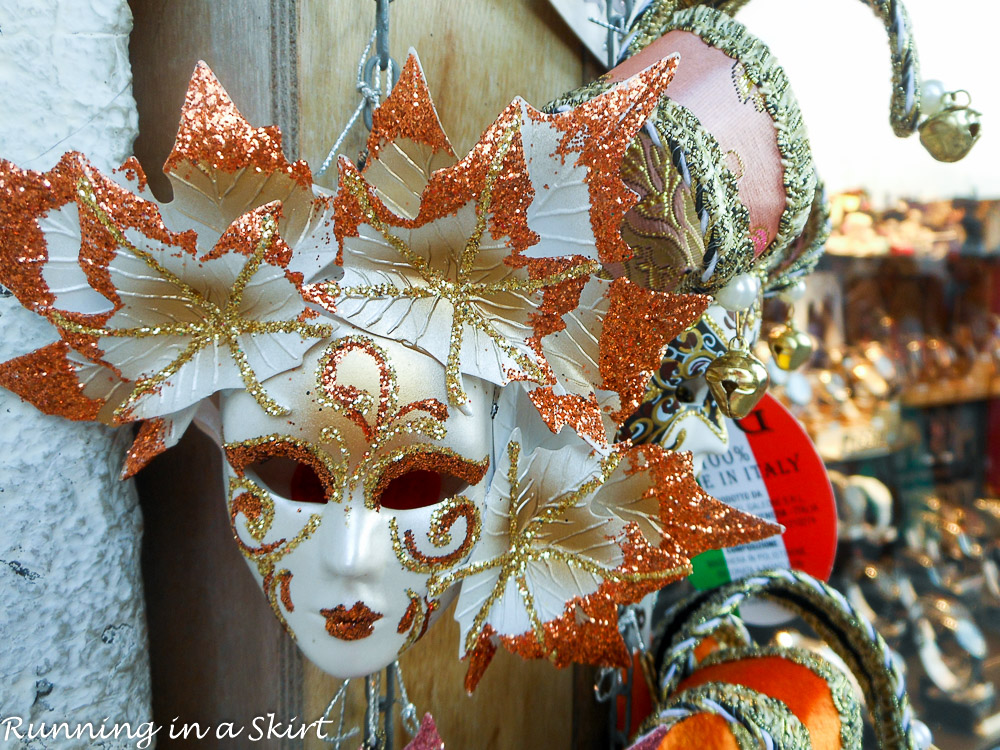 At dusk, we take a "ghost" walking tour of Venice. It's a great way to learn some stories, history and folklore about the island that you don't get in the standard, more serious tours.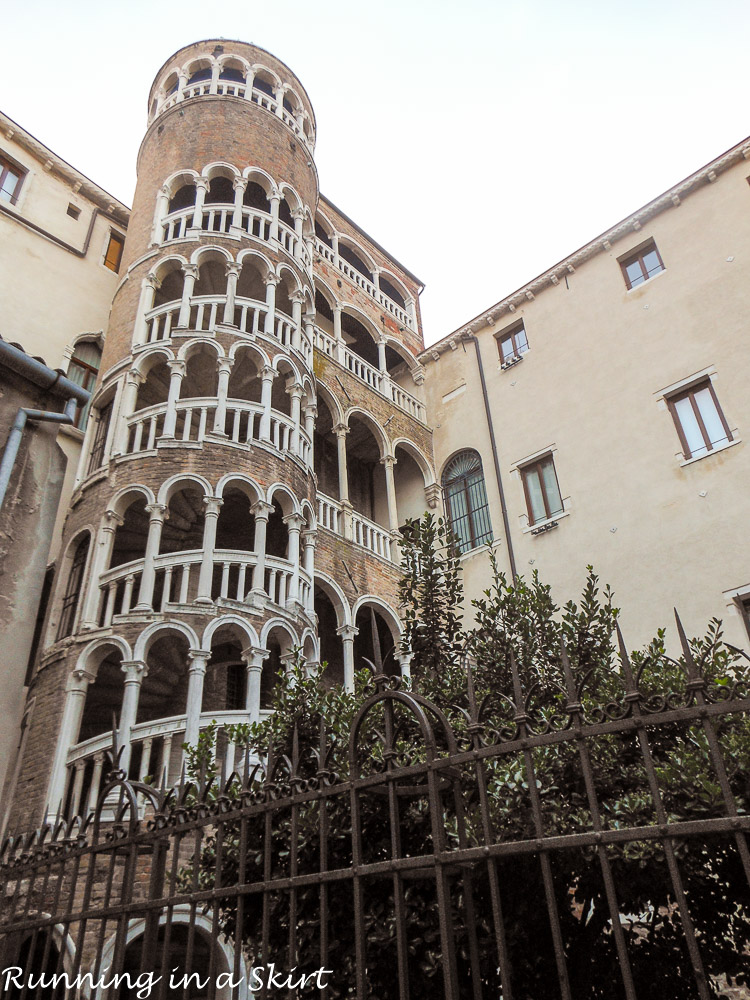 Our second day of our 2 days in Venice starts a bit later. After finally getting some sleep, the next day we enjoy some Italian favorites… Cappuccino, Espresso....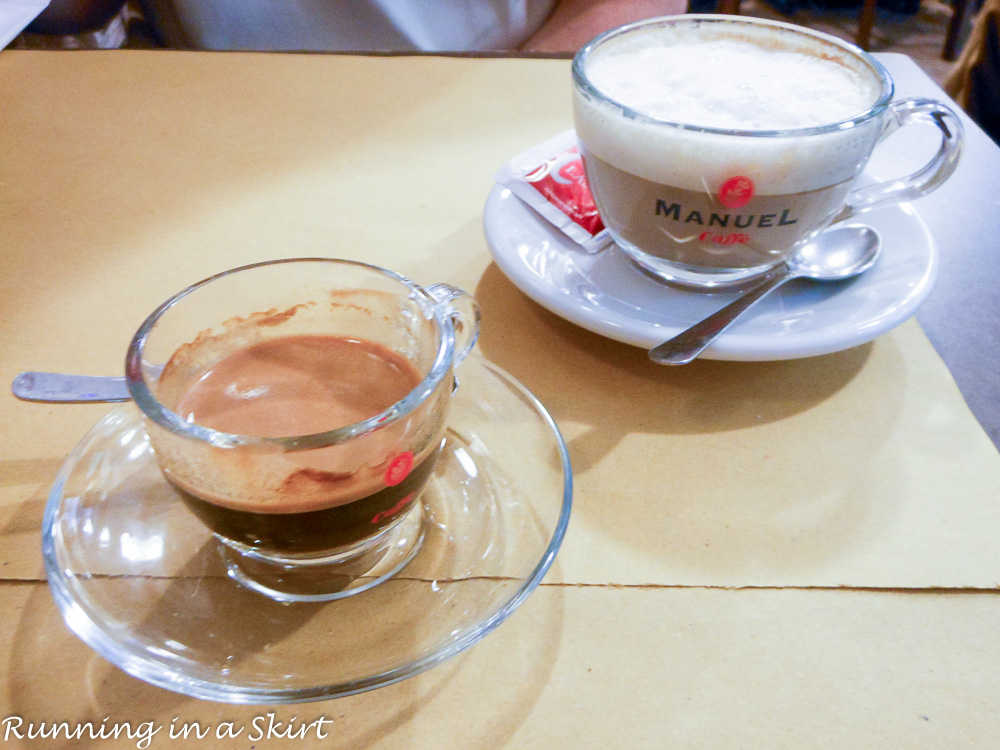 and Tiramisu!
Those are the first of MANY treats! We walk around during the day with the goal of getting lost. Our tour guides promise us that since Venice is an island we would always be able to find our way back. They told us getting lost is the best way to see the real Venice. We spend hours meandering around beautiful and intriguing back streets… eventually we find our way back to the grand canal.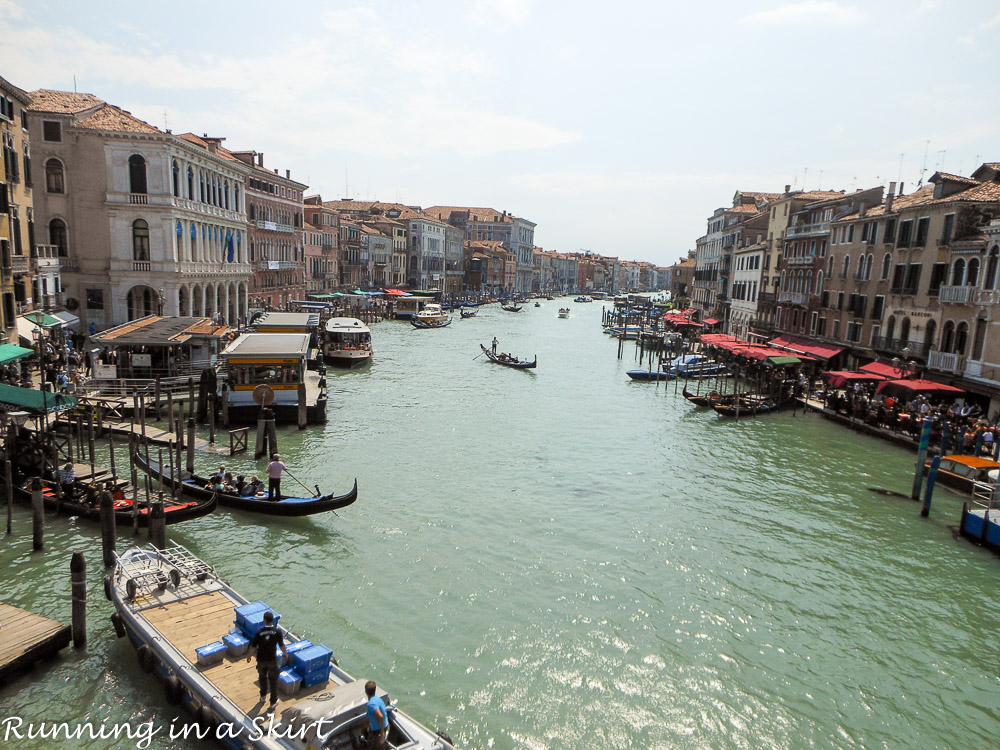 After doing more exploring during the day, we go on our own Gondola ride.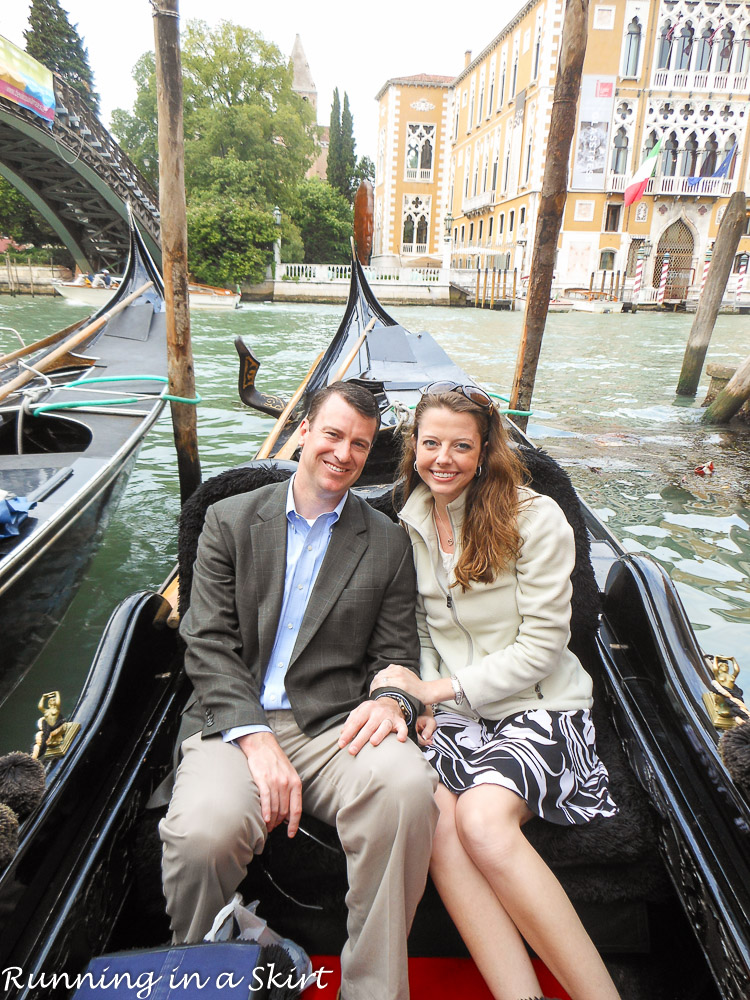 We find a Gondolier station that is a little off the beaten path so we can see more of the real Venice.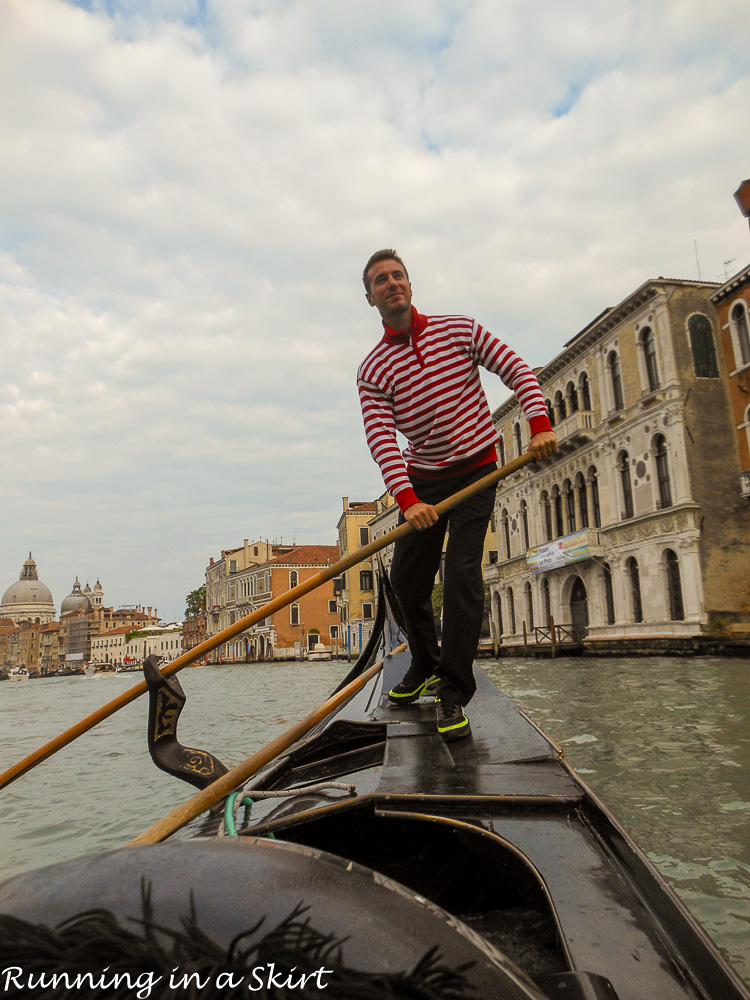 The touristy parts can be a little overwhelming.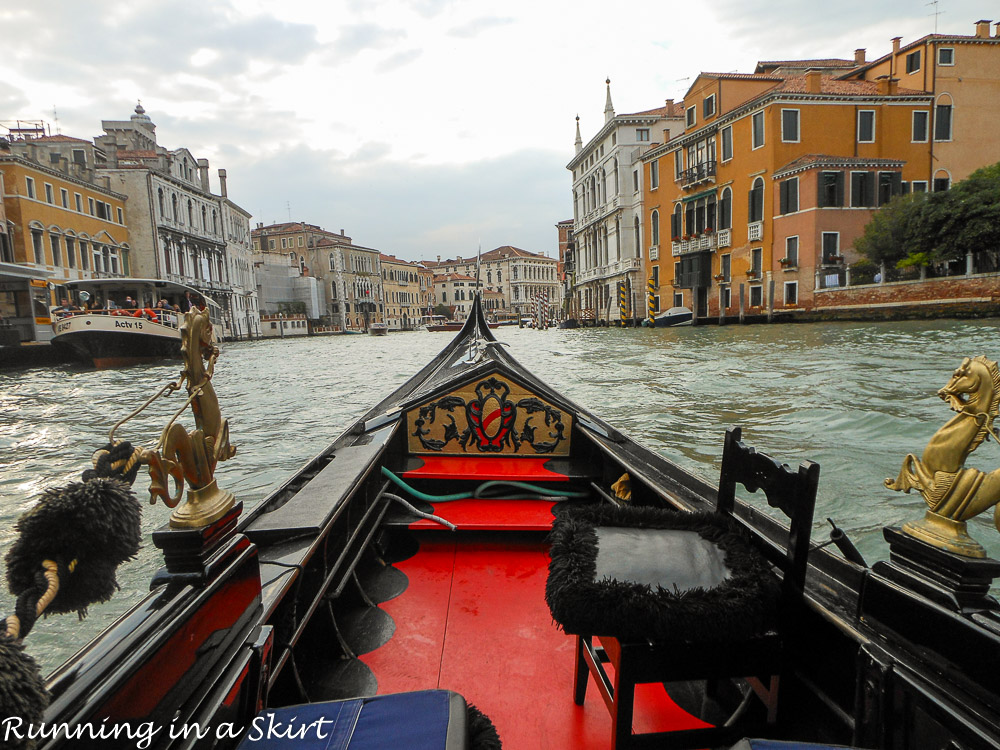 We bring our own procescco on board for a drink with a spectacular view.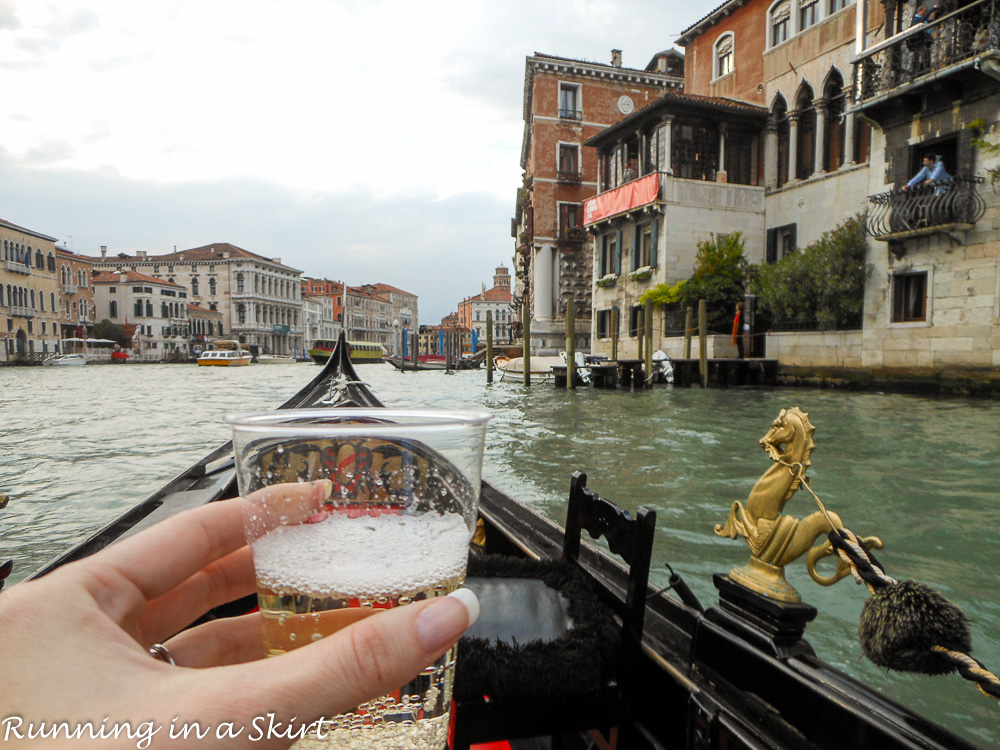 For dinner, we trek out to the outskirts of town to a place I booked ahead of time called Risterante Riviera.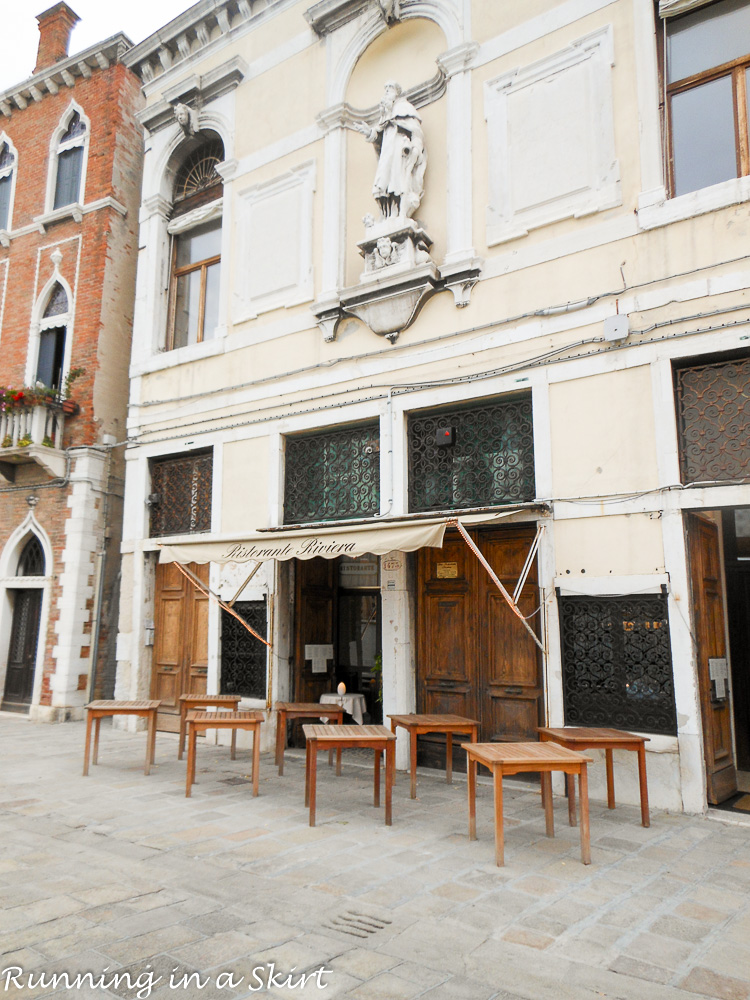 The food is amazing and is by far the best meal we have until we get to Tuscany. The scallops are incredible.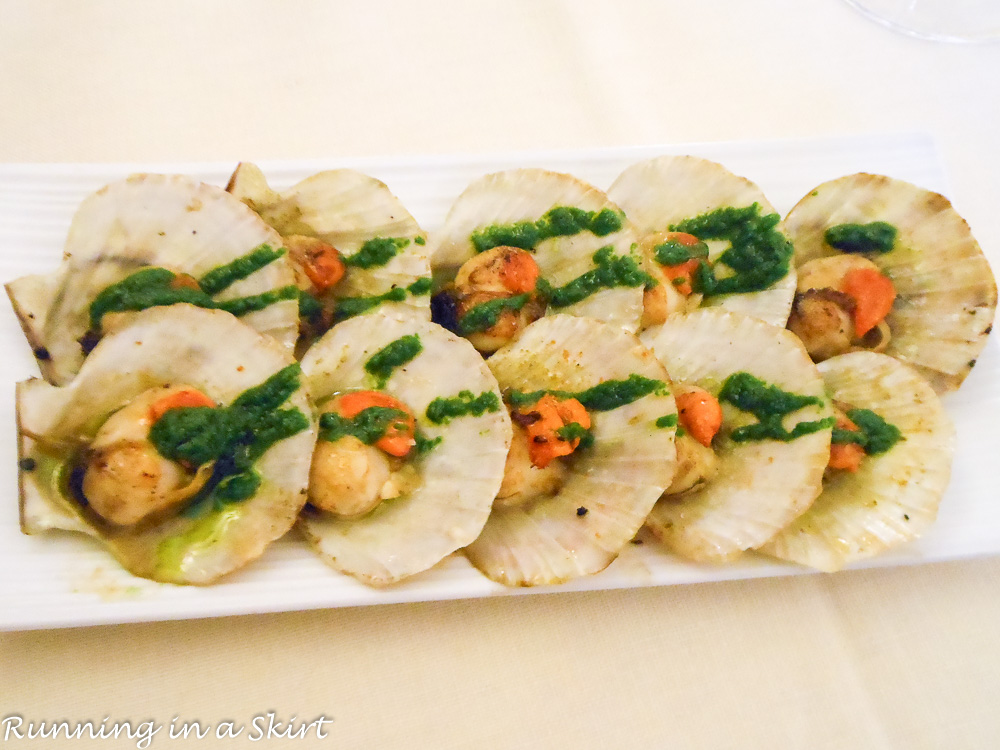 The squid ink pasta ravioli is also nothing short of dreamy.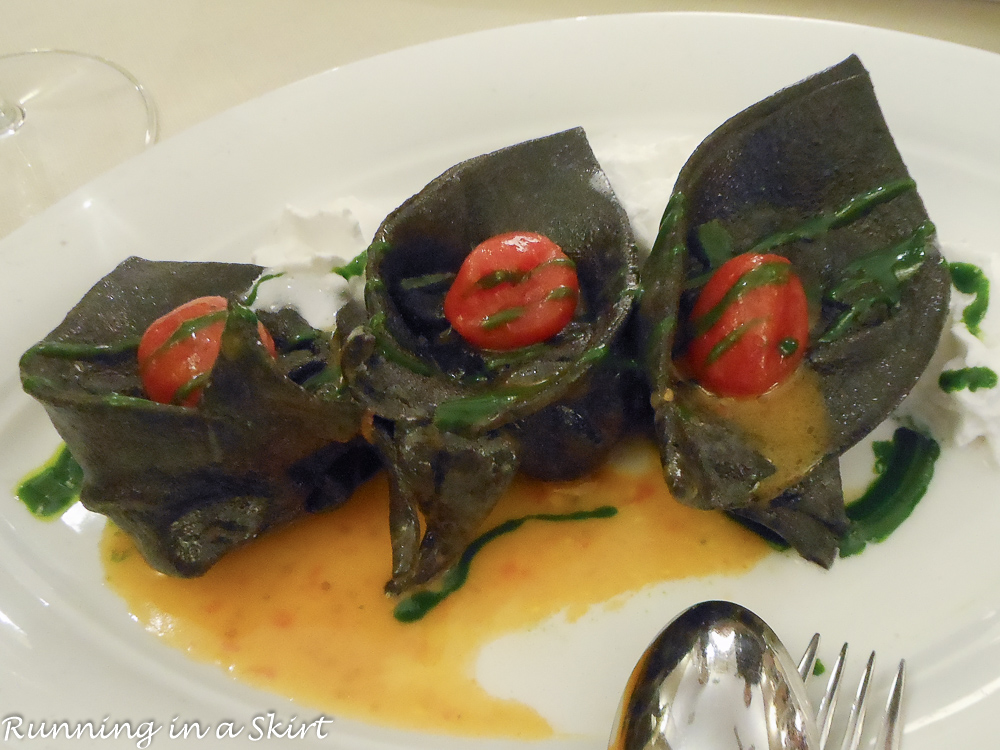 We also share a fish dish, which is delightful.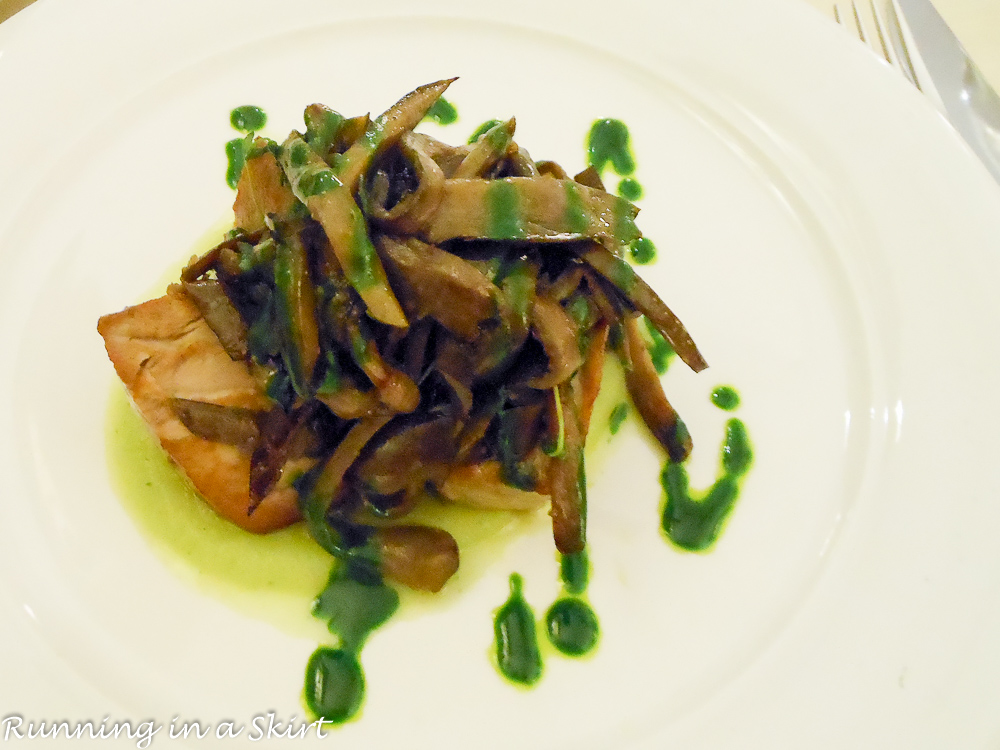 Dessert is also quintessentially Venice.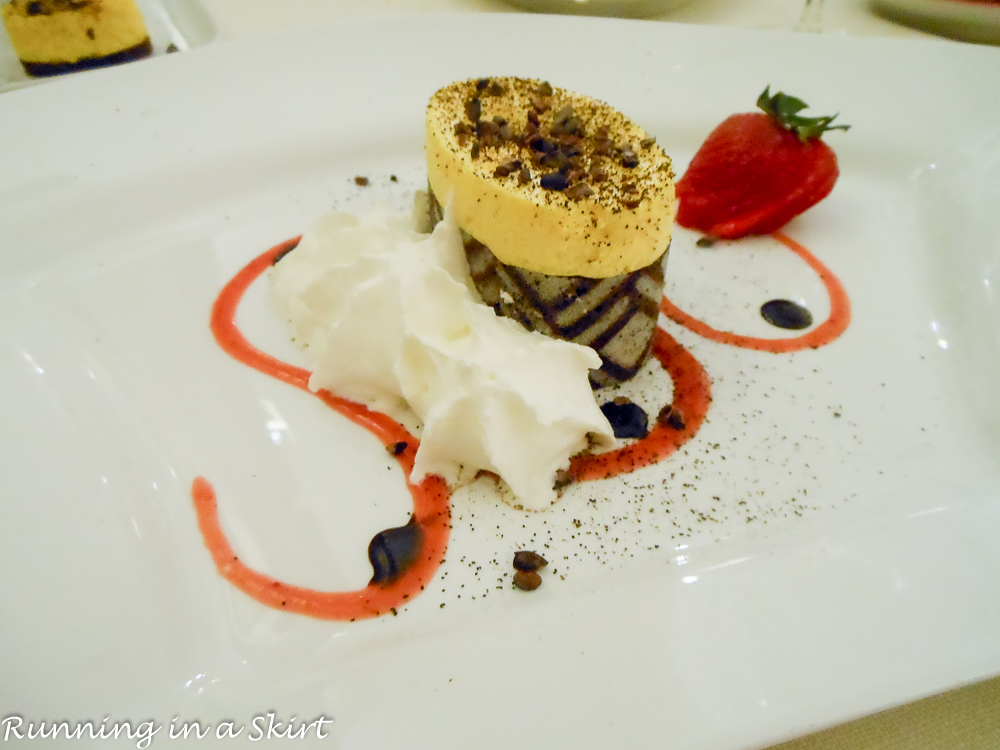 We walk back through St. Mark's Square at night and it's amazing. The only problem is there are dozens of people coming right up to us (invading our personal space) trying to sell us overpriced roses and junk. It's a shame Venice doesn't find a way to control this because it makes it hard to just enjoy the beauty of the square.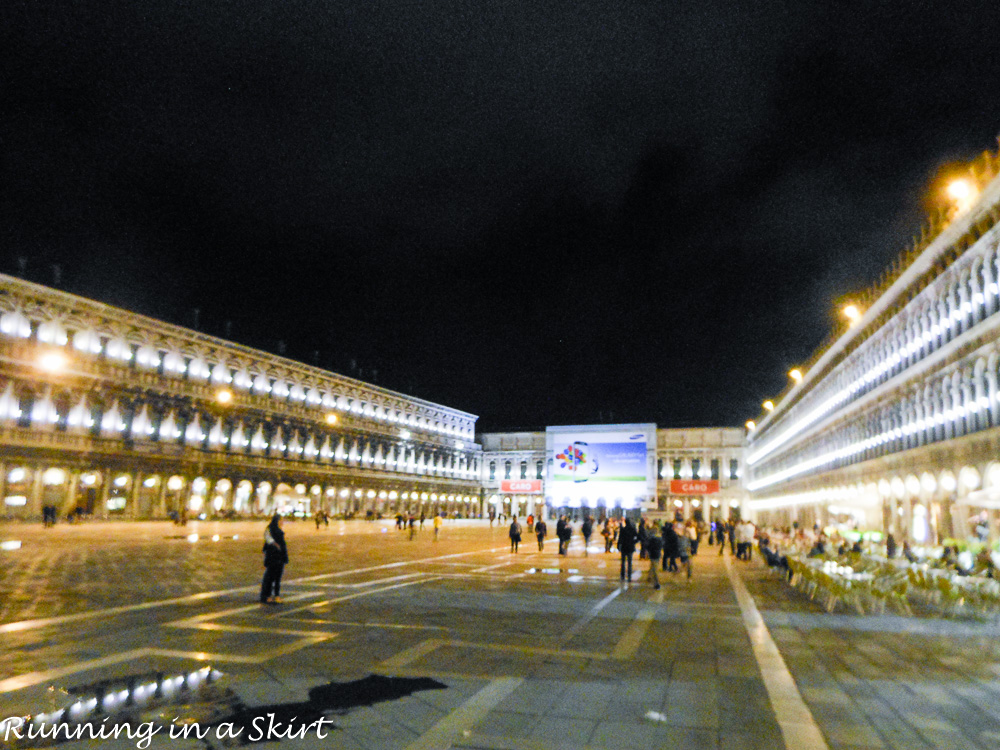 Despite that annoyance, Venice at night is seriously impressive. Most of the tourists only stay during the day, so it is much quieter at night.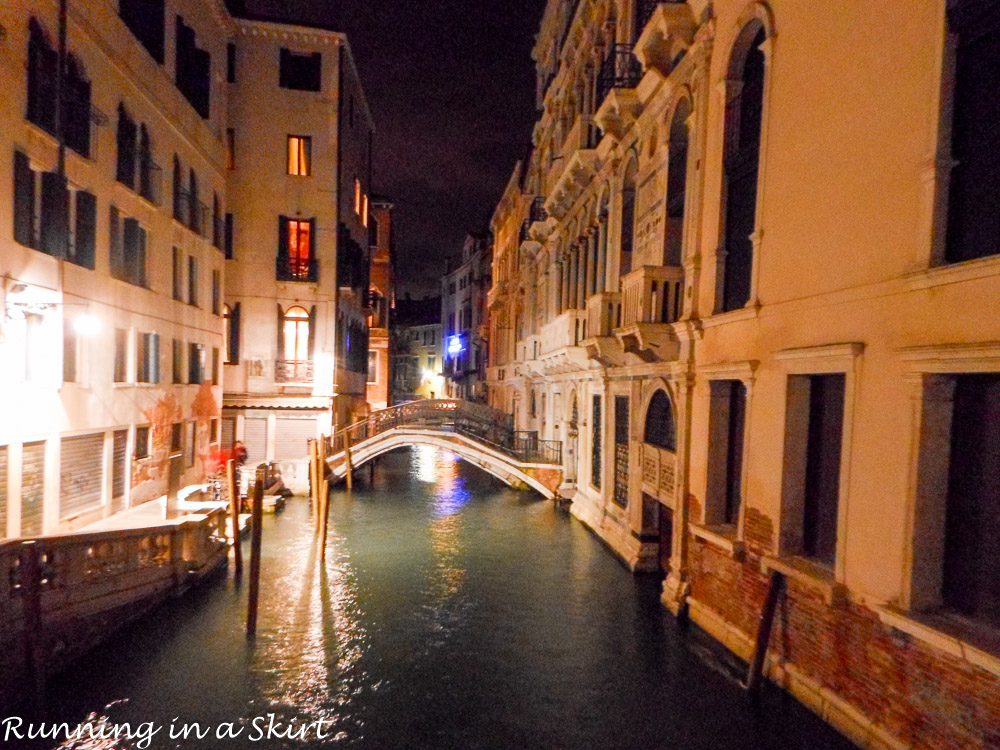 Thoughts on 2 Days in Venice
Our 2 Days in Venice was amazing. It's the kind of place you have to visit once because there is no other place in the world like it. If you are ever in Italy, don't skip it.
To be fair, Venice can get a bad rap and I understand where the naysayers are coming from. There are some problems with it… it is dirty and has graffiti in many places, the water makes everything look very worn and there are a ridiculous amount of tourists. Everything is overpriced. We got frustrated at points trying to figure it out.
But if you look past the flaws, you can really see something completely unique. Squint your eyes and it's magical. I am still amazed that someone thought it was a good idea to build an entire city in a harbor! It's even more amazing that despite the fact that the city is sinking so many people still live there and so many efforts are made to save it. I am impressed by the pride Venetians have in their city and history.
In the morning we take another speedboat out of Venice to pick up our rental car to drive to Cinque Terre (yes, we drove in Italy.)
I'll pick up the story later from there….
Catch my Entire 2 Week Italy Trip
Like this post on 2 Days in Venice? Pin this to your favorite Pinterest Board.