So I'm finally getting back into my workout routine after surgery. I've forced myself to be very careful and not do too much at one time. But I can't tell you how nice it is to be using my workout gear to actually workout instead of just lounge.
Oh, how I love cute and fashionable exercise ensembles.
So when the folks with C9 at Target asked if I would like to pick out a new workout outfit at Target and write about it, I said YES! What a great treat for finally being able to workout again. They sent me $50 worth of Target credit to find something cute.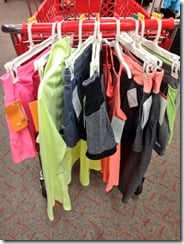 I've always been a big fan of C9 at Target and some of my first workout clothing purchases are from the store. In the store this week, I was very pleased at the huge and COLORFUL selection this year. They have really upped their game with trendy and coordinating ensembles in very fashionable colors. If you want great workout gear at reasonable prices this is THE place to start.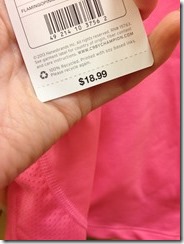 I even found plenty of RUNNING SKIRTS!!! If you want a basic black style, they have several very nice and functional options. I already have several black skirts, so I seriously considered these pink ones.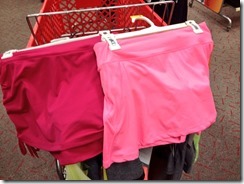 My workout clothes are the one time in shopping I actually choose FUNCTION over FASHION. For me to buy something to run or workout in, it has to be made of a breathable technical fabric, be sturdy and made not to slip. Bonus points if has a handy little pocket for a key.
I found these MUST have requirements in the C9 at Target gear.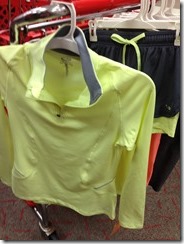 I really wanted to venture out of my comfort zone and buy something lime green or yellow—there were so many cute options and those colors are SO this season. But I had trouble finding my size in the store.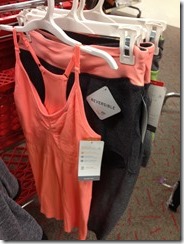 But in the end, I got something that suited me perfectly.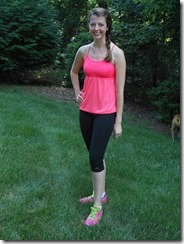 Aw yes, pink.
I bought a super cute two fabric pink running tank.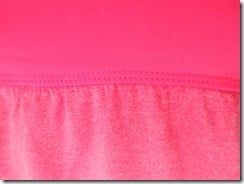 The best part about it are the thin straps to eliminate huge tan lines AND the "bubble" feature at the bottom.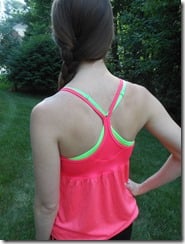 I paired the tank with a lime green sports bra for a pop of color!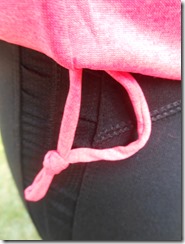 Awesome little tie…
It will be perfect for cross training and yoga. The tie at the bottom will keep the tank top in place without having to have a super clingy style around your middle. Score.
The pants look like your average capri on first glance. But look a little closer…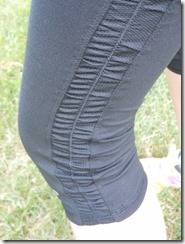 They actually have an adorable high-end detail with ruching on the side. The ruching is made of a thinner mesh fabric that will let the pants breathe. I thought this is the perfect feminine addition to very functional capri's.
HERE is a link to the pants ($24.99) and HERE is a link to the tank ($18.99)
I'm going to use the outfit for cross training and yoga this summer. I actually prefer capri pants when I'm doing some of my workout and yoga DVD's. I'll pair the tank with skirts for outdoor running this summer.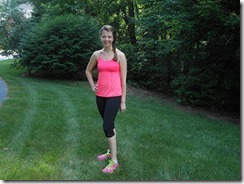 Now, it's YOUR TURN! C9 at Target is giving a $25 Gift Card to one of you. All you have to do is leave a comment below telling me your favorite item from C9 at Target OR what C9 at Target item is on your wishlist. You must leave your e-mail address to be eligible. The e-mail is only so I can contact you if you have won.
Surf www.Target.com for ideas on what you would like to buys.
I will randomly choose a winner on Sunday June 30th and announce the winner on Monday July 1st. The winner will be picked by computer from the people who comment on this post. C9 at Target will directly send you the card.
**This post is sponsored by C9 at Target. They provided the gift cards to buy the outfit and the gift card for the giveaway. I was not further compensated for this post. As always, ALL ideas, opinions and commentary are my own and are genuine.***
------------------------------------------------------------------
QUESTIONS:
What's your favorite C9 at Target piece?
What C9 at Target item is on your wish list?[/fusion_builder_column][/fusion_builder_row][/fusion_builder_container]