Parmesan Panko Encrusted Halibut is an easy and yummy baked fish recipe that you can tackle in just a few minutes after work. You can also use this for any other type of dense firm fish on sale or that you have in the freezer, like Sea Bass or Cod!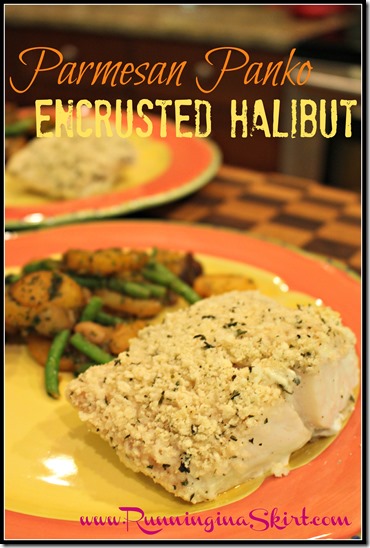 I have a freezer full of fish.
Literally. The hubs went to Alaska with his Dad and brought back this.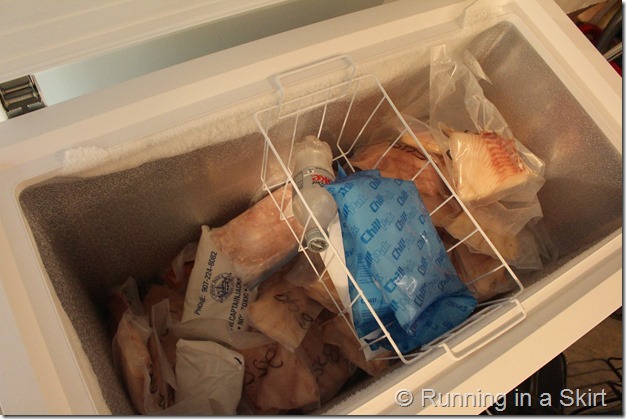 I've had the stash for a few months already, but I feel like I'm really not even putting a big dent in the pile, so I have to get to work cooking. I've brainstormed a bunch of new ways to fix it and I'm going to try to cook from the freezer at least once a week.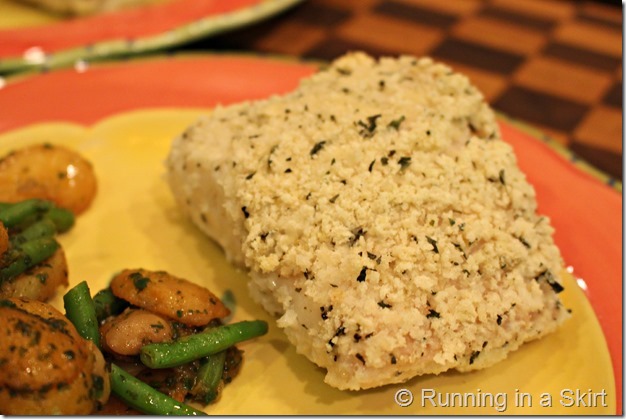 I made this Parmesan Panko encrusted fish last week and it was so good I decided to make it again to write the recipe down and photograph for you guys!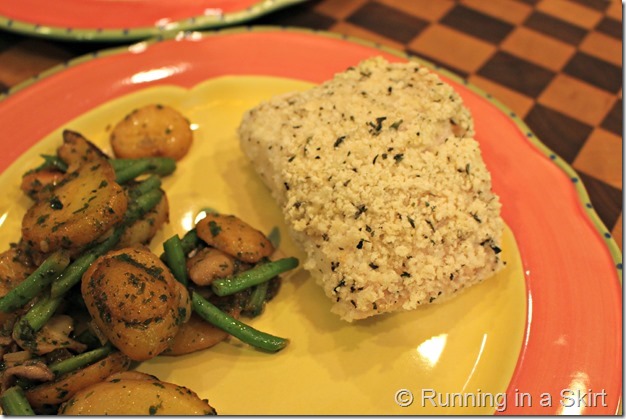 Parmesan Panko Encrusted Halibut
Ingredients:
4 halibut fillets- approx. 6 oz (Can also use Sea Bass or Cod)
¼ cup panko crumbs
¼ cup grated parmesan
¼ teaspoon dried oregano (1 tablespoon fresh chopped oregano)
2 teaspoons light mayonnaise
1 tablespoon lemon juice
½ teaspoon garlic salt
½ teaspoon salt
½ teaspoon fresh ground pepper
Olive Oil Spray (I use a Misto!)
Directions:
1. Preheat Oven to 400 degrees
2. Squeeze lemon juice on both sides of fish
3. Lightly spray olive oil in the pan and on both sides of fish (Life hack – Put heavy duty foil in the pan. Throw it away when you are done and you don't have a messy pan to clean)
4. Sprinkle both sides of fish with salt, pepper and garlic salt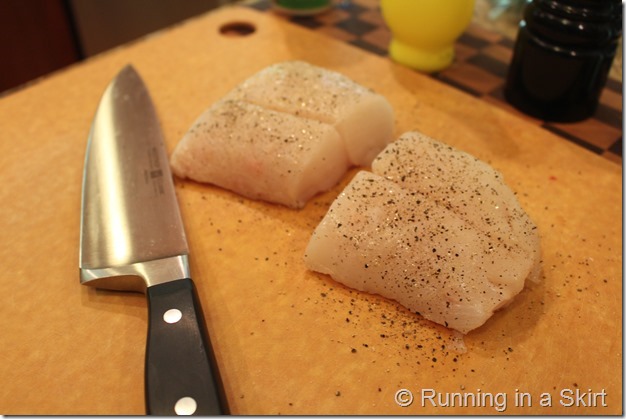 5. Combine the panko, parmesan and oregano in a shallow, flat bottomed bowl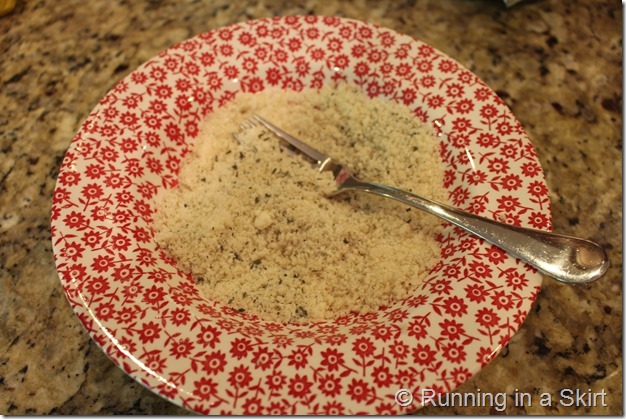 6. Spread a thin layer of mayonnaise on just the top each fillet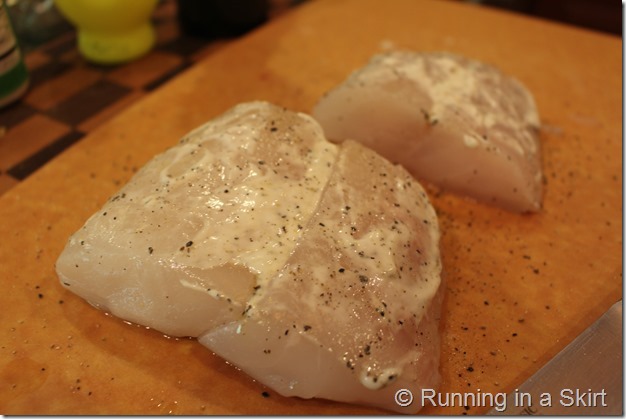 7. Carefully place the fish mayo side down in the panko parmesan blend and move around just enough to ensure you get a good coating on each piece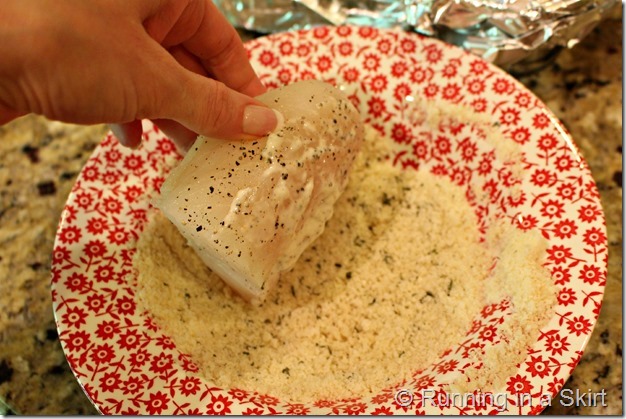 8. Bake for 10-15 minutes. When the fish is opaque and flakes with a fork it is done! Do not overcook!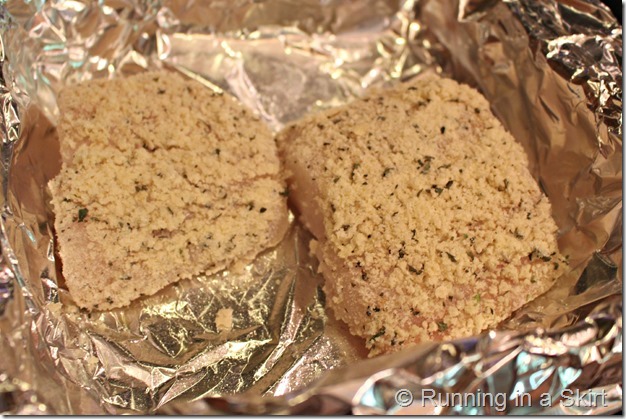 Enjoy!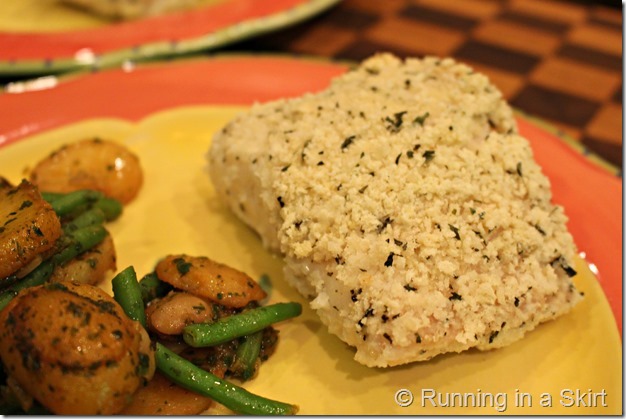 Your turn…
Do you have any good recipes for making halibut, cod, bass or salmon? I need some ideas!
What's your favorite fish? I really love Tuna, but I try not to eat it too much because of the mercury counts and overfishing.